One cannot help but wonder, which are the best Ariana Grande perfumes? And I cannot blame you for thinking that. Ari has already blessed us with her gorgeous voice and her amazing music.
She came out with her best-smelling Ariana Grande perfumes in 2015 (1). People have been going crazy for her fragrance line ever since she launched her debut fragrance, 7 years ago.
Best Ariana Grande Perfumes
I mean, who wouldn't want to smell like Ariana Grande? Her perfumes can be described as super fun, bold and sassy. Ari's fragrances will definitely boost your confidence and make you feel like a star.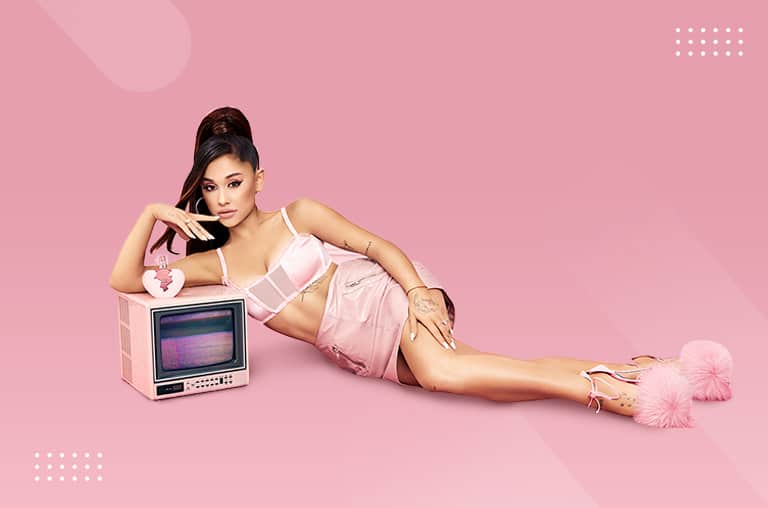 Her fruity and floral fragrances are really what you need to feel like a "Dangerous Woman" if you know what I mean. Ari has taken our breath away with her looks and pretty hair. So, it is not fair of us to expect anything less from her fragrance line.
Well, she does not disappoint us here either. The uplifting scents for her perfumes are a reflection of what she considered as best. Read on to find out about the best Ariana Grande perfumes. Since the debut of her first fragrance about seven years ago, Ari has come out with 11 scents.
Her perfumes come in the most beautiful packaging. You might have heard about some of her most popular perfumes like Thank U Next, R E M Eau de Parfum, Sweet Like Candy, etc.
But do you know about all 11 scents by Ari? Well, if you don't, then you should because they are that good. I'm here to tell you all you need to know about Ariana Grande perfumes.
Thank U, Next By Ariana Grande Eau De Parfum
This is one of her most popular scents. The perfume comes in the cutest pink color ever. The bottle is shaped like a broken heart with a beautiful lid that looks like a pink crystal.
This delicious smelling perfume contains top notes of raspberry and pear, with base notes of macarons and musk. She came out with this in 2019.
Even though this perfume comes in a bottle that looks like a broken heart, I'm sure its fragrance will be enough to mend yours right back together.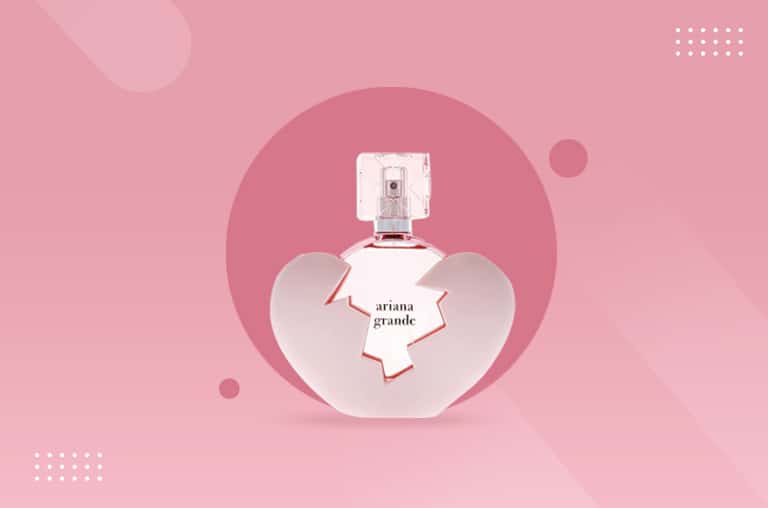 Pros
Fruity tones give a gorgeous fragrance.

Comes in a super cute broken heart bottle.

Fairly affordable.

Contains middle notes of coconut and rose.
Cons
Some might feel like the scent is too sweet.
Ari By Ariana Grande Eau De Parfum
This was the debut fragrance that she launched in 2022. She put all her favorite things into this perfume. When you get a whiff of this perfume, the first thing you will notice is that it has top notes of grapefruit, raspberry, and crunchy pears.
The perfume will make you feel like royalty. Ari comes in a beautiful gem-shaped bottle with a gorgeous plush pom-pom attached to it. This is the perfect fragrance if you want to give it to someone or if you just want to smell like a goddess.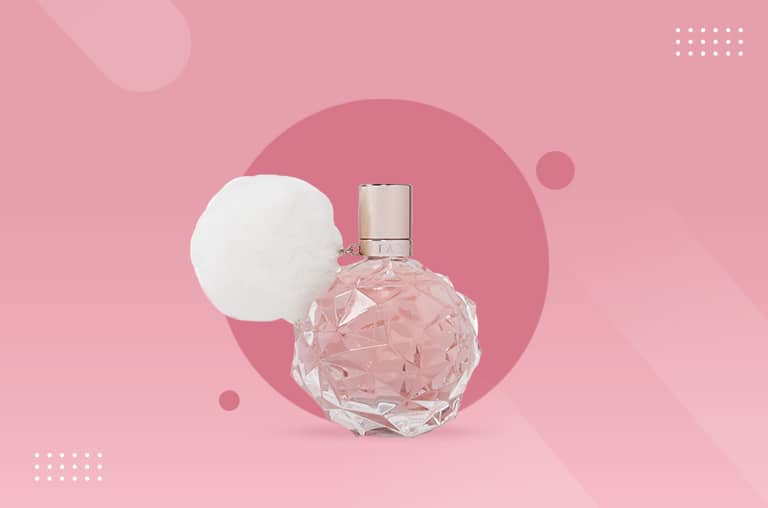 Pros
Beautiful bottle and cute pom-pom as a bonus.

Light scent that is not too intimidating.

Affordable in price.

Comes in five different sizes.
Cons
Some people have commented that it isn't long-lasting.

Might have to reapply it every couple of hours.
Moonlight By Ariana Grande Eau De Parfum
Just like the name of the perfume, the fragrance is just as graceful and magical as moonlight. This beautiful fragrance was launched by Ariana Grande in 2017. It gives out a sensual aroma that is daring and bold.
The Moonlight has top notes of black current and plum which forms an alluring mix that never fails to captivate you. It comes in a magical iridescent lilac-pink bottle. If you are looking for the perfect perfume for a date night, then you have found the one you need.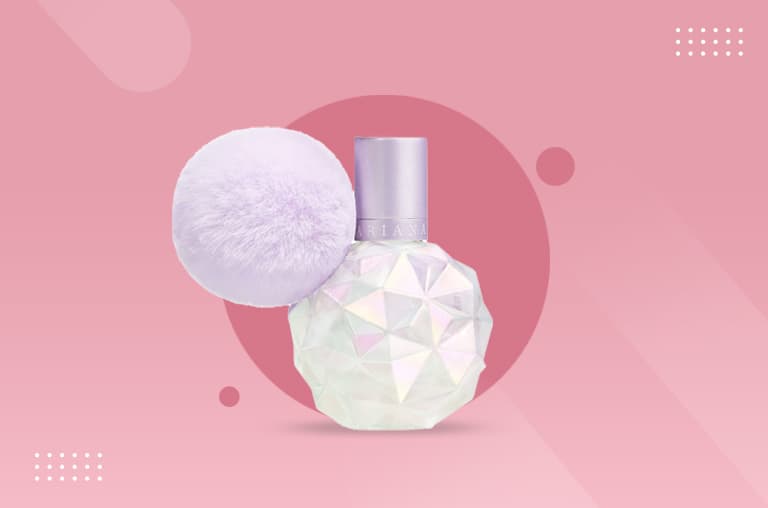 Pros
Comes in a dreamy bottle with the cutest pom-pom.

Enticing and alluring scent.

Ideal for dates and night outs.
Cons
The scent might seem too overpowering for some.
Sweet Like Candy By Ariana Grande Eau De Parfum
Sweet Like Candy was one of Ariana's best-selling perfumes. It was launched in 2016 and contains top notes of the sweetest blackberry, pear, and bergamot. (2)
This bottle of delicious smelling perfume contains vivid middle notes of Whipped cream, frangipani, marshmallow, honeysuckle, jasmine, etc.
Sweet Like Candy is the fragrance, you not just want but need, for the perfect day out in the summer. Also, the pink spherical bottle will look super aesthetic on your dresser.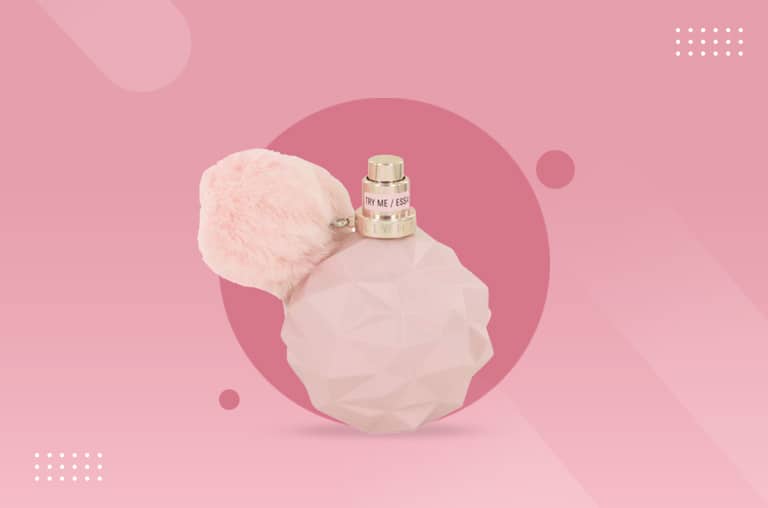 Pros
Light fragrance that gives you candy undertones.

Available in 4 different sizes.

Comes in a beautiful bottle with matching pom-pom.

Perfect for going on a Sunday brunch.
Cons
Some might find the vanilla notes to overwhelm the other elements in the perfume.
Cloud By Ariana Grande Eau De Parfum
If you have been looking for bliss, then that is exactly what is inside this bottle. Ariana brings you all the good things in the world with this perfume. It has beautiful top notes of bergamot, pear, and lavender.
Cloud was launched by Ari in 2018. As always, it comes in a beautiful bottle shaped like a cloud. Just like the bottle, the perfume is super fun, playful, and downright delightful.
It contains middle notes of a mix of whipped cream, vanilla orchid, coconut, and praline. If that doesn't sound delicious to you, then I don't know what will.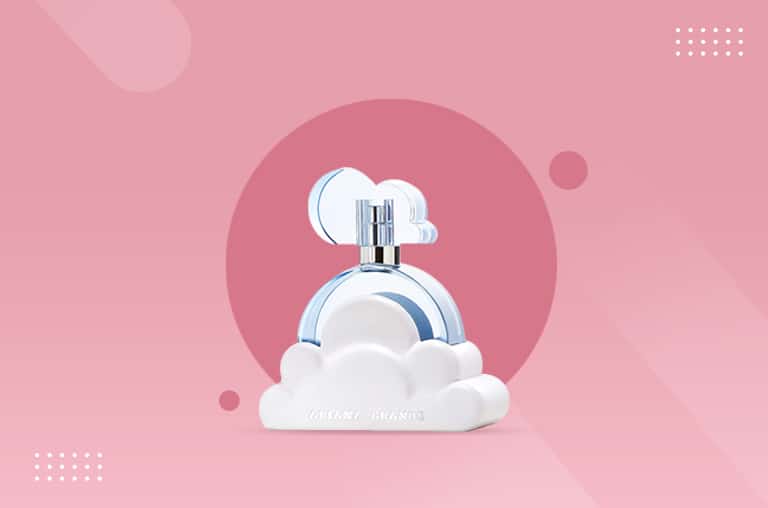 Pros
Beautiful and fruity fragrance.

Amazing to wear on a summer day out.

The fragrance is really long-lasting.
Cons
Some might find the scent to be too sweet.
Franki By Ariana Grande Eau De Parfum
Even though Ariana focuses mainly on feminine scents for her fragrance line, this one is for everyone. Franki is inspired by her brother and is a limited edition.
She launched this perfume in 2016. The top notes contain pink pepper, apricot, and pear. Despite that, the base notes consist of sugar, musk, and sandalwood.
This delicious fragrance is appealing to everybody and comes in a shiny silver bottle with a matching pom-pom attached to it.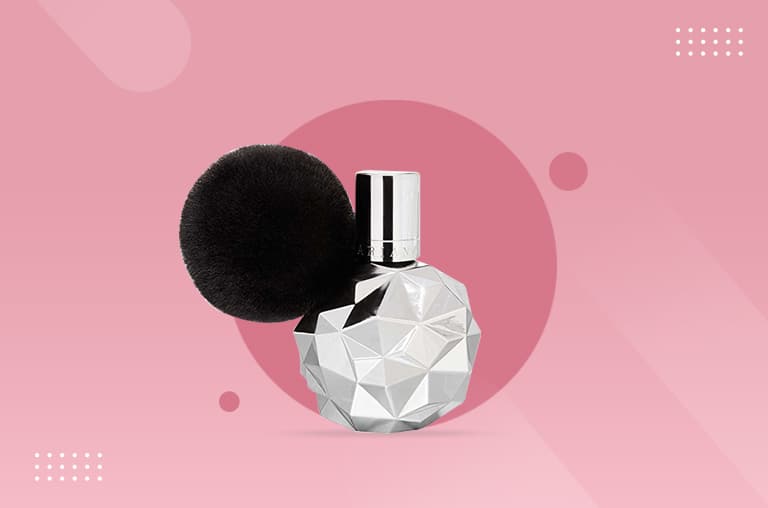 Pros
It's unisex.

Sweet sugar crystals are present in the bottom.

Super attractive, silver designer bottle.
Cons
Limited edition and hard to find.

Slightly expensive.
Sweet Like Candy Limited Edition
Ariana Grande launched her limited edition Sweet Like Candy perfume in 2017. When you get a whiff of this perfume, the first thing you will notice is the top notes of bergamot, pear, and red berries.
It retains much of the sweetness of the original Sweet Like Candy Perfume. The perfume contains middle notes of frangipani, honeysuckle, and jasmine. It comes in a gorgeous blood-red bottle with a plush and playful pom-pom. Its fragrance is bold and daring.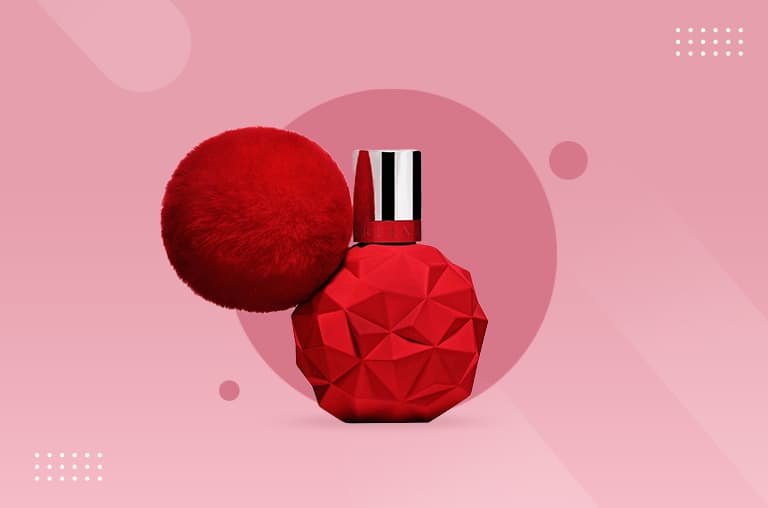 Pros
It is different from the original, so you get different perfumes.

The red berries cut through the notes of marshmallows.

Perfect for a romantic date or a night out with your friends.
Cons
God Is A Woman By Ariana Grande Eau De Parfum
God Is A Woman was launched by Ariana in 2021. It was a completely different direction from her usual fragrances. Most of her fragrances are hyper-feminine and have fruity and sweet-smelling notes.
This semi-sweet yet enticing perfume has top notes of ambrette and crispy pear. The main attraction is the mid notes which contain orris and Turkish rose. The bottle is completely different from her usual perfumes as well.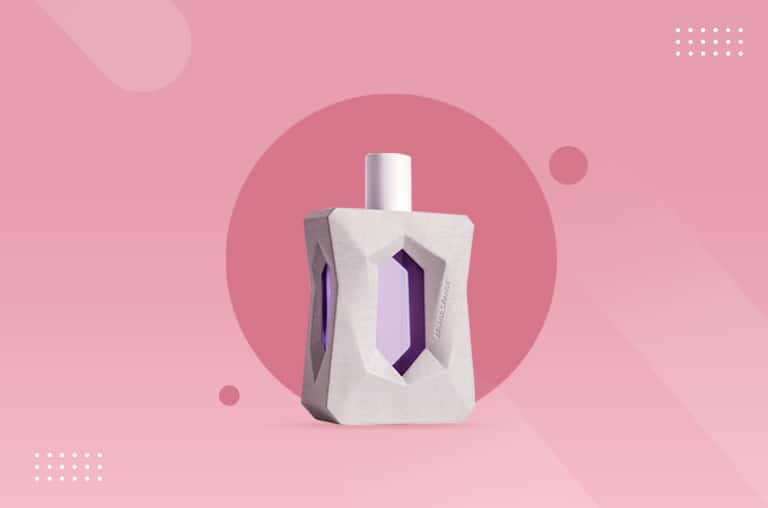 Pros
Semi-sweet feminine scent.

Can be worn on any occasion.

Aesthetically pleasing bottle.
Cons
Doesn't last long at all.
R.E.M. By Ariana Grande Eau De Parfum
R.E.M was a new fragrance she launched in 2020. This bold feminine fragrance is what you need to feel like a diva. R.E.M mainly contains top notes of caramel, zefir, salt, quince,(3), and fig.
The middle notes of lavender and pear blossoms make this perfume extra special. As always Ari doesn't disappoint, this fragrance comes in a gorgeous bottle embedded with chunks of crystals. R.E.M perfume is the only thing you need to make your dresser look super elegant.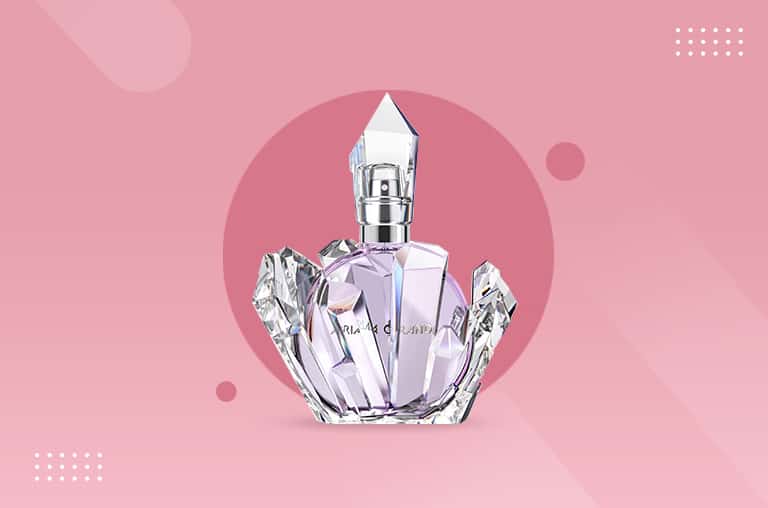 Pros
Lasts for a long time.

Comes in a stunning bottle.
Cons
Some people found the fragrance to be a little too sweet.
Thank U Next 2.0
Thank U Next 2.0 is a rendition of her original perfume Thank U Next. This divine fragrance was launched in 2021. It comes in a beautiful broken heart bottle as well, but with a variation in color.
The top notes in the perfume appear to be wild strawberries, pomegranate, and apples. The base notes are enriched with marshmallows, sandalwood, and musk. The sweet and versatile scent is suitable for daytime or late afternoons.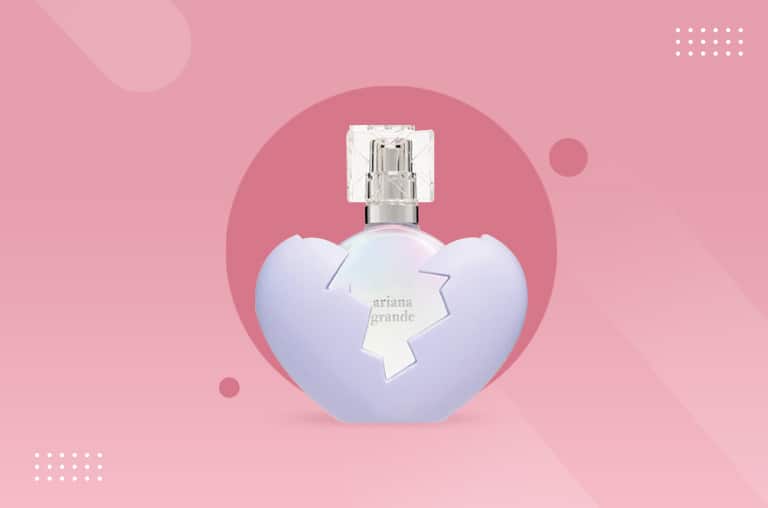 Pros
Contains a deeper fragrance than the original.

The fragrance stays on for more than 5 hours.
Cons
Limited edition bottles are harder to find.
Cloud Intense By Ariana Grande Eau De Parfum
Cloud Intense was released in 2021 as well. The opening notes of this fantastic perfume are similar to the original Cloud. The top notes contain lavender, pear, and bergamot.
The sweet and fruity fragrance is perfect for a night out. This is a scent ideal for cold weather. It is slightly better than the original and lasts longer. And, as for the bottle, it looks similar to the original Cloud but with a deeper and darker blue color.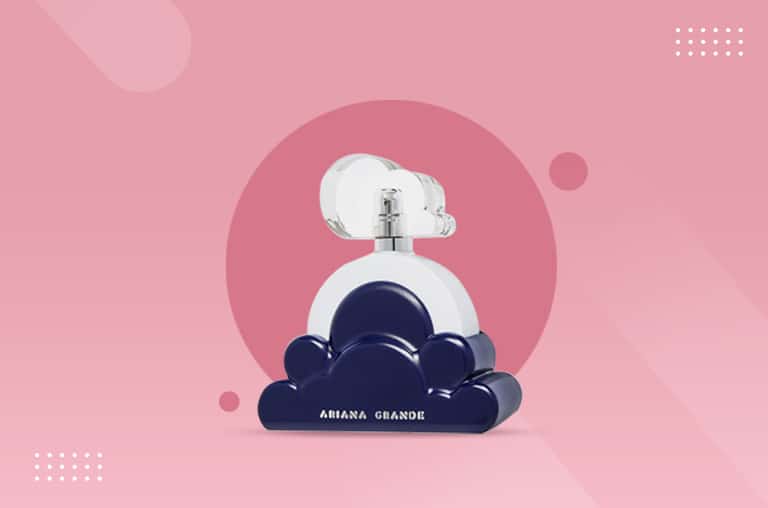 Pros
A better version of the original.

Sweet and fruity scent.

Ideal to wear in cold weather.
Cons
The bottle is not as pretty as the original.
FAQ
[sc_fs_multi_faq headline-0="h3″ question-0="Which Ariana Grande Perfume Is The Best?" answer-0="Personally, I really like the R.E.M. Eau de Parfum. It has notes of salted caramel, sweet marshmallow, fig, etc. The Thank U Next also has a delicious fragrance." image-0="" headline-1="h3″ question-1="Which Ariana Grande Perfume Lasts The Longest?" answer-1="Most of her perfumes are pretty long-lasting, but the thank U Next Perfume has proven to give you beautiful fragrance for more than five hours" image-1="" headline-2="h3″ question-2="Does Any Of Her Perfume Have Vanilla Notes To It?" answer-2="Her Sweet Like Candy perfume has a beautiful blend of vanilla notes to it. " image-2="" headline-3="h3″ question-3="How Many Perfumes Does The Ariana Grande Fragrance Line Have?" answer-3="She has launched about 11 fragrances. " image-3="" headline-4="h3″ question-4="Which Is The Best Ariana Grande Perfume For A Teenage Girl?" answer-4="I think the "Sweet Like Candy Perfume" would be perfect for teenagers. It will help you get that extra boost of confidence. " image-4="" headline-5="h3″ question-5="Which Is The Most Latest Ariana Grande Perfume?" answer-5="Thank U Next 2.0 Eau de Parfum which was launched in 2021 is her latest fragrance. " image-5="" count="6″ html="true" css_class=""]
Final Verdict
Ariana Grande is one of the biggest stars of our generation. She has given us music, she has given us make-up, she has given us fragrance. Is there anything she can't do?
Probably not. Right now, Aris's perfume collection possesses 11 incredible fragrances and 3 of the limited edition scents are super rare. Every drop of her perfume douses you with a boost of confidence.
She came out with her first fragrance "Ari by Ariana Grande" in 2015, which was soon followed by Sweet Like Candy, Thank U Next, Cloud, Moonlight, etc. Her perfumes contain hyper-feminine notes like coconut, marshmallow, etc with sensual and exotic tones.
Ari's perfumes are the perfect ones for you if you are looking to bring out your inner diva. What makes her fragrance line stand out is her gorgeous and super cute packaging. Ari really took her time in coming up with an absolutely adorable bottle for each of her perfumes.
The color palette chosen by her is mainly pastel. The bottles look great and what's inside them smells even better. So if you want to smell like a goddess, then go grab yourself perfumes from Ari's fragrance line.