Do you use brown eyeliners? If you do use eyeliners, I bet you dollars to doughnuts that you haven't steered away from your failsafe jet-black formula. Perhaps, since the day you started wearing strokes over your eyes. Well, let's change that in 2023!
Yes, the good old black eyeliner is a holy grail product, even veterans and noobs agree (alike) on that matter. But that's the problem with holy grail products. They pull you down to the makeup rut and you won't try breaking out of it or go out of the line.
With brown eyeliners (as opposed to their black counterpart), you get a subtly sharp enhancement from the tedious routine look you were following, since forever. Here's how you can bring a change to your everyday look!
Brown is the New Black! Best Brown Eyeliners
Remember the teen gothic period you loved relentlessly? They are no more. In place of the bold and harsh finish of liners, the more flattering and softer shade is the new trend. You can have both a natural and subtle look as well as edgy —without being over the top— with depth and definition you didn't know you could have. Yes, I am talking about brown eyeliners.
Wait, does that mean you don't have to stick to one single shade every day? Yes, you don't have to. You have an overwhelming array of brown shades to choose from. Especially neutral shades, making brown eyeliners ideal for everyday looks.
Black Eyeliners Vs Brown Eyeliners — Why Should You Ditch Black for Brown?
Black eyeliners are edgy. We line our eyes with it to make them stand out and appear vividly striking. Sure, we will always have a place for black eyeliners in our beauty stash and hearts. Let's face it. Since how long have you and I been using it? But when you have brown eyeliner handy, black won't be your everyday liner fix. Do you get my drift?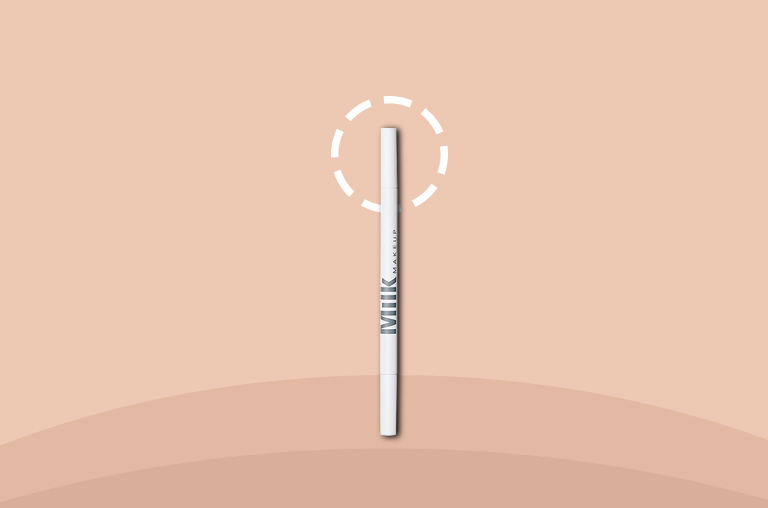 You may feel like it is an unnecessary upgrade from black eyeliners. But brown eyeliners offer much more than black eyeliners. Not to mention how natural and fuss-free makeup looks are trending now, which brown liners deliver effortlessly. Black liners are ideal for party looks. But on days you want to appear with less drama to the eyes, you can use brown liners for a gentler and natural finish than its hardcore counterpart.
Shades of Brown
Brown eyeliner is the perfect in-between shade that works on everyone. Not just those with blue eyes or hazel eyes. It works well for those who are less makeup savvy as well. Another perk brown has over black liners is that the best brown eyeliners offer a wide range of hues that you can choose from. From solid cocoa and warm brown to chestnut and chocolate to deep bronze and taupe, your choices are many. Having these many choices is a huge bonus point. Because they can complement all skin tones and sit naturally, unlike black. Though universal, black gives one single shade that may or may not work with all skin tones and eye colors.
Moreover, brown eyeliners act as your eye contours. It gives the illusion of thicker and bushed-up lashes that anyone can see from far away. It creates an instant definition for your lids, lash line, and waterline without the intensity black liners give. Also, you can make all kinds of lines with it —winged, graphic, or squiggly.
13 Best Brown Eyeliners to Choose: From Liquid to Gel
To appear as if you haven't tried too much on your makeup or to not make a statement look, try any of these 13 best brown eyeliners. If you are a novice, you can choose brown pencil liners (they may not be highly pigmented). A brown liquid liner will work perfectly for an expert. Or a felt tip brown eyeliner for a balance between the two. Whether it is a liquid, gel, or even pencil, you can create smudgy, smokey eyes with ease. When it comes to the shade of the liner, keep in mind that brown eyeliners work for all eyes.
But if you want to be more specific, you can choose dark shades for dark-colored eyes and lighter hues for hazel eyes. All of these liners listed below can frame your eyes and fill your lashes.
Ahead, find 13 of the best brown eyeliners to pop your eyes out naturally.
Best Multi-Use: Tarte Tarteist Double Take Eyeliner in Brown
You can save some space in your makeup bag with this multipurpose brown eyeliner. With a waterproof liquid liner that offers defined eyes and perfect wings on one end and a gel pencil that delivers the sharpness you desire on the other end, this dual-ended eyeliner could be your next true holy grail product. You can use the liquid tip to get precise graphic lines or cat eyes. And, use the gel pencil to stroke on your waterline, between your lashes.
Price: $21.99
Or even better, use it on its own for a more natural look. What's more, you can save using an eyeshadow by simply scrawling your lids with the creamy gel tip. All you have to do is blend it out with your fingers. Soft smokey eyes look back at you in the mirror!
Bonus points: The eyeliner is made with mineral pigments and amazon clay(1). It is vegan, cruelty-free, free of phthalates, parabens, and sodium lauryl sulfate, which makes it one of the best brown eyeliners for contact lens wearers.
Runner Up Multi-Use: Victoria Beckham Beauty Satin Eye Kajal in Cocoa
Another dual-ended option in brown for you. You can perfect Victoria Beckham's signature smudgy, smokey eyes with this highly pigmented eyeliner pencil. Smokey eyes come effortlessly with this. The creamy texture glides along the lash lines smoothly and you can blend it seamlessly to create a smokey effect.
Price: $50
The formula is gentle on the eyes as well as the skin. Because it infuses hydrating pro-vitamin B5, antioxidant-rich vitamin E, and calming chamomile extract(2). Thus, you can glide it along your waterline as well to define your eyes.
Bonus points: This long-wear, waterproof formula is vegan-friendly, gluten-free, safe for contact lens wearers, ophthalmologist tested, and dermatologist tested.
Best Brown Eyeliners in Drugstore: Maybelline Unstoppable Eyeliner in Cinnabar
A good eyeliner product doesn't necessarily need to run your bank account dry. Maybelline's eyeliner in cinnabar fits in between the lashes, gets the inner corners of the eyes, and glides along the waterline, thanks to its small tip. Whether you are looking for a natural or dramatic look, Maybelline's eyeliner helps you define and draw your eyes.
Price: $6.59
You can go from a soft look with natural lines to a bold look by building it up with a few more layers. The brand also promises smudge resistance and ease of application. You can twist the liner up or down easily without needing a sharpener since it has a self-sharpening tip.
Runner Up Drugstore: NYX Professional Jumbo Eye Pencil
NYX offers the cheapest eyeliner in several shades but three different hues for brown alone. Their Jumbo Eye Pencil combines eyeliner and eyeshadow, all in one, to give you many different looks. From a natural line to thick cat-eye to smokey eyes with a blended eyeshadow effect, it can last all day.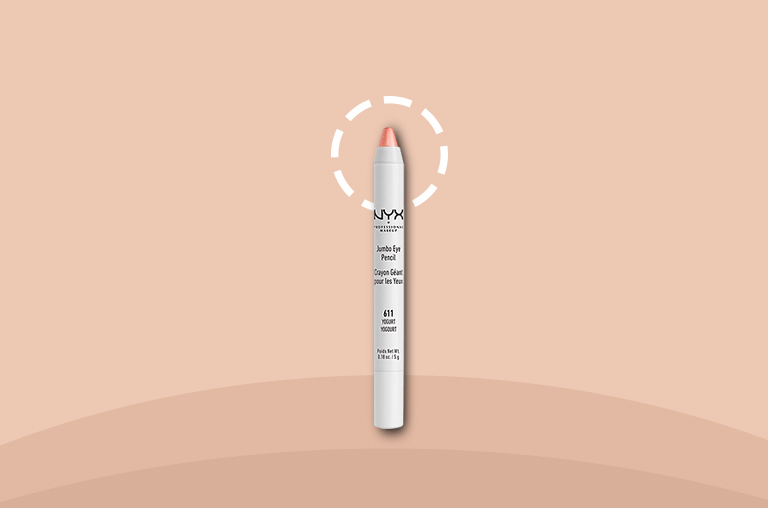 Price: $5.50
Without creases or chances of drying out. The creamy formula glides on smoothly and you can use your fingers or a brush to blend it easily.
Best Brown Eyeliners Pencil: Urban Decay 24/7 Glide-On Eye Pencil in Whiskey
Despite how creamy the texture is, Urban Decay's Glide-On eye pencil when glided on can stay on seemingly forever without any smudges. Though the application is creamy (also glides smoothly irrespective of skin type), it gives a matte and intense finish —with either a thin or thick line— in a rich brown shade. It also stays soft, giving you the perfect slot for a smokier look.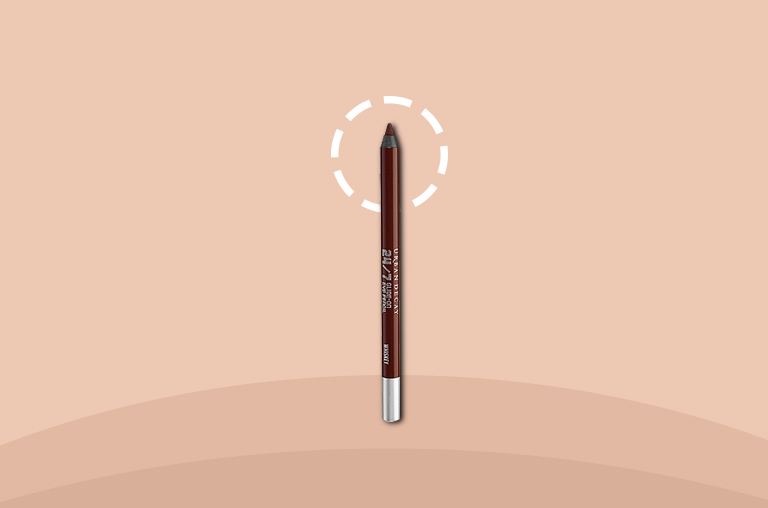 Price: $25
Besides their impressive staying power, the award-winning liner from Urban Decay uses many moisturizing ingredients, making it one of our best brown eyeliners. Such as vitamin E, jojoba oil, and cotton-seed oil, all of which come with high hydrating properties. Meaning, it is less likely for the formula to get stuck or pull at your skin. These ingredients can condition your eyes and they are also partially the reason why the formula is creamy. Additionally, the warm shade of the liner can light up any eye color and it can also give a natural look.
The long-lasting liner (for 24 hours) is waterproof and cruelty-free. The brand as well as the users promise a quick drying. But you may need to wait for about 30 seconds after applying before touching it. The only drawback is that the liner may be a little hard to take off.
Runner Up Pencil: Charlotte Tilbury the Classic Eye Powder Pencil in Aubrey
As Charlotte, herself, puts it, "every woman needs an eye liner they can depend on". Thus, she offers an eye-powder pencil that creates a subtle yet blendable line over the eyes. Unlike other classic pencil eyeliners, this powdery formula leaves you with a natural-looking brown line. Its rich hue lights up eyes of any color. You can underplay or overplay your finishing look depending on the occasion.
Price: $24
The formula uses ingredients such as powders and a mix of oils and soothing allantoin. This makes the liner easy to apply and blend for an intense finish. Also, the soothing allantoin makes the liner ideal for applying in delicate eye areas. A simple mix of opaque powders creates a soft brown line. Whereas, if you layer up more, dramatic and smokey eyes are the result.
Best Brown Eyeliners Gel-Crayon: Marc Jacobs Beauty Highliner Gel Eye Crayon Eyeliner in Brown
It's not often that you come across a gel eyeliner with the ease of an eye pencil. But here, you have both. A gel pot eyeliner made for instant flawless eyes. Who doesn't love the look of liquid liners or the creaminess of gels? If you do, but don't want to make the mess out of the liquid, you can go with this gel crayon.
There is no room for messiness here. But there is a chance of you not wanting to stop applying it. Because it goes on so smoothly and feels just like the crayon you used as a kid. But with the feel of gel pens, you used it as a high schooler.
Price: $26
Formulated with innovative ingredients like vitamin E and rosehip seed oil to create the moisturizing formula, the brown eyeliner offers the versatility of application. Stroke the Highliner for precise lines or smudge the line immediately for instant smokey eyes.
You can choose two finishes with this richly pigmented eyeliner —a high-impact matte or an original shimmer. Either way, it gives a major color payoff with an impeccable color spread. Moreover, this eyeliner is waterproof and has extreme wear of 12 hours. It is one of the best gel crayon brown eyeliners you can choose!
Bonus point: The Highliner comes with a built-in sharpener to avoid the tip getting dull. Pull off the black sharpener at the base of the liner and sharpen the point for precise application.
Best Brown Eyeliners Gel: MAC Fluidline Eyeliner Gel in Dipdown
Are you tired of using pencil eyeliners? Or do you want to experience the luxury of gliding a gel formula over your eyes? More importantly: you have full control over the amount of gel you use. Forget comfort zones, here's one of the best gel eyeliner in brown you should not miss out on! Because every stroke is fluid!
MAC Fluidline offers an ultrasmooth formula that provides the accuracy of a liquid liner but with a more silky finish. It is long-wearing (up to 16 hours), waterproof as well as smudge-proof, and can be worn for watery eyes. Besides, this is an extremely easy-to-apply pick albeit feeling clueless at the beginning. The "dip-and-stroke" action proposes velvety smooth application and budget-proof durability.
Price: $21.09
To use, dip your eyeliner brush (or an angled brush) into the cute little pot and trace your lash lines like how you would normally. If you want winged eyes, better use an eyeliner brush. Remember thicker the brush, the thicker the line. You won't find any watery smudges. Also, you can remove it easily with a regular makeup remover. The only drawback? You have to buy an eyeliner brush separately.
Best Liquid: NYX Professional Makeup Epic Ink Liner in Brown
How flexible can an eyeliner brush get? To help you create the exact look you desire, NYX offers the perfect liquid liner in a slender and flexible brush. Black is not the only shade you can bag the bold look. With this richly pigmented brown hue, you can trace a bold as well as soft look.
Line your lashes with just the tip for fine lines or lay it across the side for thicker strokes. Either way, you end up with a well-defined and satin-smooth finish.
Price: $10
The eyeliner resists not only humidity, sweat, and precipitation but also crying. This could be a plus point. Though the last thing anyone worries about in the middle of a breakdown is their eyeliner, the liner promises there won't be any meltdown.
The benefits don't end there. The formula is long-lasting. This means, never will you have to worry about reapplying every two hours. I also love how the applicator feels like a marker to use, with no odds of dripping the excess liner. Undoubtedly, on of the best brown eyeliners!
Best Long-Lasting: Stila Stay All Day Waterproof Liquid Eye Liner in Dark Brown
Not all liquid liners can be applied with eyes shut. But Stila's Stay All Day liquid liner traces on lash lines easily and dries quickly, Quicker than you say your family members' names. There is no risk of smudging, smearing, or budging either.
But the most important and most praised quality is its lasting power. The waterproof formula helps to stay on your eyes throughout the whole day. Or night for that matter. It truly does the work its name suggests.
Price: $31.99
Next time you go for a whole day gathering, give this liner a try. But I should warn you, it stays put once it is applied. So, be sure to place the liner as you want to. Another benefit of this best long-lasting brown eyeliner is its buildable intensity.
You can add layers to pack it on for a bolder look or by working the liner at a certain angle. With a little more pressure than usual. As you know, the fine tip makes all the difference. You can trust your lash lines with this best felt-tip brown eyeliner with durable formula.
Best For Waterline: Milk Makeup Longwear Gel Eyeliner in Bonus
What's trickier than finding a liner safe for your waterline? Finding one for sensitive eyes. Enter: Milk Makeup Longwear Gel Eyeliner. The superfine liner sans pointy tip lines your waterline so seamlessly and effortlessly.
Without making your eyes water more. The combination of hydrating avocado oil and hyaluronic acid helps the liner fit perfectly into the waterline without pulling or tugging.
Price: $22
You will love the precision the liner gives without irritating your water lines or feathering the skin. Furthermore, it is free of paraben(3), sulfate, and fragrance, making it safe for sensitive eyes as well. It also comes with a shaper and a smudger for precise application of soft brown eyeliner or metallic brown eyeliner with smokey eyes.
Best for Sensitive Eyes: Pacifica Natural Eye Pencil in Fringe
As it is the best brown eyeliner for sensitive eyes, Pacifica's Natural Eye Pencil infuses the goodness of shea butter, jojoba oil, vitamin C, E, and mineral colors.
Since the ingredients are moisturizing, nourishing, and soothing to the skin, the formula is smooth to apply to the lashlines. Ideal for all skin types, the ingredients are completely natural. Numerous users agreed on its benefits for sensitive eyes.
Price: $22.97
You can make both a soft look and a smokey look with this brown eyeliner. Or even better, you can create a smokey eye look above and a natural look below the eyes. In a balanced way that can pop your eyes, regardless of its color or shape. Unlike most liners' tips, this one's tip does not break easily.
It may last much longer than you would expect. Though the brand promises long-wear, the liner may not stay long for an eventful day. But as promised, it is a water-resistant, organic, vegan, and cruelty-free liner that is free of parabens, mineral oil, petroleum, and phthalates. A close competitor to the others in our list of best brown eyeliners.
Best Natural: Jillian Dempsey Natural Kohl Eyeliner in Rich Brown
Created by celebrity MUA Jillian Dempsey, this ultra-pigmented kohl eyeliner delivers a super smooth application. With the base of organic shea butter, organic jojoba oil, and marula oil, you can expect the formula to be creamy.
These natural ingredients allow the luxurious formula to give a rich color payoff that lasts long. Also, the texture allows you to blend it for a sultry smudged look. You can perfect that with the built-in smudger as well for a softer focus. Flip the pencil over to use the smudger.
Price: $20
Like many eyeliners mentioned here, you can create both fine lines for a natural look as well as thicker lines for a bold look. You can feel good about using this naturally-derived brown eyeliner made with antioxidants.
Because it is vegan, cruelty-free. It may not glide smoothly on the waterline but the waterproof eyeliner can define your eyes for a glamorous finish. The deep, warm brown flatters the eyes, irrespective of its color, so beautifully.
Best Cream: Gucci Infinite Precision Liner in Cocoa
Who said you can only perfect the sharp wings with black liners? This best cream brown eyeliner from Gucci delivers chic looks from sleek sharp winged eyes to smooth infinite lines. Although creamy, the liner can seamlessly deliver precise lines with ultra-intense. Bonus point: it stays put.
Price: $28
Formulated with a unique mix of silicone oils and resins, the liner works equally well on both upper and lower lash lines as well. Its users recommend this one for professional results. You can use this versatile liner with an angled liner brush and glide on lash lines smoothly for graphic shapes. It is also smudge-free and long-wearing. Don't be afraid to try the pot because it is convenient and easy to use, albeit looking intimidating.
Conclusion
Brown eyeliners are one of the most understated products. But recently, it has come to the spotlight. When you look at its versatility and eye-enhancing qualities, you will make this one of your favorite staples. Pick yours from the above list of best brown eyeliners and leave your eyes with a natural finish!