Wristwatches never go out-of-style, no matter how advanced the industry becomes! Though it is much-loved by both men and women, the latter prefers it more as an accessory that adds to the overall look. While you might find many fashion brands out there, Emporio Armani is one that stands out with its brand pride and acceptance! If you're here in 2023, this is your sign to choose from the best Emporio Armani watches For Women!
Emporio Armani watches will never make you regret your pick. Any model of Armani watches adds a luxurious class to your wrist with its distinctive style. There is everything from timeless designs with leather straps for everyday wear, to sophisticated bracelet-style watches in royal colors to choose from. Its timeless beauty will never fail to please you. So, let's introduce you to 10 of our favorites!
10 Best Emporio Armani Watches for Women in 2023!
Emporio Armani, a well-known fashion brand, concentrates on the style factor so that anyone who wears it is embellished with perfection on any occasion. It focuses on modern traits and trends, geared towards younger audiences. Particularly early adults aged 20-30.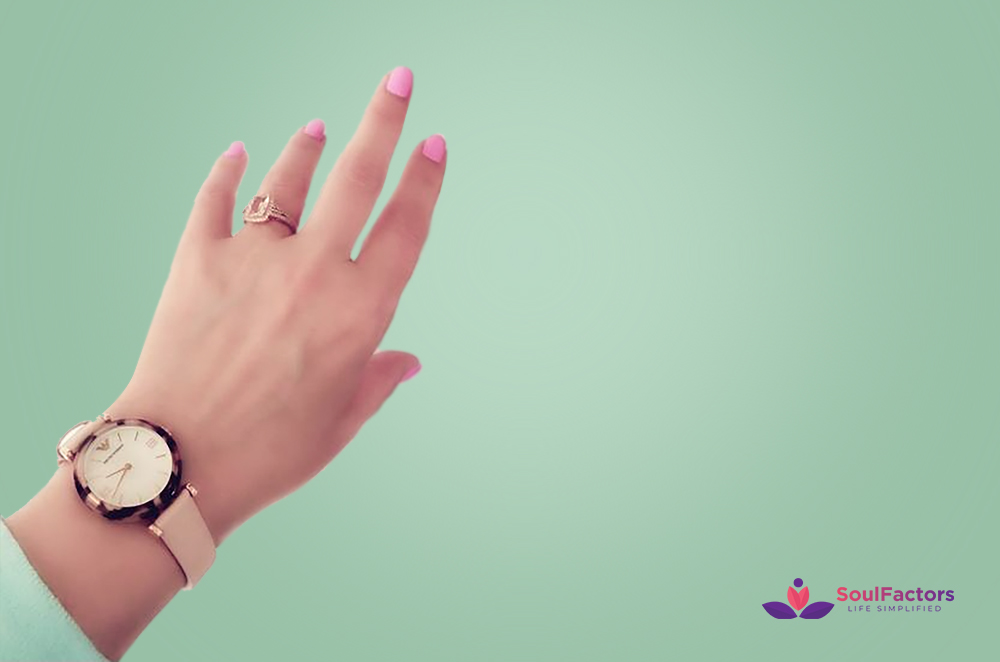 Armani is "A line for men and women who lead a modern lifestyle and want to dress with a sense of casual sophistication, Emporio Armani watches reflect this approach with modern shapes and materials, balanced with a classic style," said Giorgio Armani. While wearing an Armani(1), you don't have to say much in impressing others, the brand will speak for itself. The brand reputation and the status its logo carries show how Armani leads the fashion industry.
For many of you women out there, watches aren't merely timekeepers. They are a piece of jewelry that boosts your elegance and glamour. For that, Emporio Armani is the perfect, much-deserved treat for yourself or your loved one. Their elegantly made watches in refined and eccentric colors can help you shine anywhere you go!
As you know, every Armani watch is finest in its creation and eye-soothing to look at, there is a high chance choosing one from many fascinating ones will be confusing. Let me help you to solve the puzzle of maze with our list of 10 best Emporio Armani watches for women in 2023. Being a fashion brand and youthful, Armani's watches never go out of fashion. So, each of these listed below will be a valuable addition to your watch wardrobe.
Greta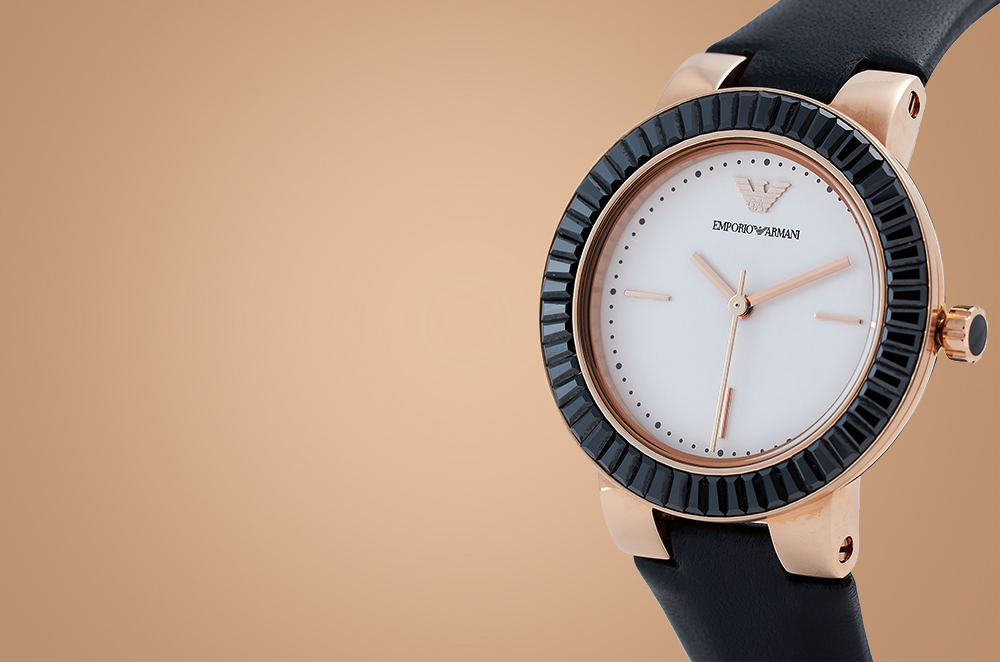 Model: AR80027
Price – $225.56
An astonishing piece of work that combines a timeless silhouette with modern elegance. Well, the Italian house Emporio Armani brings you Greta watch with an illuminating black bezel surrounding the white dial. For a brighter appearance, the watch has a second interchangeable rose-gold plated bezel with brand name. The dial is further dressed in mineral crystal glass that prevents scratch and shock with a crown housed traditionally at 3 o'clock position.
A round rose gold-toned, 34 mm stainless steel case with three hands, and three stick indexes of the same color complete the watch. The elegance of the brand's eagle logo brings a little more brilliance to this timepiece. The smooth black leather strap closes with a rose gold stainless steel pin buckle that is adjustable. Greta watches have 5 ATM water resistance. A staggering feature of this wristwatch is its interchangeable bezel, which can transform the entire look of it. This wristwatch is a must-have in your collection of styles that is synonyms with sophistication.
Gioia: Best Emporio Armani Watches for Women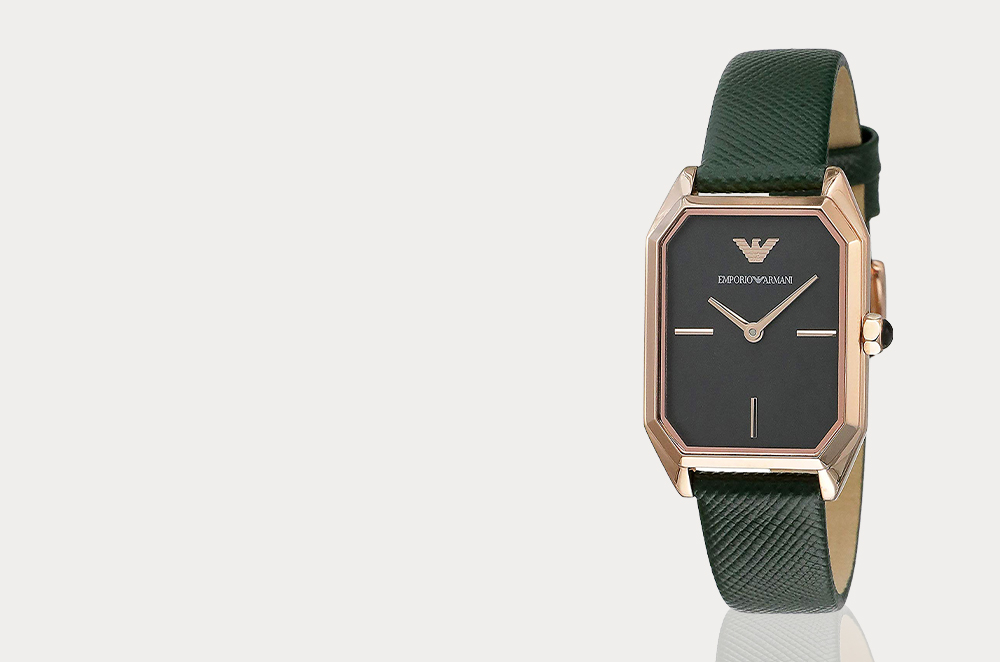 Model: AR11149
Price – $263.11
Beauty coupled with class and grace, Gioia watches can impress any eyes. The glossy green leather strap is attached to a rectangular stainless steel case. A slim wristwatch with a 24 mm case and 14 mm of bandwidth. Its sleek dial is polished with black mother-of-pearl, bringing life to two rose-gold hands from the center.
Splash-proof with a 3 ATM Water Resistance(2), its minimalistic dial is additionally well-protected by the mineral crystal glass. It is a neatly styled timepiece and an impeccable choice in affordable price to add to your collection. Suitable for formal events, this slender wristwatch is a perfect, everyday accessory to adorn your wrist again and again.
Gianni T-Bar Round Blue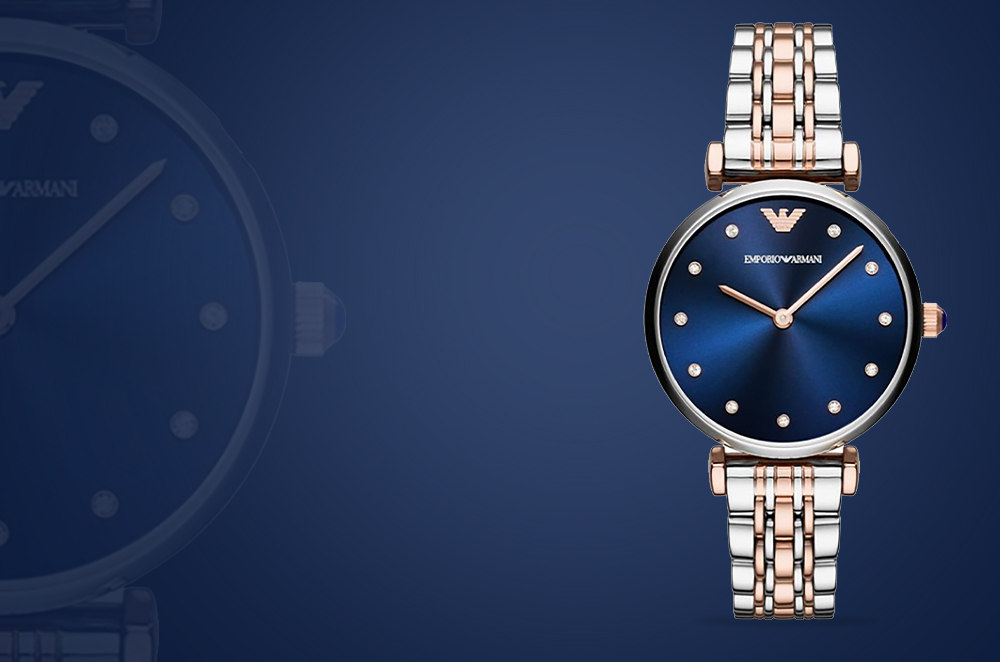 Model: AR11092
Price – $580.45
This Quartz wristwatch will not disappoint you, especially if you want to shine. This is for the blingy one's looking for a piece of jewelry that will gleam their wrist. Its two-tone bracelet is one of the spectacular contemporary designs. One of its notable features is the coating of 32 mm stainless steel case and lugs with accents of rose gold. The classic Emporio Armani logo at the 12 o'clock position in rose gold-tone compliments the deep blue dial. It has shimmering rhinestones for hour markers. This timepiece is also created with glossy shade for elegance and radiance.
Donna: Best Emporio Armani Watches for Women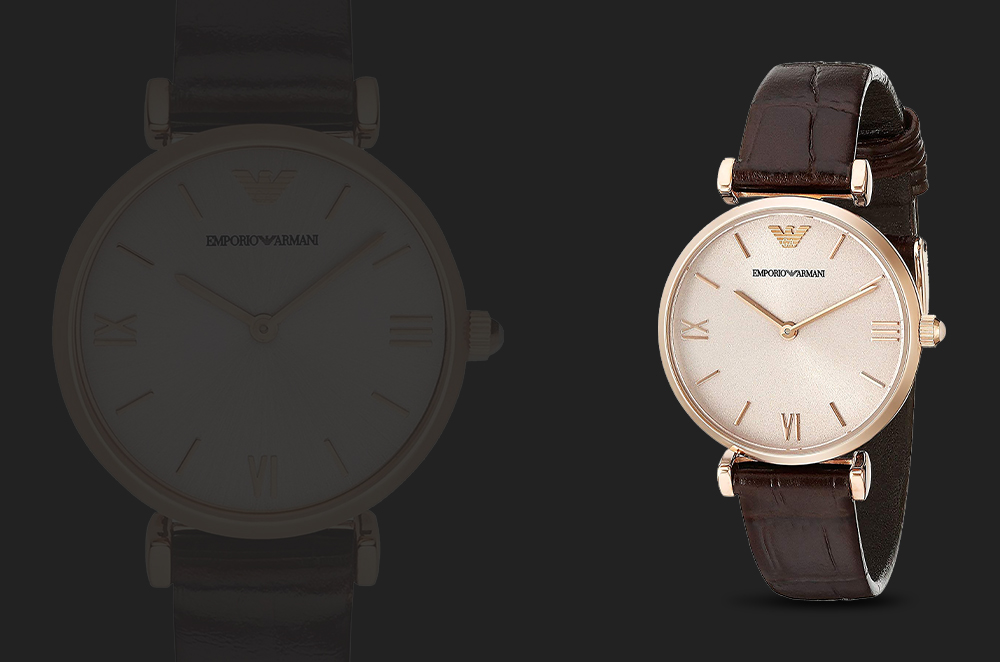 Model: AR1911
Price – $265
This is a modest and minimalist wristwatch among the wearable classics beating those flamboyant ones. Its aesthetic brown leather strap gives it a luxurious finish. Visually appealing in a 32 mm stainless steel case, Donna has a coating in rose gold-tone. A Quartz movement watch with the Roman numerals at the three, six, and nine o'clock positions on the cream-colored dial. Not to forget the empowering Emporio Armani logo at the 12 o'clock position.
All of these, with the hour hands, minute hands and hour markers are matching the tone of the case. Its dial is well-protected from fall and scratch with the use of mineral crystal glass. So, it would be wise to not for a swim with Donna watches as their water resistance is 30 m. The simplicity of Donna watches is what makes them perfect for any formal event.
Arianna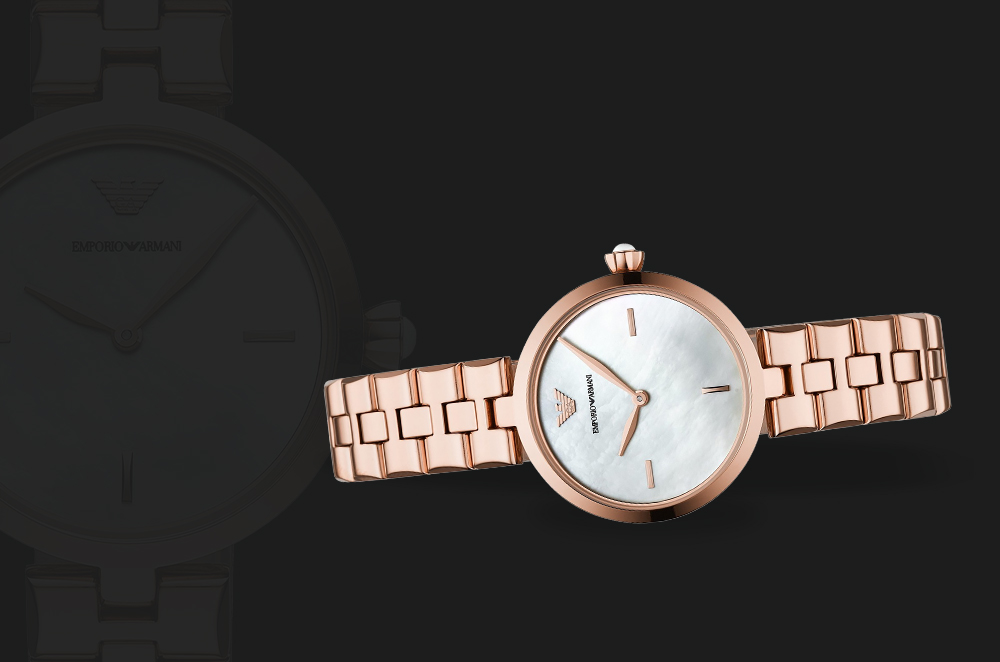 Model: AR11196
Price – $295
The newcomer Arianna takes a turn for the sophisticated fashion. A beautiful timepiece that will raise your style quotient. It is perfect for everyday wear, pairing well with both formal and casual outfit. The round-shaped, 100% stainless steel case adorns a flower-shaped crown in rose gold-tone(3). This 32 mm watch comes with a white mother-of-pearl dial, heightening the enhancement.
Along with the Emporio Armani logo at the 12 o'clock position, it has two hands and three baton markers. It is water-resistant by 5 ATM. A lustrous rose gold bracelet watch, protecting the dial by strong mineral crystal glass. Appreciating the intelligent crafting style, this delicate watch can help you stand out from the crowd.
Silver Gianni T-Bar: Best Emporio Armani Watches for Women In 2023!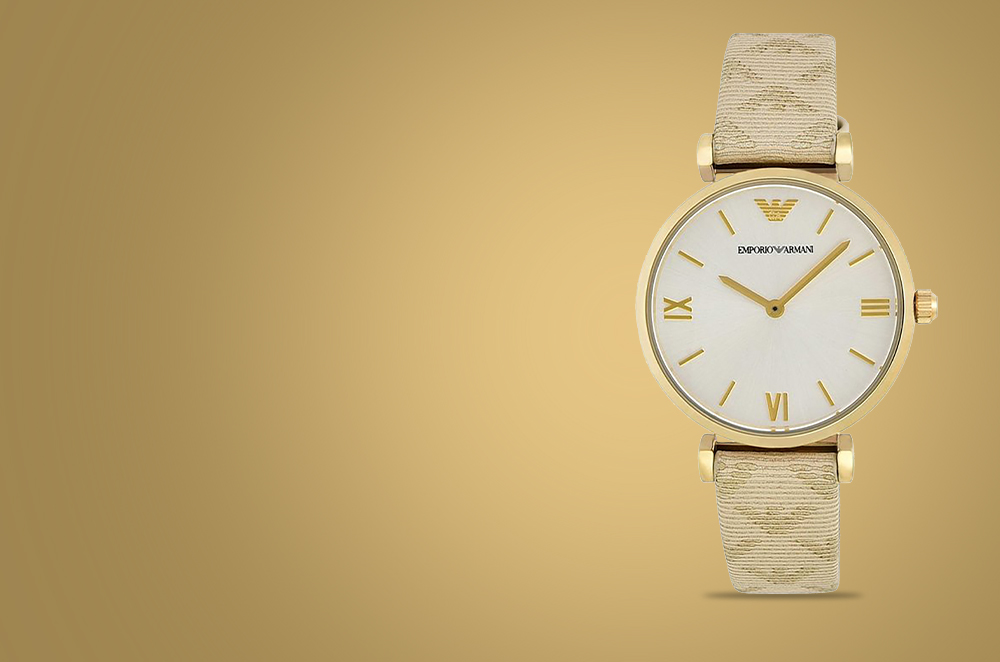 Model: AR11127
Price – $2165
Adorned in a 32 mm stainless steel case, Armani's Dress watch is your lucky charm. The alluring yellow gold coated case and the smoothened silver dial speaks for its graciousness. It also has patterns of the iconic brand logo neatly polished on the strap. The lugs, baton markers, and the crown are coated in yellow gold.
Roman numeral markers with the signature Emporio Armani logo at 12 o'clock complete the look of the watch. This highly accurate Quartz movement watch has long-lasting battery power. Its dial is safely protected by mineral crystal glass and has water resistance up to 30 m. This fashionable watch is highly versatile so you can charm your way in by bridging the gap between trendy and elegant.
Aurora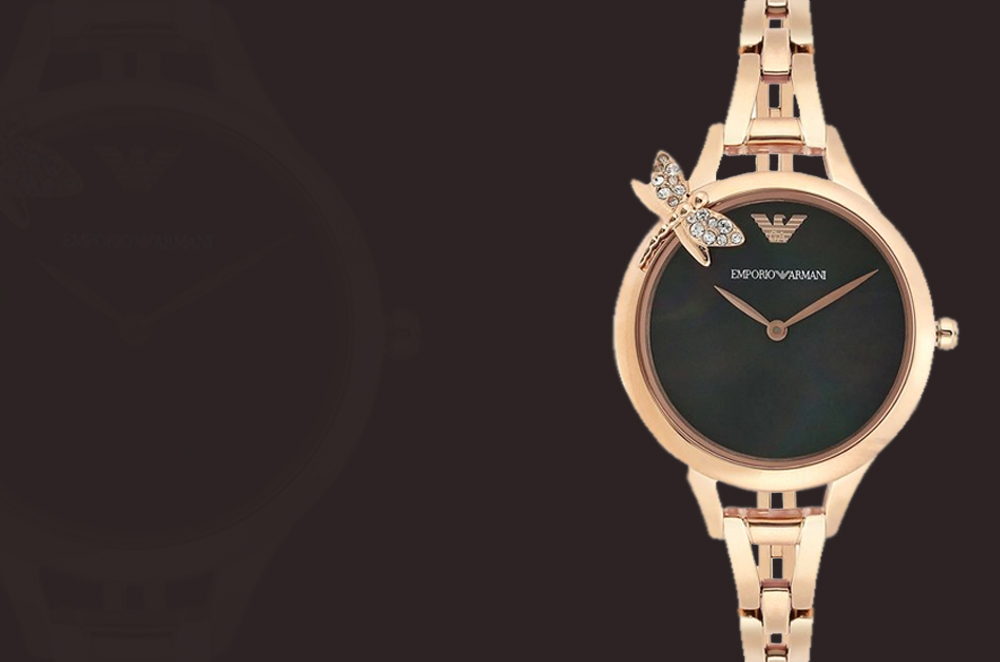 Model: AR11139
Price – $234
As the name itself suggests, Aurora is the epitome of understated elegance. Femininity lies at its very core. The inclusion of an inflated dragonfly on the bezel has further heightened the tasteful line-up of the watchmaker. There are tiny little stones on its wings, giving it more beauty. It has a dark grey colored mother-of-pearl dial contrasting the rose gold leaf-shaped hour and minute hands.
The brand logo of Emporio Armani is elegantly placed at 10 o'clock position. A 32 mm stainless steel case with slender lugs that has mineral crystal glass protecting its dial. It has a battery, powered by Quartz movement. This iconic piece can win many hearts as it stands out and is embodied with timeless charm.
Retro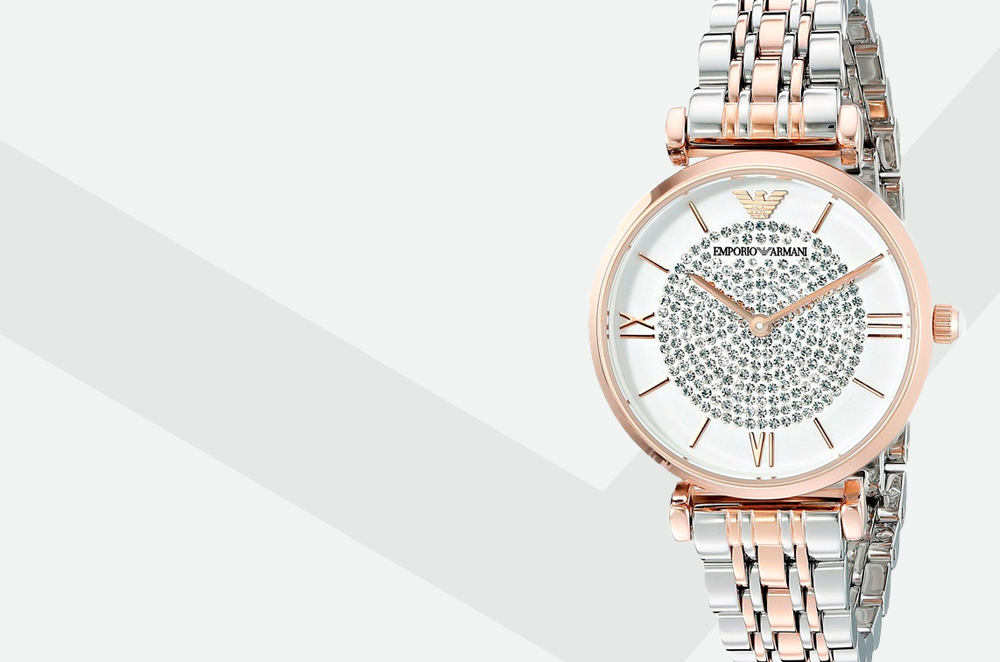 Model: AR1926
Price – $395
Two-toned crystal ladies watch with an ultra-stylish and innovative look. This pristine Retro wristwatch has a 32 mm stainless steel case coated in silver and rose gold-tone. The watch is fastened with a bracelet, made with an elegant mix of steel and golden steel. The luscious white dial under the mineral crystal glass is also decorated with tiny glistening crystal embellishment. Those crystals being the center of attraction of the timepiece.
Showcasing securely in a polished rose gold-toned bezel is the eagle-shaped Emporio Armani logo along with Roman numerals at three, six, and nine o'clock position. Its water-resistance of 3 ATM further ensures the quality of the watch. Let your trendsetting style take a turn to the enviable style Retro carries.
Kappa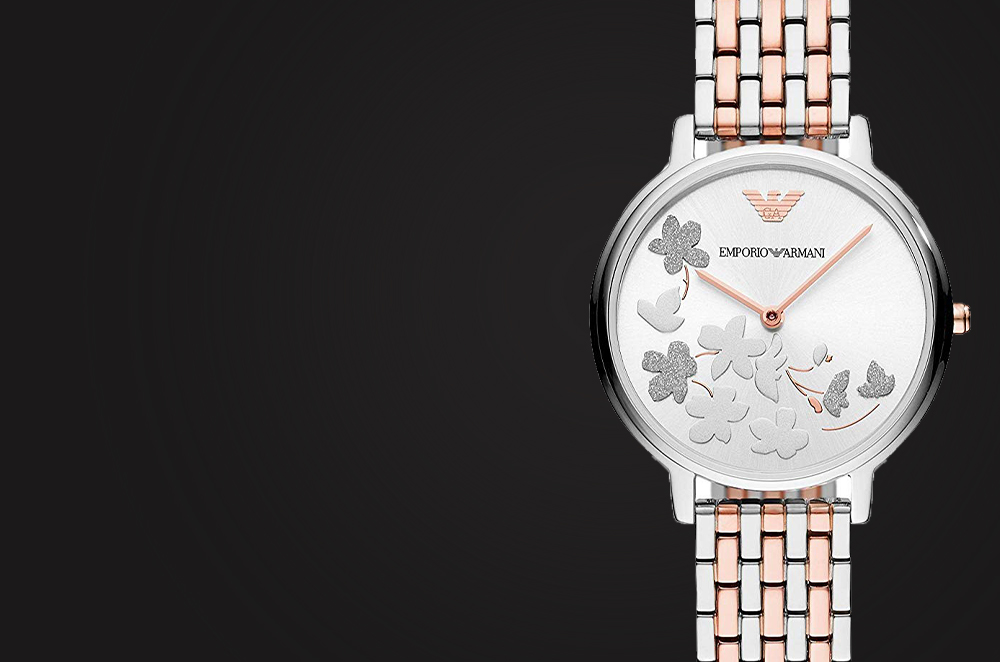 Model: AR11113
Price – $199
The picturesque surface of Emporio Armani's Kappa watch will help you bring out the feminine in you. A gorgeous two-colored watch that depicts the delightful character of a lady. This petite timepiece of 32 mm stainless steel bracelet, is coated in silver and rose gold, and has a round-shaped silver dial.
An alluring feature of this wristwatch is the dainty floral pattern beautifully adorned on the dial which gives the watch a posh look. For improved protection, the dial is covered with mineral crystal glass. The overall appearance of the watch with silver bezel and two-toned, seven-link bracelet, is unique. Marked with a water resistance of 50 m, Kappa is provided with Quartz movement.
Valeria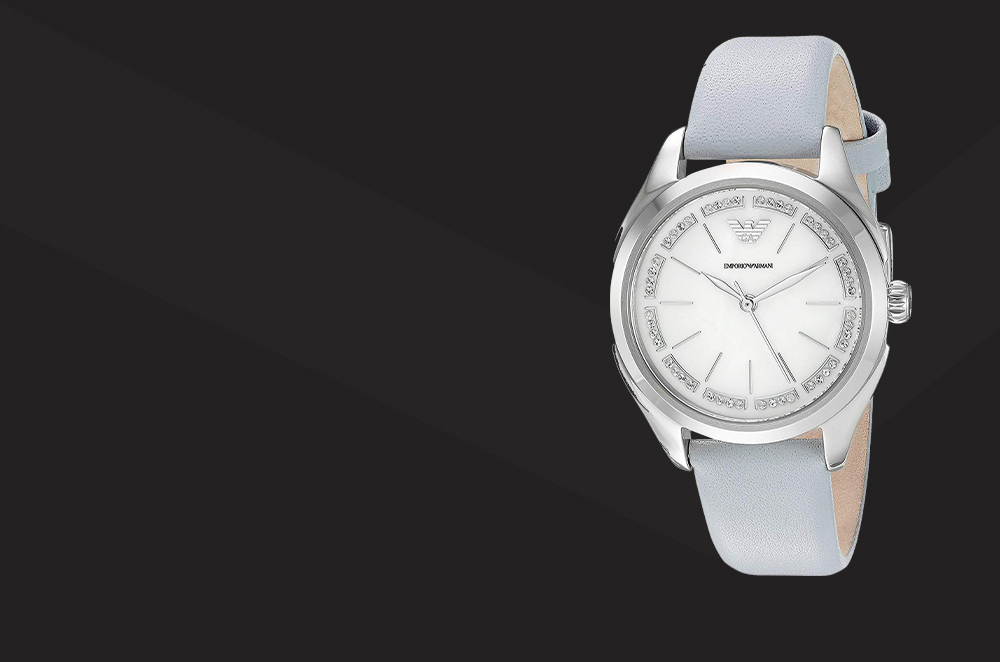 Model: AR11032
Price – $153.73
An Emporio Armani watch that combines the femininity of a dress watch and the styling of a sports watch. Spanning the gap between dressy and casual, Valeria watches are trendy and stylish. A watch made for early adults who love a ray of color on their wrist. Made with a soft to touch, velvety pale blue leather strap, this wristwatch is a unique piece. The delicate lug construction and 30 m stainless steel case of polished silver, contrasts the crystal topped dial. With its characteristic eagle logo at 12 o'clock position, the dial is further embellished with gleaming crystals. You don't have to worry about splashes of water on it as it has a water resistance of 3 ATM.
Final Thoughts
Embodying effortless elegance, Emporio Armani watches would be an excellent addition to any watch collection. Each of these mentioned above in our compiled list of the 10 best Emporio Armani watches for women in 2023 will make you fall in love. These timeless beauties together in stylish harmony won't let you down. Choose yours now.
If you are someone looking for subtle crystal embellishments, go for Gianni T-Bar, Aurora or Retro as these can let you shine with grace. On the other hand, for a modest look, Donna and Gioia would be perfect. You can use either of them for formal wear. If you want to up your style-game in eye-soothing designs, you should consider Greta, Gioia or Valeria. These durable watches are infused with celebratory expression. So, what are you waiting for? Arm your wrist with a distinctive style from Emporio Armani!