Have you switched to heated eyelash curlers yet? If you haven't, maybe it's time you do. Especially if you prefer dramatically long lashes that just pop your eyes out. Or if you fall in the category of those with short and stumpy lashes despite the countless efforts of dragging the fanciest mascara along the lashes. By using one of the best heated eyelash curlers, you can amplify your look even further with more intensity while adding a more dramatic curve.
So, unless you pair your mascara with an eyelash curler, you don't do any favors to your lashes to do their job —stay fanned and curled! So, here's what you can do!
Heated Eyelash Curlers To Curl Without Pinching!
Doing eye makeup right is on top of the goal list of every makeup queen. Of course, lashes play a dramatic role in achieving your desired look. Something is alluring about those full, long, and luscious lashes, even without any other makeup on. And here's the saucy secret of fanned-out and curled lashes: the best heated eyelash curler.
Regardless of the natural length or volume, you are working with, some lashes remain straight as sticks even after using curlers and mascara. Your outdated metal curlers may be the problem here. Forget the basic model eyelash curler you normally use, it's time you upgrade to heated eyelash curlers. Why? There are several reasons to consider here. But let me begin with the obvious one. Come to think of it, how terrifying is holding that intimidating eyelash curler clamp over your lashes? How did you feel when you used it for the first time?
You cannot lie that it was a piece of cake. I still get anxious just thinking of using it. So a heated eyelash curler is a great option for those who did not come around the traditional eyelash curler in the first place (just because of how scary it looks). Not to mention how difficult it is for newbies to use a basic curler until they get used to it. With the best heated eyelash curlers however, you can easily and gently curl your lashes without getting burnt.
If you ignore how the gadget sounds, a heated eyelash curler helps create a long-lasting, much bolder, and intense curl that holds all day. Especially if you top with mascara coats. The result is fluttery and curled lashes without the stress of using a traditional curler and with less risk of pinching your skin. Quite a win-win for you!
How Does A Heated Eyelash Curler Work?
It is true that a heated eyelash curler typically doesn't fall on everyone's radar. I mean, it does sound scary. But these follow the same principle many other beauty tools follow. For instance, a hair curling iron uses heat to curl your strands and leave them in flawless curls. Likewise, a heated eyelash curler uses a higher temperature to lock your eyelashes in place. But unlike curling iron, heated eyelash curlers get the job done in one simple step.
There could be countless questions circling your head. What if you rip your eyelashes out? What if your lashes get stuck on the heated curler? Or what if your lashes burn? To save you from the trouble of these questions, you should know how a heated eyelash curler works.
These small gadgets make sure that your lashes straighten out before they curl your lashes into two perfect curves. They utilize heat to curl your lashes upwards with a longer staying power than a regular curler. With the best heated eyelash curler, you won't have to constantly crimp your lashes over and over again.
Using heat over your lashes may sound insane. But the manufacturing companies use tons and tons of tests to ensure the safety of using these heated versions. They ensure that the tool won't burn your lashes, or cause any damage, and its maximum temperature settings are safe around the eyes. Let's get into the details!
How to Choose the Best Heated Eyelash Curler?
These best heated eyelash curlers, powered by a battery or rechargeable battery, have an adjustable temperature system in two levels. You can choose the level depending on the thickness of your lashes. For thick lashes, a high temperature is recommended. But for thin lashes, it is better to lower the temperature.
Unlike traditional curlers, these high-tech curlers favor the user's ease of use. For instance, many of them come with an indicator that changes color as soon as they are ready for use. The warming up takes about 10 seconds.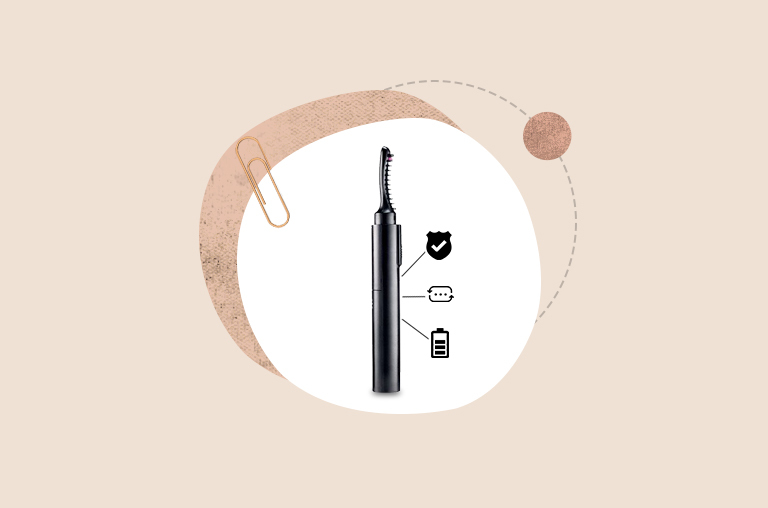 The majority of them have a small digital LED display that shows both battery level and temperature. To turn a heated curler on, all you have to do is press or slide a button. Also, some premium quality devices have a system that automatically stops the power supply after the usage time exceeds five minutes. This way, the risk of burning lashes would be out of the window.
Now you know why a heated eyelash curler is a coveted beauty tool in the beauty world! But from traditional clamp-style to wand curlers, with the best heated eyelash curlers, curling options are endless that it may confuse you to choose your style. Before we get into that, let's get how to use a heated eyelash curler to get the best style and the pros and cons of them out of the way.
How To Use A Heated Eyelash Curler?
It may seem complicated to use a heated eyelash curler. But it is pretty simple. It is easier than traditional eyelash curlers. Here's a quick rundown on how to use heated eyelash curlers on your natural lashes as well as extensions. Follow these basic steps and you are good to go!
Preparation
Charge your curler

. Before starting, charge your curler with batteries or a USB cable —depending on the type of curler. Read the instruction manual.

Clean your lashes

. Always start by cleaning your lashes of any residue makeup. But make sure that your lashes dry before using the curler.

Switch on the curler

. Wait for your curler to heat up. Most devices don't take much time. After the warm-up, test the temperature on your fingertips to make sure it is not too hot.
Using the Heated Eyelash Curler
Move the curler

. If using a clamp curler, place the opening at the base of your top eyelashes and clamp down it at a curved angle for about two minutes. Then, release the hold. For a wand-style curler, begin at the base of your top lashes and gently move the curler across your eyelashes for 15 seconds. Tilt your lashes in an upward direction and hold for another 15 seconds before releasing it. Repeat the process until you get the desired result.

Add mascara

. When to add mascara —before or after curling— is still up for debate. However, both give different yet stunning looks. For a more dramatic bend, apply your mascara before and after using the best heated eyelash curler you have chosen. You don't have to apply it two times. Depending on your style, you can apply it before and wait until dry or apply a coat of mascara after applying the heated curler to seal a natural look.

Curl bottom lashes

. Don't forget your lower lashes. You can heat curl those as well.
Pro tips:
Always start at the root to create a perfect curl.

You can apply light pressure as you drag the curler upwards for a more dramatic effect.

For natural curls, start curling your lashes at the root and stop just before the tip.

Remember not to over curl your lashes to avoid damaging your eyelashes.

Limit your exposure to heat once a day.
Did you know that you can use your heated eyelash curler on your extensions? Unlike regular curlers, these lash curlers can curl fake lashes to the desired effect. Either you curl them before attaching them to your eyelids or follow the same steps outlined above after gluing. But make sure that your extensions are positioned very close to your natural lashes and seamlessly glued down before starting.
What Are The Pros And Cons Of Using A Heated Eyelash Curler?
What do you normally do when you lean towards confusion over buying a new product? After mulling over the possible worst-case scenarios, you may weigh out its pros and cons. What difference would it make if you buy it? In this case, what difference can the best heated eyelash curler make in your already dashing makeup look? Is it worth buying?
Your regular curler may work just fine. Your lashes(1) may still look pretty without curling anyway. So, why do you need a change at all? Well, whether you have used a traditional curler up until now or have never curled your lashes before, this handy list of pros and cons may help you make the decision.
Pros:
A longer-lasting and luscious curl when compared to regular eyelash curlers.

Brighter, bigger, and more awake eyes.

More convenient to use without needing to use a blow dryer or hold a candle to the tip to raise the temperature.

Compared to non-heated eyelash curlers, the risk of lashes falling out by using the best heated eyelash curler is much lower.
Cons:
Prolonged use of heated curler or excess heat may lead to damage, breakage, or fall out of lashes. But you can easily avoid this if you use them with caution.

Must charge them via USB or batteries (meaning you have to replace the batteries).
Since the pros outweigh the cons, let me ask you. Have you decided to ditch your ancient tool for an upgraded one? Have you decided to give these heated eyelash curlers a chance? If yes, here's a list of 5 of the best-heated eyelash curlers you can buy in 2023!
Best Heated Eyelash Curlers To Buy In 2023!
Traditional lash curlers are not everyone's jam. But thanks to heated lash curlers in the market, you can now easily curl your lashes with slow swoops instead of manually clamping. Several brands offer heated lash curlers with different features that you might get confused over which to choose. Listed below are 5 of the best-heated lash curlers you won't regret buying. Check out if they fit your needs!
Chella Heated Eyelash Curler
Fill in and curl your lashes with this heated curler and make them curl with a luscious curve! This device is one of the absolute favorites of makeup artists. Not only is this heated eyelash curler simple to use, but it also runs with evenly distributed heat in a compact design. The comb with heated teeth lifts and gently curls your lashes by simply combing your lashes as you would with mascara.
Price: $22
Though it takes some time to get the desired look, pressing and combing your lashes for a bit longer can give you tremendous changes! Move the wand at any angle to curl your lashes without pinching or pulling! Powered by AAA batteries, all you have to do is take off the cap and insert the included battery. Anyone wearing contact lenses can use this but they have to be extra cautious.
JDO Electric Eyelash Curler
If you struggle with lashes that tend to grow downward or sideways, this is the best heated eyelash curler that may be your final push to ditch the regular curler. With a classy and high-tech design, JDO Electric Eyelash Curler can keep your lashes straight and curl them painlessly.
It comes along with a USB cable, a cleaning brush, and a user manual. With four temperature settings —65, 75, 85, and 95 ℃, the exclusive design offers an LED display screen that shows the temperature and battery level. It also saves the temperature that you used the last time and shuts off automatically after 5 minutes, preventing overheating.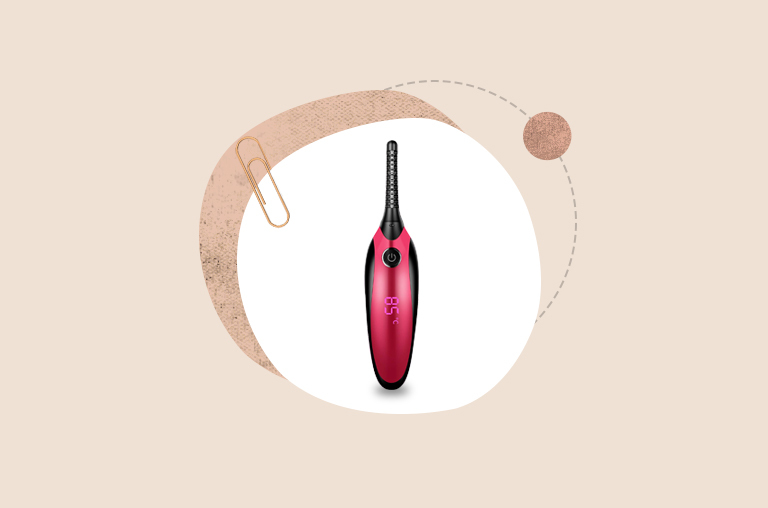 Price: $30.99
The thermally protected wand is designed for 360-degree styling with double heat insulation protection. It can heat up in less than 8 seconds. The drawbacks would be two: as opposed to the brand's promise, it does not work well with mascara-coated lashes and the curl may not hold for long. It may be tricky for a beginner and you must always remember to charge it before starting with makeup.
Acavado Heated Eyelash Curler
With two temperature settings, this highly-rated Amazon curler delivers perfect curling at every angle, as promised. Unlike other heated curlers, this wand-style curler has a wider comb, making it an ideal curler for short and thin lashes that are hard to curl. The bendable wand further allows you to move it at any angle. You might have to press with pressure to curl but this is one of the best heated eyelash curlers to deliver seamless curls without burning or breaking of lashes in one or two swoops.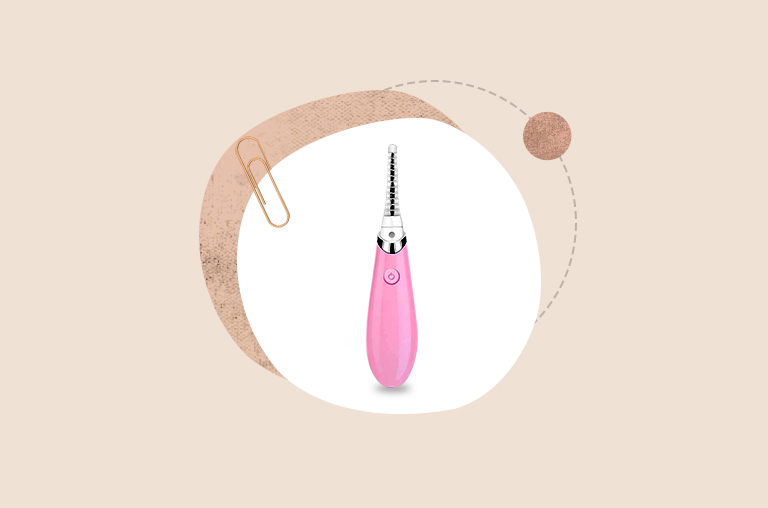 Price: $15.99
Made of nickel-chromium alloy with high thermal conductivity, the curler provides safety barriers for eyes with a strip insulation groove. But it has no auto shut-off feature. It heats up in just seven seconds and gives long-lasting curls. It is also easy to clean and remove makeup residue from the bristles, a perfect curler for lazybones.
Panasonic Heated Eyelash Curler Comb
To curl those stubborn lashes that won't stop clumping all the while separating lashes effectively, Panasonic offers its heated eyelash curler. Even after mascara application, this curler gives a long-lasting curl by gently applying heat along the length of your lash line.
The sleek contoured and ergonomic handle not only eases the use of both hands but also fits right into your makeup bag. It also has a protective travel cap. Hence why it is often called the best heated eyelash curler for traveling!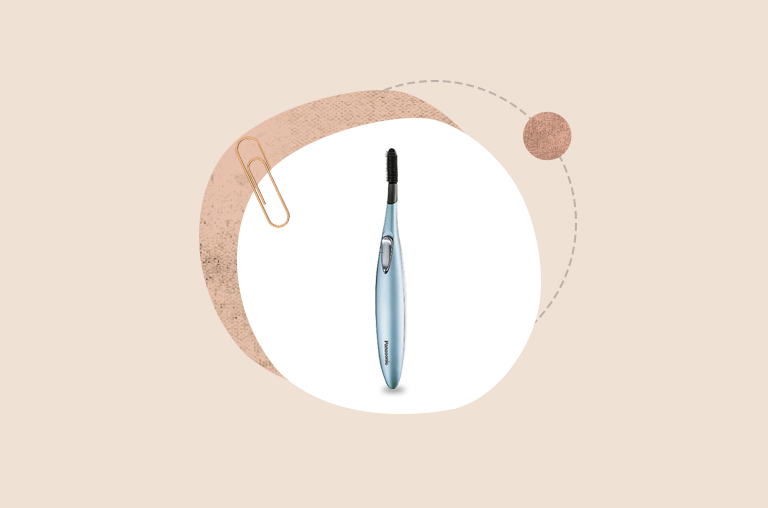 Price: $14.89
Designed with one gentle heat setting that gets warm enough to curl your lashes but not too hot to burn them, the heated curler curls without pinching or pulling. The curler is not ideal for people using contact lenses. Its AA battery has a lifespan of 40 minutes. You need only a few seconds to curl once a day, so it may last months! But if you are a heavy user, you may choose JDO's heat curler.
TOUCHBeauty Professional Heated Eyelash Curler
This one stands out from the others in that it comes with a silicone refill pad instead of a brush, placing it among the best heated eyelash curlers. The heating pad curls the entire length of your eyelashes without pinching or crimping. And most notably, it has a smart temperature sensor. This innovative temperature sensing silicone will change its color to colorless when warming up. The preheating process will take you only 15 seconds. You can use it on false lashes, eyelash extensions(2), and mink lashes as well. You don't have to apply pressure to curl fragile lashes.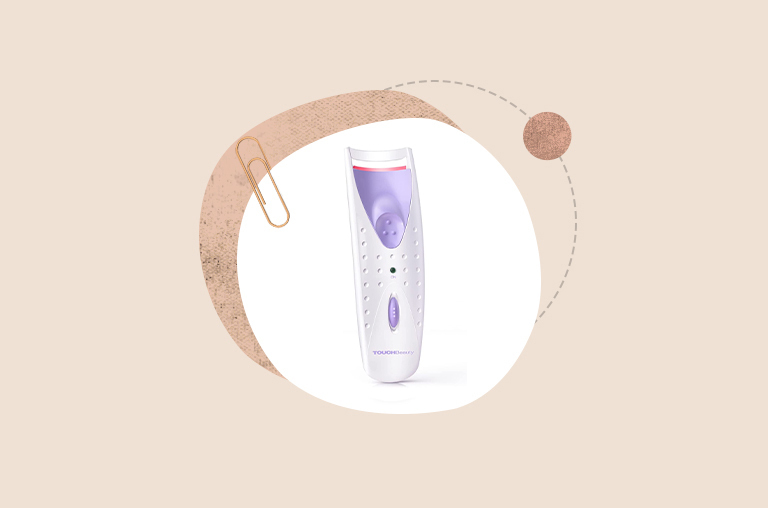 Price: $19.98
The curler is 2AAA battery operated. A downside is that the batteries may last only 2 weeks on regular usage. Getting high quality batteries is a potential solution to some extent. Regardless of how thick or sparse or unruly your lashes are, this heated curler can work wonders on them to deliver stunning curves!
All 5 of these best-heated eyelash curlers have their fan base with their nod of approval. So pick yours! If you are still confused over which one to choose, here's something that will help you.
How To Choose The Right And Best Heated Eyelash Curler?
Have you not ever wanted long and curled lashes, just for once? If you said no, you most probably are lying. I mean, at some point in our lives, all of us wanted those luscious, albeit fake, eyelashes models on magazine covers flaunted. No? Good for you! But others, keep reading to find out what to consider before choosing your best heated eyelash curler! You don't want to end up choosing a bad one, right? Believe it or not, your lifestyle and needs change the choice of curler as well. So, let's see what are the factors you must consider!
Style
Currently, there are two styles: the wand-style and the clamp style. If you have long, straight, and thick lashes, I would recommend the clamp-style heated eyelash curler. On the other hand, if you have short, sparse, and fragile lashes, you can go for a wand-style curler. All 5 of the heated curlers listed above are wand-style.
For a beginner, using a clamp-style curler would be ideal and easier to use. All you have to do is place your lashes into the opening and squeeze close the clamp. This pressing of lashes between the rubber pads and the angle you keep the curler combined with the heat gives the desired curve. Whereas, a wand-style curler works wonders by using it like mascara. You can simply heat it and brush it along your lashes to form an effortless curve.
Battery
You have two options among the best heated eyelash curlers: a rechargeable USB curler or a battery-powered curler. Both have their own pros and cons. For instance, you can use a battery-powered curler whenever you want without having to charge it in advance. But they are not environment friendly. So, if you are a heavy user of curlers who remembers to plug in the curler before you do your makeup, a rechargeable curler would be ideal for you.
Portability
Size always matters. Although most of the heated curlers are smaller in size, it is important to consider when and where do you plan to use them. If you fix your makeup on the go, or you travel a lot, a compact style and sleek design might be more suited for you.
These are smaller and easy to throw into your bag or purse. Consider options such as battery life, heating ability, and storage option to choose the best heated eyelash curler for you. However, if you are someone who uses the curler only at home, a less compact heated curler would suit your needs.
Safety Features
Bringing a heated tool so close to your eyes can be daunting. So, to ease your anxiety levels, ensure your curler has safety features such as safety guards and insulated designs to protect your eyelids from heat. The best heated eyelash curlers come with variable temperature settings that you can adjust. Many of them have a self-turn-off option to prevent your eyelashes from damage or overheating.
Material
Eyelash curlers are normally made with either metal or plastic. For long-lasting, durable, and sturdy curlers, you may choose a metal material. But if your skin is allergic(3) to metal, choose a plastic material. These are ideal for traveling as they are portable and compact.
Eye shape
You might think this particular factor is completely irrelevant. But I beg to differ. Because if you have flatter or smaller eyes, makeup artists recommend a flatter and curved heated wand for you. But if you have wider and round eyes, an eyelash curler with a wide clamp would be the best choice.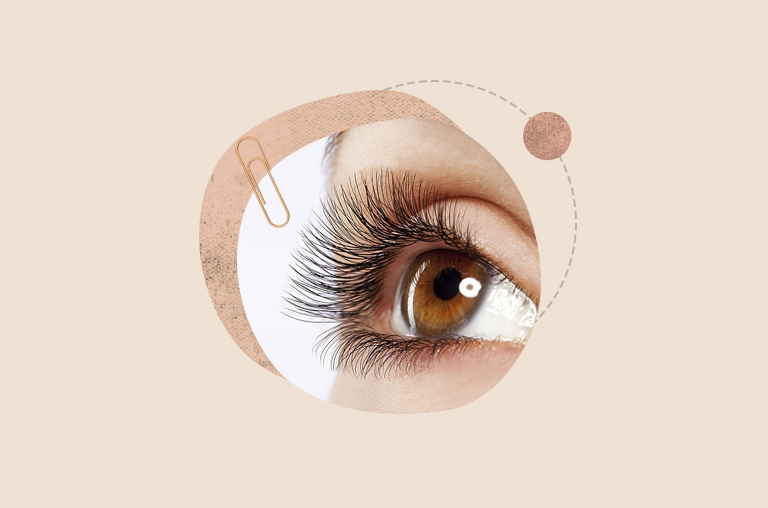 So now you know which are a few of the best-heated eyelash curlers. If you couldn't find yours from the five reviewed products, you know how to choose the right heated lash curler for you. Only the right curler can give you those intense lashes to make your eyes radiant. Thus, this little product can change your eye game!