The 77th Venice Film Festival amidst the pandemic rampant is like no other. Yes, the films usually take a backseat when it comes to these film festivals when the bar is set too high for fashion watchers. But celebrities sauntering the red carpet in glamorous dresses with face masks while maintaining a physical distance to a muted audience couldn't get any more bizarre.
Best Red Carpet Looks From Venice Film Festival
Nevertheless, not a single one of them was underdressed and there are quite many standouts. The world is blown away by the red carpet appearance of the many flawless European celebrities with jaw-dropping fashion sense. Thanks to the attendees like Cate Blanchett and Tilda Switon, the absence of American celebrities (due to travel restrictions) was felt relatively less.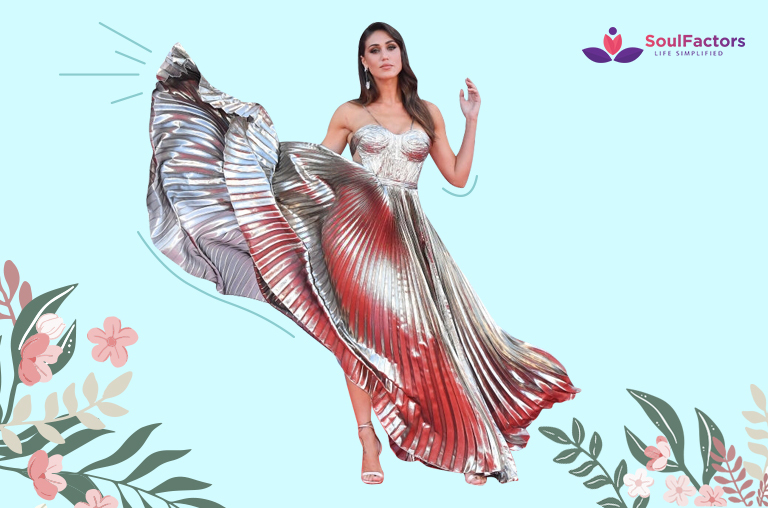 The presence of health guidelines in one of the amazing events on a celebrity calendar has paved the way to get creative with their face masks while wearing custom gowns of matching colors, giving us all huge space to take inspiration from. There is no doubt that the 77th Venice Film Festival will go down in history as one of the memorable events of all time as it did not disappoint even amidst the pandemic. Every single one of them attended the photo calls like pure royalty and made the event tenfold better. While it was difficult to choose a handful from the sartorial elegance they strolled in, here is what we chose as the best looks from the Venice Film Festival 2020.
Katherine Waterson in Prada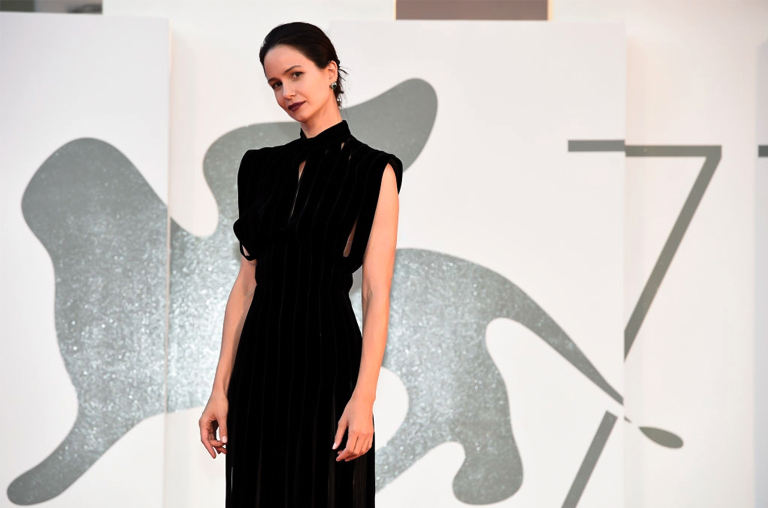 Katherine Waterson was an absolute stunner in Prada's(2) black velvet dress with wide fringes, worn over a skirt made of layers of thin fringes and black Suede decollete.
Maya Hawke in Versace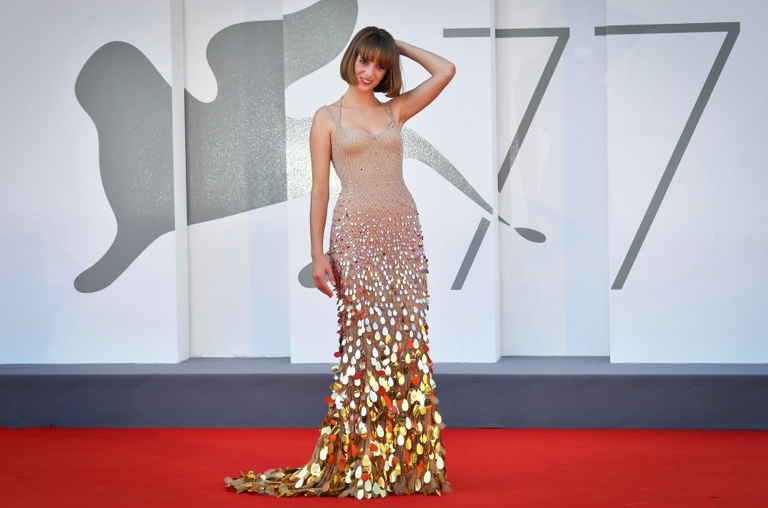 Maya Hawke's choice of mermaid gown of Atelier Versace was dazzling. The fishtail gown was embellished with an embroidered degrade of Swarovski crystals and lustrous applique(3). She arrived with a matching golden-colored mask.
Maty Fall Diba in Etro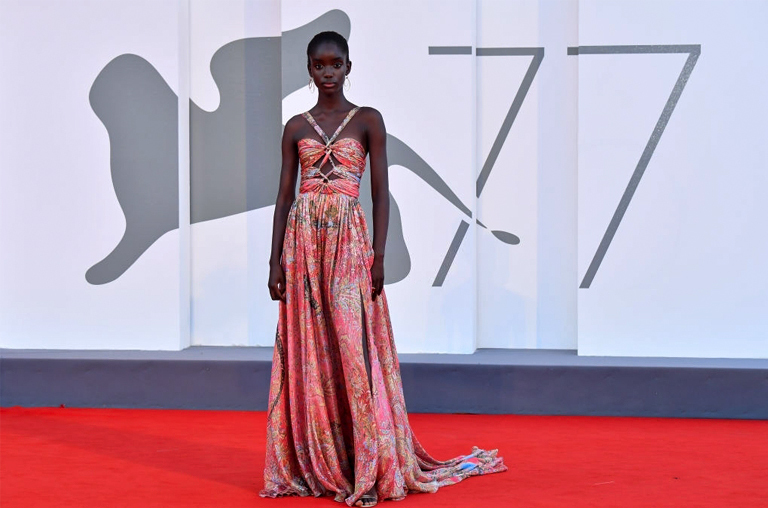 Senegalese model Maty Fall Diba graced with a custom made silk chiffon dress with a cross bodice. The hue of pink enhanced with golden threads was sure a head-turner.
Arizona Muse in Alberta Ferretti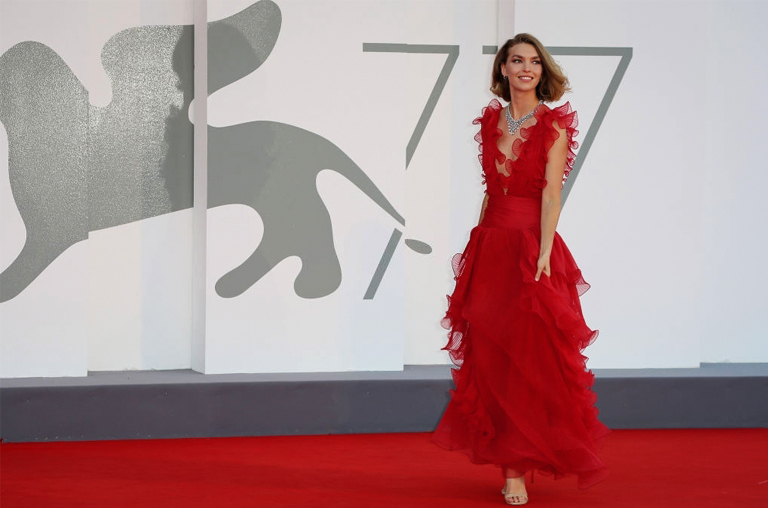 Arizona Muse adorned herself with a red pleated tulle chiffon gown with a plunging neckline and ruffled details. In the bold hue of red — even her mask, she was a beauty to behold.
Cecilia Rodriguez in Maria Lucia Hohan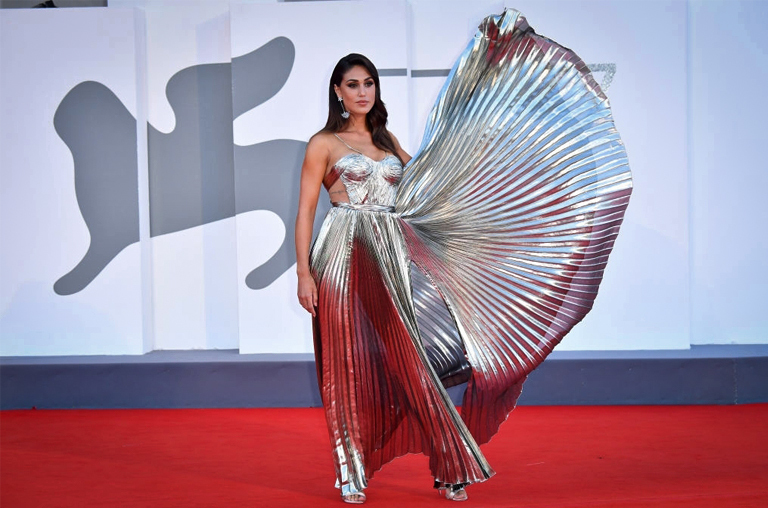 The Argentinian star shined with a spectacular gold pleated dress with one high slit from thighs. With smokey eyes and walk of a diva, she was a Greek Goddess for real.
Tilda Swinton in Chanel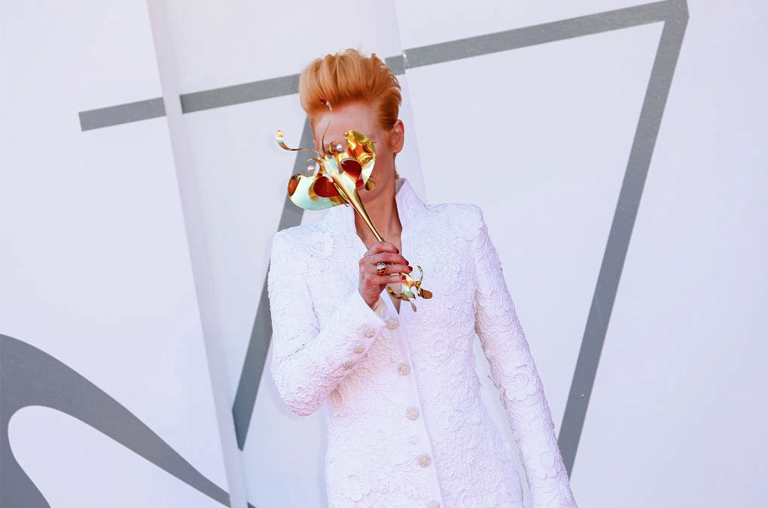 Tilda Swinton looked dashing in a white dress from Chanel Haute Couture and floral patterned heels. What stole the show was the mask by James Merry she carried which acts as a symbol of responsibility and care. Another centerpiece was her swept-back hair to complement the high collar of her coat-dress.
Vanessa Kirby in Valentino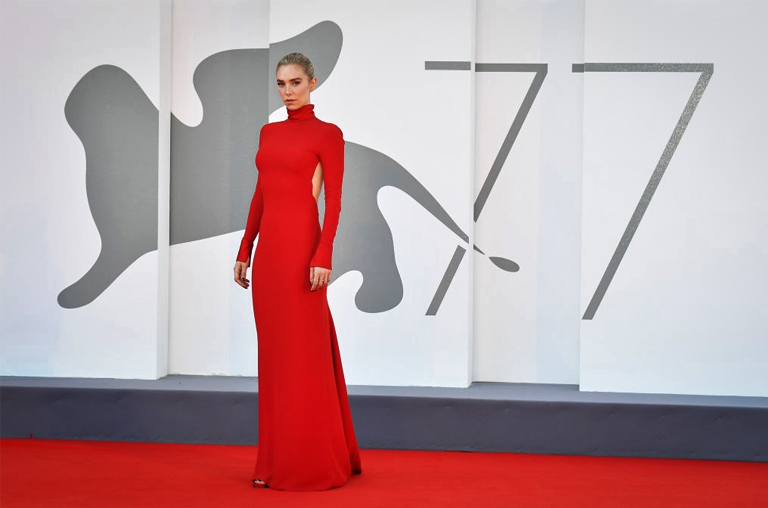 Vanessa Kirby of 'The Crown Fame' lured the attention to her with a striking turtle neck gown that matched the hue of the red carpet she gracefully walked. The Valentino Haute Couture turtleneck was a classic backless dress that made her appear more regal, despite the simplicity of its design.
Charlotte Vega in Santos Costura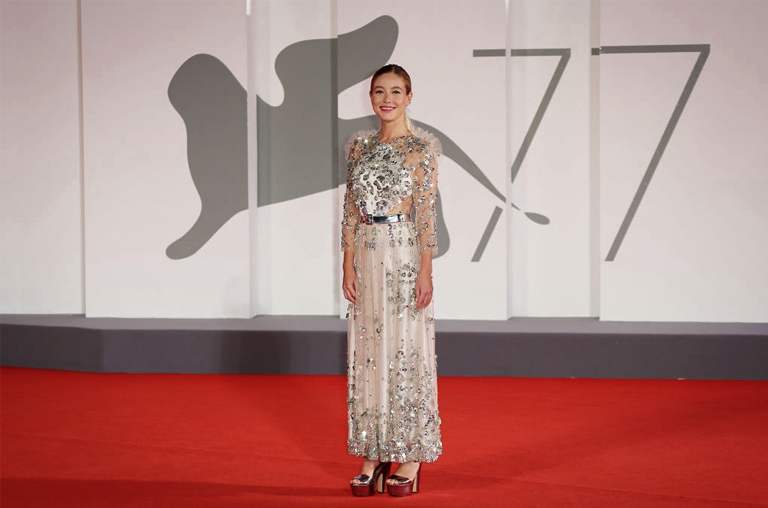 The Spanish actress Charlotte Vega was breathtaking in a shimmering gown that was embellished with sequins. The added beauty of tulle over the structure of shoulders and the silver belt around her waist made all the difference.
Giulia De Lellis in Belfiori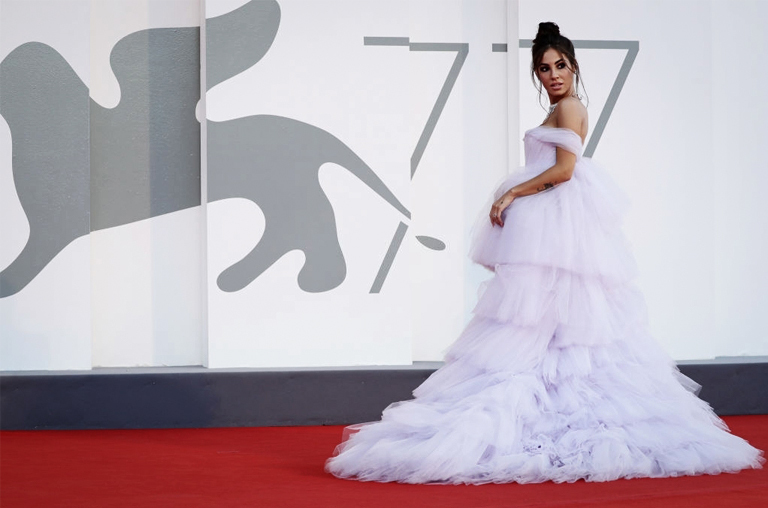 Giulia De Lellis was indeed in an icy lilac dream. The exquisite lilac custom cloud dress looked dreamy as she flaunted in it and adorned her neck with a sparkling necklace from Salvini Gioielli.
Cate Blanchett in Esteban Cortazar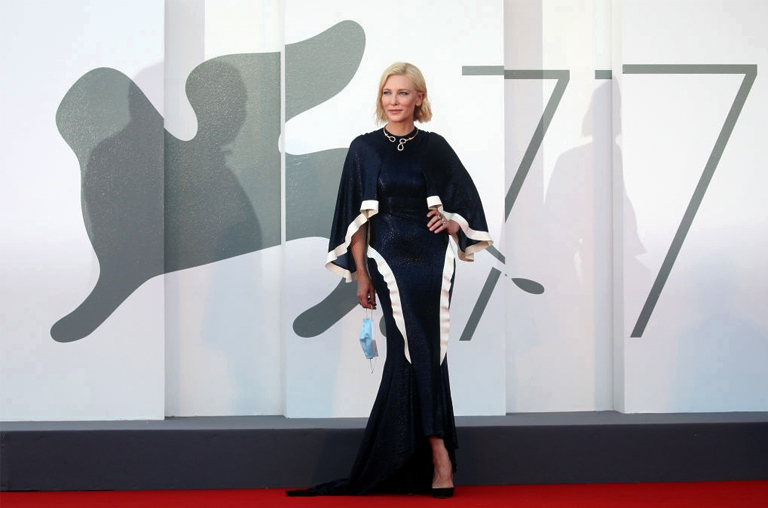 Going against the cardinal rule of fashion and re-wearing her old gown, the legendary actress Cate Blanchett kicked off the 2020 Venice Film Festival with a statement about sustainable fashion. The midnight blue shimmer jersey gown contrasting her platinum blonde hair was a prime focus even for a second time. It featured cape-like sleeves that flowed behind her and a high-low hem.
Nathalie Emmanuel in Miu Miu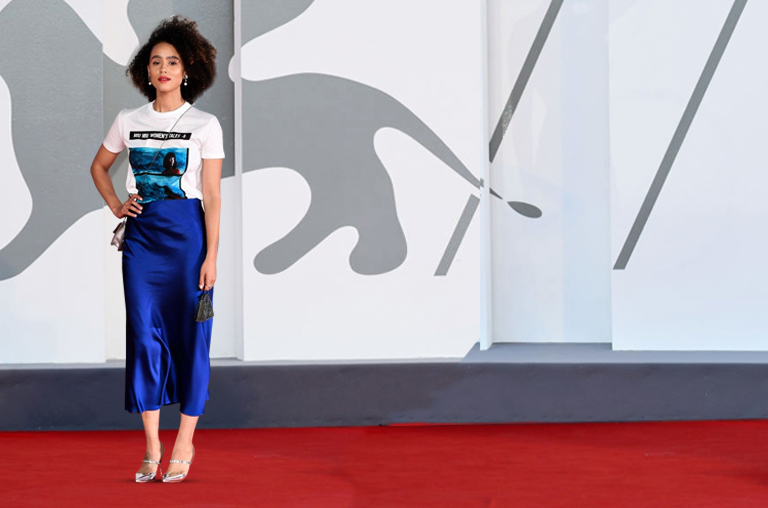 Natalie Emmanuel was casually chic yet stylish in a white logo t-shirt paired with a sleek blue skirt. Styled in natural curls, her sparkling pair of silver heels and an equally dazzling silver cross-body bag completed her look.
Elodie Di Patrizi in Versace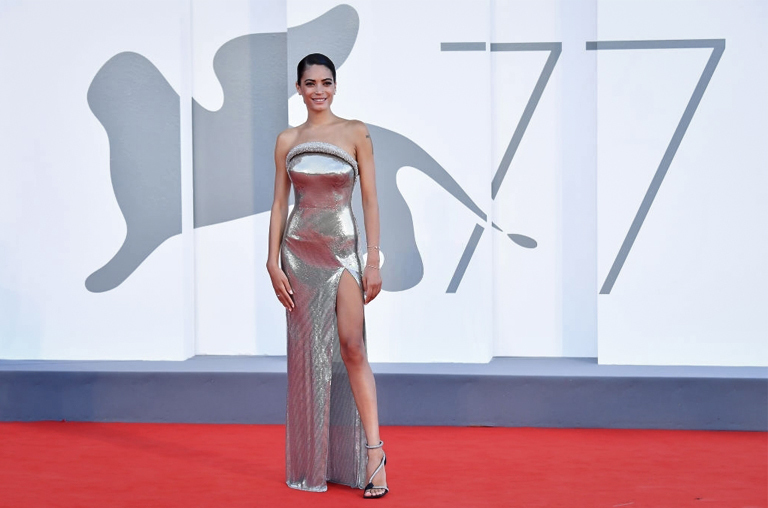 The Italian singer Elodie waltzed in a silver strapless gown that fitted like a second skin. The daring thigh-high slit and the molded bodice of the dress by Versace sure made her look exquisite. Embellished sequins at the neckline gave the liquid silver gown the beauty of a diva.
Gia Coppola in Gucci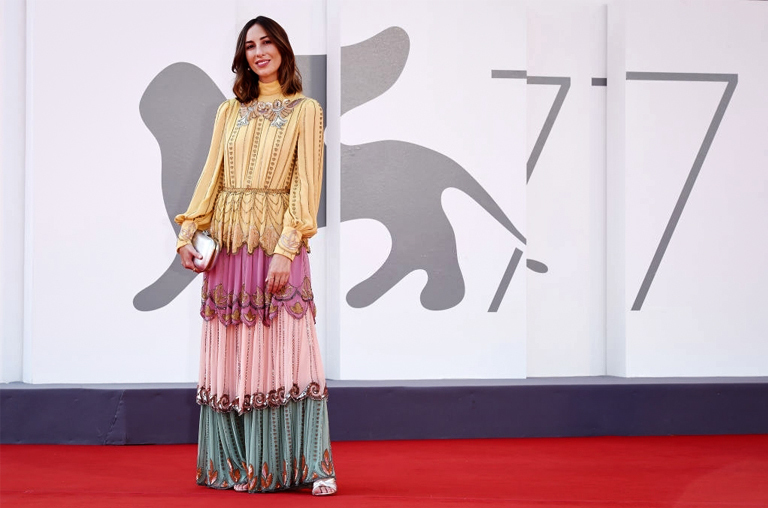 Gia Coppola's multicolored gown was a real candy. The silk georgette gown with crystal and sequin embroideries paired with high heel sandals and a metallic leather clutch gave a colorful display.
Anna Foglietta in Emporio Armani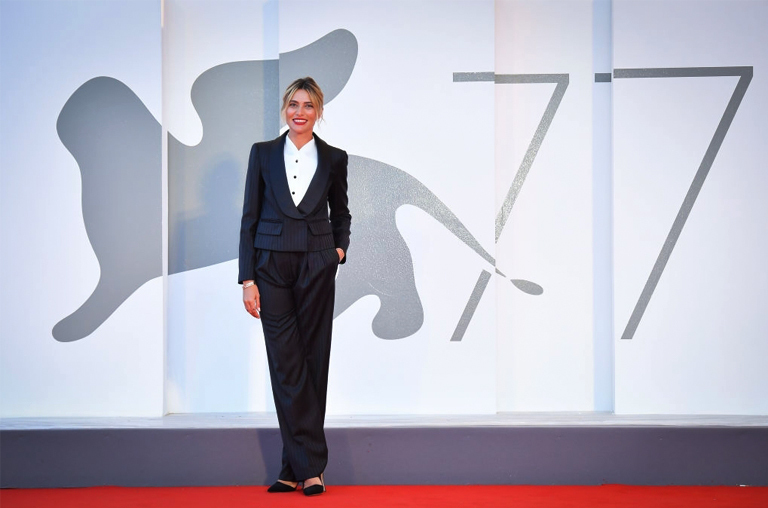 The Italian actress and Godmother of the 77th Venice Film Festival, Anna Foglietta, rocked Emporio Armani's pinstripe tuxedo. With the super-cool black Pre-Fall tuxedo with a white shirt, paired with high-heeled pumps and red-painted lips, she was the epitome of sophistication.