Have you swapped your non-mineral makeup for a much healthier option yet? Or are you still stuck upon those traditional ones with unhealthy and irritating ingredients? If yes, it is high time you started using mineral makeup, which is free from chemicals and harmful ingredients that can slowly damage your skin. Thankfully, various makeup brands are bringing more mineral makeup products to the market to combat the plethora of skin problems. The best mineral foundations are significantly safer products than the traditional foundations you are used to.
Best Mineral Foundations for Every Skin Type
Unlike traditional foundations, mineral foundations don't contain fillers or ingredients like chemicals, alcohol, mineral oil, talc, dyes and synthetic fragrances. This makes mineral foundations the wisest option for mature skin. There are several full-coverage mineral powder foundations that will leave you with a light-weight feel. These do not settle into fine lines you get after using traditional makeup. Besides offering a built-in sunscreen, mineral foundations provide better coverage, longer wear, soothe sensitive skin. They also prevent dull and aged appearance(1). Plus, it is universal for all skin types. What else do you need in a foundation?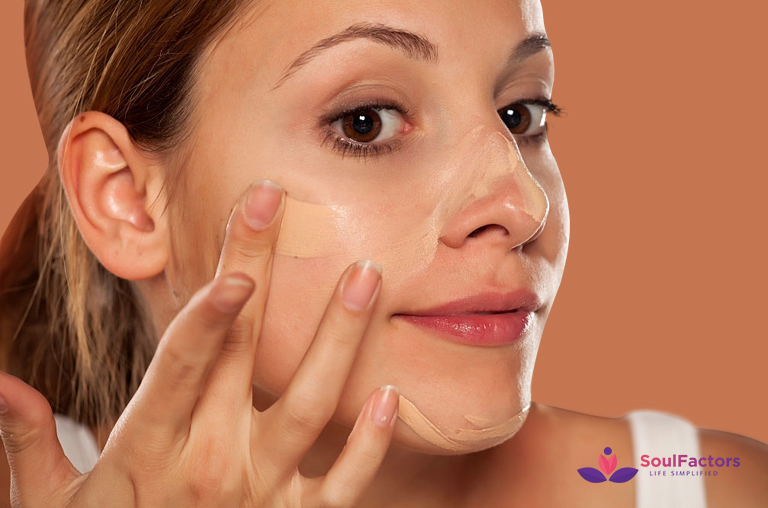 Mineral foundations are made of minerals such as clay, zinc oxide, titanium dioxide, mica, and iron oxides. All of these minerals have anti-inflammatory, antibacterial, and protective properties that make them ideal for mature and sensitive skin types as they are more pro to acne. These gentle foundations are non-comedogenic, and much more kind to your skin. They come in a variety of formulas like cream, powder, and liquid foundations— none of which leave you looking caked. We've rounded up the best mineral foundations for every skin type to help you choose your new foundation. So, choose one and toss the old one out!
Best Mineral Foundations: #1. BareMinerals Original Loose Powder Mineral Foundation
If you want to look airbrushed with minimum effort of a foundation, BareMinerals is your go-to choice. It started the mineral makeup revolution back in 1995 when foundations were thick and with silicones. With buildable coverage, the loose mineral powder can take your look from clear to full with a few touches. It hugs your skin while absorbing all the minerals to even out your complexion. You neither have to worry about a breakout nor it clogging your pores. Even if you have sensitive or acne-prone skin, you can this foundation as it won't irritate. The sun protection of SPF 15 is the bonus.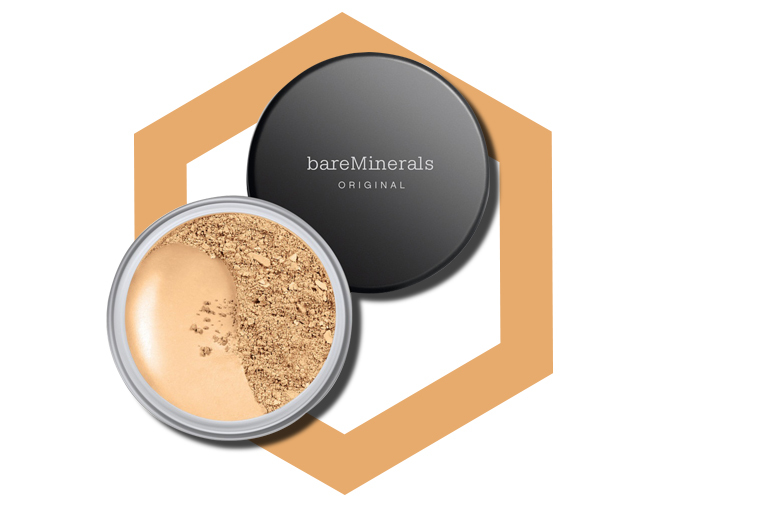 Price: $28.97
With both active and inactive ingredients being only minerals such as titanium dioxide(2), zinc oxide, bismuth oxychloride, mica, and iron oxides, this foundation is one of the best mineral foundations. It is a formulation without talc, oils, waxes, fillers, binders, parabens, fragrance, or perspectives. Plus, it comes in 30 hues so there is something for everyone! The only drawback is that it is not convenient to travel with. But it won Best of Beauty Award and made to the Best of Beauty Hall of Fame in 2016. The iconic BareMinerals started with their original loose powder and now when it comes to mineral-based staple, their Original Loose Powder Mineral Foundation rules the rest.
#2. Tarte Amazonian Clay
An instant full coverage foundation immersed with the best ingredients nature has to offer such as Amazonian clay, Vitamin E, and mineral pigments. With a featherlight, triple whipped mousse texture, it will give you a flawless look with an airbrushed, natural matte finish. It is helpful in controlling oil without dryness. In addition to smoothening the appearance of pores and fine lines on your face, it can cover dark spots or blemishes, redness, and anything you want to cover. As Vitamin E is a natural preservative, its presence will act as an anti-inflammatory emollient and antioxidant(3).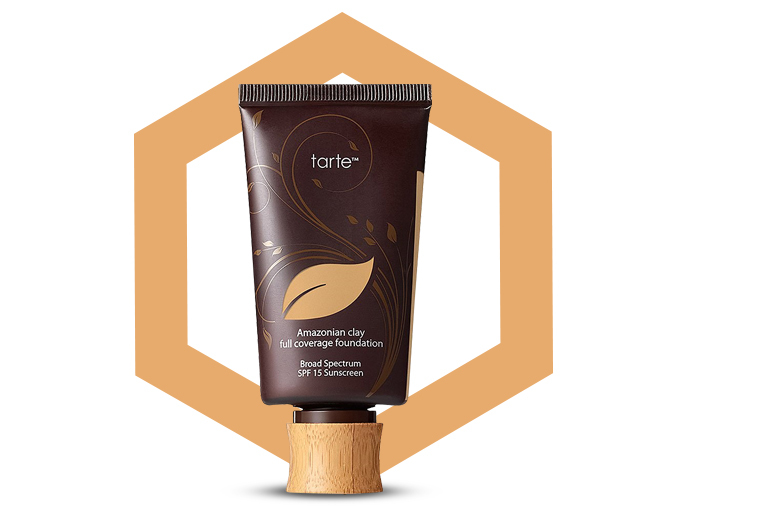 Price: $33.98
Thanks to the infusion of Amazonian clay, your skin— be it dry, oily, or a combination —will remain smooth, hydrated, and will last longer. Your youthful look with this foundation will last for 12 hours without caking or creasing. With a broad range of shades available with UVA/UVB SPF 15, consider you are done waiting to find the perfect mineral full coverage foundation. Furthermore, it is clinically tested to be waterproof, oil-free, vegan, and tested by dermatologists making it one of the best mineral foundations out there. These foundations are always free from mineral oil, parabens, phthalates, triclosan, gluten, and sodium lauryl sulfate(4).
#3. PÜR 4-in-1 Pressed Mineral Powder Foundation SPF 15
Unlike loose powders—which gives you a lighter feel, pressed powders are formulas that are tightly packed into a compact to give you a more targeted and controlled coverage with a seamless finish. It works as an all-in-one foundation, powder, concealer, and sunblock with SPF 15. Although available in limited shades, this foundation is great for sensitive and aging skin. It includes the perfect combo of soothing and anti-aging ingredients.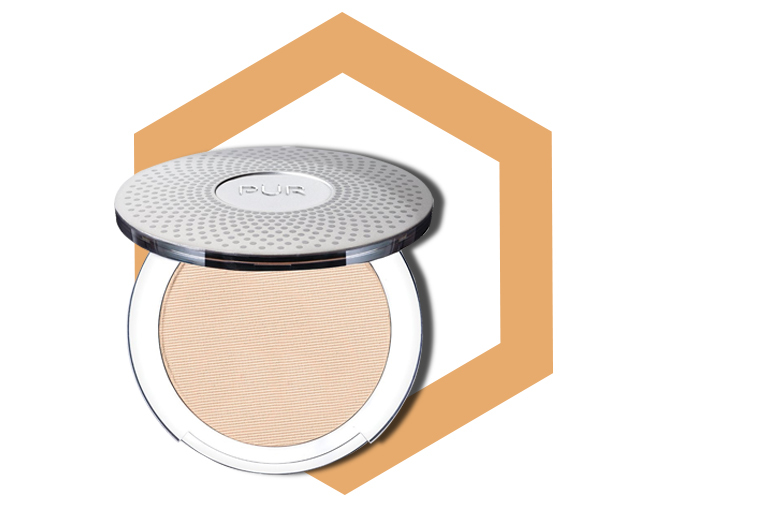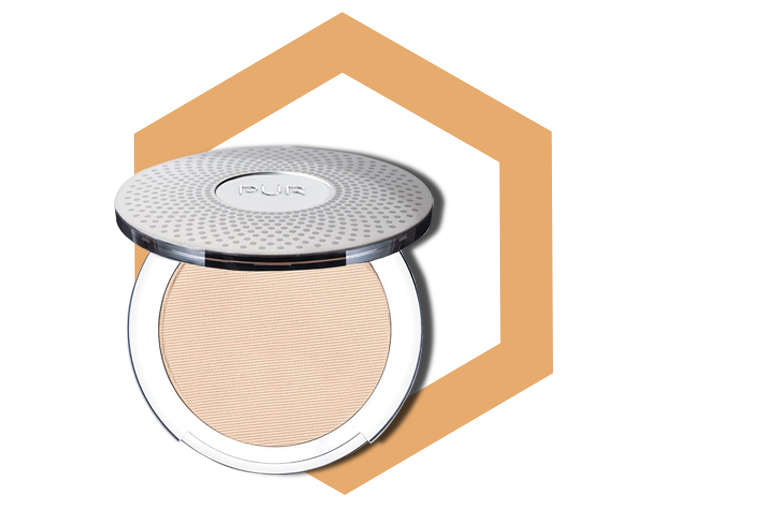 Price: $29.50
Being the best-pressed mineral foundation, its formula includes ingredients that are beneficial for your skin such as lactic acid—which helps in stimulating collagen renewal, and moisturizers such as hyaluronic acid and aloe vera. Even if it is lightweight, it provides full coverage. It does not exaggerate pores, neither does it cause acne nor aggravate your condition. This 4-in-one foundation is worth a shot!
Best Mineral Foundations: #4. L'Oreal Paris True Match Loose Powder Mineral Foundation
L'Oreal Paris' True Match foundation is one of the affordable mineral powder foundations providing a radiant yet natural finish. Easily blendable with buildable coverage from sheer to medium, this is the best mineral foundation for oily skin. With focus on your oil-prone areas like the T zone. With lightweight formula and seamless blending, you can cover any discoloration, redness, and reduce the appearance of pores. It can also even out your skin tone with a satin finish by controlling shine. It has skin improving minerals as ingredients like titanium dioxide, vitamin E, and aloe juice extract to provide soothing properties.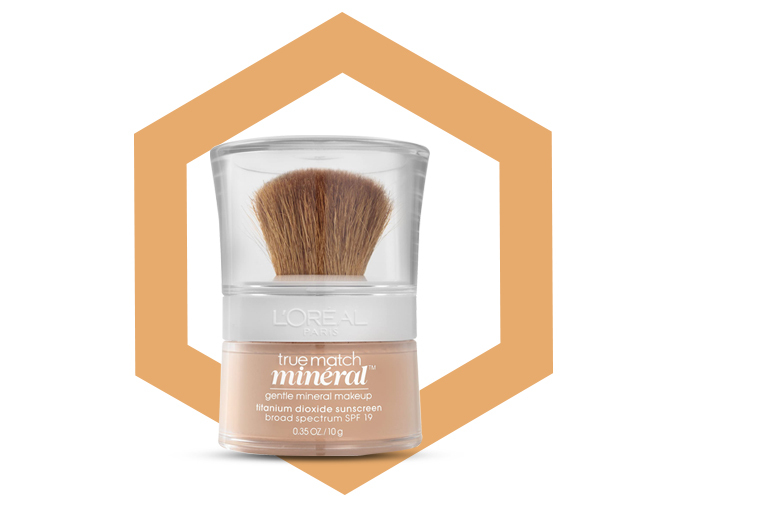 Price: $12.64
Better yet, it provides adequate protection with an SPF 19 coverage and it is 100% preservative, talc, and fragrance-free. One drawback is that the brush that comes with the foundation leaves you with a slightly patchy application. So, swirl the brush in a sifter, shake to remove the excess, and blend and build the desired coverage. As it is a gentle mineral makeup with a decent staying power of 5-6 hours, you can use this mineral powder foundation for your sensitive skin, too.
#5. Jane Iredale Liquid Minerals Foundation
This mineral foundation is lightweight with the liquid minerals formula- a mix of natural ingredients such as mica (light-reflecting mineral pigments), aloe juice (a natural soother), and hyaluronic acid (to plump, hydrate, and calm your skin). Considering these ingredients—hyaluronic acid (which attracts moisture)(5) in particular, this is the best mineral foundation for dry skin. The high-tech treatment serum not only hydrates your skin with light-reflecting formula but also evens out skin tone, calms inflammation, minimizes pores, smoothes, and diminishes the appearance of fine lines and wrinkles.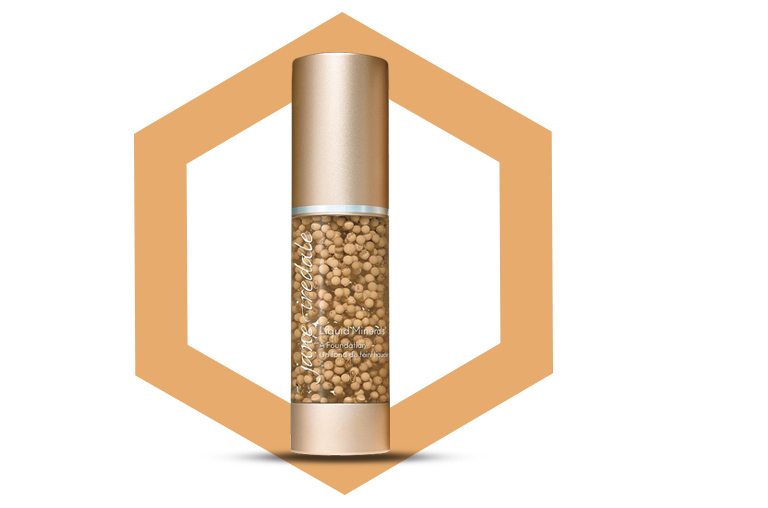 Price: $58
You can get sheer to medium coverage that feels like your second skin with your skin looking dewy. The drawback of lack of SPF properties is ignored as the presence of Vitamin C protects the skin by helping in reversing UV damage and suppressing melanin formation, and Coenzyme Q10 will help in reversing the signs of aging. plIt uses an anti-aging serum treatment to keep your dry skin hydrated and healthy. The good news is it is travel-friendly as it comes packed as liposome beads in an airless, transparent pump bottle. You can take this wherever you go without the fear of leaking!
#6. Clarins Skin Illusion Loose Powder Foundation
If you are on the hunt for the best mineral foundations but not a huge fan of heavy, full coverage, Clarins Skin Illusion foundation is yours to try. It will give you a luminous matte, flawless finish from sheer to medium coverage. With the prominent feature of Pink Opal Pigments as one of its ingredients, your complexion will remain fresh for hours together. It will impart a radiant glow to your face. Another notable feature is the use of exclusive plant micro patch to preserve moisture to your skin while softening it. You can successfully reduce the appearance of discoloration, fine lines, and anything you want to hide to render nonexistent.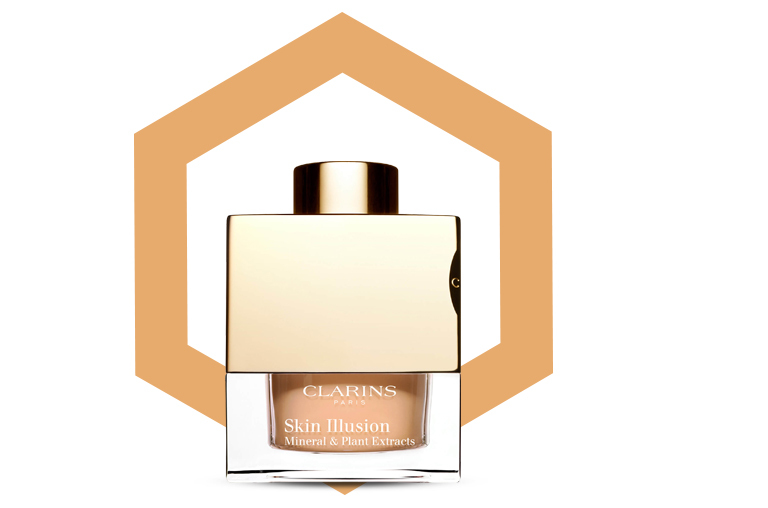 Price: $43.00
This velvety, oil-free loose powder foundation is dermatologist-tested to be ideal for normal, dry, combination, or oily skin with no side effects. It contains a unique light optimizing feature to capture, amplify, and diffuse light. However, even if it will make you look wonderful in daytime pictures, the SPF in it can cause a white layer in pictures taken with flash. This is considered as one of its drawbacks. You can adjust the coverage to your preference after blending from sheer to medium coverage with bare skin effect. One or two pumps is sufficient to cover both your face and neck to get a natural finish.
#7. AmorePacific Color Control Cushion Compact
If you are normally a mess maker and you despise the mess you make after applying the foundation, how do you pick the one for you from the best mineral foundations? Being the best cushion compact mineral foundation in the market, AmorPacific's compact foundation houses a sponge-like, multifunctional cushion of foundation. You only have to tap your brush into the cushion and apply it on your face. It features an SPF of 50 (which is a big deal when it comes to foundations) to protect your skin from the harmful UV rays. Aside from being known for its breathable, natural feel and weightless coverage, it contains formula with a CC cream. Meaning it is pro as color correcting as well.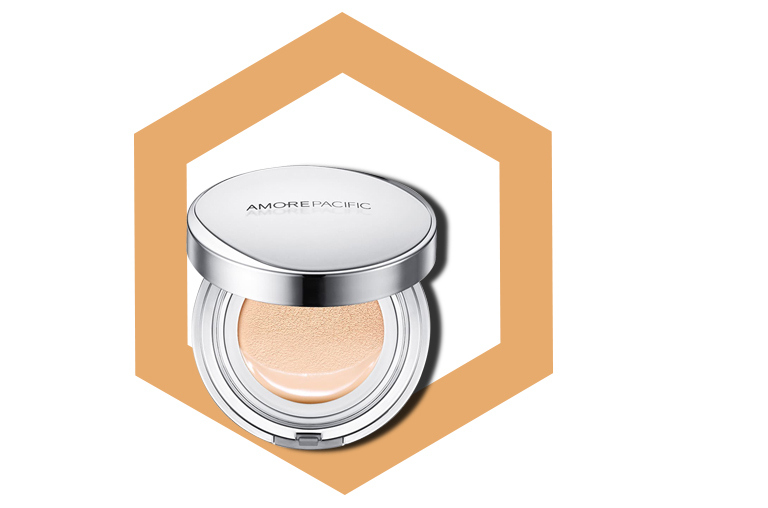 Price: $75
They have used Asian botanicals and ingredients such as green tea, bamboo sap, and red ginseng as the core of their skincare. This mix of proprietary complexes deeply nourishes the skin. They believe that beauty secrets are found in nature. Hence they utilized both nature and science to form luxury, high-performing skincare ingredients. It is free of parabens, phthalates, and sulfates and contains both titanium dioxide and zinc oxide. Try this new cushion compact from AmorePacific to unearth the wisdom of Asian botanicals.
#8. Illuminare Moisturizing Mineral Foundation SPF 20
Our last but not the least pick from the best mineral foundations, is Zooey Deschanel's favorite foundation. Illuminare Moisturizing Mineral Foundation contains no perfumes, artificial dyes, animal derivatives, or mica. It does not contain plant extracts, talc petroleum, bismuth oxychloride either. It is 2-in-1 with serving the dual purpose of both a foundation and a concealer. The dewy finish it gives is perfect for normal to dry skin, even sensitive skin, as the formula is moisturizing and hydrates the skin by locking in moisture.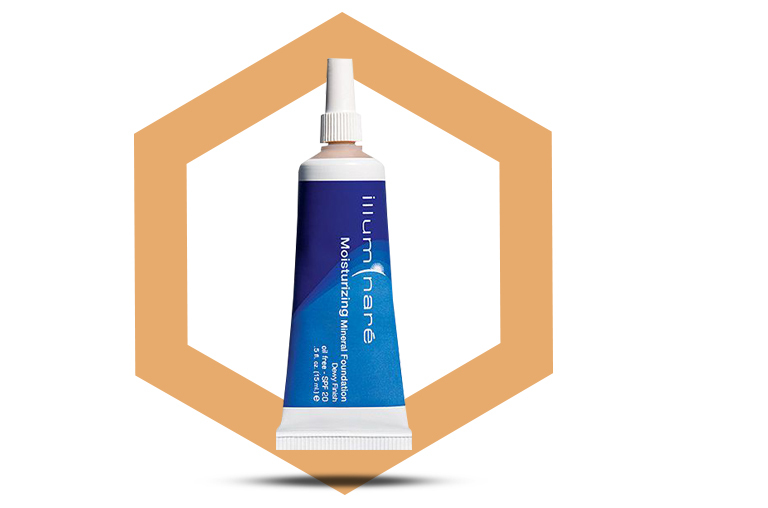 Price: $33
As the formula is 100% oil-free, the texture is satiny and melts into your skin while covering the blemishes without feeling slick by the end of the day. With light to medium coverage to even your skin tone, it can give you a soft, radiant look. It is also featured with an SPF of 20 to shield your skin from the UV rays. Even so, you only need to use a pea-sized amount of makeup to look healthy with a dewy finish. As a major con, Illuminate foundation only comes in five shades— Amalfi alabaster, Portofino porcelain, Tuscan toast, sienna sun, and florentine fair.
These mentioned above are the best mineral foundations you can choose from to use for your super sensitive skin to Sahara dry skin. Not only will they prevent your skin from any possible harm, but also leave your feeling light. Without the heaviness from continuous application of thick layers, you can now cover those blemishes and dark spots with a thinner layer!