Eyelash extensions are like the red cape for our superwomen juggling with their professional and personal lives. While mascaras and fake lashes can take a huge chunk off your mornings, the best professional eyelash extensions brands can save your day.
This article will not only guide you on getting the best professional eyelash extension brands but will also give you a complete idea of how to choose, manage, and maintain them.
Best Professional Eyelash Extensions Brands 2023
When it comes to choosing the right lash extensions, size, style, volume, material, comfort, removability- everything matters!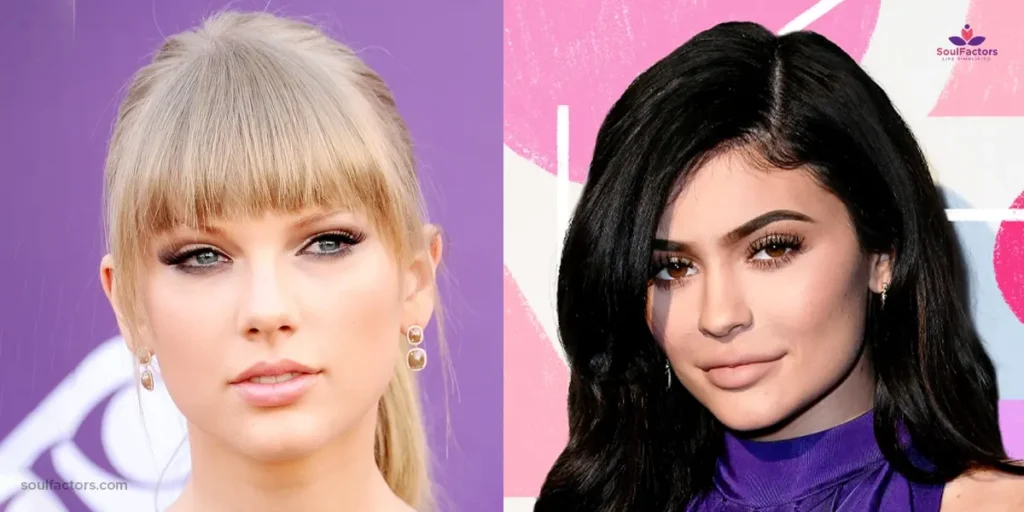 If you have not got on that wagon yet, let me tell you- in the beauty world, lashes have made their own place. It's a must- must. So, what makes eyelash extensions so popular?
The Benefits of Professional Eyelash Extensions
A well-done professional eyelash extension can take ages off your face and give your mascara some rest. The advantages of getting eyelash extensions are many.
Enhanced appearance: They provide a fuller, longer, and more dramatic lash look.
Timesaving: Eliminates the need for mascara and eyelash curlers, saving time in your daily routine.
Long lasting: Extensions can last several weeks with proper care.
Customizable: You can choose the length, curl, and thickness to achieve your desired look.
Natural look: When done well, they appear natural and seamless.
Confidence boost: Many people feel more confident and put-together with eyelash extensions.
Low maintenance: Minimal upkeep is required, with occasional touch-ups.
Water resistant: They withstand water, making them suitable for swimming or exercise.
Makeup optional: Reduces the need for eye makeup, especially for special occasions.
No allergies: Suitable for those with mascara or eye makeup allergies.
What Are the Different Types of Eyelash Extensions?
Eyelash extensions are never one size fits all. Extensions come in different lengths and thicknesses, allowing you to customize the look. Whether you want a natural or dramatic effect., you have a number of different styles and volumes to choose from.
1. Classic Eyelash Extensions
These are individual extensions applied to your natural lashes, providing a natural and subtle look. One extension is attached to one natural lash.
2. Volume Eyelash Extensions
Volume lashes involve attaching multiple lightweight extensions to one natural lash. This technique creates a fuller, more dramatic effect without adding weight.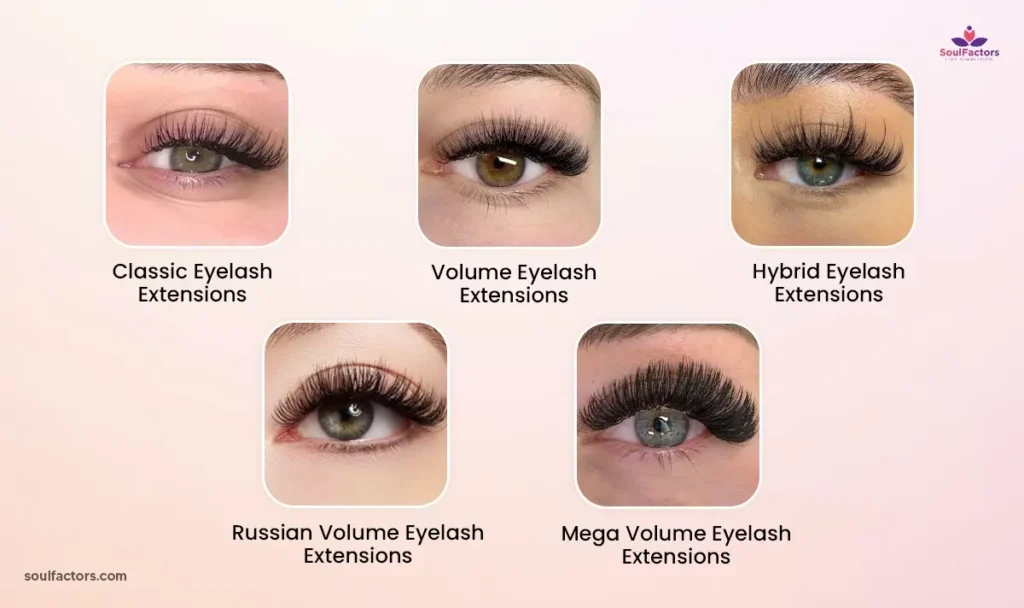 3. Hybrid Eyelash Extensions
Hybrid lashes combine both classic and volume techniques, offering a middle ground between natural and bold looks. Classic extensions are interspersed with volume lashes for a textured appearance.
4. Russian Volume Eyelash Extensions
This involves applying multiple ultra-thin extensions to each natural lash, creating a voluminous and fluffy effect. Russian volume lashes are very lightweight.
5. Mega Volume Eyelash Extensions
These extensions use even thinner lashes and apply a more significant number to each natural lash, resulting in an extremely full, dramatic look.
Eyelash extensions can be made from various materials, such as silk, synthetic, mink, and even real mink fur, which can influence the appearance and feel of the extensions. Extensions also come in different curl patterns, including J-curl, B-curl, C-curl, and D-curl. The curl type affects the way the extensions curve and look on your eyes. More on that below!
8 Best Professional Eyelash Extensions Brands
We have picked out for you the best extensions that are available today. These are our favorite brands, trusted and highly rated by customers. Check out the features we have identified and choose the right one for you.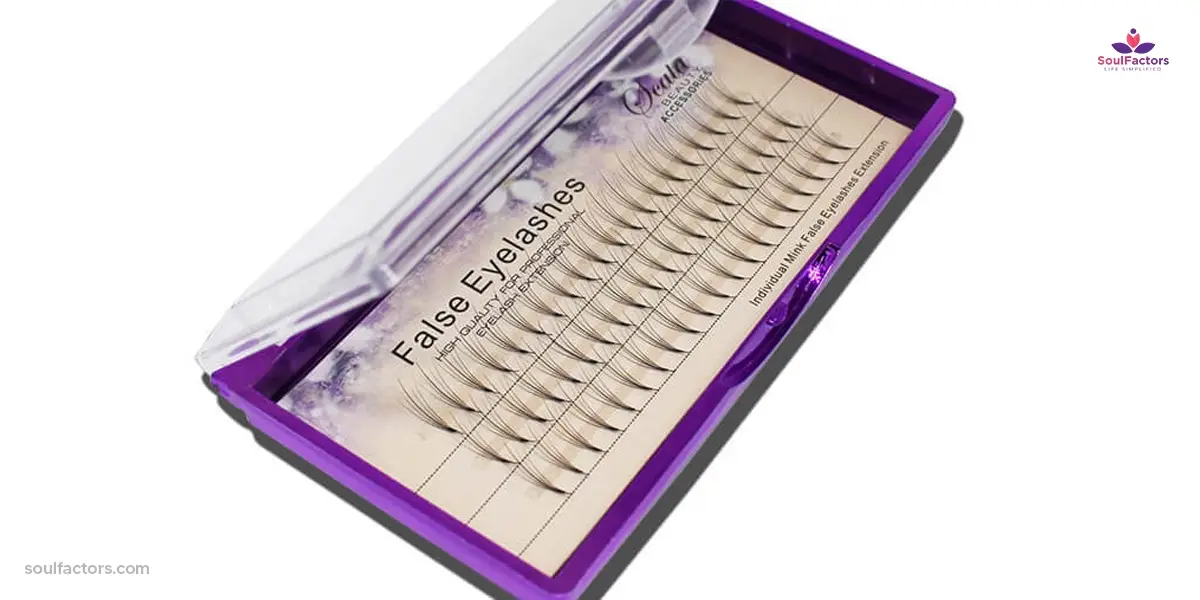 1
Scala Individual Lash Extensions
(Choose Fish Tail Design 120pcs)
Thickness: 8-16mm
Roots: 12 root
Curl: C Curl
Thickness: 0.1mm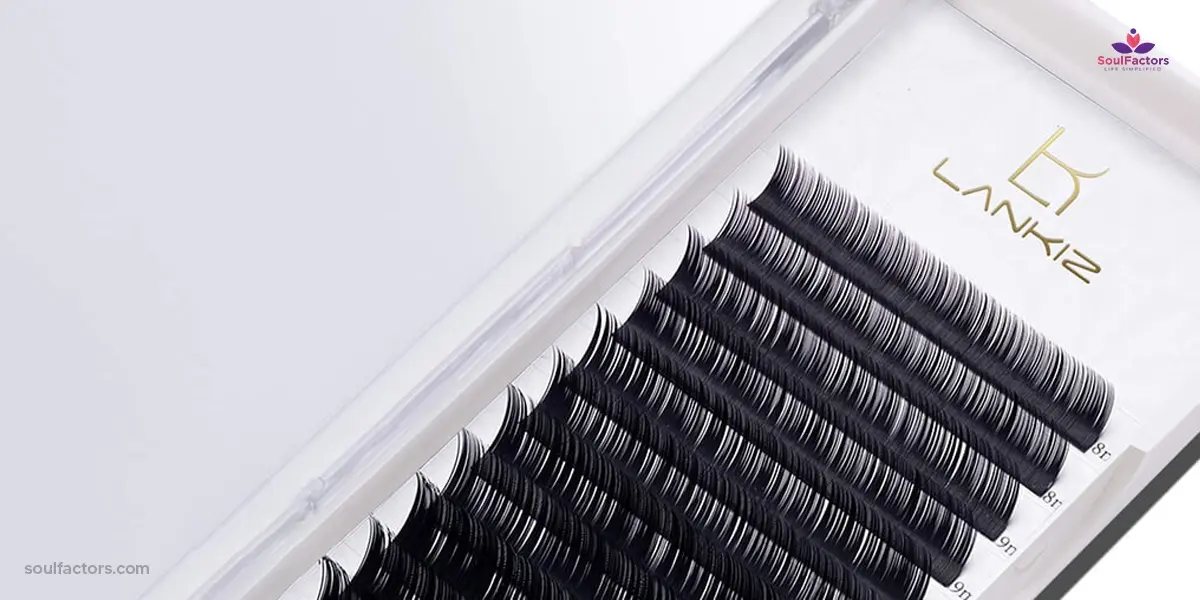 2
Lankiz 3D Eyelash Extensions
(DIY Eyelash Extension Natural Look
Soft and Lightweight
48pcs)
Thickness: 0.07mm
Curl: C-Curl
Thickness: 10/12/14/16mm mixed tray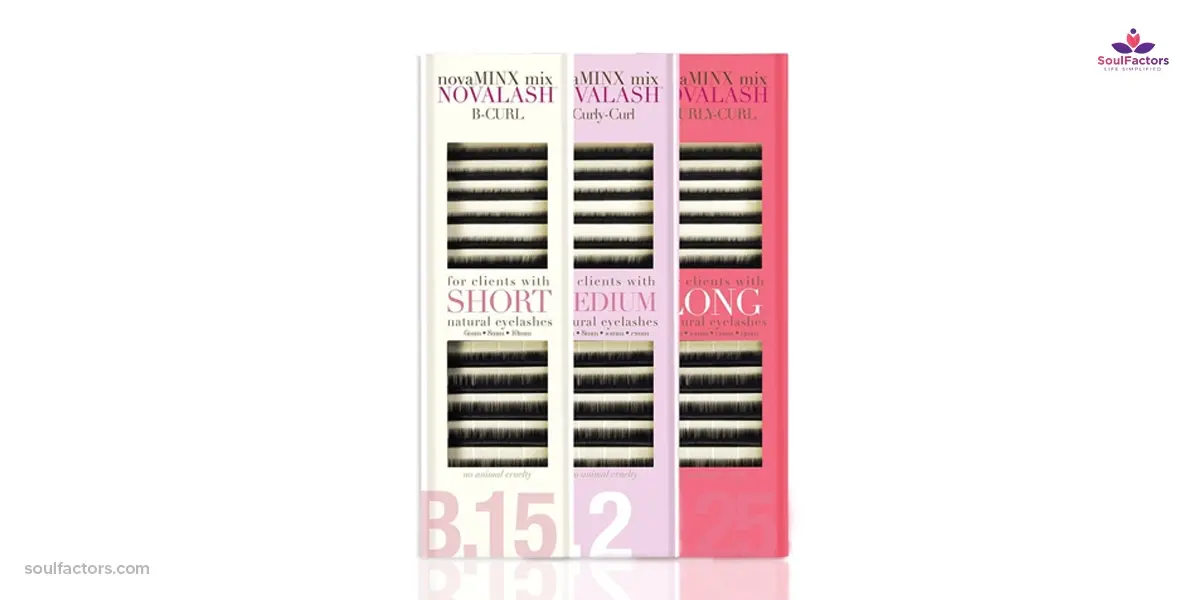 3
novaMINX™mix
Curl: D-Curl
Thickness: 0.15mm
Material: Mink Fur
Material Feature: Cruelty Free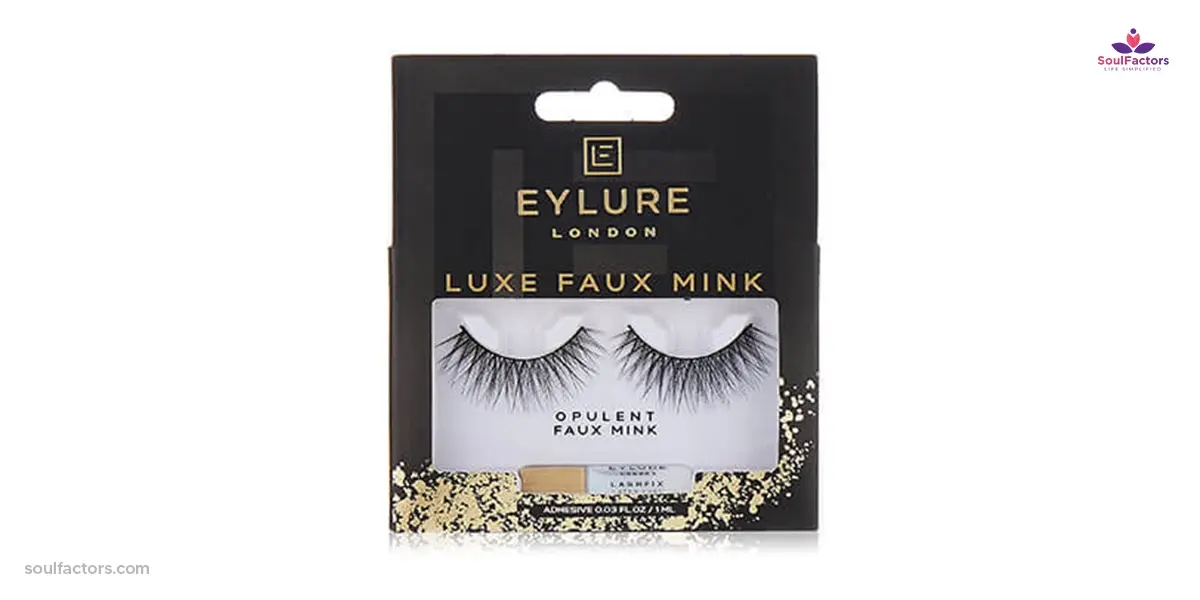 4
Eylure Luxe Lash Extension
Color: Marquise
Material: Silk, Mink Fur
Dimensions (LxWxH):
3.86 x 0.91 x 4.37 inches
Material Feature: Latex Free
Reusable for up to 10 wears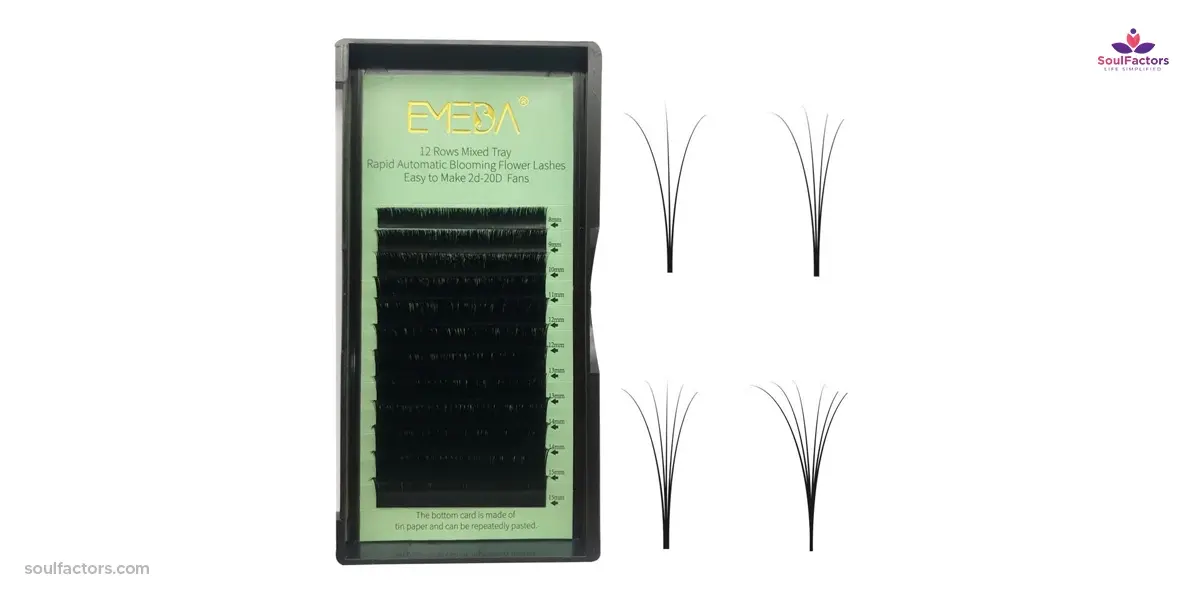 5
EMEDA Volume
(2D~10D Rapid Blooming Volume Lashes)
Thickness: 0.07mm
Curl: C-Curl
Length: 16mm
Dimensions (LxWxH):
5.91 x 1.97 x 0.39 inches
1. Scala Individual Lash Extensions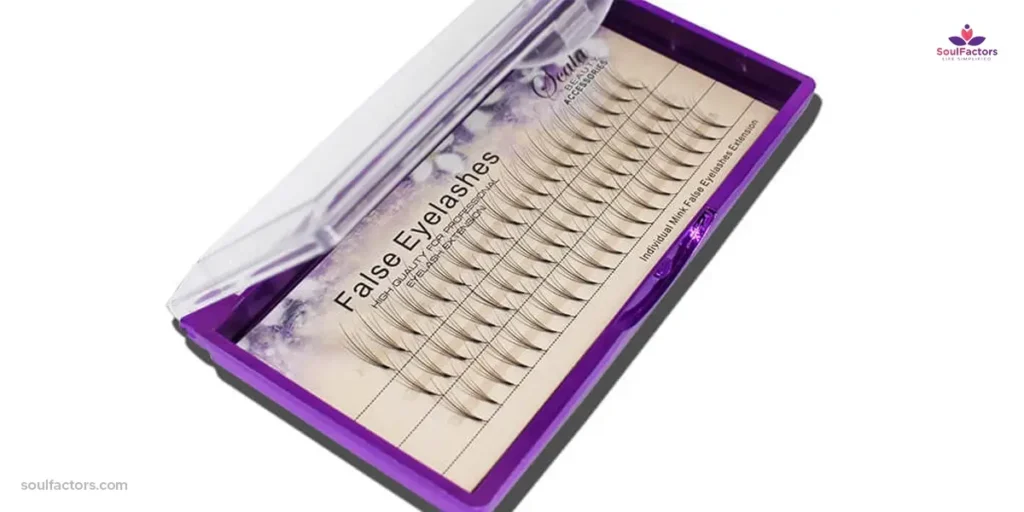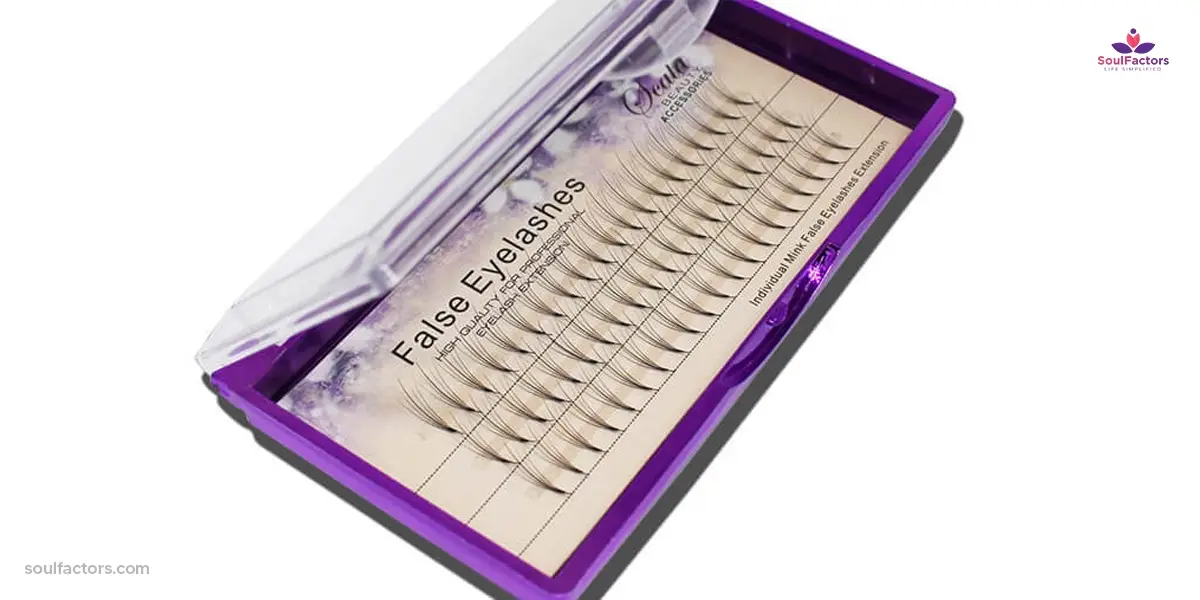 Price: $8.99
These are high-quality extensions made from synthetic fiber, available in various sizes. They look perfectly natural as they hold their curl easily. They are also easily removable using eye makeup remover.
2. Lankiz 3D Eyelash Extensions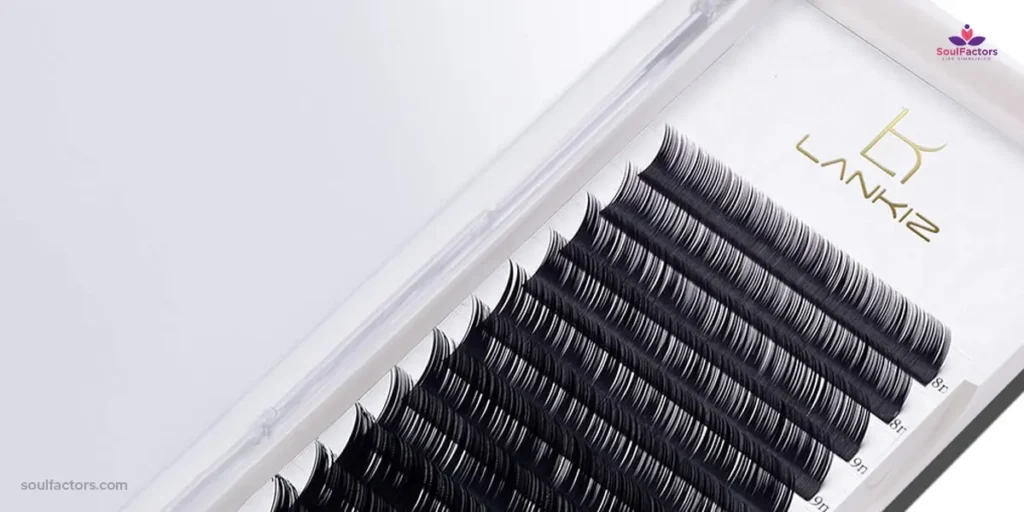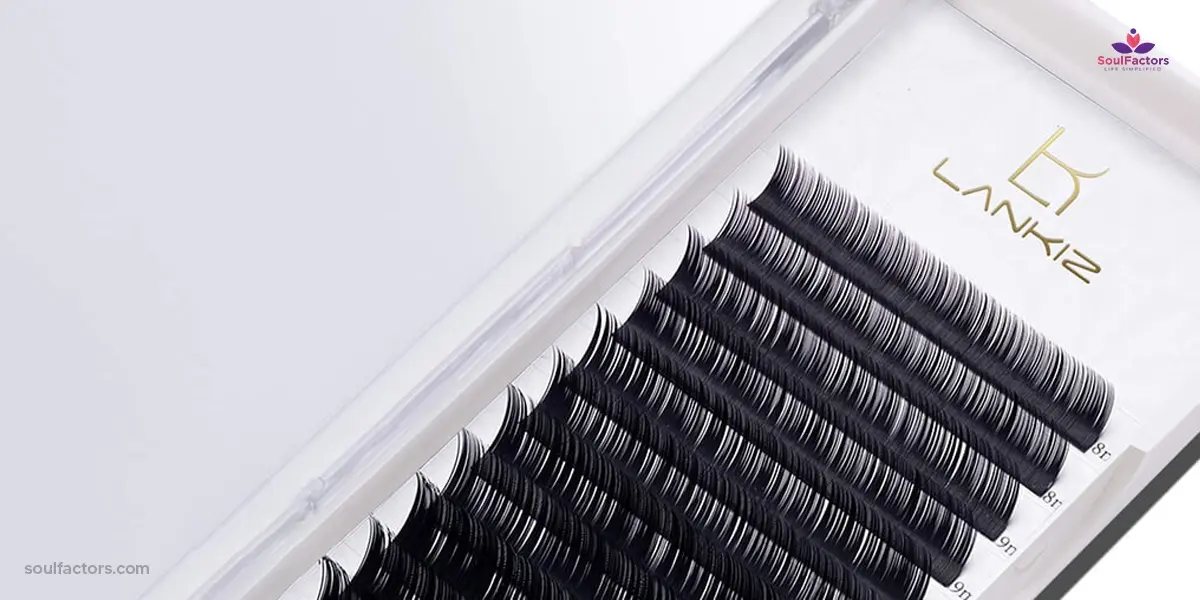 Price: $7.99
Lankiz 3D eyelash extensions are completely handmade out of high-quality silk. They are soft in texture and waterproof. These eyelash extensions last longer, are hypoallergenic and easy to graft.
3. Scala Pro Granting 3D Mink False Eyelashes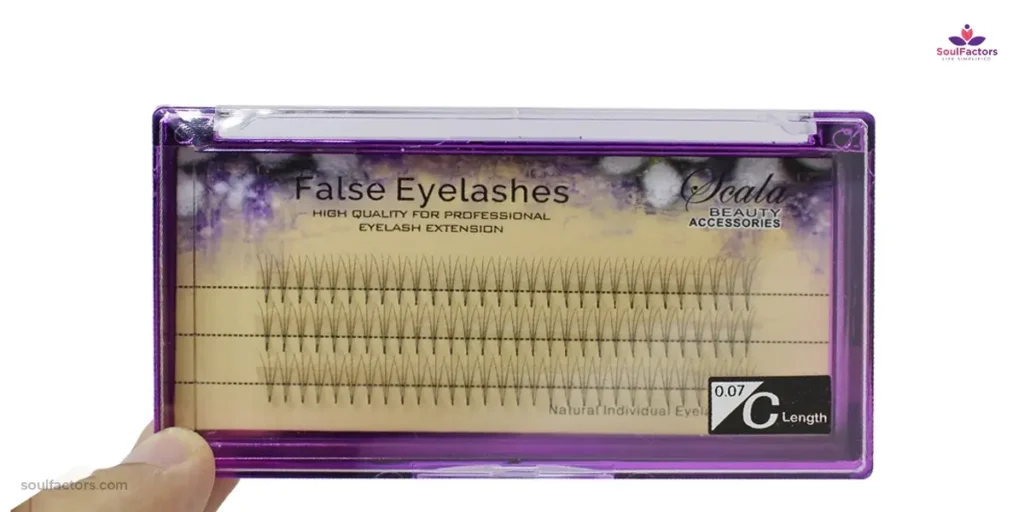 Price: $9.29
Perfect for those who are on a budget. They are made of high-grade hair that looks very natural and soft. They come in a tray of 60 clusters in 8 size variants. It can be used for personal as well as professional requirements.
4. Nova Eyelash Extensions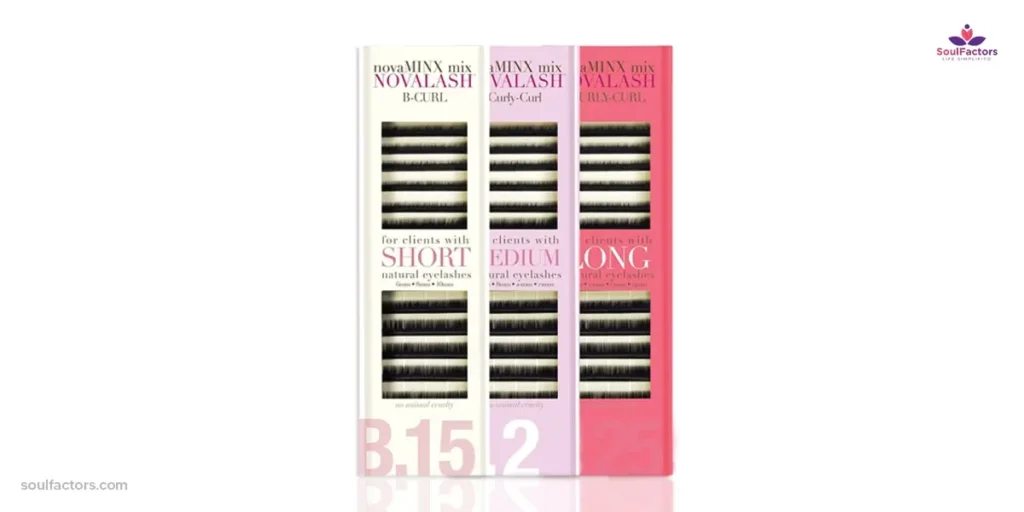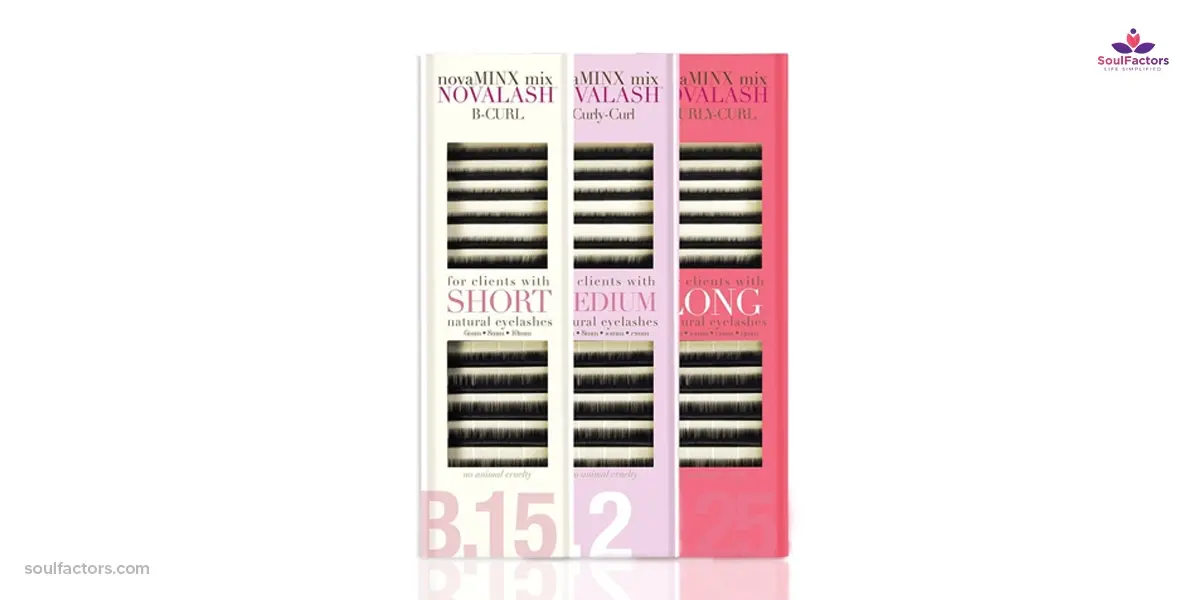 Price: $7.99
They are made of special premium faux mink synthetic fibers with a subtle non-artificial shine and a more natural minky wispy look rather than looking fake and unnatural.
Best choice for sensitive eyelid skin as it is extremely lightweight. It is high gloss and also maintains curl when wet.
What To Consider When Choosing An Eyelash Extension Brand?
1. The range of products available
2. The curl and thickness of the extensions
3. The length and strength of your natural lashes
5. 3D Mink Fur Eyelash Extensions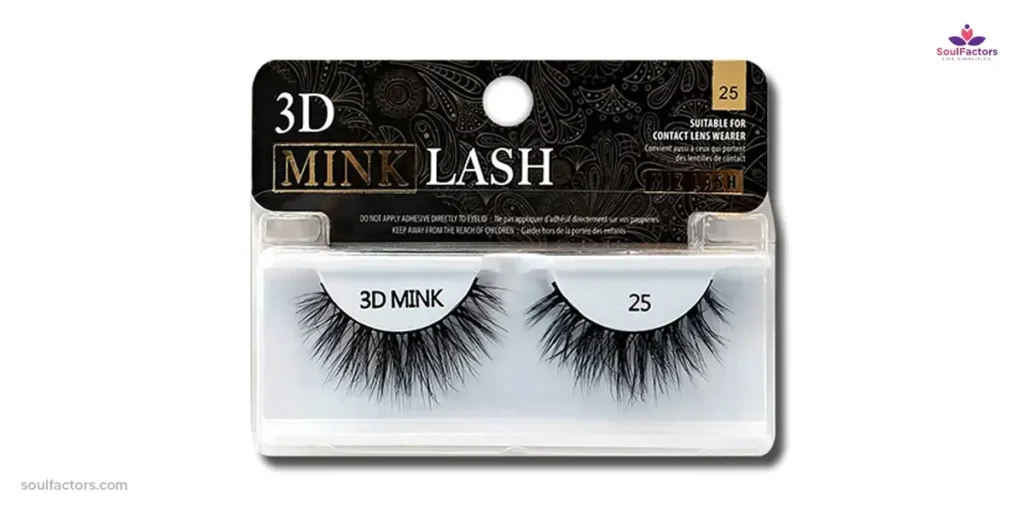 Price: $15.00
Extremely pricy and in high demand. The C curl gives it a fuller and natural look. This lash is made out of real Siberian mink fur. Not suitable for those allergic to animal fur.
6. Eylure Luxe Lash Extension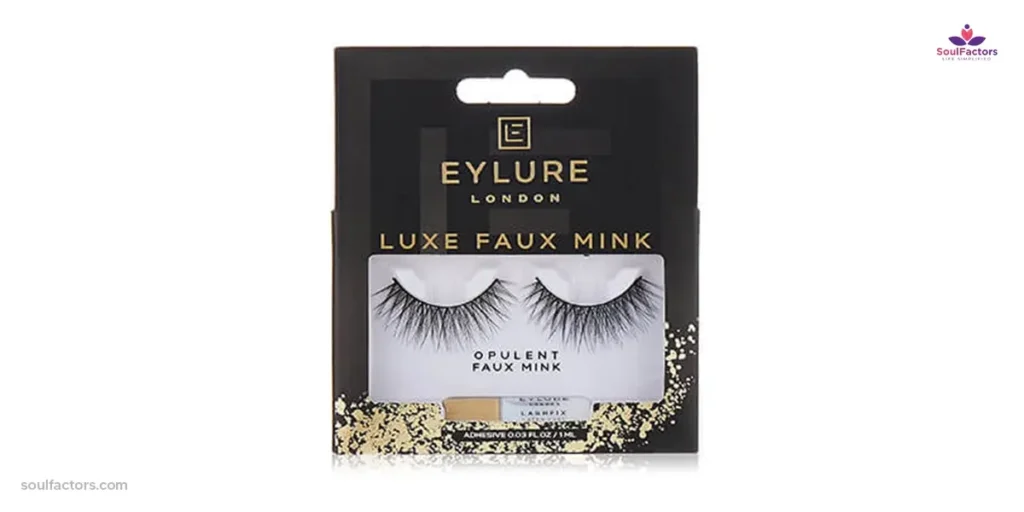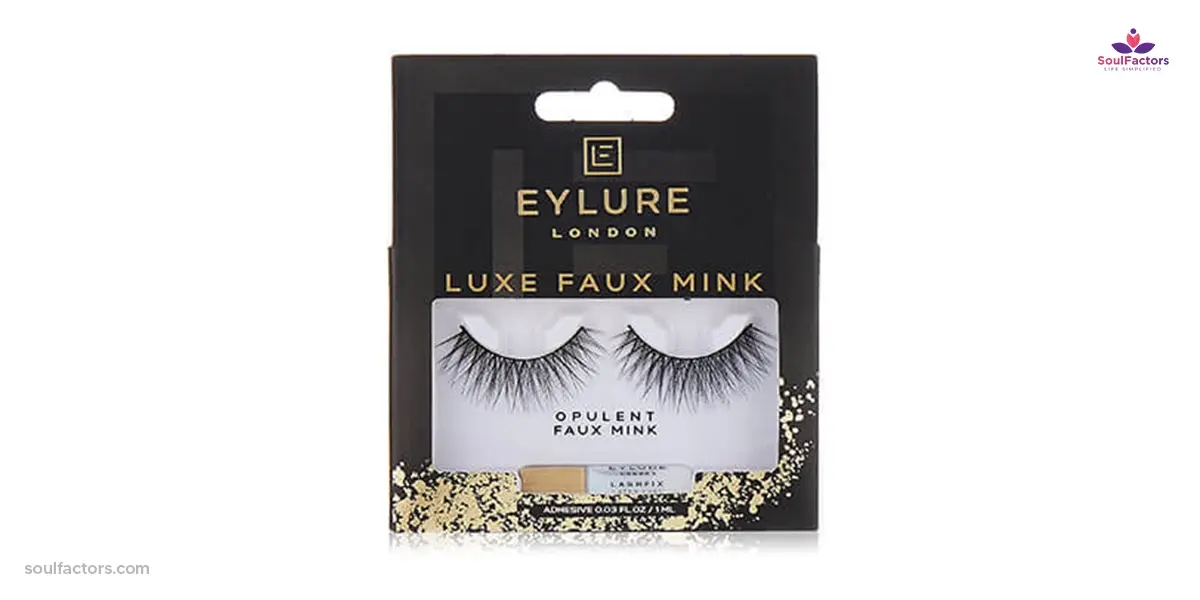 Price: $4.99
These look very natural, and comfortable, and come in two sizes so far. The glue is latex-free, and the lashes can last for up to 7 days. The base of the lash is wider than the tip, giving a pretty and natural look.
7. Xtreme Lashes Eyelash Extensions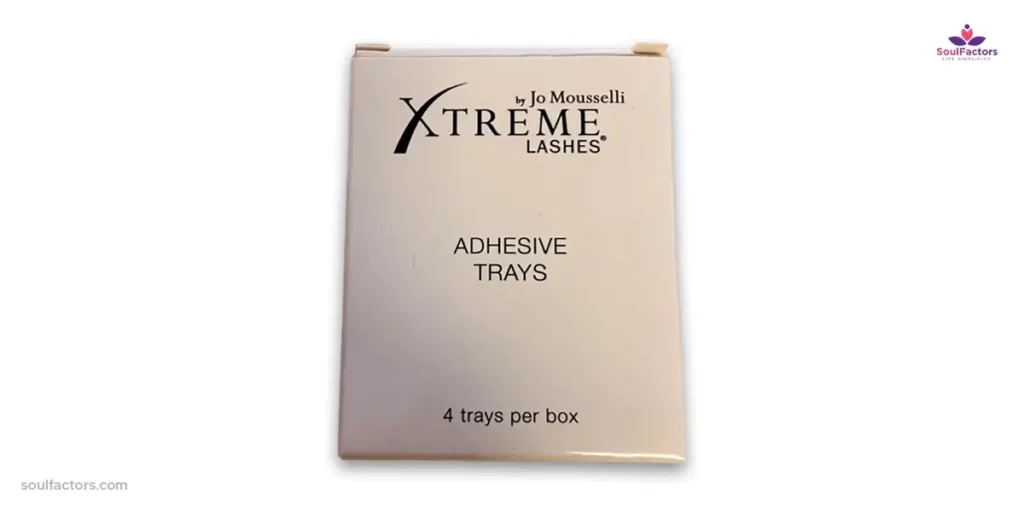 Price: $9.00
Comes in over 1,000 unique lash styles and four curvatures: the X30, X35, X40, X50, and X90 Curvature. Perfect for occasions that require a little extra sparkle. These lashes are convenient to clean and you can reuse them multiple times with proper care.
8. EMEDA Volume Eyelash Extensions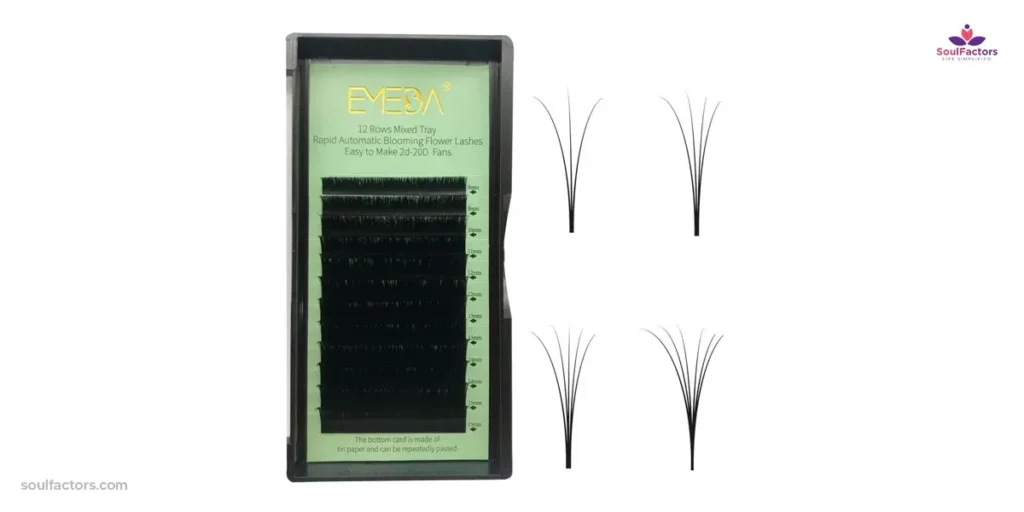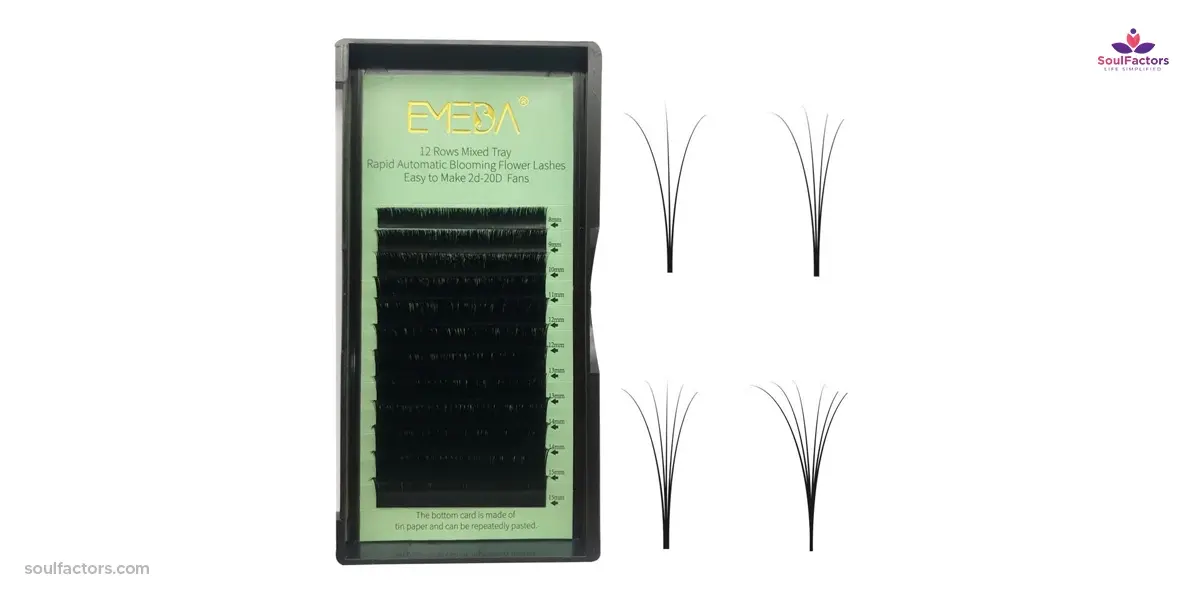 Price: $7.99
These are high-volume, fluffy eyelash extensions. EMEDA volume eyelash extensions are easy-to-fan volume lashes that bloom automatically in one second. They are made up of special crafts that make 2d, 3d, 4, 5d, and 6d volume lash extensions. Perfect for beginners who want to get a fuller look while saving money.
Should I Get Eyelash Extensions?
Simplified makeup routines are great. Still, the whole idea of getting lash extensions is a topic of "hmmmmm…" when health, safety, and money are concerned.
It's clear that it's not everyone's cup of tea. So follow us through as we break down every aspect one needs to know about eyelash extensions.
Eyelash Extensions Application: How Long Is The Process?
If you are planning on getting permanent lash extensions, the process initially takes up to 2 hours. Your experience with professional lashes would completely depend on the type of extension you choose and the lash expert you go to. One wrong choice can give you odd-looking lashes and sometimes even eye infections. So make sure you don't skip any of the steps below.
1. Consultation With A Technician
Consult a skilled technician in your area to discuss your overall lash goals. The technician will help you select eyelash extensions that will suit your specific preferences.
2. Prep Time
Before applying eyelash extension your technician will ensure that your natural lashes are clean without traces of makeup or oils. Once this is done, your lower lashes will be gently taped down to prevent them from interfering with your upper lashes.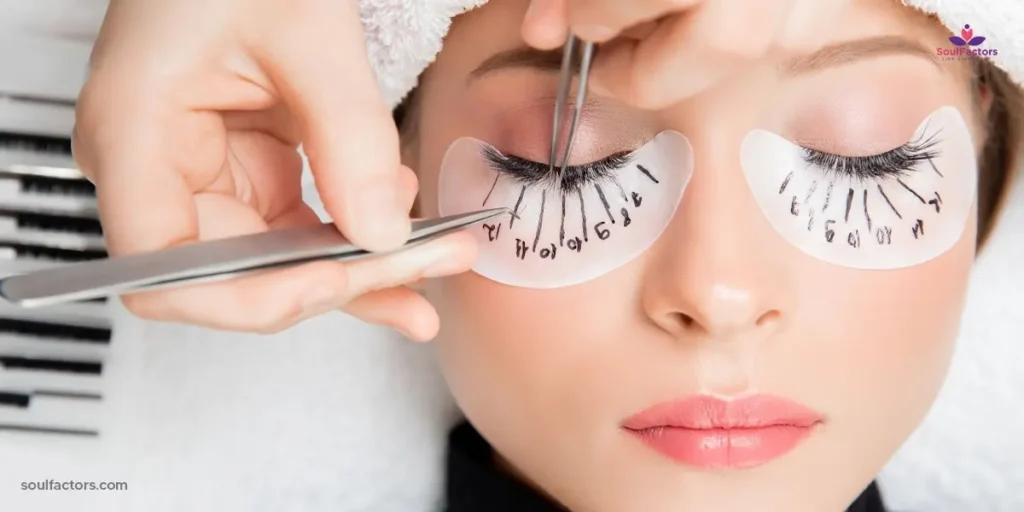 3. Attaching Extensions
The technician will now get to work armed with tiny tweezers and a steady hand. Very carefully, your technician will isolate a single natural lash and meticulously attach an eyelash extension about one millimeter above the natural lash using medical-grade adhesive.
4. The Layering Process
Lash extensions are usually applied in a layering process during which the technician will use lashes of varying lengths and curls to create a natural look. You can also choose fanning options in 2D, 3D, or 4D for added intensity.
5. Final Touches
After the extensions have been attached, you need to sit back and wait for the adhesive to dry. Finally, the technician will comb through the lashes for perfect separation.
Even with the best eyelash extension brands, the lashes kind of tend to start falling off eventually. Eyelash extensions will lose their charm after two weeks. It might require you to do a touch-up every few weeks and this process can take a few hours. These single eyelash extensions are attached one by one to the base of your natural lashes.
How Much Do Eyelash Extensions Cost?
For someone who earns an average, no matter how you choose to do your lashes, your bank balance is definitely going to go down. But how much you are going to lose will depend on the technician's level of experience and the type of lashes you wish to don.
The most basic eyelash extensions brands cost around $150 to $350 for a full set of lash extensions. Also, around $75 to $100 for touch-ups every two to three weeks. Another thing to consider is the material you choose. Natural lashes are expensive but for some, this could cause allergy, so it is better to stick to artificial man-made single extensions.
How Long Do Eyelash Extensions Last?
We lose our natural lashes every 6 to 10 weeks(1) and sadly, since these lash extensions are stuck along with your natural lashes, you lose them too. Most extensions last from 2 to 6 weeks, depending on the care they receive.
Permanent eyelash extensions, which is a surgical procedure can give you results lasting up to 2 years. Self-adhesive eyelashes are another option for those who seek a simpler, cheaper option.
How Can I Select the Right Eyelash Extension Length and Curl?
An eyelash extension style chart can aid you in nailing the precise style of your choice. Here are some of the key considerations to make:
Eyelash Extension Length
Choosing the wrong eyelash extension length can cause damage to your natural lashes and will make you uncomfortable while wearing. So, the extensions should be 3mm to 5mm longer than your natural lashes and the diameter should be almost close to that of your natural lashes.
Eyelash Extension Curl type
Generally, there are four types of curls, B-curl, C-curl, D-curl, and L+ curl.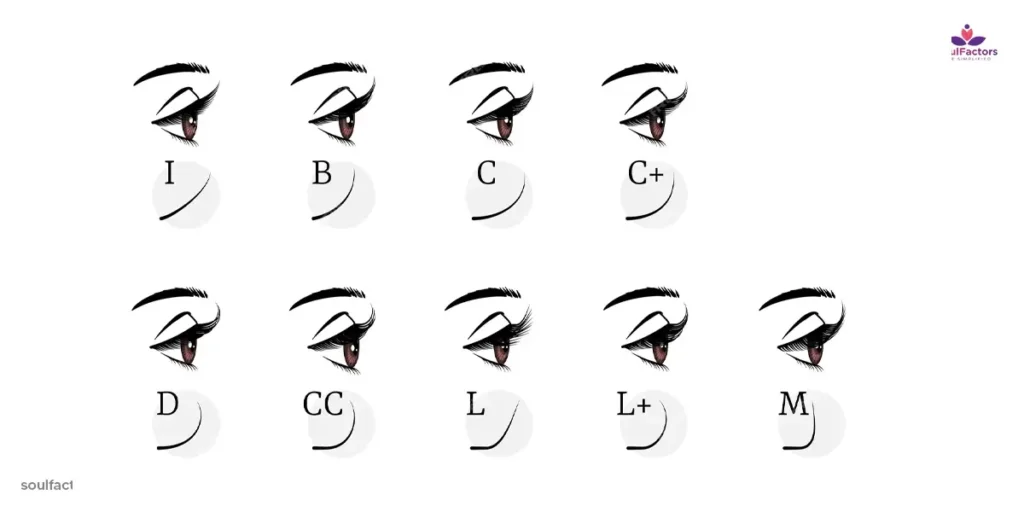 B-curl is suitable for those who have straight lashes and it is the most natural-looking curl.

C-curl is perfect for people with thin natural lashes and it fits almost all eye types. So it is the most popular curl.

D-curls are best for those who have naturally curly lashes and they give you a dramatic look.

If you have hooded eyes or single eyelids then choose L and L+ curl.
Choice of colors and Lower Lash Extensions
If you want a colored lash extension, that's available too. It does alter your look when combined with certain colors.
For example, for those of you who have brown eyes, purple lashes can make your eyes look bigger. But unlike applying regular lashes applying colored lashes can take about 30 minutes extra.
7 Important Tools You Need to Have to Apply Eyelash Extensions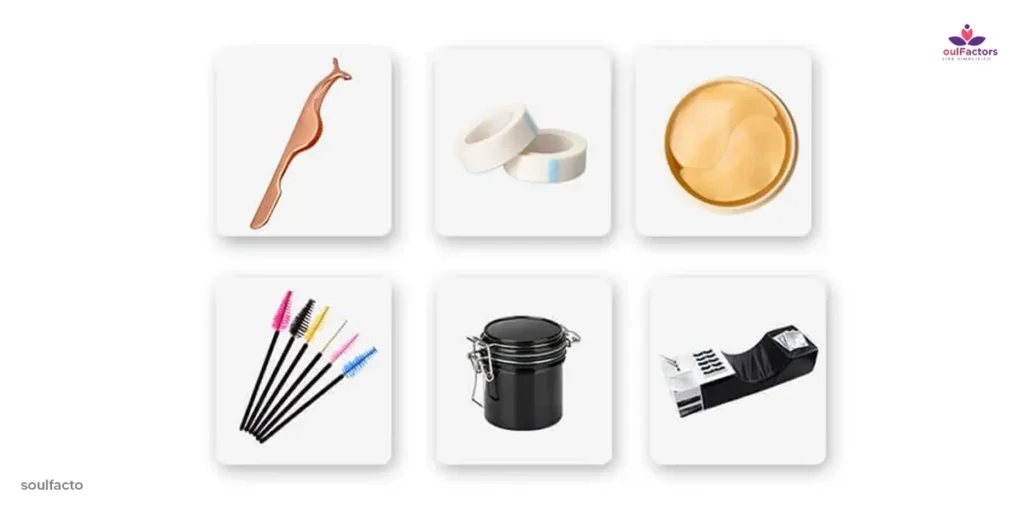 Lash Tweezers:

You need two sets of tweezers to apply semipermanent eyelash extensions. One is isolation tweezers, which y

ou can use

for isolating your natural lashes for a clean application of false lashes. The next set is lashing tweezers to pick up and apply false lashes.

Eyelash Extension Tape:

Eyelash extension tape helps to hold down the stubborn bottom lashes and prevents upper lashes from crisscrossing with the lower lashes.

Lash Brushes:

The most important purpose of lash brushes is to ensure every lash stays separated. Without brushing, your lash extensions might adhere in a strange angle.

Eye Pads:

Eye pads ensure your comfort and make your bottom lashes stay tucked while applying lash extensions.

Lash Glue Container:

Dry glue does not provide proper adhesion in the first place. So it is important to store lash glue in a cold and dry environment. The lash glue container carries your adhesive and helps to achieve better retention.

Lash Pillow Liners:

Use disposable lash pillow liners to prevent cross-contamination and keep your place clean and safe.

Lash Pillow Shelf:

A lash pillow shelf is essential to keep all your appliances for applying eyelash extension at your fingertips.
How To Take Care Of Your Lashes So That They Last Longer?
If you start noticing that your extensions are flaking out, then it means that the adhesive used to hold your lashes is kind of reacting with your skin. Once you get your lashes done, avoid wetting them for the next 24 to 48 hours. This can help the bond to fix well.
Avoid using gel and cream-based eyeliners, waterproof mascara, etc. Do not use cotton pad, rub, or try to irritate your lashes. Also, if you are someone who sleeps on your stomach, use a lash topcoat and sleep on a satin pillowcase so that the rubbing will be less harsh on your lashes.
Cleaning Tips for Lash Extensions:
We advise that you clean your eyelash extensions at least 2-3 times a week.
Cleaning your extensions regularly can get rid of built-up oils, debris, and makeup residues. This ensures that there is no risk of any bacterial growth that can cause eye infections(2). Cleansing eyelash extensions also ensures a fresh look.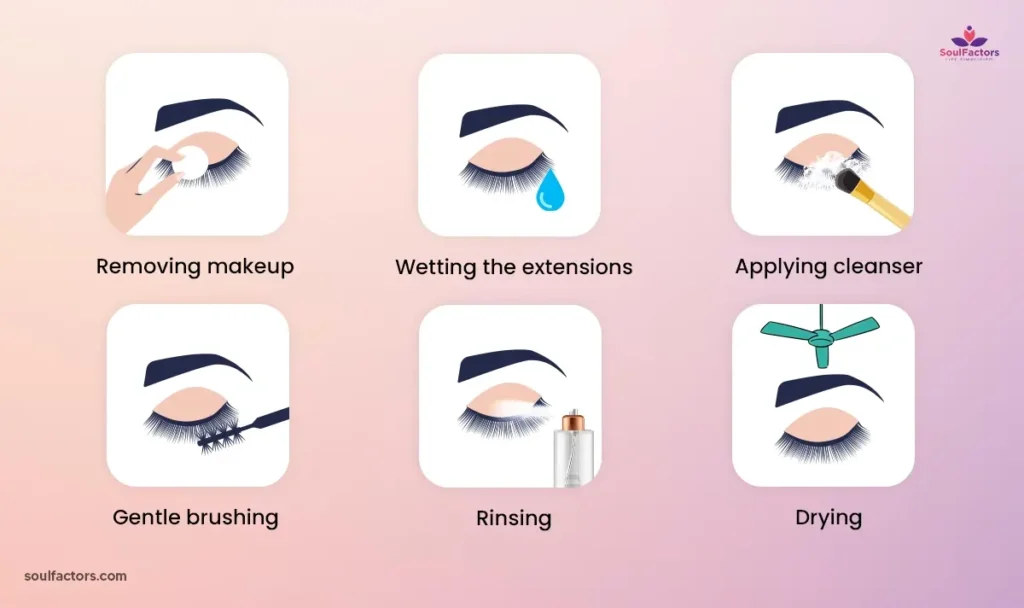 Follow the below cleansing routine to ensure your natural lashes and eyes remain safe.
Remove makeup
Wet the extensions
Apply cleanser
Brush gently
Rinse and dry
Use a gentle, oil-free foam cleanser, and do not go overboard with the cleansing as that can damage your lashes permanently.
Are Eyelash Extensions Safe?
Yes, but the safety lies in the hands of your technician. Eyelash extensions can become a horror story if you fall into the wrong hands. If you get your lashes done by inexperienced hands, it can result in clumped lashes, breakage and damage of natural lashes, eye infection, etc.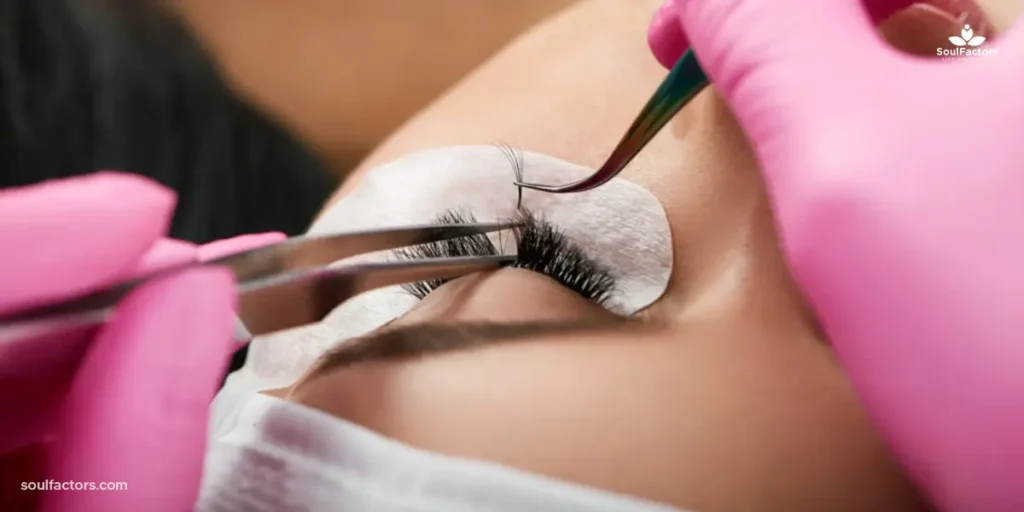 Also if the inexperienced technician glues the lashes to a natural lash, it can take out the real lash permanently. Therefore, before you go to get your lash done, research the technician, see the work he/she has done before, their reviews, etc.
The glue used to attach these lash extensions contains a chemical known as formaldehyde can trigger an allergic reaction(3) Therefore make sure that the technician uses Top professional eyelash extension brands of medical-grade formaldehyde-free, non-irritating glue. While they apply the lashes, if you experience any kind of irritation or burning sensation, immediately ask the technician/stylist to stop. Sometimes this can be due to the gel that's used to hold these lashes together. It may contain collagen, aloe, and hyaluronic acid which can cause irritation, especially in those who have very sensitive skin.
Do Eyelash Extensions Ruin the Quality of Natural Lashes?
Styling with appropriate eyelash extensions generally does not ruin the quality of your natural lashes or the growth cycle of natural lashes. The frequent improper applications that damage your natural lashes are:
🚫 Too heavy extensions: Choose an eyelash extension that will balance out with your natural lashes. Heavy lash extensions will exert stress on the natural lash it is attached on. This leads to premature shedding of natural lashes.
🚫 Stickies: Two or more lashes or extensions glued together might cause damage to your natural lashes.
🚫 Eyelash extension glued to the skin: This can happen by a mistake on the part of an eyelash technician and it is hard for lashes to grow since their hair follicle is clogged.
Final Thoughts
The above article is a complete overview of eyelash extensions and related questions. I hope you found this article useful. If you have tried any of these Best professional eyelash extension brands, lashes, let me know in the comments section below.
Keep it simple! Keep it stylish!
FAQ
1. What are the safest eyelash extensions?
Magnetic eyelash extensions are safer and less damaging than traditional extensions attached using glue.
2. What are the most expensive eyelash extensions?
Volume extensions are the most expensive of eyelash extensions.
3. Which Eyelash Extension lasts longer?
Permanent eyelash extensions last the longest only shedding with your natural hair growth cycle, which is typically every six to eight weeks.
4. Are Eyelash Extensions Painful?
No, eyelash extension application is not painful.
5.

Can I Wear Mascara w

ith Eyelash Extensions?
Applying mascara on your lashes is not advised. If you have to, use only oil-free, water-based mascaras.