Ah, dad sandals! Who would have thought that these previously mocked footwear items would become a fashion-forward staple embraced by stylish women worldwide? If you have not heard about this God-sent kind of comfortable sandals, we are diving deep into this trend right away! Step into the world of fashion and comfort with Dad sandals for women – a must-have in every wardrobe.
Top 10 Dad Sandals For Women: Stylish And Comfortable Footwear Choices
Women Dad sandals are far more than a fleeting fashion statement. They have evolved to become a cornerstone of comfortable yet stylish footwear. It doesn't matter whether you are a fan of platform designs for that extra height, designer Dad sandals, flat dad sandals, or seek models, there is a dad sandal out there for every woman out there.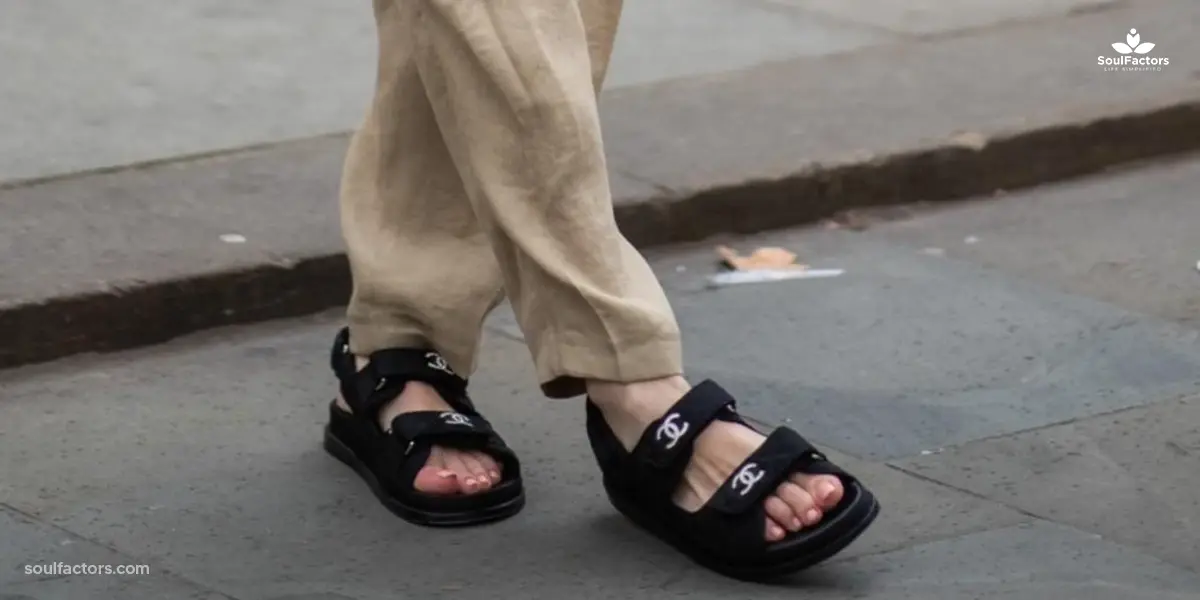 Let us explore 10 standout options of Dad sandals for women that range from ultra-comfortable flats to trendy platforms and luxurious quilted styles. Be ready to put our outdated judgments aside together and find the perfect pair of dad sandals that offer both comfort and style.
1. Teva Original Universal Dad Sandals
The Teva Original Universal is the quintessential Dad sandal that has been a staple since the '80s. Made with durable polyester webbing, these dad sandals provide great arch support and a solid rubber outsole for grip. They offer excellent value for the quality.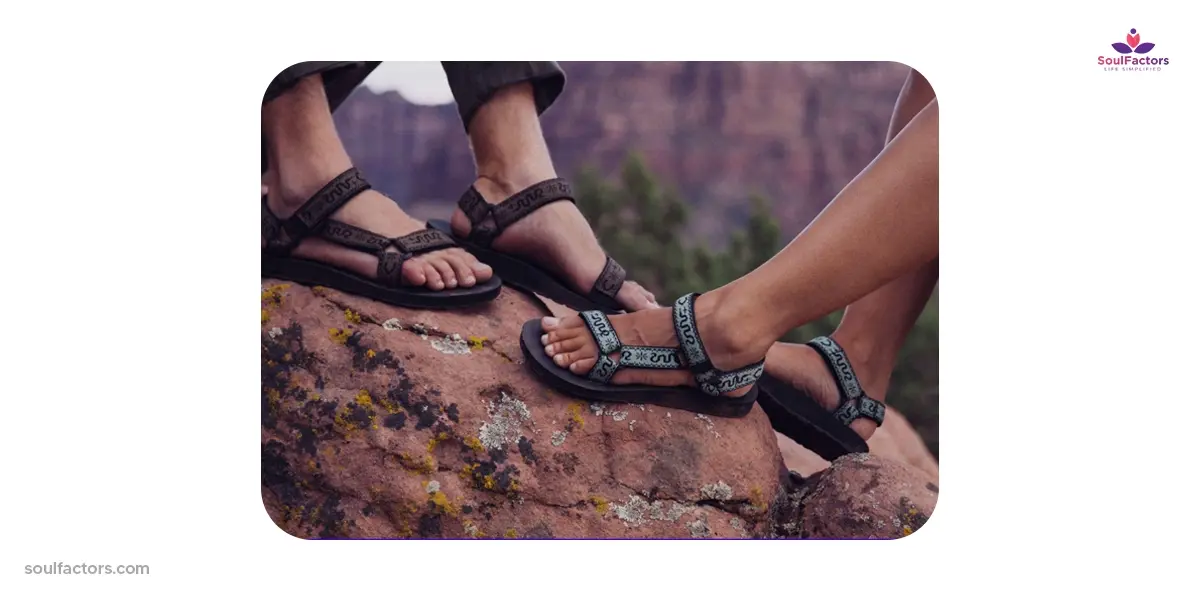 A significant pro for the Teva Original Universal Dad sandal is its Velcro strap system that allows for a fully customizable fit. We want you to know this- these sandals may not offer the same level of luxury as some of the pricier options on this list, but they really make up for it in practicality and comfort.
Though these Dad sandals may lack the high-end appeal of other brands, they are versatile and dependable. This makes them ideal for hiking, beach days, or casual wear. Look no further than this flat Dad sandals women's if you are in search of a pair of reliable, comfortable, and budget-friendly sandal.
2. Birkenstock Arizona Womens Dad Sandal
The Birkenstock Arizona features a cork-latex footbed, adjustable leather straps, and a roomy toe box for maximum comfort. It is a classic type of Dad sandal that never seems to go out of style.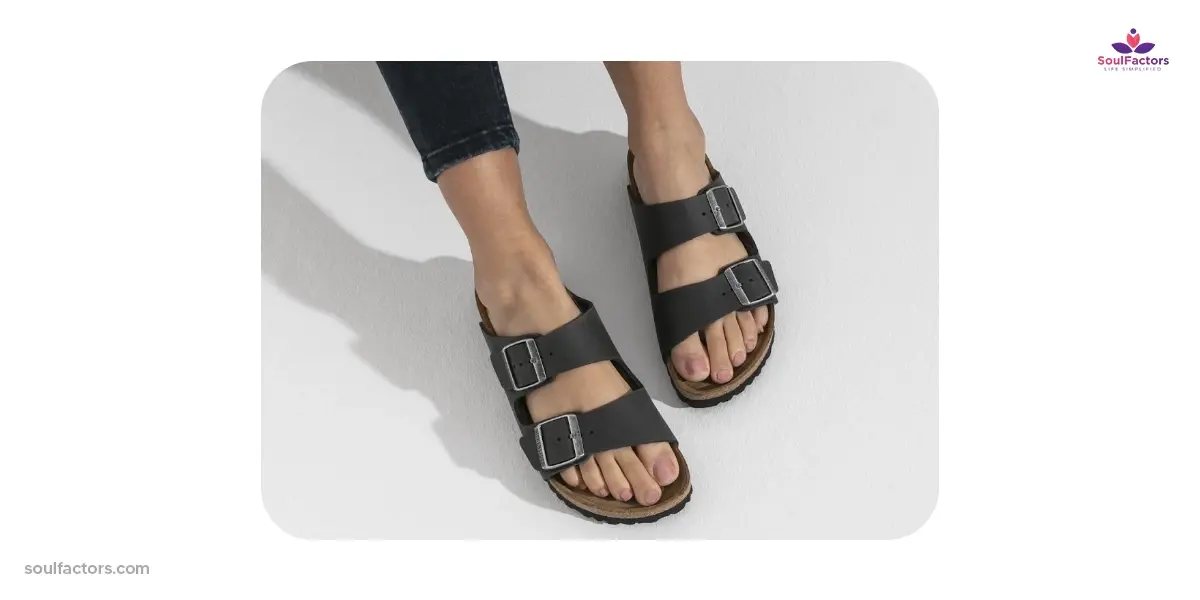 They are typically pricey, which makes them an investment piece that comes with long-lasting quality. You may find the leather can be stiff initially, and it might require a break-in period before you reach peak comfort levels. But do you know that the contoured footbed of this womens Dad sandal supports the arches of your feet and conforms to your foot shape over time?
The Birkenstock Arizona flat Dad sandals women is a timeless piece that offers both style and comfort. Despite its initial stiffness, these sandals provide unbeatable comfort that many swear by, once broken in. They are versatile enough for you to carry as both casual and semi-formal wear. This makes them an excellent all-rounder- go for it if you like to use the same friend for your foot and avoid confusion!
3. Chaco Z/Cloud Dad Sandals
The Chaco Z/Cloud offers an impressive level of support with its LUVSEAT™ polyurethane footbed, which is certified by the American Podiatric Medical Association. If you are someone who is looking for a pair of sandals that are built to withstand a variety of outdoor activities, this could be your perfect pair of sandals.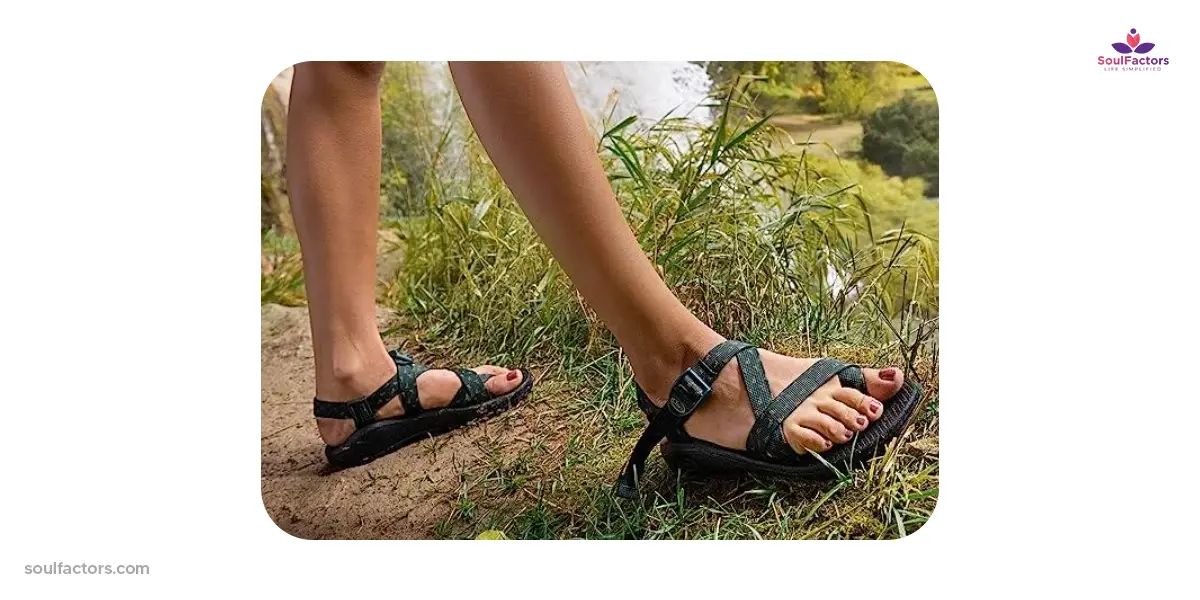 They are on the more expensive side, but their durability justifies the cost. Oh, wait! Did we mention their textured footbed? We can't miss that as it gives added grip and is excellent for hiking or walking on slippery surfaces.
The Chaco Z/Cloud comfortable Dad sandals womens is a top contender if you are an outdoor enthusiast looking for a dad sandal that can handle the elements. They may not win any fashion awards, but trust us when we tell you that they make up for it in comfort and durability.
4. Dr. Martens Voss Women Dad Sandals
The Dr. Martens Voss sandals are built with the brand's signature robust quality. They feature a thick, chunky sole and the famous yellow stitching around the edge.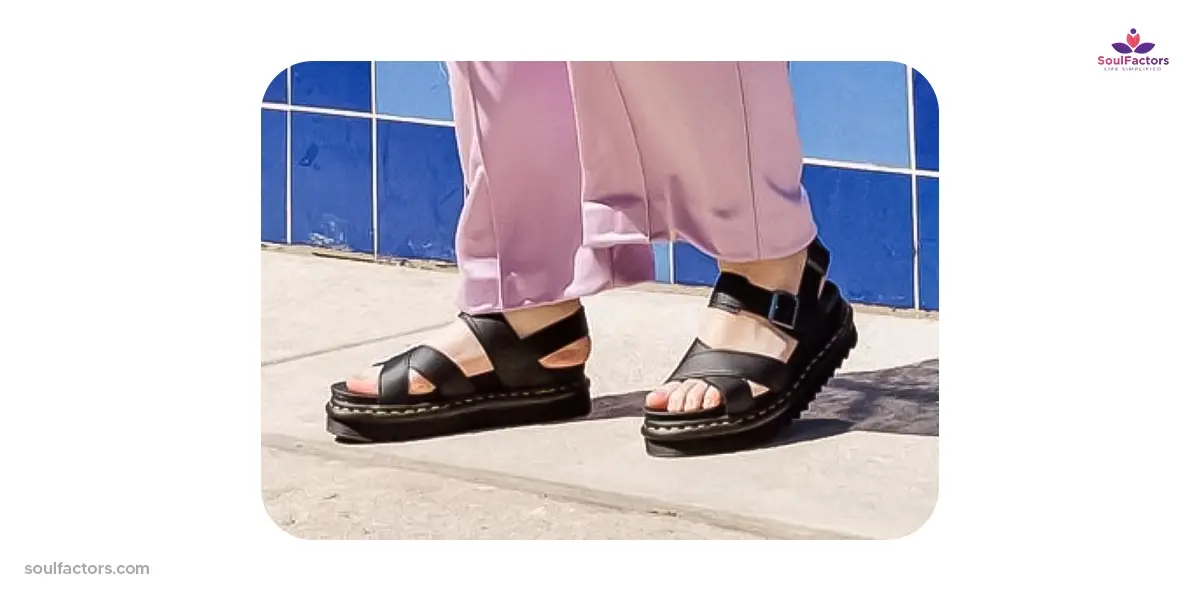 What makes these chunky sandals special is their elevated, flatform design that adds a touch of youthfulness. These sandals are not the cheapest option on the market, but we're telling you- they are built to last.
One of the pros of this pair is the durable Goodyear welt construction which ensures a long lifespan for the shoes. Similar to the Birkenstock Arizona Dad sandals womens, they do have a break-in period where the leather adjusts to your foot. The Dr. Martens Voss sandals are the perfect blend of durability and style. If you are someone who loves height but not heels, these flatforms could be your new-found friend!
5. UGG Fluffita Dad Sandal
Have you ever felt like you're inside a warm and plush hug when you slip your feet into a pair of sandals? If not, you should get to know about the Dad sandals womens- UGG Fluffita.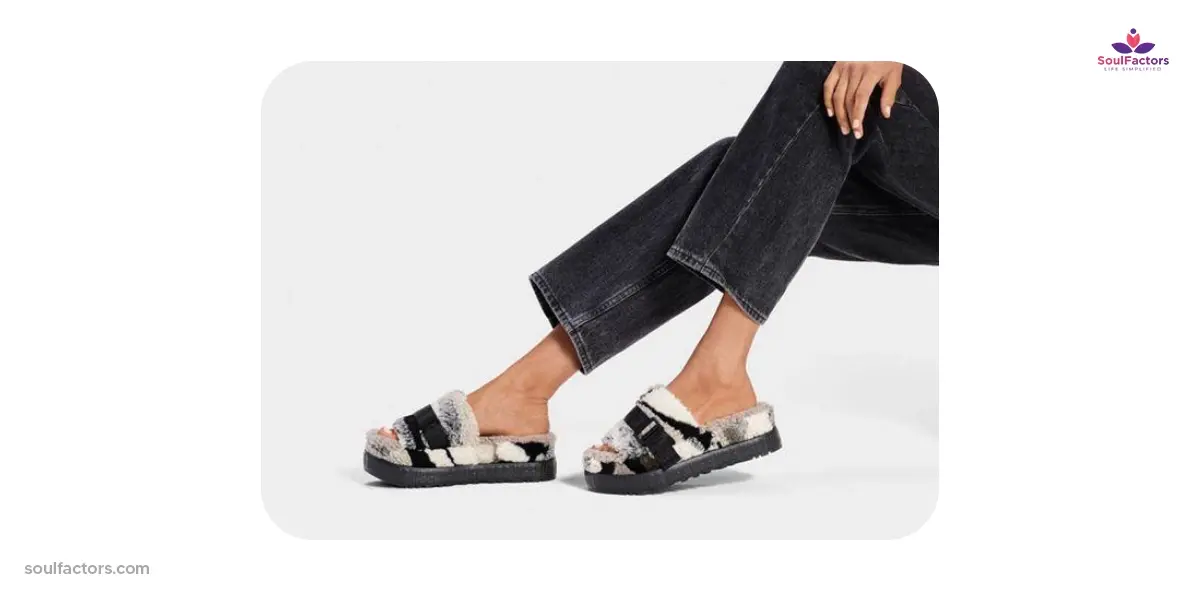 It has a sheepskin upper and they are as cozy as they come. They offer comfort and luxury. On the pro side, these sandals are extremely comfortable and perfect if you're looking for casual, everyday wear. But, they might not be ideal for extremely hot or wet conditions because of the sheepskin material.
The UGG Fluffita Womens Dad sandals are a match made in heaven for your feet if you are not planning on trekking through puddles and comfort is your ultimate goal.
6. Crocs Classic Dal Sandal
The Crocs Classic Sandal is an affordable option that boasts the brand's iconic comfort technology.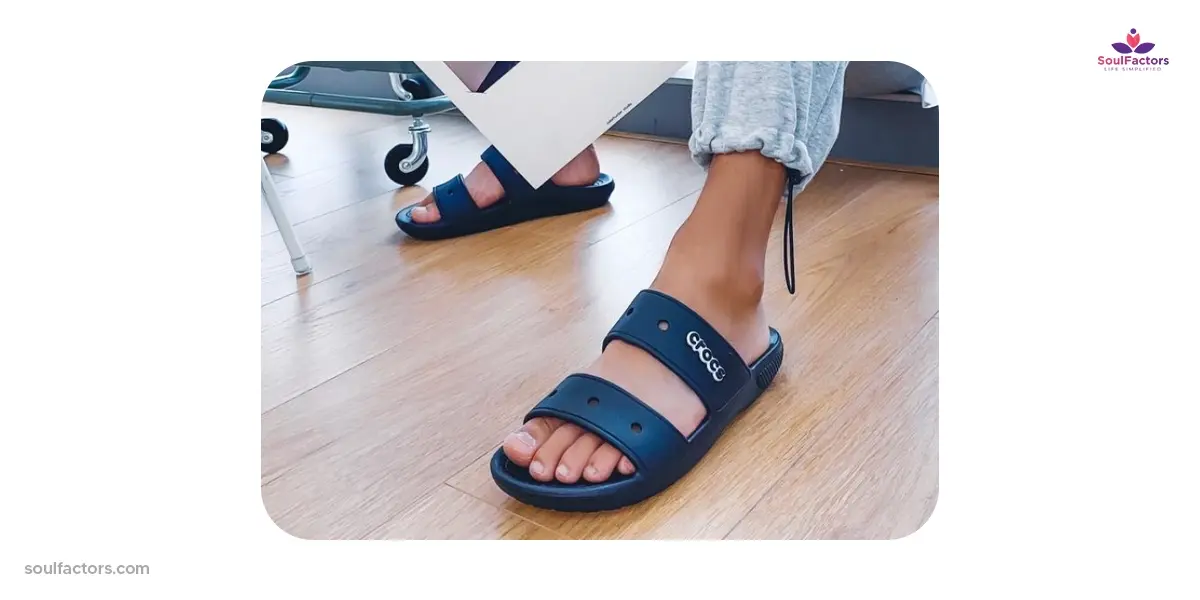 These sandals are a steal. The ventilated design helps to keep your feet cool and allows for water to drain away- this makes them a good company for beach trips.
The lightweight construction ensures comfort even during prolonged wear. Crocs Classic Womens Dad sandals are for you if you prioritize comfort and affordability and don't mind a more casual look for your everyday style.
7. Fila Disruptor Women Dad Sandals
The Fila Disruptor Sandals are for those who are crazy about wedge design.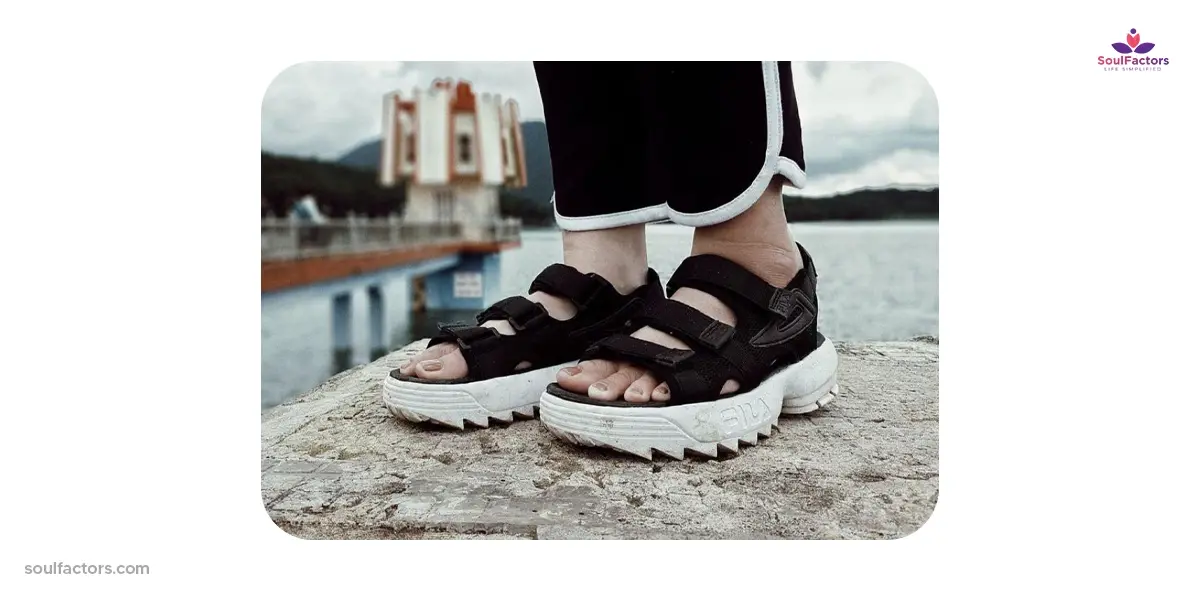 They add a touch of femininity to the dad sandal aesthetic and are often priced around ₹2000 which makes them a moderately-priced option.
The sturdy and thick sole of these sandals provides excellent support and the wedge design adds some extra height without sacrificing comfort. This is a solid choice for those who love all the trendy variations of the wedge dad sandal womens but want a bit more height.
8. FitFlop Lulu Dad Sandal
The FitFlop Lulu sandals come with a built-in arch contour and Microwobbleboard™ midsoles. It offers excellent support and comfort.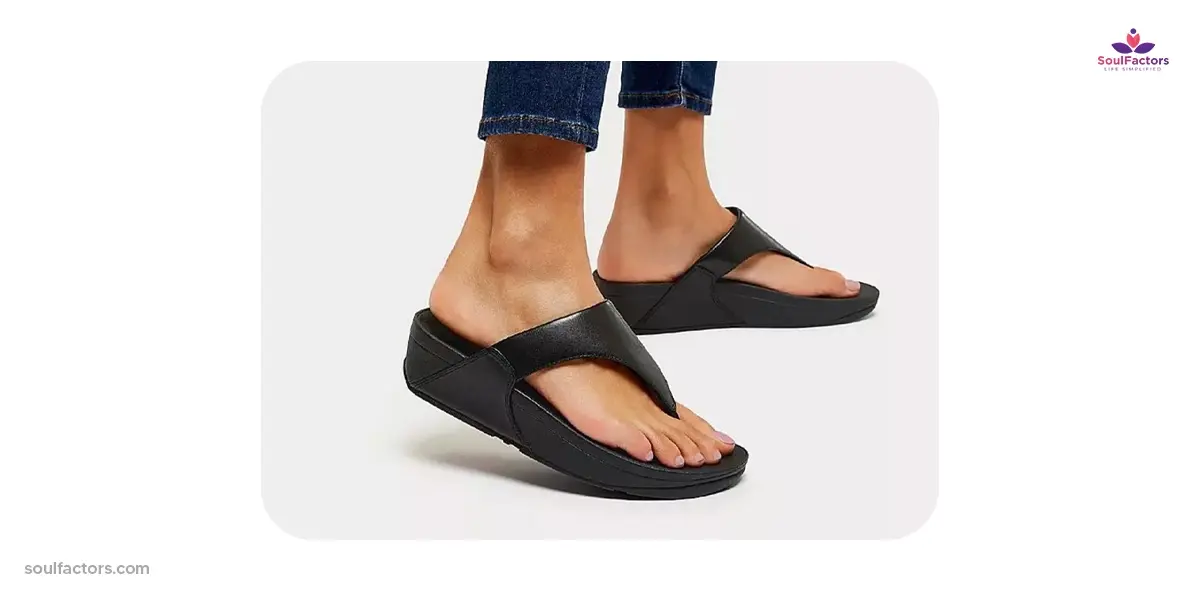 Black dad sandals like these are an investment in foot health.
They offer a sleeker and more streamlined design when compared to other Dad sandals womens. The FitFlop Lulu is worth considering for all those who are looking for a sandal that offers excellent support and a slightly more refined look.
9. Chanel Quilted Women's Dad Sandals
The Chanel Quilted Dad Sandals Womens are the best of this kind when it comes to luxury.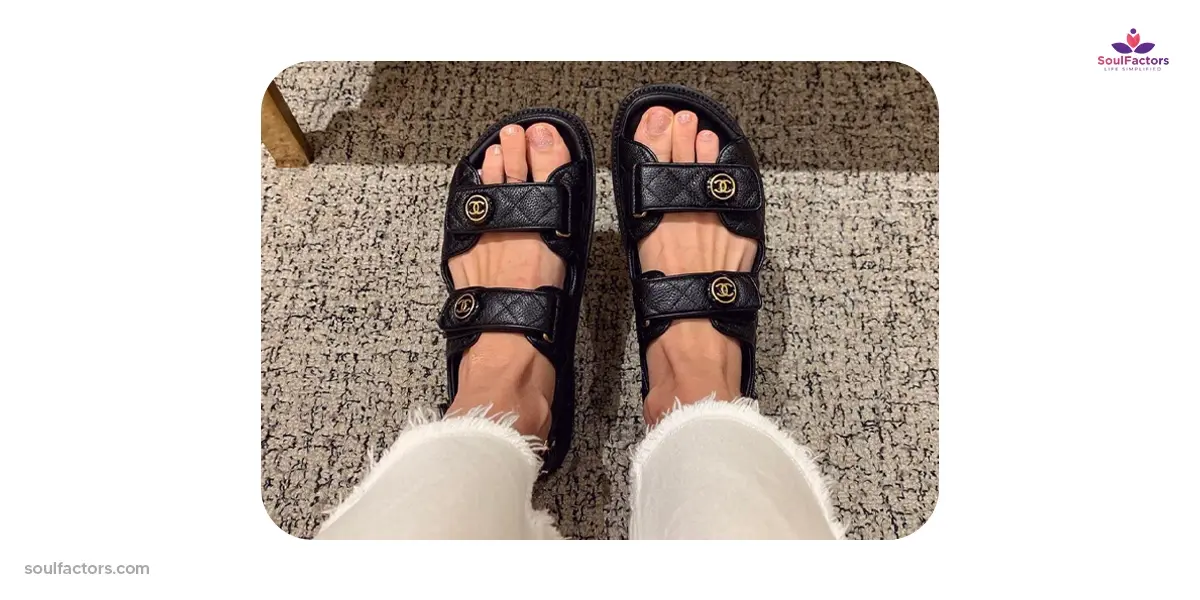 These quilted beauties are priced at a steep ₹99,000 and above for the unparalleled luxury and style they offer. Crafted in France, these sandals boast an intricately detailed double-C logo on the front.
These black Dad sandals made from premium leather with a signature quilted design are a splurge-worthy option if you are a fashion enthusiast looking to make a strong style statement. So why wait if you are ready to spend for the epitome of high-fashion comfort and a pair of chunky sandals that could easily become the showstopper of any outfit?
10. Adidas Adilette Dad Sandals For Womens
Last but not least, we have a version of Dad sandals womens that are the personification of sporty comfort- Adidas Adilette.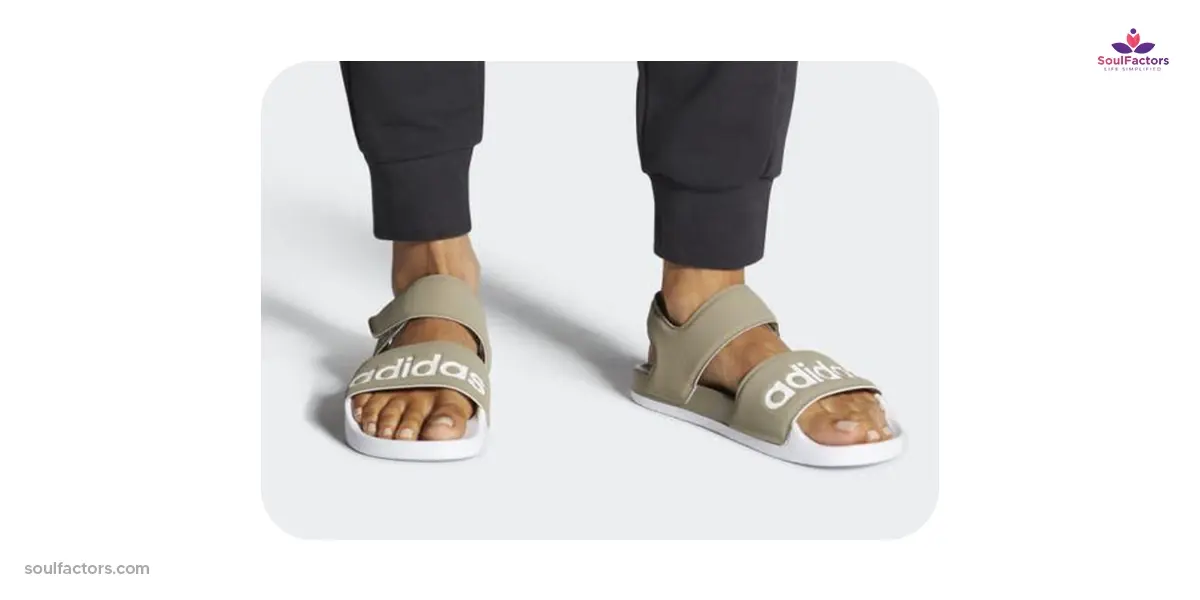 With a starting price of ₹3500, these dad sandals offer a budget-friendly option for those who lead an active lifestyle.
The molded footbed and bandage-style upper of these sandals provide excellent support and comfort if you wish to prioritize comfort and functionality. Look no further if you are a sporty individual- these sandals are also incredibly durable, which makes them a long-lasting investment. And the bonus of this choice? They come in a variety of colors and patterns, which allows you to express your personal style while enjoying top-notch comfort. Win-win!
Before We Conclude
Women Dad sandals are far more than a fleeting fashion statement. They have evolved to become a cornerstone of comfortable yet stylish footwear. It doesn't matter whether you are a fan of platform designs for that extra height, designer Dad sandals, flat dad sandals, or seek models, there is a dad sandal out there for every woman out there (1). And if you're in the mood to splurge, the quilted options add a layer of luxury to your casual wear. You now know that the market offers a rich array of choices suited for every budget and style preference from affordability to high-end luxury, so why wait more to get your perfect pair?
FAQs
What Are Dad Sandals Called?
"Dad sandals" is a colloquial term used to describe chunky, often multi-strapped sandals that were previously associated more with comfort and utility than style.
Are Dad Sandals Still In 2023?
Absolutely, women dad sandals continue to reign supreme in the fashion world as of 2023.
Are Dad Sandals Still Trendy?
Yes, dad sandals have successfully transitioned from being a passing fad to a lasting trend, especially in women's fashion.
How Much Are Chanel Dad Sandals?
Chanel dad sandals typically cost around $1,200, making them a luxury item for those willing to invest in high-fashion footwear.