Who said you need a professional DSLR to shoot fashion photography at home? If you have one, good for you! But if you don't have an expensive professional camera lying around, there is no room for worry! Thankfully, by 2023, we now have smartphones with high-resolution cameras and apps with fancy filters. The best part? You don't need to be a professional photographer!
Anyone with a high-resolution camera can take product or fashion photographs that stand out in the never-ending social media feeds. You may not realize that you have everything you need to shoot fashion photography at home with you already! By the end of this article, you will have fancy clothing photography ideas to start selling!
Fashion Photography At Home: What You Need To Know!
The clothes you plan to sell may look gorgeous on you or your model. But who's to say they won't look just as amazing on your social media feeds as well? After all, product photography is the gateway to customer satisfaction, which ultimately leads to higher traffic and conversions.
So you need quality pictures to make your targeted customer take a second look at your clothes while they are mindlessly scrolling.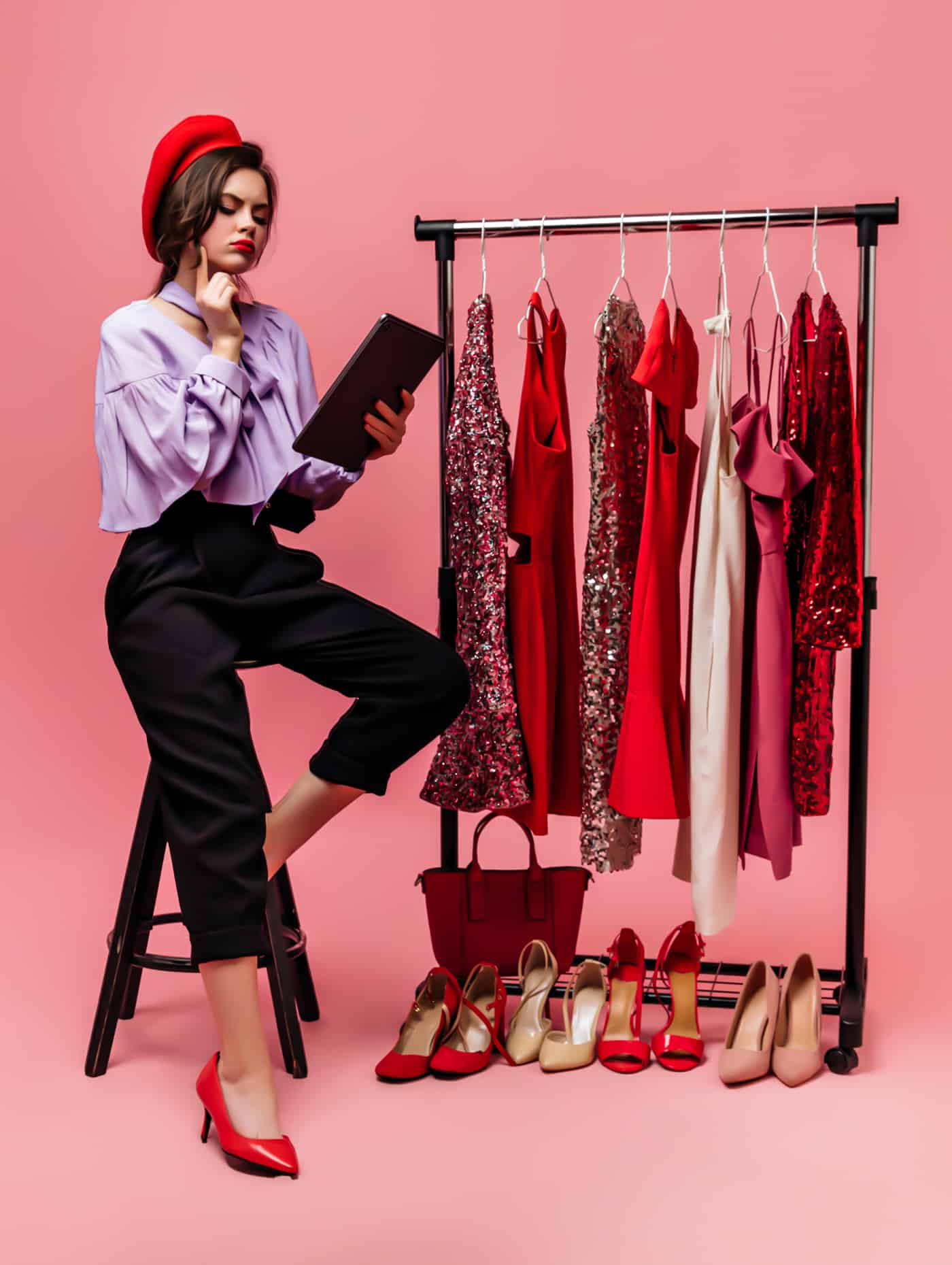 Can you take pictures that are good enough to grab their attention and stop their scrolling even for two seconds? Without the help of a professional photographer or studio lighting that is. Yes, you can. You can Seeing how smartphone manufacturers are gearing even mediocre smartphones with high-resolution cameras, you are promised clearer, sharper, and much better photos.
Things just got easier if you have an Apple iPhone or Samsung Galaxy S8 (or newer)! Add some natural light and a great editing app into the mix, you got your Instagram-worthy photographs ready! Time to put our iPhone (or any smartphone with a great camera) to test!
What Do You Need To Take Fashion Photos At Home?
Unfortunately, it takes more than a fancy smartphone to get high-quality fashion pictures. Of course, you can choose to use just your smartphone for fashion photography at home.
But you don't want to risk ruining the professional touch, right? If not, here is the list of things you need to take perfect fashion pictures of. Then again, depending on the location, you may not need all of these.
Smartphone
Choose a smartphone with a high-resolution camera; the higher the megapixel count, the better your apparel product photos. Aim to get a newer model smartphone with a 12-megapixel camera or more.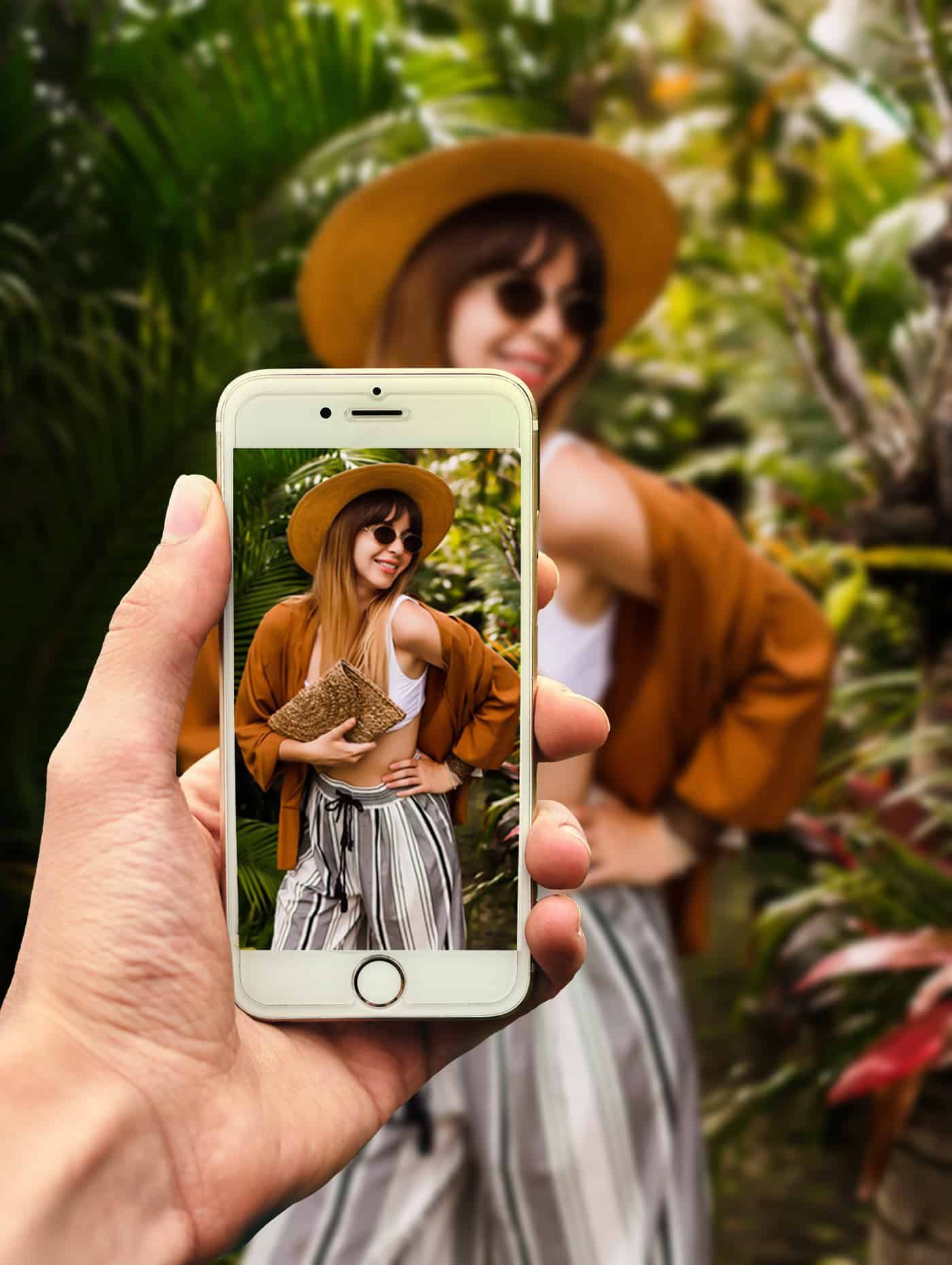 Mobile Tripod
The main focus of any photography is keeping the camera stable without shaking to ensure the pictures are sharp. For better focus and steadiness, photographers use a tripod. (1) You can choose a mini tripod, especially if you are shooting from home.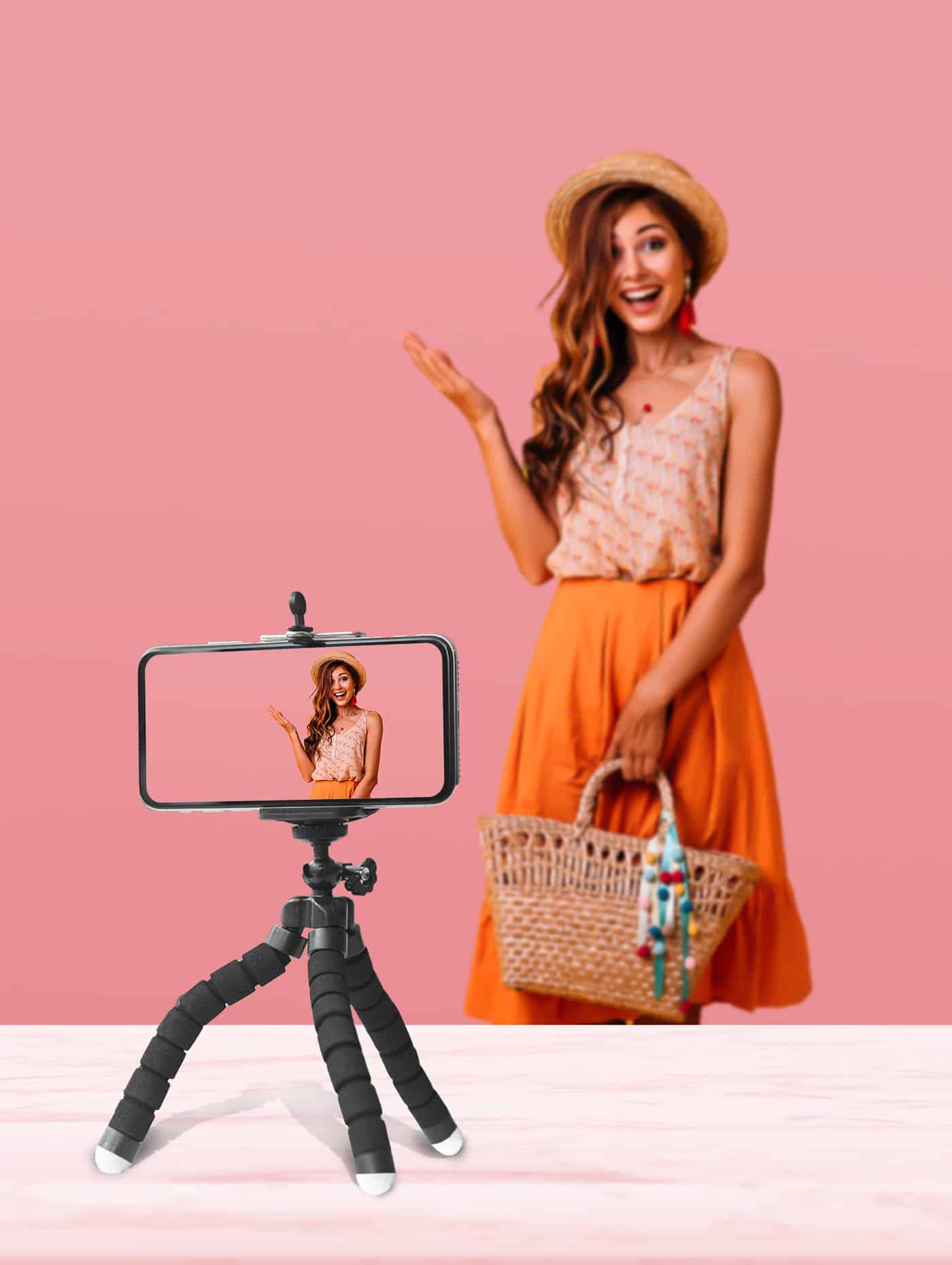 There are several mini tripods for beginners to standardize photo angles while reducing camera shake. It is one of the most underrated pieces of equipment and is an amazing investment for a fashion photographer!
Your options are the Manfrotto PIXI, the MeFoto RoadTrip Classic Leather Edition Tripod, or SwitchPod Tripod (for travel-sized ones). Or you can use a pop-up phone holder to make your phone more ergonomic.
Mobile Lenses
Consider using attachable lenses to style your line of fashion. Mobile lenses help take your fashion photography to another creative level! You have many types of lenses to choose from and your style of photography will decide which one will work the best for you.
Hangers
Clothing photography ideas at home begin with hangers. It is always a great option to hang the clothes you want to sell to make them appear crisp. Besides, hanging is a style of fashion photography.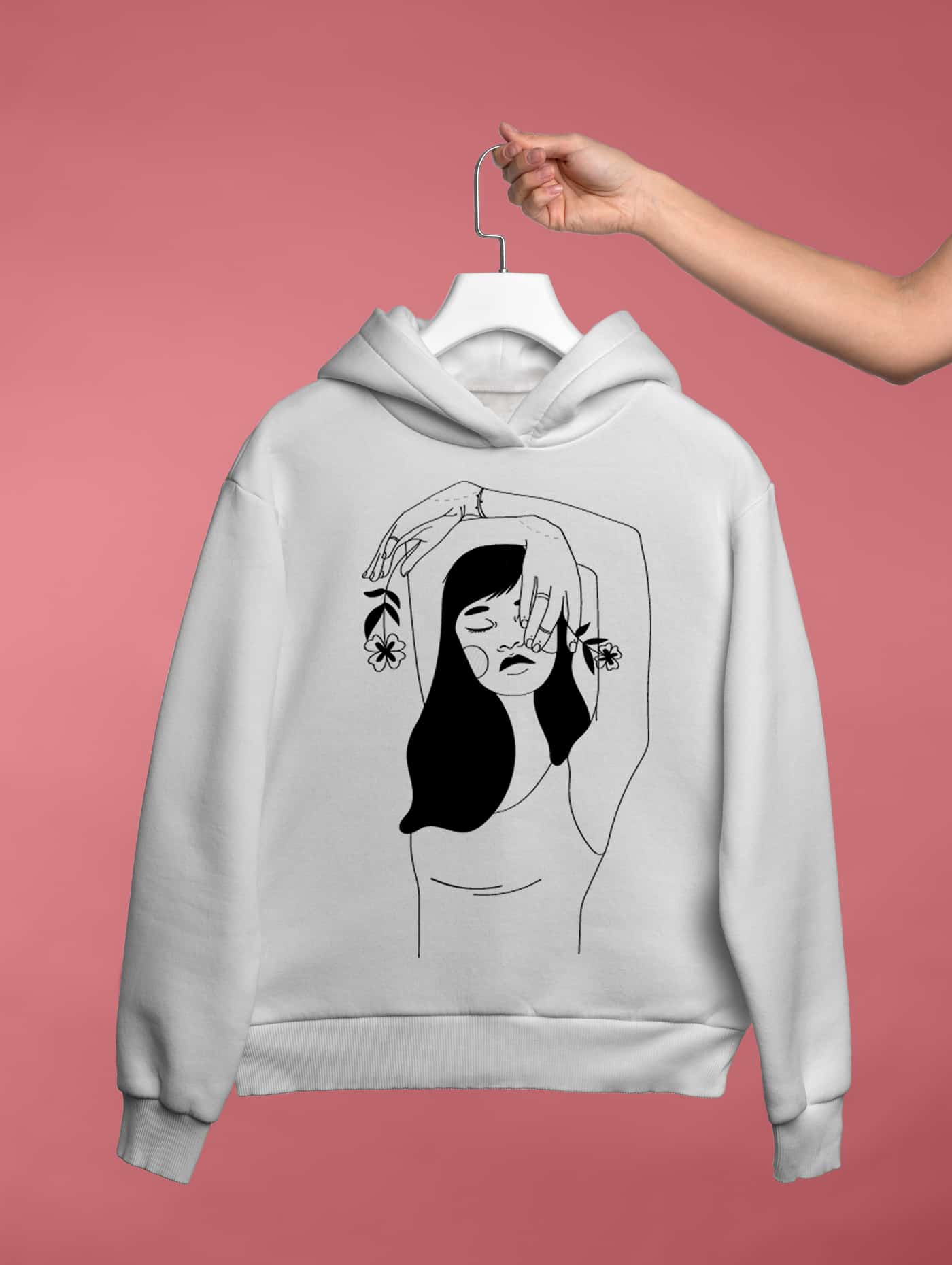 Props
This is obviously optional. But certain styles of fashion photography demand props to keep along with the clothes to add more life and creativity to the photos. You can choose anything from matching accessories to plants to books to mirrors —basically anything that can help the photos to stand out.
Mannequin for fashion photography at home
This is also optional. But they do make clothes appear neat and real, especially if you are planning to do fashion photography without a model. It helps the viewers visualize how the clothes would look on them. Dresses, in particular, look elegant on a mannequin (2) rather than laying flat on the ground.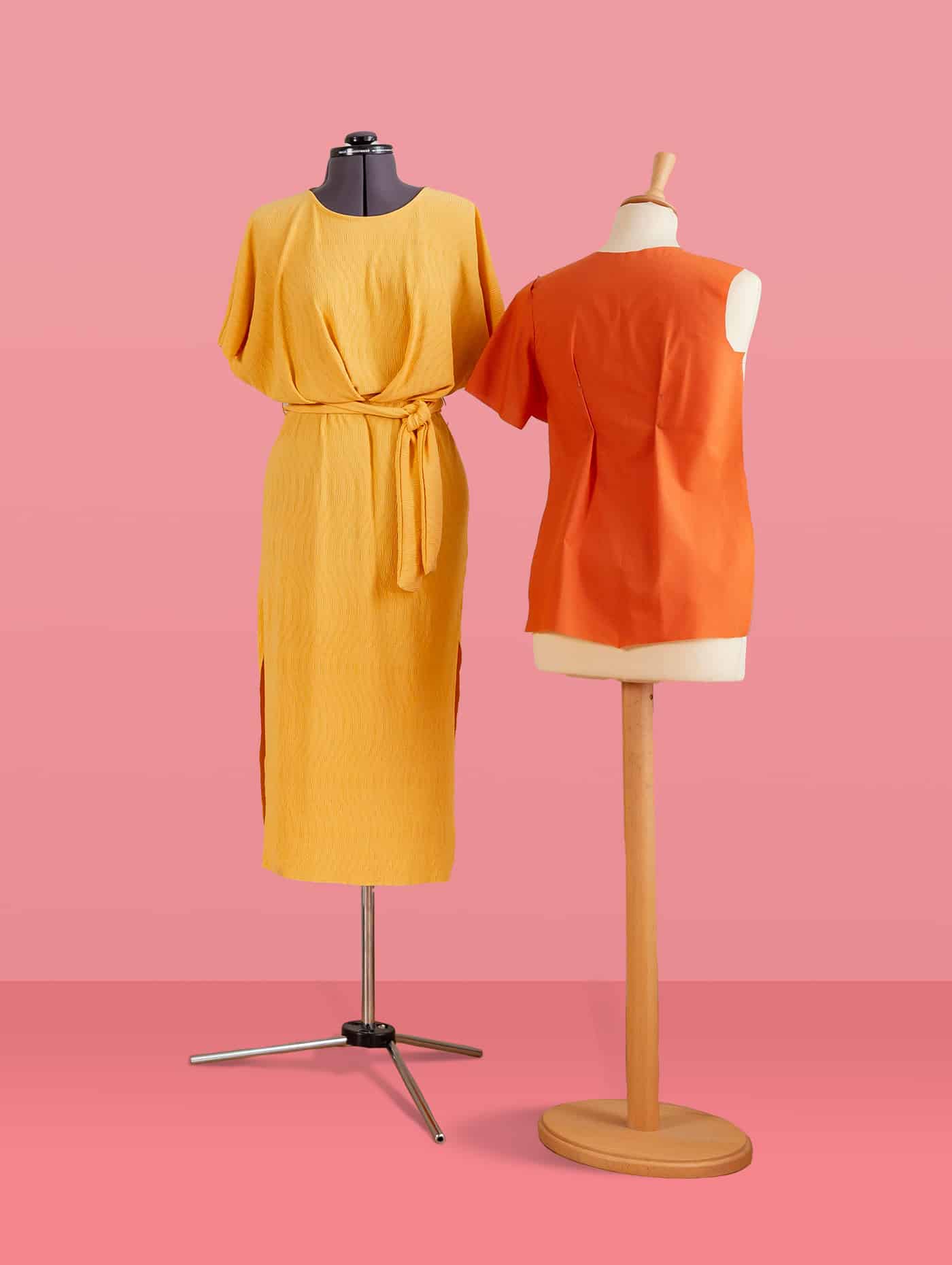 These are what you need to take fashion photography. You can take what you think your style of photography would require and ignore the rest. Moving on to the good stuff!
How To Take Fashion Photos Using Smartphones?
Here are a few simple smartphone fashion photography tips and tricks to ace your shooting with or without a model! Again, take what you need and ignore the rest.
Know your phone's settings
If you know how to operate your smartphone and its camera settings to their full extent, you will know how to take smartphone fashion at home quite easily. Play with exposure, contrast, and other light settings to learn the tricks.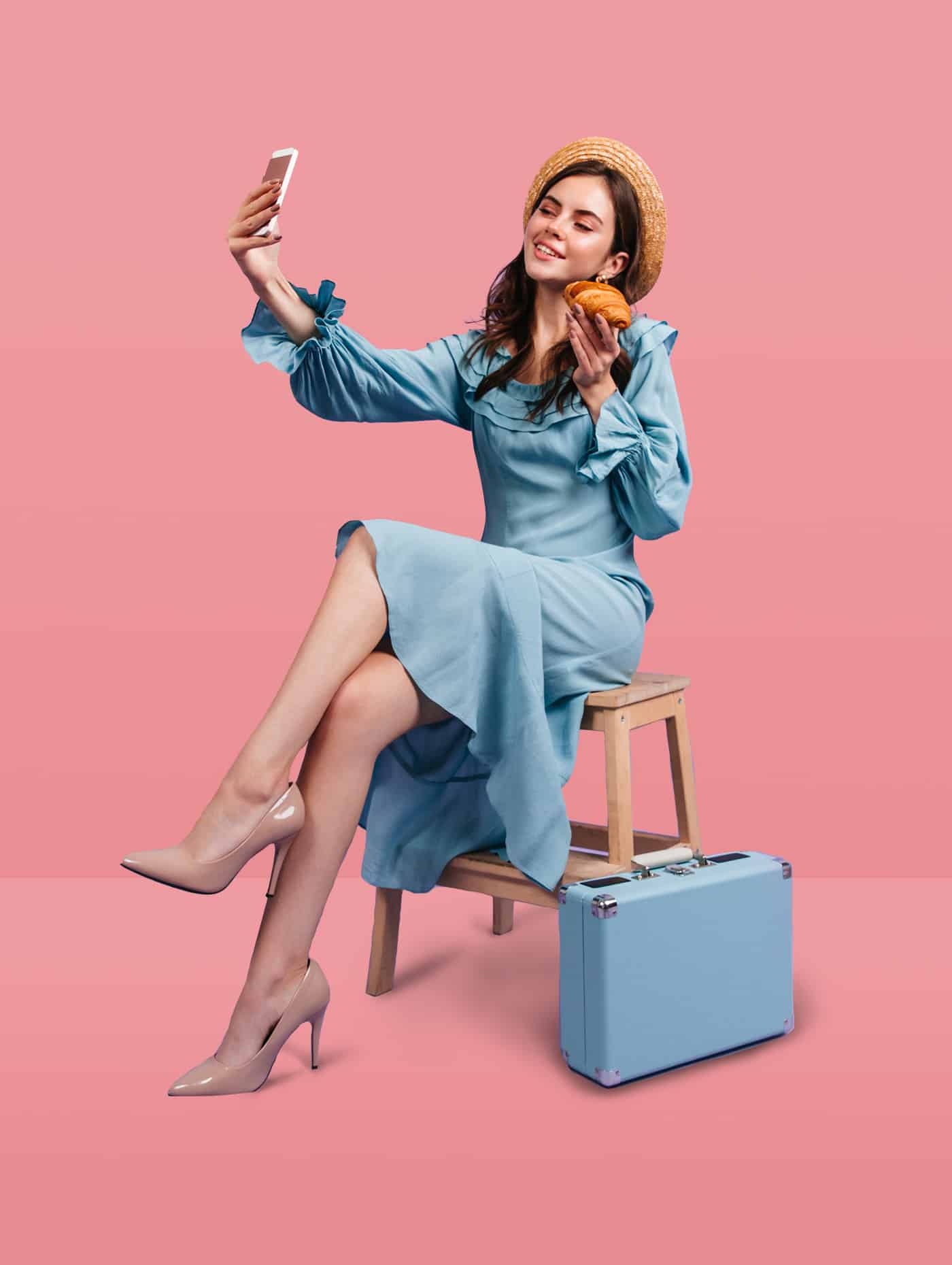 Create a mood board
Developing a theme for your fashion photography is important. It is not wrong to make a fashion inspo board on your Pinterest with fashion pictures that have grabbed your attention. This will give you ideas later for advanced fashion photography at home.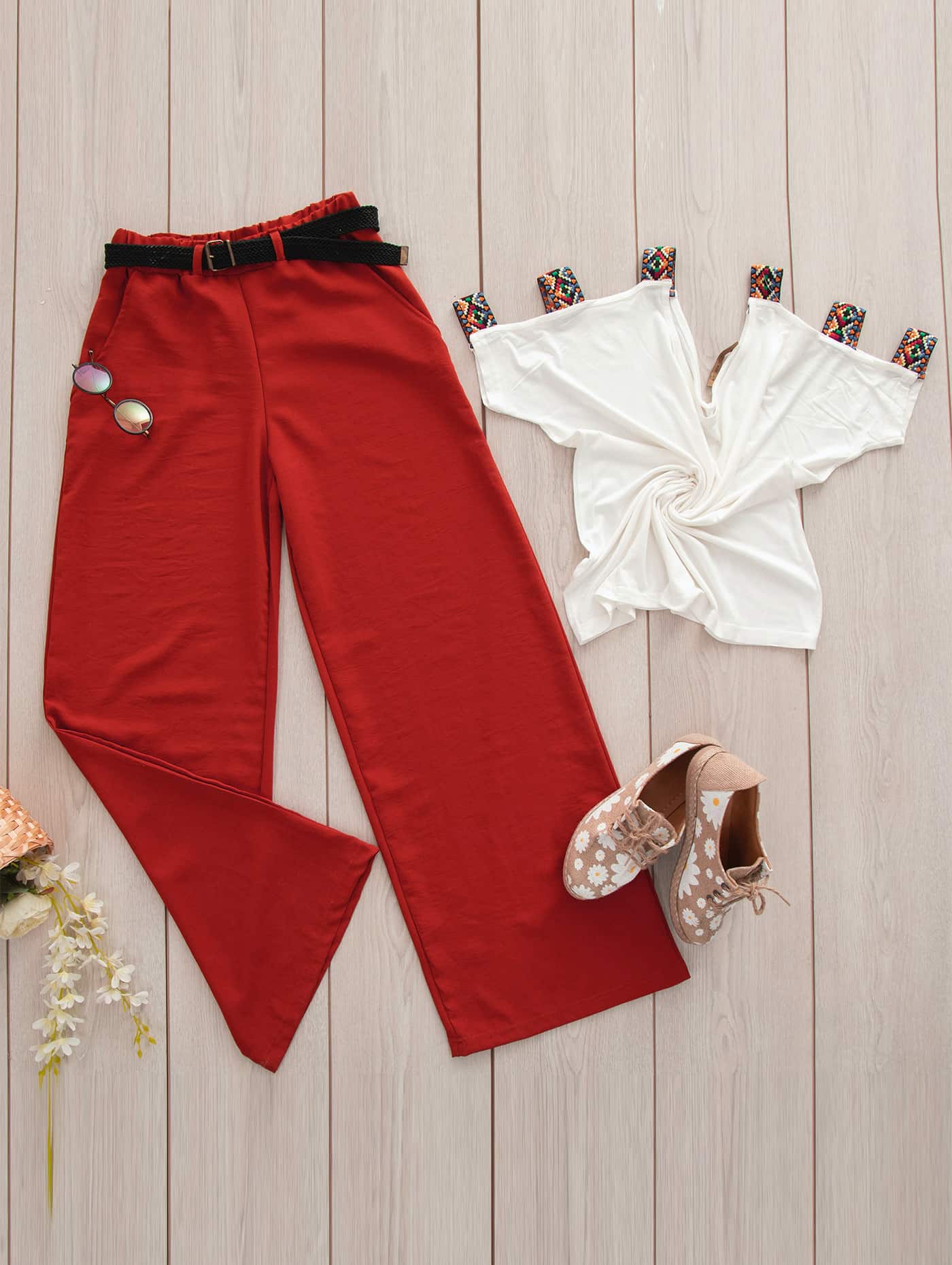 Choose an interesting background
One of the important tricks to grab attention is to find an interesting background, with or without a model. But especially without a model. You have to give your clothes full focus while there is a flattering background that adds more story to the picture.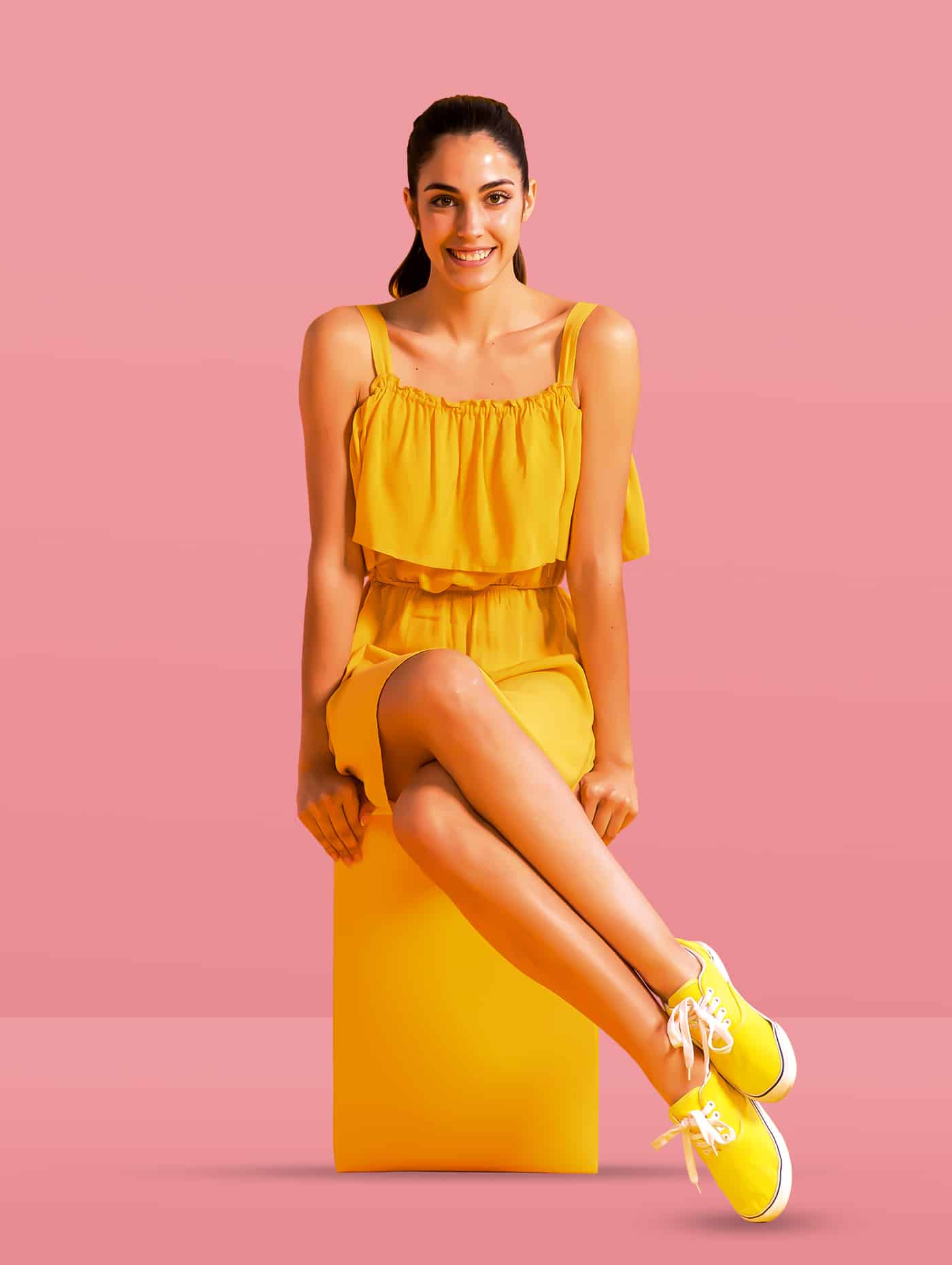 Take note of any shapes, lines, or colors in the background. Or you can simply use a plain background —through editing apps or not. A plain white sheet or a vintage-style wall with book pages or flowers would work well.
Keep lighting clean for fashion photography at home
Lighting is the key to any photography to get visually pleasing pictures. In this case, the more natural lighting your clothes get, the better your pictures will be. But you have to know how to use it too, especially when you are doing an outdoor shoot. If you are doing an indoor shoot, avoid harsh artificial lighting, dimly lit environment, and using flash too.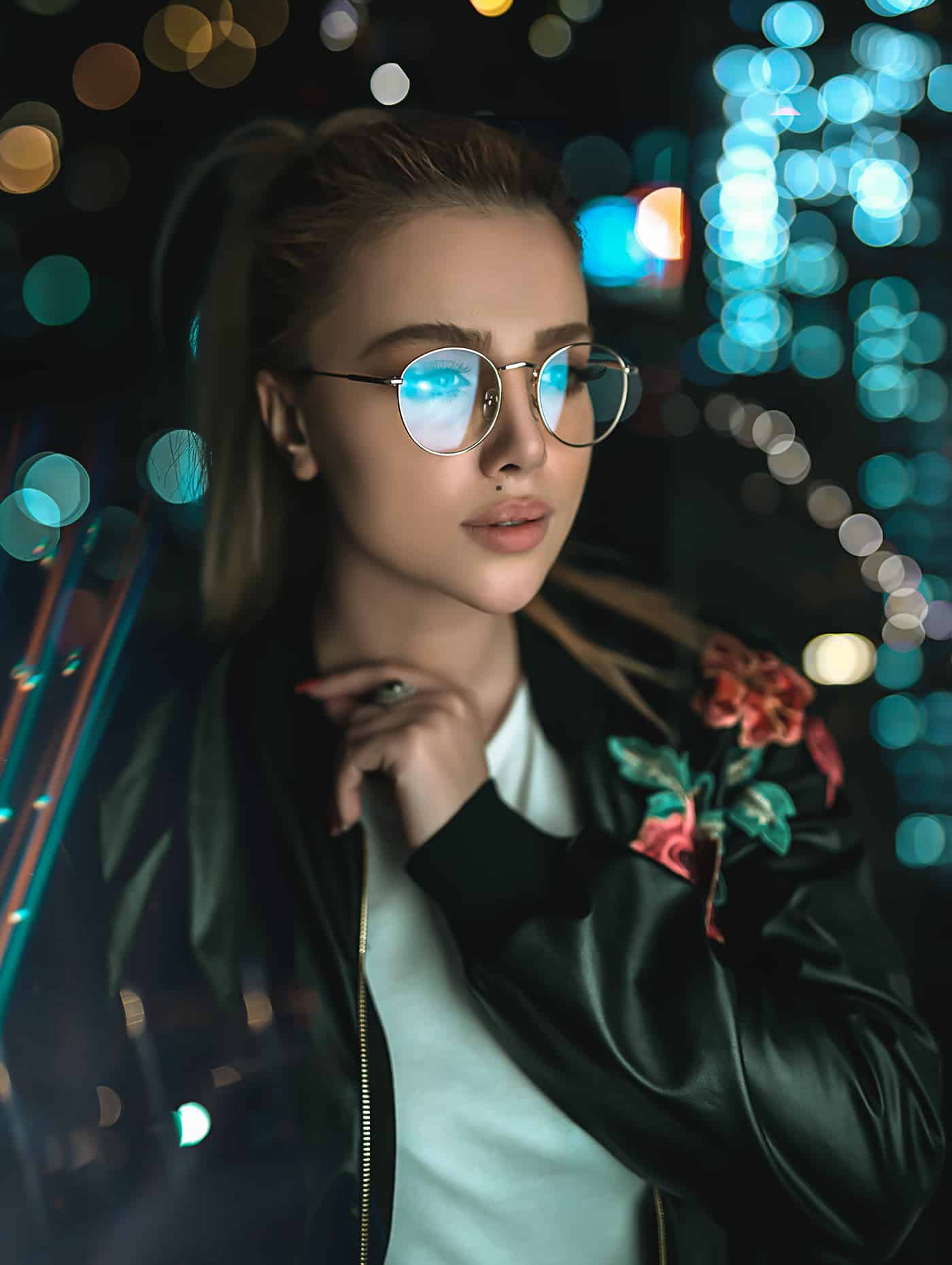 Always make use of large windows for natural, bright, and even lighting when trying fashion photography at home. You will end up getting crisp pictures focusing on the real color of the clothes. Depending on your budget, you can use an external LED and a white reflector for better lighting. However, if you are using a studio, make sure it is dark without natural light.
Choose the angle wisely
Not every angle works for fashion photography. If you don't have a model, staying at eye level is the safe bet. Otherwise, you can try different angles —low angle, high angle, wide-angle, and even bird-eye angle.(3)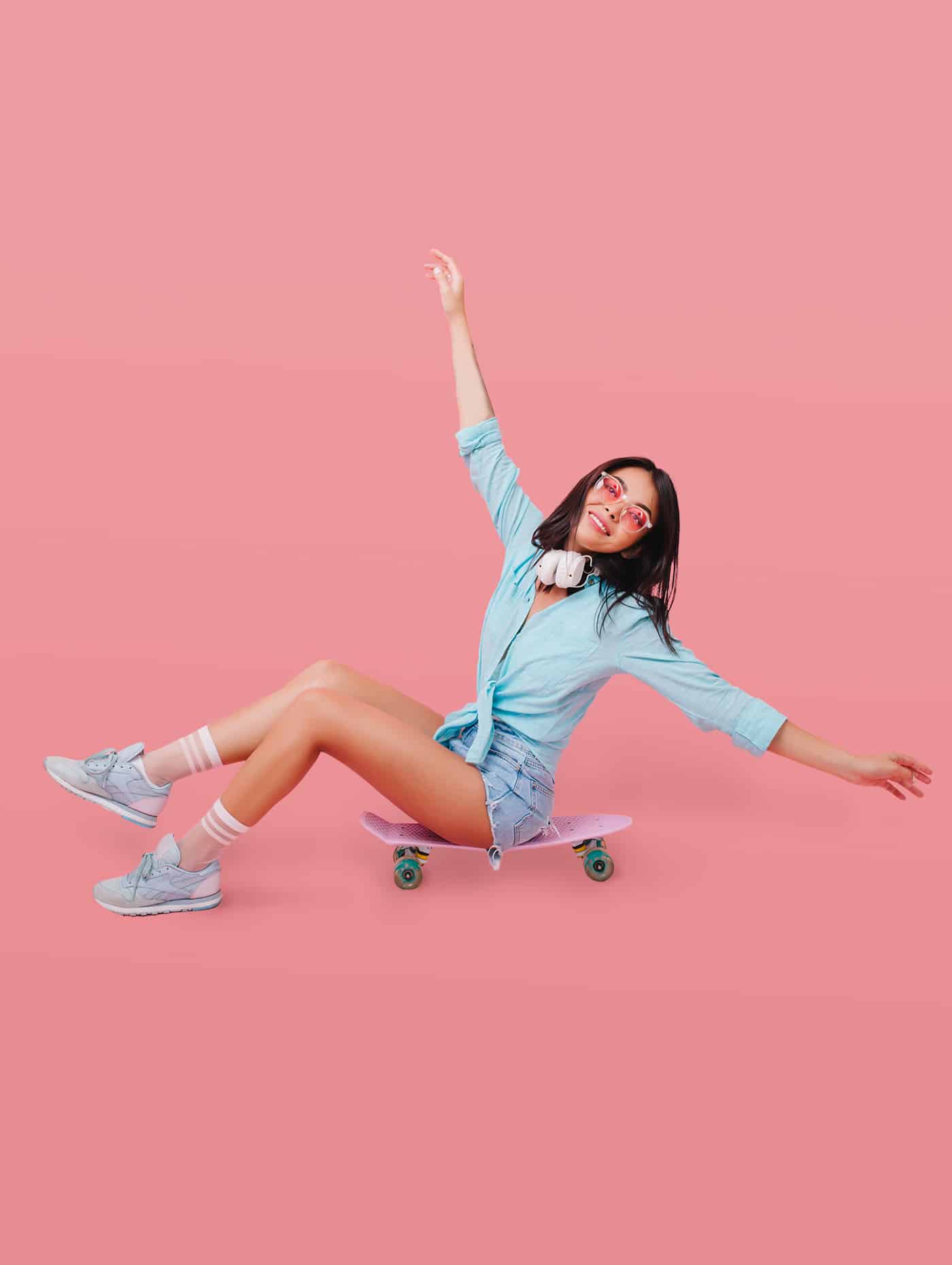 Focus on the clothes
Regardless of you have a model with you or not, always focus the camera on the clothes and not the pretty props or the cool background behind them. If you have an iPhone, its AE/AF lock makes it easier to lock the focus on the model or the clothes.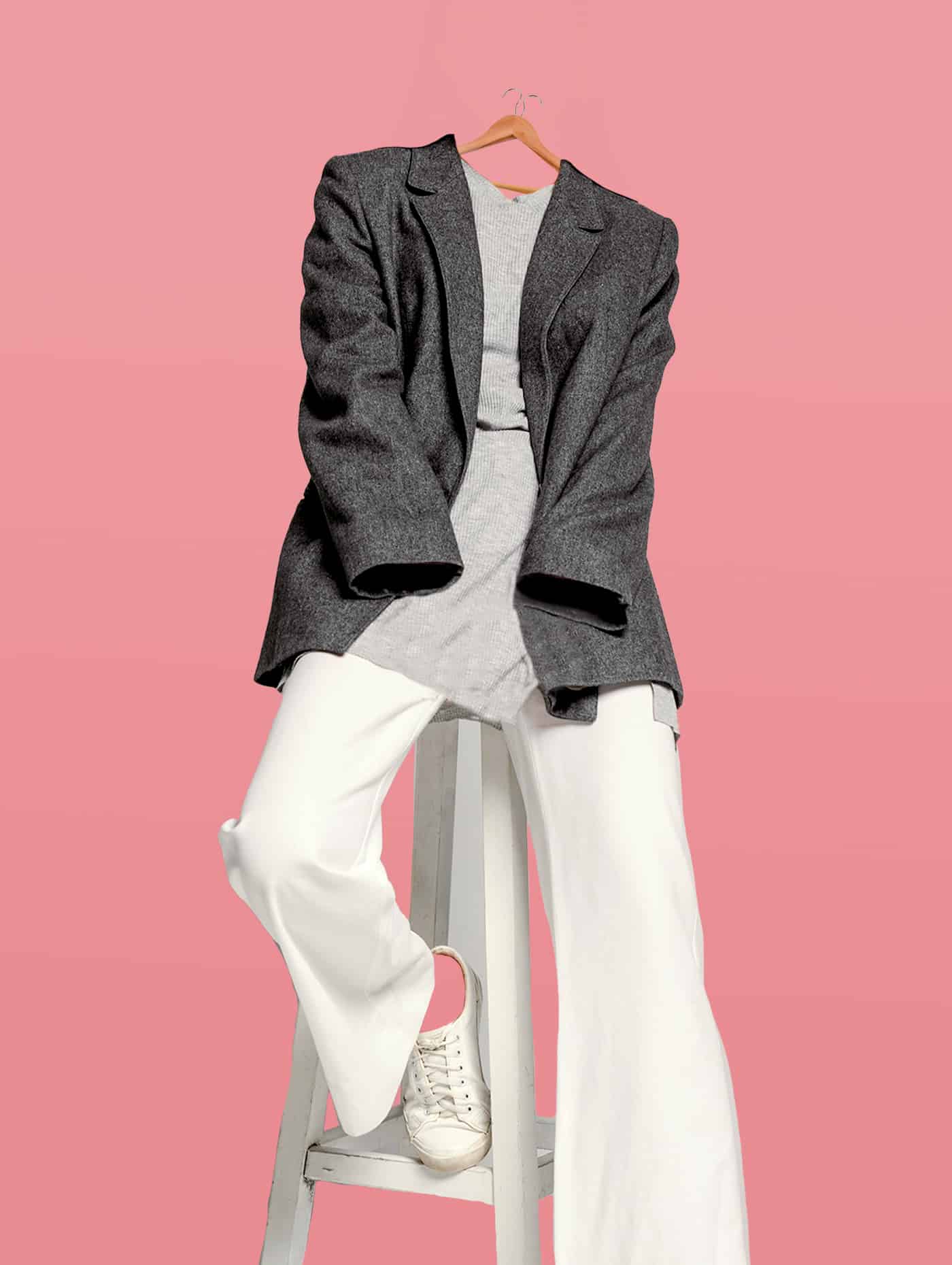 Communicate with your model
You need to talk to your model to communicate your ideas, style, and concept of the photography. So that you can decide on which emotion, expression, and pose the model should try for the camera. You can give out verbal directions to get everything right as per your needs and satisfaction too.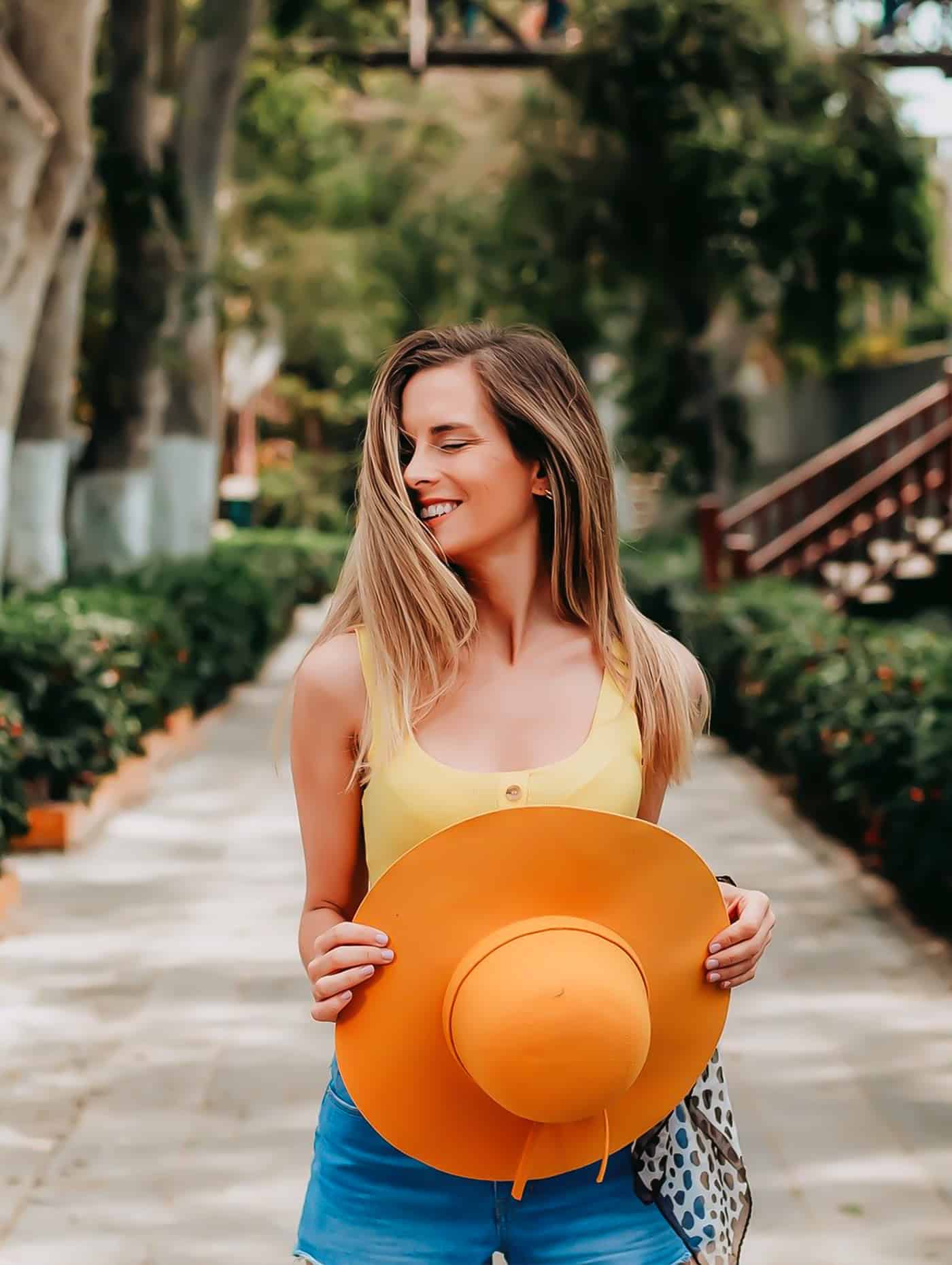 Prepare your clothes for fashion photography at home
If you are doing fashion photography without a model, set your clothes neatly for the shoot. You could either use a mannequin, especially if you are planning to post on any e-commerce platform.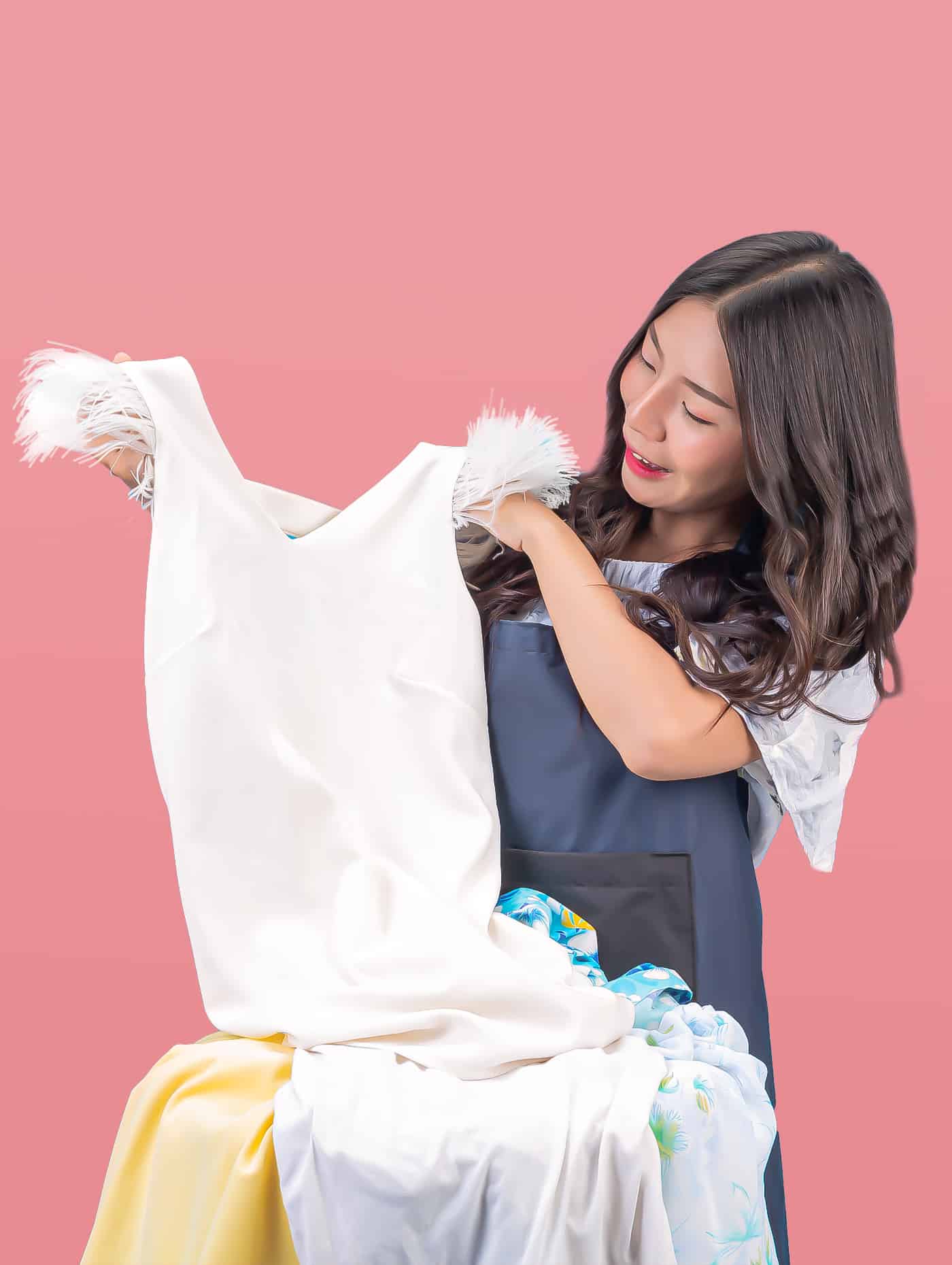 Or, you can simply fold them neatly and lay them down flatly on the ground with other matching accessories. Other uniquely cool ways to set them are to hang them on a hanging stand, lay them on a chair, clip them to a string among others.
Use props sparingly for fashion photography at home
You don't need to take the focus away from the clothes you are trying to sell. So, if you are adding props for an aesthetic finish, don't use too many. Use them sparingly and creatively to let them speak the concept to your viewers. You can use just anything as a magic prop, really.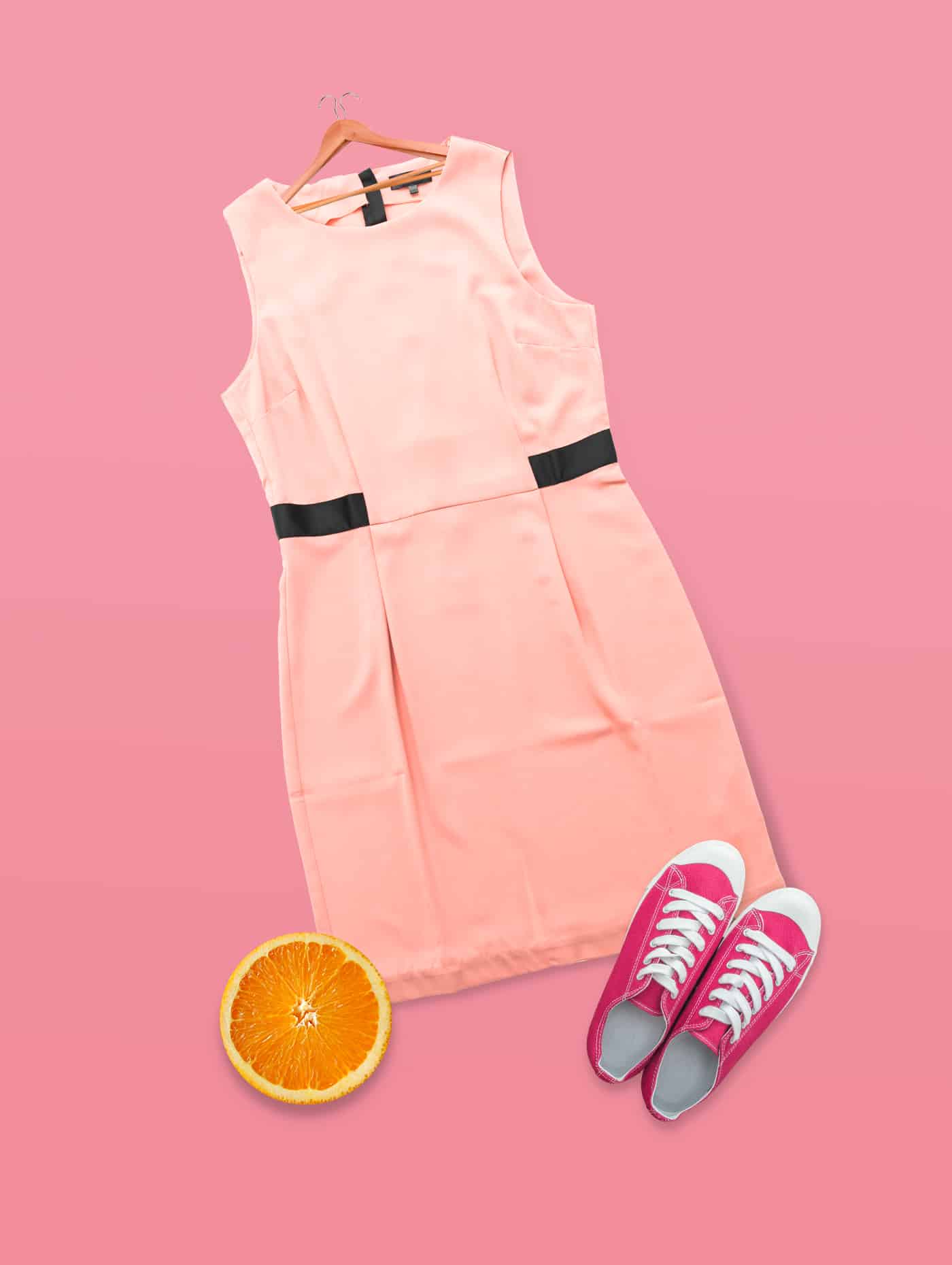 I am pretty sure the pictures above must give you some idea of what you can make use of at home. I mean, who would have thought a piece of fruit can be considered as a clothing photography idea at home?
Let the apps do their magic
If you don't want to continue your iPhone fashion photography all the way through iPhone editing, you can always use editing apps. Luckily, there are crazy, amazing editing apps that can make any picture look golden! You can do all kinds of magic with these apps to retouch and filter your pictures to their aesthetic perfection.
In addition, you can crop out anything unwanted from the picture, like a mannequin. Take VSCO, Snapseed, Lightroom, and Adobe Photoshop Express. These are a few of the best, popular, and easy-to-use editing apps. The best part is: the result won't disappoint you.
These smartphone fashion photography tips to shoot at home will surely give you ideas. Neither a professional photographer nor a professional camera is required to take fashion photos at home.
Now, what's stopping you?