Fenty Beauty Review | Honest And In-depth Review of Rihanna's Revolutionary Brand!
Talented, bold, bronze-skinned goddess, that's Rihanna! Every time she stepped out she never failed to impress the fashion and beauty world. But is her brand, Fenty Beauty as versatile and admirable as the diva herself? Let's find out!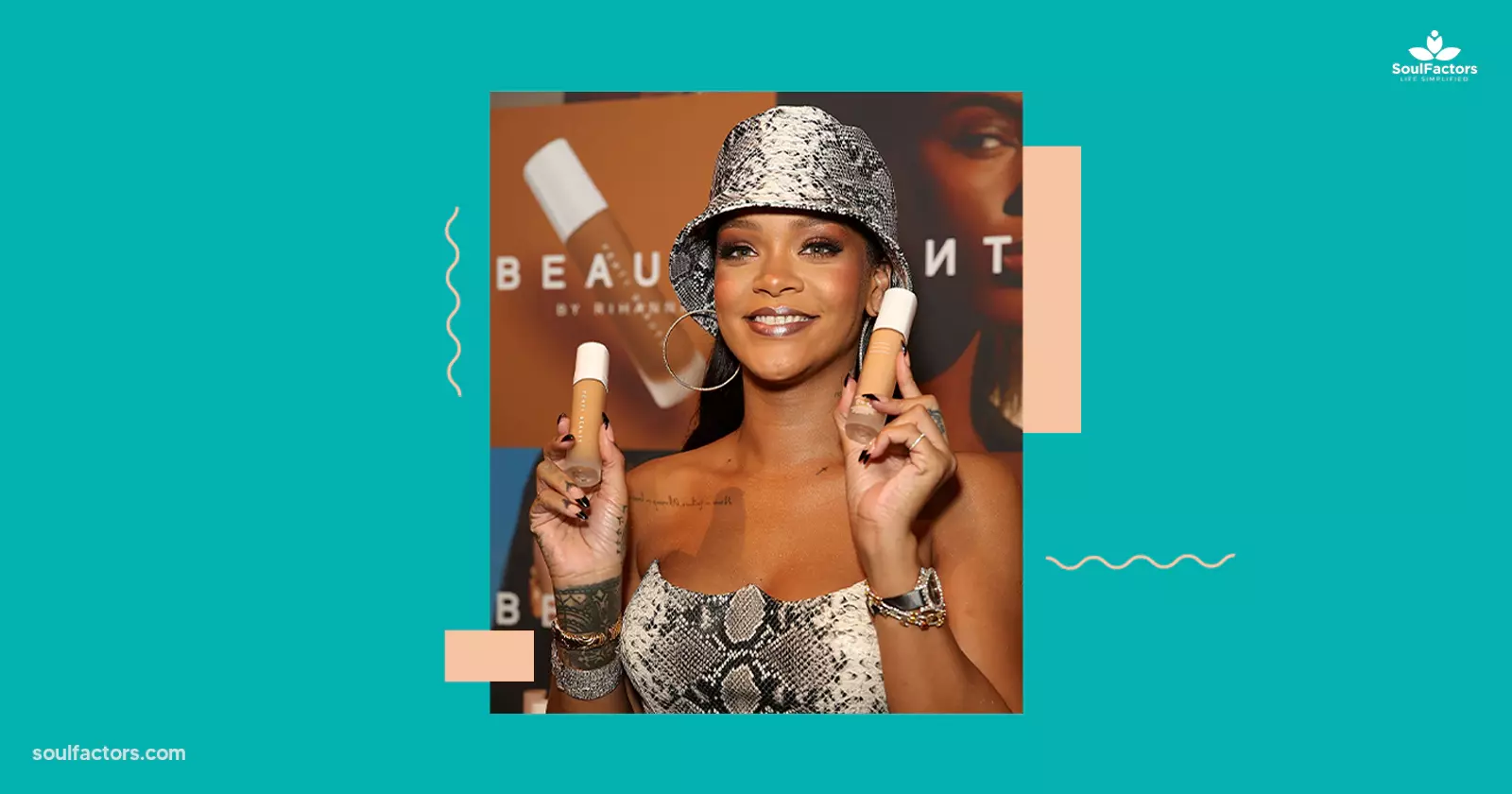 Who doesn't love Rihanna, the exotic beauty did not just win hearts worldwide with her iconic music but also set high standards in the fashion and makeup industry. Rihanna has always stood out for her fashion choices and makeup looks, she rocked them every single time. She could always pull off anything from a bold badass statement looks to subtle regal with zero effort.
Over the years if you look at her various red carpet looks you can see that she never shies away. The one time she wore black lipstick, then green, then blue- she clearly proved the color theory wrong. Through this Fenty beauty review, we will help you find those products that are worth your time and money and those you can pass on.
Fenty Beauty Review: Rihanna's Makeup Line!
When Rihanna launched her makeup brand Fenty Beauty, on September 8, 2017, the world eagerly waited. The idea of her own makeup brand was first spoken about, by the star 3 years prior to the launch, and since that day fans have eagerly waited for updates.
The launch was huge, covering 17 countries live a the same time through an omnichannel marketing strategy. The website which went live was already prepared to ship worldwide. The Sephora store was already placing sold-out signs a few hours after the launch. Now that's huge, isn't it?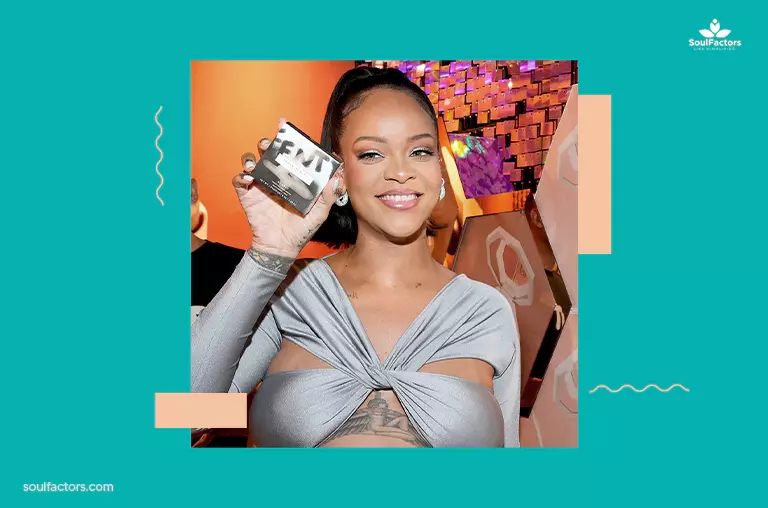 Today it's a trend for celebrities to slap their names on anything from skincare, hair care, and makeup. It's happening everywhere and it wouldn't work most of the time! So when an iconic star like Rihanna announced that she was launching her makeup line where inclusivity was the main focus, though the job at hand seemed impossible we just knew that she would never settle with just launching subpar products.
Let's check out how Rihanna has amped her makeup game in this Fenty Beauty review.
What Is Unique About Fenty Beauty?
The brand Fenty beauty might have initially gained its popularity because of philanthropist, singer, makeup, and fashion icon Rihanna herself. Rihanna being a woman of "skin of color", knows how difficult it is to find makeup that suits a certain skin tone, especially for deeper skin.
She wanted to make makeup that any woman of any ethnicity and skin color can pick up. Most of the brands in the beauty industry have used only lighter-skinned models and have stocked up on products biasing towards lighter skin tones, as this was the "pre-set" beauty standard that we were made to believe up until recently.
Rihanna wanted to make makeup for everyone, which is why the factor of "inclusivity" has been given the utmost importance in her brand.
No brand has ever launched such versatile makeup. The brand made history when it initially launched with a foundation shade range of 40, which is improvising and is a total of 59 shades today. That is taking things to another level!
What is even more amazing is that Rihanna didn't just stop with the amazing shade range, she went ahead and made her brand universal.
Each product is made keeping the factors like skin type, undertone, concern, and texture in check. From a professional MUA to a very minimalist makeup user, anyone can pick up products from this brand.
Is Fenty Beauty Environmentally Friendly?
Absolutely yes! Reduce, reuse, recycle, the brand follows the three R's. The products are packed in a very environmentally conscious approach by eliminating unwanted packaging where ever necessary. They have also refill and recyclable options on their website.
Why Is Fenty Beauty So Popular?
Fenty Beauty is so popular because Rihanna(1) gave herself a not-so-easy, almost impossible, challenge of creating makeup that is universal, she wanted her brand to be inclusive and she made it happen.
Apart from the shade range and viability the brand makes high-quality products that give the whole lux but comfortable vibe.
Last but not the least, the packaging- Fenty beauty products are designed to keep luxury, compactness, and convenience in check.
Is Fenty Beauty An Ethical Brand?
Yes, Fenty Beauty is cruelty-free. They have confirmed that they do not test their finished products on animals. Fenty Beauty also makes sure that their suppliers or any third-party sellers also don't test their products on animals.
Through this Fenty Beauty review, we found out that the brand does not sell its products in countries where animal testing is compulsory by law, for example, China.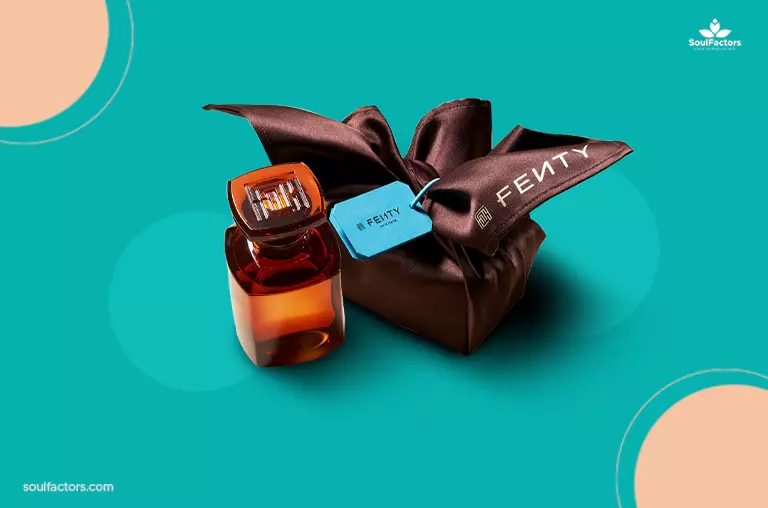 Fenty Beauty Review: Best of Fenty Beauty Products
Here is a list of complete Fenty beauty makeup products and the ones we feel truly belong in your purse
Testing out Fenty Beauty products for this review we realized the true selling point of the brand is inclusivity. No other brand has gone this big and broad spectrum with its shade line. The brand has come up with shades even for the rarest of skin tones and formulas that blend seamlessly even after layering.
This is what Rihanna has to say about her brand Fenty Beauty
"Makeup is there for you to have fun with. It should never feel like pressure. It should never feel like a uniform. Feel free to take chances, and take risks, and dare to do something new or different."
In this Fenty Beauty Review, we will explore and dive into the best of Fenty Beauty:
Fenty Beauty has everything one needs to get that flawless no makeup look, that looks like skin. The brand has a variety of primers, foundations, concealer contour, blush, lipstick, gloss, eyeshadow, and an extensive high-quality lineup of makeup sponges and brushes.
Foundation
Fenty Beauty has foundations that come in a variety of game-changing shades and textures. If you are a matt finish lover or a Dewey finish lover they have both. All the foundations are extremely long wear and comfortable on the skin.
Pro filt'r soft matte long-wear foundation- 59 shades
Eaze drop blurring skin tint- 25 shades
Pro filt'r soft matte powder foundation-50 shades
Pro filt'r mini soft matte long wear foundation-50 shades
Pro filt'r hydrating long wear foundation- 3 shades
Pro filt'r soft matte long-wear foundation is the best-selling foundation from Fenty beauty and also our personal favorite, with a shade range of 59, we are sure everyone on the planet can find a match. The best part of this formulation is that it's climate adaptive hence you need not worry about shine and sweat were ever you are.
It stays put, making you look fresh and soft all day long. The foundation is also non-comedogenic so no matter what your skin type is this isn't going to break you out(2).
If you live in an extremely humid climate and you hate liquid formula this foundation is also available in powder format, you can check that out too.
Our next pick would be the Eaze drop blurring skin tint, this is a perfect product for those who don't like foundation and need something for your daily flawless no-makeup look. You can apply the product with your fingers and the consistency is just perfect to hide what's needed but not full coverage.
The tint is non-drying and transfer-resistant, a perfect combination for everyday wear.
All of Fenty's beauty foundations are available in mini versions so you can always test them out before getting the full size.
Concealer + Corrector
Just like the foundation the concealer also comes in three variants namely
Bright fix eye brightener-16 shades
Pro filt'r instant retouch concealer- 50 shades
Match stix correcting skin stick- 4 shades
All of the Fenty beauty concealers are long-wear, non-drying, and crease-proof. The coverage of these concealers is versatile and buildable.
Our top pick from Fenty Concealer is bright fix eye brightener and their pro filter instant retouch concealer. Both these formulas are very versatile and would work on a variety of skin types.
Prime + Set
Fenty Beauty has a huge variety and variants when it comes to primers and setting products
Eaze drop'lit all-over glow enhancer
Invisimatte instant setting + blotting powder
Pro filt'r instant retouch primer
Pro filt'r mattifying primer
Pro filt'r hydrating primer
Pro filt'r instant retouch setting powder
Pro filt'r amplifying eye primer
Baby what it dews travel-size makeup refreshing spray
Our personal favorite is Pro filter instant retouch setting powder, the Allure award-winning product that comes in 8 shades. The setting powder is so finely met that it's barely visible to the eyes but does the job perfectly.
The powder also has zero flashbacks, so the next time you click pictures at night you don't have to worry about looking like a ghost.
The Pro filt'r instant retouch setting powder also comes in a mini version so you can always get a taste of the product before getting the bigger one.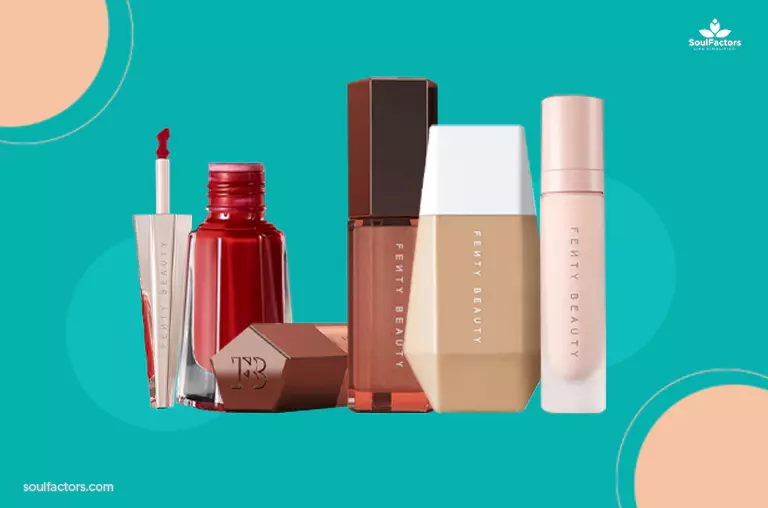 Contour
Fenty contour stick comes in 20 shades. Most of you might already be familiar with the product as it's one of the most iconic Fenty sticks. From influencers to make-up artists every one has raved about the quality, lasting power, and finish of these contour sticks.
While testing them out during the Fenty Beauty review we found the packaging of the product very unique and user-friendly. These cream sticks are very pigmented and super long stay. We loved the cream sticks over the powder contour.
But if you have extremely oily skin and you don't like the creamy skin look, you can try out the powder version.
Blotting
Being a sucker for cute packaging the Fenty beauty blotting paper is my top pick. The product is so cute, compact, and high-performance. A single dab will get rid of shine without caking, clogging pores, and messing up the makeup.
Apart from the blotting paper, Fenty also has a blotting power with a cushion. I did not find this personally very appealing because even though the performance is high-end there are many blotting powders out there for a lower price that works similarly to this one.
Blush, Bronzer, and Highlighter
Fenty Beauty has a wide range of blush, bronzer, and highlighters, all of which are long wear, transfer-resistant, pigmented, non-greasy but creamy and soft formulas. The blushes are very natural looking and have a variety of shades that you can choose from.
The blush also comes in a high-shine formula for those who love the glossy cheek look. Similarly, the blushes highlighters too come in two kinds of formulas, liquid, and powder, which are both super long-lasting and high-end.
We recommend the shimmer sticks as they are versatile, all-in-one products, hence you can save money by not spending on getting different products for different purposes. These cream sticks come in 8 shades that we feel will work beautifully on almost all skin types.
Brushes
Fenty Beauty has a bunch of very cool, classy, and multi-purpose makeup tools. I found the Baby 'buki brush 165 and the Portable touch-up brush 130 to be very unique. These brushes are so dense and small in size making them perfect to carry in your purse.
Lip Products
Fenty has a large collection of lip stains, lipstick, and lip balm. When Fenty launched, the most viral and iconic product from their lip range would be the Stunna lip paint longwear fluid lip color, which is a highly pigmented, comfortable liquid lipstick. It comes in 8 shades including bright as well as neutral shades.
Eyes And Brows
Fenty has an impressive lineup of eyeshadows, eyeliners, mascara, and eye primer. From those we looked into, for this Fenty beauty review, we were amazed by the brow pencil and eyeliner, which comes in a total of 16 shades and 20 shades in total.
The eyeliner has both matt and glimmer shades. If you don't mind investing a little in your eye products then the Fenty collection is definitely worth trying out.
Take Away
Rihanna's Fenty Beauty has grown into one of the biggest brands in the beauty business with a full range of products covering every category from skincare (Fenty Skin), body care, fragrance, and makeup. In this review, we analyzed Fenty Beauty, her makeup brand. Fenty skin and Fragrances have a huge fan base around the world.
From this Fenty beauty review, it's clear that the products are indeed well-curated and have not been compromised on quality. So it doesn't matter if you are a Rihanna fan or not, these products are so good in quality that I think keeping aside the brand name everyone would enjoy the formulations. Our must-try recommendations include Fenty beauty foundation, concealer, and multi-purpose stick. These give a very skin-like flawless base. Following the basic rule of makeup, "better base for better makeup".
So even if you don't have a budget to check out her entire range, her base products are definitely worth investing in.
Let us know your take on Fenty beauty products, which one is your favorite?