Grey hair dyes were long associated with aging, stress, and wisdom. However, as the world goes against the flow, the conventions built up on grey hair have also changed. Today people of all ages flaunt the elegance of gray as their reflection of confidence and a new way of experimenting. The societal attitude of considering grey as a sign of fading has faded afar.
These dyes offer a spectrum of options, ranging from subtle highlights to full coverage, catering to diverse preferences. Grey hair dyes are formulated with specialized pigments that mimic natural grey hair, providing a realistic and seamless look. They are available in various formats, including permanent, semi-permanent, and temporary options, allowing individuals to experiment and find their ideal shade. With advancements in technology, modern grey hair dyes are often infused with nourishing ingredients, promoting hair health while delivering vibrant, long-lasting results.
Grey Hair Dyes In The Fashion Era
Grey hair colors have become incredibly fashionable in recent years. People are embracing bold colors to make a statement about their identity while also appreciating their natural greys. The possibilities are infinite, ranging from vivid blues and purples to blazing reds and gentle pastels.
These hues produce remarkable contrasts with the silver strands, giving the hair depth and volume. These hues give grey hair a youthful and edgy vibe, whether it's a bright all-over color or delicate accents. Additionally, experimenting with hair colors gives one the chance to express oneself and reject social standards, giving grey hair a blank canvas for creativity.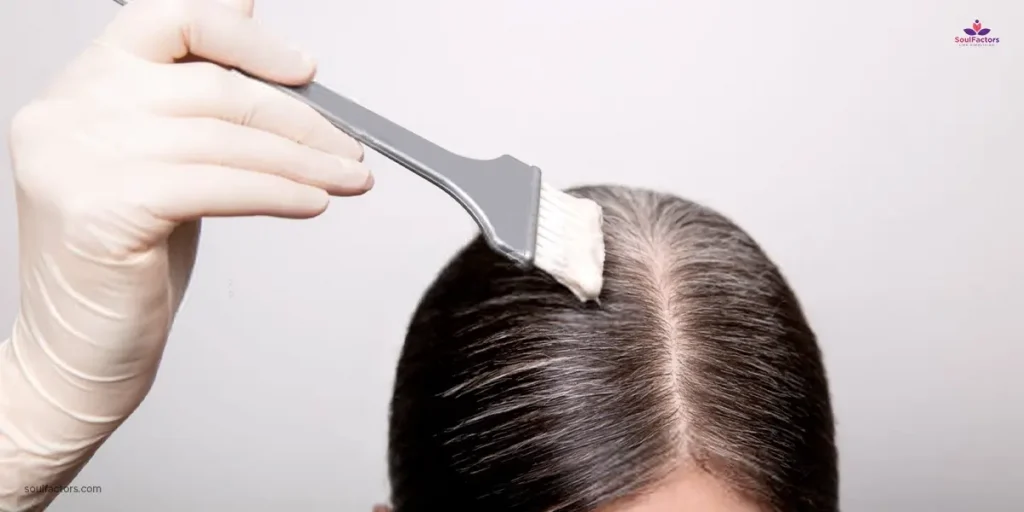 Who Should Try Grey Hair Dyes?
Hair colors are no more limited to old-age individuals. More than a coverup for aging signs it's been a style setter for a while. The young and adventurous have embraced the beauty of colored locks.
Young people who wish to explore unconventional hair colors can go for grey hair colors as it adds a touch of edginess to your whole look and makes you stand out from the crowd. It becomes a popular option as Grey hair dye offers a unique advantage to those who want a low-maintenance hair color. As the hair naturally grows out, the regrowth blends seamlessly with the grey color, eliminating the need for frequent touch-ups. This makes it an excellent option for individuals with busy lifestyles or those who prefer a more effortless beauty routine.
Grey hair dye also allows individuals to transform their appearance and embrace change. It can symbolize a fresh start, or simply a desire to break away from traditional hair colors. Experimenting with grey hair dye can be an empowering experience, enabling individuals to redefine their style and express themselves. People can also choose from the permanent and semi-permanent hair color options available.
Steps For Grey Hair Dyes At Home?
To dye your hair grey at home, you'll need to follow these steps:
Choose the right shade: Look for a grey hair dye that matches the shade you desire. Consider factors like your natural hair color and skin tone to find a suitable shade.
Preparing your hair: Wash your hair thoroughly a day before dyeing to remove any buildup. Avoid using conditioner before dyeing, as it can create a barrier.
Protect your clothing and skin: Wear old clothes and use petroleum jelly or a barrier cream along your hairline and ears to prevent staining.
Mixing the dye: Follow the instructions on the hair dye box to mix the color and developer together. Use a plastic bowl and brush to ensure even application.
Applying the dye: Divide your hair into sections and apply the dye from roots to tips, ensuring full coverage. Comb through your hair to distribute the color evenly.
Waiting time: Follow the recommended waiting time mentioned on the dye box. This allows the color to develop properly.
Rinse and condition: Rinse your hair thoroughly with cool water until it runs clear. Apply the provided conditioner to nourish and protect your hair.
Remember to read and follow the instructions provided with your chosen hair dye for the best results. If you're uncertain or want professional guidance, consider consulting a hairstylist and embrace those grey hair with these easy tips
Best Grey Hair Dyes Available In India
On a search to find the best Grey hair dyes you will end up with plenty of options. However, choosing one with less damage is the real task. Here are some best Grey hair colors available in India.
1. Paradyes Grey Hair Dyes
Shade: Moonstone Grey
Paradyes is one such brand that provides an array of semi-permanent hair dyes which are convenient for quick applications and free of damaging chemicals. Their "Moonstone Grey" is a perfect shade of silver grey that will transform your whole appearance. The color is vegan and cruelty-free. You can color the hair by Sectioning the pre-lightened, dry hair and applying the color to desired sections. Make the color sit for 30-60 mins. Wash it off with cool water followed by conditioning and you are ready to go.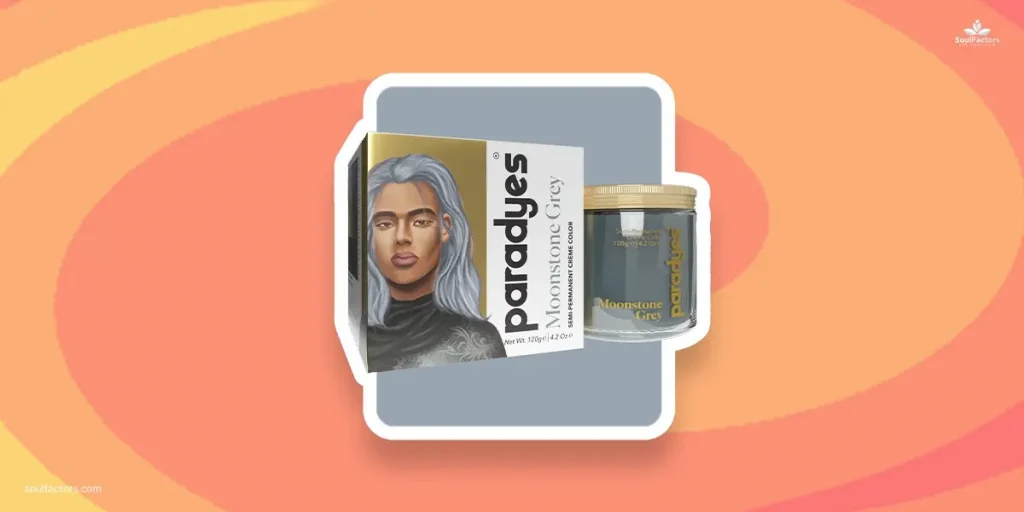 Shade: Bullet Silver
Another shade from their range is "Bullet Silver". This is a temporary grey dye, which can give your locks a bright silvery striking appearance. These hair colors can go perfectly with all types of hair as they are vegan hair colors free from ammonia(1) and cruelty. The ingredient list says that the product is completely free of harmful chemicals that may cause damage to the natural hair texture. It is also enriched with hair-nourishing herbal extracts and combination oils that help to minimize the damage and to keep the hair healthy and shiny even after coloring.
2. L'Oreal Paris Feria Multi-Faceted Shimmering Permanent color Grey Hair Dyes
Shade: Smokey grey
The Loreal Paris shade "Smokey Silver" hair color shade is a luxurious and stunning silver tone designed to give your hair a sophisticated and glamorous look. The shade is inspired by the smoky hues of silver, creating a captivating effect.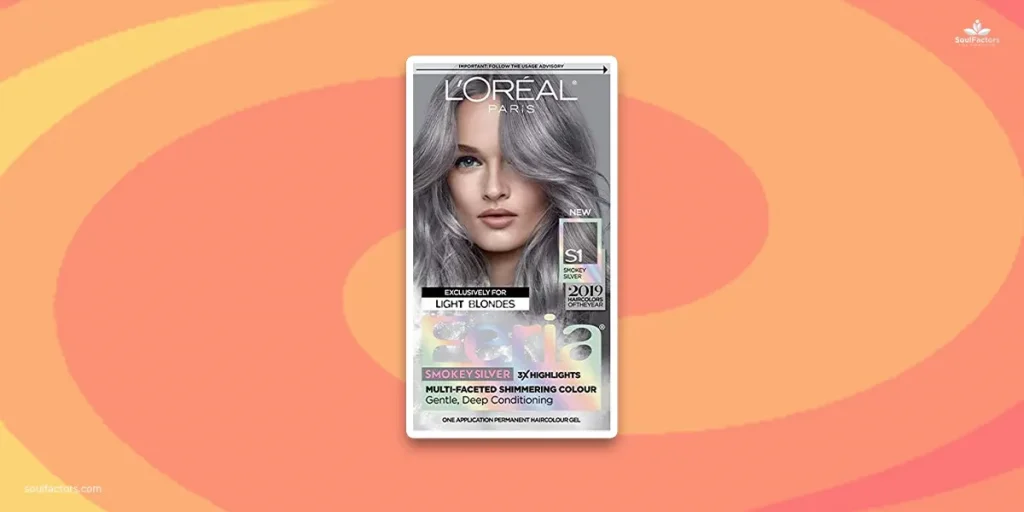 L'Oreal Paris is known for its high-quality hair products, and their "Smokey Silver" shade is formulated to deliver long-lasting and vibrant colors. It is designed with nourishing ingredients that help to smooth and seal the moisture without leaving your hair flat. The Kit contains a Power Shimmer Conditioner, Conditioning Colour Crème, Conditioning Developer Crème, and Aromatic Shimmer Serum. The overall formulation of products makes minimum damage to your hair and the integrity of your hair while providing an intense color payoff.
Shade: Cool Blonde Fade
L'Oreal Paris' "Cool Blonde Fade" is a permanent hair color that provides full coverage for gray hair. This shade offers a cool, ash-toned blonde hue, creating an all-natural-looking result. It is designed to deliver long-lasting color while effectively camouflaging gray strands for a radiant and youthful appearance.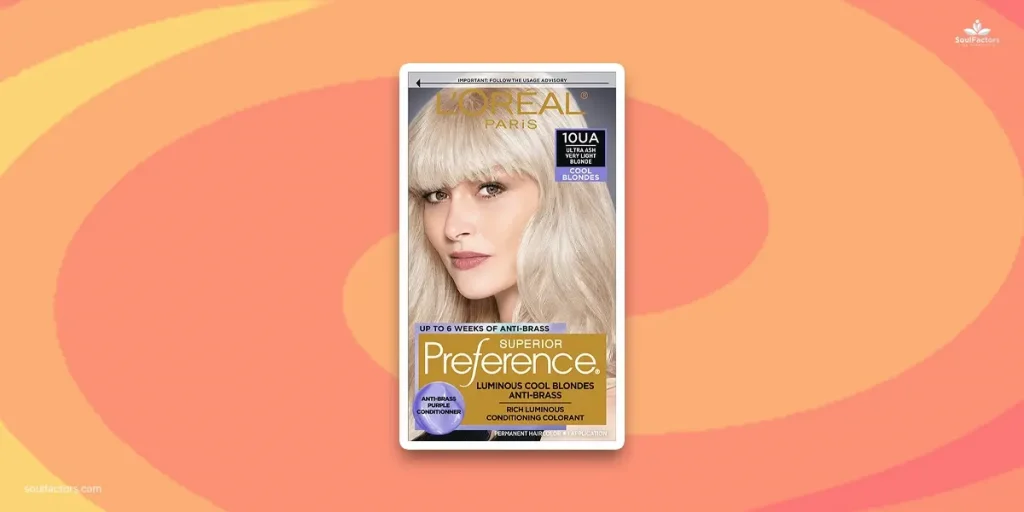 3. Glam Vista
Shade: Metallics Urban Grays
The Glam Vista "Metallics Urban Grey hair dyes" is a permanent hair color cream that features a rich and creamy texture that allows for easy application and even distribution, ensuring consistent and seamless coverage from root to tip. Its high-quality ingredients are gentle on the hair while providing maximum color intensity, resulting in a captivating and head-turning silver shade.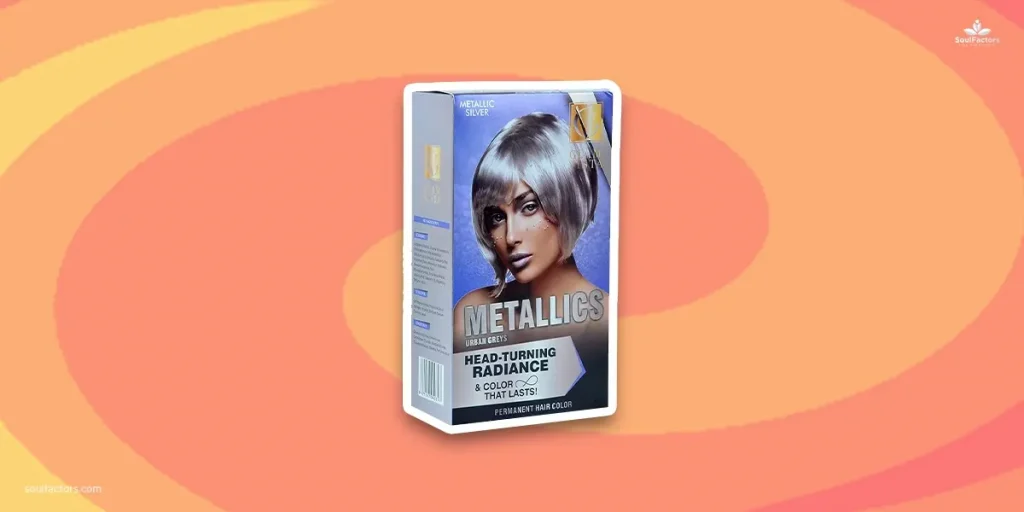 This professional salon-only hair color cream is meticulously formulated to nourish and protect the hair during the coloring process. Its unique blend of conditioning agents helps to maintain hair health, leaving it feeling soft, silky, and remarkably smooth. Additionally, the cream's long-lasting formula minimizes damage and preserves the integrity of the hair, promoting vibrant color retention without compromising its overall health.
4. Kamill Ash Blonde Stylish Keratin Color With Stunning Shine
Shade: Ash Blonde
Kamill's Hair Color offers easy-to-use grey hair dyes come in a kit that allows you to change your look or cover up your existing hair color with a simple at-home process. Their "Ash blonde" shade adds a subtle and vibrant hue to your hair.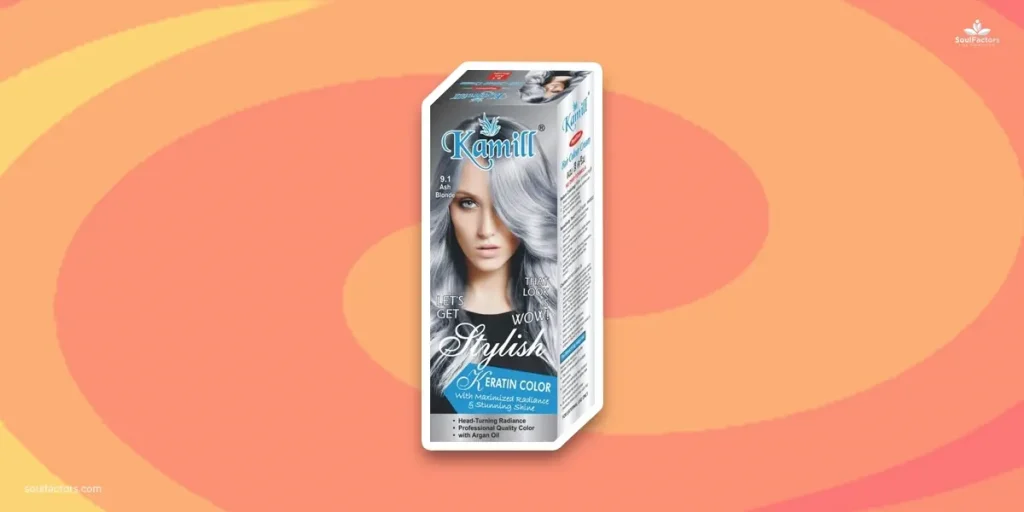 One of the key features of Kamill's Hair Color is its ammonia-free formula. This formula helps protect the natural texture of your hair while coloring it. Ammonia is a chemical often used in hair dyes to open up the hair cuticles and allow color to penetrate. However, it can be harsh on the hair and cause damage or dryness. Kamill's Hair Color, being ammonia-free, minimizes the potential damage to your hair and helps maintain its natural texture.
5. Moroccanoil-Color Deposit Mask Platinum
Shade: Platinum
"Moroccanoil's Color Deposit Mask" in the shade Platinum is a hair treatment designed to enhance and maintain grey hair dyes. With its nourishing formula, this mask adds a subtle silver hue while moisturizing and conditioning your locks. It provides a temporary color deposit that gradually fades over time, allowing you to experiment with different shades of grey without commitment. The shade is suitable for all hair types and is enriched with argan oil, which helps to improve the hair's texture and shine. It offers a range of grey shades, including light silver, ash grey, smokey grey, and steel grey, giving you the freedom to achieve your desired look.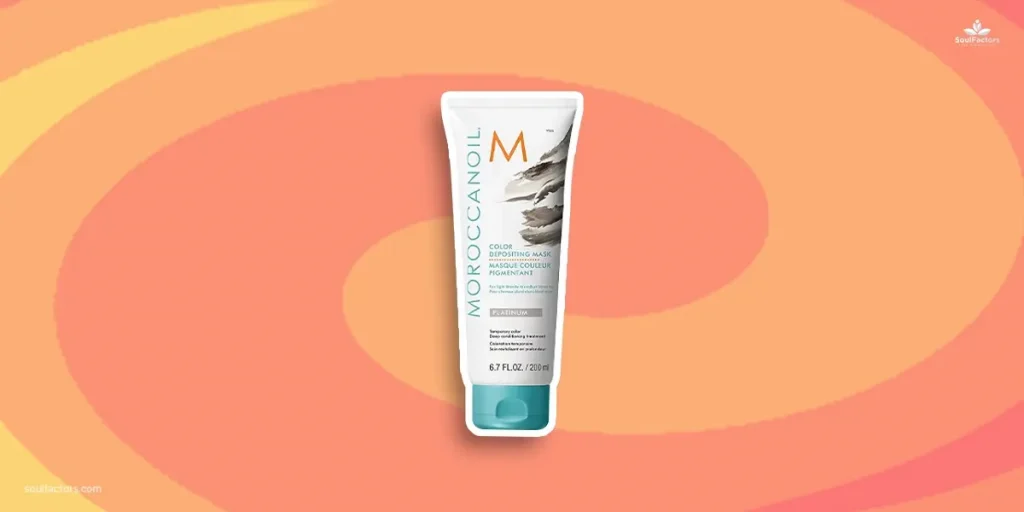 It is always advised to conduct a strand test before the real application to assess the level of color deposition. After your patch test, you can go on with the coloring.
Section off the strand and apply the Colour Depositing Mask on the strand and leave for 2–3 minutes. After that, rinse your hair with cold water. The color can be left on the hair according to the intensity of color you demand and after the final rinse, you can style it accordingly.
Overall, Grey hair colors are a must-try as it breaks the conventions and gives you a striking style with uncompromising shine and attitude.
FAQ
1. Which is the best dye for grey hair?
There are a number of grey hair dyes available in the Indian market. Loreal, Glam Vista, and Paradyes are a few popular choices.
2. Can the hair be dyed grey?
Yes, hair can be dyed grey. Grey hair dye is commonly used by individuals who want to achieve a fashionable silver or grey hair color.
3. Can I dye my hair grey without bleaching?
In most cases, achieving a true grey hair color without bleaching is quite challenging. Grey hair typically requires a light blonde or almost white base, which can only be achieved through bleaching or lightening the hair.
4. Does Grey hair coloring cause higher damage?
Due to multiple bleaching, the hair can go dry. However, grey hair colors are not required to be re-applied upon fading as they give a natural color payoff even while fading.
Can I do grey hair coloring at home?
As grey hair color demands a certain amount of bleaching and toning it is always advised to have a professional session for greater results.
A Final Verdict On Grey Hair Dyes
Overall, Grey hair colors are a must-try as it breaks the conventions and gives you a striking style with uncompromising shine and attitude.