Hailey Bieber ditches her all-pink vibe to start her birthday week. And she did not keep it casual at all. On the contrary, Hailey wore a red-carpet-worthy dress just to start her birthday week.
Swiping through her latest post on Instagram Hailey posted on Thursday, we saw Hailey in a deep red bodycon gown that fit her like a glove. She is giving old-money sass in these pictures. "Starting the bday week off early", captioned Hailey.
Hailey sure showcased a whole new sexy-sassy avatar as mostly we see her in "Strawberry Girl Summer" attire. The Rhode founder flaunted a vintage dress from Mugler – A brand launched in 1973 by Thierry Mugler who became a French fashion icon by sculpting dresses with defined broad shoulders and a tiny waist. You can see this signature style on Hailey Bieber's dress as well.
Hailey Bieber's Vintage Red-velvet Mugler Gown
This gown worn by Hailey Bieber is from Thierry Mugler's fall/winter 1998 collection. Hailey and her stylist Dani Michelle sourced this iconic dress from Tab Vintage at Mugler.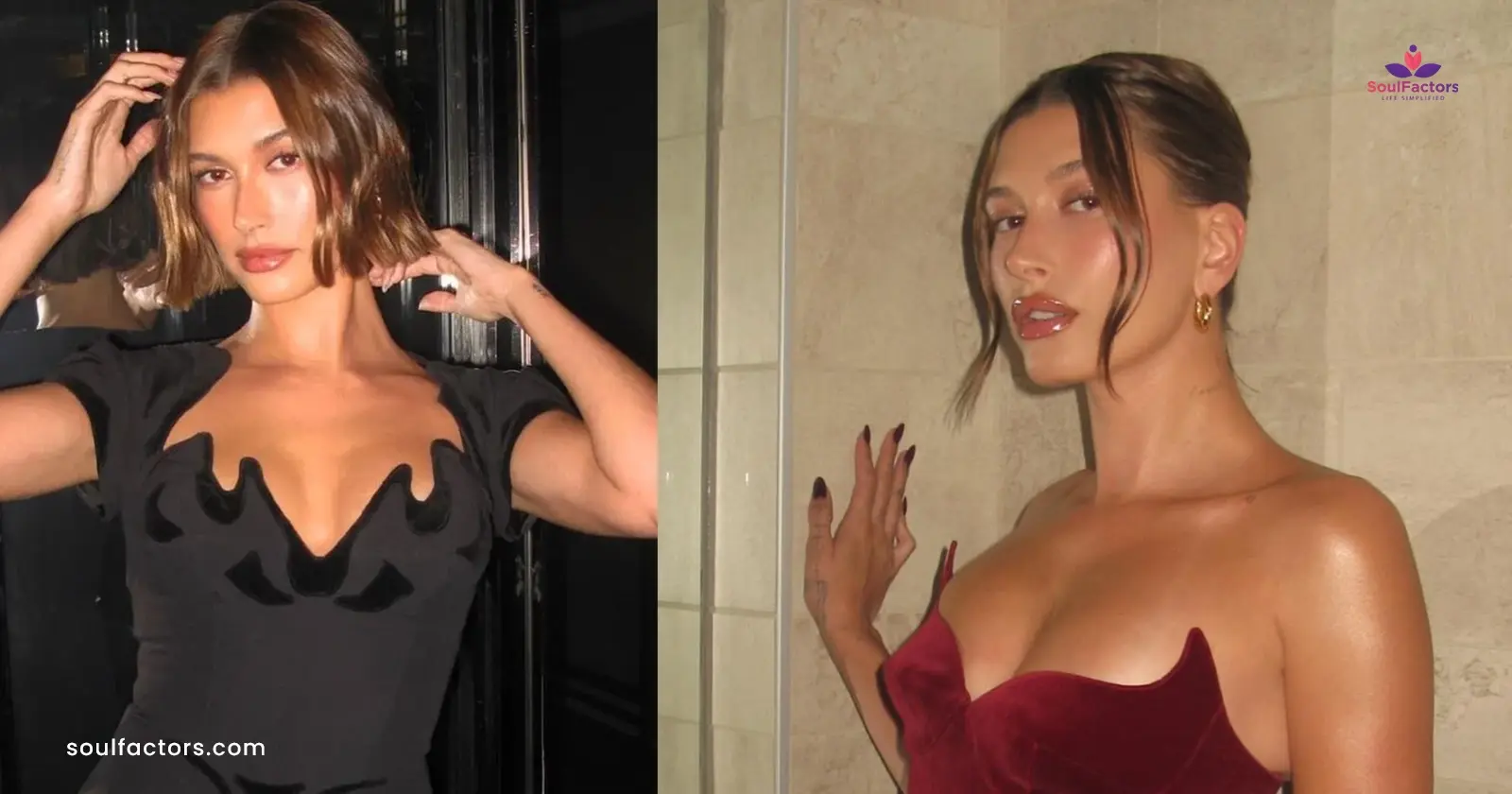 The deep red almost blood-like dress features a sweetheart strapless neckline with a winged hemline at the top that looks like devil's horns. As we can see, the dress fits Bieber flawlessly and resonates with Mugler's concept of body on dresses. The gown has signature corset detailing at the bodice. The velvet burgundy dress has detailed boning details that hug the torso tightly to the floor of the dress.
For the make-up glam, Hailey kept it dewy, glowy, and plumpy with winged eyeliner, red tinted cheeks, and glossy lips. Her blood-like nails fit perfectly with the dress. The two face-framing strands of hair complete the look of the proud Scorpio.
The fact that this red-carpet-worthy Mugler dress was adorned by Hailey just to kick off the birthday week makes us more excited about what she has in her wardrobe for the birthday festivities.
This is not the first time Hailey went overboard with her outfit for her birthday and pre-birthday celebrations. Last year, on her 26th birthday, Hailey flaunted a cozy disco look created with pieces from Balenciaga, Bottega Veneta, and Louis Vuitton. On her 25th birthday, the Rhode founder went with a Saint Laurent black bodysuit.
Bieber recently announced her sweet-as-candy rhode launch on November 15th(1). The photoshoot consisted of Hailey Bieber in pink brief underwear with a slouchy pink t-shirt, lying on a huge pink jelly bean.
This new shade of tint is all set to go on sale on Nov.22, so mark your calendars.