Hair spa is a proven treatment that will nourish your locks and bless them with a new-found shine.
Those beautiful locks that fly gracefully with the gust of wind, which fall on your face with a gentle touch, those smooth locks that slip through your fingers; this is what your dream hair might look and feel like, right? But considering the regular exposure to pollution, UV rays, and constant heat styling, it looks like a far-fetched dream. Instead of those supple, soft, and silky locks, we end up with frizz and hair fall, which none of us signed up for.
But what if we say that there is indeed a shortcut towards the hair of your dreams and that too one recommended and approved by hair stylists worldwide? Drumroll, please! We are talking about hair spa, a proven treatment that will nourish your locks and bless them with a new-found shine. You must have heard about hair spas but might not have tried them as you were unsure about their benefits. Who would want to damage their hair further with a chemical treatment or waste their money on an ineffective one? So, before you go for this treatment, let us take you through everything there is to know about the same, including what it is, the steps involved, benefits, and a lot more.
Let's get started.
What Is A Hair Spa? Glimpses Of Hair Spa Treatment
When it comes to nourishing your hair and retrieving the lost shine, there is nothing better than this treatment. Now what exactly is a hair spa treatment? Simply put, a spa is a lengthy and all-encompassing hair care treatment that cleanses, repairs, and nourishes your hair in one go.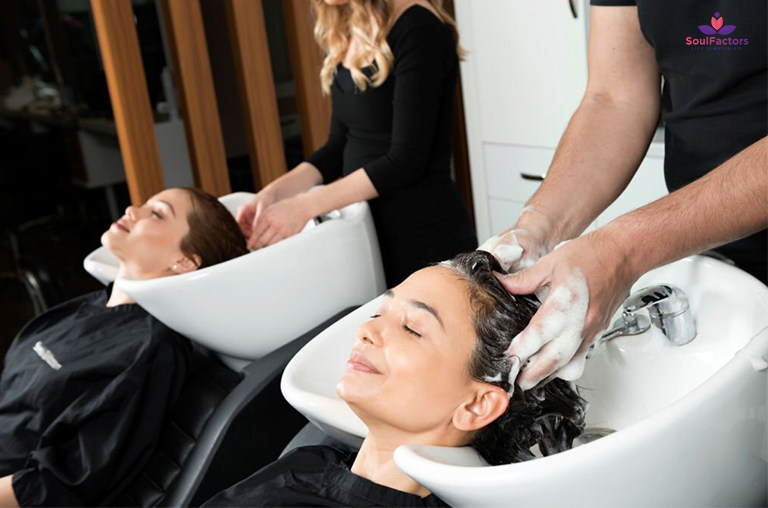 To give you a glimpse, a regular hair spa involves several steps, including:
Shampoo for a deep cleanse
Hair mask for deep nourishment
Hair massage to boost blood flow
Steam to ensure maximum product absorption
A thorough rinse to wash off any excess
You can opt for salon treatment or experiment with DIY, but visit a reputed salon or go for expert-approved methods for the best results. While you will see visible results in just one sitting, experts recommend its inclusion in your regular hair care routine for hair that looks and feels good.
Hair Spa Treatment: Decoding The Step-By-Step Procedure
Hair spa is a lengthy procedure, and you must follow each step in the right chronology to achieve the desired results. Let's look at each of those and make sure you don't miss out on any in case you choose to DIY.
Shampoo: The Intense Cleanse Your Hair Needs
Every hair spa treatment begins with a deep cleanse to remove any residue and prepare your hair for further steps. But do not go for any random shampoo; pick the one that suits your hair type. Nowadays, there are specially curated shampoos for curly, wavy, and straight hair. Your chosen hair salon will determine your hair type and choose the shampoo accordingly.
Also, ensure they use a sulfate-free shampoo or vegan shampoo to secure your hair against any potential damage. This first step will thoroughly clean your hair follicles, scalp, and strands and equip your hair with extensive freshness.
Here are a few sulfate-free shampoos you can use in case you plan to go for a homemade hair spa:
Shea Moisture Raw Shea Restorative Shampoo: Rs. 1699
WOW Skin Science Onion Shampoo: Rs. 449
Aveeno Active Naturals Pure Renewal Shampoo: Rs. 1208
Schwarzkopf Professional Goodbye Yellow Neutralising & Anti-Yellow Sulfate Free Purple Shampoo: Rs. 800
The Moms Co. Natural Protein Hair Strengthening Shampoo: Rs 220
Luxura Sciences Moroccan Argan Oil Shampoo: Rs. 389
Note that hair experts follow a systematic procedure to avail the maximum benefits of the shampooing procedure, which you might not be able to achieve with your regular routine.
Hair Mask: Let Your Hair Soak In All The Nourishment
Like shampoo, depending on your hair care requirements, the right hair mask will vary. For instance, a hair mask induced with natural oils like argan oil works well with frizzy hair: for dull hair, you can go for an egg or aloe vera-infused mask. When you visit a hair salon for your hair spa treatment, they will be sure to inspect your hair and choose the appropriate hair mask. If you decide to go DIY, you can invest in a good hair mask readily available.
So, good options are:
Kaya Hair Deep Conditioning Mask: Rs. 654
L'Oréal Professional Absolute Repair Lipidium Masque: Rs. 745
The Body Shop Shea Butter Richly Replenishing Hair Masks: Rs. 1234
St.Botanica Moroccan Argan Hair Mask: Rs. 274
Bare Anatomy Anti Frizz Hair Mask: Rs. 618
Forest Essentials Intensive Hair Repair Masque Japapatti & Brahmi: Rs. 1850
Hair Massage: The Care Your Scalp Needs
One cannot stress enough the benefits of a hair massage, and if your chosen salon is not giving you a massage as a part of your hair spa, they are doing it all wrong. Massage can be a great way to improve the blood circulation in your scalp and hair follicles. Also, a message will spread the products throughout your scalp and ensure even results.
Steam: Let The Products Reach The Deepest Ends
Next comes steam. A good steam can open the pores on your scalp and ensure the product reaches the deep recesses of your scalp and promotes hair growth. A hair spa is not a mere surface treatment but goes deep into your scalp, nourishes thoroughly, and promotes hair growth.
Cleanse: Wash Off The Excess
Every hair spa is incomplete without a thorough rinse at the end. The shampoo and the hair mask applied to your hair needs to be rinsed off, and that's obvious, right? So, wash your hair while massaging your scalp and ensure a thorough cleanup, as any residue could lead to dandruff or irritation.
Benefits Of A Hair Spa: Is It Worth Your Money?
Most of us are aware of this treatment, but not many try it as we are dubious about its benefits. Is it worth your money? Will it help repair your damaged hair? Such questions do rounds and make us say no to a hair spa. But today, let us clarify by understanding several benefits of spas.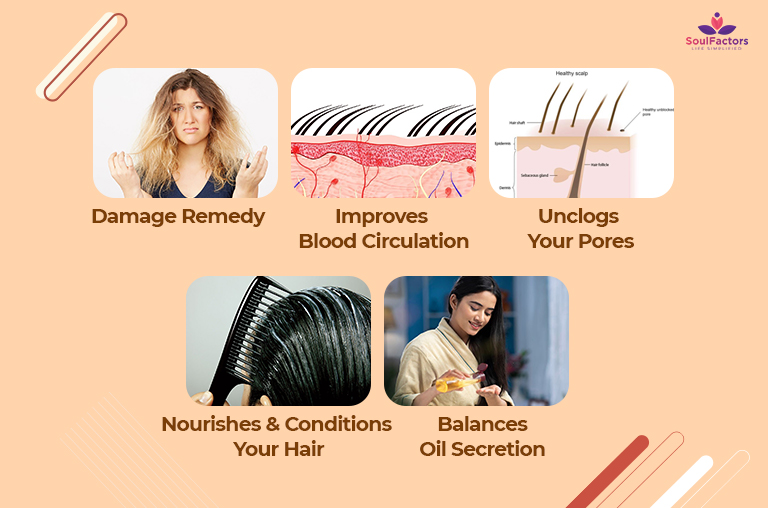 Damage Remedy
Hair spas are a rejuvenating treatment that can reverse years of damage and simultaneously protect your hair against upcoming damage. With regular hair spa treatment, you will start seeing visible results and start loving the way your hair looks and feels. It will reduce hair fall, repair frizzy hair, prevent breakage, and keep all signs of damage at bay.
Improves Blood Circulation
This treatment not just treat your hair strands but also your scalp and hair follicles. The hair massage, at the core of any hair spa treatment, targets your scalp and improves blood circulation. You will not just feel light and better after the massage, but it will also boost hair growth.
Unclogs Your Pores
Years of product usage, including shampoos, conditioners, and hair masks, clog your pores and prevent the absorption of essential nutrients. But the steam therapy involved in hair spa unclogs all your pores and creates a pathway for all the nutrients you put into your hair. That way, the oils and conditioners you apply to your hair will travel deep into your scalp and hair follicles and give a thorough cleaning and nourishment.
Nourishes & Conditions Your Hair
Hair that looks visibly soft, healthy, and silky that's what you will achieve with routine hair spa treatments. When you combine the benefits of a hair mask, massage, and steam, your hair receives the nourishment it needs to reverse years of damage and grow stronger. This treatment will travel into each hair strand and follicle, promote better hair health, and condition each strand.
Balances Oil Secretion
Whether you're struggling with excessively dry hair or hair which becomes oily within a day of washing, the hair spa can help you attain the desired balance. Imbalanced oil secretion can cause a dry and itchy scalp, lifeless and dull hair, or oily scalp; you can deal with it all in one go with a rightly done hair spa treatment.
Hair Spa Types: Which One Should You Go For?
Each hair is unique, so should one hair spa treatment be adopted for them all? Depending on your hair needs and expectations, you can opt for diverse options available in every salon. For better clarity, let's look at some of the best available options.
For Hair Smoothening
A hair spa is your best option if you wish to smoothen your hair and say goodbye to dull and lifeless hair without engaging in a chemical procedure. They strengthen your hair, act on each strand, and provide deep conditioning. So, the result will be smooth hair that feels soft.
Hair Spa: Anti-Dandruff Treatment
If dandruff is your biggest enemy, then it is time you go for an anti-dandruff treatment. A hair spa focused on being a dandruff remedy utilizes several antimicrobial and antifungal ingredients. It fights and treats dandruff and prevents constant relapses. So, if you wish to eliminate those troublesome dandruff flakes from their roots, invest in an anti-dandruff treatment today.
For Colored Hair
All hair types are prone to damage, but colored hair is more so. Why? Because coloring involves using chemicals and bleach that damage your hair, to begin with, and when the color starts to fade, it leaves behind an unattractive look. So, if you wish to reverse the damage caused by hair coloring and retain the color for as long as possible, go for a hair spa treatment specifically for colored hair.
For Hair Growth
Today, we all seem to be struggling with hair fall, some less, some more. When your hair lacks proper care and nourishment, you begin to see that lack via some visible signs; hair fall is one of those. So, your hair needs the deep nourishment that a hair spa treatment provides. The nutrients infused into your hair during a hair spa will prevent hair fall and promote growth.
For Stress Relief
Hair fall results from several external factors, but internal factors are equally to blame. This includes stress which is a by-product of modern living. Excessive stress can lead to hair fall and also stunt hair growth. If you are struggling with stress-induced hair fall, go for a de-stressor hair spa treatment. That good old steam and massage treatment will be a great stress buster and lead you to better mental and hair health.
DIY Hair Spa Treatment: How To Do It At Home?
If you cannot find time to visit a hair salon or consider a salon hair spa treatment too pricey, then a DIY is another option. While nothing can beat the results that a professional treatment guarantees if done correctly, even a DIY can be quite effective. Note that there are not one but several homemade hair spa treatments; different ingredients guarantee diverse results. While the oiling, massage, and steam part remains consistent, there are certain DIY options available when it comes to hair masks. Some of the best DIY hair masks include:
Avocado + Honey: Mash them together, apply to your hair, and leave it for at least 10 minutes.
Coconut Cream: Apply straight to your hair and rest for at least 10 minutes.
Strawberry + Choice of Protein (Egg or Yogurt): Blend strawberries and protein, apply the mix to your hair, and leave it for 10 minutes.
Cucumber + Olive Oil: Cut the cucumber into thin pieces and blend it with some olive oil; apply it to your hair and keep it for 10 minutes)
Steps For DIY Hair Spa: Master The Art
lets take you the steps for a hair spa that you can do on your own.
Step 1: Heat 2 tablespoons of coconut or olive oil and massage the heated oil onto your scalp. You can also add 5-6 drops of Vitamin E for added benefits. Ensure a thorough application while moving from root to tip and massage for at least 5 minutes.
Step 2: Dip a clean towel in warm water and use it to wrap your hair. Let it sit for 5 -15 minutes.
Step 3: Next comes shampooing your hair. Use a mild, sulfate-free shampoo and give your hair a thorough wash. Make sure to use lukewarm water.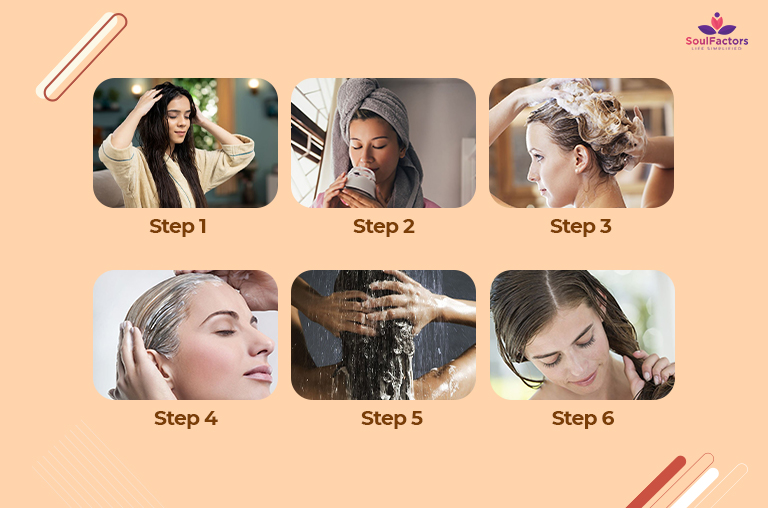 Step 4: Next is the star of the show; the hair mask. Prepare your choice of mask, or go for a store-bought hair mask (refer to the list above). Divide your hair into sections and apply it throughout your hair. Cover your hair with a shower cap and leave it for 10-20 minutes.
Step 5: Rinse off the hair mask with the same shampoo and make sure not to leave any residue, as it can lead to dandruff(1) or irritation. Follow up with a good conditioner and rinse it off too.
Step 6: Let your hair dry naturally; voila, you are done.
Don'ts After A Hair Spa Treatment: How To Extend The Results?
Now that you have spent your time, money, and effort on a hair spa treatment, you will want the results to last as long as possible. For that, there are certain care procedures you need to follow. Let's have a quick glance through these care procedures.
You might want to flaunt your hair after this treatment, but keeping them tied is necessary to extend the results, especially when going out into the dust or sun. You can also cover your hair with a stall to avoid direct exposure.
Avoid heat styling as much as you can. Heat styling will reverse the effects of a hair spa, and your hair will return to its damaged condition.
Do not wash your hair for at least 2-3 days to maximize the results of the treatment. Also, even after this duration, ensure not to wash your hair daily.
By following these tips, you extend the results of the hair spa and get your money's worth.
Disadvantages Of A Hair Spa: Are There Any?
Nowadays, everything can be both a boon and a curse; if not used correctly. And a hair spa is no different. If you don't follow the right procedures or go for a cheap one, it can harm your hair more than good. So, we recommend you always follow expert-approved hair spa techniques or visit a reputed salon for a hair spa appointment.
If you aren't convinced, let's cover some disadvantages of hair spas for better clarity.
You might not see desirable results in one sitting. You will have to repeat the procedure for results that show and last. So, a hair spa can be an expensive affair.
While a hair spa can strengthen your colored locks, it can potentially fade the color. So, you must go for a hair spa meant specifically for colored hair. Otherwise, it will wash off the color and dull the look.
As you know by now, a hair spa is a lengthy and time-consuming procedure. It involves several steps and demands regular appointments. So, it might not be the best pick for you if you are under a time crunch.
If you are allergic to any of the products used for hair spa treatment, it can lead to several adverse reactions. So, make sure to study the ingredients list and proceed accordingly.
They must be paired with a healthy hair care routine to ensure maximum results. If you thought just a hair spa would be enough to say goodbye to all your ailments, you were wrong.
Be aware of these negative aspects before booking your hair spa treatment appointment.
FAQs: A Quick Glance
1. How long does a hair spa treatment effect last?
The effect of a regular hair spa treatment lasts for 15-30 days, depending on how well you care for your hair after the treatment.
2. How many times should I get a hair spa in a month?
While regular spa sessions are required, you must have a minimum interval of at least 3 months before signing up for the next treatment. Overdoing it can lead to product excess and damage your hair.
3. When can you wash your hair after a hair spa?
Once you are done with the hair spa, ensure not to wash your hair for at least 2-3 days.
4. At what age can I get a hair spa?
There is no age limit for a hair spa treatment. But if you are opting for a DIY hair spa, do it under adult supervision.
Conclusion
So, this is everything you need to know about a hair spa. There is a lot a hair spa can do for your hair, but some care measures are required to keep any potential side effects at bay. This blog took you through it all, and now all you need to do is book an appointment with your nearest salon or take matters into your hands and go DIY. Do try it out and share your results with us.