Using Hibiscus For Hair — Here's Different Ways Of How To Use!
Putting flowers in your hair might sound too old-fashioned but it never fails to make someone look prettier! Now, using flowers in your hair care regime never fails to do wonders as well. One such beauty is the hibiscus.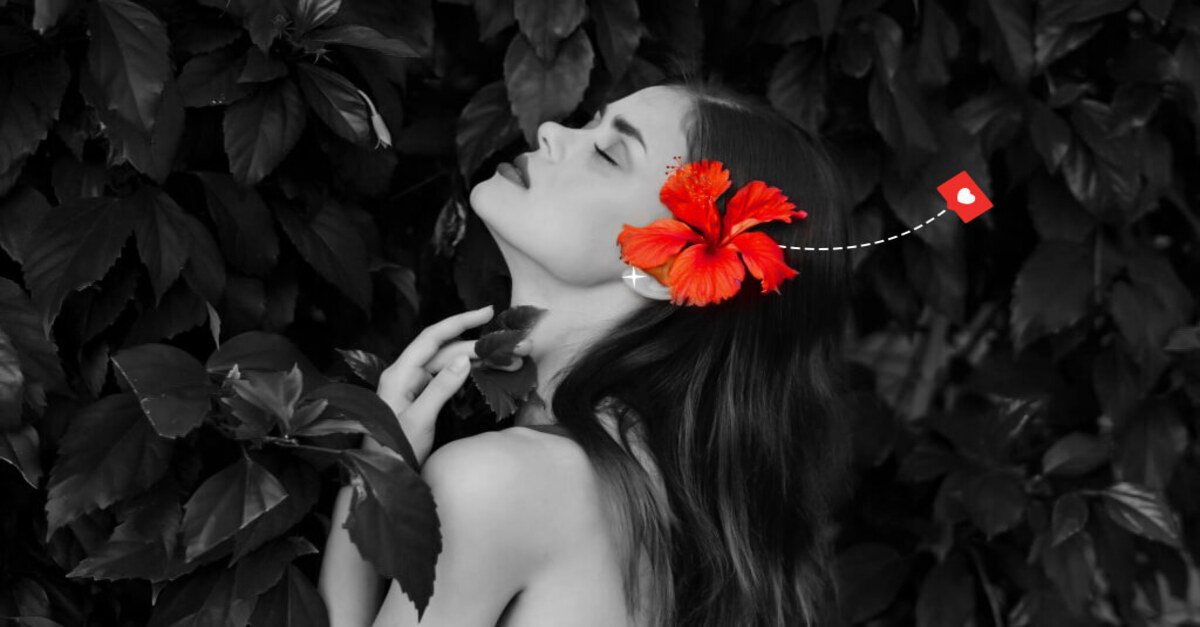 If you have exhausted all your options for hair care, have you tried using hibiscus for your hair? Apparently, it is as good as the next hair care remedy. In fact, it is one of the important herbs in Ayurveda with high nutritional values benefiting hair. Yes, the flowers that you see in random houses have healing properties and you could use them as a hair care remedy.
Not convinced yet? Not surprising. It is quite a bit hard to believe what has been right under your nose is all you have been looking for. Keep reading to learn the benefits of hibiscus and different ways to use it for your hair!
Use Hibiscus For Hair Growth, Dryness, Dandruff, And More!
Haircare rituals come right after skincare rituals —or before. But more often, hair care takes a back seat and is given lesser importance. Not that we all don't have any kind of hair problems we need to take care of. Oh, we do. But skincare gets the priority. Does that mean you can choose not to bat an eye on bad hair loss, itching dandruff, annoying frizz and dryness, and what not? Not when you have the right remedy —quite literally in your garden!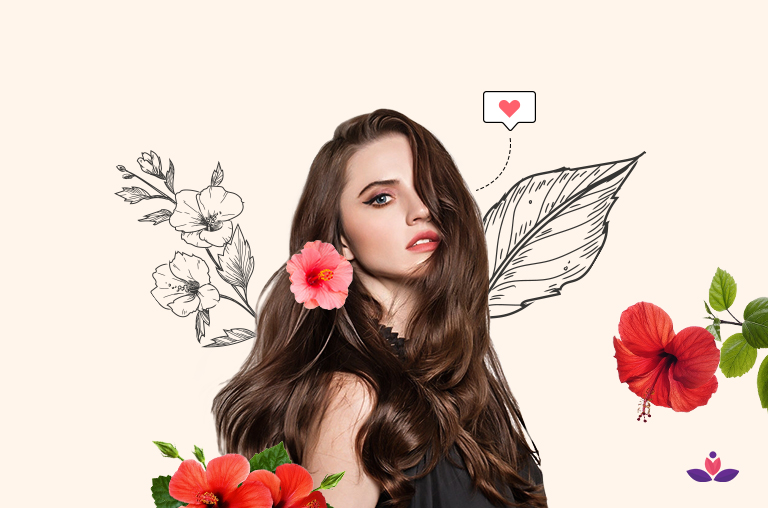 Hibiscus, as we all know, has tremendous healing powers. Take hibiscus tea, for instance —how much does it offer for your health by simply having a cup of tea. Some even rinse their hair strands with hibiscus tea, though its authenticity giving noticeable improvement is up for debate. Anyhow, hibiscus does come with various benefits for hair alone.
Like every other natural remedy, hibiscus(1) also assures the user of its purity as it is natural, organic, and free of industrial chemicals. So can also rest assured that natural remedies do more good than harm. Surprisingly, both its flowers and leaves (and products infused with hibiscus) promise hair benefits —(which are listed below). So, if you do have hibiscus in your garden, it's time to play vaidya or herbal healer!
Benefits Of Hibiscus For Hair
Before we get into how to use hibiscus for hair, let's see what are the benefits of it. If you didn't know, hibiscus is packed with anthocyanins, phenolic compounds, flavonoids, fatty acids, and other pigments. Also, due to its rich composition of amino acids, alpha hydroxy acids, vitamin A, and vitamin C along with other nutrients, this popular remedy is well known for its many hair benefits.
Like, hair growth from dormant hair follicles, helping cover bald patches(2). Does that sound huge? Considering it is a mere flower, it does. Well, here are what proponents claim hibiscus can help with:
Promotes Hair Growth
This is the one particular benefit of hibiscus that has been known widely. The presence of amino acids in the hibiscus produces a structural protein called keratin, further promoting hair growth.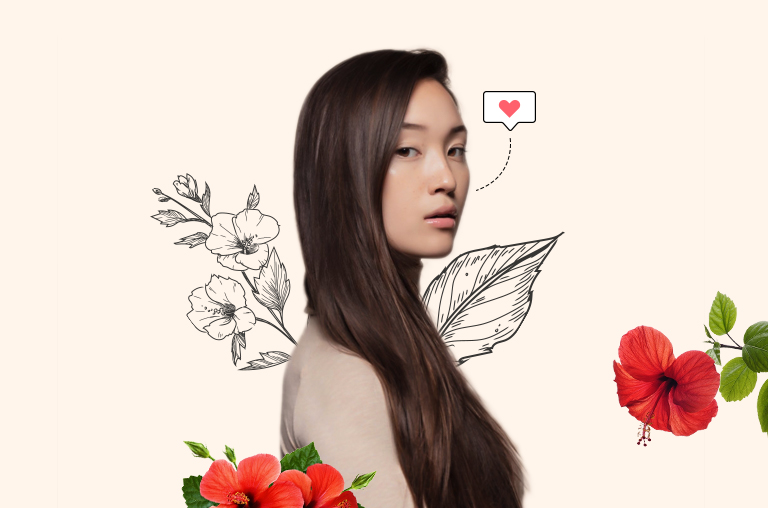 Not to mention, its high content of vitamin C —a deficiency that causes hair loss. This flower is believed to promote hair growth from dormant follicles and bald patches. According to a 2003 study conducted on rats, the extract of hibiscus positively affected their hair length and hair follicles. Though anecdotal claims support this, additional studies on humans are needed.
Strengthens Hair Roots
Hibiscus (both the flowers and the leaves) are rich in amino acids and flavonoids —invigorating ingredients.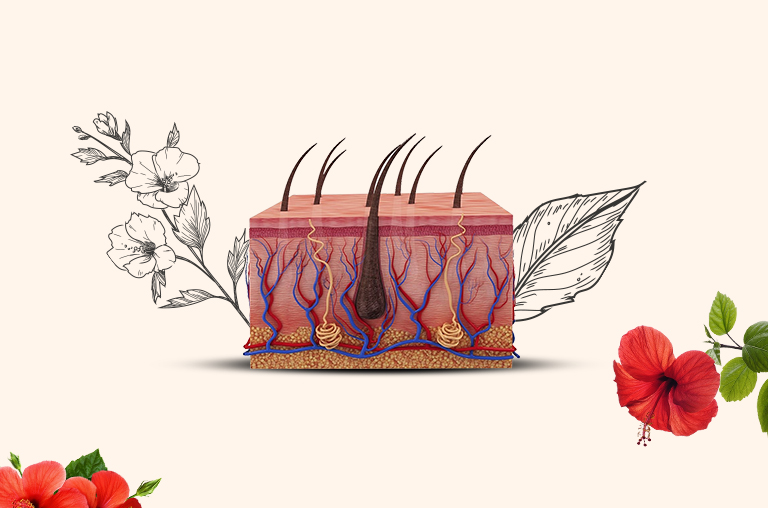 While amino acids strengthen your hair roots and trigger keratin production in the cells of hair follicles, flavonoids enhance blood circulation to your hair follicles, both of which promote hair growth as well.
Reduces Hair Loss
As hibiscus is considered an effective remedy to treat baldness, the chances of it reducing hair loss are pretty high. It also does not cause any harmful side effects. So you can treat your hair loss with hibiscus.
Deeply Conditions Hair
Acting as an ultra-emollient, hibiscus is believed to deeply (some say mildly) condition the hair to treat dryness and dullness. It restores the hair's elasticity and traps moisture in our hair shafts —unlike shampoos with chemicals that strip your natural oils. Also, its high amount of mucilage helps it in acting as a natural conditioner to make your hair lustrous, healthy, and smooth.
Treats Dandruff
As hibiscus acts as an astringent to regulate sebaceous glands, it treats problems that come with excessive oil secretion, such as dandruff and itchy scalp.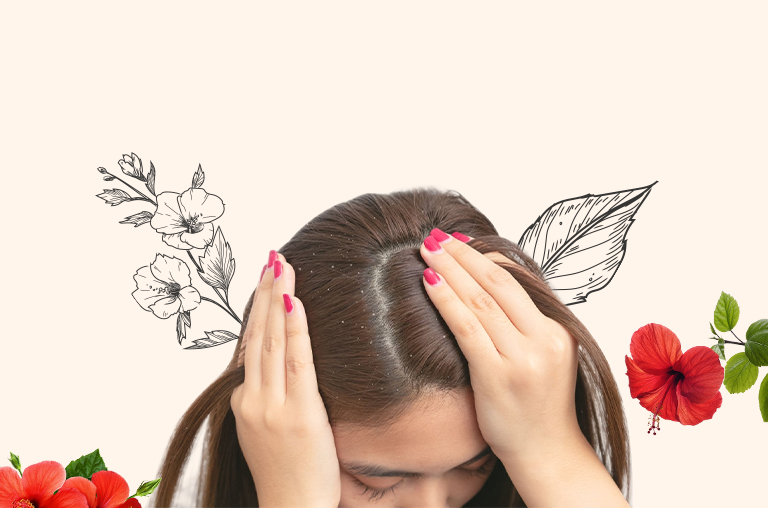 Its antimicrobial properties further curb the growth of fungus that causes dandruff, unclogs dandruff flakes from your hair follicles, and prevents recurrence of dandruff. When you use hibiscus leaves for hair, it also maintains your hair's pH balance along with soothing and cooling effects for itchy scalp.
Regulates Sebaceous Glands
Hibiscus balances the activity of sebaceous glands, be it lack of sebum production or overproduction. Acting as an astringent reduces the oil secretion. This way, your hair will be neither too oily and sticky nor too dry and dull.
Protects Scalp From External Damage
Aside from treating and preventing dandruff, the hibiscus also protects your scalp from external damage.
Because it is packed with resilient properties, it keeps the scalp protected from external stressors. In addition, it fights oiliness, balances the pH of your scalp, activates hair follicles, and even acts as a sunscreen to protect your hair from UVB rays.
Delays Premature Greying
Before hibiscus became well known, it was used as a natural dye to mask grey hair, just like henna. But now, it is said to delay premature greying of the hair altogether due to the rich content of antioxidants, vitamins, and natural pigments. And antioxidants and vitamins help in producing melanin —the natural coloring pigment of the body.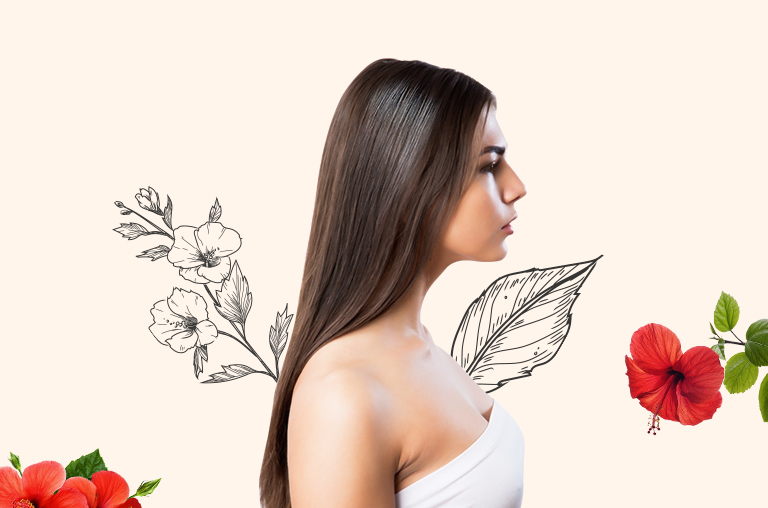 Although these claims are not supported by clinical research—like most herbal supplements, these are anecdotal. And its users do claim to have their hair grown and slowed hair loss, among the rest of the benefits mentioned above. As it is a natural remedy, the harm in trying to use it on your hair may not harm adversely. Worth a shot, right?
Now, have a look at how you can use hibiscus for your hair. Of course, there are different methods to use hibiscus for hair, not just one.
How To Use Hibiscus For Hair?
Now comes the important question: how exactly do you use hibiscus for hair? Well, there are different methods to use hibiscus on hair. You can easily make your own hibiscus hair care remedy at home using fresh leaves and flowers. Either by making a paste, extracting, or mixing with other natural ingredients that are beneficial, you can do it by yourself. Be it in the form of powder, shampoos, conditioners, hair oils, and even hair masks, the nutrients released from the plant work wonders for hair care.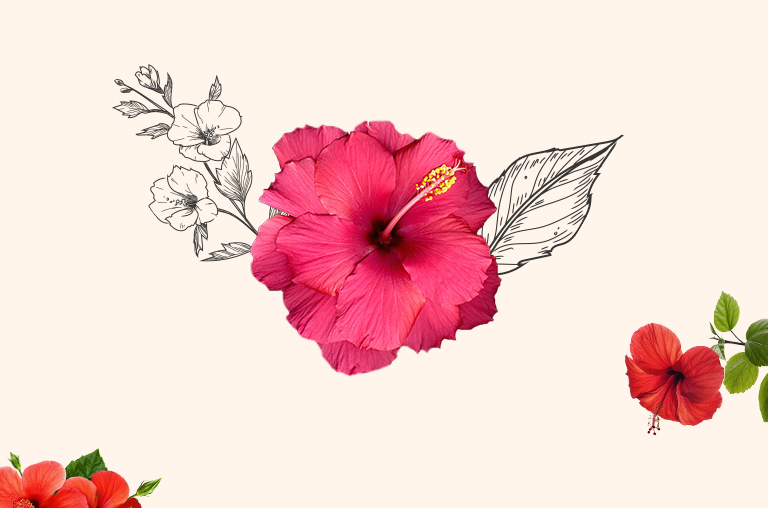 If not from a garden and you want to go the easy way without much effort at all, you can simply choose any hair product infused with hibiscus. But they do contain parabens and other industrial chemicals. If you want to be safe, make your own hibiscus hair care remedy at home.
Ahead, find a list of easy and effective methods of using hibiscus for hair at home.
Hibiscus Oil
When you make hibiscus oil, you basically make a natural hair growth oil. It moisturizes hair, improves blood circulation, rejuvenates the scalp, and promotes hair growth. You can take any nourishing, carrier oil to mix with hibiscus —coconut oil, almond oil, jojoba oil, olive oil, mineral oil, walnut oil, or wheat germ oil. You can store it and use it thrice a week.
Process:
Grind 8 hibiscus leaves and 8 hibiscus flowers into a fine paste.
Heat a cup of coconut oil. Then, mix it with the paste. Keep it aside to cool down.
Massage your scalp with it for 10 minutes and leave it on for 30 minutes.
Wash your hair and scalp with a mild cleanser.
Hibiscus Shampoo
Another form is by making organic hibiscus shampoo which can prevent buildups from chemical residue and pollution.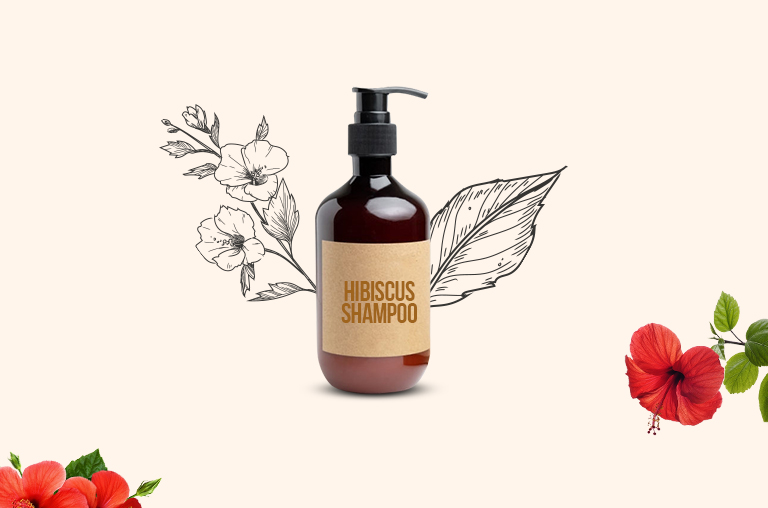 Process:
Boil 15 hibiscus leaves and 5 hibiscus flowers in water. Then, grind to make a paste.
Add 1-2 tbsp of gram flour to the paste.
Wash your hair with this herbal shampoo for natural foam.
Hibiscus Conditioner
Amino acids in the hibiscus make it an effective conditioner. So another method is by making your own hibiscus conditioner to nourish your hair, minimize frizz, and make it more manageable.
Process:
Make a paste with 8 hibiscus flowers with adequate water.
Apply the paste to your hair and leave it for an hour.
Rinse it off with lukewarm water.
Hibiscus Hair Mask
There are several homemade hibiscus hair packs for different needs. So you can use hibiscus flowers and hibiscus leaves for hair packs according to your needs.
Hibiscus and Amla Powder For Hair Growth

Combine equal quantities of hibiscus powder and amla powder in water and make a smooth paste with the right consistency.
Apply it all over your hair and scalp.
Leave it on for 40 minutes and rinse it off with a mild shampoo.

Hibiscus and Yogurt For Stronger Roots

Grind 3-4 hibiscus leaves and 1 hibiscus flower to make a smooth paste.
Add a cup of yogurt to it and mix well.
Apply the mask on your hair and leave it on for an hour.
Wash it off with lukewarm water and shampoo using a mild cleanser.

Hibiscus and Aloe Vera For Shiny Hair

Grind a bunch of hibiscus flowers and leaves to a smooth paste.
Squeeze out enough fresh aloe vera gel to mix with the paste.
Apply and leave it on for 45 minutes.
Rinse it off with lukewarm water.

Hibiscus, Fenugreek, and Buttermilk For Dandruff

Soak 1 tbsp of fenugreek seeds in water overnight.
The next morning, grind the soaked seeds with a bunch of hibiscus leaves to make a smooth paste.
Add ½ cup of buttermilk to it and grind again.
Apply the paste to your scalp and leave it on for an hour. Rinse it off with a mild shampoo.

Hibiscus and Henna To Balance pH

Grind hibiscus flowers and leaves with henna powder.
Add ½ lemon juice to make a paste.
Apply it generously over your scalp and hair.
Leave it on for an hour and rinse it off with a mild cleanser.

Hibiscus and Coconut Milk For Split Ends

Add 2 tbsp crushed hibiscus petals to 2 tbsp of coconut milk.
To it, add 2 tbsp of honey, 4 tbsp of aloe vera, and 2 tbsp of yogurt and mix well.
Apply it to your hair and leave it on for 30 minutes.
Rinse it off with lukewarm water.

Hibiscus and Onion For Hair Growth

Grind 1 onion to pulp and strain it to get onion juice.
Grind hibiscus leaves with water and strain them to get their extract.
Mix the two and apply them to your hair and scalp.
Leave it on for 15 minutes and then rinse it off with lukewarm water.

Hibiscus and Neem Leaves

Grind a few neem leaves and strain them to get their juice.
Grind a few hibiscus leaves and strain them to get their juice.
Mix both and apply on your scalp. Leave it on for 20 minutes.
Then, wash it off with lukewarm water.

Hibiscus and Ginger Juice

Combine 2 tbsp of crushed hibiscus flowers and 3 tbsp of ginger juice until you get a smooth consistency.
Massage it into your scalp and then down to the tips of your hair.
Leave it on for 20 minutes and then wash it off with lukewarm water.

Hibiscus and Egg Whites

Mix 3 crushed hibiscus flowers with 2 egg whites to make a smooth paste.
Apply it to your hair and leave it for 20 minutes.
Then, rinse it off with a mild cleanser.
Hibiscus Tea Hair Rinse
Another way to treat your hair with hibiscus is by rinsing your hair with hibiscus tea. Yes, you can use herbal tea for more than just your health. It reduces dandruff, soothes scalp itching and irritation, moisturizes dry hair, and even reduces tangles and breakage. Aside from these, it can also add a tint of burgundy highlight to dark hair and pink to light-colored locks.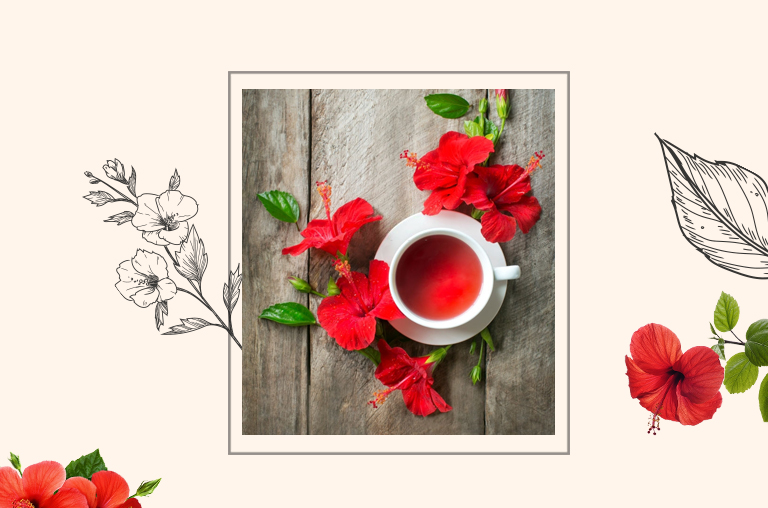 If you want to add color, make an extra-strong cup of tea by tripling the tea bags and rinse your hair with it after washing and conditioning. Do not rinse it out. If you don't want color, make a normal cup of hibiscus tea. Rinse your hair with it after washing and conditioning but wash it out after.
Final Thoughts
Hibiscus is a powerful remedy when it comes to health, skin, and hair. Whether you incorporate hibiscus for hair into your hair care regimen by hair oil, shampoo, conditioner, tea rinse, or by any hair pack, it will give you the result you are looking for. At least that's what the anecdotal claims suggest. However, if you have low blood pressure or if you are pregnant, avoid using a hibiscus. Talk to your doctor before using it, just to be on the safer side.