One thing we know about Kate Beckinsale is that he never keeps it casual at events. More so, Kate always takes it up a notch by adorning bedazzling outfits. This time it's a huge Sapphire-like adornment attached to her belt. Leo's fans and netizens speculate the resemblance of the adornment in reference to two of Leonardo's movies- the legendary – Titanic and The Aviator.
Leonardo hosted his birthday party in Beverly Hills and the venue was star-studded with A-crowd celebrities including JAY-Z, Snoop Dog, Beyonce, Taika Watiti, Tobey Maguire, Lil Wayne, and more. Among these celebrities, The Aviator actress arrived at the party looking like a life-size sapphire gemstone!
Kate Beckinsale At Leonardo DiCaprio's Birthday Party Wearing A Titanic Necklace Dress!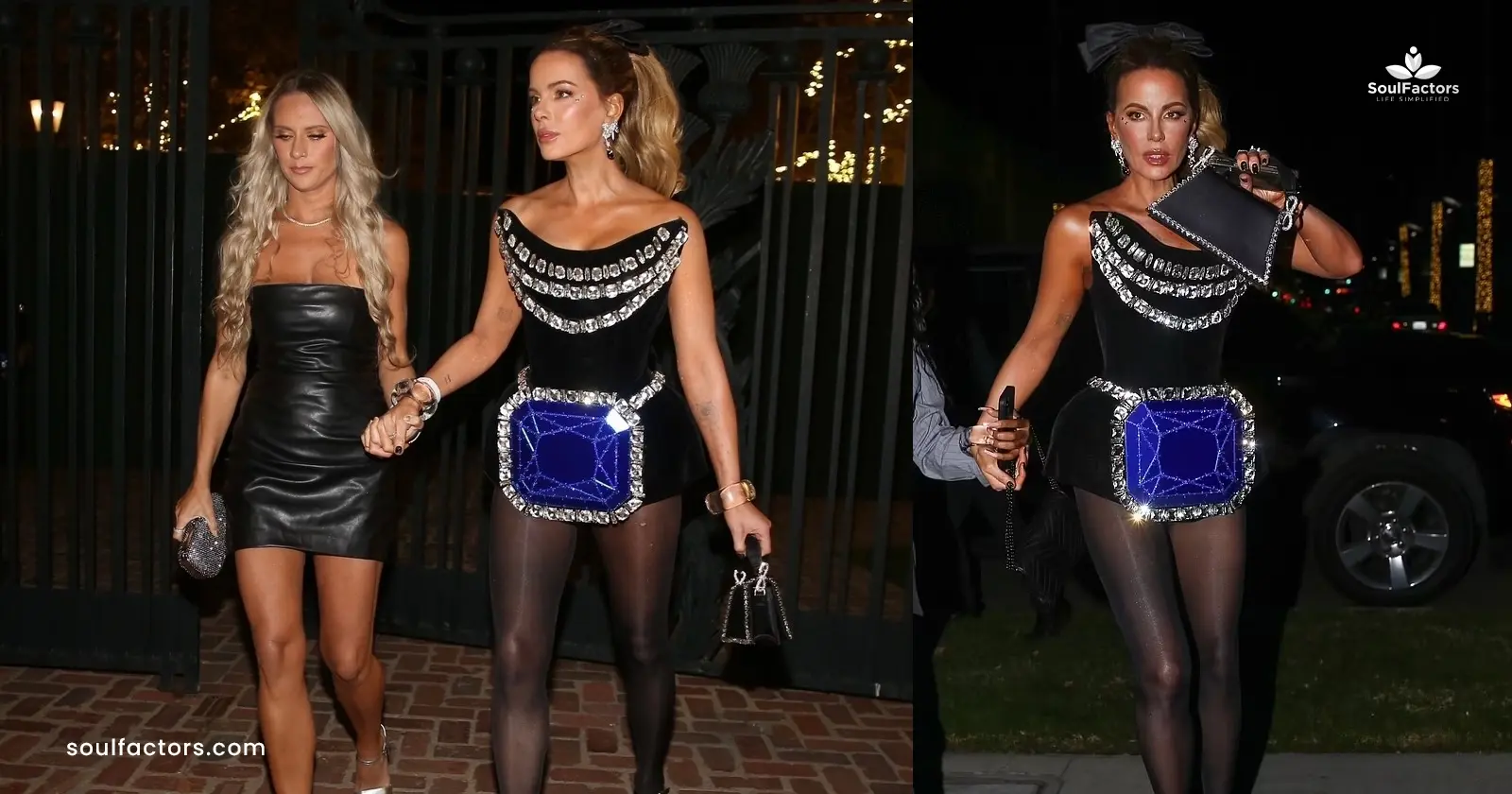 Kate's dress itself was nothing short of bling and glamor. Beckinsale wore a sparkly strapless mini dress from the Blonds Fall 2023 runway collection. The shimmery black dress was studded with bedazzling embellishments. A huge Sapphire-like adornment attached to the diamond-studded belt covered the skirt. The neckline of the minidress was also bejeweled with layers of crystals making the outfit appear opulent. This could be an inspiration for those who are looking for a dress for the first date!
As unique and lavish as the dress looked, netizens speculate that the Sapphire gemstone resembles the famous "Heart of the Ocean" diamond necklace from Leo's iconic 19977 movie – Titanic.
However, some believe that the dress is an homage to Leonardo and Kate's 2004 film, The Aviator(1). More specifically, the gemstone might be in reference to the popular scene from the movie in which Ava Gardner (Kate Beckinsale) says" I am not for sale" and rejects the one-of-a-kind sapphire necklace gifted to her by Leonardo's character Howard Hughes.
Isn't it funny that Kate's dialogue in the movie was "I'm not for sale" when her surname is Beckinsale?…No?…Just me?… OK.
Anyway, back to Kate's outfit on DiCaprio's 49th birthday. Beckinsale posted a photo of her outfit where she could be seen wearing ankle-strap heels, dazzling diamond drop earrings, and a large black velvet bow. She captioned," Powerpuff girls are go".
Kate's ensemble has been the talk of the town before too. In September, she arrived at the Zodiac Ball at Houdini Estate in Los Angeles bedazzled in gold. She looked glamorous and opulent in a gold bodysuit with a wide-brim hat that hid Kate in a veil that touched the ground. The veil too had intricate gold detailing.
Leonardo and Kate have been quite good together as friends. Back in Avatar days, Kate shared her appreciation for Leo in an interview with Hollywood.com. "He's not just some kid on a skateboard that the talent fairy dropped fairy dust on. This somebody who is more in control of his talent, more responsible with his talent, and just a master of his craft than almost anyone I've ever worked with. He's absolutely blossoming with every moment, and just being around him is a real treat as another actor. On top of it, he's a terrific nice man, and we have a lot of fun. It was a slow start, but once we started hurling ashtrays at each other, we really had a nice time."
So cute!
Guess who Leonardo ended up getting kissy and cuddly throughout the night? – the 25-year-old model Vittoria Ceretti, Leo's rumored girlfriend. We can tell Leonardo's party was wild as someone reported, at a point, DiCaprio was "raised and carried around the room". Also, the party went on till 4 a.m. in the morning. Whoo! That's a hell of a party!