Victory rolls bubble braids and undercuts are all fine but when it comes to knotless braids, you cannot deny the bold and sassy it brings from within. You must have seen celebrities like Zendaya and Beyonce flaunting their braids from the streets to the runway. The way this hairstyle looks on any kind of outfit is no less than a bewitching miracle.
Knotless braids are a great way of protecting your hair from all kinds of damage while giving your hair a gorgeous look. These flawless braids are created by weaving braiding hair into natural hair without using a knot at the base of the braid. You reduce a significant amount of tension from your scalp and minimize the risk of damage to your scalp and tresses with a knotless braid hairstyle.
What Are Knotless Braids?
Knotless braids are box braids albeit without knots. So, while creating these, the braiding starts right from the scalp with natural hair and then subsequently the extensions are added and braided further with the natural hair. These extensions make the braids look a lot thicker and voluminous.
The hairstyle usually starts with creating the hair divisions at the scalp in various shapes including boxes, diamonds, and triangles. To add volume and thickness to the braids, usually, synthetic hair is used in these hairstyles.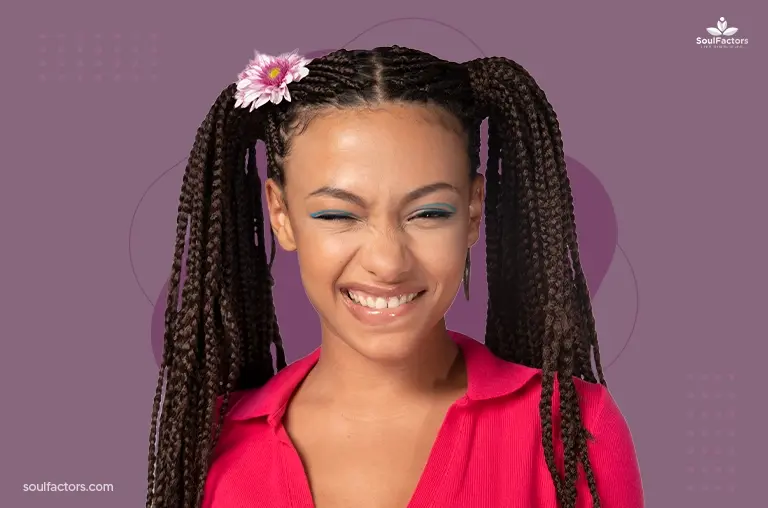 They do not start with a knot, so there are multiple ways of styling them. In this article, we'll look into 30 styles of this hairstyle that look stunning and gorgeous. I'm hella excited! Are you?
But before getting into the hairstyle, let's first clear your confusion regarding the difference between knotless hairstyles and box braids.
Knotless Braids Vs Box Braids
The main difference between Knotless braids and box braids is that in the latter, the hair extensions are braided to your natural hair right from the scalp. Whereas, in a knotless braid hairstyle, your natural hair is braided first and the extensions are incorporated subsequently creating a seamless transition and making your hair look thick and voluminous.
Knotless braids are not heavy on your scalp as box braids are. Since the extensions are added to your scalp right from the start in box braids, they can strain your scalp with its weight. Also, they look a lot more natural since it is difficult to tell at what point in your braid the hair extensions are added.
Now you know! Knotless braids not only look elegant af but are also protective of your scalp. And let's not forget that once you get these braids you're free from styling and maintaining your hair for weeks. That's such a relief!
So with that thought in mind, let's look at our knotless braid hairstyle options. Shall we?
30 Best Knotless Braids Hairstyles Of All Time
Let's see at some of the coolest knotless braids that will make people go gaga over your awe-inspiring look:
1. Bohemian Knotless Braid
Knotless braids can give anywhere from a classic elegant look to a punk vibe. Then, why not choose a hairstyle that gives Boho?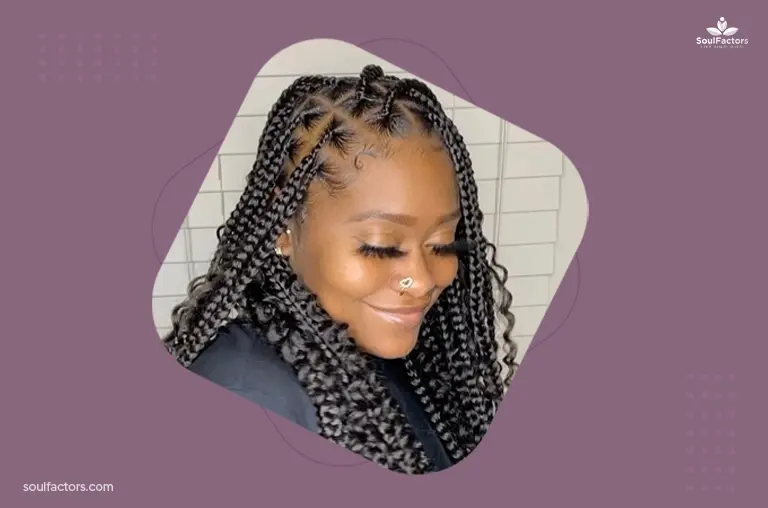 2. Long Knotless Braids With Curly Ends
It looks like the goddess herself braided this immaculate hairstyle. I mean, look at it, so damn gorgeous.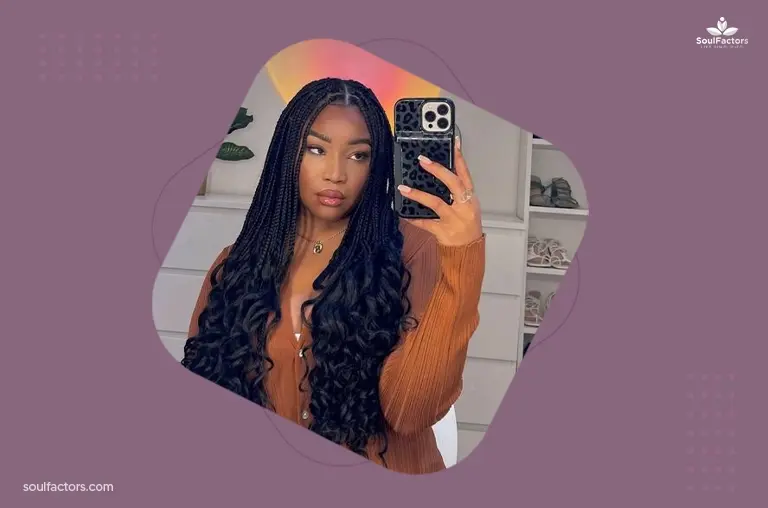 3. Blonde Boho Knotless Braid
So you loved knotless braids with curly ends. That's elegant enough. Now add blonde braids to it. That's the quirky-cum-elegant look we're looking for.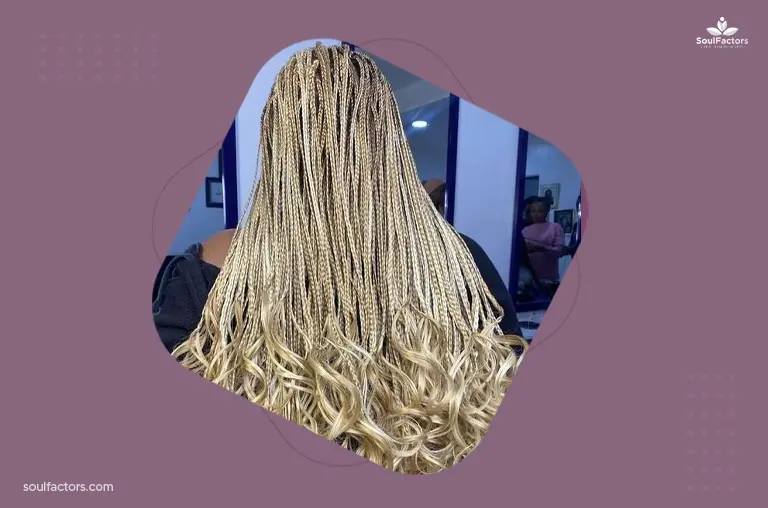 4. Short-Curly-Ended Knotless Braid
Not a big fan of long tresses, no worries. These short curly-ended knotless braids will look equally bomb!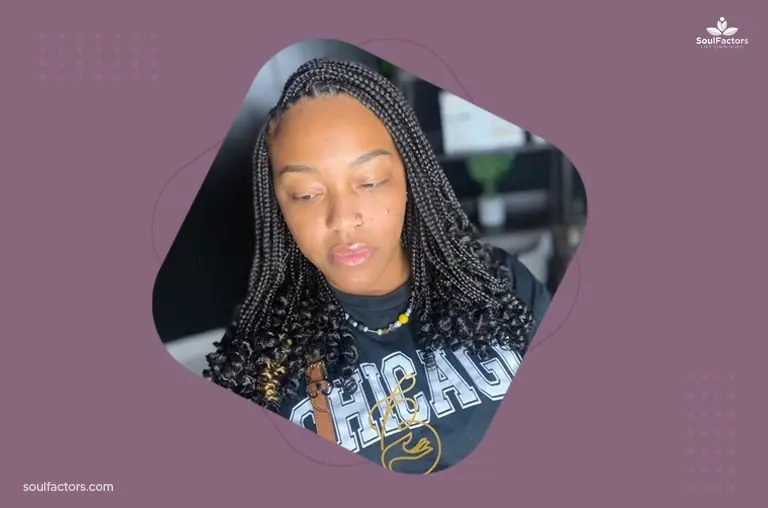 5. Jumbo Knotless Braid
Hop on the trend with Jumbo braids. This hairstyle seems to be straight from outer space.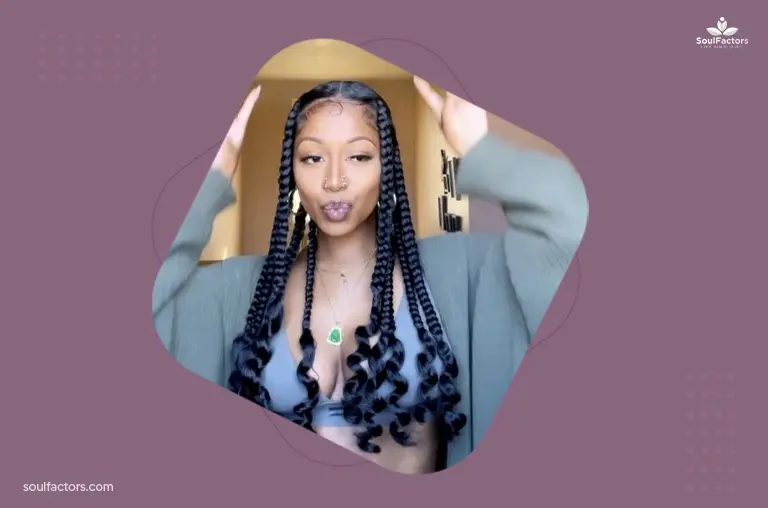 6. Burgundy Knotless Braid With Curly Ends
Does this even need any convincing? Bring out the bold and brazen you with Burgundy knotless braids. The curly ends will amp up your look none less.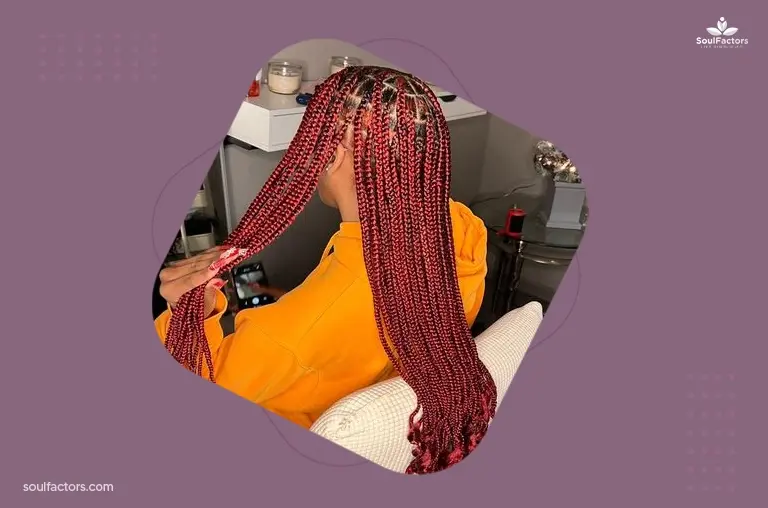 7. Knotless Braid With Colorful Rubber Bands
A colorful twist cannot go wrong with knotless braids. Make your street look a lot cooler and more vibrant by styling them with colorful rubber bands or with beads.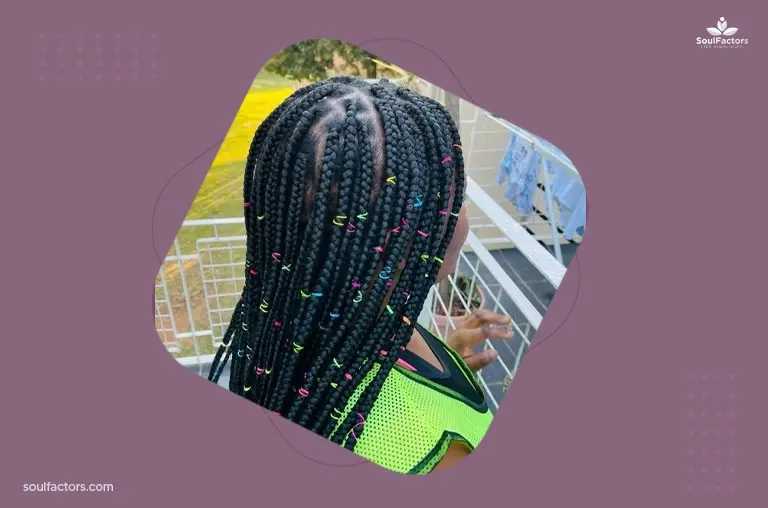 8. Knotless Braid With Wavy Ends
Are you the one who likes to go crazy and messy with your hair? Then knotless braids with unruly ends are just your type.
9. Goddess Knotless Braids
The kind of hair flux that this combo of braids and curls create is just unbeatable. This is an absolutely gorgeous hairstyle that is a must-try for every sassy-look aspirant.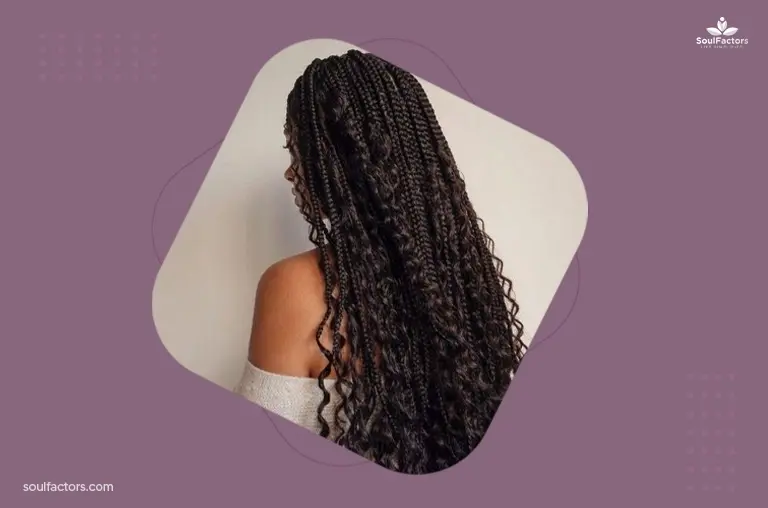 10. Knotless Passion Braid
The irresistible combo of passion twists with knotless braids is all you need to nail your everyday look.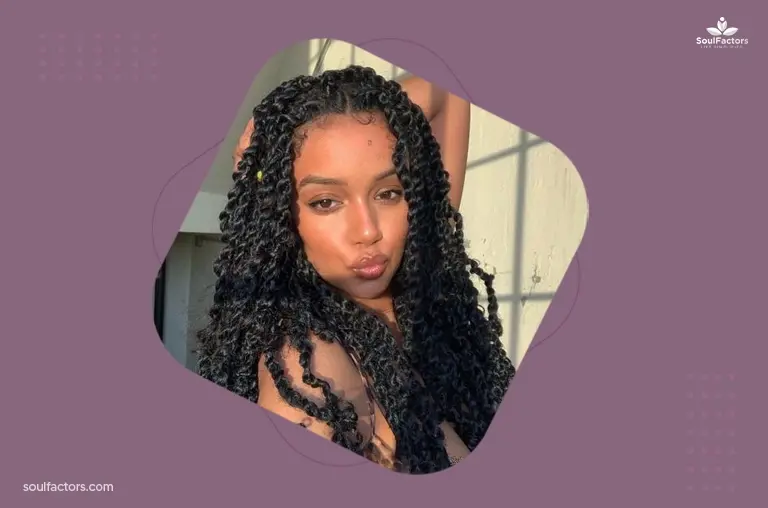 11. Knotless Bob Braids
If you think braids are just for long hairs…You! Are! Wrong! Just see how stunning knotless bob braids look!!! Gorgeous.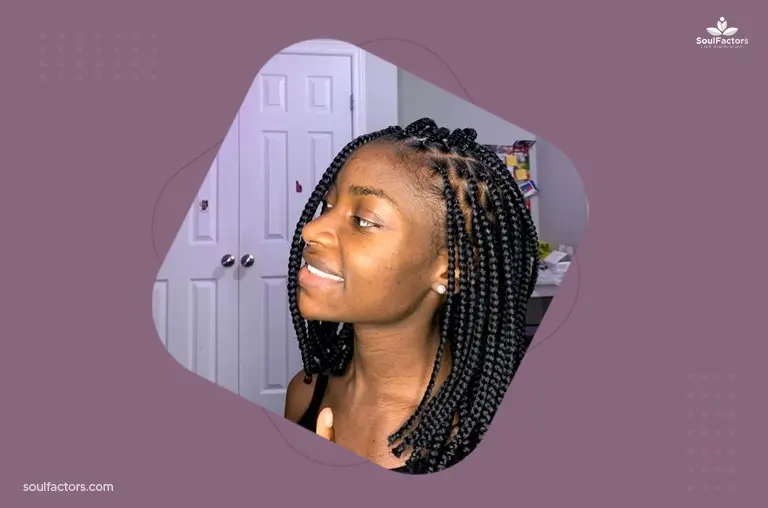 12. Mix Highlights Knotless Braids
Mix it up with highlights and lowlights, and give your hairstyle that multi-dimensional effect.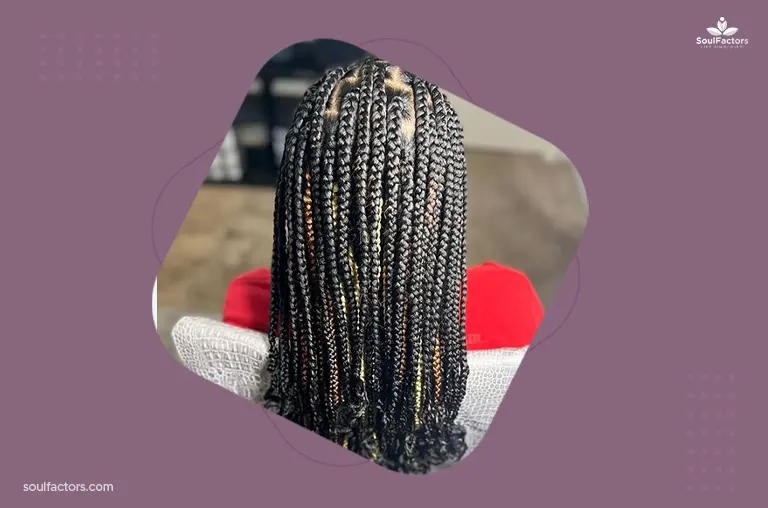 13. Blue Knotless Braids
If you have already not gotten the hint, let me tell you. Your guardian angels are hinting you to take a break and hit the beach with these oh-so-gorgeous blue styles.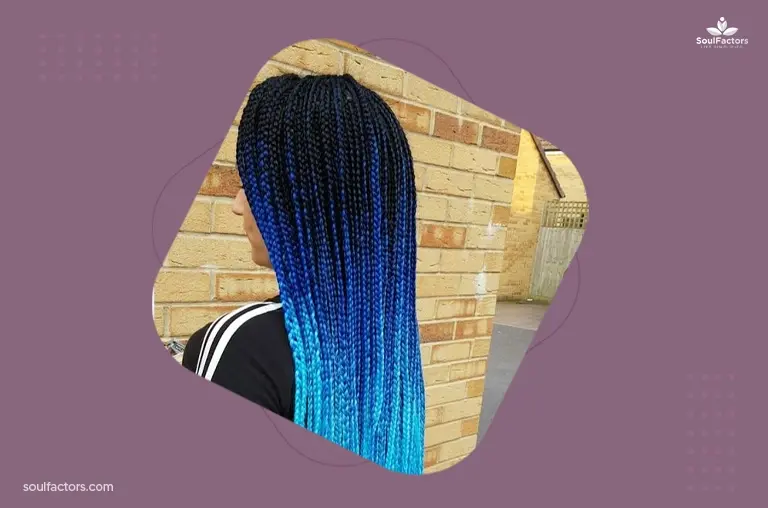 14. Medium Knotless Braid With Beads
The effect that beads create on knotless braids, no other accessory can create. Be it transparent glass-like beads or bohemian wooden beads, you just cannot go wrong with these cute beads.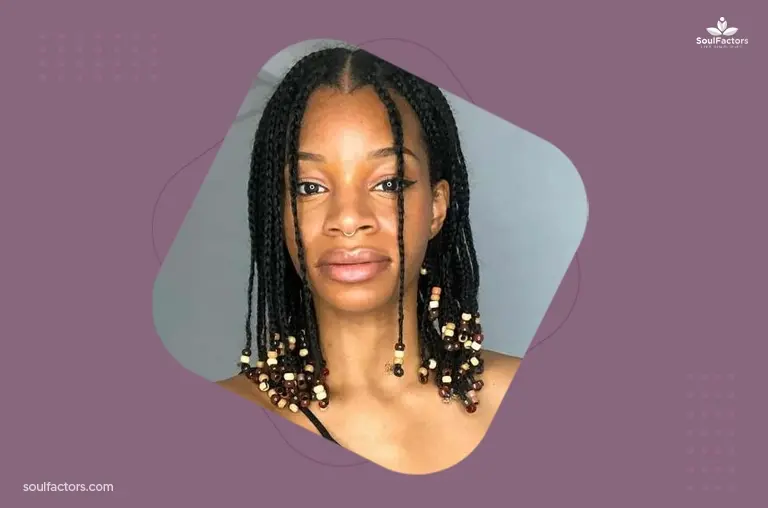 15. Knotless Braids With Accessories
Already done with beads and wanna try something new? Go for other accessories like threads and golden hoops instead. These simple accessories can go a long way with your overall look.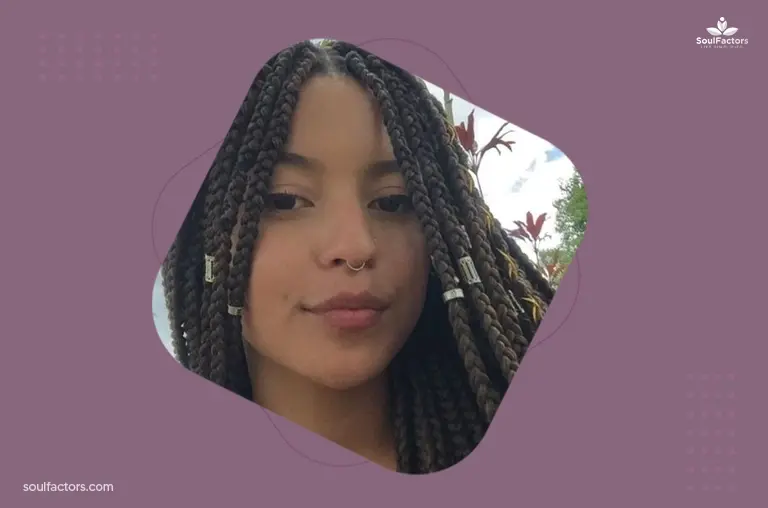 16. Knotless Braids Updo
The boss bit** vibe asks for a bossy look. And this updo is just what you need to give that powerful dominant vibe. So shush your enemies with this amazing updo style.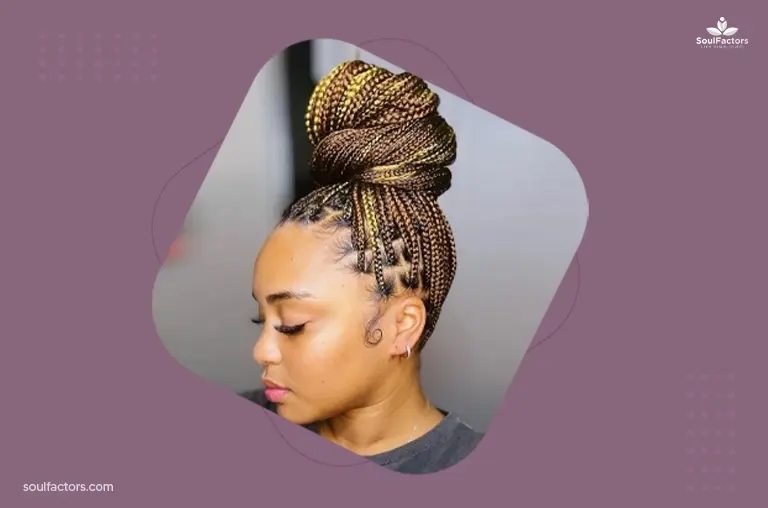 17. Half-Up Knotless Braids
If you wanna hold that bossy vibe but also wanna let loose to give chill energy, then this half-up half-down knotless braid hairstyle is for you.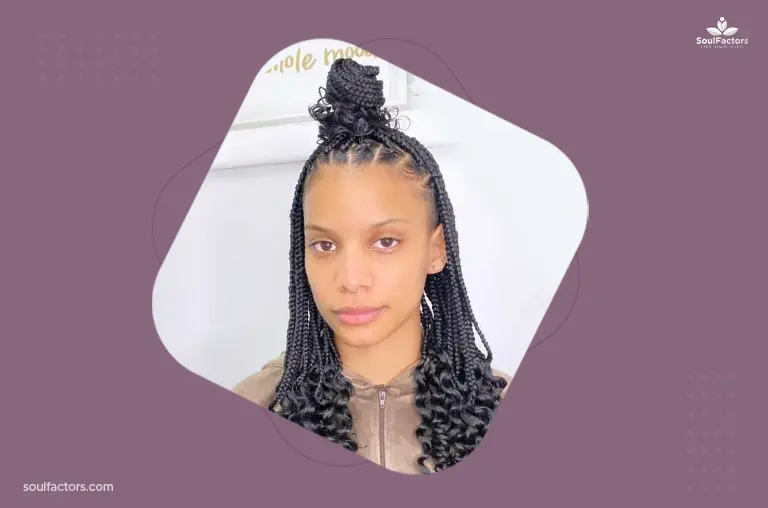 18. Knotless Braids High Ponytail
Waiting for Ariana Grande to pull off knotless braids with her signature hairstyle. But what are you waiting for? This stunning high pony knotless braid hairstyle is calling out to you!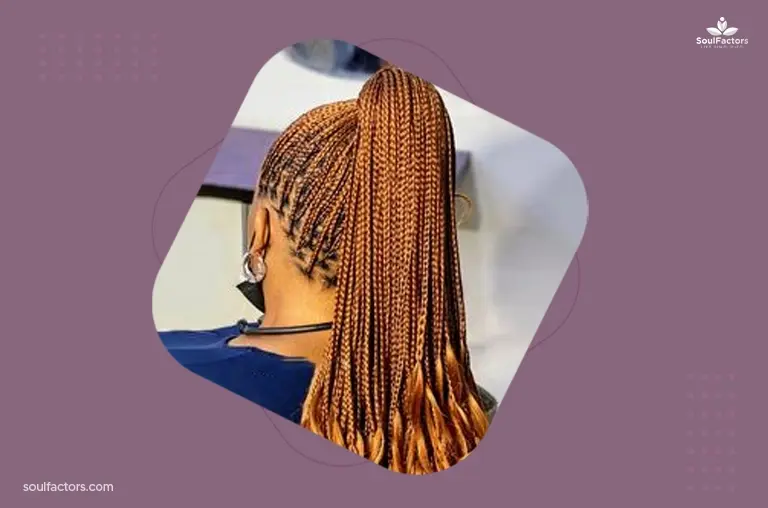 19. Unicorn Blended Knotless Braids
Who's stopping you from fulfilling your unicorn fantasy? Make your unicorn wish come true with these colorful blended braids.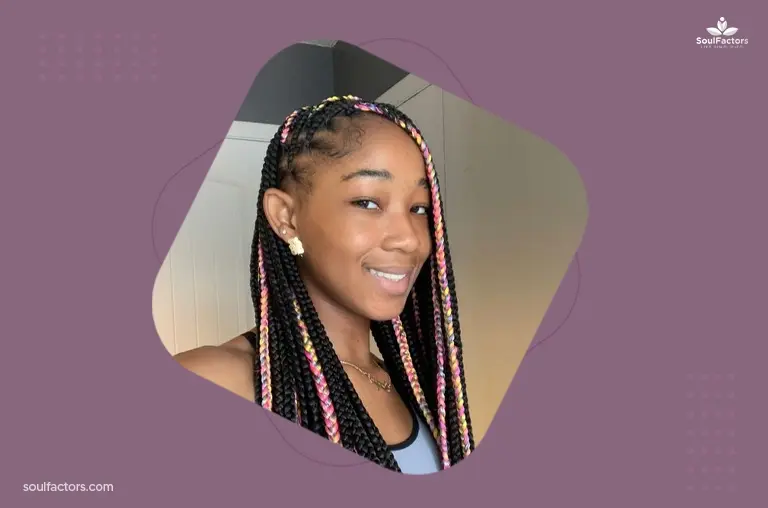 20. Heart Shape Knotless braids
You don't have to wait for the valentines to pull off this hairstyle because you can spread love and cute vibes wearing these awe-inspiring knotless heart-shaped braids.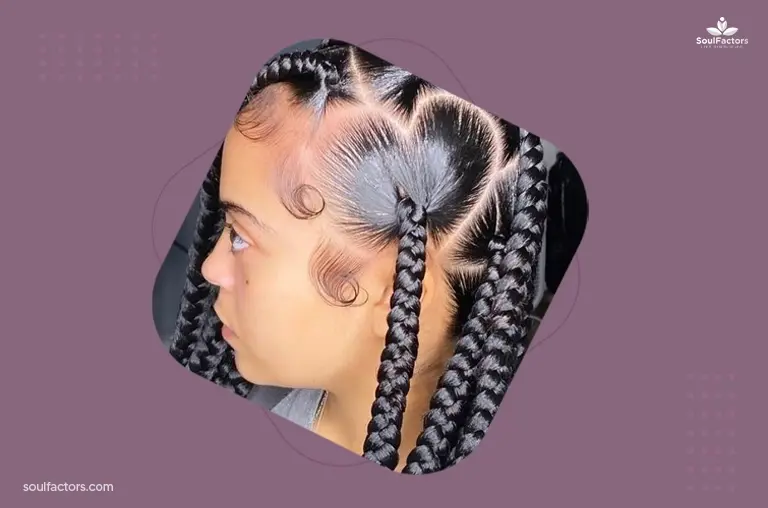 21. Triangle Shape Knotless Braid
Not a fan of hearts and lovey-dovey stuff, no worries, try triangles instead. The triangle shape has some enigma that makes it look so mysterious. Add mystery to your hair with this triangle shape knotless braids hairstyle.
22. Ginger Hair Knotless Braids
This metallic-looky ginger braids hairstyle is gonna make you shine on the streets on a sunny morning. So what's the reason not to get this look?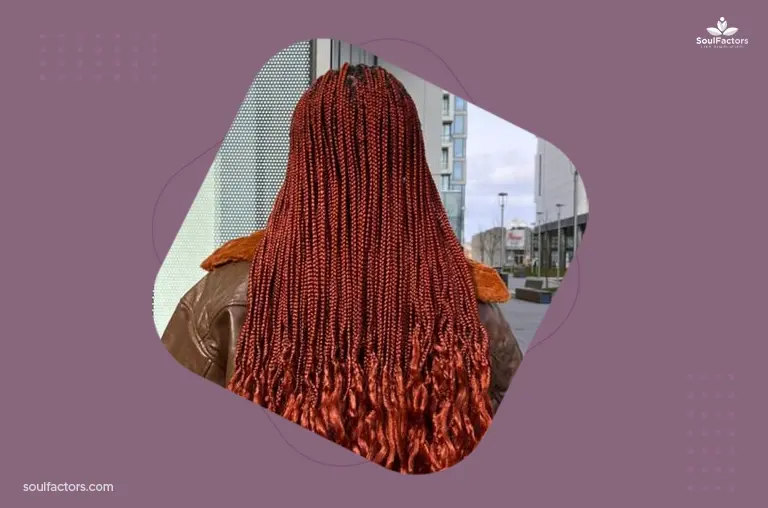 23. Knotless Braid With Symmetrical Cornrows
Symmetrical cornrows create that elegant look and knotless braids protect your scalp from not being too heavy. If protective but classy hair is your type, then this Symmetrical Cornrows is just for you.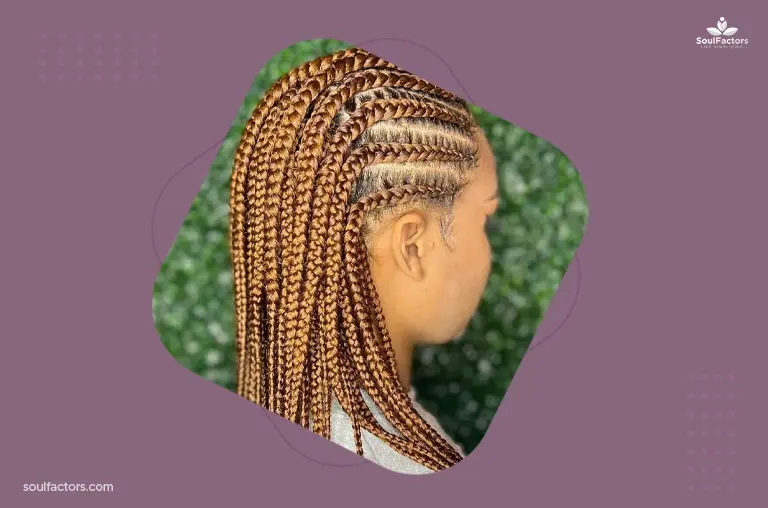 24. Knotless Braids With Edges
Edges are gaining popularity like wildfire. And why would they not, these old-school classical edges add a goddess-like charm to your look. Add knotless braids to it and you're a pop-culture goddess.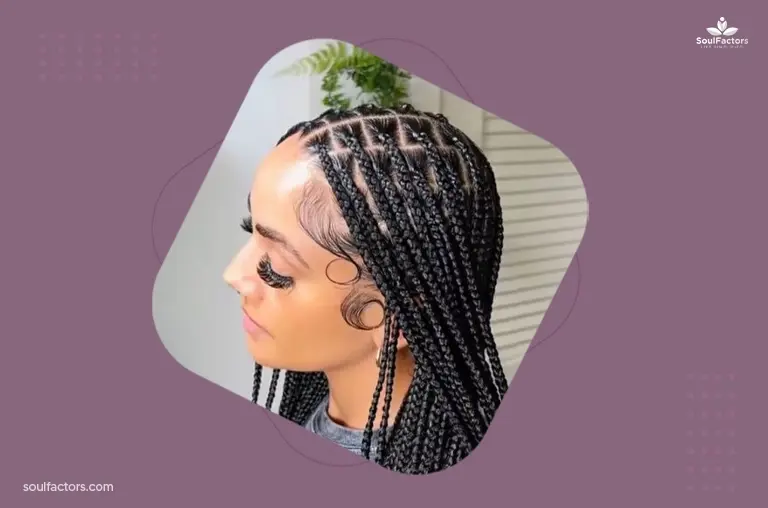 25. Big Braids With Cascading Curls
Knotless braids create a style statement like none other. Add curly hair to these braids in a cascading manner and voila! you've got yourself a mesmerizing hairstyle.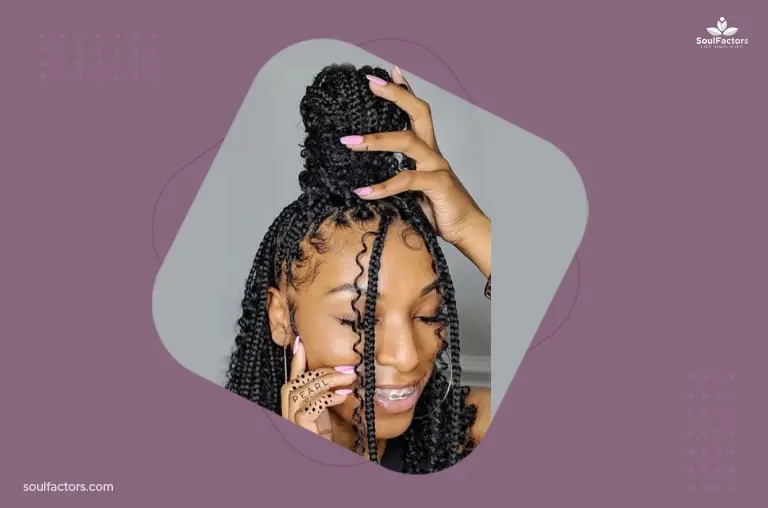 26. Crisscross Knotless Braids
Why go plain and simple when you can go cool and funky? Instead of the regular box-shaped braids, go for a criss-cross braids hairstyle instead. The enigma of this hairstyle is next level.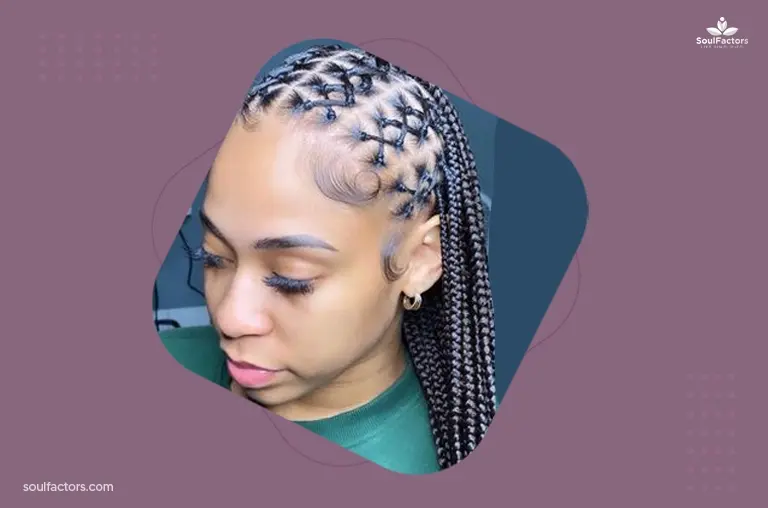 27. Thin Knotless Braid
Thinner knotless braids add that playfulness in your hair that you just wanna whip your hair back and forth like a pendulum. So, If you like to bring that playful energy with your hairstyle, these are just for you.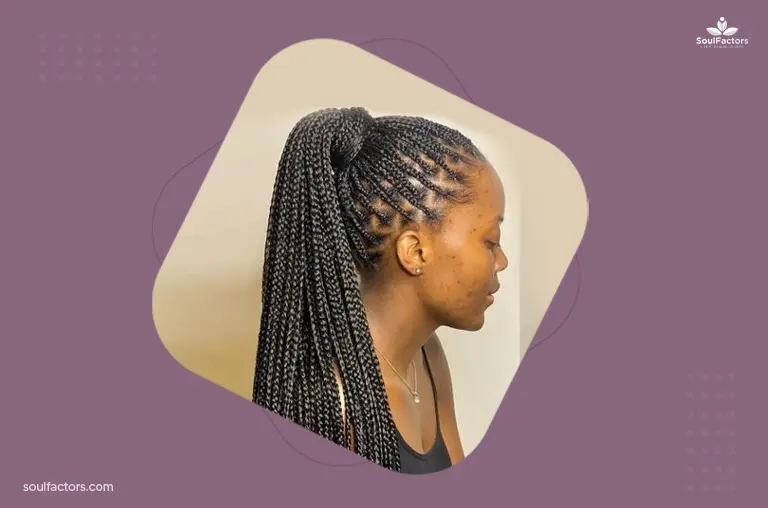 28. Ombré Knotless Braid
Ombré is a great hair coloring option regardless of how you are styling it. The dark braids transitioning into a lighter shade create awe-inspiring knotless braids look.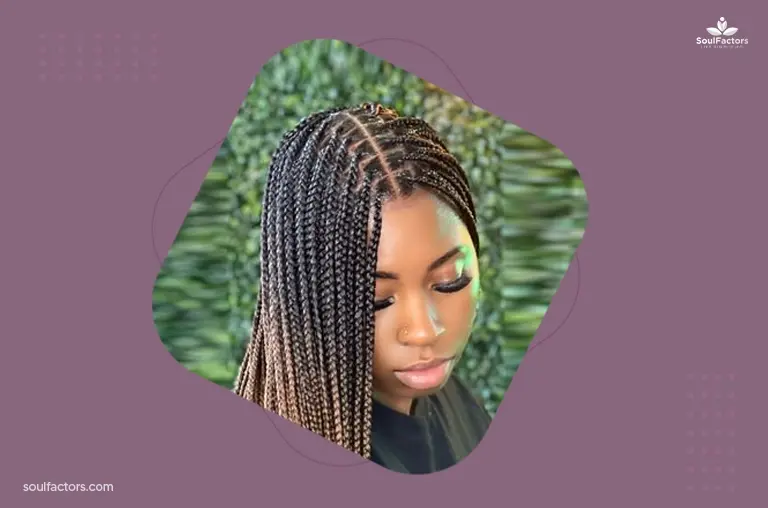 29. Knotless Senegalese Twists
If you are bored of the braids and want some different and unique hairstyle, then you might wanna get Knotless Senegalese Twists. These twists create a bewitching kinda effect on your hairstyle.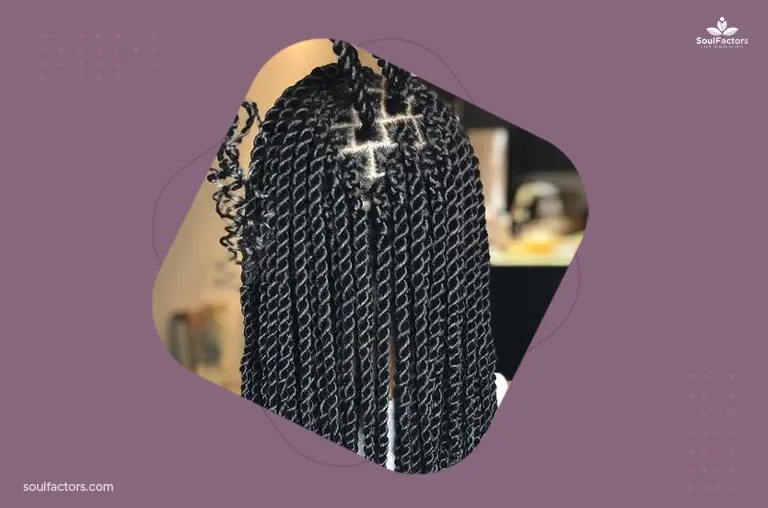 30. Red Knotless Braid Highlighted
The red color is a universal indicator of bold and bewitching women. Pick your knotless braids with a red hue and wear red lipstick to create that bold siren look.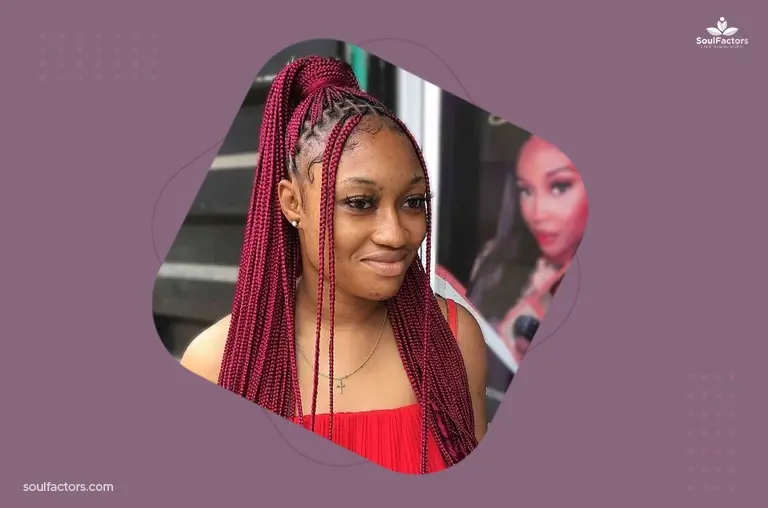 How To Do Knotless Braids?
Whether you're getting these braids from any professional in a salon or making them yourself, this hairstyle always looks charming. However, if you want a little guide on how to knot it here it is:
Thoroughly wash and condition your hair: Cleaned and moisturized hair is essential for smooth and long-lasting braid installation. Pro tip: Give your hair a hot oil treatment for getting them ready before braiding.
Detangle your hair: You want perfectly detangled hair before getting them. With a wide-toothed comb, gently start detangling your front scalp till the end. Use detangling spray to make the detangling process a lot easier.
Create sections for braiding: Based on the type of knotless braid hairstyle you want (thin, medium, or thick braid), create hair sections on your scalp. Now, sub-divide each section into 3–4 more sections for feeding in the extensions.
Begin braiding your hair: Now start braiding your hair one by one and incorporate extensions or braiding hair as you go along. Tightly braid the hair to prevent unraveling but make sure not to go too tight and pully on your scalp.
Continue braiding: Continue braiding depending on if you wanna go till the ends with your braids or let loose at some point to create that curly or wavy ends hairstyle. Put a rubber band to secure the braid.
Seal your braids: Once done with the braiding, dip your braids into boiling water to prevent unraveling. The hot water melts the braiding or synthetic hair so that hair sticks together, securing the braid.
And that's it! Style your freshly braided hair any way you want. Half up, half down, ponytail, or let loose; these got you with all the slaying.
How Do You Care For Knotless Braids?
To maintain that gorgeous braided look, you need to take proper care of your braided hair. It's no rocket science though, let's have a look:
Cleanse and moisturize: Keep your scalp clean and moisturized to prevent the build-up. Use a lightweight oil or scalp spray to hydrate the scalp and keep it clean.
Go easy with your braids: Do not manipulate your strands too much to create the hairstyles. Also, cover your braids with a silk scarf or bonnet to protect your braids.
Wash your braids on a regular basis: Use a gentle shampoo to cleanse your braids and get rid of excessive dirt and dust. Also, use lukewarm water to go easy on your hair while washing.
Condition your hair: A leave-in conditioner will be effective for hair. It will keep your braids moisturized and healthy.
Protect from heat and sunlight: Avoid exposing your braids directly to the heat or sunlight as these can damage your hair(1) and make them dry and brittle. Wear a hat under sunlight and avoid using heat-styling tools.
FAQ
1. Do knotless braids last longer?
They can last up to 6 weeks. However, the duration depends on how well you take care of your braids.
2. Is a knotless braid attractive?
Yes, there are a number of knotless braid hairstyle that looks absolutely gorgeous.
3. Is knotless better than box braids?
Knotless braid are better than box braids in a way that knotless braid are creates lesser tension on the scalp than box braids. Thus, knotless braids are a healthier option for your hair.
4. Is knotless braid healthy?
Yes, knotless braid are healthier for your scalp than box braids because knotless braid create less tension on your scalp.
The Final Verdict
Whether you go for a goddess knotless braids or pick cornrows, Knotless creates an absolutely gorgeous look that's unbeatable by any other kind of hairstyle. On top of that, these are considered protective as they minimize tension and pulling on your hairline, which can lead to hair damage and breakage.
Whether you're looking for a messy updo or elegant curly ends, this list is your catalog of getting stunning braids hairstyles.
So, what are you waiting for? Step into your goddess era with this flawless hairstyle.