Lady Gaga's 'Raw' Performance at the Oscars in T-shirt and Jeans Wows Fans
No doubt her performance swept us off our feet, but her transformation from the made-up look on the red carpet to the stripped-down casual look on stage came as a bigger surprise for fans.
Lady Gaga is known for her glamorous appearances as much as she is admired as a singer. When she first appeared on the red carpet in an eye-catching black gown the Gaga style, the audience looked forward to another glamorous ensemble at her Oscar performance. Lo and behold, they were in for an epic surprise! Usually making a style statement every time, Lady Gaga at the Oscars 2023 had her raw beauty and talent steal hearts.
Lady Gaga at the Oscars had double surprise for her fans
This time, Lady Gaga's presence in itself was a surprise for everyone given that she had initially conveyed her inability to attend the event due a conflict in her schedule. In yet another surprise that no one could have predicted, the queen made her appearance on the stage to render her performance in a mere t-shirt and jeans.
The singer hit the red carpet in a black gown by Italian designer Donatella Versace, that featured a skirt with a dropped waistline, and was complete with a sheer, paneled bodice up top. At the waist was a golden clasp engraved with Versace's signature Medusa head logo.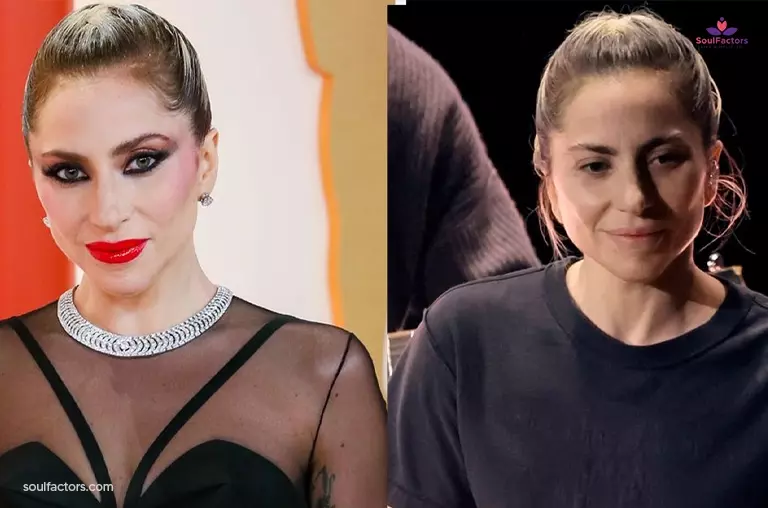 And then there was the stunning jewelry, which was by Tiffany & Co. The sparkling accessories included a show-stopping archival necklace from the 1950s, made of platinum and diamonds; along with a diamond cuff, matching earrings, and ring all of which set off her against her black gown.
With bright red lip color and black eyeliner and bold smoky eyeshadows highlighting her brown seductive eyes, her look on the red carpet was complete with the perfect makeup.
Before fans had gotten over their idol's enchanting look on the red carpet, she came up on stage in a look that broke the norms and created history at the Oscars.
In a stark contrast to her elaborate style moments ago, she appeared in a stripped-down look, in a plain black t-shirt, ripped jeans, and platform converse that no one saw coming. Apart from the unconventionality in style, what left viewers bewildered was the swiftness in the transformation.
How did she manage to get all that makeup so thoroughly removed in a matter of minutes between the red carpet and the performance on stage? Fans and the media were quick to inquire into the secret behind the disappearing act with her makeup.
Given that the makeup products these celebrities wear are long-lasting and highly pigmented, the challenge appeared to be almost impossible to accomplish. Lady Gaga's long-time makeup artist Sarah Tanno hasn't given away the exact details, however suggested that oil-based cleansers are usually her favorite among makeup removers.
Tanno is reported to have said:
"I like to kick it old school, I like the Lancôme Bi-Facil. Also, argan oil—Gaga taught me that. If you have heavy eye makeup or waterproof products, just straight up argan oil is really great to just remove everything and melt it off. I learn so much from her!"
To questions of whether we could expect a makeup-melting product from Haus Labs, a cosmetic brand launched by Lady Gaga in the future, Tanno's response leaned towards the optimistic:
"We are always exploring what's new, better, or different," Tanno adds. "Never say never."
Gaga's breathtaking performance was preluded by a powerful speech about the importance of being your own hero.
"There's heroes all around us in unassuming places," the singer stated before starting the song. "But you might find that you can be your own hero even if you feel broken inside."
She gave an acoustic rendition of her Oscar nominated song "Hold My Hand", written by Gaga and BloodPop for the movie "Top Gun: Maverick". This was one of five songs nominated for Best Original Song at this year's Oscars. The other nominees were "Lift Me Up" from "Black Panther: Wakanda Forever", "Applause" from "Tell It Like a Woman", "Naatu Naatu" from "RRR", and "This Is a Life" from "Everything Everywhere All at Once". Nearly all of the nominees in the category performed on the night, with the final performance by Rihanna for "Lift Me Up".
The raw unglammed performance was hailed by fans and critics alike as it stood out in its naturalness and honesty that was in stark contrast to the glamor and theatrics of the event itself. The star singer once again proved that she could shine in any setting and any outlook.
Like one of her fans remarked: "The fact that she's confident enough to do this without any makeup wearing a t-shirt is awesome. She just lets her talent take center stage."
Another commented: "this was one of the most sublime and powerful live performances I have ever witnessed!" with many others expressing the same sentiment.
"Love how she's on stage with no makeup. The performance is the essence of the show.", said another