In this article, we will dig into all you need to know about sheet masks, especially sheet mask benefits, and help you pick the one right for your skin type.
At times, our skincare regimen tends to get boring. And despite the importance of applying SPF daily and moisturizing the skin around bedtime, we often crave to bump up our regimens. Enter face masks – an excellent way to reap promising skincare results instantly and make us feel pampered.
Sheet masks fall in the category of face masks. They are single-use face masks loaded with several beauty benefits to clear, refresh, moisturize, and radiate the skin. These masks give your skin more than the standard skincare routine, and taking a selfie while wearing them is undoubtedly a lot of fun.
Sheet Mask Benefits: What Is A Sheet Mask?
A sheet mask is in the shape of a face, drenched in a nutrition-packed solution called serum. There are openings for your eyes and nostrils to shape up your facial structure, allowing every inch of your face to get covered and enriched by the nutrient-rich serum. Research also found many sheet mask benefits for each skin type.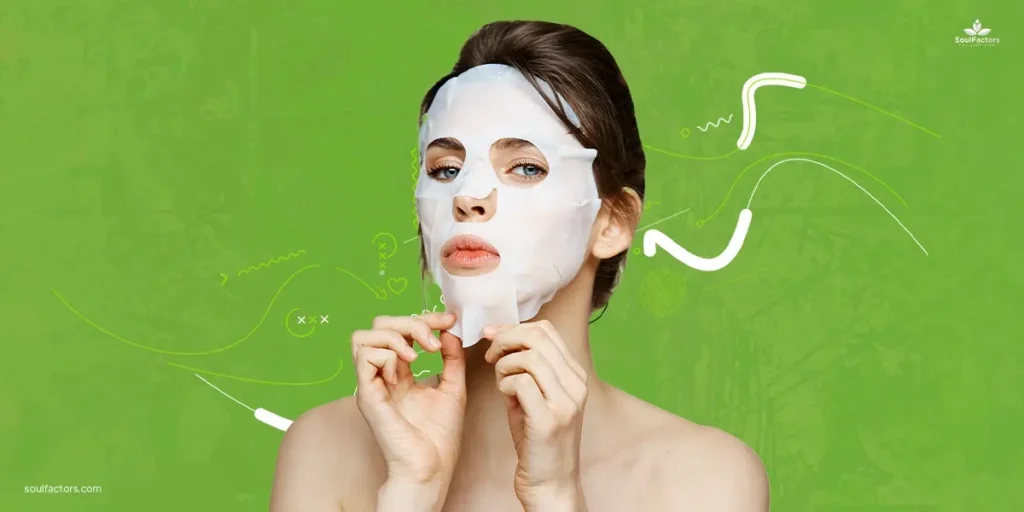 The beauty product was introduced to the cosmetic and beauty care industry by the Japanese and South Koreans. The masks are used popularly for treating several skin concerns. They are made using different materials like coconut pulp, microfibres, cotton wool, paper, cellulose, gel, etc., and imbued with serums based on the type of skincare concern being addressed.
Sheet masks are different from usual face masks and peel-off masks. You don't need to apply any gel or cream and wash it off. The process involves basic steps of cleansing the face with a facial cleanser or face wash, applying a soothing toner, and putting on the sheet mask for around 20 to 30 minutes.
The concentrated serum on sheet masks is diluted in little water and consists of vital vitamins and hyaluronic acid. The sheet does not let the serum evaporate and enables it to penetrate the skin cells completely. Regular use of a sheet mask gives the same effect as a spa and gives the skin a radiant glow.
How Do I Use Sheet Masks?
There are lots of sheet mask benefits, Using sheet masks is easier than you think. Apply on a clean face and let it stay for around 15 to 20 minutes. Remove and see how your face begins to glow instantly.
You can use a sheet whenever you want. There isn't any difference between how to use a sheet mask during the day and how to use a sheet mask at night. Apply them while cleaning, cooking, watching TV, or reading. The best part about sheet masks is that there is no hassle about washing your face after removing the mask.
How To Apply A Sheet Mask To Get The Exact Sheet Mask Benefits?
Before buying a sheet mask, identify your skin concern and the best sheet mask for your skin condition. Apply the sheet mask following the steps mentioned below:
1. Wash Your Face
Cleansing your face before applying any skincare product is a golden rule. Your sheet mask will not deliver results on an unclean, dirty face.
2. Prepare The Mask
Pull the mask out of its packing and gently unfold it, starting from the corner with an opening.
3. Lay The Mask Over Your Face
Start placing the mask, softly patting it as you move downwards from the forehead. Line the holes for your eyes, nose, and mouth. The sheets are one-size-fits-all. Thus, you will have to adjust a little because the shape and size of every face are unique. The excess serum left in the pack is good for your neck and elbows.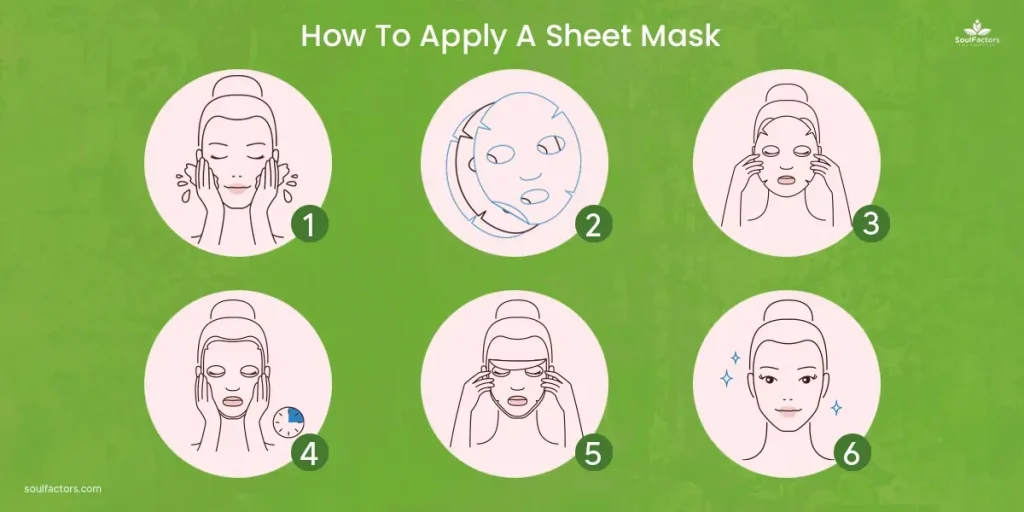 4. Leave The Mask On
Check the packaging instructions for how long you should keep the mask on. The suggested time is 15 to 20 minutes. You can continue working or lie down at your convenience.
5. Remove The Mask
At last, see yourself the real sheet mask benefits of the removal step. Remove the mask with a gentle hand and dispose of it. Massage the serum remaining in the pouch on your skin.
How Does Sheet Mask Work?
A sheet mask is fully soaked in concentrated serum. This serum comprises many beneficial ingredients for the skin, including vitamins, green tea extract, aloe vera, and hyaluronic acid. The nutrition-packed serum is dissolved in water, making the sheet wet and sticky. The sheet avoids the evaporation phase and lengthens the time taken by the ingredients to soak deep into the skin. Consequently, sheet masks deliver better results than traditional serum-type skincare, even in one application.
What Are The Benefits Of Sheet Masks?
Do sheet masks offer any benefits?
Yes!
Apart from the zen moment they create, there is a host of sheet mask benefits for the skin and mind.
1. Hydration
Sheet masks contain hydrating ingredients like fruit extracts, glycerine, seed oil, etc. These ingredients help to hydrate and soothe the skin. Moreover, they eliminate crepe skin and dry patches, leaving a plump, rejuvenated, and firm appearance.
2. Instant And Long-Lasting Results
One of the most prominent sheet mask benefits is their ability to help your skin soak up so much product that your skin begins to look dewier, brighter, renewed, and rejuvenated as soon as you take it off.
3. Enhanced Ingredient Absorption
Sheet masks contain butylene glycol, which aids in the delivery of the infused ingredients. Sheet masks are also of a thinner consistency. As a result, it is possible to apply the solution topically in a controlled setting for a longer time, thereby enhancing absorption.
4. Convenience
Other sheet mask benefits that helped it gain popularity are convenience and ease of use. You can carry it anywhere and apply it at any time. Layer one on your face while flying on the plane, or pamper yourself while working from home. The face sheet mask hugs the face and avoids slipping. You can apply the mask and cook, clean, work, watch TV, or take a power nap.
5. Relaxing
Lastly, sheet masks create a pampering self-care experience. The soft fabric delivers a sense of luxury, and you can feel the nourishing ingredients penetrate your pores and soothe your skin. With sheet masks, your skin feels rested as it sits back while all the beneficial ingredients sink in. So, whenever you're in the mood to relax and love yourself, give your skin the best sheet mask treatment.
Are There Any Side Effects Of Using A Sheet Mask?
Let us put the "sheet mask benefits" aside and see whether this has any side effects. Sheet masks aim to nourish the skin instead of exfoliation or cleansing. They are not as effective for cleaning or exfoliating the skin as the paste-type pack or mask.
While there are no specific disadvantages of sheet masks, it is advised that you use them cautiously. If you buy low-quality sheet masks, the serum might quickly evaporate before soaking into the deeper layer of your skin. Overuse of sheet masks containing AHAs and strong acids may also cause skin irritation to some.
Can I Afford A Sheet Mask?
Sheet masks aren't expensive. Their price depends on the brand and the quality of the mask you want. The price range is anywhere between INR 50 and INR 300.
What Materials Are The Sheets Made Out Of?
Well after the whole "sheet mask benefits" understanding lets know how are they made and the different kinds of sheet masks. Sheet masks are made of a wide range of fabrics. The most commonly used sheet mask materials include: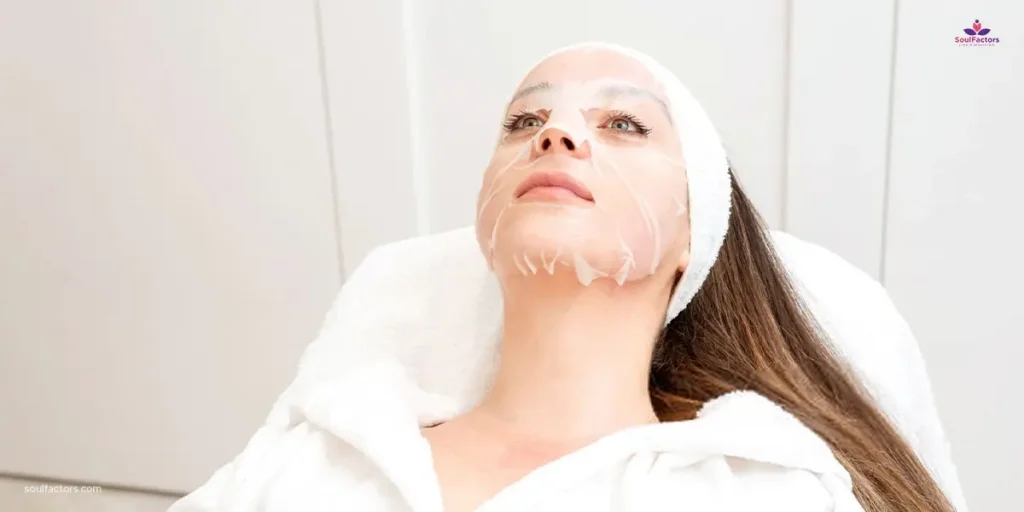 1 . Cotton
A cotton sheet mask has a white fabric and fits well on the face. It does not have any harsh chemicals that irritate the skin. The mask is soft and absorbent. It allows air and moisture to move around freely, letting your skin stay moisturized and comfortable.
2. Microfiber
Again white in color, this sheet mask feels like soft silk. It adjusts to the face better than a cotton sheet mask and is also a bit softer and thicker. The material is biodegradable and does not include any harmful chemical ingredients, which means it is eco-friendly.
3. Rayon Sheet Mask Benefits
Rayon is the classic material for sheet masks. It is thicker than Tencel, due to which it is prone to slipping. However, it does grab onto the essence and remain comfortably soft. Masks made using rayon should be worn only for the minimum amount of time mentioned in the instructions to prevent it from drying on your face.
4. Tencel
Tencel is derived from trees. It is a relatively new fiber, regarded as a high-quality lyocell fiber type. It is eco-friendly and biodegradable. Tencel sheet masks are white/light cream and feel like silk on the skin.
5. Hydrogel
Hydrogel(1) is transparent, and sheet masks made using this material require careful handling. Avoid tugging or pulling a hydrogel mask, as it can rip, leaving puzzle pieces sticking to your face. These sheet masks are definitely worth a try, as they give your face a cool feel. Hydrogel masks are 100% soluble and spread as a thin layer of film on your face.
6. Bio-cellulose
Bio-cellulose sticks to your skin completely. It'll make you feel as if you have an additional layer of skin providing protection. The all-natural fiber is pretty similar to hydrogels, but its sheet masks aren't as thick. Due to the strong adhesion, active ingredients tend to sink in well, ensuring the nutrients do not evaporate into the air.
7. Charcoal Sheet Mask Benefits
Though black in color, this sheet mask material gives your skin a super smooth feel. It is prepared after compressing charcoal powder and infusing it into the sheet for detoxification and balancing of excess oils.
8. Foil
A foil sheet mask looks a little crazy but does not let liquid, nutrients, and active ingredients evaporate. It is comfortable to wear, as there is a cotton layer on the side touching the skin.
How Often To Use Sheet Masks?
There is no standard guideline around the frequency of using sheet masks.
You can use them once a week or once per day, depending on the results you are trying to achieve.
Sheet mask benefits might be more or less but knowing how to use it in your day-to-day life is really important. The concept of sheet masks was popularized by Koreans, and they use them every day. Sometimes, they use two different variants in a day. You can decide how often you should use a sheet mask based on what works for your skin.
Sheet masks are the best if you want quick results before an event. Remember to follow the instructions mentioned on the pack, especially to know how long you should keep the face sheet mask. Do not leave it on for more than 20 minutes or after the mask begins to feel dry.
How To Know Which Mask Is Right For Your Skin?
Now that you know sheet mask benefits, it's time to understand which is the best mask for your skin type. There are many forms of sheet masks – knit, foil, hydrogel, microfiber, charcoal, and bio-cellulose. The masks contain different ingredients to address all kinds of skincare concerns. The following guidelines can help you pick the mask right for your skin:
Dry Skin: Sheet masks are a surefire way to improve dehydrated skin and dry skin. Dehydrated skin requires water, while dry skin requires oil. Sheet masks with water-based hydration – glycerin, aloe, ceramides, peptides, chamomile, and water are all hero picks for dry skin.
Oily Skin: Masks with retinol, charcoal, and clay can reduce pore size and also extract excess sebum from the skin. Acne-prone skin can benefit from ingredients like green tea, turmeric, aloe vera, tea tree, oatmeal, salicylic acid, and neem. It is not a good idea to use masks containing fragrances as they can increase skin sensitivity.
Anti-aging: To reap anti-aging as a sheet mask benefit, search for ingredients like lactic acid or glycolic acid(2). These AHAs work to shed off the surface layer of dead skin and help bring a youthful glow.
Post-Sun: Hydration is vital post-sun exposure. Aloe and glycerin-based sheet masks work wonders. Keeping these masks in the fridge before slapping them onto the face can provide an extra dose of cooling.
Normal Skin: Sheet masks containing fruit extracts are ideal for people with normal skin. They offer hydration, moisturization, and nourishment to the skin to add radiance and glow.
Dull Skin: If you have dull skin, look for sheet masks with words like 'revitalizing' or 'brightening.' Check for vitamin C, licorice, tomato, lotus, rice, lemon, and milk in the ingredients list.
Sheet Mask Benefits: Our Top 3 Picks In India
Sheet masks are a special treat for your skin. Enriched with moisturizing natural botanical extracts, they offer a hydration boost to your skin. Here are our top 3 picks for sheet masks in India to help you make the best choice.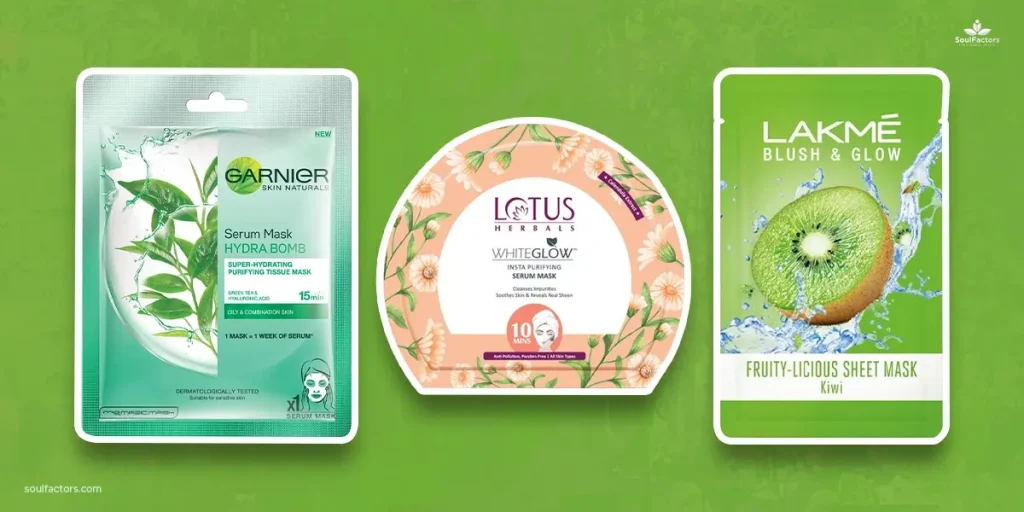 1. Garnier Skin Naturals Serum Mask Hydra Bomb
The Hydra Bomb sheet mask from Garnier Skin Naturals is one of the best sheet masks for oily skin. It hydrates, purifies, strengthens, and rebalances your skin within 15 minutes. Enriched with the goodness of green tea, it helps to control excess oil. Hyaluronic acid works to address the concerns of open pores and fine lines. This sheet mask, when used regularly, delivers clear skin and a healthy glow.
2. Lakme Blush & Glow Fruity-Licious Kiwi Sheet Mask
If you want to know which sheet mask is best for glowing skin, this is it. The Lakme sheet mask is packed with the goodness of 100% pure kiwi extracts to hydrate, moisturize, and rejuvenate your skin. Its use helps in achieving an all-day-long fruit-kissed glow. The mask eliminates dry skin patches, gently exfoliates dead cells, and brightens the skin tone. The breathable fabric has a refreshing and pleasing fragrance to give you an at-home spa feeling.
3. Lotus Herbals Whiteglow Insta Purifying Serum Mask
Infused with natural calendula extracts, this Lotus Herbals sheet mask helps to fight harmful bacteria, toxins, and impurities to protect your skin from everyday pollutants and free radical damage. The serum absorbs into the skin easily to provide deep hydration. Your skin starts feeling smoother and more supple with an instant natural glow due to the mask's cell renewal properties.
FAQ On Sheet Mask Benefits
1. Do sheet masks really work?
Sheet masks satisfy basic skin needs. They are an effective solution if you have parched skin or require a hydration boost or instant glow. Sheet masks are a good choice for short-lived spa-type relaxation at home.
2. Should you use a sheet mask every day?
Yes, you can use a sheet mask every day. However, be careful of the ingredients to achieve the benefits of using a face mask sheet every day. Sheet masks containing glycolic acid should not be used regularly. Look for masks with ceramides, squalene, hydrating hyaluronic acid, rice bran, and macadamia oils. These ingredients help in moisturizing and nourishing the skin.
3. Is using a sheet mask good for the skin?
Your skin tends to lose its luminosity and natural glow over time naturally. Sheet masks offer a host of benefits, from brightening to hydrating. They infuse new life into tired skin, even out skin tone, and brighten a dull complexion.
4. How often should you use a sheet mask to get the exact sheet mask benefits?
If your sheet mask contains active ingredients like retinol or glycolic acid, use it once a week or as mentioned in product instructions. Remember to read the label on other skincare products for similar ingredients so that you do not over-exfoliate.
Conclusion
Let's come to the final verdict on sheet mask benefits. Sheet masks have gained immense popularity across the globe due to the results they deliver. Face sheet masks are soaked in highly potent serum, making them one of the easiest and most effective skincare regimens to hydrate, nourish, and moisturize your skin. Depending on the ingredients used to create the sheet mask, they can benefit your skin in more ways than one.
Sheet masks are good for use at home. Furthermore, their delivery system allows you to carry them with you while traveling and give your skin a serum treatment on the go. If you have never used sheet masks before, check out the range of sheet masks available online and pick one to target and address different skin issues.