There are few better ways to harvest views on social media than to come up with new tips and hacks for weight loss. Ozempic is the new buzzword. Lately, videos under the hashtag #Ozempic have acquired nearly 600 million views on TikTok. Users set out to try Ozempic aka semaglutide for weight loss while sharing their story and update eager followers about their progress.
What is the Semaglutide, Obesity and the US equation?
Statistics (1) show that obesity is most prevalent in the American and European regions. In the Americas, the prevalence of obesity increased from 6.8% in 1980 to 22.4% in 2019. The country with the highest prevalence rates of obesity was the United States standing at 23.2%. Further, the prevalence of obesity is higher in women than in men of any age.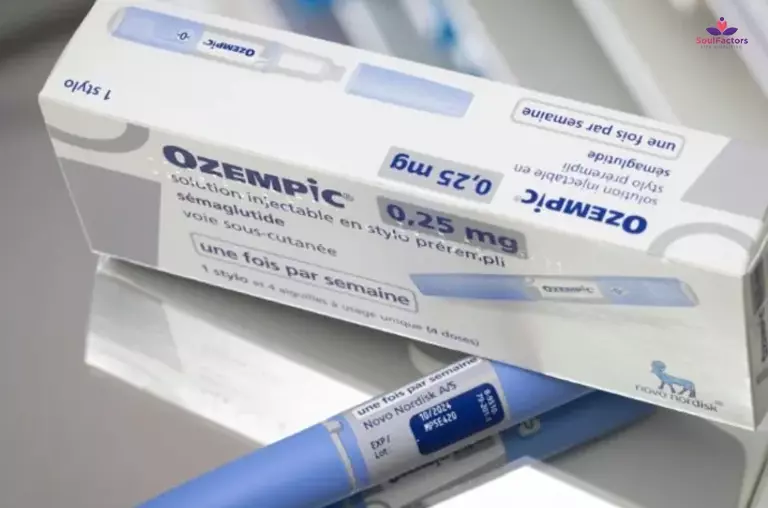 "Losing 40kg in less than three months is possible" thanks to Ozempic", claimed a French TikToker in a post that earned more than 50,000 views. "It's a miracle," he added.
Ozempic for weight loss has soared so much in popularity that it was reported to have led to global shortages of the medicine.
What is semaglutide and how does it work?
Commonly known under the brand name Ozempic, this so-called wonder drug is actually 'semaglutide'. Semaglutide is a medication that was initially prescribed for Type 2 diabetes, but it has since been approved for weight loss also.
Semaglutide works by producing insulin in the body and lowering the amount of sugar in the blood, which is why they help manage Type 2 diabetes. They also act to slow down the movement of food through the stomach and curbs appetite, thus causing weight loss.
In early 2021, peer-reviewed research found that almost three quarters of people who used semaglutide for weight loss lost more than 10 percent of their body weight.
While people usually take semaglutide under the brand name Ozempic or Wegovy, some people have also accessed the drug through pharmacies that create their own version using the raw ingredients. Wegovy is not yet on the market in the UK, France or several other countries, but Ozempic is available with a normal prescription.
Does the FDA recommend semaglutide for weight loss?
In 2021, the U.S. Food and Drug Administration (FDA) approved semaglutide (2) for weight loss in the form of an injection in a prescribed dosage. It was approved for chronic weight management in overweight adults with at least one weight-related condition (such as high blood pressure, type 2 diabetes, or high cholesterol).
Mounjaro and Ozempic are approved to treat Type 2 diabetes, but some doctors prescribe them "off-label" for weight loss. Wegovy is specifically approved for weight loss for people with obesity or who are overweight.
FDA recommended the usage of this drug in supplementation to a reduced calorie diet and increased physical activity. It is advised for use in patients with a body mass index (BMI) of 27 kg/m2 or greater who have at least one weight-related ailment or in patients with a BMI of 30 kg/m2 or greater.
The class of medications that include semaglutide are not recommended for women who are pregnant or trying to become pregnant. The Food and Drug Administration says in its safety profiles of drugs like Ozempic and Wegovy that they should not be taken during pregnancy, noting there is "insufficient data" available.
What are the side effects of using semaglutide for weight loss?
Semaglutide led to significant amounts of weight loss, but most users reported gaining up to two-thirds of that weight back once they stopped taking the medicine.
There are also risks associated with getting semaglutide through generic unregulated sources, because it can be altered and the source is mostly unknown.
The most common side effects of Wegovy include nausea, diarrhea, vomiting, constipation, abdominal (stomach) pain, headache, fatigue, dyspepsia (indigestion), dizziness, abdominal distension, eructation (belching), hypoglycemia (low blood sugar) in patients with type 2 diabetes, flatulence (gas buildup), gastroenteritis (an intestinal infection) and gastroesophageal reflux disease (a type of digestive disorder).
Semaglutide side effects have to be managed with advice from a medical professional.
Wegovy should not be used in combination with other semaglutide-containing products, other GLP-1 receptor agonists, or other products intended for weight loss, including prescription drugs, over-the-counter drugs, or herbal products. Wegovy has not been studied in patients with a history of pancreatitis.
Is there a right way to take semaglutide for weight loss?
With the rising popularity and unsupervised use of Ozempic for weight loss, doctors have expressed concerns about the side effects of semaglutide drug.
Medical experts say it is important to remember that semaglutide is intended to be only one part of a comprehensive approach to wellness, along with a healthy diet and exercise. Daily movement and quality sleep are other important factors
The FDA recommends 2.4 mg once weekly for chronic weight management in adults with obesity. From a shorted dosage, the medication dose must be increased gradually over 16 to 20 weeks to 2.4 mg once weekly to reduce side effects including gastrointestinal side effects.
For many in these days of fat shaming Ozempic for weight loss is an optimistic move towards bigger understanding of obesity as a condition rather than an individual or moral failure.