Let's all take one huge step ahead and leave animals out of our beauty regime. With numerous beauty products using animals in their production process, it is getting difficult to choose what is right over what is easy. One such partly difficult choice is choosing a vegan shampoo over the countless number of well-known commercial shampoos we are so used to.
Start Using These Vegan Shampoos
What you can do is choose to be a vegan to preserve animals and not fall under such a category that uses derivatives from animals. Better late than never, right? There are several brands coming out with vegan products.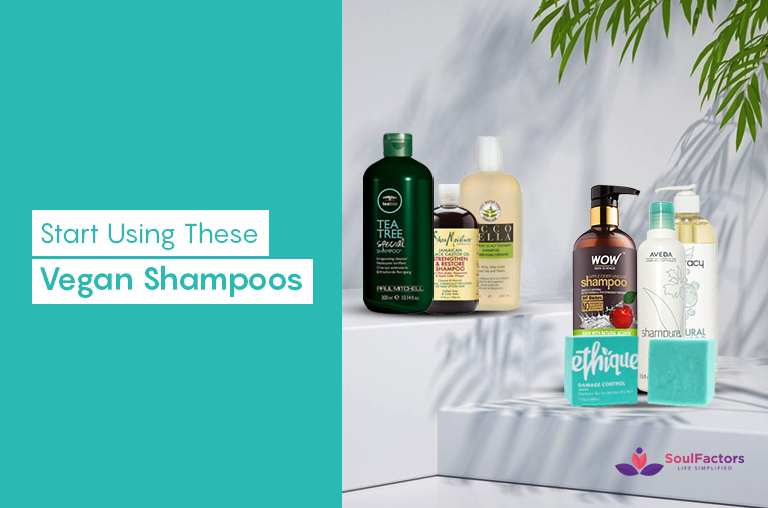 Now that everyone is turning new leaves into being more empathetic, animals are luckily pulled away from harmful tests. Because for every shampoo that is not vegan, animals are probed and harmed. They are paying the price, which is outrageously ruthless.
Why Should I Be A Vegan Shampoo User?
To be a vegan user simply means not have animal blood on your hands. It means that you choose not to use products that have exploited animals in relation to their production. Vegan shampoos are entirely organic, natural, and are free from animal ingredients, chemicals, and man-made additives.
As they are free of the harmful chemical ingredient Sodium Lauryl Sulfate(1), you don't have to worry about hair loss as well (which is something SLS brings). Vegan shampoos stimulate the hair follicles, which is why they are known for promoting hair growth. Not to mention, they contain fewer ingredients compared to conventional shampoos you normally use.
With its ingredients being organic, vegan shampoos are better for your hair health. In fact, they use naturally derived essential oils, minerals, and butter extracts to keep your strands and scalp moisturized and healthy.
On the other hand, commercial shampoos use ingredients from animal hooves, steroids (made from animal glands), and placenta(2). These ingredients can cause allergic reactions in some, such as inflammation in hair follicles and hair loss. Further, they include chemicals such as parabens, silicones, and phthalates that are harmful to both you and the planet.
In vegan shampoos, animal byproducts like lanolin, gelatin, keratin, and beeswax are replaced with plant based-ingredients. They help you maintain your natural hair. If all of these benefits of vegan shampoo aren't good enough reasons, they are environmentally friendly and are packaged in materials that can be easily recycled. Surely, these benefits can convince you to add vegan products into your hair care regime in no time.
The Best Vegan Shampoos You Must Consider
You might continue to use the commercial shampoos because of their claims of specific effects. But there are vegan shampoos for all of your needs; whether it is for fighting heat damage, to volumize your hair, or for a deep cleaning session. You get healthy and shiny hair at the end.
Some critics claim that vegan shampoos are not as effective as conventional ones. Fortunately, on the contrary, they are as effective as your typical buy and much better for your hair since the harmful ingredients are close to none in it.
Yes, it is certainly easier to stick with what you are familiar with rather than spending time to know more about vegan shampoos and change your entire hair care routine. It may take more time of your day.
But it is better than contributing to animal cruelty. To avoid using tainted products on your hair, you need only make sure that you start to stick to one of the following best vegan shampoos in the market. Regardless of your hair type or budget, there are vegan shampoo brands for you. You do not have to spare quality for kindness either.
#1-Ethique Eco-Friendly Solid Shampoo Bar
Ethique is the world's first zero-waste lifestyle brand. Their solid shampoo bar is an incredible innovation in regards to using eco-friendly products. Although it may sound a bit absurd to use a solid bar for shampoo, many people prefer this over the typical liquid form. Depending on your hair woes and fragrance preferences, they have many options to choose from.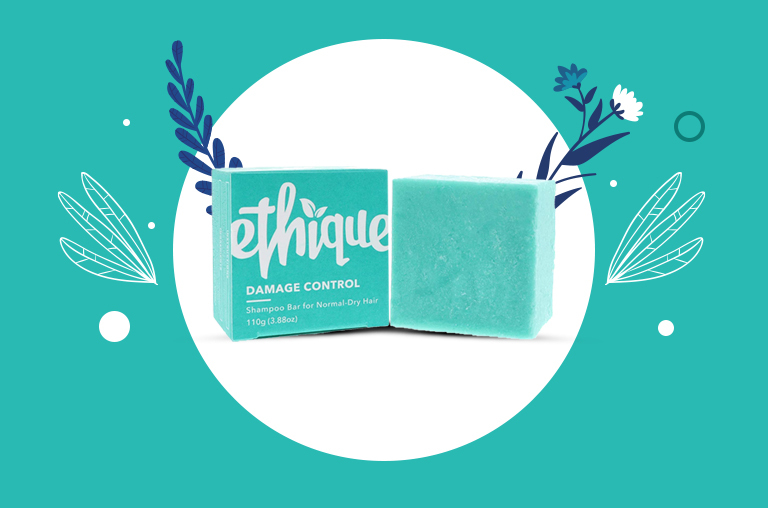 Price: $15
They use high-quality vegan ingredients such as cocoa butter and coconut oil to control frizz while hydrating hair. The ingredients (including the packaging) are biodegradable —100% compostable.
What made this bar more convincing is that one shampoo is equivalent to three liquid shampoo bottles we usually use. Meaning, you save your hair, money, and the environment! But you need to be careful where you store it. You don't want it melting into a mess.
Best Vegan Shampoo#2-Ecco Bella Shampoo
Ecco Bella Hair and Scalp Therapy Shampoo With Green Tea and Neem is quite a mouthful. But it deserves all the praise it gets, rightfully so. The organic proprietary blend that is often praised for is a mixture of various essential oils, such as neem, ginger, green tea, thyme, and herbs.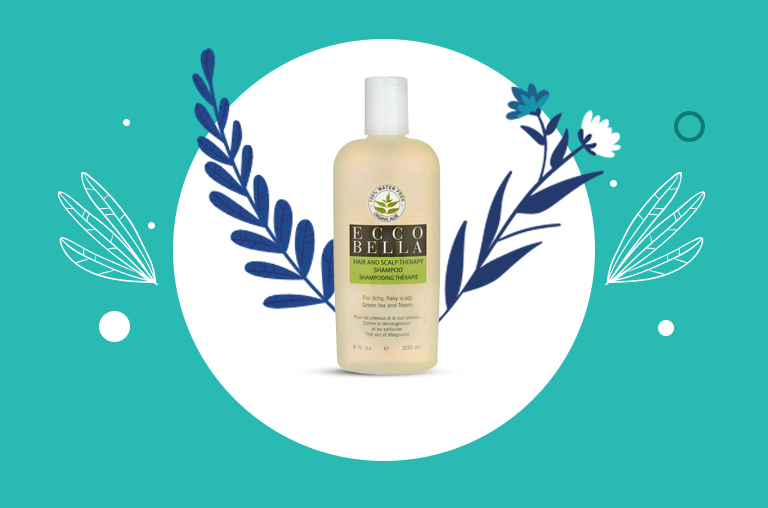 Price: $21.95
These oils are extremely beneficial for rejuvenating your scalp, thereby, promoting hair growth. All thanks to the presence of antioxidants and antibacterial properties. Furthermore, shampoo can help you with the dryness of your scalp and relieve itchiness and dry flakes. Since there are no chemicals involved, it can restore your scalp to a balanced state as well. The best idea is to pair this vegan shampoo with its conditioner to keep your locks silky and super soft.
#3-WOW Apple Cider Vinegar Shampoo
Apple cider vinegar can combat the fungal infections that cause dandruff. And it is no surprise that for this reason, people rinse their hair with apple cider vinegar after using shampoo. Why not use them both in one? Apple cider vinegar shampoo is an excellent help for oily hair as well as dandruff woes.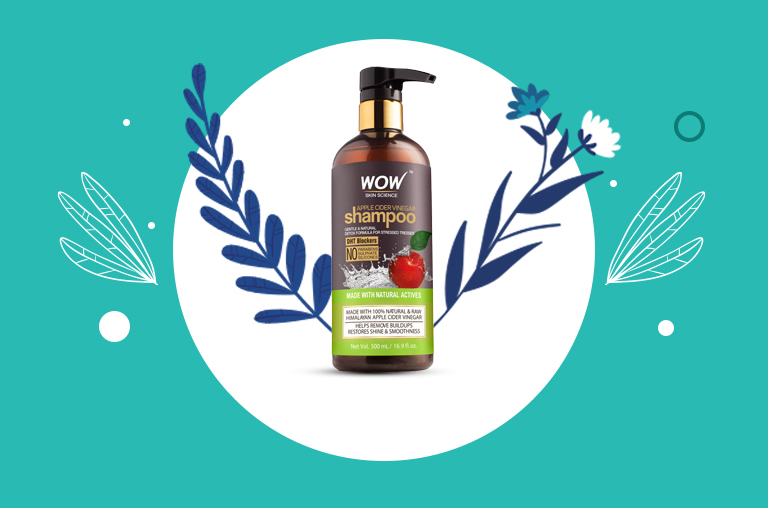 Price: $19.94
If you need frequent help with dandruff, WOW Apple Cider Vinegar shampoo can treat your scalp to reduce the flakes without being too harsh. It is a popular vegan clarifying shampoo for dry scalp and may help with split ends and frizzy hair as well.
The brand takes this one step further by adding almond oil and argan oil to the mix. This mixture allows you to wash your hair in any condition to give a natural shine. Since they don't use silicone, sulfates, or any other harmful chemicals, it can be used on all hair types for adults and children.
Best Vegan Shampoo#4-Paul Mitchell Tea Tree Special Shampoo
Color-treated hair must be treated carefully, especially the choice of shampoo to use. Paul Mitchel's vegan shampoo can gently cleanse your hair while protecting the color. It contains tea tree oil and peppermint oil(3) to soothe your itchy scalp and replenish your hair without weighing it down.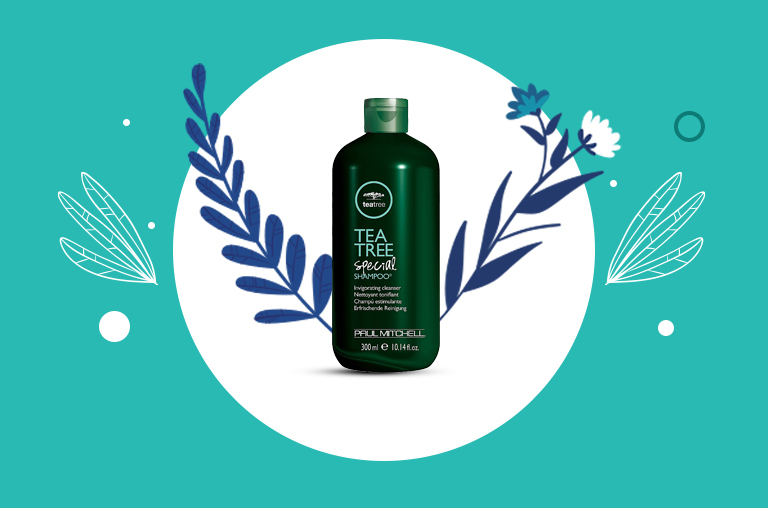 Price: $37.00
The shampoo can balance the oil production on your scalp while keeping the moisture intact and your hair looking glossy. It also leaves your hair smelling amazing because of the presence of the natural essence of tea tree oil, peppermint oil, and lavender.
With ethically sourced plant ingredients and without parabens, this shampoo is an exceptional choice that leaves each strand clean and healthy. But it is expensive and the guarantee may only apply if you buy it from a beauty salon.
#5-Aveda Shampure Shampoo
This is an ideal shampoo for colored hair. It has Morikue protein (extracted from Brazil nuts and wheat) from the Peruvian rainforest and it can strengthen your hair follicles. Besides strengthening your locks, it gently cleanses and fortifies all hair types.
Price: $48.53
This long-lasting nourishment can also be linked to the presence of Abyssinian oil. Infusing your hair with their iconic Shampure fragrance of 25 pure flower and plant essences (including lavender, petitgrain, and ylang-ylang), your strands will smell wonderful for hours.
Best Vegan Shampoo #6-Puracy Natural Shampoo
To restore essential nutrients back to your hair, use this cruelty-free shampoo that is free of sulfate. Created and approved by chemists, Puracy Natural Shampoo can increase the moisture levels in your hair by transmitting protein-rich ingredients to your roots.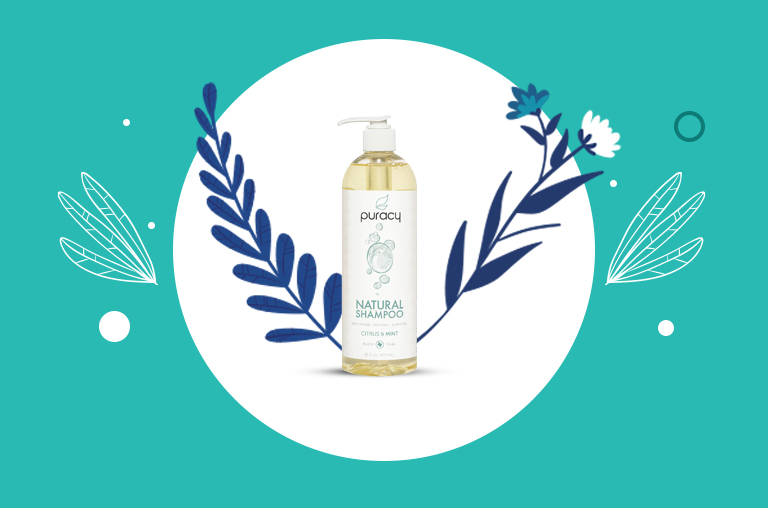 Price: $24.99
While stimulating blood circulation, it can promote healthy hair growth as well. The coconut-based cleanser creates rich foam to nourish and hydrate your locks, eliminate frizz, static, and friction, protect your scalp, and make your hair stronger and healthier. It also leaves a gentle natural scent but you may have to use it for at least 2 weeks to get a better result.
#7-SheaMoisture Jamaican Black Castor Oil Shampoo
SheaMoisture is a haircare brand and is a cruelty-free brand. Their Jamaican Black Castor Oil Shampoo is a mild shampoo that nourishes, strengthens your hair, and promotes hair growth. The presence of natural ingredients like Jamaican castor oil and organic shea butter can hydrate your dry hair and make a huge difference in the texture of your hair.
Price: $20.99
Since it is protein-rich, it has rejuvenating properties, which is helpful for hair growth. In addition, it can reduce frizz, control oiliness, protect hair from breakage, and remove dirt and impurities from your scalp. The only fault is that it comes in a diluted formula.
Vegan Shampoo Brands You Can Buy From
Giovanni

ACURE Organics

100% Pure

Paul Mitchell

Avalon Organics

SheaMoisture

Ethique

Eco-Bella

LUSH

WOW

Beauty Without Cruelty

Christina Moss

Andalou Naturals

Desert Essence

Mineral Fusion

Pacifica

ArtNaturals

Aveda

Drybar

OUAI

DevaCurl

Nature's Gate

Jason

Hempz

Function of Beauty
The Buying Guide For Vegan Shampoos
Find a shampoo for your hair type
There are no typical ingredients added in vegan shampoos like in commercial shampoos. Hence, knowing the one that is suitable for your hair type is crucial.
Dry, frizzy hair: For damaged hair, the keyword is "oils." Any vegan shampoo with nourishing oils, such as coconut, olive, argan, or avocado oils, as ingredients will be a good choice to nourish your hair. These healthy fats will lock in moisture. But an itchy scalp deserves a treat with products that are formulated with aloe or oatmeal for the soothing effect.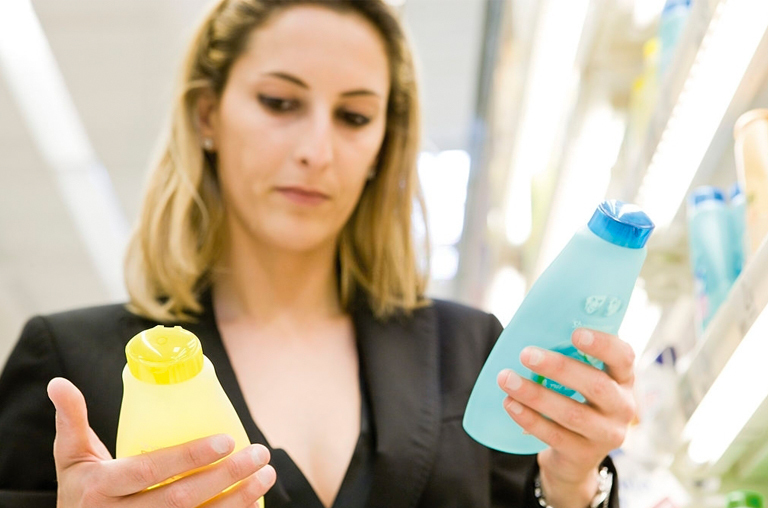 Oily hair: Oily strands are hard to manage. If you are choosing vegan shampoos for oily hair, go with the savior apple cider vinegar or tea tree oil (in small doses). They can help your hair.
Color-treated hair: This is one of the most common concerns of the women who are planning to switch to being vegan. There are vegan shampoos that are no harm to colored or treated hair. But you can always read the label to assure yourself that they are indeed suitable for color-treated hair. Here, it is always best to avoid shampoos with sulfates. Also, green tea is effective at keeping the color from fading too soon.
Check the official vegan certification
Official certification(4) is important to identify a vegan shampoo. There are many certifications, such as Leaping Bunny, Vegan Awareness Foundation, mention of 100% vegan, and more to show that the product is indeed vegan. So, make sure the shampoo has the official vegan certification before buying it.
Go through the ingredients
To avoid irritants, you must check the list of ingredients. Just like how you spend time reading the nutrition facts labels. Although vegan shampoos use fewer chemicals and ingredients that are harmful, the possibility of the ingredients in it causing your scalp irritation cannot be overlooked.
Depending on the condition of your hair and scalp, you can choose the ingredients to avoid irritants. One important ingredient to avoid is sulfate like SLS. If your scalp is sensitive to allergies, avoid added fragrances.
What are the ingredients you need to avoid in Vegan Shampoos?
There are a few recurring ingredients you want to avoid (even while using non-vegan shampoos). They are extremely harmful to the health of your hair. Hence, you cannot continue to use them and damage your hair any further. Sulfates (including the most common sulfate known as Sodium Lauryl Sulfates) and parabens can do more harm than good to your skin in the long term.
Although they are said to be safe to use at low concentrations, frequent use of shampoos with a high concentration of sulfates can strip away your hair proteins and natural oils, even contributing to cell damage and an itchy scalp. Another ingredient you better avoid is gelatin since it is largely sourced from animal skin, ligaments, and tendons.
Conclusion
You don't have to be an animal rights activist to oppose the idea of putting animals for experimenting in the productions of products we use. Be it skincare, haircare, or cosmetics, it is unacceptable to use animals. Thereby, the nationwide ban on animal testing in the cosmetic industry still remains crucial.
Many of us find struggle to make the switch, but we have to choose vegan shampoos over the other ones. Let's take baby steps, right? Live a more conscious life and make better choices!