Wondering what to wear on a first date for women? A very popular adage says "First impression is the last impression". And even though in reality a person's personality unveils with time, appearance and dress sense is something that captures the essence of their personality at the very first sight.
Even if you're a fashion diva, and styling head-turning OOTD is your everyday business, deciding on what to wear on the first date could seem daunting. After all, we all are not as sorted as Rachel is.
When it's a first date, all we need is confidence. And man! The way confidence shoots up after settling with the perfect outfit! I know, you want that inner diva to show up and we'll not settle for anything less.
So, In this blog, I have listed out some of the best outfit ideas on what to wear on a first date for women. Before we jump into the pool of clothes, let's get into the fashion spirits with tips on what to wear on a first date as a woman.
Tips On What To Wear On A First Date For Women
You don't want to feel all self-conscious and uneasy on your first date. There are certain things that you can bring under control to make your date smooth and easy-going. At least, for you.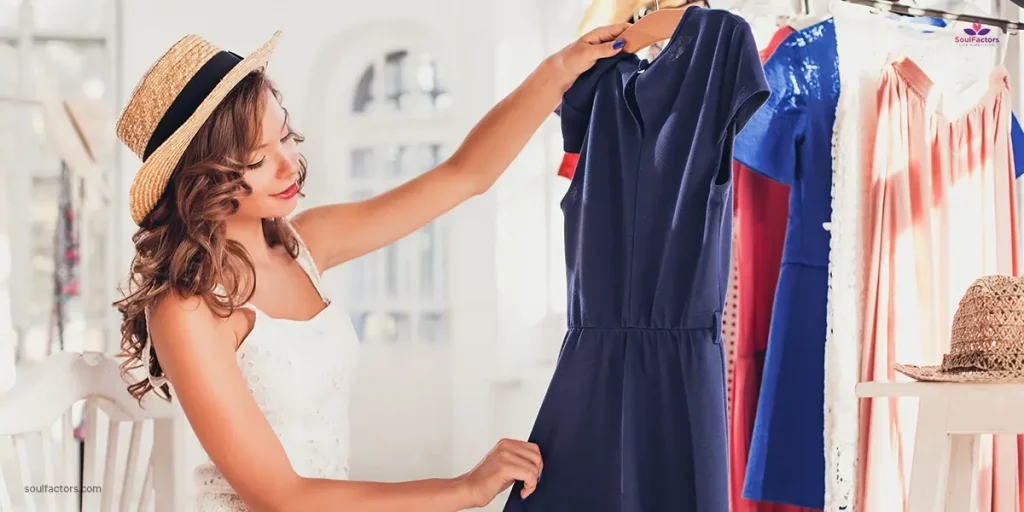 Consider The Date Setting: Imagine wearing a Gem studded sequin gown for a coffee date. Doesn't sound smart, right? Therefore, it is important to consider the location, event, and time when choosing an outfit. Unless, of course, you can pull off any outfit like the legend Moira Rose.
Show Off Your Personality: Clothes are not just pieces of fabric and pieces of jewelry. Clothes reflect your style and personality. In my opinion, one should bring out the most of oneself on the first date. That way there are no unnecessary surprises in the future. So, don't hesitate. Flaunt that outfit that brings out the best in you.
Highlight Your Best Features: Flaunt your best feature about yourself. If you love your freshly shaved legs, wear a skirt. Woke up with a good hair day, let your hair loose, and hey, flip them occasionally. In love with your curves, wear an outfit that flatters your body shape.
Consider Comfort: This is the tip that you need to consider first and foremost. You need to be comfortable first, next follows confidence, better communication, flirty moments, etc. Avoid too restrictive clothes or clothes that need frequent adjustments. So, don't create the recipe to feel self-conscious, when you can be there feeling your best.
What To Wear On A First Date As A Woman?
What to wear on a first date for women? The big question and pressure. The first date is one of those days when we just search the hell out of our closets just to say- "I have nothing to wear". Well, a good fashion sense does not mean a lot of clothes but mixing and matching the clothes for pooling out the best outfit. Lastly, add a hint of confidence to pull off any outfit like a diva.
The ability to shop for every single event is like being in a wonderland. But we can't do "I see it, I like it, I want it, I get it", right? Let's leave that to Ariana Grande and hop into some of the best outfits you can create with the clothes in your wardrobe. Here is the list of the best first-date outfits:
1. Floral Dress And Sneakers
No more being anxious about what to wear on a first date for women in the summer! You cannot go wrong with a floral dress on a bright sunny day date. The sneakers add extra cuteness to this overall outfit. The combination of floral dress(1)and sneakers creates a perfect combination of cute and playful OOTD.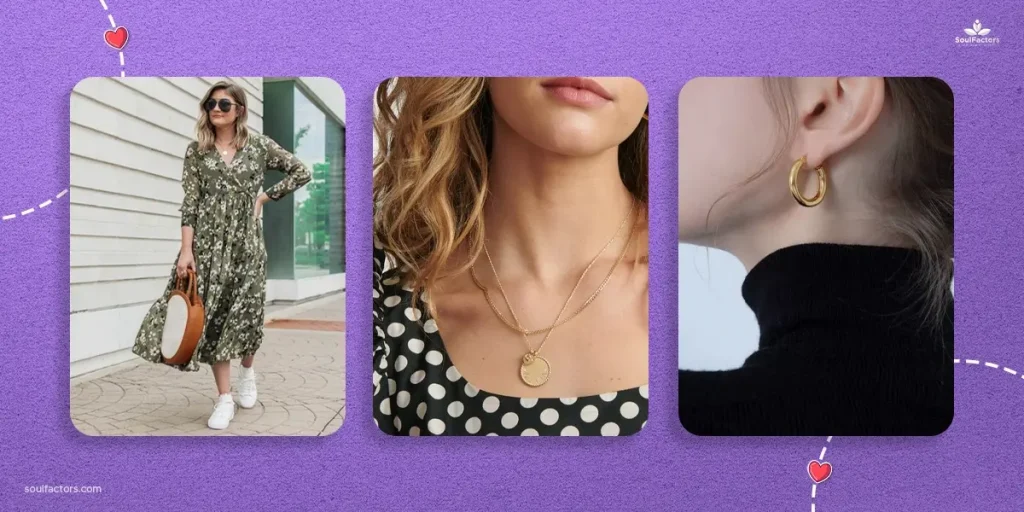 Floral Dress :  Brands like Houseofcb have the best kind of floral dresses. They are too damn expensive, I know. But that's just for inspiration. You can get similar kinds of floral dresses at a cheaper rate on Ajio, Myntra, and Urbanic.
Sneakers: Well, talking about floral dresses with white, pink, lavender, and similar hues; white sneakers will look the best. However, you can use your own imagination here and style any kind of sneakers. As shown in the above image, the model has paired black sporty sneakers with a floral dress and the outfit looks bomb.
Accessories: Golden earring hoops or a gold pendant necklace will look stunning with the floral dress. However, no jewelry will work just as fine.
2. Tank Top And Slip Skirt
The timeless beauty of slip skirts paired with cute and sassy tank tops, create a perfect picnic date outfit. The vibe of this outfit changes with different fabrics and tank top types. What to wear on a first date for women in a simple way? If you wear a simple cotton tank top with a silk slip skirt as shown in the image, it creates a bold outfit. Conversely, you can pick a floral or cute tank top with a cotton slip skirt to create more of a cute and chirpy vibe.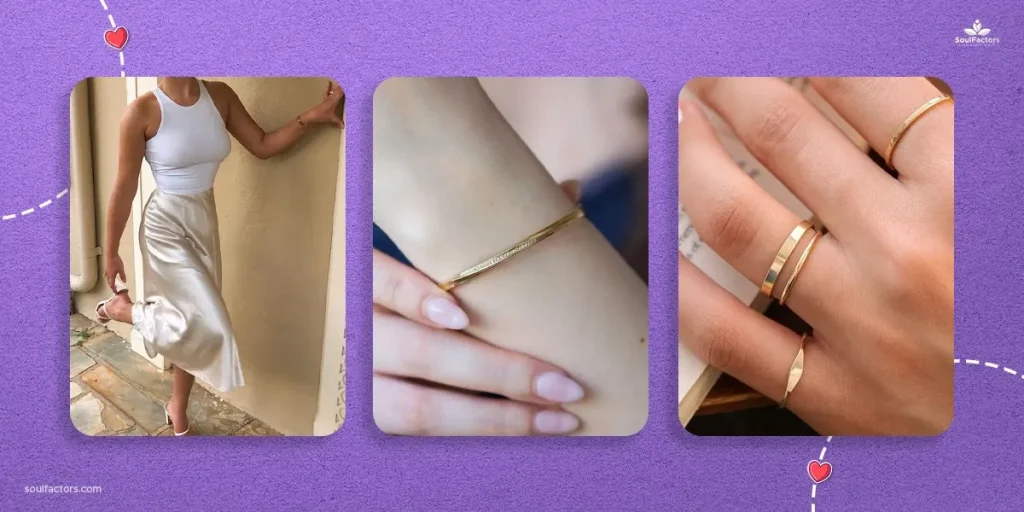 Tank Top: Literally any tank top, solid color or floral looks good with a slip skirt. So, you should at least own a black and white tank top to the rescue.
Slip Skirt: Silk skirt is in trend currently. This skirt looks elegant and graceful.
Footwear: Pair with strappy sandals or heels to create a perfect look.
Accessories: Keep it minimal with a simple gold bracelet and a couple of gold rings.
3. Crop Top And Jeans
What to wear on a first date for women? jeans and crop top? duh yes!
Wondering "What to wear on a first date casual?" The effortless crop top and jeans outfit lets you go out and about on your first date. This outfit is not only comfy but it also makes you look breezy and sassy. Besides, it is a way of looking tempting without giving away too much.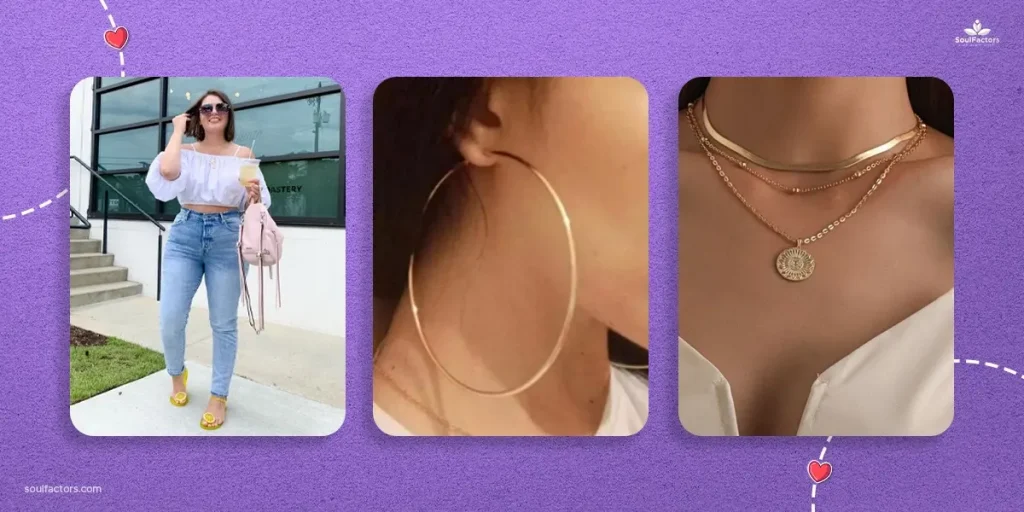 Crop top: There are a variety of crop tops that you can opt for. But for date night, especially daytime, go for a white off-shoulder crop top.
Jeans: Go for light-wash blue denim with a white crop top.
Footwear: Since the overall look is more on the casual side, go for flats.
Accessories: Adorn yourself with large hoop earrings and gold pendant necklaces. Carry a sling bag for your essentials.
4. Slip Dress And Jacket Or Shrug
What to wear on a first date for women to make it more memorable? Nothing says "mesmerizing" more than a slip dress paired with some cool leather or denim jacket, or a bohemian shrug. This is an upgrade to the floral dress with sneakers. Albeit, the jacket or shrug adds an amount of "breezy" to the overall outfit.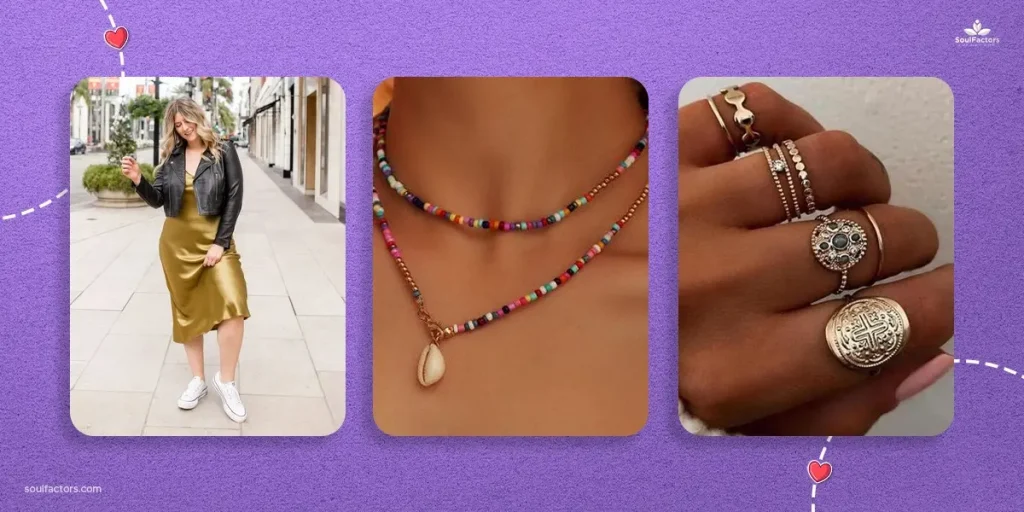 Slip dress: Day or night time, silk slip dresses are working their charm irrespective of time and occasion. So, get into a silk dress.
Jacket or Shrug: Jacket gives more of a cool vibe while shrug gives more of a "go with the flow" kinda vibe. But that's just my opinion. A leather or denim jacket will look good with a silk slip dress. In the case of the cotton slip dress, you can go for a shrug.
Footwear: Sneakers and slip dresses are a match made in heaven. Go with sneakers.
Accessories: Go with golden accessories, a pendant, and rings with the jacket. With shrugs, you can create more of a bohemian vibe and style bead necklaces and rings instead.
5. Bodysuit And Pants
The effortless bodysuit paired with a pair of sophisticated pants or jeans looks "put together" and classy is the answer to your question of what to wear on a first date for women. You can create that snatched eye makeup look with this outfit for the sassiest look. A bodysuit and pants will give a bold, ambitious, and bossy look if that's what you want to reflect on your first date. This is one of those styles older women can pull off easily on their first date. Of course, older women can wear any dress they are comfortable in. Let your young-at-heart personality shine through.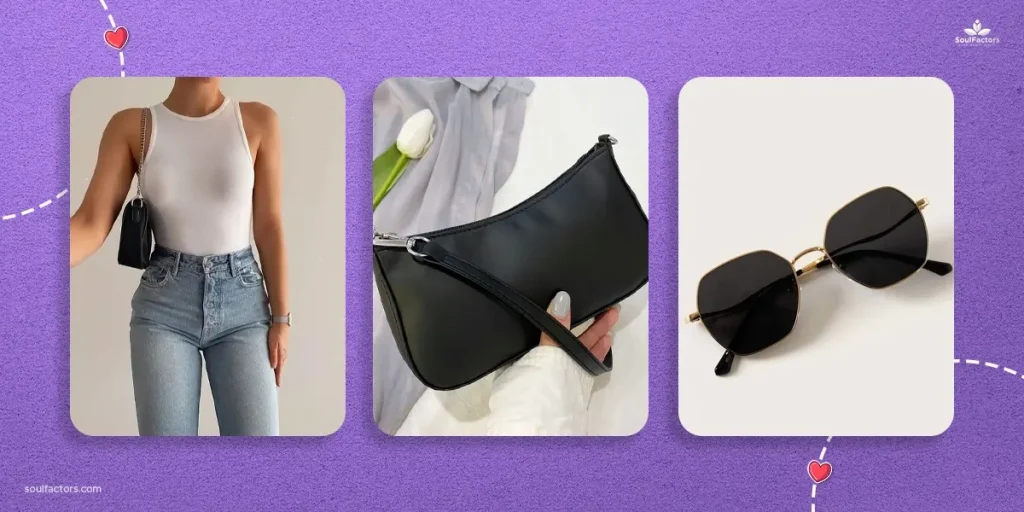 Bodysuit: In the case of bodysuits, I would suggest you go for more neutral colors like beige, olive, or gray.
Jeans: Pair jeans according to the color of your bodysuit. Go for a monochromatic look like pairing a gray bodysuit with black jeans, or a white bodysuit with beige-colored jeans, etc.
Footwear: To bring out that bossy and savage vibe, style the above outfit with highly minimalistic heels.
Accessories: A small black handbag will look powerful with this outfit. style with layered necklaces, huge sunglasses, and one or two sophisticated statement rings.
6. Midi-dress And Sandals
what to wear on a first date for women if you have a date in some nice restaurant. You want to look fancy but not too miss Bridgerton. Best bet? Midi dress with sandals. Midi-dress looks elegant while also giving a breezy vibe. Regardless, a midi-dress is a perfect first-date dress that not only looks cute but is quite comfortable too.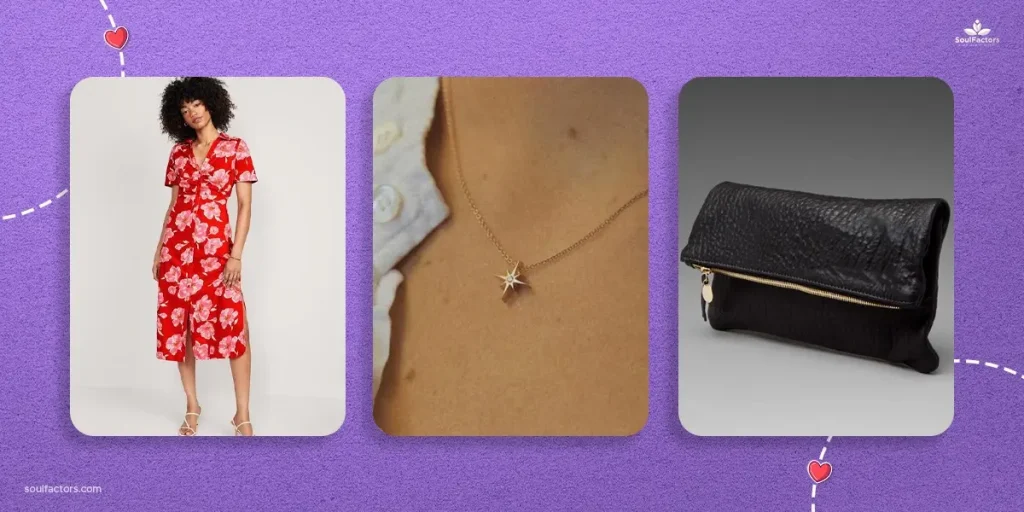 Midi-dress: You can wear a neutral-toned midi-dress anytime but a floral midi dress will look the best on a sunny day or springtime.
Sandals: Even though high heels also look great with a midi-dress. I would suggest going for sandals because they look more elegant with the midi-dress.
Accessories: Gold hoops or a single-layer pendant necklace will look flawless with this outfit. Carry a clutch for your essentials.
7. Camisole Top And Leather Pants
Sometimes we women love attention, isn't it? so what to wear on a first date for women to get a bit more attention from your date? Cute, bossy, sexy, breezy; Camisole tops with lace is an all-in-one top. Camisole tops with leather pants are beyond perfection for a classy dinner or for grabbing drinks at the pub. This outfit will surely attract everyone's attention as you walk into the room.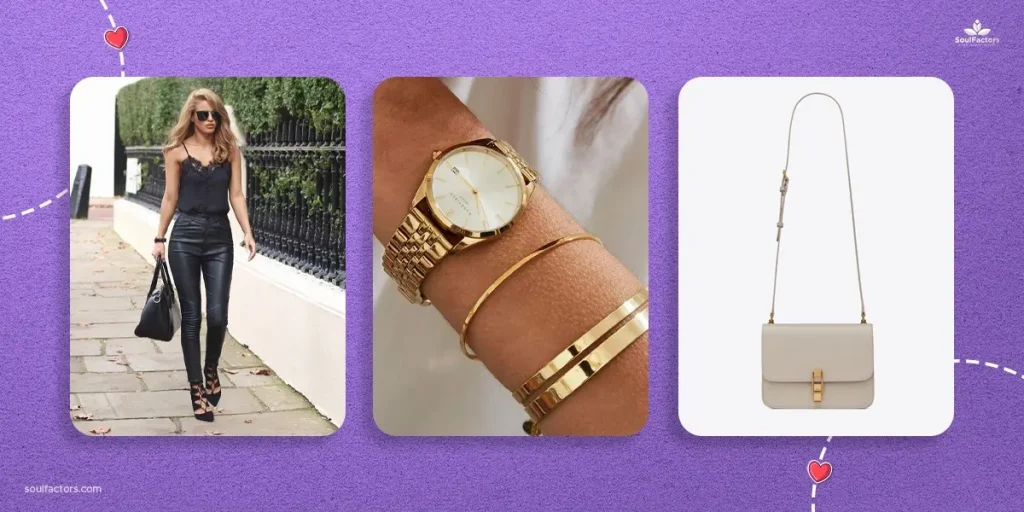 Camisole tops: Go for a black or white camisole top, with v neck and similar color laces.
Leather pants: Style black or white camisole tops with black leather pants. Tuck the top inside the pants.
Footwear: Wear black pencil heels or leather boots with this outfit for creating a bold statement.
Accessories: Wear a metallic watch with bracelets and carry a long sling bag. You can also add up a single-layer pendant necklace to this outfit.
8. Jumpsuit And Heels
What to wear on a first date for women if mixing, matching, and coordinating might not be your thing. In that case, this one-piece garment will work just fine for you. Whether it's a coffee date or a picnic date, jumpsuits can make a fashion statement and demonstrate your personal style.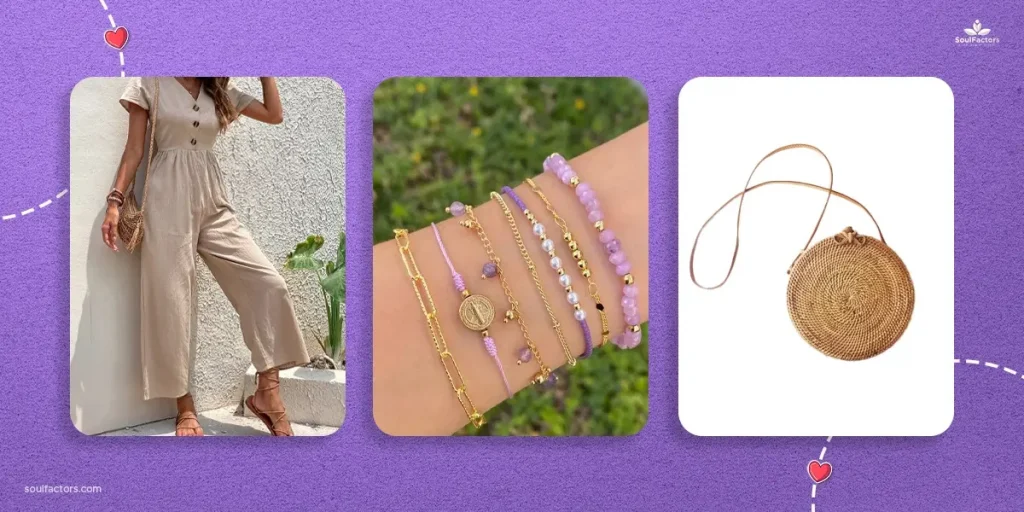 Jumpsuit: The best thing about jumpsuits is that they are so versatile that you can pick any of them that suits your style. Floral-printed, khaki-fabric, black overalls, or anything else; the choice is up to you.
Heels: Style with flats, sandals, or heels. Strappy flats make the jumpsuit outfit effortless and zesty.
Accessories: Carry a long sling bag with a color contrasting to the jumpsuit. Wear layers of bracelets. If you're wearing a Dungaree jumpsuit, avoid the bracelets.
9. Co-ords
Now that's a new one! Trust me, the colorful co-ords are the new black if you still don't get the answer to your question about what to wear on a first date for women. They look effortless and classy and slay when paired with the right set of pumps. Besides, imagine the comfort in those airy pants. If you're wondering "what color to wear on a first date for women", then go with coordinating colors.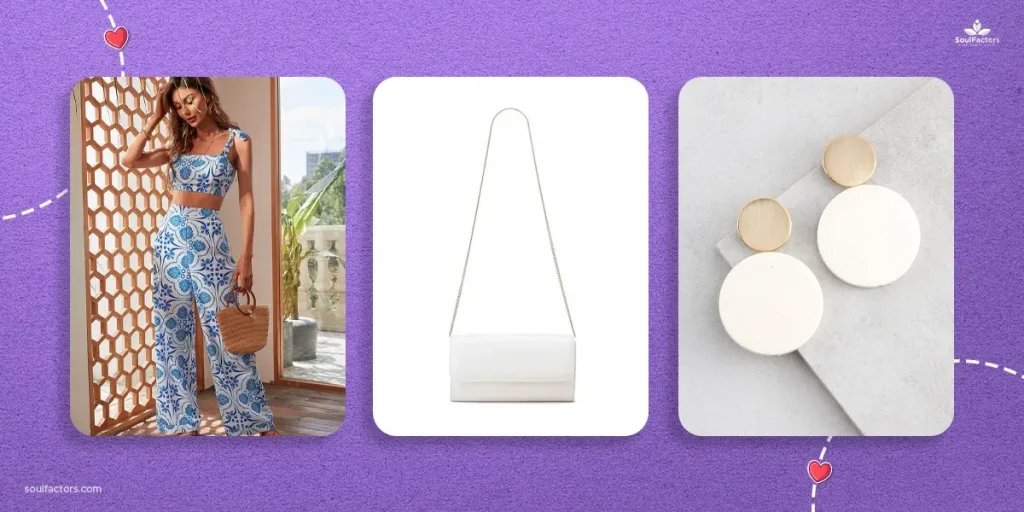 Co-ords: You can either go for a coordinating blouse and pants for a chic look or wear a crop top with a coordinating loose shirt and pants. Either way, co-ords look stunning. There are more options like coordinating tops and skirts and playsuits.
Footwear: Wear pumps or block sandals to add sophistication and elegance to the outfit.
Accessories: Add sunglasses, oversized earrings, and a sleek clutch to complete the fit.
10. Bodycon
When in doubt- "what to wear on a first date for women in the evening", wear a bodycon. It's classic, it's timeless, and it's the perfect fit for an evening/night-time date. Pair the bodycon with stockings to add a hint of elegance. Wear make-up according to the bodycon. Smokey eyes with bold red lips will probably do the charm.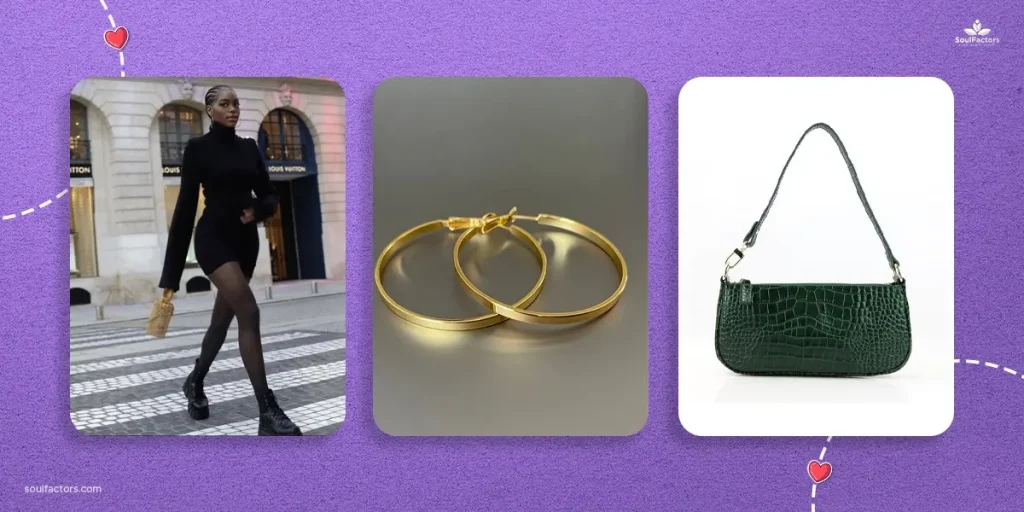 Bodycon: There are tonnes of colors you can choose from for the bodycon. But if your question is "What is the best color to wear on a first date?", wear red or black with no doubt.
Footwear: Go with stilettos or boots depending on the type of bodycon.
Accessories: Large gold hoops and Croc handbags, that's it, that's the accessories.
What To Wear On A First Date For Women: Do's And Don'ts
For making your first date turn out perfect, you need to strike a perfect balance between staying true to your personality and casting an impressive first impression. In order to do that, you need to know the dos and don'ts of going out on the first date. So, here we go
What To Wear On A First Date For Women: Do's
Dress for the occasion and opt for something that's comfortable.
Let your outfit reflect your personality. You wanna look breezy, sassy, elegant, chirpy, or bossy; a significant portion of your personality's reflection comes from your outfit.
Choose clothes that fit and flatter your body. Wear something that highlights your best features.
Groom attentively. Keep your hair clean and well-maintained, your nails manicured, and your body moisturized. Make sure to put on a fragrance that reflects your personality.
Be conscious about the jewelry. Accentuate your outfit with the jewelry to look more put-together but don't overdo it.
What To Wear On A First Date For Women: Don'ts
Don't try too hard and put yourself in an awkward situation by wearing uncomfortable clothes or clothes that you think do not suit you.
Don't wear revealing clothes on the first date. Or clothes that are too tight. Opt for clothing that is tasteful and be playful with how much you reveal.
Don't wear too casual or sloppy outfits either. It's better to look effortless but put together on your first date. Down the time, you can be in your PJs for a date, who cares.
Don't forget about cleaning your footwear and make sure they coordinate with your overall outfit.
FAQ
1. What do guys want a girl to wear on a first date?
There is no one-size-fits-all answer to this but guys usually appreciate girls whose outfit reflects their personality and confidence. However, you should choose an outfit that makes you feel good the most.
2. How should I dress to impress a guy on a first date?
To impress a guy on your first date, wear something that showcases your personality, fits you well, flatters your body, and highlights your best features.
3. what to wear on a first date for women in the summer?
In the summer, women can opt for outfits such as a sundress, a flowy maxi dress, a lightweight blouse paired with shorts or a skirt, or a stylish jumpsuit.
4. Should a woman wear jeans on a first date?
Sure! Jeans with a crop top, blouse, tank top, or camisole top are a great option for the first date.
5. What clothes to avoid on a first date?
Avoid too tight, revealing, and uncomfortable clothes on the first date. Also, don't go for too casual or sloppy clothes either. The goal is to look attractive and effortless while being at ease.
The Final Verdict On What To Wear On A First Date For Women
Choosing an outfit for the first date is not as easy as it sounds. With so many options out there and ever-changing fashion trends, you may look at your wardrobe for hours without concluding any final outfit.
The good news is, with so many options, you get to choose an outfit that reflects your personality the most. It can be a blouse with a floral slip midi-skirt for that cute outfit or wear a monochromatic bodysuit with jeans to look elegant and classy.
Whatever your style is, make sure you dress comfortably, effortlessly, and put together. Lastly, do not forget to work it out with your confidence and slay with your style.