You are behind the times if you're wondering who is Alexia Putellas. If you haven't heard yet of this Rising Star in the world of soccer, it's time you did. So here are the top facts about Alexia Putellas Segura the legendary soccer champion.
Who is Alexia Putellas?
Alexia Putellas Segura is a Spanish professional soccer player who has already made incomparable achievements in her career at the age of 29. She is widely regarded as the best contemporary female footballer in the world, and one of the greatest of all time. The superwoman has again been named on the bench by Spain for Friday's quarterfinal against Netherlands at the Women's World Cup. She is now celebrated as one of the most inspirational women of the decade.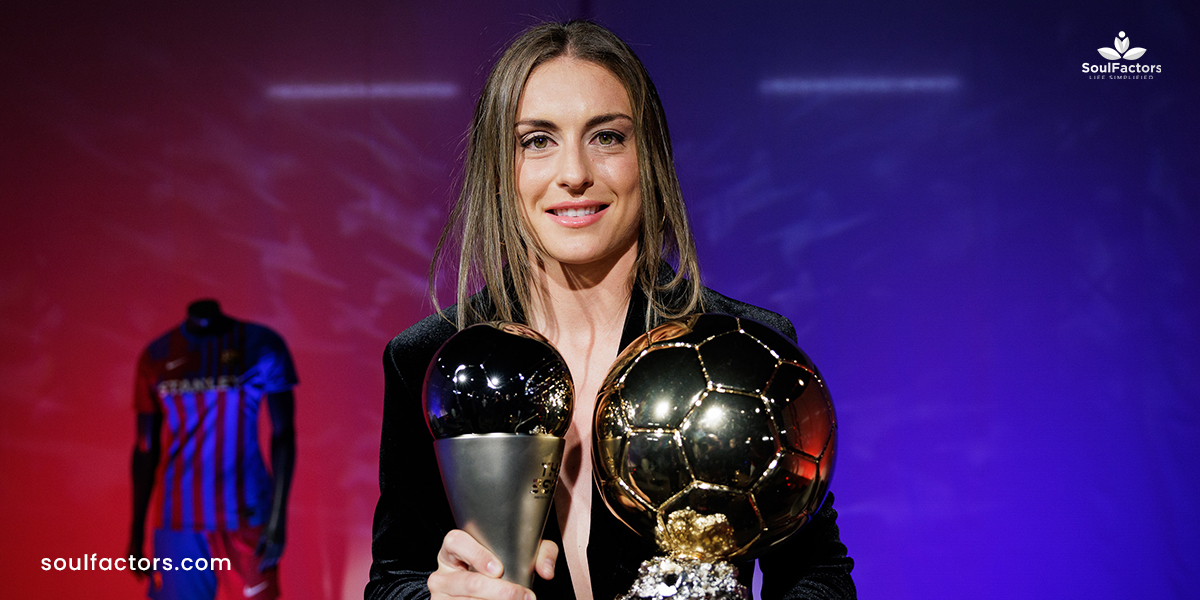 Achievements
Putellas has won the UEFA Women's Champions League, La Liga F, Copa de la Reina, and the Spanish Supercopa with her club Barcelona. The Barcelona captain is the heartbeat of the club. She's also individually collected two Ballon D'Ors, multiple Player of the Year and two FIFA Best awards. In 2021, she became the first Barça player to be named as the best women's footballer of the year by France Football .
Putellas rose to global fame with Spain's junior national sides, after winning UEFA Women's U-17 Euros in 2010 and 2011, and coming second in the 2012 UEFA Women's U-19 Euro.
Alexia Putellas made her senior national team debut in 2012 and has since competed in four major international tournaments with the squad, including Spain's Women's World Cup start in 2015, the 2017 UEFA Women's Euro, 2019 FIFA Women's World Cup and the 2023 World Cup.
With Barcelona, she has won seven league titles, seven Copas de la Reina, and two UEFA Women's Champions League trophies. In Barcelona's 2020–21 season, she played a lead role as her team won the Champions League and the continental treble, both for the first time in their history. Putellas then went on to win the UEFA Women's Player of the Year Award, the Ballon d'Or Féminin, and The Best FIFA Women's Player in 2021, becoming the first player to win all three in the same year.
Recent Achievements
In 2022, despite missing the UEFA Women's Euro 2022 due to an ACL injury, she won all three awards again, becoming the first woman to win any of them in consecutive years.
As of 2023, Putellas has the second-most all-time appearances for Barcelona behind former left back Melanie Serrano, and is their second-highest all-time scorer behind former striker Jennifer Hermoso. She also holds the record of most appearances for Spain with 104 caps, having surpassed Marta Torrejón's previous record of 90 caps in 2021.
To sum it up, the Spanish star has been ruling Women's football for over three years now.
Early Life and Career
Alexia Putellas Segura was born on February 4, 1994 in Mollet del Vallès, a town in the region of Barcelona to her parents Jaume Putellas Rota and Eli Segura are Alexia Putellas parents.
Notably, she has been a fan of FC Barcelona since childhood. As a kid, Putellas used to accompany her father to the Penye of Mollet del Vallès to Camp Nou to watch Barcelona games.
Despite being born into a family of culers (Barcelona FC fans), soccer was not her choice sport in childhood. She began playing basketball – another popular sport in the Catalan region – as did her family members. Alongside basketball, Putellas also played tennis and hockey.
She began practicing soccer at the age of six. Her early experiences of team sports led her to joining her first football club at the age of seven. Her first team was CE Sabadell, where she was registered by a family friend who played for the team.
It wasn't until she started school that she started playing football, and attended football summer camps run by now-Barcelona manager, Xavi Hernandez.
In 2022, women's football reporter Asif Burhan wrote that Putellas' "dedication to the sport has revolutionized the women's game."(1)
Role models of Alexia Putellas
it's no surprise that the Barcelona Women's captain derived inspiration from three of the world's greatest attacking midfielders.
The majority of Putellas' soccer idols are those from ex-members of Barcelona men's team – particularly Brazil's Rivaldo and Ronaldinho, and Andres Iniesta.
However, Putellas also mentions a former female Lyon player Louisa Nécib as one of her main idols, who was known as an incredible playmaker for the French club who represented Olympique Lyonnais.
Politics and Ideology
Putellas might be a reserved person when it comes to her personal life, but has proved that she is not afraid to speak up about political issues.
In 2019, she criticized prison sentences for Catalan freedom activists following the 2017 Catalan Independent Referendum. Putellas reacted against jail term for Catalan independence leaders, stating it was "not the answer."
The Champions League winner has spoken up about gender equality in sports, mainly soccer.
Alexia Putellas in Summary

Full Name: Alexia Putellas Segura
Birthplace: Mollet del Vallès, Spain
Birthdate: 04/02/1994

International Career:
Spain (2013-current)

Individual Honors:
2015, 2017, and 2021 Catalan Player of the Year
2020 Primera División Most Valuable Player of the Season
2020 SheBelieves Cup Tournament Most Valuable Player
2021 Ballon d'Or Féminin Winner
2021 Best FIFA Women's Player Award
2021 UEFA Women's Player of the Year
2022 Ballon d'Or Féminin Winner
Career:
2010–2011: Espanyol
2011–2012: Levante
2012–present: Barcelona

Honors:
Espanyol
2010 – Copa de la Reina

FC Barcelona
2013, 2014, 2015, 2020, 2021 and 2022: Primera División Champions
2021 UEFA Women's Champions League Titles
2013, 2014, 2017, 2018, 2020 and 2021: Copa de la Reina Winners
2020 and 2022: Supercopa de España Champions