Got a mind that cannot decide on one choice? If you can't choose a hair color for your mane, do this- vertically or horizontally…split your head in half I mean figuratively! Then color them fifty-fifty in two different shades! People like me like multiple choices! But in Gemini hair, you can only choose two! But I am excited that the choice is more than one!
Yea, this new hair trend is raging through Instagram and other social media platforms to bring out a cooler you! Young or old, girls are girls! We love to play around with colors in dresses, accessories, eye shadows, lipsticks, and nails- French manicures, ombre nails, and not! We sure love this thing with colors. Flowers are our thing, but only in the vases. The sophisticated women of today cannot wear flower tiaras and move around, though we love it as a part of our wedding costumes. We have only one option to stay colorful in the head. It is with hair color! In fact, we can say that in plural with this trend of Gemini hair.
What Is Gemini Hair Trend?
The Gemini hair trend is a sensational trend where you can choose two colors to be applied to your hair instead of one! In this trend, your hair will have two conspicuous colors. It is unlike streaks where color is highlighted in different places. This is serious stuff that requires us to go bold with two colors for our hair. Gemini hair is a catch-all term for two-tone hair, which is parted in the middle.
Gemini, as you know, is a zodiac sign characterized by its symbolic representation of the celestial twin's Castor and Pollux. The origin of "Gemini" hair is the celestial constellation, marked by its duality. The hair trend also shouts out duality. But it is not just those with Gemini as their zodiac sign that is going 'Gemini haired', but yes, fashion astrologers predict Gemini as a game when it comes to something novel and funky.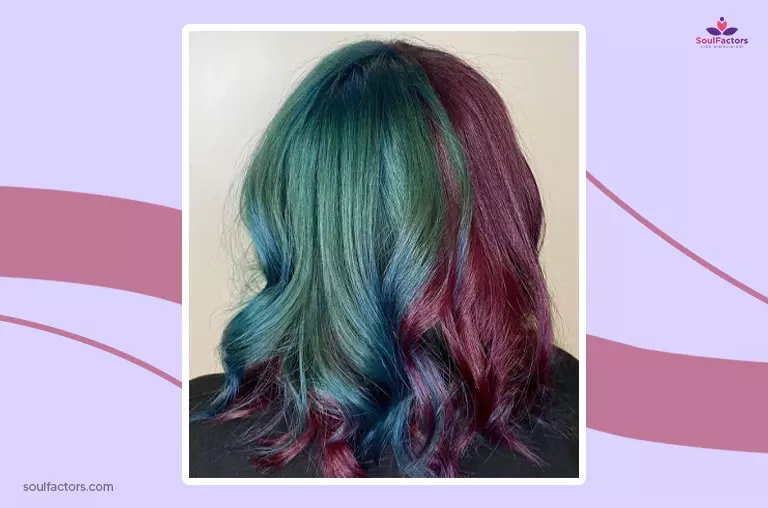 "Geminis don't have to choose, and your hair shouldn't have to either," finds Pinterest in their study "In 2023, two-toned tresses will take off more than ever. Gen Z and Millennials are behind this rising trend in hair color that mixes natural hues with bright blues, purples, and pinks." Pinterest reveals that searches for hues tresses went to 215 percent for "blue and black braids," 150 percent for "lavender and blonde hair," 345 percent for "pink and lavender hair," 280 percent for "brown to pink balayage," and 135 percent for "multi-tone hair color." Celebrities like Nicki Minaj are flaunting their Gemini hair BIG time and this trend is going hardly unnoticed by anyone.
Gemini Hair: How To Go About It?
Basically, Gemini hair is when the hair is parted in the middle and each side will have one solid color each. Some may prefer to go with their natural hair color on one side and a different color on the other, making the head look bi-chrome. You could also go temporarily Gemini by choosing a temporary hair color without stepping out of your comfort zone. You could also color your extensions in a bold way. The point is to have a chunk of hair marking a division in your hair. To get Gemini hair, you may also have to bleach a portion of your hair if you are opting for light or pastel hues unless you are blonde or have grey hair.
How Is It Different From Other Hair Colouring Trends?
Coloring a whole head of hair was the grandmother of all coloring styles. Those who were greying or revolting chose to color their hair by a particular hair color. Then came hair streaks to highlight the hair, to give the artificial feel of the sun highlighting the tresses. Hair highlights are done by adding lighter shades to darker hair, and hair lowlights are done by adding darker shades to light-hued hair.
Baby lighting: Baby lighting was going micro where the 'hair color applied strands' cannot be identified, as it meshes with the whole scheme of hair only to light up when light hits it. From Jennifer Lopez donning the 'bronde' look, which was a step towards the blonde by a brunette, there are many trends celebrities have inspired us with. The Gemini hair color is a contradiction to other hair coloring trends. It is not as subtle as hair streaking or going for highlights or lowlights or baby lights. This is a hair coloring methodology marked by its bi-toned approach.
Ombre: Another hair coloring trend is ombre, where the hair strands are colored lighter towards the ends to create a fading effect. In sombre hair coloring technique, the hair is colored with two light colors which create the fading effect with an added dimension to the hair. Gemini hair coloring is not done for the fading effect most certainly.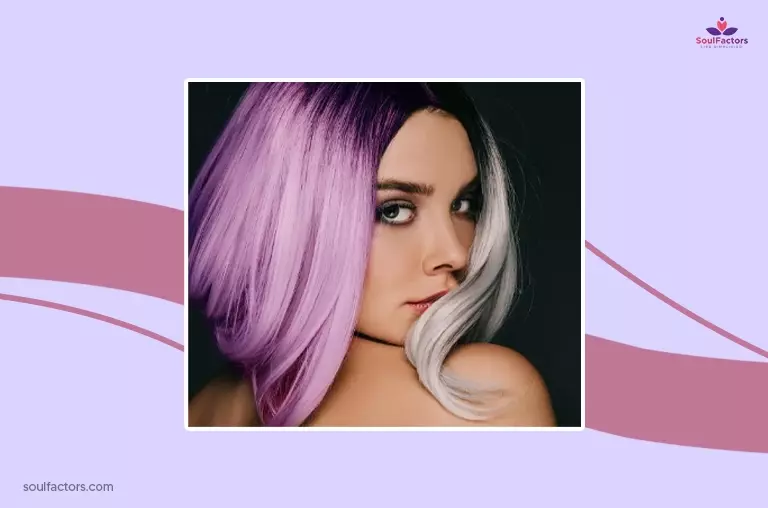 Balayage: Balayage is another hair color trend that hit social media recently. Balayage is a French word that means 'to sweep' or 'to paint'. The coloring of the hair is done by some intricate hand gestures sweeping the color onto the hair strands to give it depth and dimension. As with everything French, this style is also intricate and aesthetic at the best. It stands apart from Gemini in its style of coloring and the aftereffect. Air touch is a newer form of balayage that focuses on giving natural-looking highlights that seamlessly weave into your natural hair color while using a blow dryer. Gemini hair coloring does not give depth or dimension to the hair and it is contained in one particular definable region of the head, unlike all the above-mentioned styles of coloring.
Dip-dyed: Dip-dyed hair is the next one which may sound similar to the Gemini hair coloring in terms of its bold approach. But it is the ends of the hair that are dipped in bold color with no gradient effect.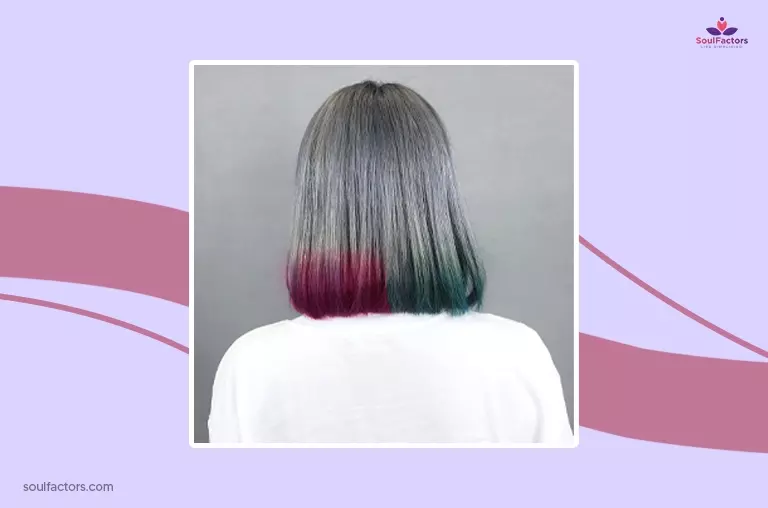 But Gemini hair is not about coloring the tips, but dividing the hair into two noticeable sections.? How to choose the hues?
You can go all bold with colors like vampy red or blue to a contrasting tone on the other side. Just as hair coloring is a matter of personal choice, opting to flaunt Gemini hair is absolutely your choice. The choice of colors will definitely make us place our finger on either elegance or tackiness. But who cares? As long as it feels good on you, it is good to go. This trend is definitely going to stay longer. Students can sport a Gemini look in order to look trendy and a hundred times c000ler!
Those who have a fair complexion can go for orange or yellow complementing your complexion. If you have cooler undertones, you could choose cool blue or violet which will complement your pinkish undertone. Pastel shades will also suit such a skin tone. Rose, peach, and green are good if you have neutral undertones(1).
Pros And Cons Of Gemini Hair Trend
Ok, how is the glass half full?
Pros Of Gemini Hair Trend
For the indecisive you: It is a very hard decision to choose a dress for a date. Tell me- how many times have you changed your choice before heading out to meet your beau, having to blame the delay on the traffic? So how is choosing a hair color easy? The best thing about Gemini hair is that you can retain one side of your head of hair and make the other one the scapegoat. You could also try two colors on both sides and slay it.
There are temp options: The brightest side of Gemini hair color besides its color, of course, is that there are temporary options, which you can use to gauge the suitability of a color or the suitability of your color of choice on your hair.
Follow the trend: This is a rebellious hair trend that is here to stay this whole year. No doubts. Social media is not tired of humming its tune. And as it is only growing in popularity, taken up by more and more girls, we can go through bazillion pics available online to pick a color combination that appeals to us, and use the picture as a reference.
Follow the celebrities: Wish to imitate the hairstyle of Jennifer Aniston or Lady Gaga? It's difficult. You may have to change from wavy or curly to straight hair. But to make a choice of their Gemini hair is doable. You can look fab and show allegiance to your celeb icon at the same time.
Cons Of Gemini Hair
Hard choice: It is definitely a hard choice to choose two colors for one head of hair. For those conservative rebels like me, colors should complement each other.
May have to seek expert advice: You may have to go to a salon or take the advice of an aesthetician for the color choices to guide you with their experience in hair coloring. This is so especially if you are opting to go long-term with permanent coloring.
Visually deceiving: The color combination that you see on your phone may be different in your hair, even if you stick to the same brand and choice of hair color.
Fading: One color used on the head may look lackluster after some washes, despite all the care taken for the colored mane, while the other may look vibrant. Both will not start fading at the same time.
10 Gemini Hair Styles, And Gemini Colours Going Hot In 2023
Here are a few of my favorites:
1. Salt And Pepper
George Clooney made it super sexy. This is a popular trend that is not going to die anytime soon. Why not use it for the Gemini hair trend? A combination of black and white will never go out of style.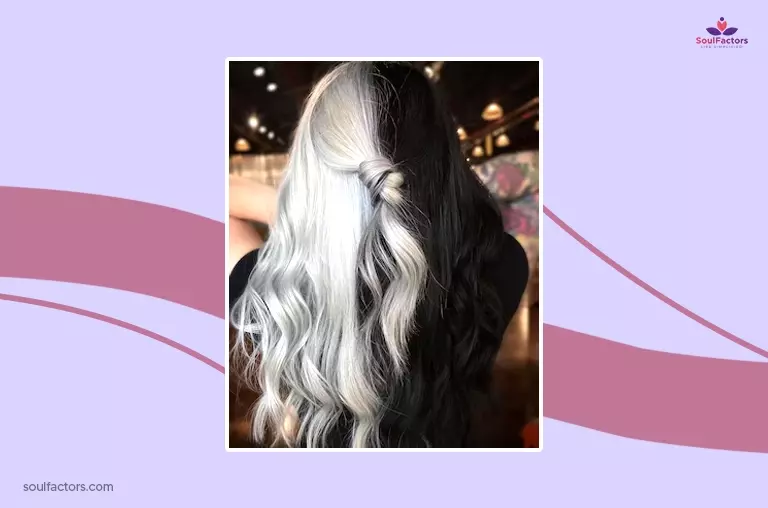 2. Blonde And Pink
Nicki Minaj has already shown us how to slay it with a Barbie blonde and Pink.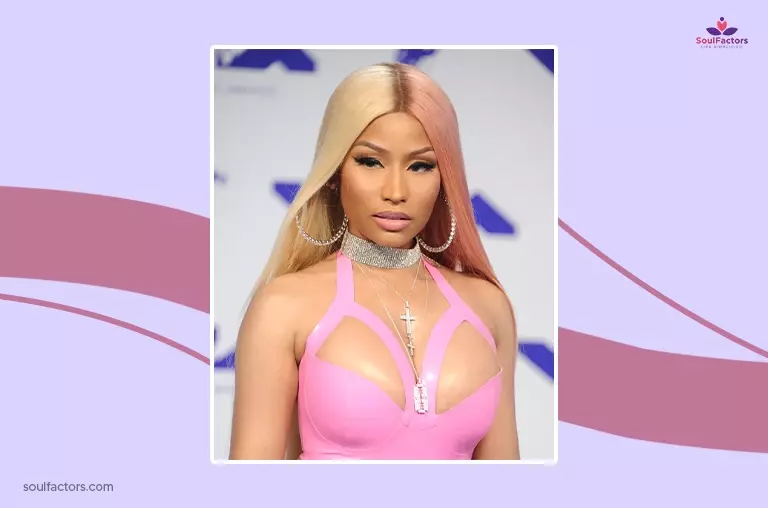 3. Gemini Blue And Pink Hair Trend
Courtesy: Kesha. The singer long back, in the year 2013, rocked this bi-toned Gemini hair trend. This will require some heavy bleaching for brunettes like myself. But it is chic! Kesha has proved it.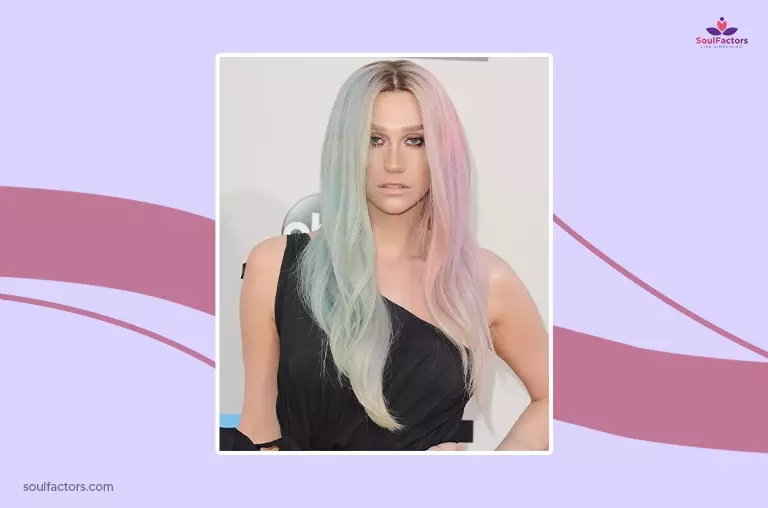 4. Red And Copper Balayage Plus Black
You can opt for a mix of balayage of red and copper on one side and natural black on the other. You could try balayage and you are mixing it up for a better punch. Howzat? Gemini brown to pink balayage is also trendy. There is the transition from brown to pink but it does not fit within the ombre or paint-dipped styles. This is subtle balayage towards the end of the hair.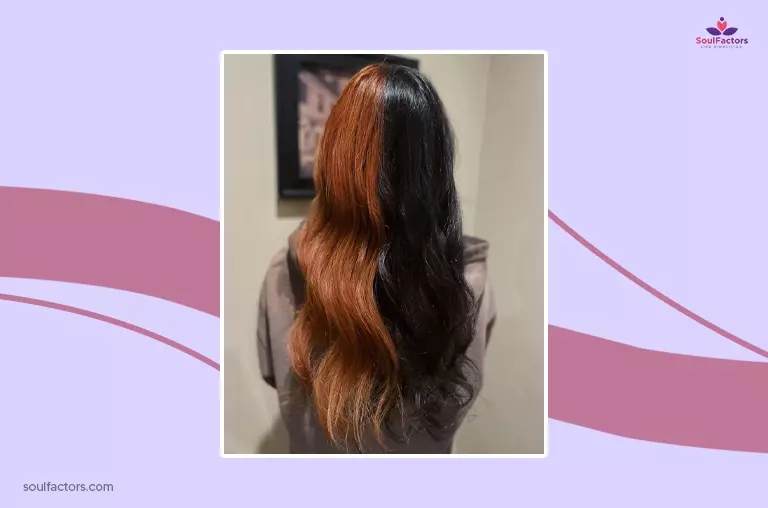 5. Brown And Strawberry Balayage
This is a modified version of the previous one. Strawberry balayage could be done without much bleaching involved than the pink balayage Hence, brunettes- go for this!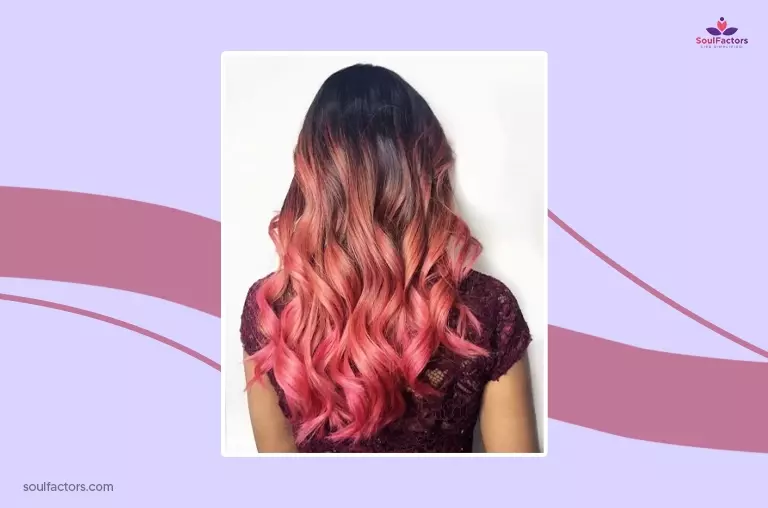 6. Skunk Stripe Gemini Hair
You could wear a bold streak of hair at the front with any bold color of your choice, leaving your head with two colors, your natural color and the one that makes the stripe.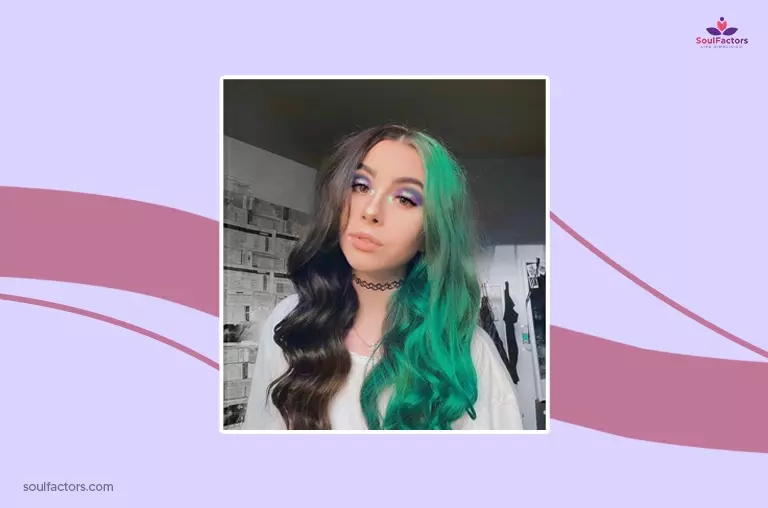 7. Pink And Lavender Hair
A unicorn will complete the scene, huh! If you want a dream fairy look, go for this pink and lavender half- half! Super girly look, no doubts!!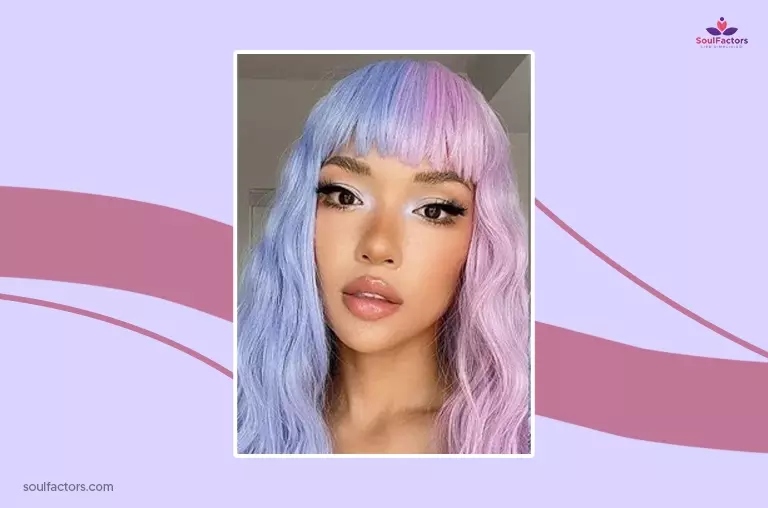 8. Blue And Black Braid Gemini Hairstyle
Braids are hot and blue- black combo will be Yum on thick hair.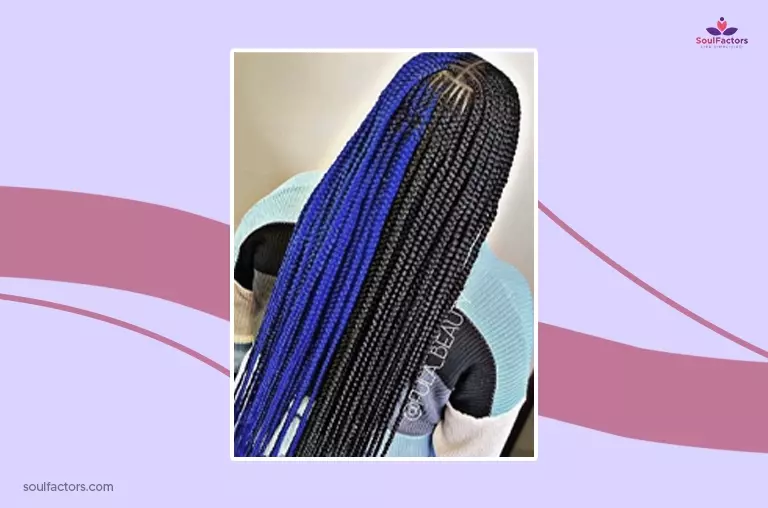 9. Gemini Silvery Blue And Magenta
This combo of silvery blue and magenta will work well on long dark hair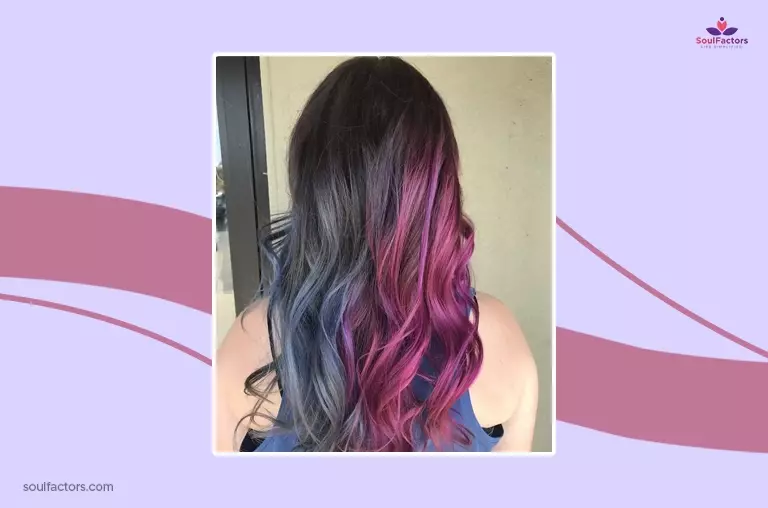 10. Peek-a-boo Hair With Hot Pink And Black
You can go Gemini in a sly way with hot pink and black hair in a peek-a-boo way. It is when you run your fingers through your hair that the magic comes out!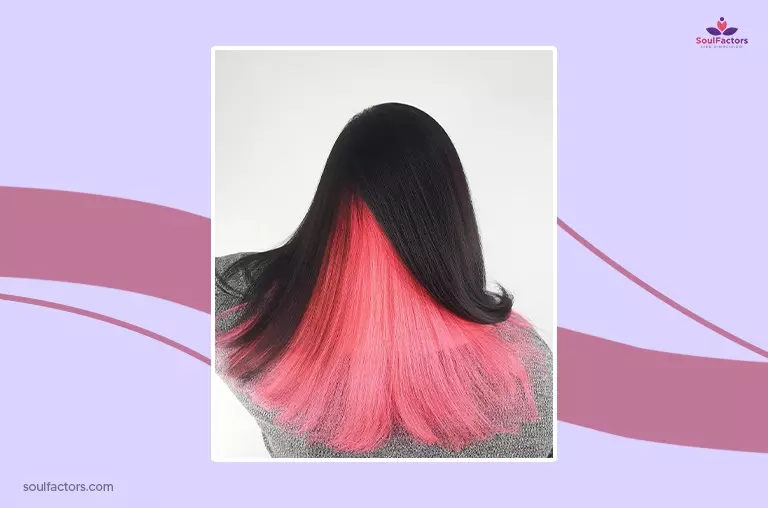 Who Should Try Gemini Hair?
Those who are afraid of change should not go for this. This is going to change your persona for sure with the vibe that you will show out with the colours that you will choose. If you are at a transitional phase emotionally, this will help to give you a boost in your mood.
Who Should Not Try Gemini Hair?
Gemini hair is definitely a break from the norm and is a brave step.
If you are in a profession that demands a particular dress code, chances are that these hair trends will not be tolerated by your organization. It would be safer to quit this trend if you aim to get a job in an organization that has strict policies about the decorum and appearance of the employees. Like some universities may have such policies for the teaching staff.
You should also skip Gemini color if you are allergic to hair colors or if you have sensitive skin.
This is a high-maintenance hairstyle, hence if you are not in the vicinity of a salon that can help you maintain your color, you should probably skip this trend, unless you can do the top-ups yourself. You also need aftercare products that include shampoos, serums, and conditioners for colored hair.
You should also skip this trend if you have brittle, dry hair. Coloring will make your hair drier and hair shafts weaker
Maintaining Gemini Hair
Gemini hair, like any other colored hair, should be taken good care of. If your hair has been bleached to hold the color, it may make the hair more fragile and brittle. You should also make sure not to wash your hair daily and when you do wash your hair, ensure that you use quality products for shampoos and conditioners that are made exclusively for colored hair. You certainly do not want your investment to go down the drain.
Using regular shampoos may strip your hair of its moisture and color (2). You could also use a hair masque or deep conditioner once a week to make sure that your hair won't feel dry. You should also be mindful to use a heat protectant before styling your hair using curling irons or a blow dryer. Using silk or satin pillowcases will also help reduce the tug in the hair. You could also use a humidifier during the colder months to care for your colored hair. If you choose brighter colors, the maintenance will also be high, as you will have to do frequent top-ups by yourself or at the salon.
Whether you are entering the dating era or the rebellious teens or dealing with a breakup, you would need a hair ally to underline your mental make-up. This half-and-half style is going to stay for a longer time. You should try this once, at least temporarily with a hair chalk or spray. And a look in the mirror will definitely leave you to ponder if you are really the same as your inner self. You are born to turn heads, so why wait any longer? Go colorful, within and without…