We want to light a fire wherever we go! We are women, and yes; we rule the world by standing firm on our stilettos! We are an ambitious, strong, focused, intelligent pack of gorgeousness. We better ourselves by the day, physically, intellectually, emotionally, academically, vocationally… and the list goes on.
We all have tried weight loss programs at one point of time in our lives or the other. And what's a more appropriate time than now to start off with one that the new year has just started? We all have New Year's resolutions and the one that is on the top five generally is fitness or weight loss, for health and appearance's sake.
We know pretty much about diets. We have done enough workouts too. That is when this TikTok viral trend comes up, the 75 Hard day challenge! (1) Who is going to be deterred by the word ' hard'? We women? Naah…!
What Is The 75 Hard Day Challenge?
Andy Frisella, a motivational speaker with his own podcasts and books, is now hashtagged a lot for the right reasons. Yes, the 75 Hard day challenge is his brainchild. 75 hard had been around for some time. It is the self-help program motivating us to be our own fitness coaches.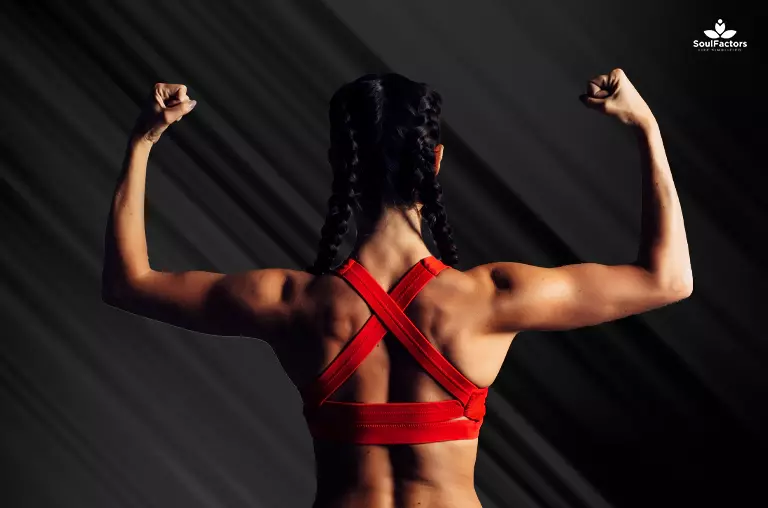 75 Hard was born in 2019 but gained steam in 2020 during the COVID times. Now, it has again become a trending fitness challenge which is the talk of the town and a TikTok trend. It is a part of the Live Hard program, which is a year-long self-training program.
Does The 75 Hard Day Challenge Work?
Have you worn the same dress because no other dress in your wardrobe fits?
Have you got embarrassed while shopping for clothes as none fits you properly?
These are not my questions, but his. He starts off by asking these basic questions, having been someone who has struggled with weight issues throughout his life. He shows proof of his hard work through pictures, by being the brand ambassador of 75 Hard day challenge, himself. He guarantees discipline, confidence, self-worth, and many more positive additions to the personality on the successful completion. There are a lot of people who give rave reviews about this program by successfully completing it- from influencers to health geeks!
What Are The 5 Tasks of 75 Hard Day Challenge?
There are 5 cardinal rules to follow to achieve the results this challenge promises. Let's look at it closely.
1. Choose A Diet Plan
Paleo(2), vegetarian, whole30, pescatarian, Mediterranean, Keto – the choice is yours. It is just that it is mandatory to have a diet plan in place to make sure the calorie intake is restricted. Those who are following an exercise plan should have a dietary restriction and you have to consult a nutritionist or physician who can guide you in that regard, to be on the safer side. And yes, it is recommended by the creator of the program himself that it should be common sense that should guide you throughout the program.
2. Exercise For 45 Minutes Twice A Day
Exercising is a non-negotiable in a fitness challenge! No brainer! But two bouts of forty-five minutes should be dedicated each day throughout the 75 hard day challenge program for exercise. One exercise session should be done outdoors, and that also is a mandatory rule. You cannot do outdoor exercise on alternate days but on the same day. If you fail, you go back to Day 1. The mode or intensity of exercise is not specified.
3. Drink A Gallon Of Water
Chugging down a gallon of water is not child's play. The emphasis on staying hydrated has been clichéd long back, but 75-day hard challenge diet plan focuses on drinking down a gallon of water to make sure that you are properly hydrated throughout the program. If you drink one liter less, then you will have to start from Day 1. It's a rule.
4. Read 10 Pages From A Non-Fiction Book
Reading definitely is mental aerobics. So there is no doubt that it has a place in a program focussed on mental fitness as well. New knowledge will bring unknown dimensions to your thinking and will open new neuro pathways.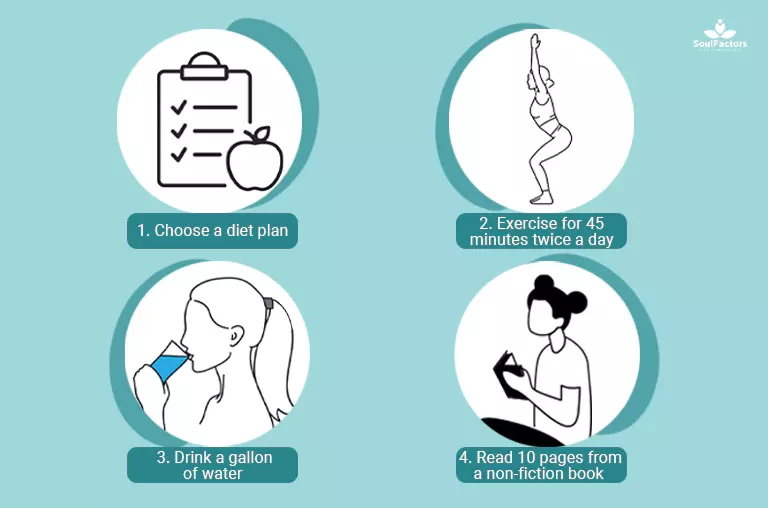 75 Hard places the reading of a nonfictional book, ten pages a day daily as another rule. If you miss it, again you will be starting with Day one, the next day. Due emphasis is given to non-fictional books and contraindicates reading Harry Potter or Fifty Shades of Grey so that you can grow intellectually and mentally.
5. Take Progress Pictures
This is what we girls love! Selfies! That we won't miss anything in the world! It is suggested that you take pictures with a sports bra and shorts on- the point of being able to gauge how far you have progressed. They are called progress pictures for this reason. This exercise of taking progress pictures is for yourself.
75 Day Hard Challenge Checklist
Additional rules, alias No-Nos:
1. No Cheat Meals
AF warns us against cheat meals too. Taking alcohol and empty calories, or indulging in treats, including chewing on a bit of a chocolate chip cookie, will be taken as a cheat meal. No kidding!
2. No Alcohol
Alcohol is a strict no-no during this 75 Hard challenge period.
3. No Cheating
AF calls it the ' bitch voice'. The voice tells you that it is ok to have a glass of wine or ice cream. You may want to ditch the outdoor session for the day due to weather conditions. No matter what the weather is, the temperature is- you have to work outdoors, every single day. But he also asks to exercise common sense in certain situations. You have to start over from day one if you fail to complete one task the way it is dictated to be done.
4. No Comprise With Clean Diet
A clean diet is a rule, no matter what dietary plan we follow.
Is 75 Hard Day Challenge Healthy?
What I find interesting is this man's sense of immense practicality. He does not have airs about himself and advises us to take a doctor's or health care provider's advice to see if we are fit to go through 75 Hard. He also advises using common sense if the doctor's consultation is not practical. Though he gives examples of women who completed 75 Hard two or three days before going into labor!! Hard to even imagine, right? That is what 75 hard day challenge is all about.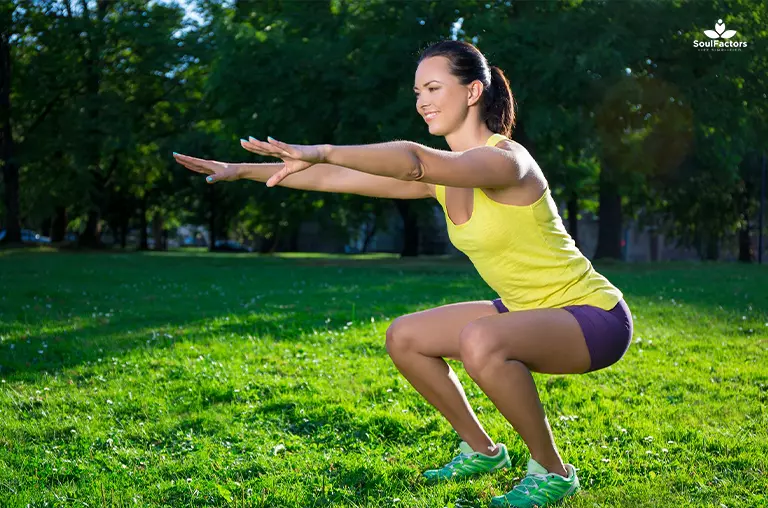 Making us into a hardened version of ourselves for the better. Research suggests that it takes twenty-one days to form a habit. 75 days are more than enough to make this regimen a lifestyle. 75 Hard challenge focuses on our mental and physical development.
Positive Sides Of 75 Hard Day Challenge
✔️Holistic Approach
This brings about holistic development. Mental, physical, and emotional changes are guaranteed as an incentive to start the program. The question that we have to ask ourselves was framed to be this way: "Are you happy with what you are right now?' Discipline is the primary focus of this program.
✔️Develops Confidence
A mentally healthy individual will be confident and vice versa. It is guaranteed that by the end of 75 Hard, you will find yourself a changed person due to the successful completion of the tasks focussed on developing your mental and physical resilience.
✔️Being Your Best Judge
75 Hard emphasizes that you are your king or queen. We are supposed to know ourselves better. It gives us the option to choose what is convenient and healthy for us. It is flexible in the choice of timing: You can choose when to exercise, especially given our jam-packed schedules and commitments.
You can do it at your own ease because you are your own trainer. You also have the freedom to choose your diet plan, time of exercise, and book to read from the rule that says that we should read ten pages of non-fiction a day!
✔️Focus On Self-motivation
You are your own fitness coach. You have to motivate yourself to start and stick to this program no matter what happens. It is an attribute of a healthy mind.
✔️Progress
Taking pictures will help us gauge our own progress. Taking pictures daily as a non-negotiable task will make sure that we can see the progress that we have made and be inspired by it. The sense of accomplishment that accompanies it will be huge.
✔️Healthy Air And Body
Outdoor exercise is great for your lungs. No doubt about it. Fresh air has its magic that no one can dispute. Thus, the inclusion of it as a task will enable us to connect more with nature as well. Sunshine stimulates the production of Vitamin D in the body and this is a health benefit of exercising outside in the sun. Studies have shown that exercising outdoors lowers a person's stress and blood pressure.
✔️Choice Of Workout
Flexibility as to the duration and mode of exercise ensures taking care of your health needs by choosing what exercise suits your body. You could do cross-training, cardio, Pilates, yoga… as long as your body is pushed into the exercise mode, that is what it takes to qualify for the requirement of daily two 45 minutes workouts, in the 75 Hard challenge.
✔️Emphasis On H20
Everyone emphasizes the scientific proof of the positive effects of staying hydrated. Here, with the workouts and sweating, there is enough stress given on the need to take one gallon of water, which is like four liters.
✔️Exercising Healthy
Exercising twice a day, instead of long one-and-a-half or two-hour workout sessions is healthier and easier on the body. You do not have to exercise to your own exhaustion.
Negative Sides Of The 75 Hard Day Challenge
❌Monthly Visit
The compulsory 45 minutes of daily exercise twice a day might seem impossible for women when during their periods.
❌Water Intoxication
A possible fallout of drinking a lot of water is water intoxication, which is a condition that comes up with drinking too much water and thus upsetting the electrolyte balance. It leads to a decrease in sodium in the blood to alarmingly low levels causing life-threatening problems. If you take more than three liters of water within a few hours, you risk water intoxication.
Healthy kidneys can only flush out one liter of water per hour. Drinking more than the required levels would be a stress on the kidneys and has a chance of diluting the sodium in the bloodstream and causing the blood cells to swell.
So the water intake should match the intensity of your sweat. Moreover, the kidneys of older adults tend to be less efficient, thus reducing the amount of water they can drink safely. Mayo Clinic recommends that men have up to 3.7 liters of fluids and women have about 2.7 liters of fluids every day.
❌Outdoor Exercise
Impracticality aside, it is not healthy to work out in the rain and in blistering temperatures, depending on the season and the location you are in. You cannot tax your body and fall ill, which will again break the cycle.
❌Progress Pictures
Critics point out that progress pictures focus on the appearance aspect of the person and not on health. This makes the person become result-oriented and not health-oriented in the life ahead.
❌Ambiguity About Diet
Diets if not balanced may create long-term problems. The 90-minute workout daily without enough nourishment will send you down the road as far as health is concerned. This is not addressed in 75 Hard. A diet is supposed to supplement physical activity. If you are undernourished while physically active for such a long duration, it can take a toll on your health.
❌Unhealthy Self Doubt And Underconfidence
It is true that you will become confident after you successfully finish this viral fitness trend. But on the flip side, it may make you doubt yourself if you break in between, as you have taken up such a viral trending challenge and the pressures are high.
Devoting almost 2 and a half to three hours to a jam-packed schedule is farfetched. Some like Andy Frisella can afford to allocate time, being his own boss with a multi-million dollar empire. But those who have a work schedule and responsibilities like family and pets will find it difficult to follow such rigid rules, thus leaving them confident.
❌No Recovery Time
Rigorous exercises and weight training prescribe recovery time. When your muscles do not have time to recover after the two 45 minutes of workouts a day, you will be wasted.
❌How Long?
Another major point critics are chewing on is the lack of sustainability. We all know that no weight loss regimen or diet plan and its results are forever. It is about consistency.
Andy Frisella prescribes a phase 1, 2, and 3 to give a follow-up on the 75 hard day challenge.
Phase one includes the previous 5 tasks plus 5 minutes of cold showers, 10-minute visualization, and adding 3 items to the power list. The to-do list is rechristened as the power list here in Phase 1.
Phase two is rest for 30 days, hopefully, you feel exercise withdrawal symptoms like in drugs!! Then thirty days of phase 3 tasks including the cardinal five tasks from the 75 hard day challenge and cold showers from phase one. The addition is random acts of kindness and talking to strangers, to be done on a daily basis.
75 Day Soft Challenge
The 75 day soft challenge is a softer version of the 75 Hard challenge inspired by Tiktok creator, Stephen Gallagher. The five cardinal rules of 75 hard day challenge have been softened and made into four doable tasks which may sound more realistic to those who dare not start the 75 Hard, or who do not have enough time for the workouts.
The thing about the 75 day soft is that it does not emphasize much the results the body will show, but focuses on practicality. It focuses on well-being more than the end result. There may be fitness enthusiasts who want to start off with the popular 75 Hard, but don't have the time or conducive situation to go about it.75 Soft is for them. In 75 day soft challenge
#️⃣ You can eat well and drink occasionally at social gatherings.
#️⃣ Need to exercise only for 45 minutes a day and can take a day per week off exercise to enable recovery.
#️⃣ Drink three liters of water per day
#️⃣ Read ten pages from any book every day.
The tasks of 75 Soft thus sound doable when compared to 75 Hard. Those fighting OCD will find themselves stuck to the 75 hard day challenges and thus will find it difficult to wean off the challenge.
We should bear in mind that the 75 hard day challenge focuses on strengthening mental makeup and bringing about discipline. 75 Soft is soft on these aspects.
People are willing to pay through their noses to get into a gym or fitness program. Here, this 75-Hard regimen is given to you free of cost. The only effort needed is to listen to the podcast or may be read from a secondary source like an article about the same, like this one!!
Whatever comes for free won't be cheap always. Here, have no doubts about the efficacy of the regimen. But being free may put an additional burden on you as far as self-motivation is concerned as you are not doing workouts to make sure you don't waste that gym membership fee. I'm sure you can relate. So, cheers to self-motivation and discipline!
Even trying will count as awesomeness♥️ So, are you in?