The cosmetics industry is changing. Earlier it was more about effectiveness irrespective of the way, pretty skin on the outside but depleting tissues on the inside, mesmerizing fragrance but with the aftereffects of rashes and irritants. Now, the industry is evolving and the credit goes to mindful buyers. We don't want beauty as a facade at the stake of our health and even the environment's health. Sustainability and natural ingredients are the motto today of brands like Curie deodorant.
Curie said "No nasty ingredients in our deodorants" and people loved that. Do you know who else loved the concept? – The Sharks at Shark Tank. Sarah Moret, the founder of Curie deodorant, gave a striking pitch of her brand's deodorant at Shark Tank and took home an impressive deal of $300k for a 10% stake + 4% in advisory shares. The reason was pretty clear, people nowadays love products with natural ingredients. Sarah struck that chord and got herself a deal.
Wait a minute though, there are more deodorants in the market made with natural ingredients. So, what is it that makes Curie Deo stand out? What are the other benefits of this product? Is its application delightful? Do other users recommend it? Is Curie deodorant worth it? I know you're curious. Keep scrolling, you'll learn all the answers.
Curie Deodorant: What's Different About This Deo?
Curie Deodorant is a clean and aluminum-free deodorant that works! It claims to keep you fresh and odor-free all day without giving you rashes or irritating your skin. Their products use safe and effective formulas that make you smell and feel amazing all day.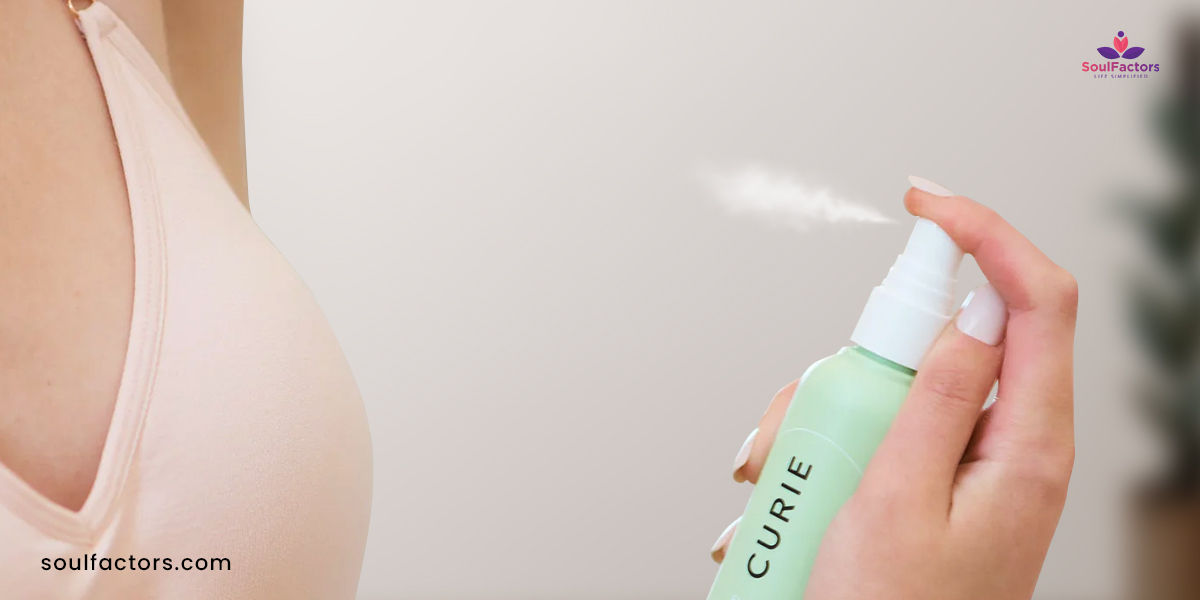 Curie's pillars of strengths are:
Clean Ingredients
Signature Scents
Effectiveness
Sustainability
Shape magazine voted Curie deodorant as the most effective deodorant. From not-so-sweaty to sweating-like Niagara-falls users, everyone applauds Curie Deodorant for its incredible efficacy.
Curie is determinant of using non-nasty stuff including aluminum, parabens, and phthalates in its deodorant. These ingredients are harsh on your skin and can potentially cause negative effects on health. The brand uses clean, natural, and organic ingredients. It is toxin-free and cruelty-free. So, it's safe and gentle on your skin and environment.
Curie says NO to the following hell-makes of skin and nature:
No endocrine-disrupting ingredients
No petroleum-derived ingredients
No aluminum
No parabens
No animal-derived ingredients
No cancer-causing ingredients
No animal testing
No ingredients on Credo's Dirty List™
Now let's talk about the product formulation and fragrances of Curie.
The scents of Curie deodorants are all clean and natural as well. Their product formulations are a blend of essential oils, isolates, and synthetic ingredients. Curie is an International Fragrance Associate Standards (IFRA) certified brand that establishes that the scents used in Curie are safe for daily use.
You'll find the spectrum of deodorants by Curie delicious. From mesmerizing floral notes to subtle coconutty hints in the scent, you'll wanna buy all the deodorants from Curie.
The various deodorants available at Curie are:
White Tea
Grapefruit
Orange Neroli
Juniper Eucalyptus
Coconut Nectar
We have all heard that one should use only natural ingredients on one's skin. But why? What's the harm of using chemical-infused products? Let's see
Benefits Of Natural Deodorant
Regular deodorants can cause irritation, allergic reactions, and hormonal imbalance. Natural ingredients keep the body odor at bay without harming your skin or causing any negative impact on your health. Following are the reasons why you should choose natural deodorants over regular chemical-infused ones: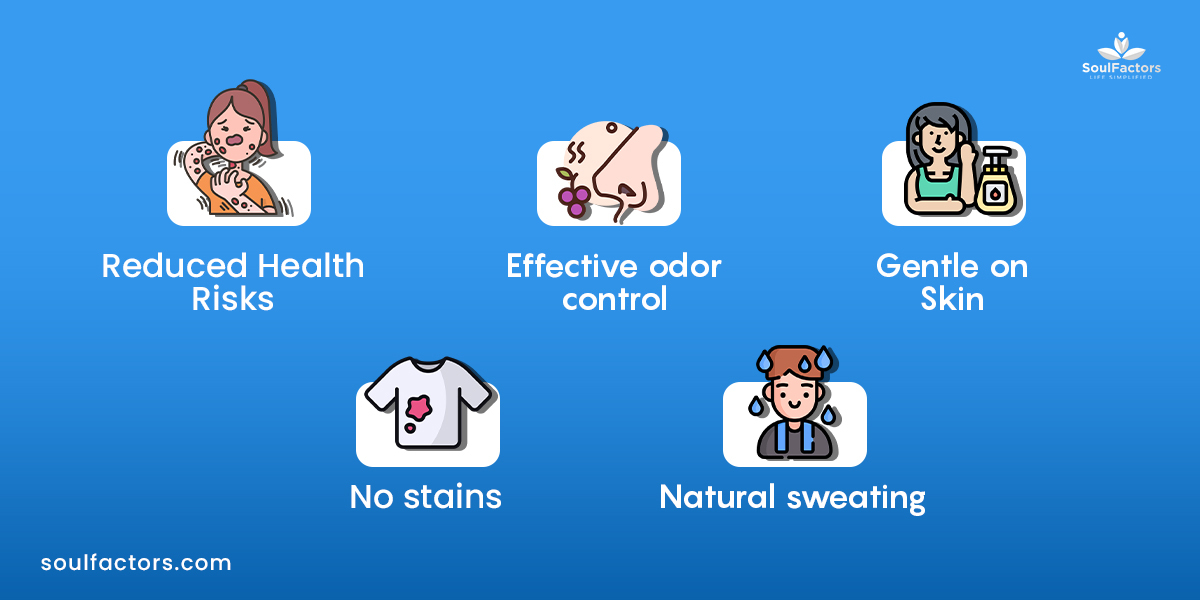 Reduced Health Risks:
Conventional deodorants and antiperspirants are associated with potential health risks such as irritation, rashes, allergic reactions, hormonal imbalance, breast cancer risk, Alzheimer's disease risk, etc. Natural deodorants do not use any chemical ingredients that have such risk factors.
Effective Odor Control:
It is a misconception that natural deodorants cannot counter body odor as effectively as regular ones. Natural deodorants are just as effective as conventional deodorants. Because the natural ingredients present in natural deodorants neutralize odor-causing bacteria as any other deodorant.
Gentle On Skin:
When we care about our face skin so much, shouldn't we care about the sensitive armpit skin too? Natural deodorants protect your armpits from skin irritation, blisters, rashes, cracks on the skin, and inflammation. Natural deodorants like Curie nourishes and hydrates the skin with ingredients such as essential oils, coconut oil, vitamin E, etc.
No stains:
We put deodorants to avoid those sweat patches on our clothes and dang some conventional deodorants leave the stain that we just wanted to counter. But that's not the problem with natural deodorants. Natural deodorants like Curie have a non-greasy formula that does not clog the pore or damage the fabric.
Natural Sweating:
Unlike conventional deodorants and antiperspirants, natural deodorants do not block sweat glands (1). Natural deodorants allow the skin to sweat naturally which is important for the body to regulate the temperature and release toxins. It instead masks the sweat odor.
Curie deodorant is a natural deodorant that allows your skin to sweat naturally and still makes you smell and feel fresh.
What makes Curie a desirable product? It's ingredients of course. So, let's explore the ingredients used by Curie in its deodorants:
Curie Deodorant Ingredients
Curie deodorants have a moisturizing, non-greasy, odor-absorbing formula that allows you to run the extra mile or do an extra rep of chest press without worrying about body odor. When we say Curie is all-natural we mean it has a charming blend of moisturizing oils such as coconut, castor, sunflower, and sage.
Not only moisturizing properties, but Curie deodorant also has nourishing properties derived from aloe vera, prickly pear, and elderberry.
We all need smooth skin on our armpits too, right? Curie covers that as well! Because its deodorants have Vitamin E that seals in moisture and enables smooth skin.
The cocoa butter in Curie deodorant acts as a rich moisturizer and makes your skin feel hydrated, soothed, and smooth.
Lastly, baking soda in the deodorants helps absorb sweat and reduce odor.
Curie Deodorant Reviews
Let's see what users have to say about Curie Deodorants:
"SO GOOD! BEST DEODORANT EVER!"
Reviewed by Shashajane on Shespeaks.com
I LOVE this deodorant. I've tried every single natural deodorant, and this is hands down the best. Like the other reviewer said, the packaging has definitely changed but the deodorant and scent is still the same! SOOOOOOOO GOOD!!!
…
"Love this brand and product!"
Erin S. reviewed on Thingstesting
Like probably most of us, I have found natural deodorants to work OK at best (and causing irritation at worst) and tried their spray deodorant at a workout studio. I was super impressed with the formula and it did a great job. TBH, if I am doing a heavy workout or going to be in crazy heat, I still reach for my old-school deodorant, but otherwise I am a convert to their spray and love the intent and experience of the brand. Have purchased individually as well as in sets to try all the scents and really liked them all, and think most people would – they were all pretty subtle but fresh. Would definitely recommend!
…
"The Best!"
Reviewed by Sydney C. on Perfetface
The Best Deodorant ever! The smell is very light and fresh, not overpowering like lots of other deodorants. The size of the bottle and the spray cap are so convenient as well. Huge plus that the ingredients are on the natural side and aluminum free! I always have it in my bag.
User Experience And Performance
Going through the remarks by curie deodorants users across different platforms, it is safe to establish that Curie deodorants actually work. Many people were skeptical about the deo since many natural deodorants claim to counter the odor but they couldn't. More so, they are sticky and leave residue on clothes. To their surprise, Curie deodorant not only made them feel refreshed and smell good for hours in different scenarios like working, working-out, commuting, etc but the deo also kept their armpit dry for long hours.
Most of the users appreciated the fresh fragrance of natural ingredients used in the deodorant such as coconut oil, white tea, orange neroli, etc. However, a few did complain about the dry patch left on the armpit after use. Also, you might need to carry the deo while commuting since a few users also mentioned that the smell did not last that long on their bodies.
Overall, with a price of $42 per 3 pack deodorant stick, Curie is a deodorant brand worth trying out.
Curie Deodorant: Scent Options And Fragrances
There are mainly 5 fragrance options available at Curie: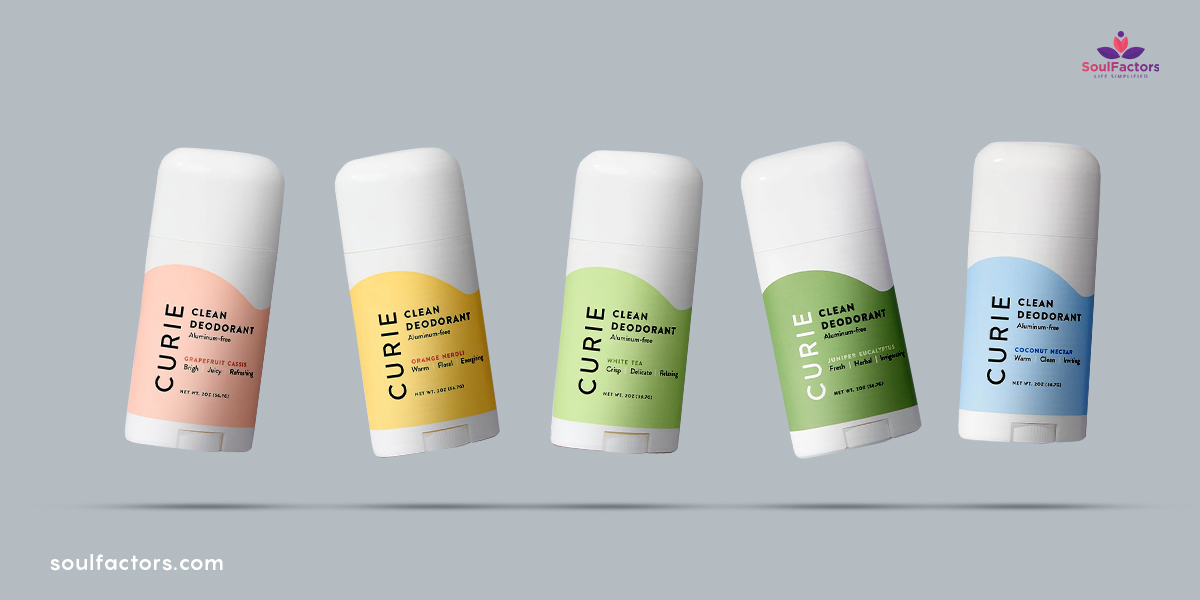 White Tea – This one's for people who love floral vibes. Made with a blend of white tea, jasmine, and bergamot with a hint of Italian lime; this curie deodorant fancies a delicate and soothing scent.
Grapefruit – Are you the one who attracts a crowd wherever you go? Then this bubbly grapefruit curie deodorant is just for you. This bright and zesty scent combines the notes of grapefruit, lemon, and orange.
Orange Neroli – Is orange blossom kinda scent your type? Then you're gonna love this floral and fruity blend of orange blossom, Neroli, and mandarin.
Juniper Eucalyptus – This one's also classic, like straight from classic mythology. It has a fresh and herbal scent that fuses notes of juniper, eucalyptus, and rosemary that makes you smell like a herb garden.
Coconut Nectar – Tropical scent has that attractive fragrance that is just irresistible. Made with creamy coconut, lush apricot, with a twist of mint; Coconut nectar is for those who enjoy rich and exotic aroma. Creamy coconut, lush apricot, with a twist of mint.
Curie Deodorant: Application And Texture
Most Curie-deodorants claim that the deodorant is incredibly creamy and smooth on the armpits. When applied, the texture is mostly creamy and glides in one go. It does not make the skin feel uncomfortable, excessively dry, or leave any sticky texture on the skin. It doesn't make the skin feel greasy either. Curie has a perfect balance of creaminess and dryness that makes it a preferred deodorant.
However, note that this deodorant consists of baking soda which might be an allergen factor for some people.
Curie Deodorant: Packaging And Sustainability
Following its high standards, Curie deodorant packaging also suffices the radars of environmental safety in the following ways:
Curie deodorant's packaging is made of recycled water bottles.
Curie's labs are powered by wind.
Curie's product ingredients are sourced sustainably.
The Final Verdict
Curie is an innovative deodorant and body care brand that came into the spotlight after featuring in Shark Tanks 2022. Sarah Moret, who is the founder of the brand, was frustrated with the chemical-infused inefficient deodorants. So, she decided to create her own line of non-toxic, aluminum-free, all-natural deodorants.
Most users of this deodorant applauded the brand for creating a skin-friendly deodorant that does not make the armpit feel greasy or sticky. In fact, the deodorant has a creamy texture that glides on your skin and keeps your armpit sufficiently dry and fresh.
Made with the goodness of natural ingredients such as coconut oil, essential oils, aloe vera, vitamin E, etc; Curie deodorant has become a regular choice of deodorant for many. Their range of delightful fragrances including white tea, grapefruit, orange neroli, juniper eucalyptus, and coconut nectar strikes the perfect notes of different aromas.
Overall, Curie deodorant is a must-try natural deodorant brand. Kudos to Sarah Moret!
Curie Deodorant: FAQs
How is Curie deodorant doing?
After Shark Tank, Curie Natural Deodorant Company has done a total of $1.6+ million in sales as of November 2022. Furthermore, it is available on amazon and a whopping 300 stores nationwide.
What does Curie smell like?
There are five curie deodorant fragrances available including coconut nectar, juniper eucalyptus, orange neroli, grapefruit cassis, and white tea. They also sell unscented deodorants.
Who is the owner of Curie BOD?
Sarah Moret is the founder of Curie BOD.
What is Curie spray used for?
Curie Spray is used as a body deodorant.
What is Curie product?
Curie is a range of non-toxic aluminum-free deodorant and body care products.