TikTok has given tutorials on many things, whether it is creating the perfect cut crease, not using lube instead of primer, or being cute in the "cold" look. Many such beauty trends are only for the moment, while others are here to stay. The Douyin makeup trend falls in the latter category. Its hashtag had more than 1.9 billion views in the first half of 2023, and you would have surely come across a video or two on your FYP.
Douyin Makeup Trends: Stay Gorgeous And Trendy
Unlike other social media trends, Douyin wasn't an in-your-face viral sensation taking over everyone's feeds. It gained popularity as beauty content creators, big and small, tried the trend on TikTok with time. The reason for this consistent growth may be because the trend isn't a specific hack but an overall look that's achieved with a combination of revered makeup products and techniques.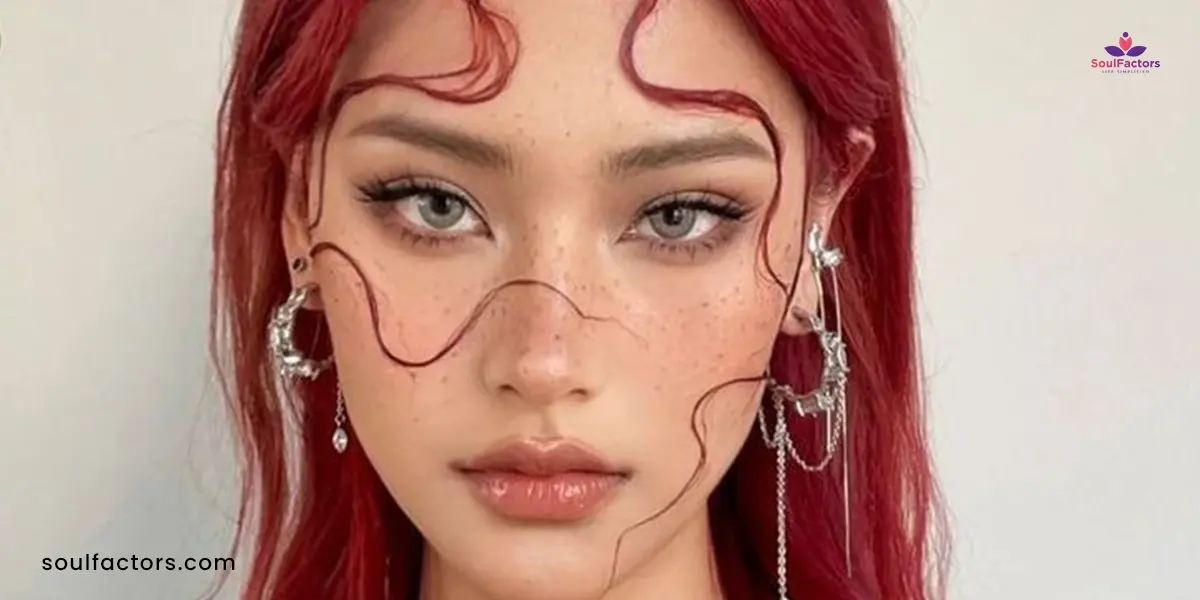 The ethereal look has taken the beauty world by storm, with celebrities and influencers participating enthusiastically. It looks like a fairy-tale filter with a dazzling, goddess-like look.
Let's get into the details of Douyin makeup, the tutorial, and the products you need to recreate the Douyin-inspired look on yourself.
What Is Douyin Makeup?
Douyin makeup is an amalgamation of beauty trends from around the globe. The base with a dewy finish is learned from YouTube makeup professionals, while the use of pink blush is an inspiration from Japanese beauty creators and magazines. The exaggerated lashes are also from Japanese manga, and the Korean and K-beauty superstars have inspired the way eyes are lined and the aegyo sal.
East Asian makeup has a preference for glowing pale skin, soft lips, and doll-shaped eyes. Douyin makeup enhances this style by focusing more on specific parts of the face, such as the eyes. It is characterized by a soft, dewy look on flawlessly radiant skin with sun-kissed cheeks and wide-doe eyes.
How To Do Douyin Makeup?
Many Douyin makeup tutorials are available online. Some focus on techniques for Douyin makeup on white girls, while others prioritize a natural look with enhanced eyes. But the overall goal is to achieve a soft, innocent, and feminine appearance as if you're a grown-up doll.
Let's break down the steps to nail this makeup trend going viral now.
1. Prep Your Base
You need to prepare your skin for the dewy, porcelain-like radiance. So, always start with cleansing and hydration. If you're experienced at creating a glass-like complexion, you know what to do next. Apply a layer of a lightweight foundation or tinted moisturizer. Blend it well using a beauty blender. Make sure you don't create a heavy, cakey-looking base. Then, use a translucent setting powder to have that dewy all-day glow.
2. Doll Up Your Eyes
Enlarged and luscious eyes are the top attributes of Douyin makeup. Give your brows a natural shape with an eyebrow pencil. Don't go overboard because you don't want them to pull focus away from the rest of the look. Next, experiment with different shades of eyeshadow and top it up with some shimmer or a light wash of glitter to seal the deal.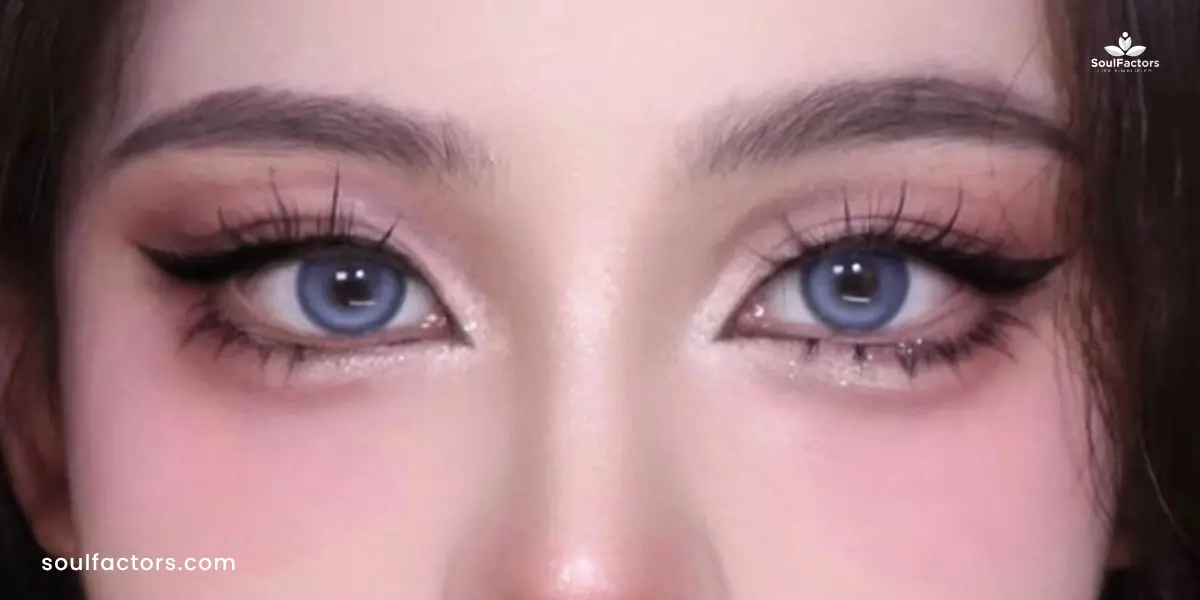 How well you define your eyes is the game-changer for your Douyin makeup look. Create a wing out using a high-precision, smudge-proof eyeliner. Extend the corners of the eyes for an elongated and enlarged shape. Then, create the aegyo sal look by drawing below your eyes with a brown eyeshadow.
False lashes add depth to your eyes, making them appear larger. They are also one of the most unique features you'll see in the Douyin makeup on TikTok. Glue them onto your top and bottom lash line.
3. Flaunt Your Blush
A Douyin makeup style comprises sun-kissed cheeks. Build your glow beneath the eyes and a bit above the usual area with a pink or peach blush. Use the product a little more than you normally would so that it stands out.
4. Prime Your Lips
The fourth vital feature of the makeup trend is the pout. Make sure it looks plump and juicy. Blend the lip liner and lipstick so that you don't have sharp edges and lines. If you have time and are willing to experiment, use two different lip shades to create a gradient. Apply a lighter shade on the outermost edges of your lips and a darker shade on the inner areas.
What Products To Use For Douyin Makeup?
You need the right Douyin makeup products and tools to create the perfect look. While you can use your regular products for the basics, you require some essentials to take it to the next level. These include a glitter liner, a rosy blush, a highlighter, and a shiny lip gloss.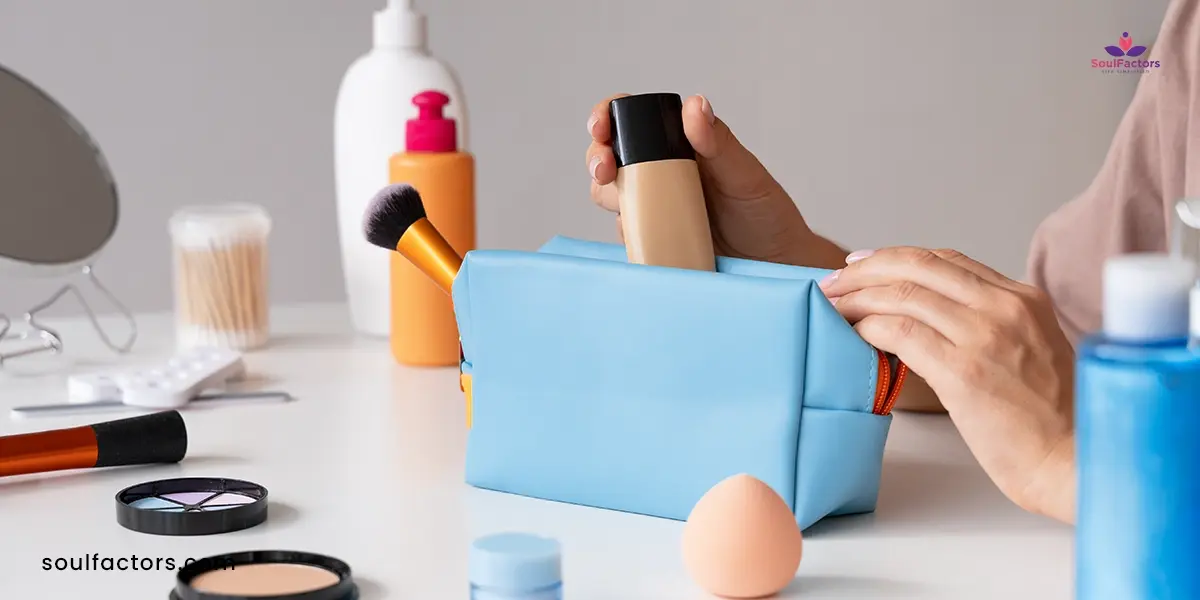 Foundation: Since Douyin makeup focuses on achieving a doll-like quality, you must have a full-coverage foundation. Many makeup artists recommend using a foundation shade two to three shades lighter than your skin tone to get the artificial effect. Choose a foundation that matches your skin tone if you need a more subtle look.
Concealer: Use a high-coverage concealer to cover the blemishes and imperfections. Make sure the concealer shade matches your foundation and skin tone. Apply it above and below the brow, across the bridge, down the center of the nose, under the eyes and its inner corners, and around the mouth.
Contour And Highlighter: Contour to sculpt your features and enhance them with a highlighter. The prime areas to contour and highlight in the Douyin makeup style are the nose and cupid's bow.
Eyeshadow: Get an eyeshadow Douyin makeup palette with versatile shades to create different eye makeup styles. Use a flat shadow brush or your fingers to apply the shade all over the lid and the inner corners.
Glitter: Glitter is a "hero" Douyin makeup product. You can use an eyeshadow with glitter to create a glistening, wet effect on your eyelids. Alternatively, you can use a glitter powder to add sparkle after applying the eyeshadow.
Eyeliner: Use a liquid eyeliner to paint a thin wing on the top lash line. A sharp line can define your eye better.
Mascara: Use a mascara to lengthen and volumize your lashes for a more dramatic effect.
Setting Powder: A translucent setting powder helps to keep your makeup in place. It increases longevity and also reduces shine.
False Lashes: Add spiky lashes on the top and bottom lash lines for an enhanced appearance.
Blush: Pick a blush in your preferred shade to create sun-kissed cheeks. Apply it a little higher than normal, but not directly under the eyes.
Lip Stain: Invest in a lip stain, lip gloss, or matte liquid lipstick to create blurred, bold, or gradient lips. A blurred, stained effect makes your lips appear fuller without using a lip pencil. If you're trying the style, stick to the soft tomato or nude pink shade. You can move to different color combinations after mastering the technique.
Beauty Blender Or Sponge: You will be using different brushes to apply the makeup products. But a beauty blender or makeup sponge is ideal for blending everything and achieving a flawless finish.
Douyin Makeup Looks
There are different ways in which you can customize Douyin makeup looks. If you search for Douyin makeup on Pinterest or TikTok, you will see how creators have experimented and adapted the makeup style to suit their personalities.
If you're wondering where to start, the looks described below can inspire you to explore Douyin styles.
Natural glow: This look is timeless with a no-makeup theme. Focus on skin prep and achieve a fresh, dewy complexion using minimum products. Apply a lightweight foundation or tinted moisturizer along with a touch of blush. Use eyeshadows, lip tints, liners, mascara, etc., to enhance your natural features.
Colorful eyes: Play with vibrant shades from the eyeshadow palette, like neons, pastels, or jewel tones. Create bold and artistic eye looks to grab people's attention.
Cut crease: Another Douyin makeup look you can try involves using a contrasting eyeshadow color to create a sharp, clean line defining the crease of your eyelid. The style helps to create a dramatic and well-defined eye.
Smokey Eyes: A makeup style that's always going to be a hit is the smokey eyes look. Try the traditional black color or experiment with different shades like navy or plum.
Glitter And Sparkle: Use glitter eyeshadows, glitters, or rhinestones to add sparkle to your look. This is ideal for festive or glamorous makeup styles.
Graphic Liner: Create intricate yet striking eyeliner designs, like geometric shapes, double liners, or winged liners around the eyes.
Gradient Lips: Apply a darker shade at the outer edge of the lips and blend it towards the center with a lighter color to create a trendy gradient lip effect.
Blurred Lips: Create a soft-focus, natural-looking effect on your lips using a matte liquid lipstick or lip stain. Blur with your fingers, and your lips will begin to appear fuller.
Bold Lips: Use colors like purples, reds, or the unconventional blue or black to make a statement. Always line and finish your lips for a precise finish.
Sunset Eyes: Achieve a mesmerizing eye look by blending warm and sunset-inspired eyeshadow colors, such as pinks, oranges, and purples.
What Is The Difference Between Douyin Makeup And Korean Makeup?
Douyin makeup and Korean makeup are the two most popular types of makeup. With Douyin's popularity rising in the Western world, many are conflating it with Korean beauty. The two are similar in many ways, with an emphasis on creating a luminous, natural look. However, it is vital to distinguish that China and Korea are different cultures and not interchangeable.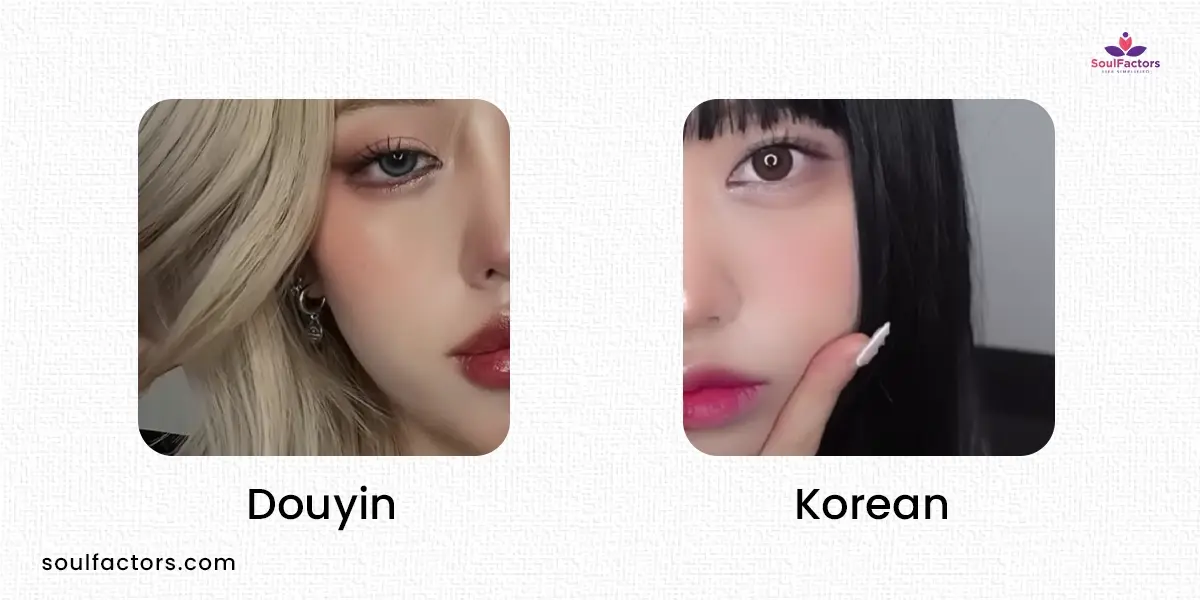 The look of Korean makeup originated in South Korea. The natural yet polished look led to its popularity all over the world. It emphasizes natural colors, subtle contouring, soft eyebrows, and dewy skin finishes. The focus is on enhancing your natural features instead of creating a look as dramatic as Douyin makeup does.
The most prominent differences between Korean and Douyin makeup are their application techniques and products.
For instance, if you watch a Douyin makeup tutorial, you will notice a focus on achieving more dramatic effects. You can use bolder colors like purples or blues on the lower lash line with a more intense eyeliner wing or contour heavily around the nose area using darker shades. The focus of Korean makeup, on the other hand, is on achieving a subtle yet polished look. You can use neutral shades like browns or taupes for light contouring around the nose area. You can complete the look using softer colors like pinks or mauves on the lower lash line with softer eyeliner wings.
The Korean and Douyin makeup products are also a bit different. Korean looks rely on liquid-based products like cushion compacts or BB creams to create dewy skin finishes with hydration, whereas Douyin uses cream-based products like foundations or concealers.
Conclusion
Douyin makeup, like all other makeup trends, can be mended to your preference. You can cherry-pick the look and determine which elements you'd like to incorporate into your routine. The makeup trend reflects a more inclusive beauty industry, which focuses on accentuating different facial features (1). You can explore by applying the blush a little higher to create the sun-kissed glow or leveling up your lash routine for a special occasion by placing lower lash strokes. The creativity rests on your liking. So, experiment, practice, and enjoy.