French Balayage is your way to go if you love being effortlessly stylish in all changing seasons. While there are many hair coloring methods, trends, and colors out there, french balayage somehow has always been a cult favorite. If you are someone who has never done french balayage you still would have seen people, especially celebrities sporting the look. One of the best things about french balayage is that it never goes out of style, it suits everyone, and it's custom made so your look is just yours. In this article, we will look into the latest french balayage trends and color combinations you need to know in 2023.
Let's get on the time machine and go back to the early 70's Paris, where the Balayage hair coloring technique originated. The technique was first used by a worker from a saloon named Carita salon in Paris. A worker named, Yvan, who was recruited from this saloon later introduced the world to this gorgeous yet fantastic hair coloring, that looked so natural, to the world. He used pieces of cotton wadding to tuck between the hair strands to separate the colored hair from the rest of the hair. And the end result was natural looking at the high lights of the hair that gave it glance and volume.
What Is French Balayage And How Long Does It Last?
The word balayage otherwise known as "sweeping" is a method where very thin strands of hair are heightened to give a naturally highlighted look. Though balayage is offered in many saloons today, the actual technique of sweeping color into the hair using the free-hand style is a technique that needs to be mastered. The colorist needs to be well trained in the art of balayage as this french coloring technique can only be done properly if one can understand the hair texture and its natural sweep and flow. The color needs to be placed very specifically and strategically to give the best effortless glam look.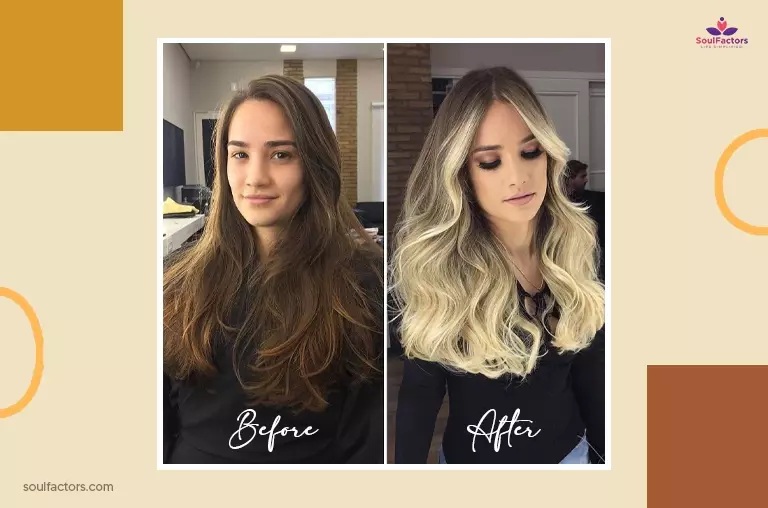 When Blayage initially came into the world the fashion industry was more into strong colors, thick highlights, and frosting caps, which made the more subtle-looking French balayage a fresh and revolutionary invention. Soon by the '90s, the french balayage became the much-loved style by celebrities. Even today balayage is the best hair coloring method which is low maintenance as well as less damaging when compared to foil highlighting.
Results from highlights are more stark and evident while balayage gives a very natural-looking sun-kissed look to the hair. In French Balayyage line of demarcation is not evident while with streaks one will need frequent touch-ups, with balayage you can go months without a saloon visit. Balayage is done in a variety of shades and each time the results would depend on the texture and volume of the hair, making it unique from person to person.
Best French Balayage Color Combinations You Need To Try In 2023
The best thing about french balayage is that it can be done on anyone, any age group, any ethnicity, and any hair type. Balayage can be done with a mix of different colors to give the hair a perfectly done volume and movement. The chosen hues for balayage could be anything from blonds, browns, reds, purples, pastels, or bold colors like neon and pink.
In 2023 balayage is not going anywhere and is in fact trending with more people's options for balayage over other methods of hair coloring.
A nice haircut along with a properly done balayage is all you need to be sorted this year. Here are some french balayage combinations we find will keep you at the top of your game this year.
Classic Option – Long Layered Hair With Caramel Balayage
One of the most timeless balayage combinations is the classic v-cut layered hair with caramel balayage. this will instantly add volume by emphasizing the layers. Caramel balayage will look great on naturally dark hair with its warm undertone.
Ash Brown Balayage
Every hair color works with a balayage – dark hair included. It's about finding the right hue to complement your natural locks and the vibe you're going for. If you want something a little more subdued and understated, go with an ashen brown to lighten up your look.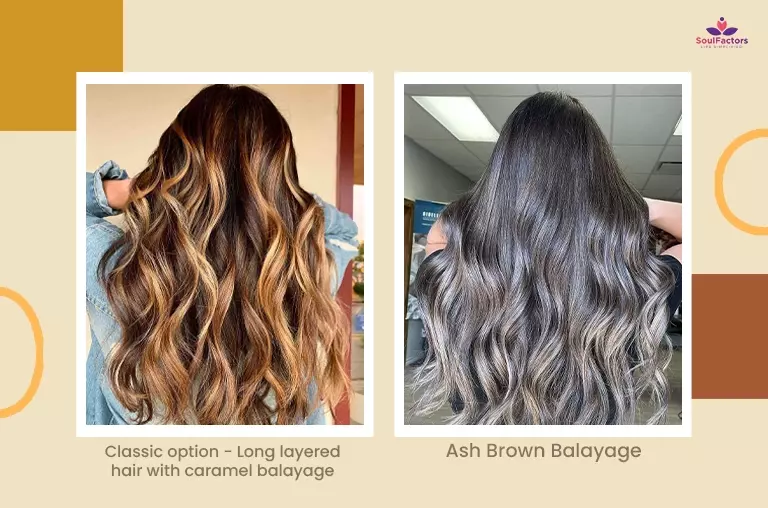 Golden Bronde Balayage
This style of balayage hair coloring would look stunning on naturally wavy hair as the touch of golden highlights would bring more movement to the waves.
Ash Blond Balayage
Ash blonde balayage with platinum highlights will look stunning on naturally brown hair, giving a nice sun-kissed effect, and beach vibe. Coupling this style with V-cut hair will add dimension o fine hair boosting it.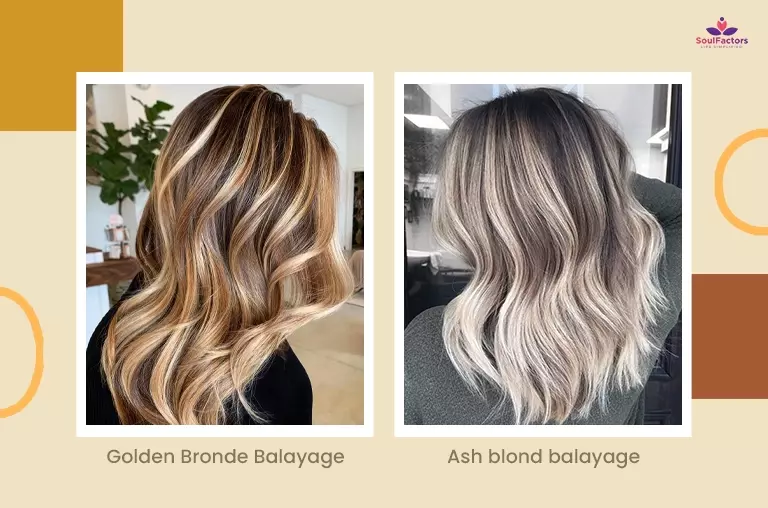 Multi-Colored Balayage
One of the best things about balayage-colored hair is that it can be done in gorgeous color blends without looking too funky. For example, a pink-purple balayage is a great form of bringing out a feminine yet adventurous side to you all the while looking classy.
Partial Balayage
One of the most understated balayage looks is the partial balayage look. An expert hair stylist will know to add balayage highlights right where the light hits to create a very natural and subtle-looking balayage. Mostly a face-framing balayage that moved toward the natural length of the hair looking so stylish and sophisticated all the same time.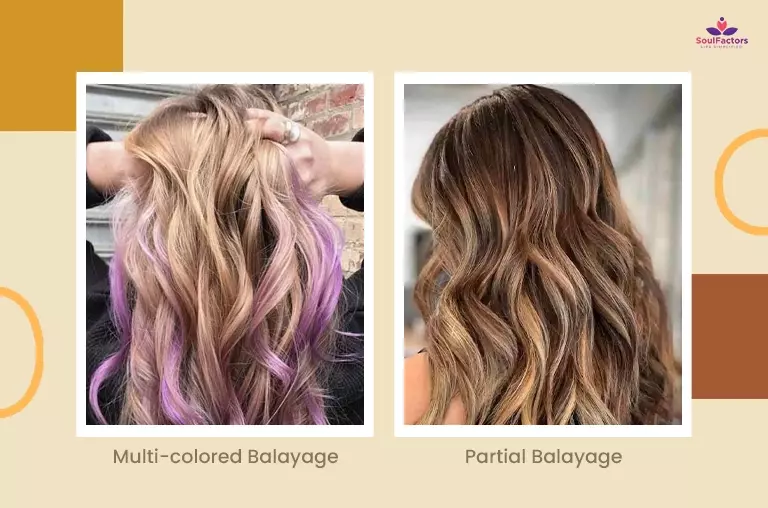 Dark Blond And Platinum Balayage
If you are someone who loves the whole beach vibe effect on your blond hair. Some icy platinum blond streaks on dark dirty blond hair are something you must try.
Tip: Blond hair can easily turn brassy over time therefore try to use a purple shampoo to tone things down
Chocolate Brown Balayage
Chocolate brown balayage on deep hair is one of the most loved and natural-looking hair coloring options out this. While your hair might require some bleaching to lighten the strands, using a good hair mask and oiling the hair can help in keeping even the bleached hair healthy. Dark hair with a chocolaty shift is certainly a vision to look at. Also, you can check the article on bleaching dark hair and how to take care of hair after bleaching.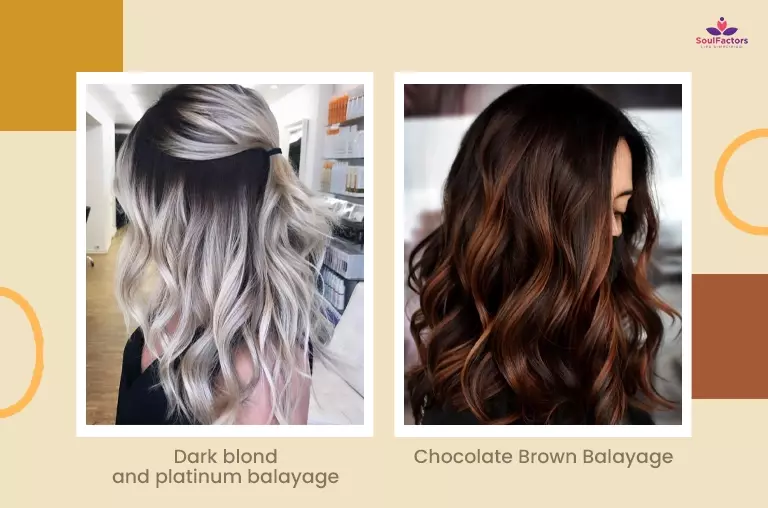 Dark Hair With Subtle Blonde Balayage Highlights
Naturally-born brunettes who don't want to add color to their whole hair can opt for subtle blond balayage, which is very low maintenance but also high on style.
Ombre Balayage
Ombre hair coloring is really beautiful and still in style but if you are someone who loves the ombre effect but still wants your hair to look natural then the best choice out there is ombre balayage. Ombre balayage will give you a natural yet bold look.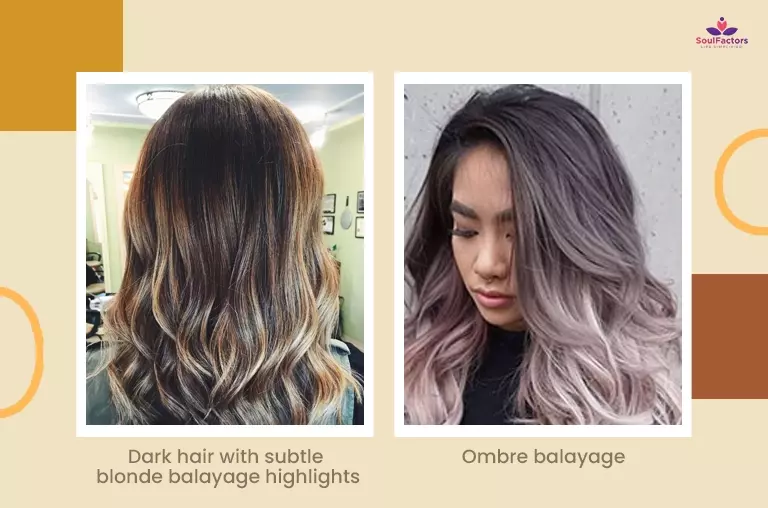 Cherry Chocolate Balayage
If your hair is naturally black then a cherry chocolate balayage will give you an edgy and stylish makeover. With subtle hues of cherry and brown is sweet and hot at the same time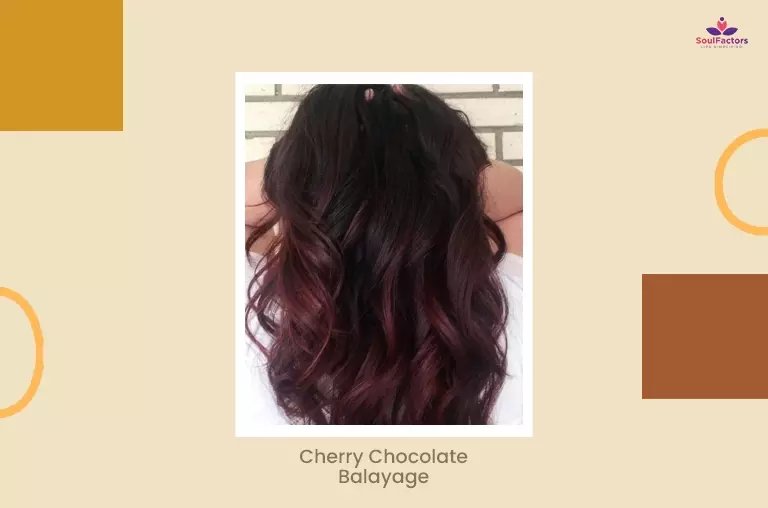 How To Take Care Of Balayage-colored Hair?
Balayage has relatively low maintenance and longevity when compared to other hair coloring techniques. Even if it's low maintenance taking care of your balayage will make sure you can go the longest time possible without any retouching. Here are some easy tips to manage your french balayage and keep it as good as new for the longest time:
Hair Washes: one of the most recommended hair wash frequencies is about 2 to 3 times a week. If you have a very oily scalp then you can wash your hair every alternative day. Washing your hair with a good color-protecting shampoo and following it up with a good conditioner is all you need to manage your hair color.
Hair Masking: using a good nourishing hair mask once a week will ensure that your hair is well moisturized from root to tip(1). Never overuse a hair mask as the product can cause build-up and result in scalp infections.
Use Sulfate-free Products: try to pick up hair care products that are free of sulfates.
Sun And Water Damage: while you flaunt your new hair out in the sun or while you swim make sure you protect your hair with a hat or a swimming cap. Sun can damage not just your skin but also your hair. Chlorine in the pools can also damage your hair and strip its color when done regularly.
Balayage Vs Foilyage
Balayage is painted freehand with very fine strokes over the surface of the hair, to give a natural-looking movement and volume to the hair. Coloring using foils will give an even colored effect. The hair saturated inside the foil will be dense in color. Even though foil highlighting may look artificial it still looks stunning on all hair types.
The latest trend that has come up is balayage is the foilyage. Foilyage is the technique where the effect of balayage is created with greater color saturation and payoff of the foil. The result is not so stubble balayage. The hair is still painted free hand even for foliyage
If you are somehow looking for a way to give your hair a makeover but still choose to keep things looking natural then balayage is your go-to hair coloring method. The real magic of french balayage is that no matter how bold or natural you go with your balayage colors the effects are still very classy looking. Hope this guide can help you finger out french balayage and what is going to work best for you.
Enjoy flaunting the best version of your hair!