Gone are the days to be embarrassed by your gray manes. Embrace it with the cool new Herringbone highlights. Graying of hair is a natural sign of aging. Every individual goes through it with time. But due to the widespread taboo associated with it, many people get conscious when they see even a single strand of gray hair. And if by any chance, an individual's hair starts turning white before the normal age due to genetic and environmental factors, it gives a major blow to their confidence level. If these situations seem familiar to you, we have good news.
Herringbone Highlights! This emerging trend being popularized by celebs like Jennifer Aniston and Sarah Jessica Parker lets you show off your gray hair in a much more stylish way. Named after the herringbone flooring which uses blends of tones and patterns, this new hair highlighting technique gives a balanced mix of warm and cool color to your hair by including your gray locks in the highlights as an additional shade. This type of highlight does not cover your gray manes, instead, blends them to give you a natural look.
How To Achieve Herringbone Highlights?
Herringbone highlights are not just regular highlights that use a single color. It is a process of diffusing several shades around the crown in a sporadic pattern to replicate the scattered pattern of gray hair. It is low maintenance and perfect for the upcoming summers. So, how do you get the highlight?
Well, if you ask us, we would suggest you get it done by a professional. Especially if you have never tried coloring your hair ever before as this type of highlight can be a bit confusing. In case you have prior experience coloring your hair, here is how you can get celeb-approved herringbone highlights.
Necessary Tools And Materials
First of all, determine the color pattern you want on your hair. Based on your skin tone, natural hair color, and your liking you can decide on the color scheme. As herringbone highlights are a combination of multiple shades, choose a few color schemes that can go well together. Here are a few things you may need for this procedure(1).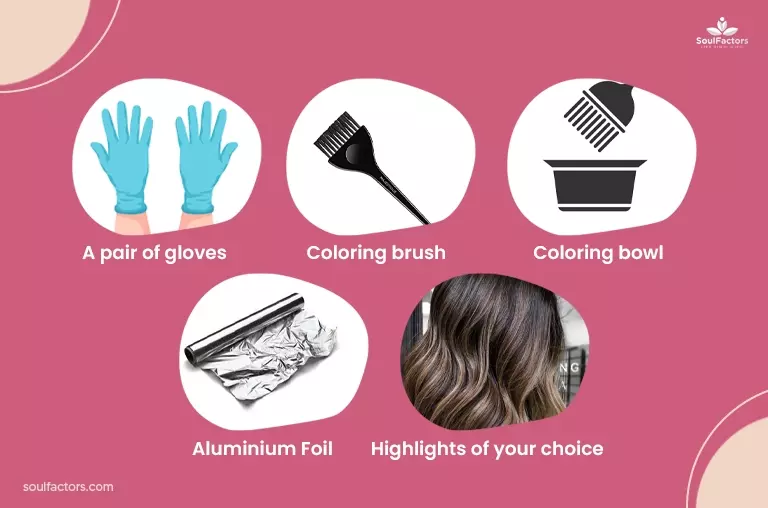 A pair of gloves
Coloring brush
Coloring bowl
Aluminium Foil
Highlights of your choice
Preparing The Hair For Herringbone Highlights
On the day that you have decided to color your hair, wash your hair nicely at least 2 times to remove any greasiness and dirt from the hair. If you apply color to dirty hair, you would not get a satisfactory result. It is much easier to color your hair when it is clean. Once you are done cleaning your hair, pat it dry with a clean towel and carefully untangle your locks. Do not apply conditioner to your hair.
Applying The Color In A Herringbone Pattern
After this comes to the parting of the hair in sections to color it. Just like the traditional herringbone pattern, the type of highlight also consists of rows of parallel lines in which two adjacent rows slope in different directions making it look like a V-shape. So, in this type of highlight, you have to place the foil diagonally to create a pattern. Place the highlights across each other to create a pattern.
Processing And Rinsing The Hair
Once you are done coloring all the sections, leave it at least for one or two hours and wait patiently. After this, rinse your hair with cold water and clean it with color-protecting shampoo(2). Pat dry with clean water and apply conditioner to lock in all the moisture.
Herringbone Highlights Aftercare
The Herringbone highlights process may seem complex, but it is not. It takes almost the same time to apply herringbone highlights as any other highlights and it requires the same attention. Caring for colored hair at home is essential to maintain the highlights for a longer time.
To do so, switch to shampoo and conditioner that is formulated especially for colored hair. They will help to extend the life of your colored hair and will give you soft, shiny, and detangled hair. Apart from this, go for regular spa sessions to keep your hair soft and shiny.
Who Should Consider Herringbone Highlights?
This new hair coloring trend is best for those who have sporadic gray hair and do not want to completely cover it. People with gray hair due to aging or other issues can opt for herringbone highlights to merge their silver strands and get a natural look.
Hair Types And Colors That Work Well With The Technique
Experts suggest that this type of highlighting technique works well for people with blonde and darker shades of hair as it is easier to blend warm and dark tones. Those with red hair may not benefit that much because it would be difficult to create a blend with such a base color.
As far as hair texture goes, there isn't any restriction. Be it curly, wavy, or straight, the highlighting technique looks good in all kinds of hair types.
Face Shapes Preferences
People with any kind of face shape can get trendy highlights. It will suit all of them and with any hairstyle- long or short- if they are well maintained.
Lifestyle Considerations For Herringbone Highlights
Although herringbone highlights are easy to manage as compared to normal highlights in terms of regular visits to the salon for touch up, it still requires some amount of care for the color to last longer. For that, you need to use colored shampoos and conditioner, cover your hair from sun exposure and take regular spa sessions to keep your hair smooth and silky. You can also apply a hair mask at home every time you wash your hair.
Some Herringbone Highlights Styles
Herringbone highlights styles depend on your natural hair color and skin tone. The color chosen for the highlight in this technique should complement both of them to elevate your overall look and make your look confident. Here are some styles that you may try.
Sun Kissed
This blend is a bit on the warmer side and goes perfectly with natural blonde or golden hair color. Created by using chestnut brown or chocolate brown highlights, this type of herringbone highlight gives a golden reflection in the sunlight.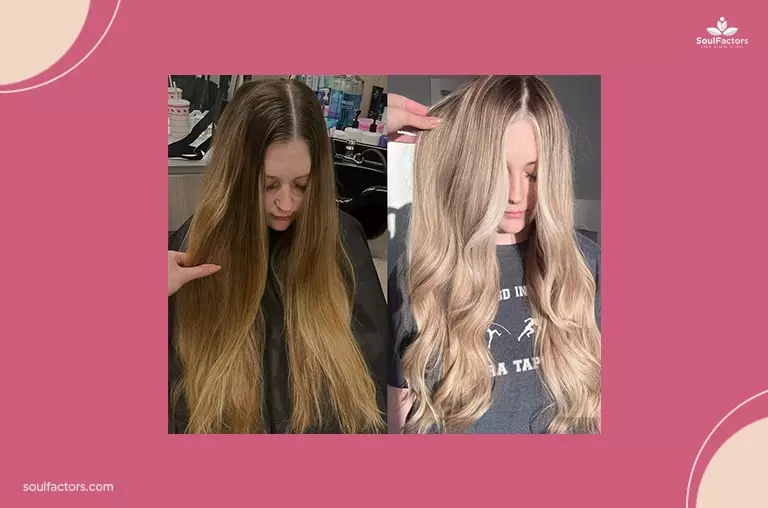 Ash Grey
This type of hair coloring is perfect for those who are more into embracing their natural graying of hair. Adding gray highlights gives a natural look by blending the gray strands.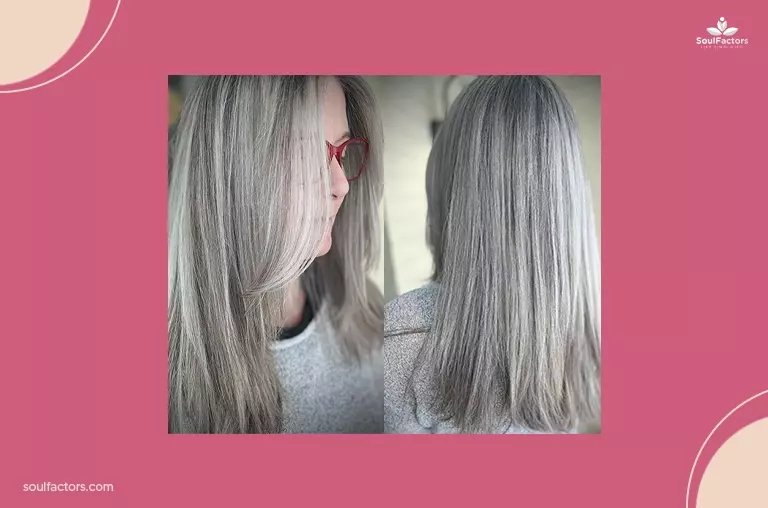 Ash Blonde
This type of highlight works well with a blonde as well as darker shades of hair. Ash brown color blends perfectly with the natural gray hair creating a unique pattern.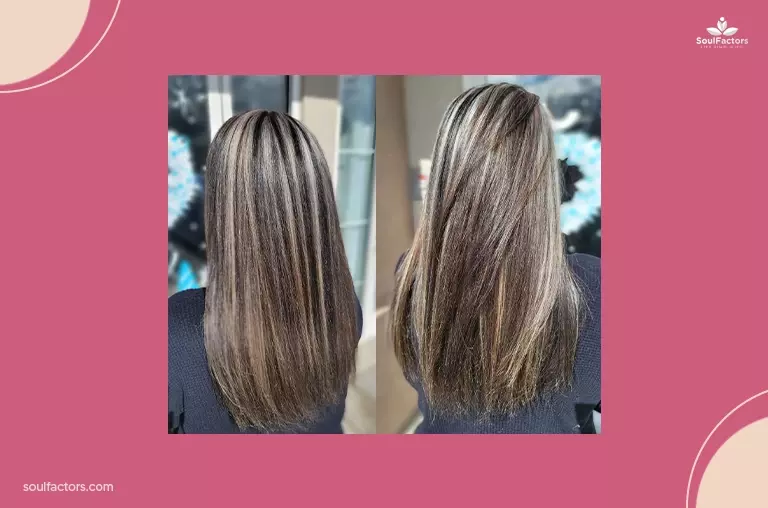 Chestnut Brown
The beautiful chestnut brown highlights on naturally brown hair are one of the perfect combinations for herringbone highlights. The two colors complement each other well and create a perfect balance with the irregular gray hair to create a rich look.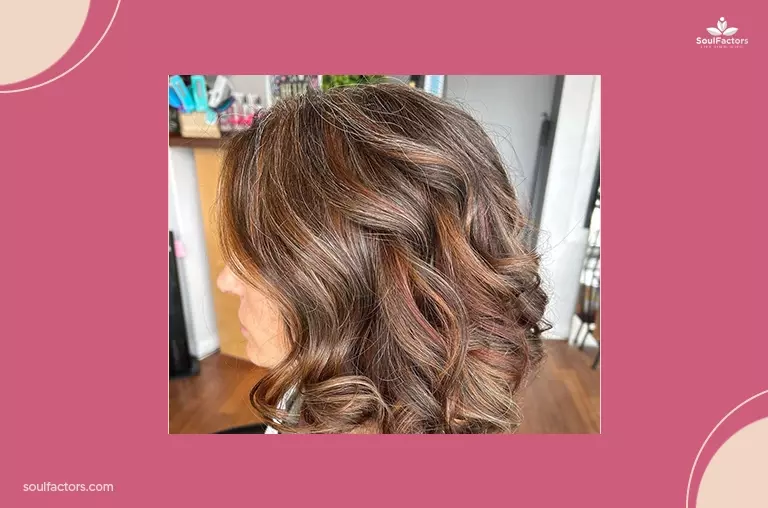 Blonde Lowlights
This is a classic type of herringbone highlight that goes well with silver hair. The brown lowlight helps to elevate your look with minimum hair damage.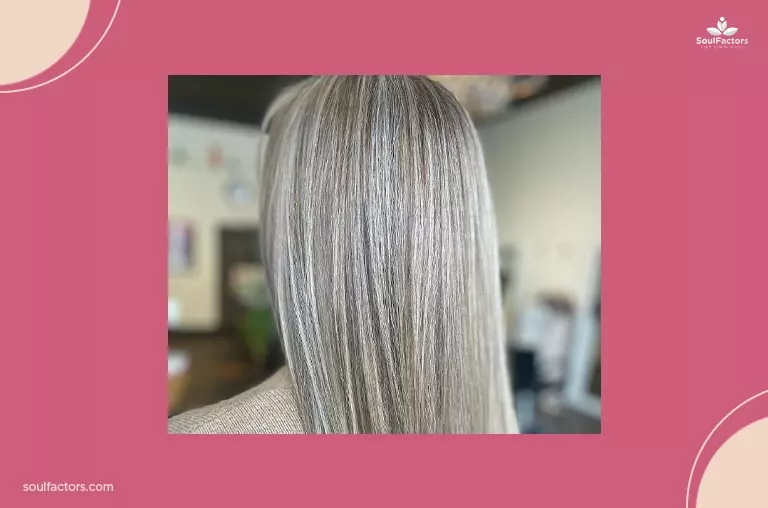 Frequently Asked Questions About Herringbone Highlights (FAQs)
How long do herringbone highlights last?
In many ways, Herringbone highlights are similar to other highlights. With time as the new hair grows, you may need to go to the salon to get some touch-ups. This usually happens after three months, which is a much longer waiting period as compared to other techniques of coloring and highlighting. Additionally, if you take care of your hair in the right way, the visit to the salon can be delayed for a few more days.
Can herringbone highlights be done on short hair?
Herringbone highlights focus on concealing your silver hair that grows from within. In such a case, the color is applied close to the crow areas to blend the silver strands. So, It does not matter if your hair is long or short, if you have gray hair, this type of technique will look fabulous on you.
Can herringbone highlights be done at home?
Herringbone highlights is a technique similar to any highlight. In this, the foils are just placed diagonally to create a scattered look. If you have tried your hands-on hair coloring and highlighting techniques at home, you can attempt this as well. If you do not have any experience, it is better to leave the job to the experts.
How often should herringbone highlights be touched up?
As herringbone highlights do not cover your gray hair, only create a pattern to complement it, you can go for weeks without any touch-ups. Even if the hair grows from within, it will blend with the pattern and would not look odd.
Are herringbone highlights damaging to the hair?
If you apply excessive chemicals to your hair, it will become a bit rough and frizzy. In the case of herringbone highlights, the chemicals in the color take away the moisture from your locks and make them look dry and rough. To prevent this, it is recommended to go for regular spa sessions and apply a mask every week. Colored hair needs extra care, so when you get your hair colored pay attention to it to maintain its shine and smoothness.
Final Thoughts
Herringbone highlight is the new celeb-approved technique that lets you embrace gray hair by giving you a stylish pattern of cool and warm shades. Like other techniques, it does not cover the white hair but rather colors the crown area close to it to blend it perfectly and give you a fresh new look. The result is that you get a look that complements your silver hair and makes you feel more confident. These techniques are loved by the celebs as they are low maintenance and you have to rush to the salon after three weeks for touch-ups. These are the reasons why you must give it a try.
Herringbone highlight is a perfect option for those who want to color their mane, but do not intend to conceal their gray hair. Even those with prematurely gray hair can try these new highlights at least once. The technique requires a careful balance of warm and cool tones. So, for the first time seek professional help. They know how to create a balanced pattern. Unless you are aware of the basic techniques of hair coloring, we won't recommend trying these highlights on your own.