When there is a wedding around the corner, you plan everything from pin to heels. You make appointments with your beautician to glow up before the big day and go for endless shopping to find the perfect dress for wedding. Now, it has become a historic tradition to have some mehndi on both hands for the wedding. Since not everyone is a pro, we have chosen for you the best mehndi designs for beginners.
Mehndi Designs For Beginners
You try to find the best mehndi artist out there to adorn your hands and feet. Not just the bride, but everyone from grandma to little kids running around needs a touch of mehndi. Started somewhere in the Middle East and Eastern countries, mehndi has now become a trend in Western countries as well. It's never too late to start anything new, right?
Mehndi In India
Mehndi is as common as a cup of Starbucks coffee in Asian countries, mostly India, Pakistan, and Bangladesh. A bride is said to be incomplete without that unique scent of mehndi surrounding her. Everyone needs to get a whiff of mehndi on the night before the wedding. And everyone should be able to apply their own mehndi. Hence these mehndi designs for beginners.
"Mehndi night" is what they call in India the day when the bride sits on the decorated stage while having some mehndi artists neatly adorning her hands and feet. That will be a night of celebration with family and friends dancing to the rhythm of "mehndi songs", every corner smelling that unique scent of mehndi, taking the elder people down the memory lane to their own mehndi night. Muslim women apply mehndi for eid, weddings, and other functions of celebration.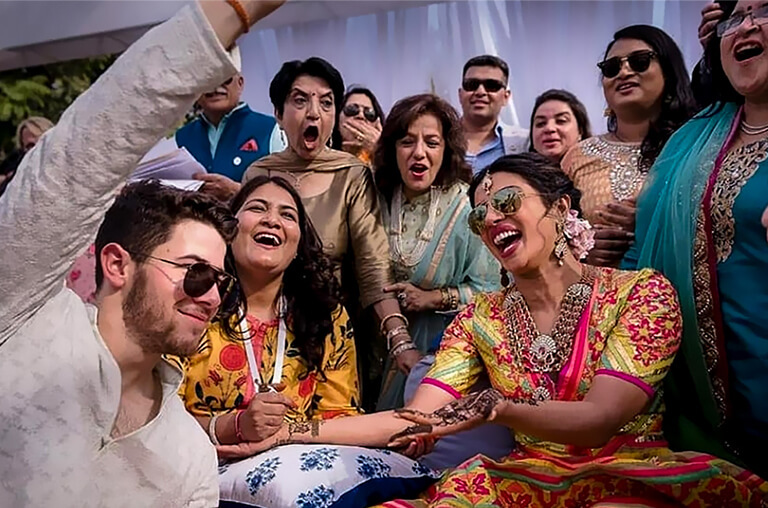 Mehndi, more like a temporary tattoo, is usually put on both sides of the arms, usually till wrists, feet, and ankles. It is easy to make mehndi paste and have mehndi designs for beginners, but what is said to be harder is getting the right consistency to design them neatly.
After applying on your hands, the mehndi's color will change from moose green to black as it dries, and then the color will change to a maroon red in the next five hours. Mehndi is basically a dye that some people use it on their hair too. But there is mehndi paste that will not change the color in the Middle East. They stay black even after washing off and look more mesmerizing in the daylight. Organic mehndi cones are widely available now with differently scented fragrances. For a better stain, people use sugar mixed with lemon juice to apply on dried mehndi. Sealants are available.
Mehndi Designs For Beginners: Patience And Practice Make A Pro!
In times you search for a mehndi artist and come out unlucky, you often envy those mehndi pros who can effortlessly work magic on hands with mehndi. With time, patience and practice, you can be one too!
Although it might look difficult to try, with frequent practice you can see obvious improvements. All you need to learn is how to hold the mehndi cone in the right way. Which is, the way you hold a pen! Giving just a little bit of pressure with your thumb and forefinger is all the push it needs to flow from the cone to the palm in perfect little designs.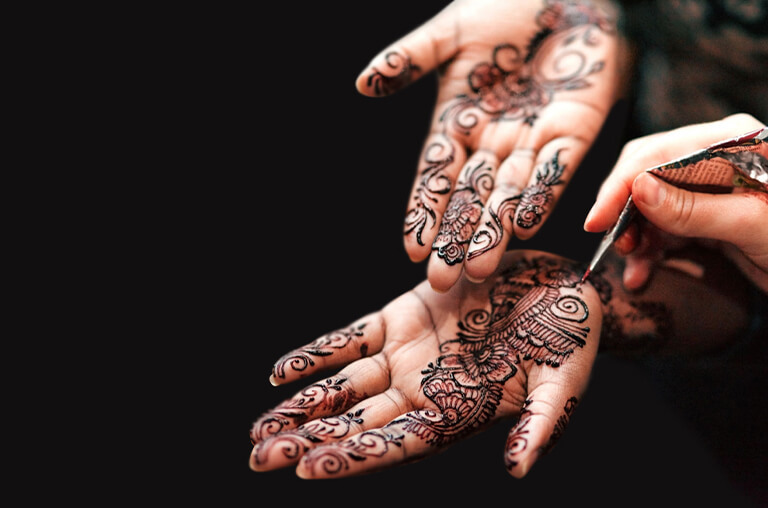 There are many mehndi artists around the world now, all thanks to the internet, showing the world the beauty of mehndi. I have seen amazing mehndi artists like Emma Rose(1) from Canada and Joey Anderson(2) from Italy.
There are many beginners out there looking for hands to practice their designs to get them right and neat. You don't always need palms, a newspaper will do the job as much.
Start with the simple and basic designs to practice. The most important fact you need to stomach is, mehndi designs take time. It is not about how fast you complete the hands of a bride, it is always about the perfection of the designs. So, take your time and do it slowly and neatly and you can bring perfection to every little design. For a beginner, using a stencil will help outline the designs to apply the paste accordingly.
Easy Mehndi Designs For Beginners
Here are some simple and beautiful mehndi designs for beginners to use and practice.
Some girls and women don't go overboard with a whole covered design. They might prefer mehndi on just fingers. Designs for fingers and toes are different from palm designs because of the lack of space.(3)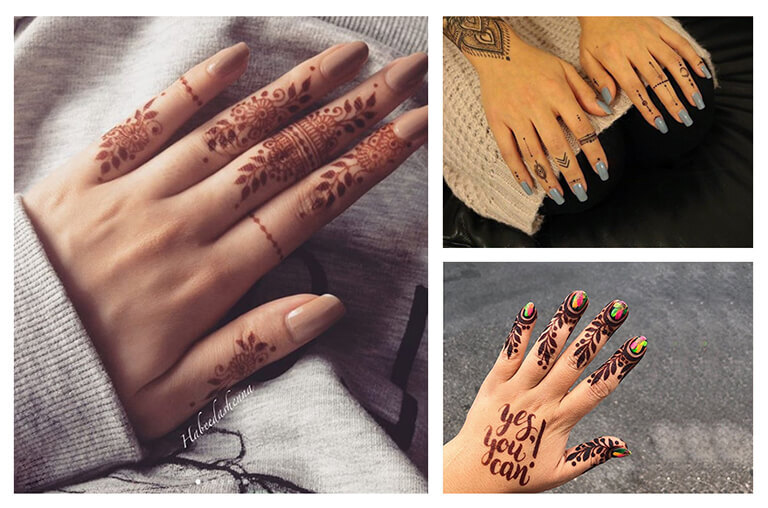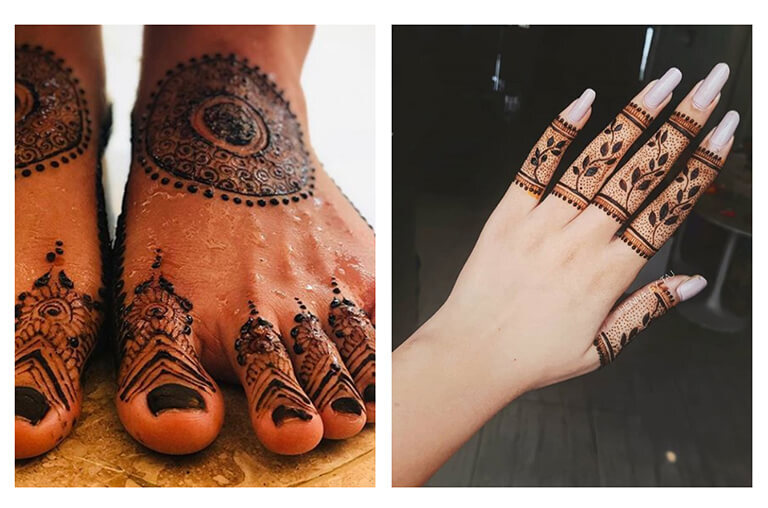 Indian Designs
Mehndi designs vary in style. Indian designs are more floral patterns with vines and leaves(4) (5)whereas Arabic designs are done in thin lines and abstract patterns with dots that are almost non-existent grazing the designs(6)(7). Indian bridal designs cover the entire length of the arm like a beautiful hand glove with designs. For a beginner, bridal mehndi will look like a confusing puzzle of a maze. But like I said, with practice and experience, anyone can make it look easy.
Check out how these intricate designs are put into simple mehndi designs for beginners-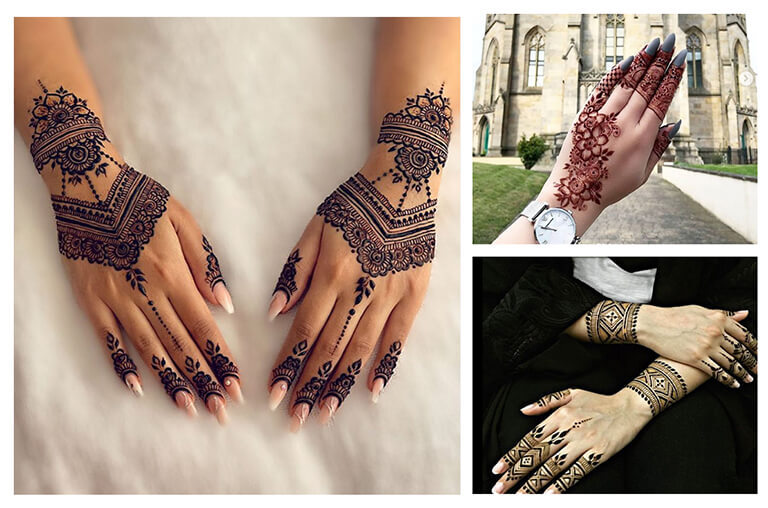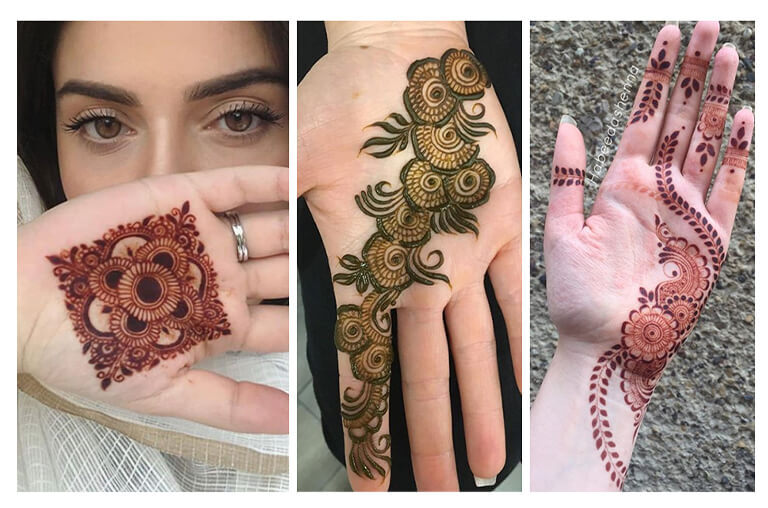 Arabic Mehndi Designs For Beginners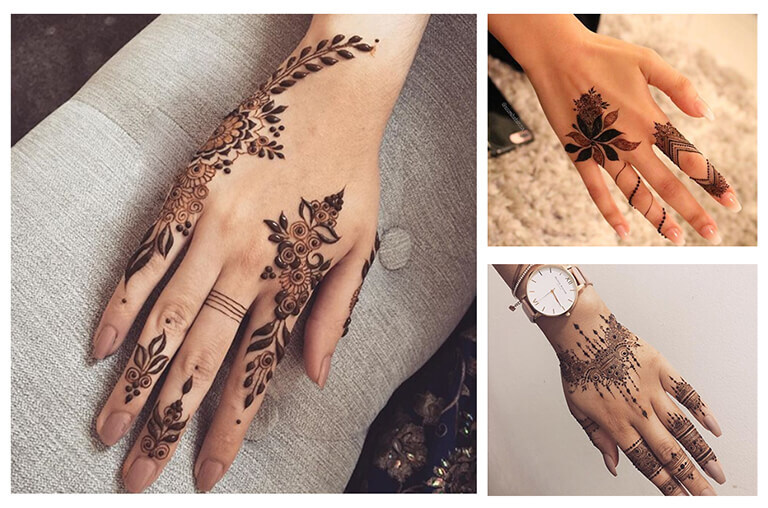 If you want to try a bridal design that doesn't look complicated and hard to try, try this one. A simple yet bridal mehndi; repetition of a design in a zigzag pattern.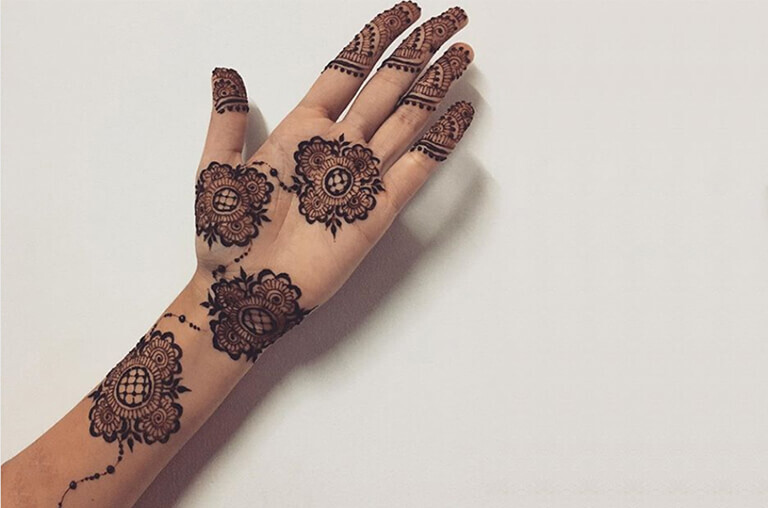 I have come across designs that are completely different and unique from Indian and Arabic designs through Dr. Azra Khamissa's(8) Instagram page. A Dubai-based artist, Azra's simple yet complicated designs seem to carry hidden words and meanings. Carefully chosen from her number of works, here are a few simple mehndi designs for beginners.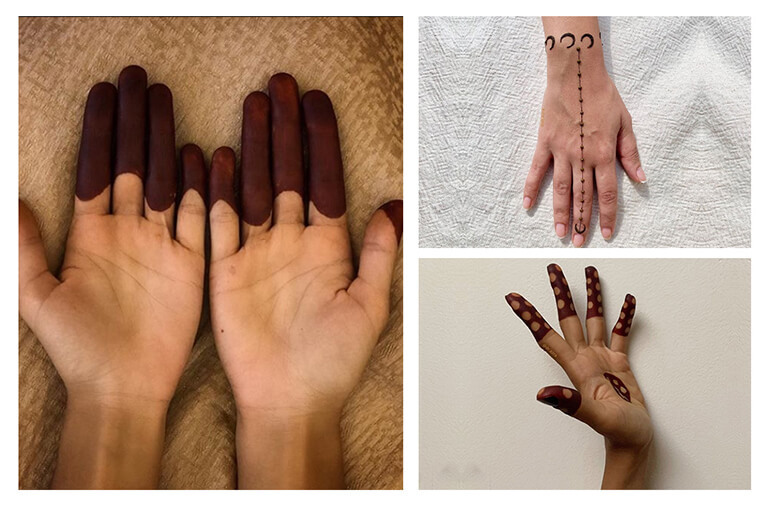 For any beginner in mehndi, these designs will give a start.
Keep a cotton swab nearby when you work, if in case you make a mistake, you need to wipe that off because mehndi dries quickly.

You can watch the videos on YouTube to see how mehndi pros are applying the paste to create beautiful body art out of a cone.

If you are doing a floral design, work from the inside of the design to the outside to make it easier to apply.
Try these mehndi designs for beginners and adorn your own hands in vibrant red. And cherish the unique smell!