Alien nails are out of the world! Nails are a girl's best buddy. They help bring a pop of color into our lives. It is the only colored part of us that we can admire at length without any mirrors, tattoos aside. A manicure always boosts the mood. It makes us stay trendy and pretty at the extremities. It can also help you to fight out or scratch the labels off the apple, though we don't want to go scratching things as nails are super valuable. We do have acrylic nails or faux nails as a Plan B. But we always love Plan A – real nails.
Anne Hathaway was in our talks for her headstrong role in ' The Devil Wears Prada', but now she is in our biz for the alien nails she flaunted at the recent Versace show! The fascination for the intergalactic beings is being incorporated into the fashion scenario big time with these nails.
What Are Alien Nails?
Alien Nails, a term coined by celebrity manicurist Tom Bachik, is the manicure trend that is poised to take down the fashionistas in a jiffy. The infinite potential for customization is what makes alien nail so versatile and popular.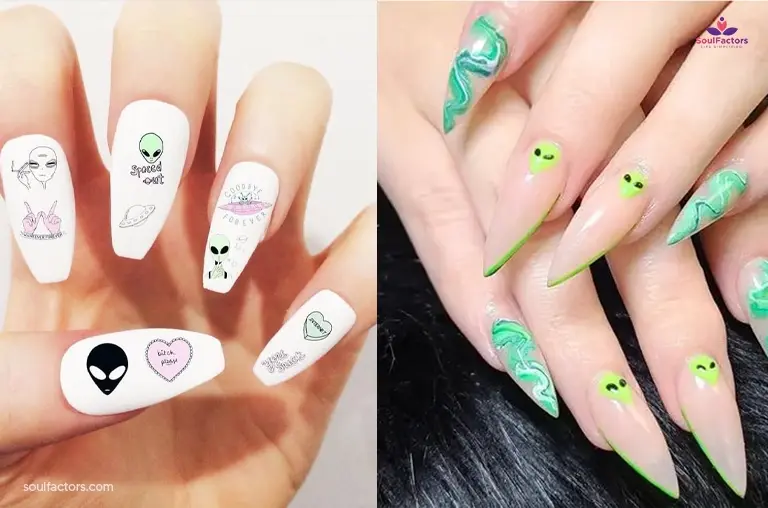 Alien nails are trendy nail-do's that bring in elements of alien life into your manicure. Different elements like alien faces, planets, UFO, and other aspects associated with outer space alien life are brought in artistically into the nail art. These can be done on your natural nails as well as acrylic nails. For the Anne Hathaway style of alien French, try a base of barely-there chrome polish with a set of acrylic nail extensions at the tips that appear transparent. You can also use a thin nail art brush to create the desired design and stop your glitter at the tip. This is a suave alien mani. You can go bold with fluorescent colors and paint alien designs on it.
Types Of Alien Nails Designs
Alien nails can be ready-made or painted on acrylic or gel or polygel or stick- on nails. There are decals which you can stick on your nails as well. Their Designs range from minimalistic designs to highly intricate ones.
Minimalistic Alien Nails Designs
Minimalistic design basically goes for a transparent base with shimmery or elegant designs that are out of the world ones. The designs will be kept to a minimum and the nails be painted with clear lacquer or the whitish range to give a French Belle touch in minimalistic range.
Space Alien Nails Designs
This calls for pure artistic expression of objects with alien associations. You can draw anything from UFOs, flying saucers, the moon, crescent moon, stars, and anything up above the sky.
Bling Alien Nails Designs
The alien nail designs can go extravagant by bringing in bling elements into it like the bubble bling which sure shines for the sun. Adorning your nails with any combination of pearl, silver, or gold bubble jewels for a bedazzled set surely can add a little extra dimension.
Rhinestones Alien Nails Designs
Topping off your manicure with flashy rhinestones will add more shimmery bright bling to your nails.
Goth Alien Nails Designs
You can go goth as black rarely goes out of style. Adding some glassy mosaic tips to the top of a dark manicure can bring in a contrast of dark and light impress of interstellar magnificence.
Cute Alien Nail Designs
This is where girly colors are used as a backdrop for alien elements on the nails. Cute colors like pastels are used to bring in feminine cute vibes
Simple Alien Nails Designs
Simple Alien nail design incorporates simple nail art on maybe one nail while the others will be in a neutral hue or a color of your choice.
Factors To Consider While Choosing The Best Alien Nail Design
There are different factors that come into play when choosing the best alien nail design.
Your Lifestyle
If you are a lawyer and you want this trending design, the best alien nail design for you would be ones that match your persona and the dignity of your career line. You wouldn't want to wear cute alien nail designs that a teen would love to flaunt.
Age
Your age determines your choice of colors in alien nail designs. You may want subtle and non-prominent alien nails that scream ' sophistication '.
Shape Of Your Fingers
If your fingers are longer, then you can go for medium- length extensions or even shorter natural nails. But if your fingers are shorter, you could choose longer nail extensions to show off some bold nail designs.
The Texture Of Your Skin
If your skin texture is a bit wrinkly, then choosing light-colored and non- dramatic alien nails designs would be apt, as they would not draw more attention than needed to your hands.
Beauty Junkie Or Not
If you can do regular touch- ups or changes, then darker and bolder alien nail designs would work. But if you have no time for it, alien nails in bold designs would look a lot bad chipped. You could choose for minimalistic designs in light colored nails like pink.
How Active Are You With Your Hands?
If you are a hands-on person with an active lifestyle, you may want to consider non-intricate designs as your chances of having your nail polish chipped off are higher
Health And Condition Of Your Nails
If your nails are super brittle and unhealthy, it is not advisable to not go in for faux nails. You can go alien nails on short nail.
How To Do Alien Nails?
Any nail regimen starts with clearing the nail off any remnant nail polish that you had applied before. You should clean the nails, buff them and push the cuticles back and trim it to get a perfectly shaped base with the nails.
The second stage would be using alcohol to decontaminate the nails and clear it any residue whatsoever. This preps the base for nail artistry.
The third stage would be the application of the base coat and the predominant hue that will house the design. Anne Hathaway opted for the translucent one on which the gel tips were attached to give a stiletto effect.
The fourth stage is the drawing part or the embellishment part. You can go creative with the elements you put it, ranging from minimalist to cute. You can stick decals or go paint them left and right!
The last and final stage would be to add a top layer of high gloss shine to lock it all in.
25 Best Alien Nail Designs For Inspiration
1. Cute Alien Nail Designs
Snakes, stars, UFOs – whatever you want to portray, make sure you do that on a cool base color like pink, purple, or other girly colors. The cute Alien designs are opted by most for bringing in the 'wow' factor in a cute way. This is for the artistic lot who want to remain in the cute directory. Teens and young moms dig this big time.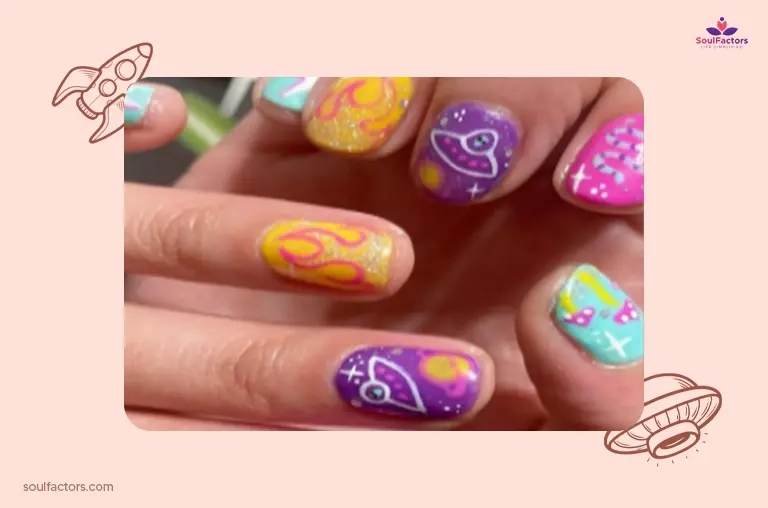 2. Shimmer And Rhinestones Alien Design
Shimmer and Rhinestones never go out of fashion. Incorporating Rhinestones to add shimmer to the alien nail theme gives the sheen of the intergalactic sphere hugely.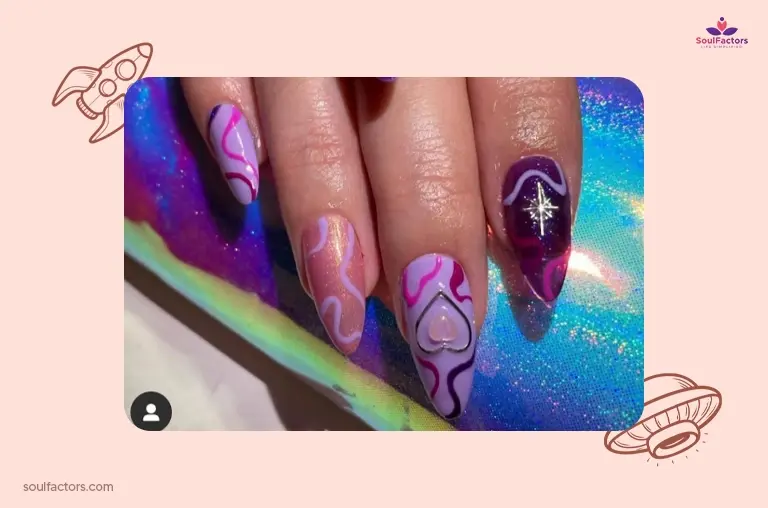 3. White shimmery Alien Nails Design
White shimmery nails are in the starry sky segment, you can add the alien nail theme to bring in max impact. Eyes, rainbows, aliens- all belong to the starry nights here.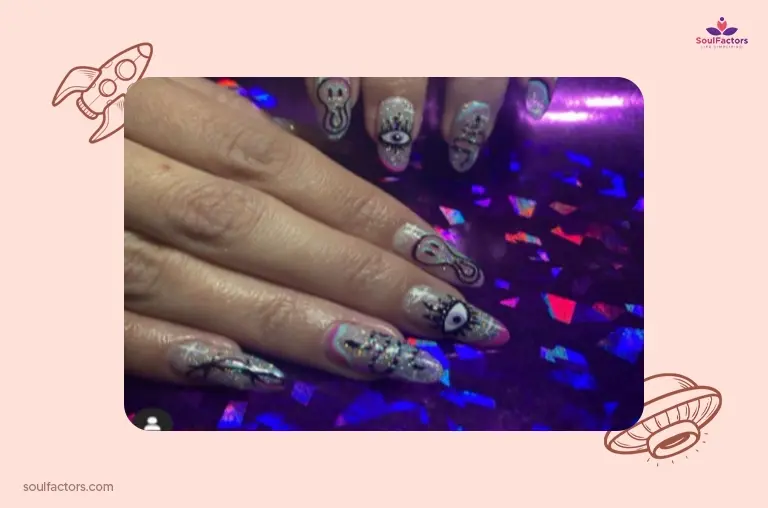 4. The Cloudy Alien Nail-Do
This is a minimalistic alien nail-do with the gloss and whites in the right places to represent the clouds and butterflies that you have to pass through while moving to the alien world. After all, aliens are not that bad!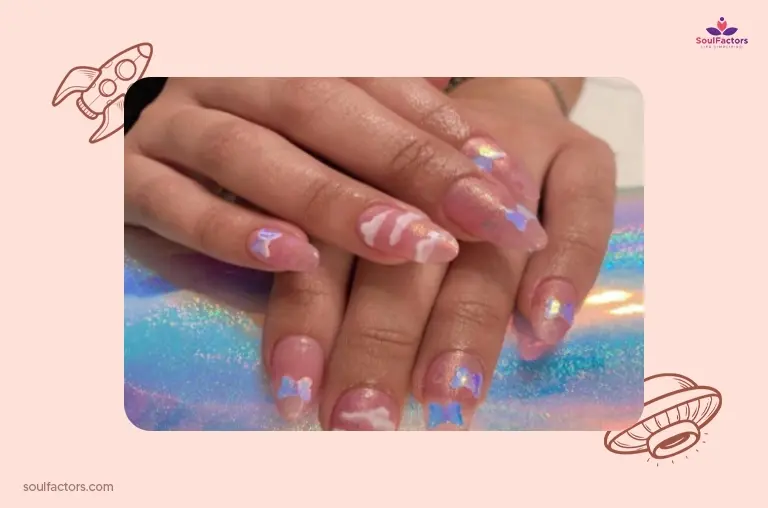 5. The Space Vacation Alien Nails Design
This is how you have an ideal vacation. The deep blue skies with the planets and their orbits spinning around coexisting with the stars is an idea of a futuristic vacation. Let's take one.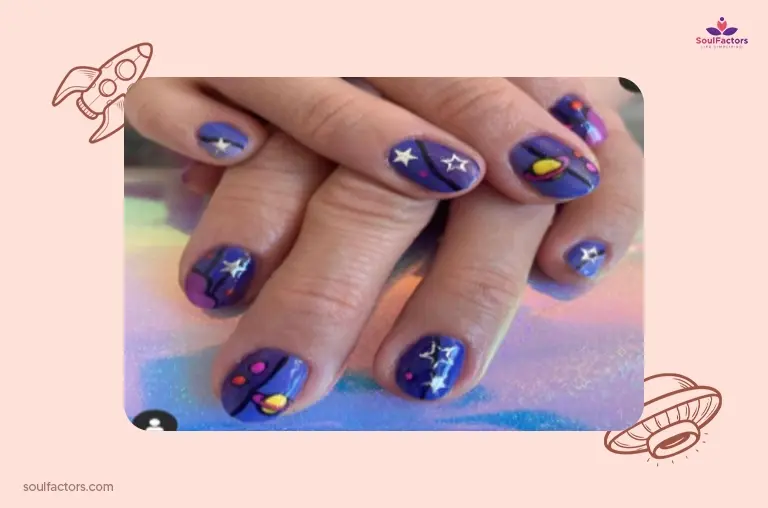 6. The Goth Alien Nails Design
Goth never goes out of style! The black nails and the black theme with the alien elements make for a goth style that a wannabe wicca will fancy!
7. Polka And Circles Alien Nail Design
Yes…we don't know what the alien world looks like! But, sure these polka dots and the circular pathways will be what a stretch of imagination will look like.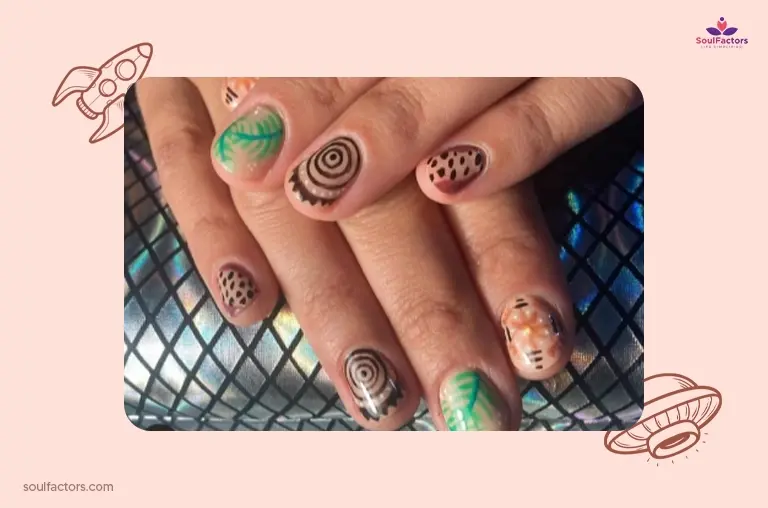 8. Pastel Minimalistic Alien Nails Design
This is ideal for the office goers. You don't want to look like a punk, then this is an alien design for you without going overboard on the alien theme. Minimalistic and decent.
9. Lot Of Aliens In Alien Nail Design
Alien Nail designs incorporating aliens faces on nails sure underlines the love for aliens.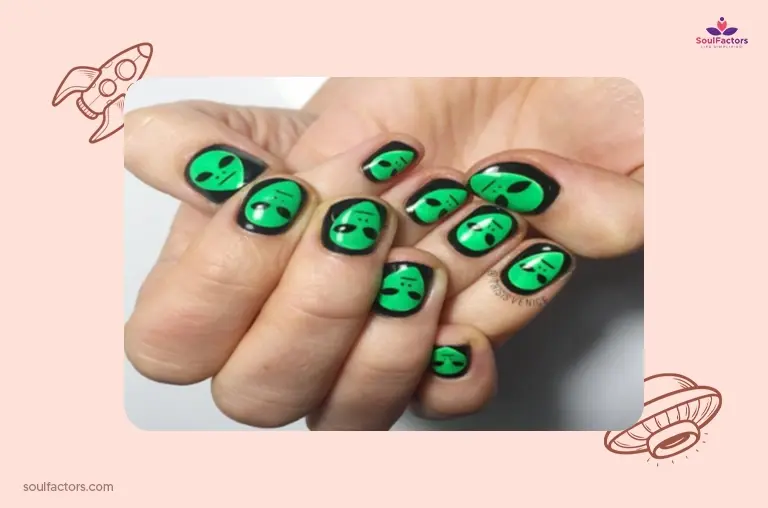 10. Short Alien Nails
Alien Nails need not be on fake ones. You can have alien nail on even if your nails are short.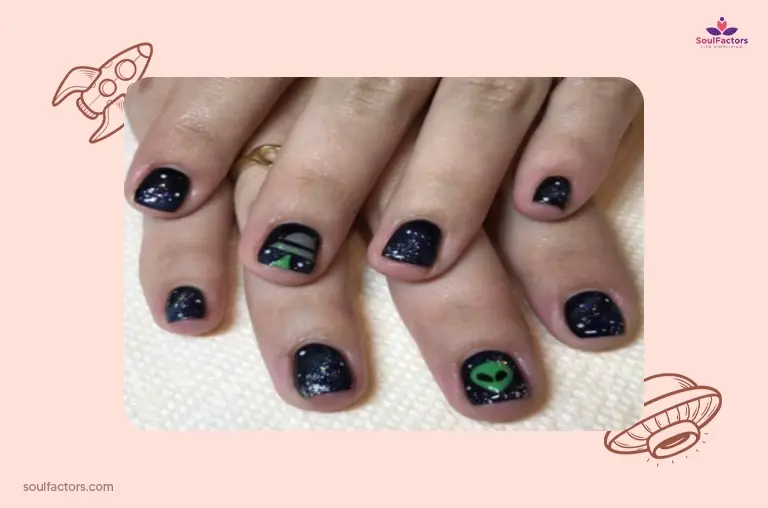 11. Starry Base With Alien Face Alien Nails Design
Well-manicured nails with a starry theme can lodge an alien face. There is no overdoing the alien theme here.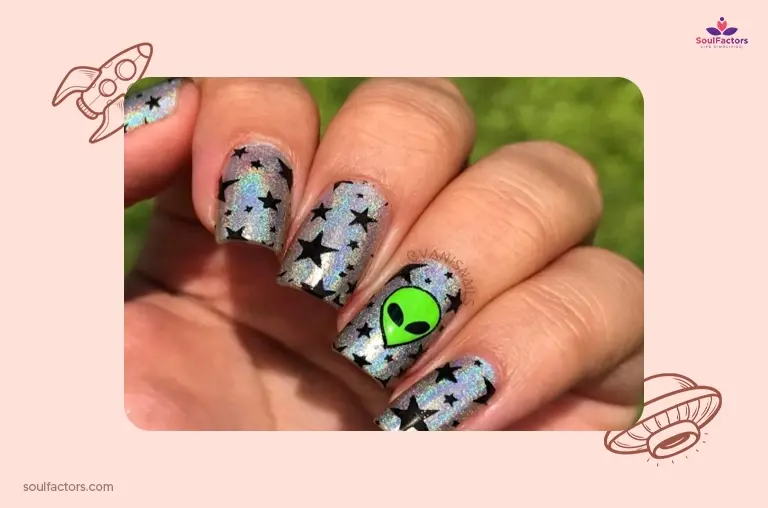 12. Friendly Alien Nails Design
The theme is friendly aliens on white and pastels with the ' hello' emphasising the friendly nature of the aliens.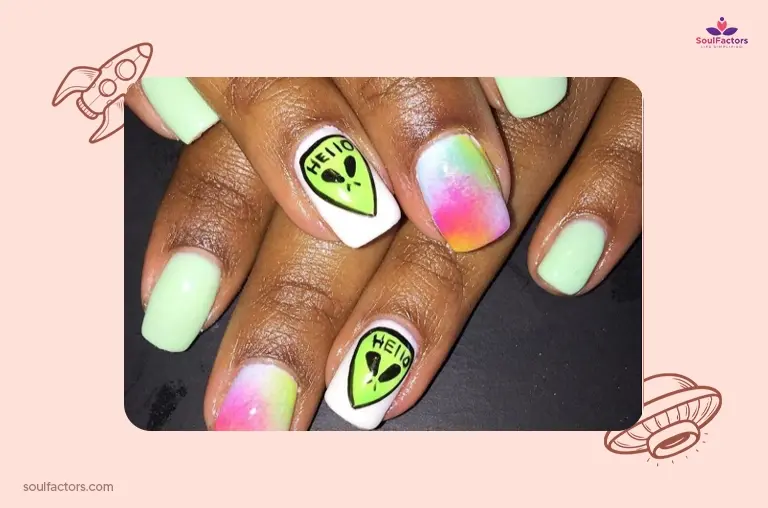 13. Space Alien Nails
Aliens, satellites, stars, and crescents – the space Nails are trendy, especially in the dark space background.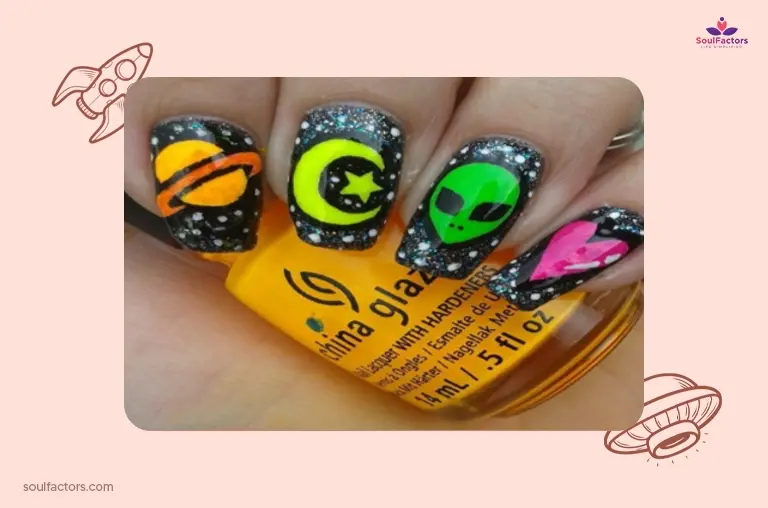 14. Cute Pink Alien Nails Design
For the girly girls out there, cute pink nails with cute alien faces make a feminine statement straightaway.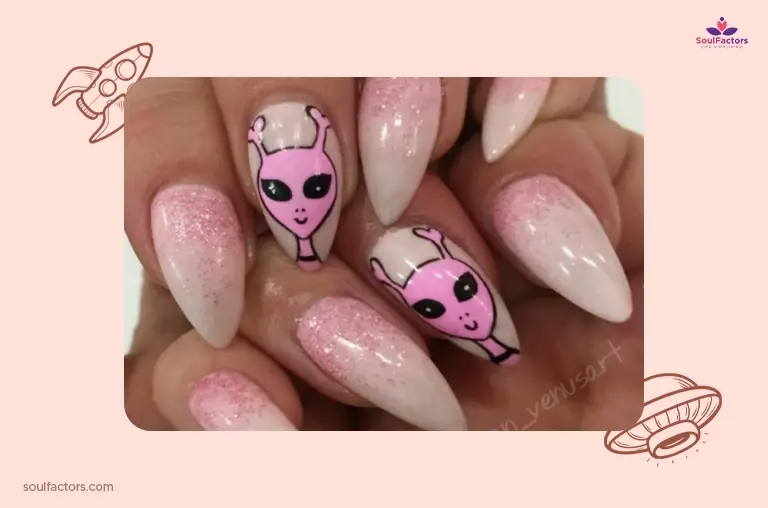 15. Black, Metallic And Green Alien Nails
Black, green and metallic press-on nails with one alien per hand makes for a strong stylish alien statement.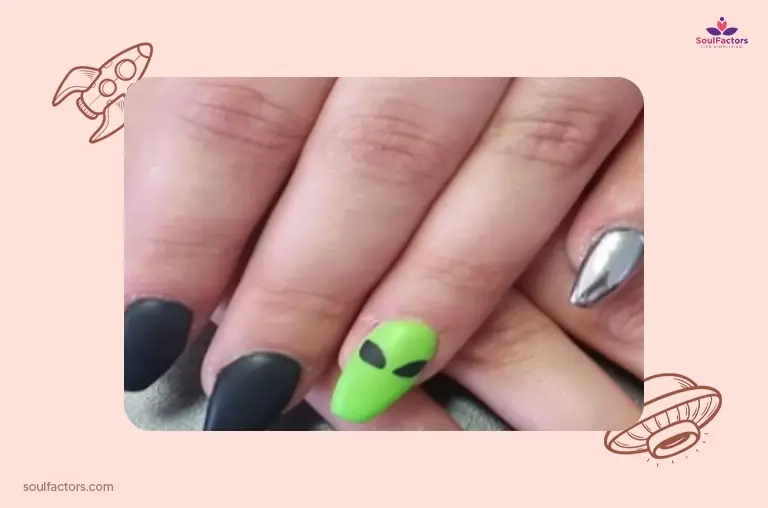 16. For The Love Of Aliens Alien Nails Design
This alien nail design with bright pastels, white and pink brings in a girly love theme for the love of Aliens!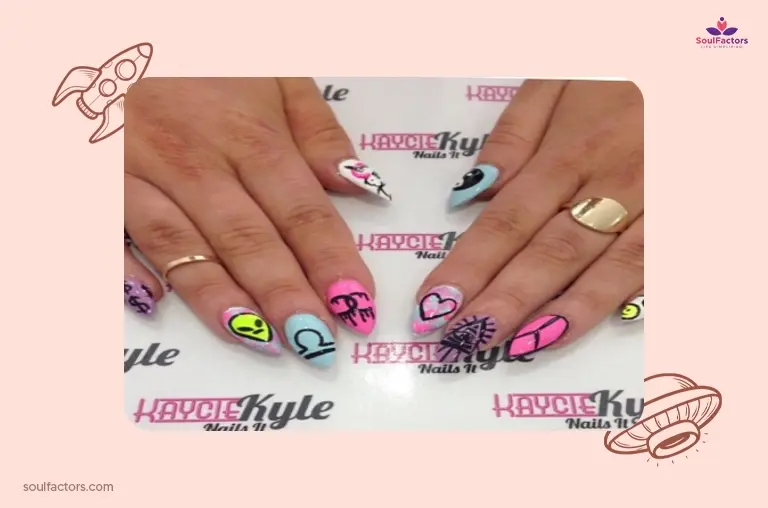 17. The Green Alien Nail Design
The green gel nails with the one shimmery galactic themes nail and greenish shimmery nails form the green intergalactic alien nail range.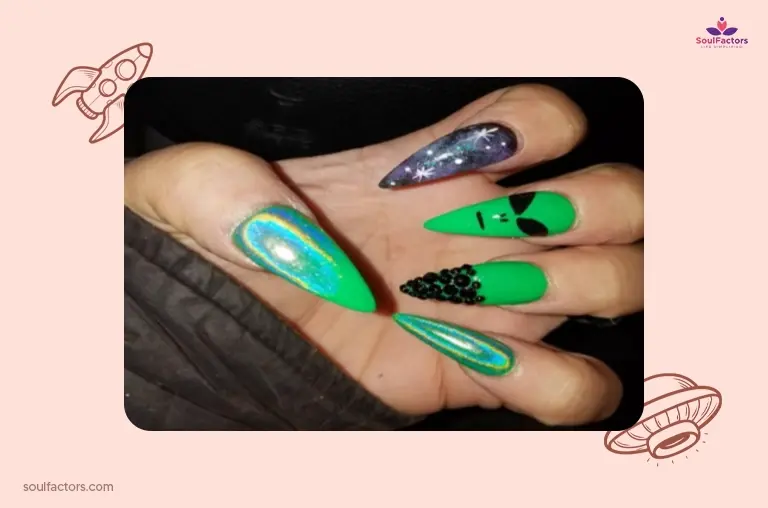 18. Feisty Alien Nails Design
White nails with alien theme, and a feisty alien makes for a funny yet creative alien nail design.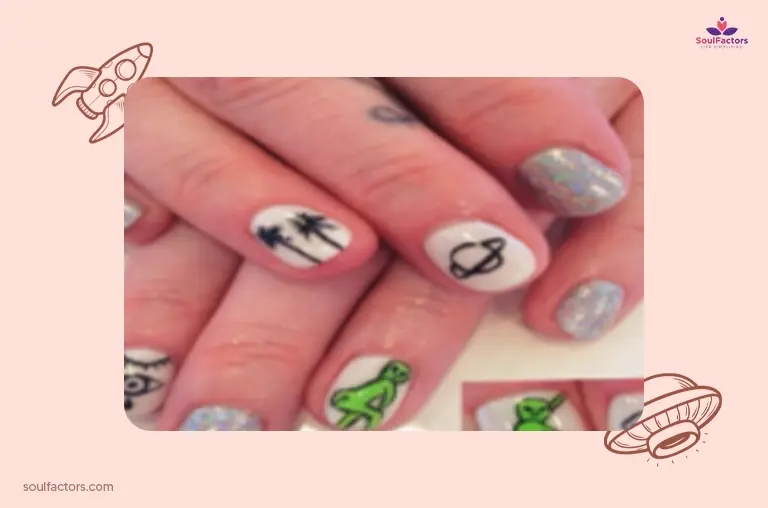 19. Shimmery Pink Understated Alien Nail Design
The shimmery long nails hide an alien face in one of them. An example of how not to go overboard with funky themes.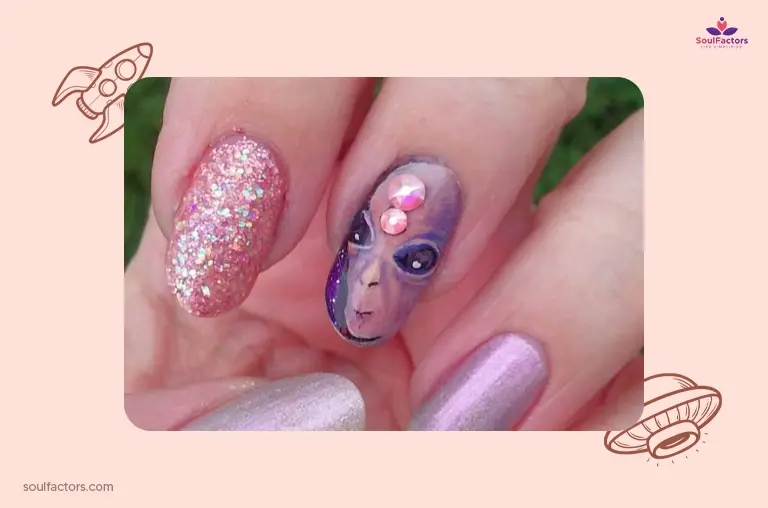 20. Short Alien Nails With Girly Vibes
This is a creative lot with UFOs and peeking aliens. Aliens look good on short nails as well. A great example of cute alien nail, right?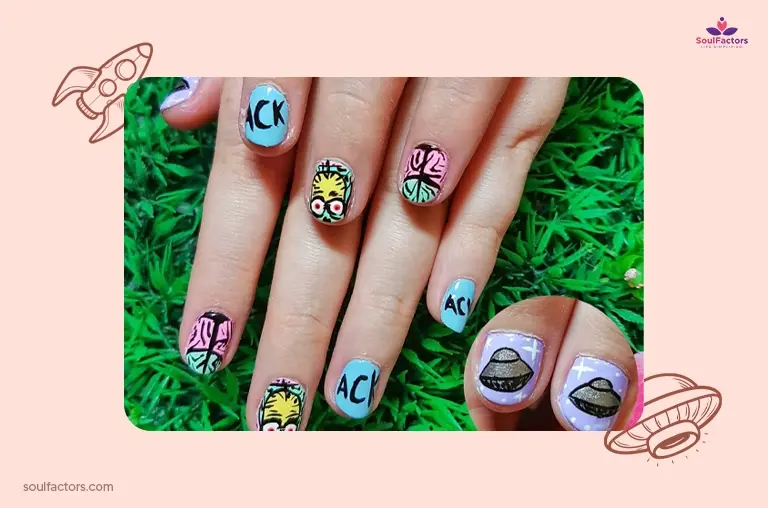 21. Simple Brown Alien Nail
Simple Brown short nails with a silver nail to take it to the clouds. Aliens and moon is all it has. Simple and doable.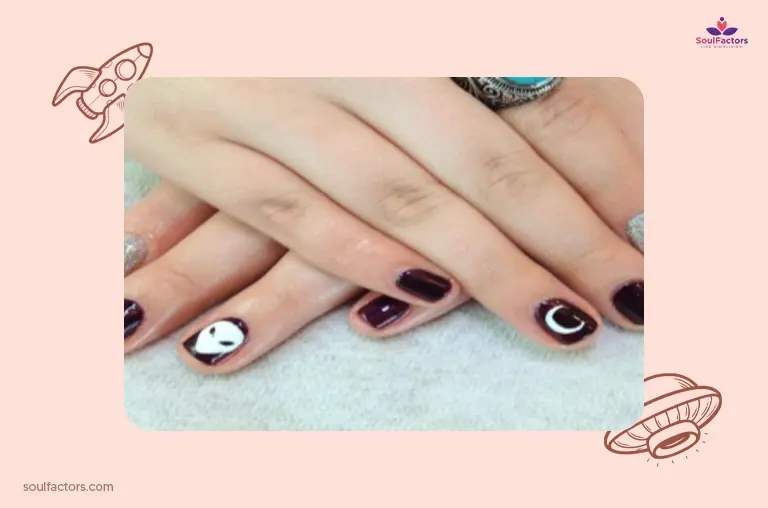 22. Blue Skies Alien Nails
This has alien elements drawn in bright colors making your aliens pop out from the bright blue skies.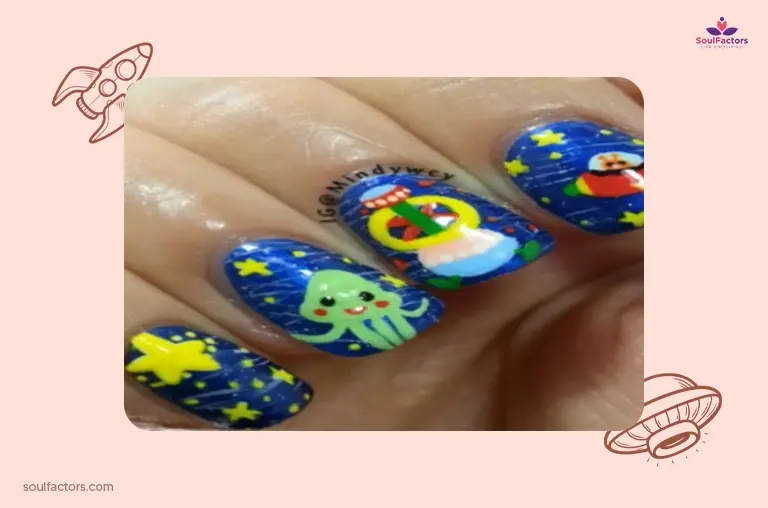 23. Cosmic Alien Nails
This is a cosmic theme in dark blue with all the alien elements. UFOs, aliens, fellow aliens, clouds, stars- this cosmic Alien nail theme is like a slice of the alien cosmic world.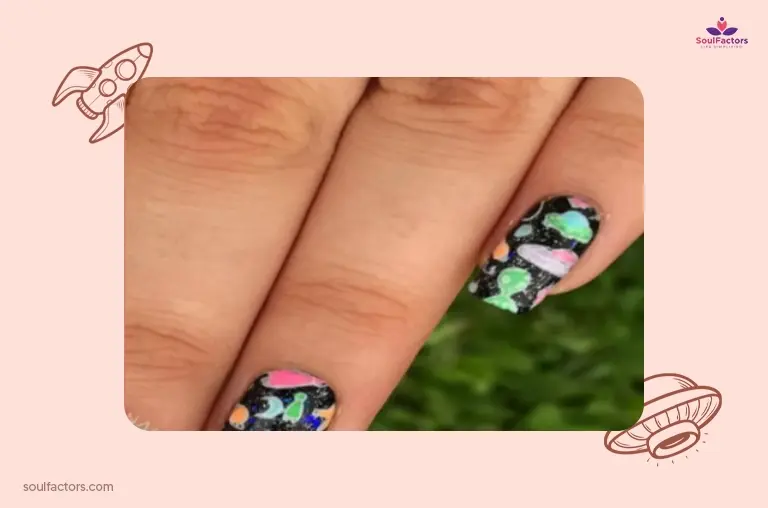 24. Partial Gothic Alien Nail Design
This is a balance of goth and starry night sky theme. Anything from aliens to galaxies can be found in this creative lot.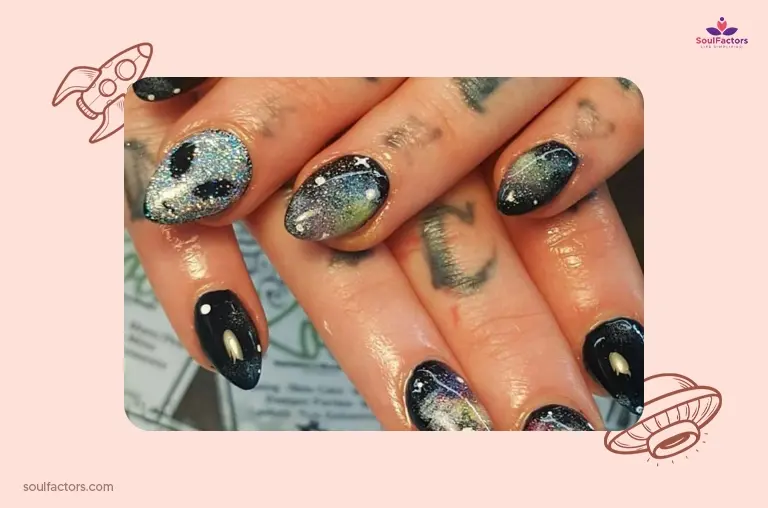 25. Decal Nails
Decal alien nail design uses decals on the manicured nails, real, fake, acrylic, or gel. There are different ones available on Amazon that can be stuck to the nails. It is hassle-free and is a DIY. No artistic touch and expertise are needed.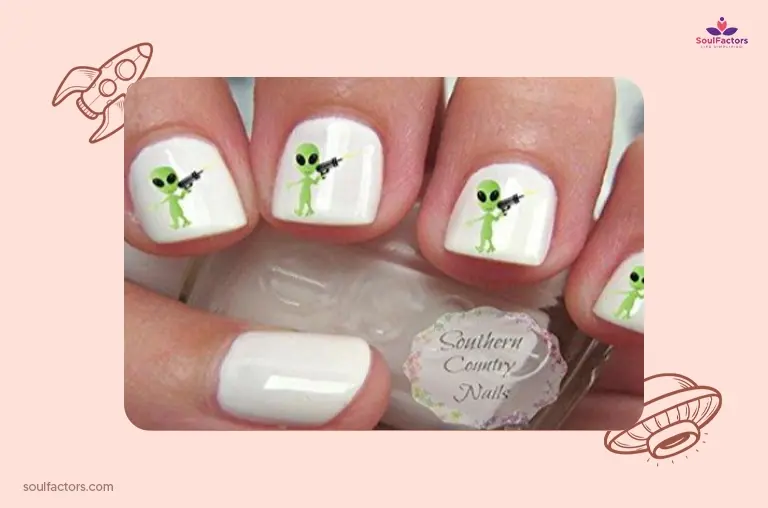 What Is The Difference Between Gel Nails And Acrylic Nails?
Acrylic nails are a combination of a powder polymer and liquid monomer,(1) which creates a paste that is applied to your natural nail. After application the acrylic nails will harden within a few minutes and can be shaped depending on your preferred length and shape. The acrylic nails are the most affordable, durable, and thickest of all artificial nail types. As they don't chip easily, acrylic nails are ideal for women who use hands more. But you need to get it touched up after 2 to 3 weeks as your nails grow over time.
Gel nails are made out of gel acrylic, which is hardened with the help of ultraviolet (UV) curing light or an LED nail lamp. After every coat, your nails will be put under a UV curing light for about two minutes to dry. If you work with your hands more or are active, this nail extension type is not for you because it is not as durable or strong as regular acrylics.
FAQ
How long do nail extensions last?
It depends on the type of extensions opted for and the growth rate of your nails plus the care you shower on your nails. The gel and acrylic nail extensions last at least two to four weeks.
Is it okay to wear acrylic nails for years?
No. Once you get acrylic nails you must get it filled periodically and you can wear it for up to six to eight weeks. Once on, it has to be kept clean and dry to avoid infections. They have to be properly removed by dipping them in acetone. The best option is to go to a professional in order to prevent damage to the nail bed. Having it on for years will stifle the natural nail bed making it brittle. You have to allow the nails to breathe between sessions.

Conclusion
Nails are now seen as a canvas for your artwork. If you are artistic enough you can play on your nails with alien nail designs as it is burning the Instagram feed with its growing popularity. Stick-on, acrylic, and gel nails eliminate the need to grow nails on five fingers, which is fantastic for someone like me who always chips one before choosing a manicure design. Now I know what to try on my claws, as alien nails are trending and out of the world. Enough with this world, huh! After all, the alien nails can add a new dimension to your earthly persona! Cheers to alien thoughts! Oops…nails!