Bella Hadid is a celebrity who needs no introduction. The fashion icon had been hogging the limelight, being one of the most sought-after models in the fashion industry in America. The supermodel is known, not just for her style sense and beauty.
Bella Hadid Diet And Workout: Woman Slash Model
Born Isabella Khaira Hadid, on the 9th of October in the year 1996, she starred in the Real Housewives of Beverly Hills, in which her mother, Yolanda Hadid was starring. Bella began her modeling career early in her late teens and landed Chanel, Givenchy, and Tom Ford! She had been a part of major brand campaigns and has collaborated as a fashion designer too.
She also has co-founded a wellness beverage brand. She was voted Model of the Year by industry professionals for Models.com. The 26-year-old aims to use her fame to make changes that will make the world a better place. In pursuance of the goal, in 2019, she paid to plant 600 trees to compensate for the carbon generated by her air travel. She lost almost 20 pounds with her single-minded efforts through Bella Hadid diet and workout.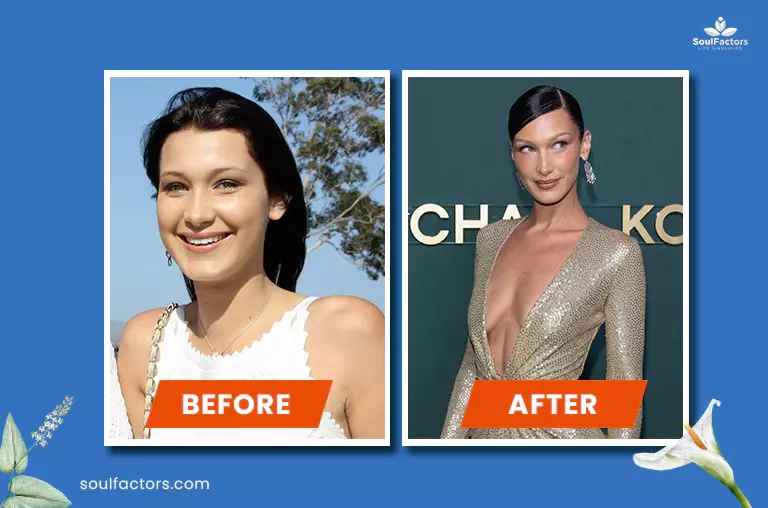 Her siblings are Gigi Hadid, Anwar Hadid, Alana Hadid, and Marielle Hadid. Gigi Hadid is a year older and started her career in modeling when she was hardly two years. Both have campaigned together for Fendi, Topshop, Tommy Hilfiger, and other big sharks. Bella Hadid was romantically involved with a musician. After they split, she started dating art director Marc Kalman, though she is tight-lipped about sharing the details in public.
Bella Hadid Body Stats
Bella Hadid is 5 feet nine inches or 1.75 m tall. Her chest, stomach, and waist are 34-34-34 inches. She weighs 121 pounds or 55 kg. From 140 pounds, she got to 121 pounds. Her body mass index is 18.
How she maintains her beauty and shape, through Bella Hadid diet and workout, to be the most sought after, by fashionistas and fashion magazines.
Bella Hadid Diet: Protein, Healthy Fats, & A Bounty Of Vegetables
It may sound confusing to read that Bella Hadid does not diet. Her approach to nutrition is simple and makes sense. She is a self-proclaimed foodie! Her Instagram posts are testimonials of her love for food.
"If you want a piece of bread, have a piece of bread"!

-Bella Hadid
She does not like withholding food cravings. Period. She eats what she loves in moderation, of course. A post of hers below the picture of what looks like shakshuka is- 'comfort zone'! It is very much reasonable to understand that she goes with her likes yet indulges in a pizza very much in moderation. One of her pics on Instagram has fries and chicken. Do you get the point?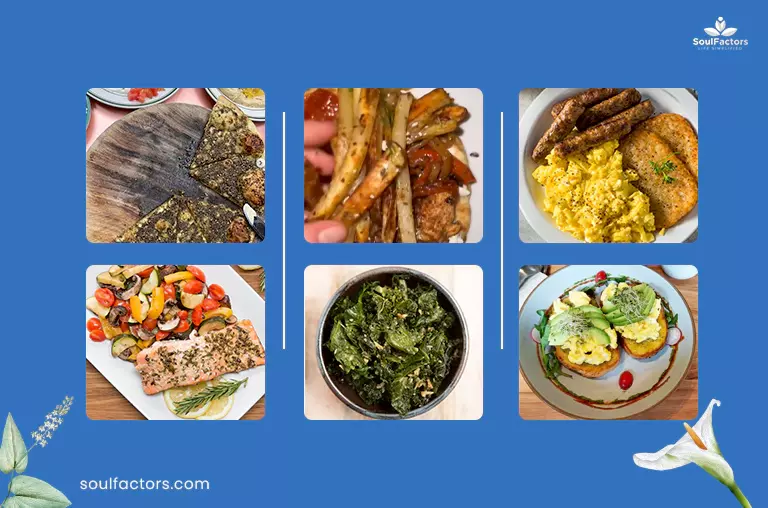 Many weight loss and weight gain diet plans are available now online but Bella Hadid's diet is low in carbs and high in healthy fats and proteins. Her typical breakfast would be eggs and sausage. She takes salmon and veggies in her lunch. For dinner, she prefers sautéed kale. For her proteins, she goes to scrambled eggs, avocado, or a piece of toast! Eggs are definitely a great source of proteins and vitamin B, along with folate, iron, etc.
Bella Hadid Diet: Green Juice, And Plenty Of It!
She is a smoothie person; she admits. She has a huge lineup of packaged berries- blackberries, blueberries, raspberries, as she flaunts her inside-the-fridge pictures, on Instagram.
Her go-to snacks are celery and cashew butter. Nutritious as it is, she munches on it when she gets feels she needs something to munch on in between meals. Ginger shots find a place in her fridge at all times as she finds it to be highly energizing when she hits the rock bottom in terms of energy. Her fridge is stocked with dietitian-approved foods.
As per Bella Hadid diet and workout, she is said to be a fan of Siggi's yogurt, which is an Icelandic equivalent of Greek yogurt. She also has her share of sweet and probiotic Kombucha, which is a healthier choice with lower sugar levels in it.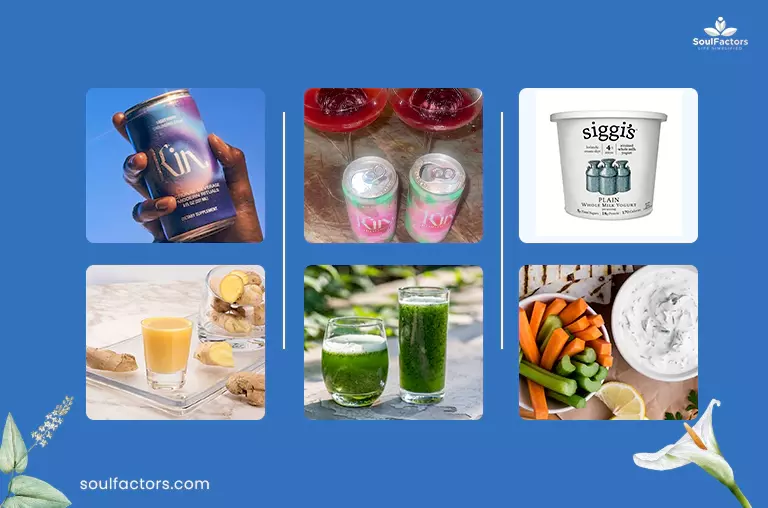 Bella Hadid is said to have low sugar levels because of this she has to feed on something now and then. She is said to order a lot of green juices when she is on the sets. Green juices are a healthy way of getting in the goodness of veggies if you are not eating them right.
She has taken in Charles Passler(1) to help her stay in shape, who believes in a 365-day approach to health than the last-minute rushing to fit into a size zero! He suggests the ideal method to get every fitness enthusiast onboard is proteins, healthy fats, and no starchy veggies. Bella Hadid's fridge holds hummus, yogurt, meat, carrot, and celery sticks, along with other veggies recommended for a diet that keeps one in great shape. She fills up on a good protein diet, for she does not fill herself up otherwise, as it makes her feel sluggish. This would definitely help as it will make us feel full and rev up our metabolism.
Bella Hadid Diet: Large Doses Of Caffeine
She is a self-confessed coffee addict as well. She has at least three espressos before noon! Coffee, as we know, is definitely that rush of energy we need to seize the day. It has a lot of antioxidant wealth, which can turn unhealthy only with added sugars. Coffee in moderation is great, no doubt and Bella knows it.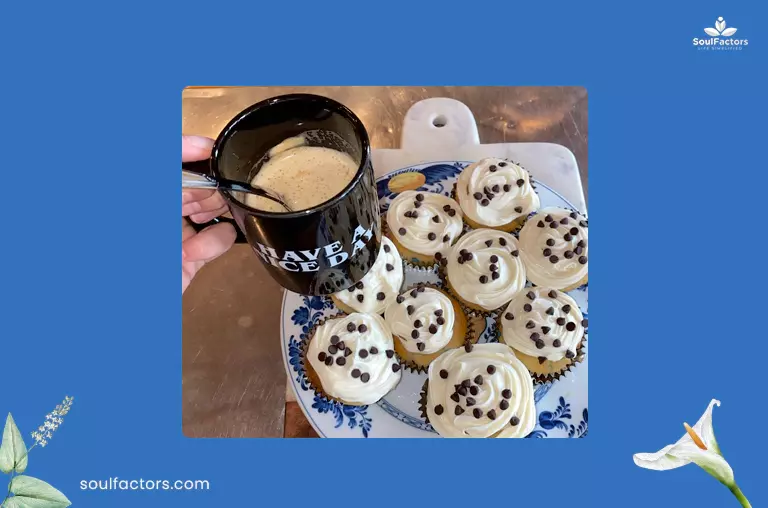 We may imagine her having late-night dinners and parties. On the contrary, she is very much an early bird when it comes to dinner. She is said to have her dinners at 7.30 pm as a family tradition. It is said that if you eat early; you are not waiting longer, which may make you eat more due to the longer duration of starvation. Having dinner late is not a great idea according to any book!
Yes, she has her share of take-outs. It is understandable given her super busy schedule. But she orders healthily. It is definitely a fact that take-outs have more oil than home-cooked meals. But she orders only healthy bites from her choice of restaurants.
Bella Hadid Diet And Workout: The Lyme Episode
Lymes disease she has been battling with requires her to eat clean. She has to avoid foods that cause inflammation, like those high in sugar, because she is prone to inflammation with Lyme disease. Her dietary regimen that includes enough fish and vegetables daily is great for the anti-inflammatory effect. Fish oils are definitely helpful for the brain and for its share of omega-3s.
She lost her Olympic ambitions and lost a part of her great time to the disease. Modeling was very difficult, understandably. Even getting out of bed was an ordeal for her.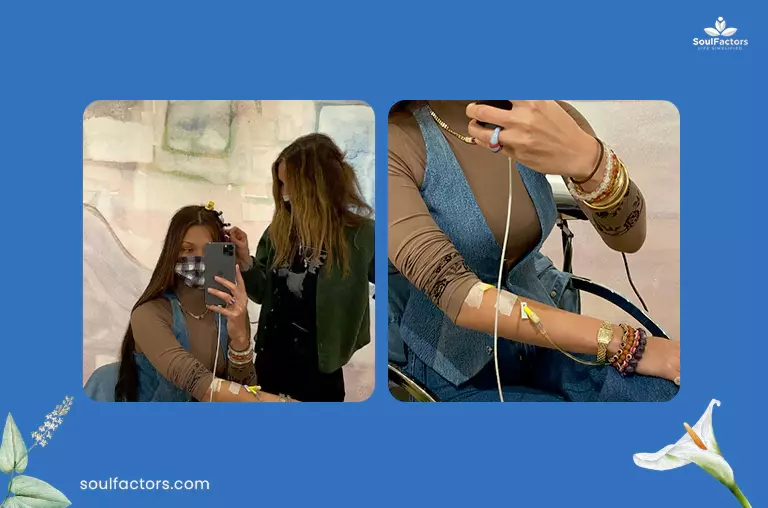 Before she started Bella Hadid diet and workout she was diagnosed with Lyme disease, which is a disease caused by a bite from an infected tick, in 2012. She is said to have felt tired all the time that she had to sell off her horse because she could not take care of it. The disease has long-standing complications.
Lymes disease is debilitating and if not treated in time, it can cause joint pains, rashes, heart palpitations, dizziness, swellings and inflammations, shooting pain, and shortness of breath. Bella has to fight with intense fatigue, insomnia, anxiety, headaches, and brain fog, among other symptoms.
Bella Hadid Workout Routine
According to Bella Hadid diet and workout, she wakes up at 8ish and spends some time journaling. She does some gratitude meditation as she stresses the importance of starting the day on a positive note.
She is not just a fitness enthusiast but also is said to believe 'that the body is a temple' and enough efforts to de-stress and stay mentally healthy are pivotal in life.
She had her fair share of body shaming when her rib cage was visible in a picture taken during a fashion show. She responded to body shaming in a positive way and added that all bodies are different and react differently to different diets and workouts.
Bella Hadid Workout Plan
Bella Hadid loves to run. Paparazzi have captured her in action time and again. So it is no secret workout plan. Bella Hadid's workout venue with her personal trainer, Rob Piela is the Gotham Gym in New York. She starts the day with good stretching. She drinks smoothies, juices or protein drinks half an hour before each session. She trains for two or three hours daily and trains intensively when she prepares for fashion shows.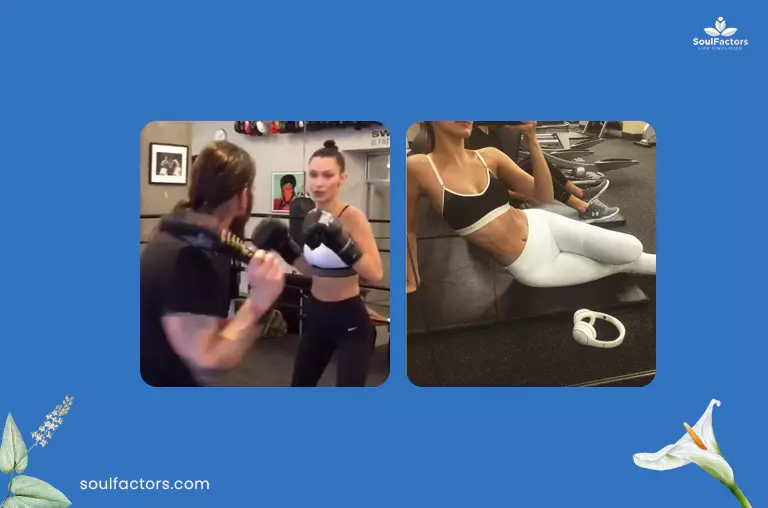 She gives due credit to her boxing exercises as a part of her daily workout regimen for the washboard abs she is so proud of. According to Bella Hadid diet and workout, she does not follow the dull routine of the same workout daily. She jazzes it up as she mixes up her routine with cardio, pilates, and boxing.
She finds yoga calming. She has a thing for yoga, though she finds it slow for her. To make up for it, she mixes some intense workout sessions like boxing or boxing-related workouts to step up the game. Her super-toned physique is a result of her hard work in the gym and her philosophy is to give the workouts your best from the start to finish. No excuses to slack on the burning outs!
She is all in for anything that seems like an activity, be it Pilates, boxing, or rowing! She is said to love long walks along the Hudson river. Her fitness motto is hard work and workouts with full gusto.
Bella Hadid Leg Workouts
Her personal fitness trainer has drawn out a 25-minute leg cardio for her, which involves two minutes of boxing to one minute of doing any combo of leg focussed strength training. Check out the prescribed leg workouts:
• Squats- 20 reps
• Donkey kicks–12 reps on each side
• Plie squats- 12 reps each
• Banded squat walks- 12 reps each
Her fitness routine is specific to her goals in her career. She does not lift heavy weights or try to build muscles. Bella Hadid diet and workout to stay slim, being a much sought-after fashion model. But she does have intense workouts, sure. She stays away from dumbbells but does strength training and workouts for a full body burn.
And her motivation? The result is what motivates her. She admits that there have been days when she did not want to get out of bed early and hit the gym, but once she does, it is cake!
Frequently Asked Questions
How did Bella Hadid lose 20 pounds?
Bella Hadid diet and workout. She has exercised discipline over herself, and makes sure she has a balanced diet with adequate proteins and nutrition. She snacks on celery sticks and cashew butter. She does admit to having cheat meals of French fries and pizza that she posts on Instagram as well. She does two hours of workout daily without compromise and loves boxing. She incorporates any kind of activity that gets her to move.
Who is Bella Hadid's workout buddy?
Her sissy Gigi Hadid! Bella Hadid has admitted to Vogue that she does not like to work out with someone but her sister as she is strong- mentally and physically.
Is Bella Hadid Vegan?
Nopes! She is not. She enjoys eggs and chicken in her meals on a daily basis.
She had drastically reduced near to twenty pounds through Bella Hadid diet and workouts, which is why her diet and workout regimen is highly sought after by fitness enthusiasts. There are multiple videos on YouTube from girls who have tried Bella Hadid diet and workout routines. The young model is a fashion icon and a beacon of hope for millions of girls out there who want to make it big in the fashion world! She makes sure that she is not a walking clothes hanger, but a great human being in the flesh and blood! Someone who has had her fair share of struggles and disappointments. Bella Hadid sure does take adequate care to make sure that she stays in great shape.
We are great as we are. Bella Hadid is a model who sure has her set of pressures to look a particular way. The way you want to look is always your choice. No second opinions there! Cheers ♥️