The oily face comes with melting makeup. Unless you know a thing or two about primers for oily skin, you would end up wrecking your masterwork. After hours of perfecting your strokes of genius, you don't want your makeup to melt, do you? Nobody does! Unfortunately, due to the excessive sebum in the skin, the applied makeup will somehow end up slipping.
The only fix for this particular nagging worry is putting the best primers for oily skin to best use. As always, primers are the elixir of life, particularly for oily skinned faces. Because that constant battle to prolong the wear of makeup from your sleek face while reducing the greasiness is tiring. Hence an effective primer to subdue the greasiness.
When you have an oily complexion, you shouldn't forget about choosing the right primer. It is not just about covering the pores and fine lines, you have to get a flawless complexion without being patchy. Here's a complete guide to choosing the best primer for oily skin.
Best Primers For Oily Skin – Prime And Prep Your Oily Skin!
To my surprise, many women with oily faces dismiss the thought of using a primer. Because they think oily faces don't require a primer. Well, they couldn't be more wrong! With greasy skin, the surface for applying foundation will most likely be tacky, which is not an ideal canvas to work on.
You may find your foundation having an oil breakthrough even before you leave the house. But after using a primer, you will have a much smoother and even base to lock your foundation in without it cracking. Now, does a primer sound necessary?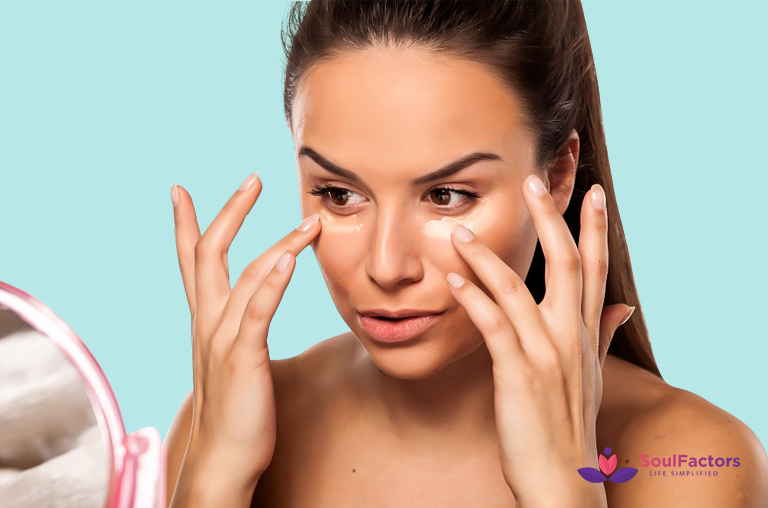 The purpose of a primer is to control the shine and greasiness you struggle to keep in check. Yes, you need to mattify the skin. But you also don't want to take away all the sheen.
For this reason, you must find a primer with keywords such as lightweight, mattifying, oil-free, and oil-controlling, while shopping. On the other hand, the ingredients you must stay clear of are shea butter, waxes, and any added oil as these can clog your pores.
How To Use A Primer?
If you are a newbie to the use of this magic maker, here's a quick guide on how to use a primer. Due to cellular turnover, oily skin tends to be dull and thick. So, it is important to prep the skin before using a primer.
Thus, apply the primer after skincare and before foundation so that it sets in perfectly well. A great choice of skincare would be to use a good cleanser to remove the excess oil and moisturize your skin before you use the primer.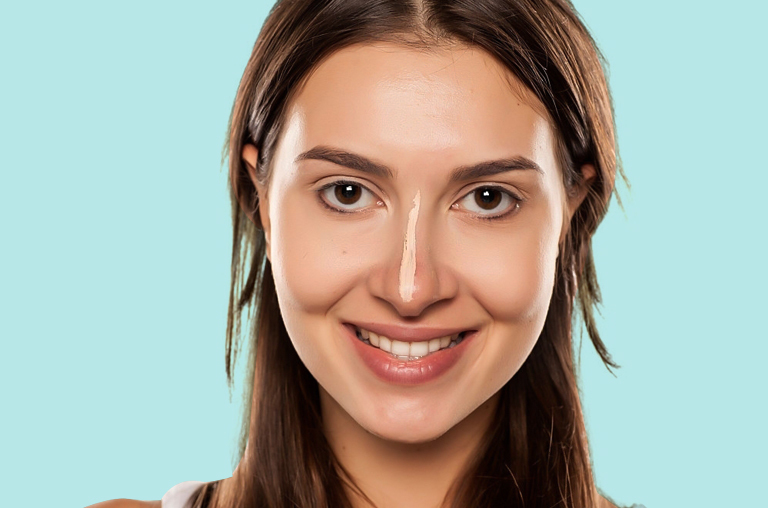 While using the primer, resist the makeup brush! Instead, warm up your fingers and use them to blend the formula, so that it will get absorbed into your skin faster. You may start with a pea-size or quarter-size amount and stick to your T-zone and other areas, then gently tap your fingers over the formula.
It is essential to wait for the primer to fully absorb into your skin before you add the foundation for better results. Once the thin layer is absorbed, the foundation needs to go on quickly afterward. If you apply it in the right way, you need not worry about melting or cracking.
Reviews Of The Best Primers For Oily Skin
For oily faces to end up with an airbrushed look, one can only imagine the effort it takes. Then again, they end up looking closely similar to melting ice cream after an hour or two. But with these oil-fighting primers mentioned below, you can stop fretting over the greasy woes and shiny glooms.
Primers generally contain absorbent ingredients that soak up excess oil from the skin and leave a powdery feel. Along with minimizing the enlarged pores, each of these primers will keep your mastered handiwork intact for a good number of hours. So, time to prime and prep!
Maybelline Baby Skin Instant Pore Eraser
You wouldn't mind achieving a baby smooth skin, would you? The skin with excessive shine shouldn't mind a dewy finish. Because who wants to risk getting your makeup slipping down your face after all that hard handiwork? Well, Maybelline always has the answer to your skin woes, including the continual search for an oil-controlling primer. Their popular primer 'Baby Skin Instant Pore Eraser' is a cult-favorite for legit reasons. Not only is it an affordable option but it does all the work its equivalents (which are not exactly affordable) do.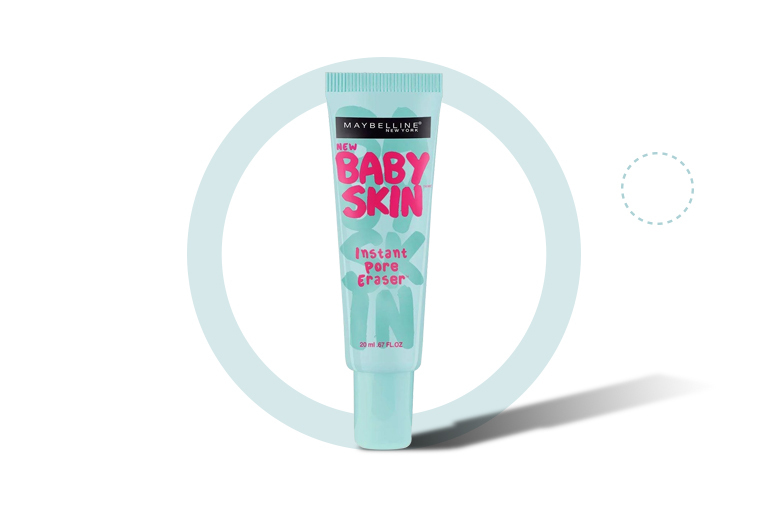 Price: $6.99
As it is lightweight, meaning completely undetectable on your skin, Baby Skin creates for you a smooth base to apply foundation. It will leave your face looking matte and poreless — the predominant ingredient called dimethicone(1) is hands down your hero here.
Besides the obvious boon of being a pore minimizing face primer that will blur even your large pores, it will help your makeup stay all day. After reducing the appearance of redness and your blemishes, it will absorb the excess oil from your skin. Another better boon is that it is a great option for a range of skin tones in behalf of it is clear. Although a few users have dissented over it being too greasy for their liking, it is explicitly one of the best drugstore primers for oily skin.
The POREfessional Face Primer
Benefit The POREfessional comes with not one but two incredible long-wearing primers! If you have oily skin with dry patches or dullness, The POREfessional Pearl Primer is for you. On the other hand, if your face is oily with excess oil, you shouldn't miss The POREfessional Face Primer.
Here, you have its honest review. If you fuss over having your makeup sitting on your pores, you can easily clear the mess with this primer.
Common complaint women with oily skin moan over is the annoying pores. And what's a better solution than a primer with mattifying benefits that will quickly shrink those pores and is oil-free as well? The presence of antioxidants vitamins A, C, and E promises your skin protection from damaging free radicals. Not to mention, you don't specifically have to use it underneath makeup; it can be used on top of your base or even alone.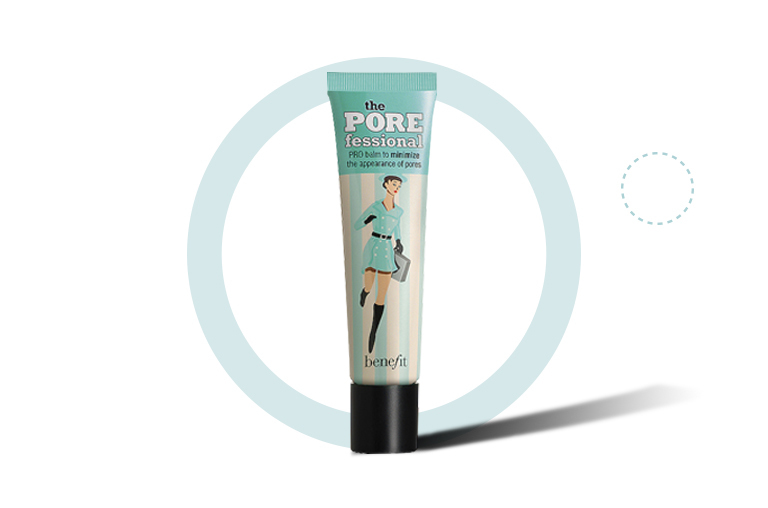 Price: $32
Considering the translucent coverage it provides, it can complement any skin tone well. Even though the texture is slightly thicker than the usual primers you have come across, it is super silky. As a result, it will paint your face smoothly with a flawless complexion. Many of its users agree with the formula being silky smooth, making it easier to apply. Also, it feels lightweight on the skin for easy layering. The POREfessional primer could be your best makeup primer for oily skin!
Hourglass Veil Mineral Primer
For your foundation to work its enchantment brilliantly, you need a primer that not only extends the wear of the foundation but also controls the excess oil. Well, you have a winner here! Hourglass Veil's mineral primer is designed to prolong the staying power of makeup. To give you a smooth canvas for an even complexion that lasts, this primer will work wonders. The supremely velvety, smooth formula having a 'cloud-like' texture is formulated for various benefits.
With superfine, microspheric powders, it will minimize the pores, conceal blemishes or redness, easily fill and soften the appearances of fine lines and wrinkles. Basically, it will get rid of what's clearly unwanted. Being one among the best matte primers, this durable and light-weight formula will give you a satin finish while minimizing shine. As it is water-resistant, it can control oil production leaving your skin looking fresh and non-slippery all day.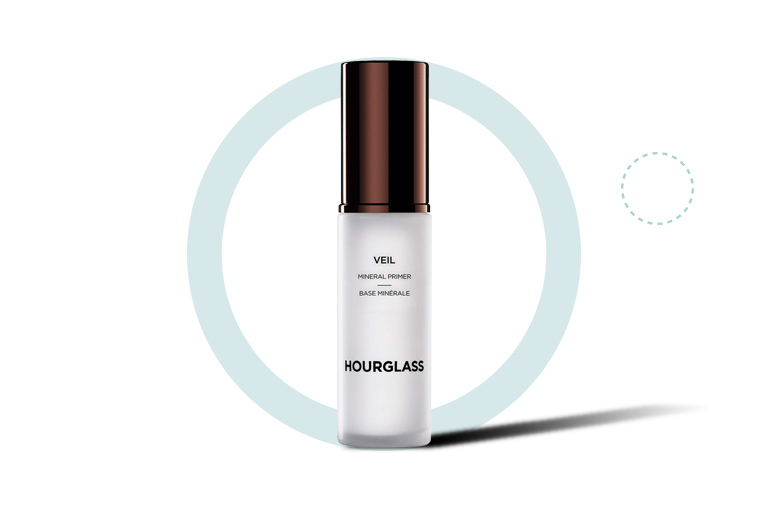 Price: $54
Moreover, with the presence of highlighted ingredients such as titanium dioxide (2.45%) and zinc oxide (4.2%) — both of which protect from damaging UVA rays, this mineral primer provides broad-spectrum SPF 15 protection(2). Also, it is oil-free, gluten-free, cruelty-free, vegan, free of sulfates SLS and SLES, parabens, and phthalates.
Hourglass Veil primer is popular among sleek-skinned women as well as women with dry, normal, and combination skin. Now you can see the reason for the hefty price tag. No wonder why it was the winner of the InStyle Best Beauty Buy award for Best Primer for three consecutive years ('14, '15, and '16).
NARS Pore and Shine Control Primer
NARS's pore and shine control primer is mattifying to the point of prolonging and enhancing the makeup on your skin after applying it as the base. Enriched with oil-inhibiting African whitewood, nourishing oleanolic acid, and plenty of peptides, this primer will neutralize, balance, and purify your skin with an even velvet matte finish. To sum up, it is undecidedly much more than a temporary fix.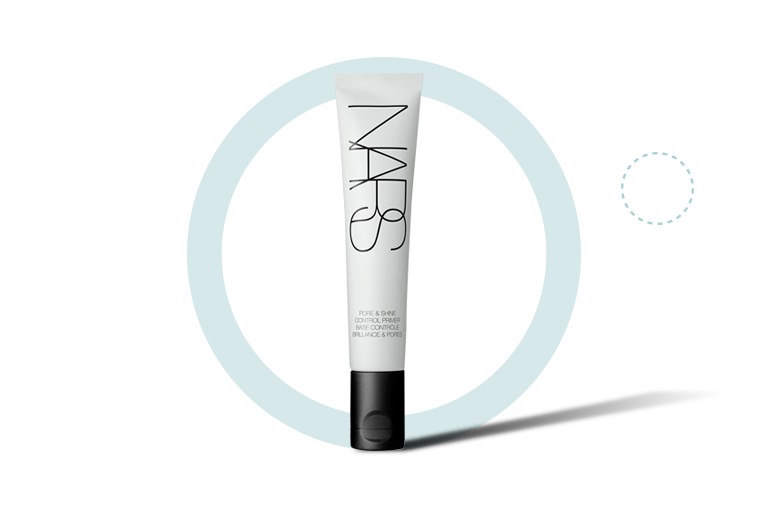 Price: $36
It can blur the pores you want to minimize and control the excess shine you want to tone down throughout the day. The lightweight texture will glide over your skin while the silica sweeps and mops, effectively absorbing the excess sebum off your skin. Thanks to the soft-focus powder, it will give you a smoother skin that is ready for a photo session.
This is one of the best balancing and refining primers anyone with greasy skin must try. So, prepare your skin for makeup application with this oil-free mattifier to perfect your skin! The important details that shouldn't go unnoticed includes:
Oil-free

Paraben-free

Synthetic fragrance-free

Dermatologist tested

Non-comedogenic
Smashbox Photo Finish Luminizing Foundation Primer
As the name itself suggests, Smashbox's Primer gives a seamless photo finish that doesn't disappoint the user. One impressive plus point that is appreciated by every user of this primer is its non-drying formula. Most primers often leave your face either too dry or don't absorb the excess shine enough. But luckily with this one, you can have your promised matte yet velvet finish without fretting neither over drying out your skin nor reapplication now and then.
Loaded with skincare ingredients such as vitamin E, hazel, salicylic acid, and zinc, it will prevent skin breakouts while minimizing blemishes. At the same time, it will keep your skin nourished throughout the day. If it is thick enough to lock in your makeup without cracking, it is also lightweight enough to use it under your moisturizer without looking all heavy!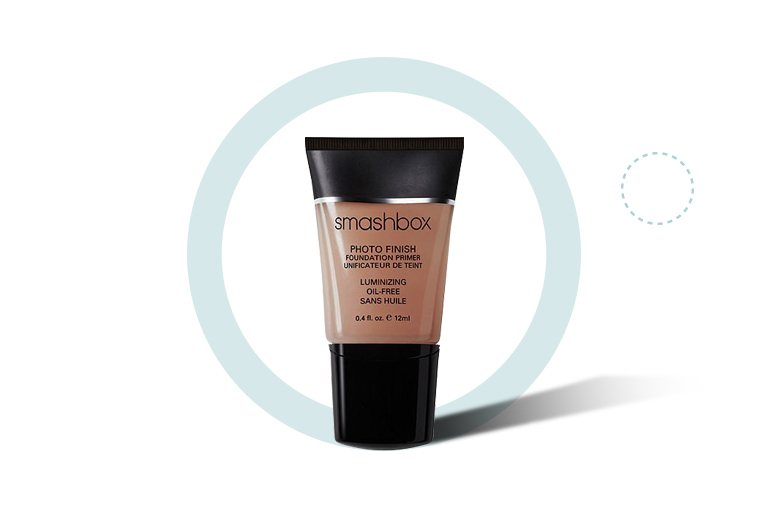 Price: $37
Free from harmful ingredients like parabens, this reframing oil-controlling primer will balance the oily or combination skin while its non-drying formula will melt into your skin and lock in makeup. You can either wear it alone for an instant matte finish or pair it with the foundation for a more full-coverage matte finish. As it is sweat and humidity-resistant and fairly long-lasting, it can make your greasy face look airbrushed for up to eight hours straight. So, you can keep this on your shelf even during sunny days.
Estée Lauder The Mattifier Shine Control Perfecting Primer + Finisher
This is the best 2-in-1, being a mattifier primer and a 'finisher', you can use on your oily face. Every oil-soaked face needs to keep the unnecessary shine at bay throughout the day, right? Estée Lauder's 2-in-1 primer is one of the leading oil-controlling primers you can slather on after using moisturizer.
It will dial back for oil and keep the shine at bay throughout the day. But if you prefer reapplying after a few hours, you can easily reapply without having to worry about making your face cakey. Because the formula is thankfully so lightweight that you will only need a thin layer.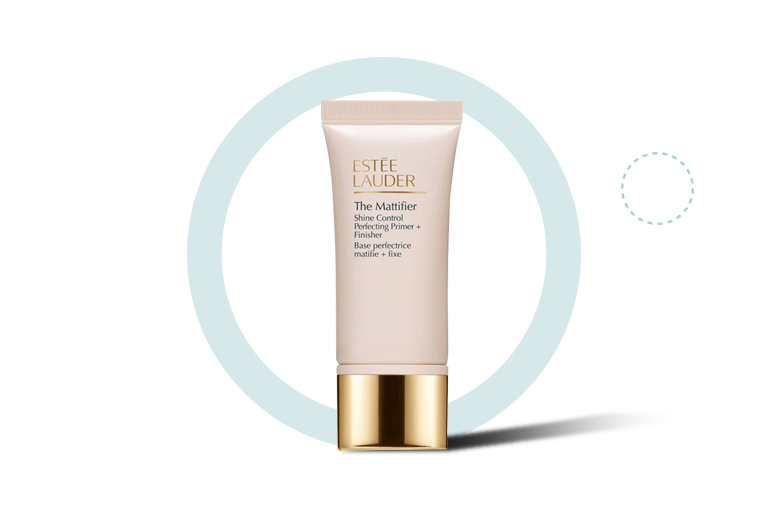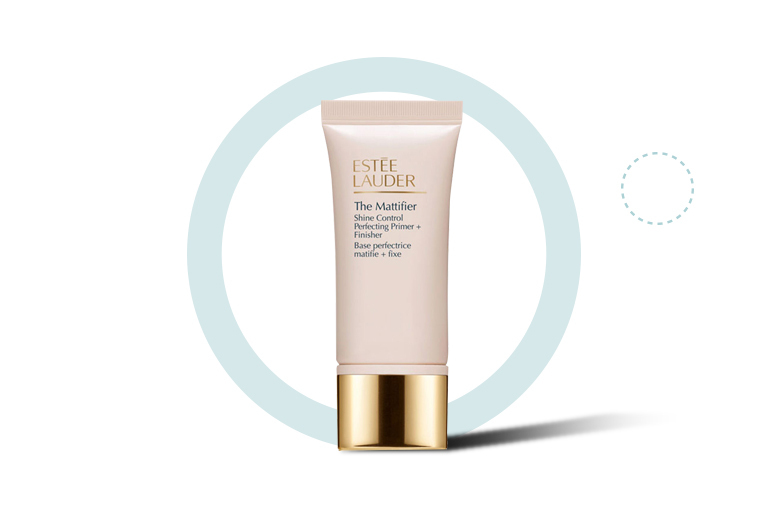 Price: $38
With ingredients such as caffeine, green tea leaf extract, and other plant extracts, Estée Lauder's primer promises to keep your skin tone bright. That too without increasing the production of sebum. While smoothing out your skin to create a flawless canvas for the base, it covers blemishes, pores, and acne breakouts without making your face heavy or shiny.
Also, with a velvety smoothness, its formula will not dry out your skin. Instead, maintain the freshness for a good number of hours. You can either use it as the base underneath your foundation or as a light layer over the top of your foundation. As the name suggests, it is the finisher you have been looking for to lock it all in!
e.l.f.'s ELF+ Matte Oil-Control Primer
Another noteworthy drugstore primer for oily skin, 2022. Also, this one from e.l.f. is popularly considered as one among the best clarifying primers for oily skin. The appealing ingredients they contain that we love are Kaolin clay and tea tree oil. Why? Because Kaolin clay in this drugstore pick prime can control the oil production and keep the shine at bay(3).
Meanwhile, the containment of tea tree oil can clarify your skin. Almost every clay-infused primer will exceptionally help to simmer down the shine for a lasting mattified complexion. The lightweight formula helps to blur the unwanted appearance of pores (even the larger ones) leaving your face poreless. This primer promises to keep your skin matte throughout the wear (which is impressively several hours).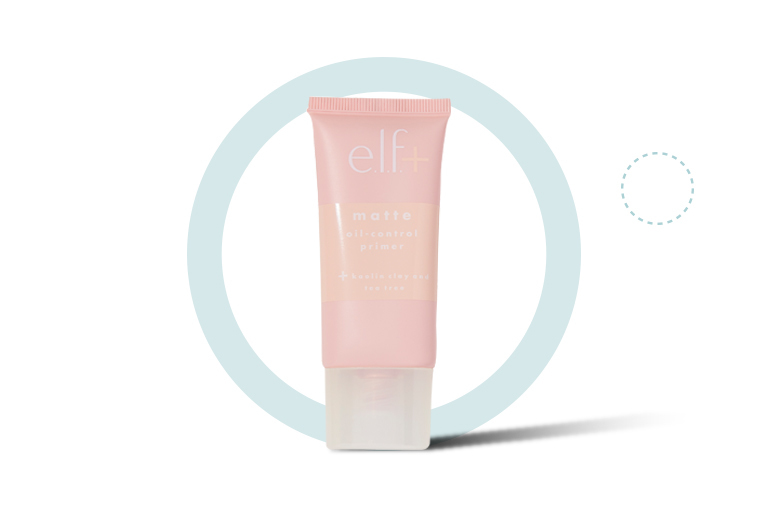 Price: $10
Not to mention, all e.l.f. skincare products are free from scary ingredients such as parabens, sulfates, and phthalates and are 100% vegan and cruelty-free. Kindness in chic. Users of this primer (users with oil-soaked skin, in particular) have praised it abundantly. The reason? Its performance as opposed to the pricey counterparts. Another primer for oily skin you must consider buying!
Becca Ever-Matte Poreless Priming Perfector
Being the best 'ever-matte' primer, Becca Cosmetics' Poreless Priming Perfector does it all. A targeted, oil-absorbing primer that will mattify your skin seamlessly, which was well known for its glow-boosting formulas. Now, it is also popularly known for the effectiveness of sweeping away the excess oil from the oiliest of skin types.
Yes, anyone with excessive oil can benefit from this primer. Aside from that, it will minimize the appearance of pores, wrinkles, fine lines, and blemishes for 12 hours straight. Another plus point it offers is that it can instantly tighten your skin, reduce the shine to create a matte surface.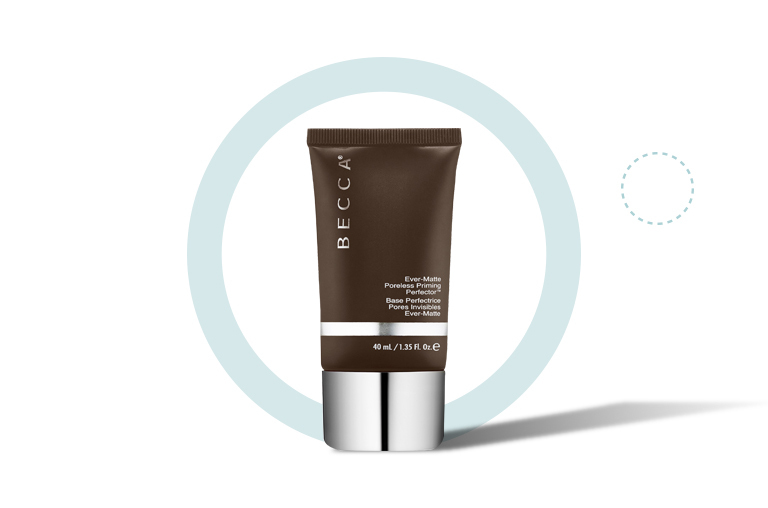 Price: $39
A targeted application in the morning (apply where the skin produces excess oil or press over makeup to mattify the skin), you can stay smoothened. Like almost all of their products, this primer is also formulated without sulfates SLS and SLES(4), phthalates, alcohol, silicone, oil, or fragrance. For better results, you press it into your skin instead of merely rubbing it all over. Pressing into your skin will give you a foolproof matte finish. Although a few users have complained of clogged pores.
bareMinerals Prime Time Oil-Control Foundation Primer
A face primer with natural ingredients, this is engineered specifically as the perfect companion to bareMineral's award-winning ORIGINAL Mineral Foundation. Even if it is suitable for all skin types and forms of makeup, this oil-free primer is notably effective as a primer for oily skinned faces.
To create an ultra-silky and smooth canvas for makeup application and extend the wear of foundation, this primer works exceptionally. You will thank the primer for the perfect satin canvas before you use the foundation. Because your complexion will be smoothed out instantly.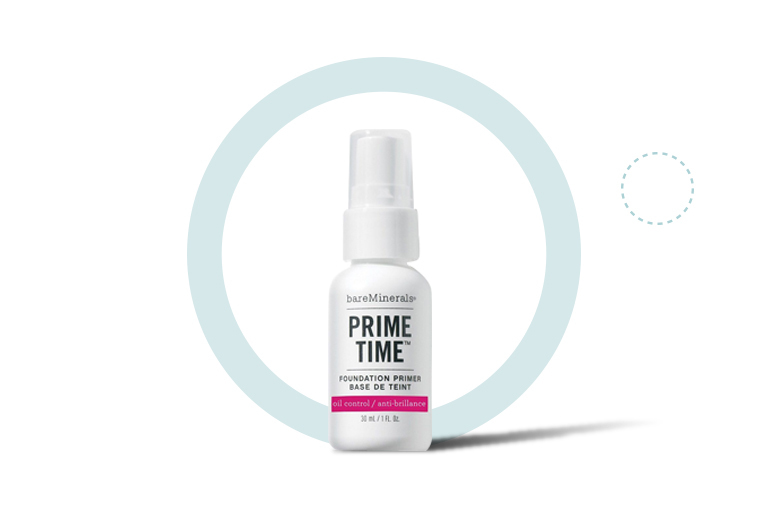 Price: $26
Formulated without preservatives, oil, fragrance, or any skin irritant ingredients, the primer will combat excess oil, enlarged pores, fine lines, rough patches, flaky dryness, and uneven texture. Not to mention the incredibly nourishing and age-defying natural ingredients it contains; vitamins C and E, soothing plant extracts, and antioxidants. You can simply glide the smooth formula onto your skin without the fear of stickiness. Furthermore, Prime Time Oil Control is designed as a much gentler version of the previous version.
NYX Professional Makeup Shine Killer
A true shine killer you have been looking for! NYX's Professional Makeup Shine Killer is a killer shine controlling primer you can use on oily skin. The colorless gel can absorb the excess sebum while creating an invisible barrier between your skin and your makeup. Your makeup will last all day and well into the night without clogging your pores. As the formula is infused with vitamin E, your skin will get a boost of hydration as well, while keeping your skin fresh.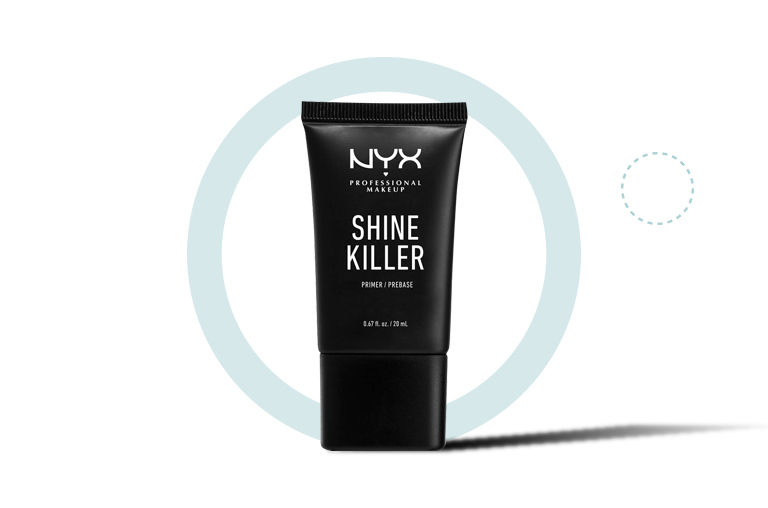 Price: $11
Being one of the best drugstore primers for oily skin, it is pretty popular among the buttery faces. Especially on sunny summer days when greasy skin gets too oily and sweaty as well.
With greasy skin, you are at a huge advantage here. This primer will prevent your pores from going into oi overdrive which in turn gives you a matte complexion while prolonging the wear of your foundation.
Illamasqua Matte Veil Primer
If you are not exactly a fan of heavy products on your skin, Illamasqua's veil primer is your best choice. With a super lightweight formula that any skin will be pleased with, this primer can give you a perfect matte base. It can keep the shine at bay and control excess oil production while mattifying the complexion you will love.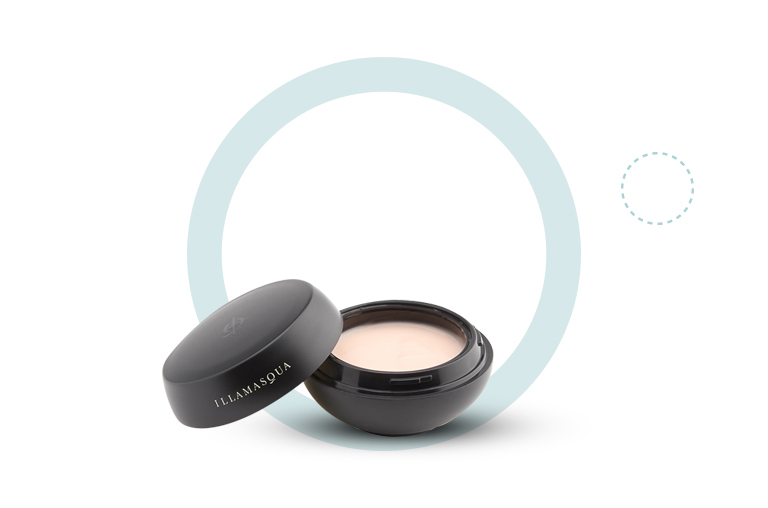 Price: $45
Even if it is mattifying to give you a satin finish, the glycerin in it will prevent your skin from drying out. Plus, you can say goodbye to uneven skin texture which annoyingly stays in between getting a thorough foundation application. It also promises the user long-wear which in turn helps your makeup to stay longer without slipping (courtesy of having sleeky skin!)
The Ordinary High-Adherence Silicone Primer
This cult classic is probably the cheapest yet effective primer you can get your hands on for oily skin. It sure is the cult-favorite! Why? Because of several reasons. It is highly efficient in managing to keep your complexion hydrated. As a solution for enlarged pores on greasy skin, it can be your go-to primer. The formula is lightweight and serum-like, which makes it extremely easy for application and enhances the wear of your foundation.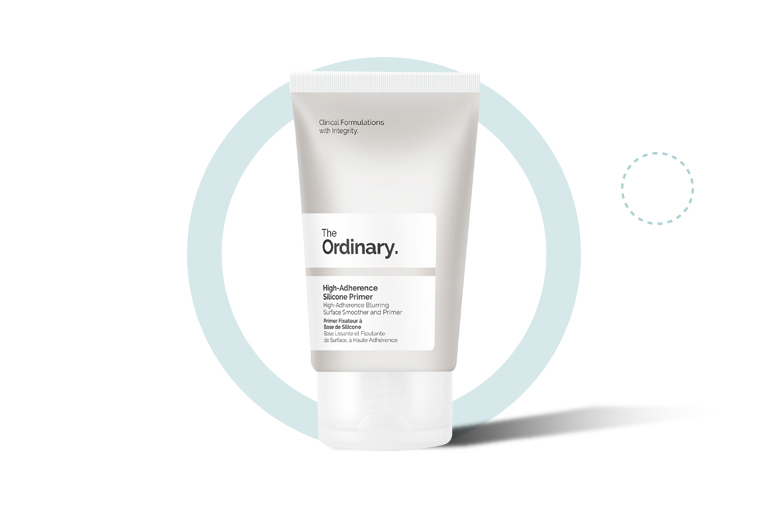 Price: $4
The presence of a liquid silicone called dimethicone, in particular, creates a barrier over the skin, helping furthermore with building a smooth base. Formulated with advanced adaptive silicones to blur the surface, it can mattify your makeup to a point of making it look high definition with optimum wear. To reduce the pores and blemishes, you can use it alone and go bare-skinned for a natural dewy look.
So, these are the highly recommended and best primers for oily skin and large pores. The right primer will give your complexion a fresh start to extend the wear of your foundation and prevent sliding or creasing.
They should absorb excess sebum off your skin without drying your skin or clogging pores. Also, if you opt to not wear makeup, you can leave the primer on your skin. Thankfully, every primer mentioned above promises all of these. Better yet, these will keep your skin matte for hours after application even if you haven't applied makeup on top of the primer.