Kim Kardashian is being unnecessarily dragged by netizens for showing off her natural hair. North West, Kim's eldest daughter shared with her ex-husband Kanye West posted a Tik-Tok video in which Kim's natural thin and short hair could be seen. And though such hair could have been true for anyone, Kim is receiving backlash as if she is supposed to look like a diva on a regular night in her bedroom.
One Year of Bleaches, Extensions and Hair Glue
Kim's hair as appeared in the video looked short, thin, bleached, and a little damaged. And this is probably the after-effect of her getting her hair bleached, heated, colored, and cut in the last so many years.
A TikTok video which was supposed to be a fun mother-daughter moment shared on social media turned into a target when people ditched the whole vibe of the video and dragged Kim's hair. The 9-year-old North recorded a video with her mum vibing on the tune of Baby, It's Cold Outside.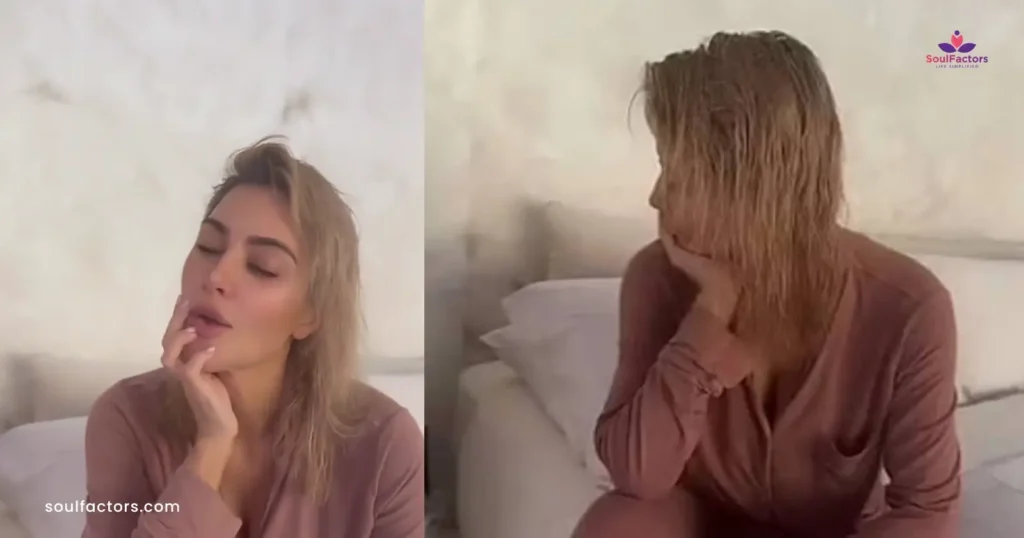 Fans rushed to the comment section as soon as they noticed Kim's blonde hair and dark roots. The comment section soon went viral with defensive and attacking comments:
"Not it's fried, dyed and laid to the side LITERALLY", someone tweeted, calling Kim's hair "fried".
Another tweet called out Kim, saying her hair looks like Doritos, "Kim Kardashian's hair probably feels like a bag of Doritos"
This does not feel right. On one hand, people talk about celebrities being too fake, and when they show up in their real avatars, people are on the edge of their seats to troll them! That's messed up society.
There were more such trolling comments on X, but then several people jumped to Kim's defense saying that she's "still human".
"This is actually sad", one person commented on Instagram. "Imagine being Kim reading all this nonsense she's still human".
Another person wrote, "It's almost as if she's a normal person with normal hair, and bleaching damages it".
Another user penned, "Everyone has split ends, dead hairs, bleached, and unhealthy – it's normal".
This one's my favorite – "You all complain when she looks too fake, but then complain when she looks too real???"
"People are legit coming for her and comparing her hair to when she's wearing extensions and tearing her down for it. Like why??!"
And one more…"People are really losing it over Kim K showing her natural hair (ie. no extensions). Celebs need to do this more often IMO! It's crazy the number of people that idolize celebs and want hair just like theirs, when it's just extensions".
Kim's hair has been a matter of conversation for a while now. It is a known fact that Kim dyes her hair from time to time. And she slays with her extensions and wigs.
Not the First Rodeo for Kim
This is not the first time Kim has been trolled for her hair. Back in May 2023, in her endeavor of making Marylin's moment at the Met Gala(1), Kim decided to transform her hair from brunette to platinum blonde in just one day.
The process of such hair transformation usually takes several sessions, Kim's hair stylist admitted. Chris Appleton was super nervous about this demand and spent straight 14 hours making the transformation happen.
Consequently, the close-up photos of Kim's hair on Met Gala made it evident that there was something wrong with the hair. Her hair varied from yellow to platinum blonde and looked patchy. People went on to call her hair "blotched". Then, Kim was questioned why she took the risk of dying her hair instead of just wearing a wig.
Whatever, hair and beauty transformations celebrities go through, it is their choice. These are sure our icons but are not obliged to be perfect all the time, because they're human too. So, let's remember that, folks. Until the next crispy news, Ciao!