Be it Instagram reels or the beauty pages of Vogue, the lip gloss nail trend has been making its rounds all over the internet. If you were a fan of Hailey Bieber's donut glazed nails, the new trend will not disappoint. With a glossy finish over beautiful nude nails, this is the perfect manicure for your next spa session.
What Is The Lip Gloss Nail Trend?
If the question 'what are lip gloss nails?' has been popping into your head, you're not alone. The new trend gained popularity recently, and being up-to-date gets a little tricky with modern-day's busy schedules. The lip gloss nail trend refers to nails with nude base nail polish topped off with a glossy top coat. You can also leave your nails bare and stick to just the top glossy coat.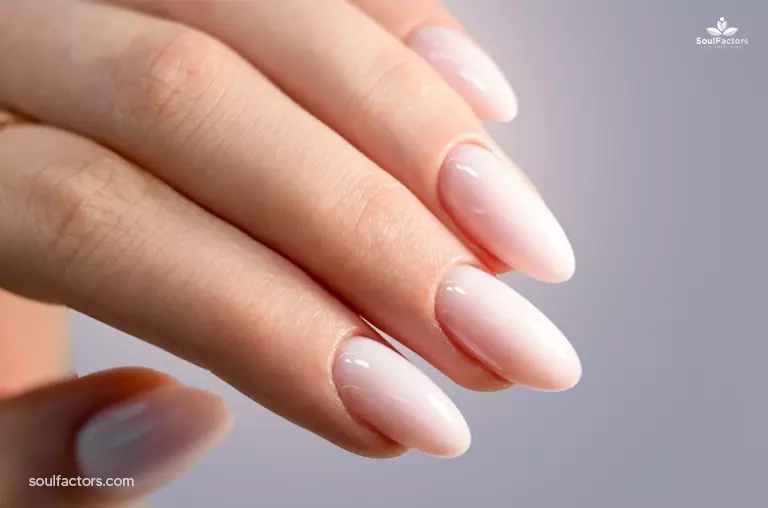 Sticking as close as possible to your natural nail color, the nail polish helps create a neat and immaculate look. When topped off with a layer of a glossy top coat, it gives your nails a fresh and juicy touch. The jelly-like finish of the nails makes them unique and similar to a perfect coat of lip gloss.
There are many variations to this simple trend. From signature french tips to a little sparkle, you can find nails that suit your style. Here are a few of the popular lip gloss nail varieties that have gained the most attention.
French Tips
If your regular french manicure is your go-to for an uneventful week, adding a bit of chrome powder and thick gloss nail polish is all you need to create the ideal french tip lip gloss nails. This is an effortlessly chic look you can easily achieve with the right top coat.
Pearlescent Nails
As the name suggests, pearlescent nails offer a pearl-like shine. You can achieve this by mixing a milky-white nail polish with a translucent shade to create the perfect pearlescent nails. How to make it more alluring? A top coat of clear nail polish gives it a jelly-like finish. It is always fun to experiment with your nails, why stop with simple nails when you have so many options?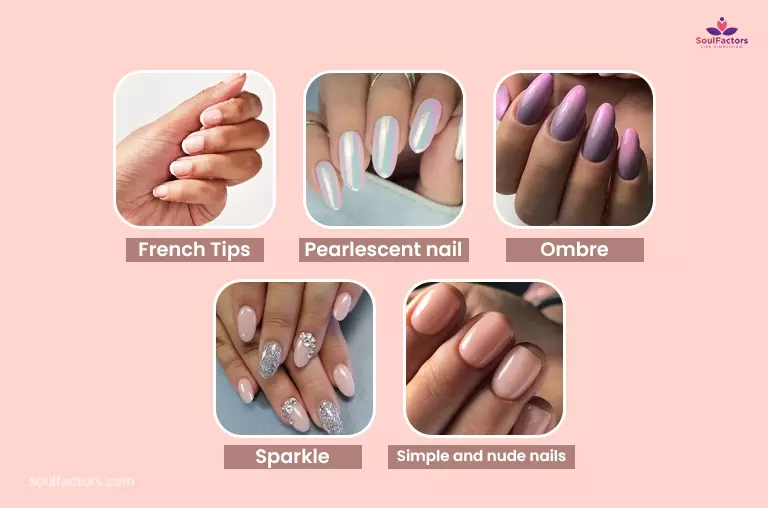 Ombre
Ombre nails are a great flex, thanks to their elegant and classy finish. Whether you have a 9 to 5 job or you do freelance gigs, ombre nails will not fail to look stylish and appropriate. How will you get the lip gloss effect with ombre nails? Add a thick layer of transparent top coat for a lovely finish.
Sparkle
Who doesn't like a little glimmer to their nails? Get yourself a sparkly nail polish along with a jelly-like top coat. The lip gloss trend with sparkly nails is all you need to make a great impression.
Simple And Nude Nails
While all the different varieties are fun to sport, sticking to a simple nude finish is never a bad idea. With a base coat similar to the color of your natural nails and a dash of chrome powder before your top coat, you get beautiful nails that will not disappoint. Be it your friend's wedding or a birthday party, simple and nude lip gloss nails are all you need to stun.
Why Is The Lip Gloss Nail Trend So Popular?
Whether you are wearing it with your wedding gown or pairing it with your everyday jeans and tee, the lip gloss trend goes well with everything in your wardrobe. Once you've tried the blush nails and donut glazed nails, the lip gloss nails should be next on your list. The popularity of the trend is a result of many different factors, including the minimalist look of the manicure.
You can try getting the nails done at home easily, and it is the quickest manicure for regular salon-goers. Its versatile nature makes it possible to have a range of different styles in the same finish, making it the perfect way to experiment with your usual nails. Sported by celebrities across the globe, the lip gloss nail trend is worth a try. Wondering who's tried out the trend in Hollywood? Let's check them out.
Jennifer Lopez
If Jeniffer lopez thinks it's the right pick, you don't need any further affirmation on why it's the ultimate nail trend to go for. The star wore the lip gloss nail trend with glitter nail tips for a movie premiere, and we love it!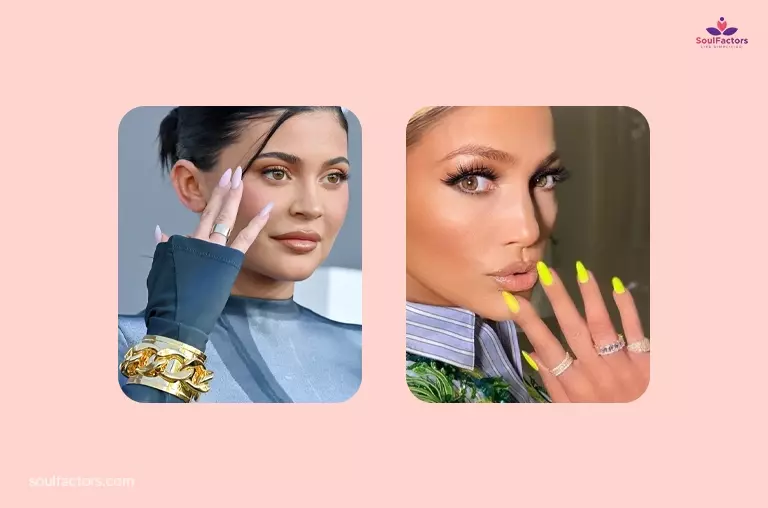 Kylie Jenner
Kylie wore the jelly-like nail trend to the CFDA fashion awards. The style icon left everyone in awe with her lovely lipgloss nails.
How To Achieve The Lip Gloss Nail Look At Home?
Getting the lip gloss nail look at home is much easier than you think. With the right tools, you can achieve the perfect manicure in no time. While going to a salon is fun and exciting, you can always save a few bucks by doing your nails at home. Lip gloss nails are usually priced a little above your regular french manicure. It will also vary according to your specifications. How can you create lip gloss nails? Here are the essential things for lip gloss nails.
Nail file
Cuticle oil
Hand lotion
Nude nail polish
Glossy top coat
The steps to getting trendy nails are very simple. With a little practice, you will have your nails sorted stress-free. If you've never given yourself a manicure, check out these simple steps on how to get effortlessly glamorous nails
Cut and shape your nails to form your desired shape.
Buff the nails to prepare them for the nail polish.
Apply cuticle oil, followed by a thin layer of lotion, to keep your hands moisturized
Apply a layer of nude polish. Reapply based on your preference to create the desired look.
Add a top coat of glossy nail polish for the ideal lip gloss nails.
You can add chrome powder to your nails before the top coat for a lovely finish.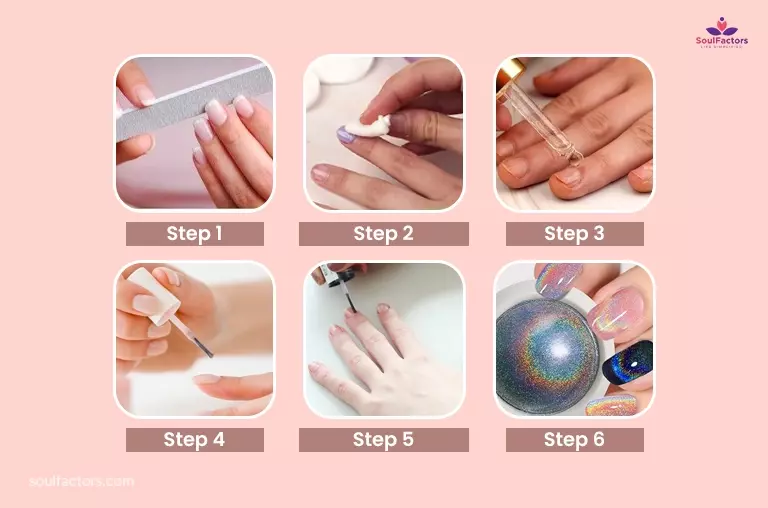 A Flawless Finish: Tips And Tricks You Need To Know
If you're trying to figure out the ways you can maintain your manicure, there are a set of tips and tricks that can help you keep your nails in check. Don't know how to get started? These guidelines will help you out.
Always start with clean nails that are rid of oils and dirt. Wipe the nails with nail polish remover to make sure they are clean.
Base coats are necessary to protect your nails as well as create a healthy foundation for your nail polish.
Thin layers are preferable to allow the nail polish to dry faster and avoid smudging.
If you're looking for the best products for lip gloss nails, invest in good nail polish brands such as OPI and Essie for an effortless finish.
Clean up your mess after application with a cotton swab dipped in nail polish remover.
Don't forget a glossy top coat for nails that will never fail to impress.
Learning quick and easy tips for maintaining your manicure will help you have the perfect nails throughout the week.
Different Ways To Wear Lip Gloss Nails
Once your manicure board on Pinterest has been exhausted, get inspiration from the lovely lip gloss nail varieties taking the world by storm. Whether you're looking for something simple or a little over the top, there's a lip gloss nail for you.
Shimmer
A shimmery nail polish in a nude shade can do wonders for your manicure. It is the perfect balance between subtle and shiny, a great look for weddings and other special occasions.
Rhinestone Details
Your manicure will be the center of your dinner party look with a lipgloss manicure and rhinestone detailing. It will keep you looking stylish and without a worry in the world in no time.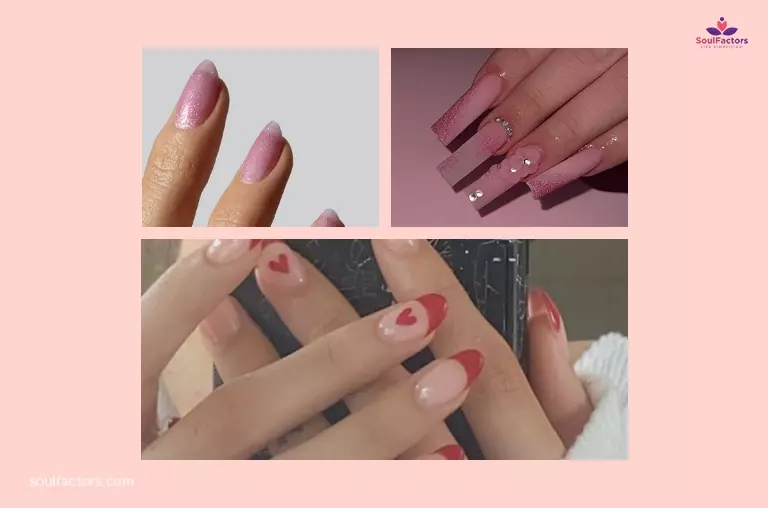 Add A Little Color
You can add a little color to your plain and regular lipgloss nails to amp it up. Get minimal nail art done with your manicure for the ideal dose of oomph to your overall look.
Pros And Cons Of The Lip Gloss Nail Trend
| | |
| --- | --- |
| Pros | Cons |
| It is stylish and pairs well with all your outfits | Constant reapplication and touch-ups are harmful to the nails and nail beds. It weakens the nails and damages them. |
| It is easy to maintain thanks to the simple design and application | Nail polishes contain a certain level of harmful chemicals (1)that can agitate your cuticles |
| It is a creative way to express your personality and individual style | High-quality nail products are expensive and not cost-effective if you're living on a budget |
| Lipgloss nails will have you being the talk of the town as soon as you head out the door | You will need to put in time and effort to create an effortless lip gloss nail look |
Unfortunately, like every other trend that has surfaced in recent years, there are benefits (2) and drawbacks to the lip gloss nail trend. Weighing the pros and cons before you head out for your spa session will save you time and energy. Go through the following benefits and drawbacks before making your decision! (3)
If the pros are what catches your eye, don't think twice and get the lip gloss manicure from your nearest nail studio. It is alluring and has JLo's approval. What more does a woman need to make her purchase?
Nail It With A Manicure
A charming manicure is all you need for that extra boost of confidence. With celebrities vouching for this trend, lipgloss nails continue to rise in popularity. There are so many fun ways to get creative with this style, adding to its allure. If you're contemplating what to get for your next session with the nail artist, this nail trend is the one to try. The lipgloss nail trend will have you looking chic and sophisticated in a matter of minutes. Try out the new trend and its different varieties as lipgloss nails are here to stay.