Meghan Markle plastic surgery has been the talk of the town ever since the 42-year-old Duchess of Sussex appeared in a video to introduce her dear friend and photographer, Misan Harriman, before he took over the stage on TED Talk. The video, which aired on April 24, 2023, took over the internet by storm and stirred up a conversation on social media where fans speculated that the former Suits star had undergone plastic surgery to enhance her looks. Now, whether these claims are simply rumors or have some substance to them, let's find out!
Meghan Markle Plastic Surgery: Did She Really Have One?
When Meghan Markle made her first public appearance via a video on TED Talk after confirming she won't be a part of King Charles III's coronation in May 2023, fans were captivated by her flattering new look. Sleek, straightened hair, hazel eyes, nude lips, and flawless skin pleasantly surprised her admirers. However, there were others who pointed out that Megan Markle's new look could be the result of some cosmetic work.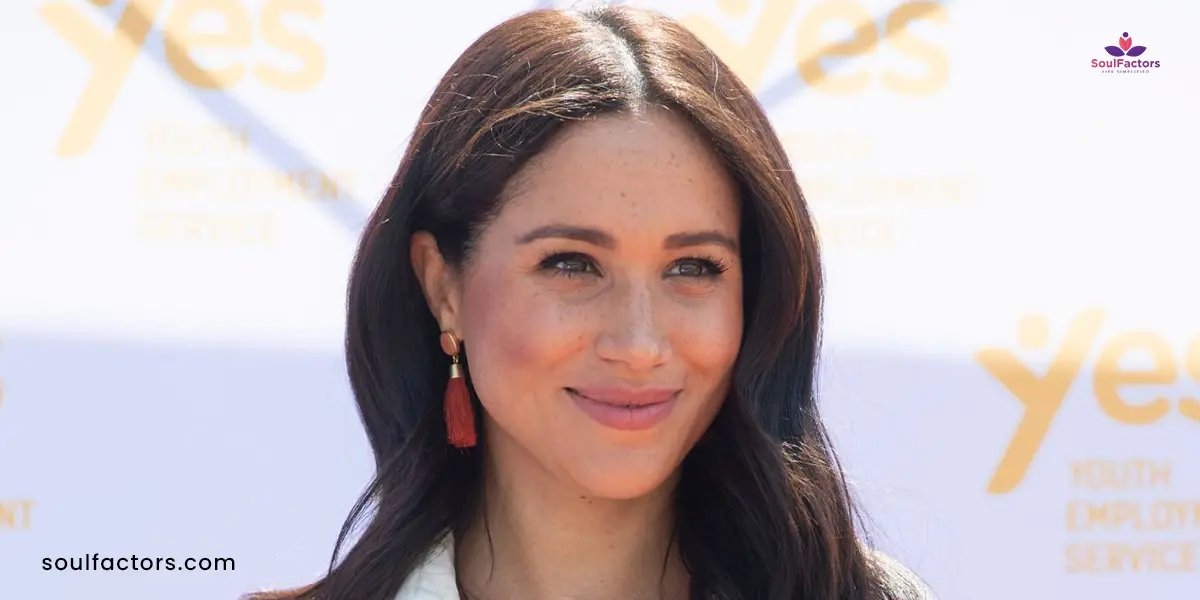 Actually, Megan had been away from the limelight for quite some time, which further fueled the speculations. Social media watchdogs suggested she was away because she was undergoing some cosmetic treatment to elevate her looks. Many of them even compared Meghan Markle's new look to Kate Middleton's! Well, we're not here to say if she did resemble the Princess of Wales or not and leave that to you to decide.
The Meghan Markle plastic surgery 2023 speculation, which got the entire world talking, has not yet been put to rest by Markle's reps. In fact, they declined to leave any comment on the matter. Insiders have, however, revealed that Meghan Markle surgery allegations were denied by the actress herself. So, let's assume the change in her looks is probably because she has finally lost most of the weight she had gained during her two pregnancies.
Meghan Markle Plastic Surgery: Before Surgery Looks
Meghan may not have had plastic surgery in 2023, but if we look at some of her older pictures, they do suggest that she might have had some cosmetic work done on her earlier.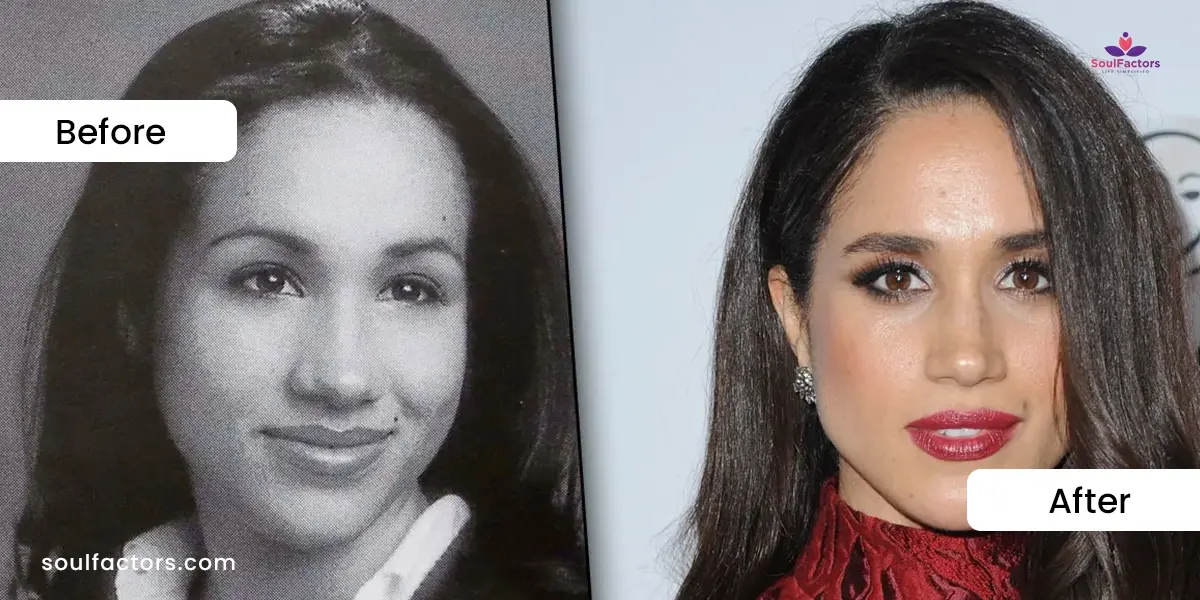 A picture from her high school yearbook that went viral after her engagement with Prince Harry shows a girl with a wider nose bridge.
Older pictures of the actress show gaps between her teeth, which were probably fixed by veneers when she grew older.
How Many Plastic Surgeries Has Meghan Markle Had?
Well, we don't really know exactly how many plastic surgeries the Duchess of Sussex has had in the past. But looking at the changes in her appearance over these years makes one thing clear: Meghan Markle has gone under the knife a few times in the past.
She likely had a makeover with teeth veneers to get that perfectly aligned smile. She is even thought to have had a rhinoplasty(1) to create a narrow nose bridge and a refined and smaller nose tip. Some of her pictures also suggest that she had breast augmentation at some point but later had them removed because it didn't work well for her overall look.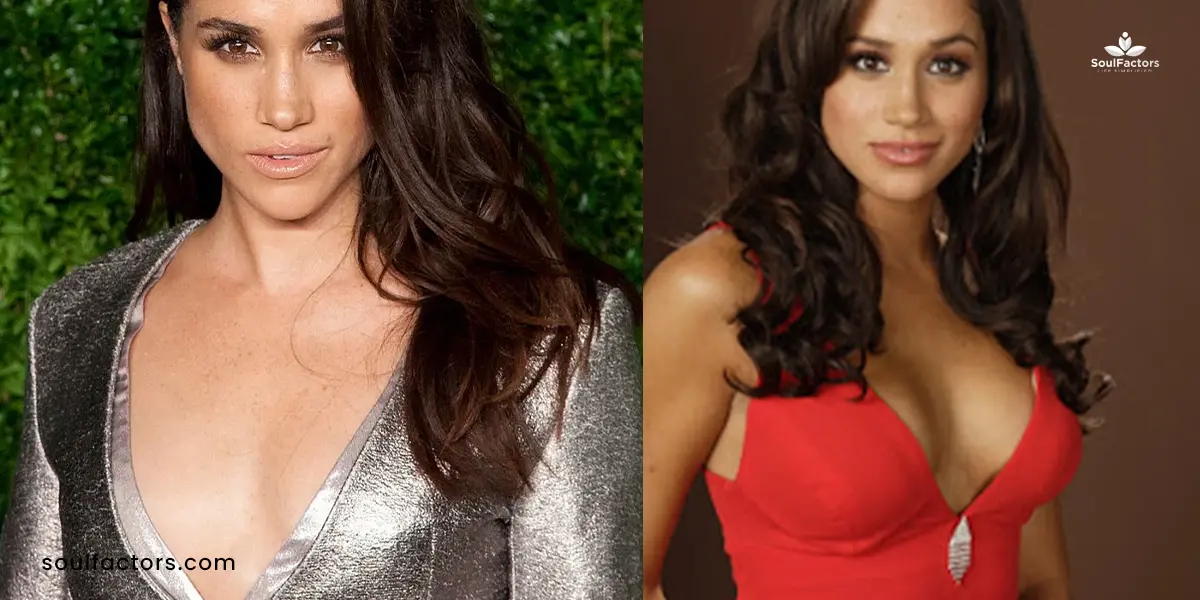 Besides Meghan Markle plastic surgery, there's one more thing that catches the attention of her fans, and that's her hair! While Megan naturally has thick, dark hair, her hairstylists may be using temporary clip-on extensions at times to fix some of her looks or get that voluminous ponytail.
However, her hairstylist, George Northwood, said that Meghan's hair is naturally long and healthy, and he never used hair extensions on her in the two years he worked with her.
Meghan Markle's Botox: It's Not What You Think
Meghan Markle's recent appearances have surely made heads turn. Some think her glowing and younger-looking skin is a result of Botox injections. While we don't know if this is true, it is said that the secret to her beauty is not Botox but another cosmetic product called "Botox in the Bottle."
Biotulin, a.k.a. "Botox in the Bottle," is an organic gel that tightens skin and apparently reduces wrinkles in merely one hour after application! It is also known to relax facial features by reducing muscle contraction, thereby having a positive impact on minor wrinkles all over the face(2).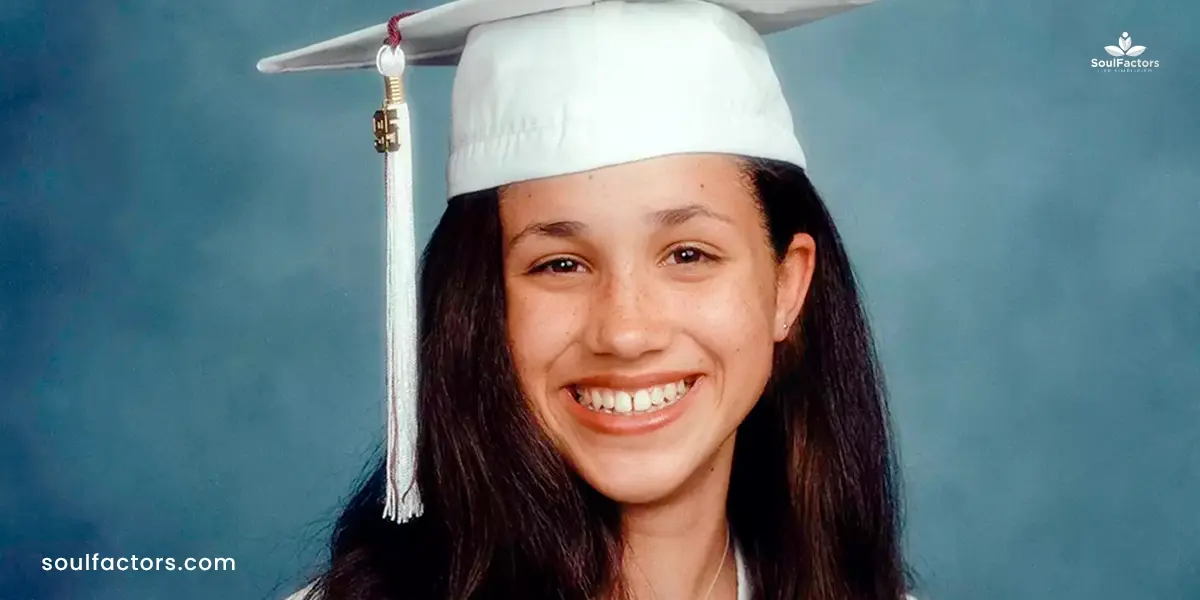 Her preference for organic Botox over injectables, along with other treatments, ensures she has radiant and healthy skin. Meghan's favorite organic Botox is also popular among other A-listers like Kate Middleton, Michelle Obama, Queen Maxima of the Netherlands, and more!
And What About Skin Whitening?
It appears that Meghan may not have had any skin whitening treatment because she is relatively fair-skinned, as her father has light skin while her mother is dark. So, just because one of her parents is dark-skinned doesn't mean she will also have a dark skin tone.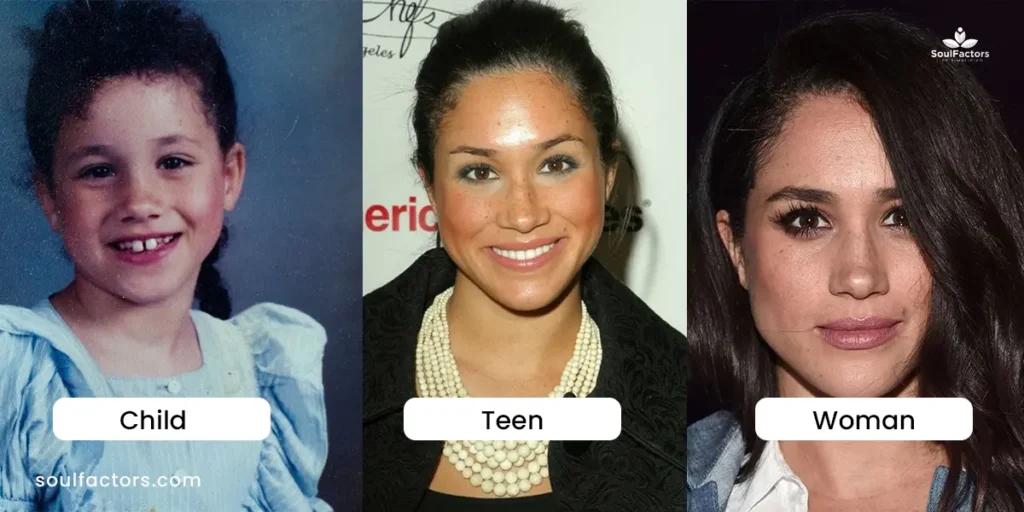 There are many people who turn dark when they stay in the sun for too long and get lighter when they're not heavily exposed. Maybe that is what brings about variations in Meghan's appearance. Plus, other factors like camera settings and light exposure can also make a person look pale.
FAQs On Meghan Markle Plastic Surgery
What is Meghan Markle's genetic condition?
Meghan has a genetic condition known as Hypermobility. It results in loose and stretchy joints, due to which some or all joints in the body have an unnaturally large range of movement.
Has Meghan Markle had other children?
Although it was earlier suspected that Meghan Markle had a girl child from her previous relationship, there is no evidence supporting the claim.
Who is Meghan Markle's daughter?
Meghan Markle and Prince Harry have a daughter named Princess Lilibet Diana Mountbatten-Windsor, who is currently two years old.
Final Verdict on Meghan Markle's Plastic Surgery
Meghan Markle's new look has certainly ignited conversations and created a buzz on the internet. Many have come forward and claimed that her improved appearance is a result of recent plastic surgery. But her supporters came to her defense, saying she doesn't need cosmetic surgery to get that 'glow'! If we believe insider reports, we can conclude that Meghan did not have plastic surgery, and it's just that she's aging gracefully!
What are your thoughts on this? Let us know in the comments below.