Do you want nails that echo both vibrance and elegance, minimalism and chic? If you are one of those girls who love grooming sessions but don't like to go overboard; one who loves styling their nails but considers long nails a heavy burden, then a milky french manicure is for you.
While extravagant nail art stickers, stencils, splatter nails, and geometric designs- all seem to be in trend, the minimal milky french manicure stands out. Flaunted by celebrities like Jenifer Aniston, aka Rachel the style queen, and vouched for by every nail artist, the milky french manicure is here to stay. Enough singing praises; let's get into the deets and explore!
Milky French Manicure: What Does It Look Like?
We all know French manicure, the most minimalistic gem of the nail care industry. But what started as simply painting the tip of your nails in a solid shade of white spread its wings and became a full-fledged trend. The world saw a wave of nail styles that drew inspiration from the OG French manicure but went for a more definitive and creative look, like the rainbow ombre French, melting French, cow print French, and floral French to name a few. Amidst these trends, one honorable mention is the milky french manicure. So, if you plan to go with a basic manicure but wish to make a style statement, a milky french manicure can be your best pick.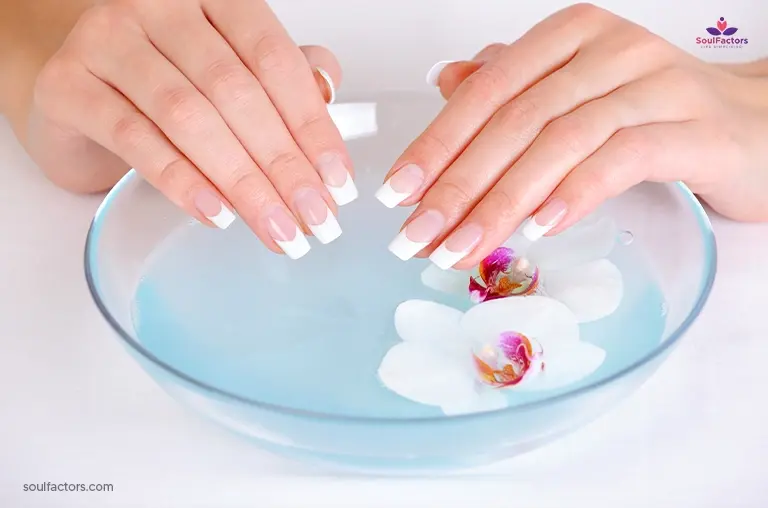 A milky french manicure is a subtle and opaque pop of color that compliments all nail styles and works well with all outfits. With a milky white undertone, this nail style gives full coverage to your nails, unlike the traditional manicure, which covers only the tips of your nails. It's a combination of a nude-colored base and white-colored tip, creating a contrasting yet classic finish. It looks smooth and creamy and can be customized to suit your taste and style better.
How Do You Get A Milky French Manicure? Application Procedure
Behind every beautiful nail art is a step-by-step procedure that prepares a smooth base for additional coats of nail paint. If the base is rough, achieving a smooth and glossy finish will be a distant dream. So, if you are planning to get a milky French manicure at home, at your convenience, here's a detailed guide to get that salon-like finish.
Preparatory Ritual
To create that long and clean effect while doing a milky french manicure, start the procedure by pushing back your nail cuticles and clearing the area of any residue. Ensure not to overdo it, as it can lead to cuts, and none of us wants that.
For a more finished look, trim your nail cuticles and give them a defined shape using cuticle nippers.
Once you are done with your cuticles, it is time to trim and shape your nails. Take a nail cutter to cut the excess, and then use a nail file to trim your nails into the desired shape. Make sure to give your nails a second glance and ensure all your nails are of the same shape and length. No matter how well you paint your nails in that milk-white color if your nails are of uneven length, they will surely dilute their beauty.
Clear your nail beds of any unwanted residue so that your nail looks perfect from all possible angles.
Also, make sure to moisturize your cuticles and nail plate for a smoother look.
Application Ritual
Unleash the magic of a good base coat onto your nails. The base coat is like the foundation of a home. If you go wrong here, the entire structure/nail art will look disheveled and roughly put together. So, make sure to apply a generous base coat and let it try before you move on to applying the nail paint.
Next comes the milky coat. There are several nail paint options for milky French manicures, but the most preferred shades are CND Romantique, Funny Bunny, Blanc White Studio White, etc., as they imitate a sheer white look. You can pick any base coat of your choice and apply it to your nails. But make sure to adopt a steady motion and spread the base coat evenly.
Now that you have that dreamy base, next comes the manicure. You can go for a micro mani finish or an extended finish to create a custom effect. If you are a pro at applying a manicure, you can proceed without any extra help, but if you are new and don't know how to apply that thin, steady line, you can use nail tape. Use the nail tape to cover your nail while only exposing the area you wish to paint. Take your nail polish, paint the surface, and remove the tape.
If you want a hazy look instead of a smooth mani line, you can use a sponge to apply the white line at the edges instead of a brush.
Last but not least, top coat. Now, by this time, you will already have those milky white French manicures you really wanted. What you need to do now is add a protective layer for a super stay. This top coat also adds extra shine to your nails. Experts recommend applying the top coat every 3 days to rejuvenate the look and extend its lifespan.
For a better idea, watch any milky French manicure natural tutorial on YouTube and follow the step-by-step procedure.
Some Good Milky Nail Polishes To Consider For Your Milky French Manicure
The quality of the nail polish used will determine how long it will stay on your nail without chipping away. So, here is a list of milky nail polishes(1) to invest in and make a part of your nail collection.
1. OPI Nail Lacquer In Funny Bunny
Price: Rs. 850
2. Chanel Le Vernis Longwear Nail Colour In Blanc White
Price: Rs. 4444
3. Kiara Sky Gel Polish + Nail Lacquer, Pure White
Price: Rs. 3091
4. Sally Hansen Insta-Dri Nail Color, White On Time
Price: Rs. 220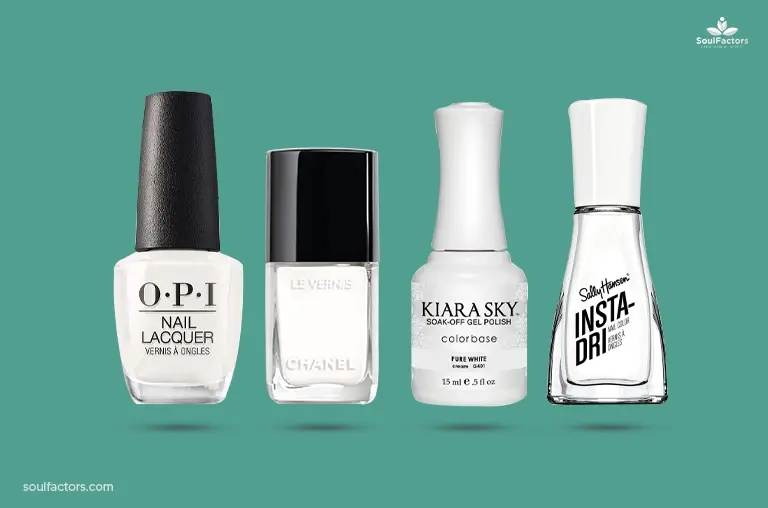 5. JINsoon Nail Lacquer 0.37 Oz Kookie White
Price: Rs. 3031
6. SINFUL COLORS – Professional Nail Polish #101 Snow Me White
Price: Rs. 2142
7. Aimeili Soak Off UV LED Gel Nail Polish – Studio White Arctic White (011)
Price: Rs.1382
8. Duri Nail Polish, 50 Platinum, Metallic White, 0.5 Oz
Price: Rs. 1935
While this might seem like an expensive range, the stay that they offer is worth the price. It's also a one-time investment that you can use for your numerous milky french manicure applications.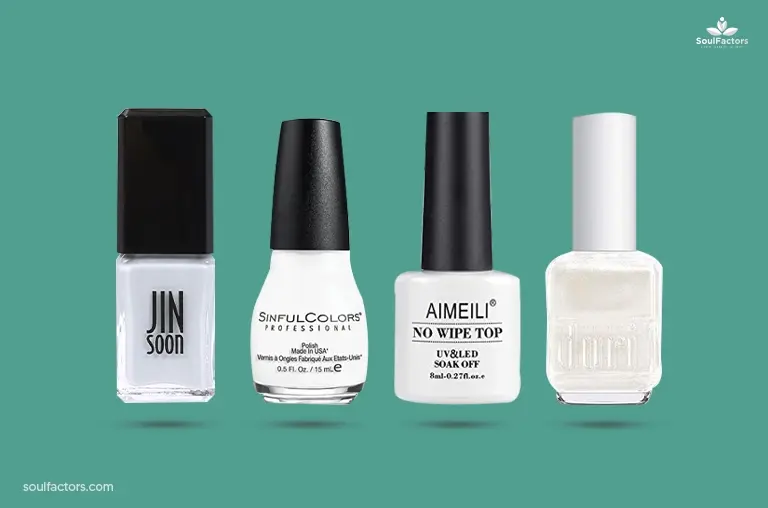 Milky French Manicure Design Ideas: Why Go Basic When You Can Be Creative
A milky pink has a base tone of light pink with a white cream undertone that, when painted on the nail, looks like a glossy white with a whisper of soft pink. already beautiful right? pick yours now!
Milky Pink French Manicure
If you want to follow the milky French routine but add a personal touch with a subtle dose of pink, you can go for the milky pink French manicure. All you need to do is switch to a milky pink undertone, add the mani as you please, and you are good to go.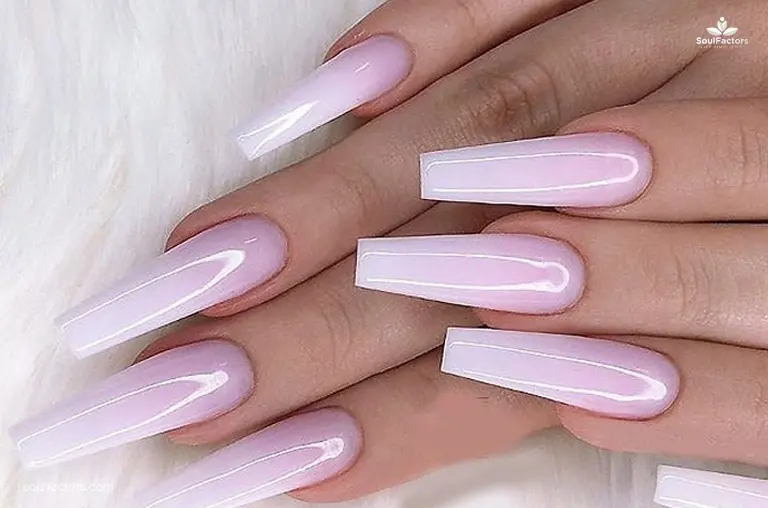 White French Tipped Almond Nails
Instead of your basic square or round shape, you can go for an almond shape, add a bit of jazz to your nails and then apply a milky French manicure for a more stand-out look.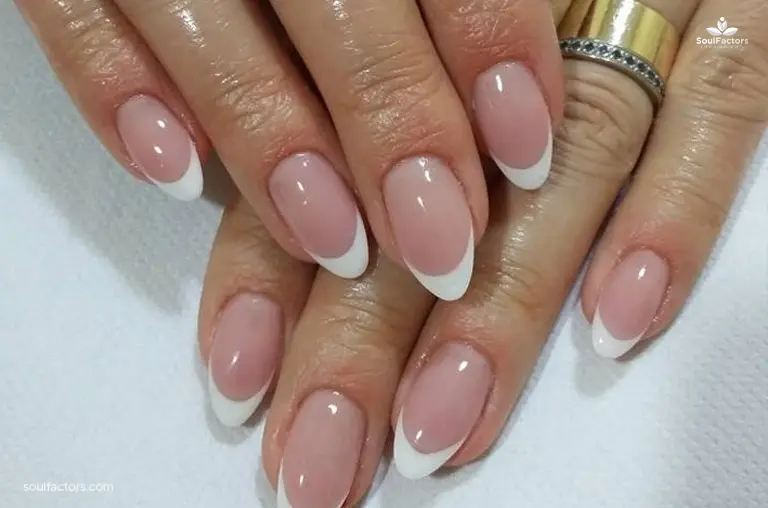 White On White French Acrylic Nails
While the milky French manicure can be paired with short nails, you can also go for acrylic nails or nail extensions to create a statement look. A white-on-white French acrylic nail pairs different shades of white in one coat for a harmonious look.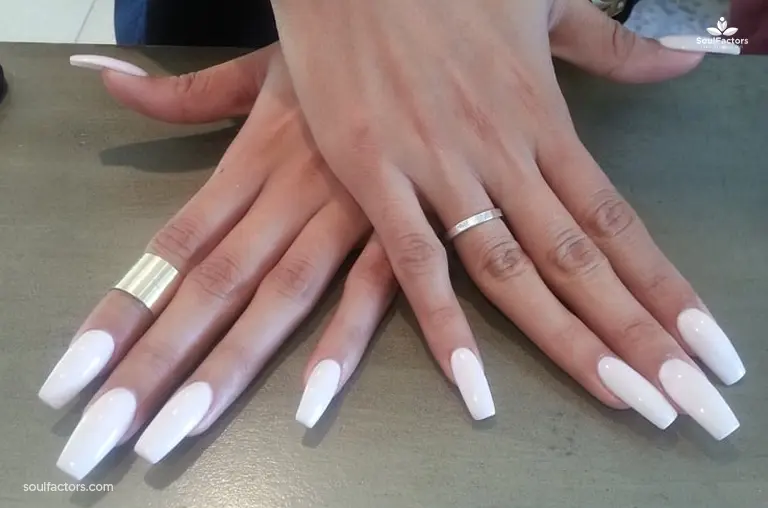 Milky French Manicure With Rose Gold Tips
If you think a white manicure is too basic for you and wish to oomph up your milky French manicure, go bold with a rose gold tip. Apply the base coat of your choice, and instead of white nail paint, use rose gold for the manicure.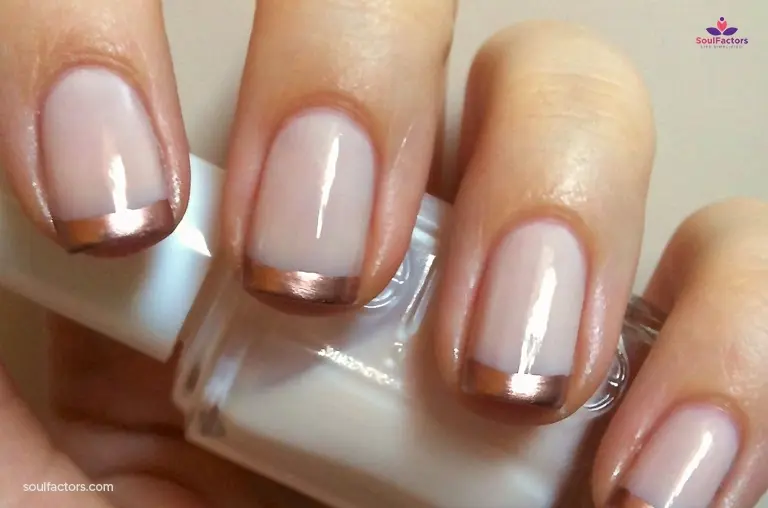 Milky French Manicure With Gold Cuffs
This style speaks both extravagance and simplicity. First, you create a fading-out look by using a milky base coat of your choice and merging it with a white manicure. You can use the sponge technique to merge the two. Now add gold-colored nail paint to the edge of your cuticles to create a gold cuff look. It is a simple yet embellished look that many love.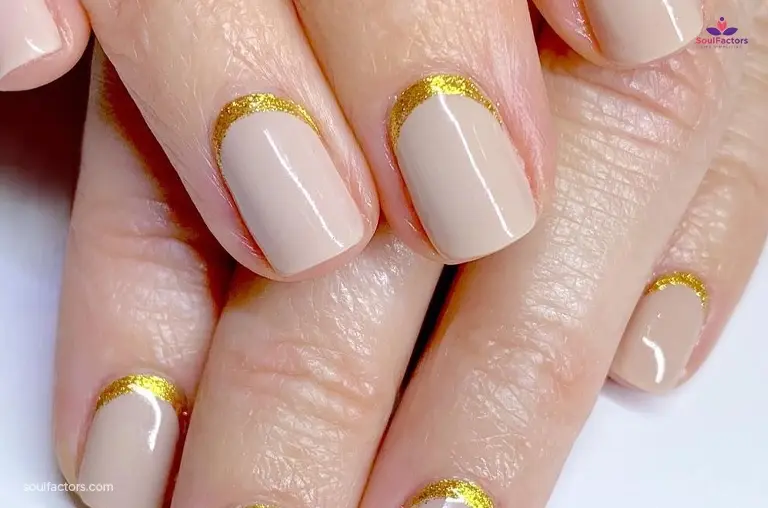 Milky French Manicure With Frosty Swirls
Just your basic milky French manicure with the added beauty of frosty swirls. Follow the basic milk French manicure procedure and finish it by adding a swirl-like pattern in your choice of color. You can go for a shade similar to your base color or make a style statement with a contrasting shade.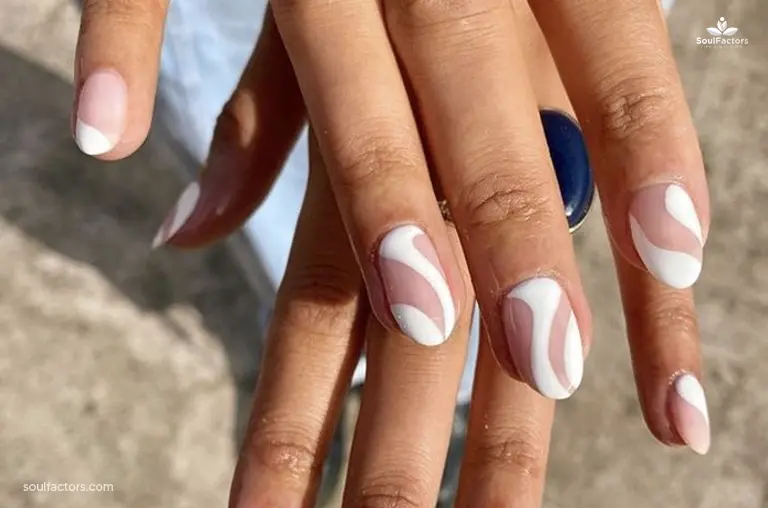 Milky French Manicure With Neon Tip
Do you like all things neon but wish to keep it a bit elegant this time? If yes, a milk French manicure with a neon tip could be your best pick. All you need to do is replace your white manicure with a neon one and see the magic happen.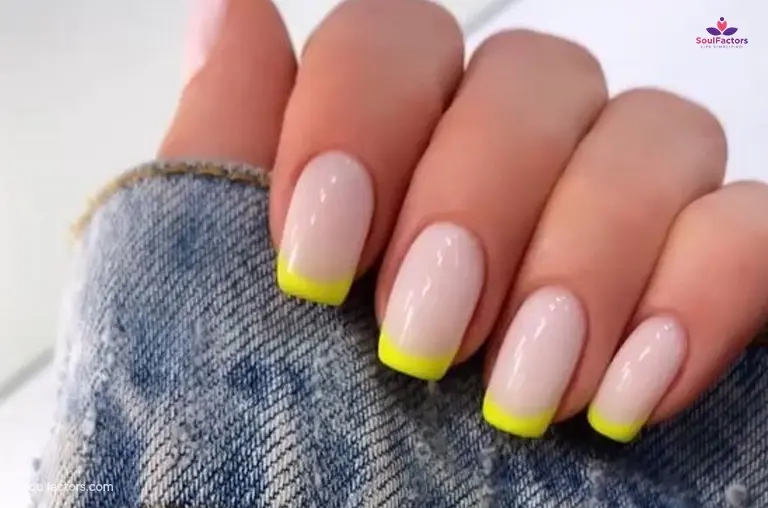 Milky French Manicure With Gold Flakes
If you want your nail paint to be a unique combination of minimal and royal, you can top up your regular French manicure with sprinkled gold flakes. All you need to do is add some gold flakes to your freshly applied base coat, and you have the look of your dreams.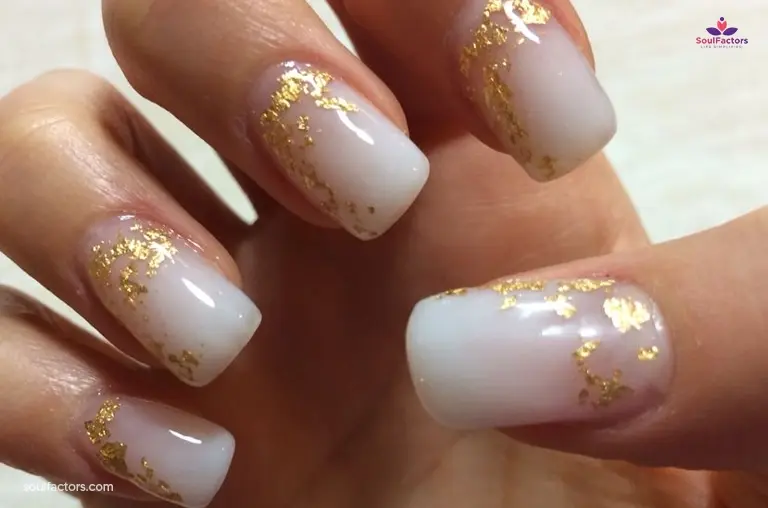 Milky French Manicure With 3D Accents
3D nail art is quite in trend, and you can blend it with the milky French manicure style for a unique touch. You can go for 3D flowers, butterflies, bows, stars, or any other shape of your choice, add them to the top of your freshly applied nail paint, and transform the look in seconds.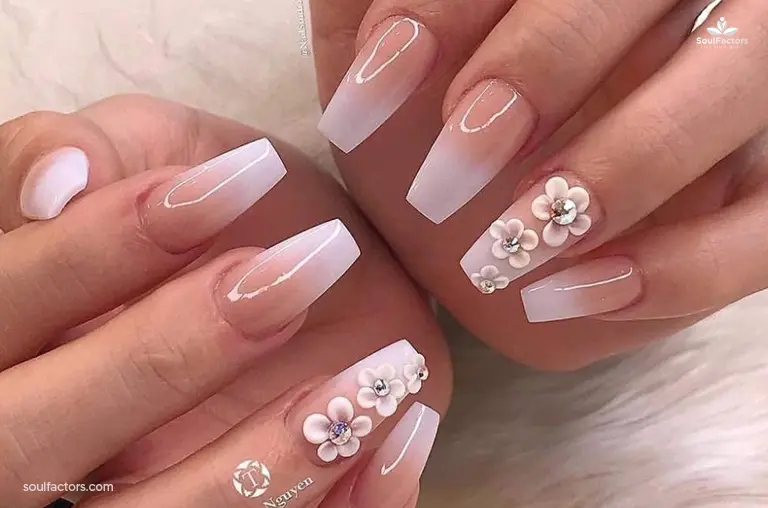 Style Your French Manicure Like The OG Queen, Jenifer Aniston
While the milky french manicure has been doing rounds on the internet for quite some time now, it really came into the limelight, all decorated in the hands of Jenifer Aniston. Since FRIENDS aired, whatever Aniston does has become a worldwide trend, and the milky french manicure is no different. Recently, during the premiere of her movie Murder Mystery 2, she paired her Couture mini dress with the ever-classy milky french manicure. She rocked the style on her medium-length, square-edged nails. As for the color, she went with a combination of milky pink with a white micro mani French tip.
Since then, the milky french manicure has been quiet in the talks, which explains why we are writing this blog. So, if you came here inspired by Jenifer Aniston, you know exactly what to do now.
FAQs: A Quick Glance
What is the difference between white and milky nails?
When you say white, you are talking about solid white nails, and on the other hand, milky white falls into the off-white category. So, milky white nails won't be precisely white but with an added tinge of cream or beige.
What does a milky manicure look like?
Someone compared a milky manicure to a tall glass of milk, and we couldn't agree any less. Yes, that's a basic milky manicure; the right balance between opaque and sheer white.
What is the best color for a French manicure?
While white is the OG French manicure color, people today are experimenting with a number of shades, this includes ombre, pink, neon, red, etc.
What are Hailey Bieber's nails?
Hailey Beiber is known for many things, and one of these is her nail art choices. From her glazed donut nails during Met Gala 2022 to her daisy nails, neon chrome nails, and orange nails, all come together to form a trend of their own, and they are collectively known as Hailey Bieber nails.
Is there a milky French manicure for dark skin?
Whatever your skin color, you can pull off the milky nails French manicure style well. It is pretty minimal in style and complements all skin colors and style choices quite well. So, if you were wondering if there is a French manicure for dark skin, go with any style.
Closing Lines
This is all you need to know about the milky french manicure trend. It is one style that fits that everyday vibe while qualifying for that statement vibe. So, if you're looking for a style that echoes minimalism, class, and elegance with the right amount of color and sass, look no further than a milky french manicure. Now you can get it at home by following the above-mentioned method, watching a milky french manicure tutorial on YouTube, or going for a professional appointment. Make your pick and flaunt your nails in style.