Do you have a never-ending love for makeup but struggle to get it right every time? Does achieving that flawless finish seem like an art you failed to master? Click-worthy makeup is about adopting the right techniques or strokes and using the right products and tools. While techniques you master with practice to get an eye for the right products, all you need is some insight into the makeup industry. And today, we are here with that much-needed insight. Today, we will introduce you to a stippling makeup brush, the hidden gem of the world of makeup.
When it comes to makeup, there will be not one but several brushes in your kit. Foundation brush, powder brush, and kabuki brush, to name a few. Let's add one more to the list and complete your makeup kit with a stippling makeup brush. You must be wondering why to invest in one more makeup brush when you have already lined up so many for every purpose. For clarity, let's go through everything you need to know about this makeup brush that everyone seems to be using, including stippling brush meaning, its use, and some interesting techniques that pair well with this brush.
Let's get started.
What Is A Stippling Brush?
A foundation forms the base of your makeup; if you fail at this step, you will surely get a rough and patchy look that everyone despises even if it's a water-based foundation. A stippling makeup brush is the one tool you need to apply that perfect, even, and blemish-free coat of foundation like a pro. It is like royalty amongst the category of makeup brushes in terms of price, finish, and durability. Placed on the pricier end, it's that professional magic wand all makeup artists love.
Perfect for both cream and liquid foundation, it promises full coverage, covering all your blemishes, including breakouts and acne marks, in one go. A standard stippling makeup brush comprises two distinct soft, flexible, and synthetic bristles – black/brown and white/cream. With light-colored bristles at the top to collect the product and dark-colored bristles at the bottom to send the products onto your skin, it's not your average makeup brush.
While it is most popularly used to blend and apply foundation, it is a multi-purpose brush that can be used with diverse products ranging from blush, bronzer, and highlighter. It's an all-in-one makeup brush which can be a flat foundation brush or concealer brush, depending on the use you put it to.
How To Use A Stippling Brush: Decoding The Right Technique
You can invest in the best stippling makeup brush available in the market, but if you don't use the real technique of stippling brush, you will never get it right. Blaming the brush is not the solution; you must decode the right technique and master it with practice. If you have used a Kabuki brush, the technique used is quite similar, but let's have a closer look.
But before that, let's have a look at what stippling is.
Stippling Makeup Brush: What Is It All About?
If you thought the word stippling is unique to the world of makeup, you were wrong. It is an art-centric technique that creates a composition using small dots. Professional makeup artists smartly adopted it, and it soon became a makeup technique that can cover all blemishes on your face. It evenly fills your pores and gives you that smooth and professional look.
Now, let's get to the technique.
Find The Right Brush Size
A stippling makeup brush comes in diverse sizes, so you must consider picking one that best suits your application needs. For foundation, go for the biggest option available, and as for contour, blush, or highlighter, size down for a clean and intricate finish.
Pick An Adequate Amount Of Product
Yes, a stippling makeup brush is known to give full coverage, but if you're not using an adequate amount of product, it will look too much or too little. And that is not what you expect from your makeup; you want it to look just right.
Take the required amount of foundation or highlighter on your hand, dip your stippling makeup brush in the product, and apply it to your face with gentle taps. Once you cover your entire face, you will see a dot-like pattern spread across your face. And that's how we know we are going in the right direction.
Spread It!
Next comes blending the product into your face. All you need to do is keep your hands steady and follow a circular motion. Keep going until you achieve that dream full-face coverage. Place more stress on the pigmented areas for an even look.
Best Stippling Makeup Brushes In The Market
The moment you go out to search for the best stippling makeup brush in the market, you will know that there is not one but several available options. And finding the best from the lot is indeed a task. But we are here to help you out. Here is a list of the best stippling makeup brushes. Make your pick!
NYX Professional Makeup Pro Dual Fiber Foundation Brush
Price: 5004
This dual fiber foundation brush is proven to deliver an airbrushed professional finish.
Works well with both loose and pressed powders.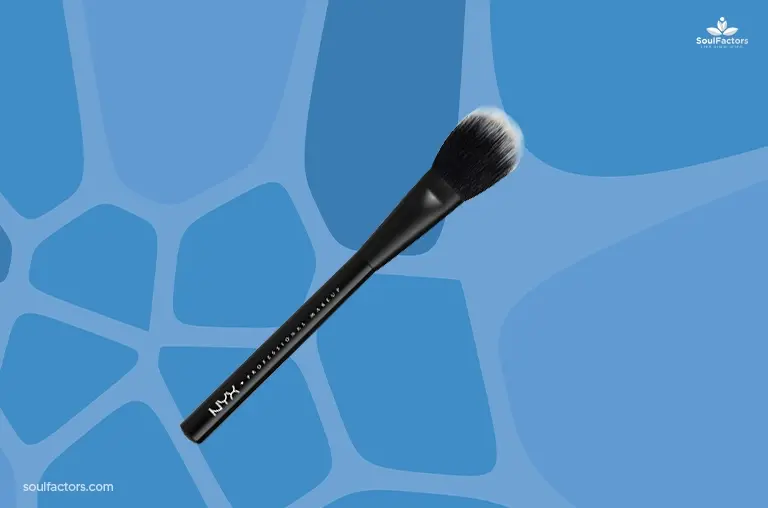 IT Cosmetics Airbrush Complexion Perfection Brush #115
Price: 3669
This stippling makeup brush promises streak-free coverage in a matter of seconds.
Perfect for cream and powder makeup formulas.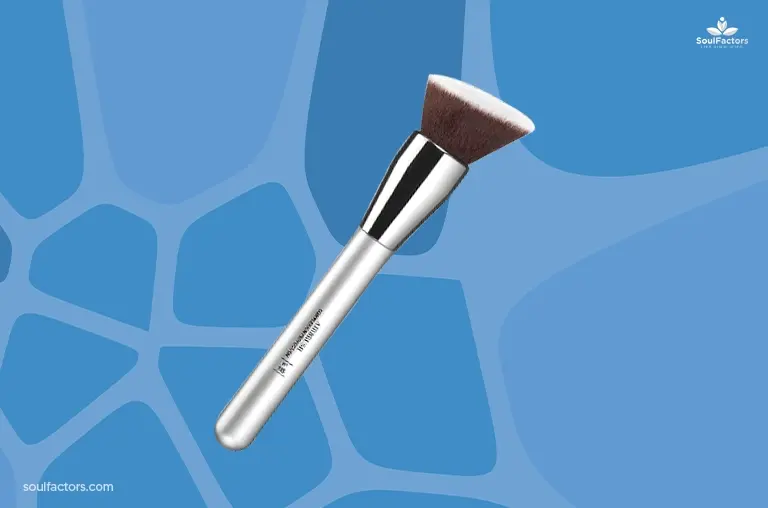 Sephora Collection Pro Foundation Brush #64
Price: 9986
A soft, fluffy, and dense brush for a natural finish,
Lands soft on textured and sensitive skin(1).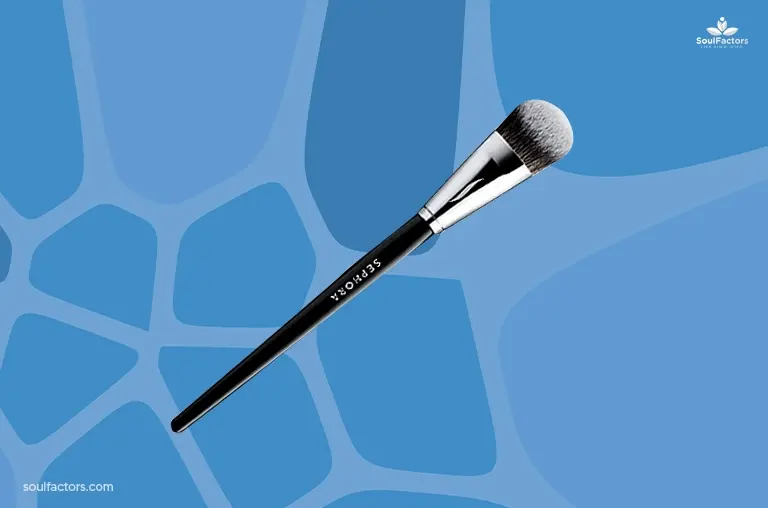 E.l.F. Cosmetics Domed Stipple Brush
Price: 2450
Domed-shaped brush for the complete full-face overage.
100% synthetic bristles appropriate for liquid, cream, or powder makeup.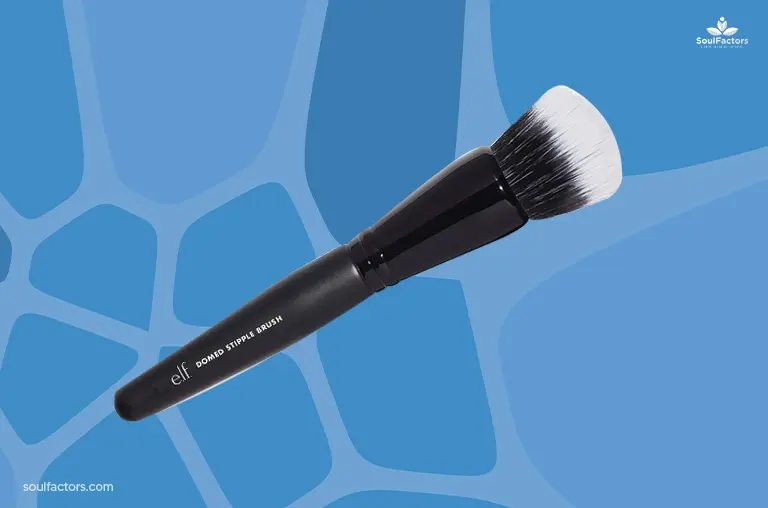 Bdellium Tools Studio 953 Duo Fiber Foundation
Price: 3744
Flat, domed-shaped brush for easy and effortless application.
Perfect for Effortless stippling and blending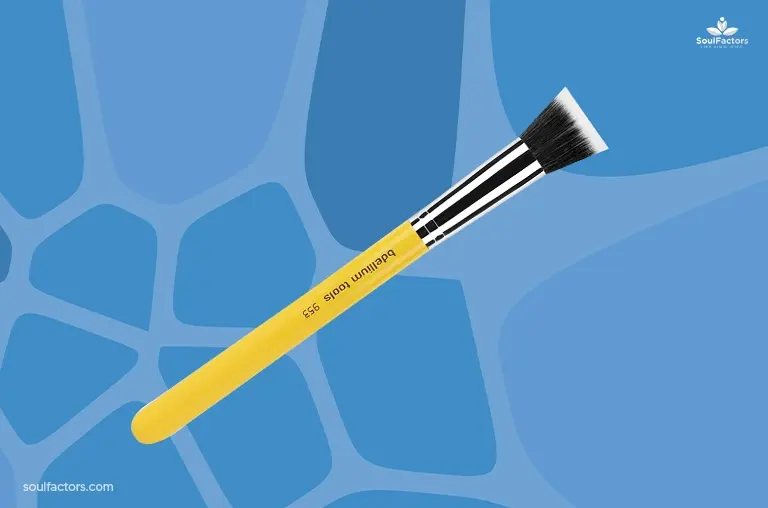 Wet N Wild Small Stippling Makeup Brush
Price: 1573
Guarantees a sheer, streak-free application.
And affordable options with a professional touch.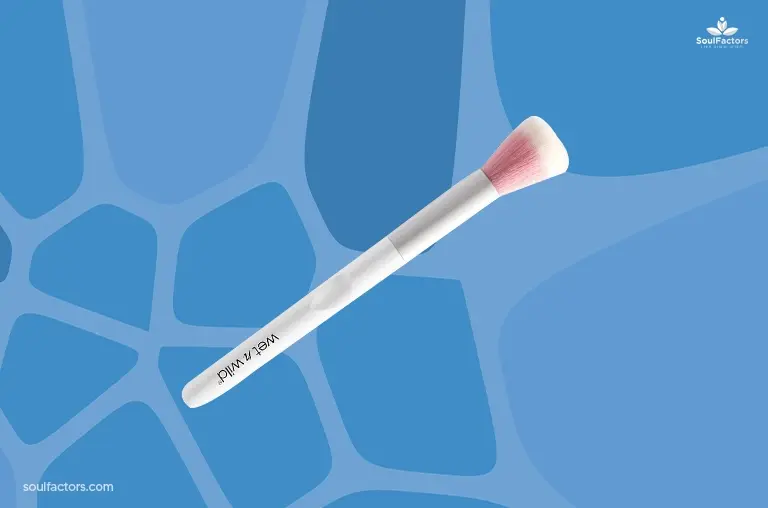 How To Care For Your Stippling Brush: Keep It Good As New!
A stippling makeup brush is an investment that will give you flawless coverage for subsequent uses. They are durable solutions that will give you your money's worth, but the only condition is that you have to care for it right. If not, the bristles will soon be shed away and end up in the dustbin. You won't want that, right? So, giving your stippling brush the care it needs after every use is mandatory.
We will let you know the secret and tell you how professional makeup artists maintain their brushes, good as new.
All eyes here.
Firstly, always store your brushes in a separate container to prevent any external damage to the bristles. The bristles are fragile and prone to wear and tear, so storing them right is key to extending their lifetime.
Your brushes should be cleaned regularly for not one but several reasons. One is to ensure its longevity, and the other is to prevent infections that a dirty brush could lead to. So, give your stippling makeup brush a thorough clean at least once every week. Dip your brush in a shampoo+water solution and gently rub the bristles for the best results. Don't go overboard, and ensure that you don't damage the bristles in the process. And while you are at it, clean the handle/wand too.
Next comes the drying procedure. Once you clean your stippling makeup brush, you have to dry it naturally to retain the softness of the bristles. Store it away from heat and humidity, so using artificial ways to dry your brush is a big no-no.
Follow these procedures, and your stippling makeup brush will stay good as new after every use.
Stippling Makeup Brush V/S Foundation Brush: What's The Difference?
There are so many brushes available in the market that your mind is bombarded with many options whenever you are out shopping. Now you cannot buy it; you must settle for a few that best meet your requirements. To help you make the best choice, here is a comparative study of two brush types readily available in the market: stippling makeup brush and foundation brush.
Let's get into it without any further ado.
| | | |
| --- | --- | --- |
| | Stippling Makeup Brush | Foundation Brush |
| Usage | As we mentioned before, a stippling makeup brush is an all-in-one tool that can be used to apply foundation, blush, bronzer, and highlighter. | As the name suggests, a foundation brush is used for applying foundation and nothing else. |
| Design | It has two different types of bristles, one for picking up the product and another one for blending it. | Foundation brushes only have one dense set of bristles. |
| Price | Being a professional choice, they are on the pricier end. | You can find it in all ranges and find a quality one at a cheaper rate. |
| Highlights | Stippling makeup brush is vouched for by professional artists for its potential to hide all imperfections and marks. | It promises full coverage and is soft on all skin types. |
Depending on the brand you choose to invest in, both can be excellent choices. What you need to consider is what your usage pattern is, what your expectations are from your makeup brush, and whether you would be putting it to personal or professional use. By considering these questions, you can make a good choice and add the best brush out there to your makeup kit.
Disadvantages Of Stippling Makeup Brushes: Are There Any?
Now that you have reached this section, you must already know that buying a stippling makeup brush is a bit of a costly affair. So, the question is, is it worth your money? Is it really a must-have or another unnecessary expense you can avoid? By now, you already know that a stippling makeup brush is an unsung hero of the world of makeup that all love. But all that glitters is not gold. So, the question is, are there any disadvantages to using a stippling brush? We went through the web to surf for some disadvantages, but we didn't find any. A stippling brush offers:
Excellent full-face coverage.
Covers all blemishes in one swoop.
Works well with all skin types, sensitive to acne prone.
Gives a professional finish.
Easy to use and a durable product.
So, in short, a stippling makeup brush is worth the money you spend on it. The only thing is that you need to be careful about the brand you invest in. While several cheaper copies are available in the market, they are merely copies and won't give that professional look. So, even if you have to spend a few bucks more, only pick a branded stippling makeup brush and stay clear of the rest.
FAQs: A Quick Run-Through!
1. What is a stippling makeup brush used for?
A stippling makeup brush is a multipurpose brush that can blend and apply several makeup products, including blush, bronzer, and highlighter.
2. What is the stippling technique in makeup?
The stippling technique involves applying the makeup product to your face as dots and then spreading it evenly for full-face makeup coverage with no uneven tone or visible blemishes.
3. Is stippling brush good?
Yes, a stippling brush is a makeup brush preferred by all makeup artists. It is a professionally recommended tool and will surely deliver the promised results. But you have to be familiar with the right stippling brush used to reap the maximum benefits out of this magic wand.
4. Can you use a stippling brush for powder?
Yes, like a kabuki brush, a stippling makeup brush can be used with various products, including cream and powder makeup formulas.
5. Which is the best stippling makeup brush available in the market?
We will vote for NYX Professional Makeup Pro Dual Fiber Foundation Brush as the best stippling makeup brush available in the market within an affordable price range.
6. Is a foundation brush different from a stippling makeup brush?
Yes, a foundation brush has one type of bristle, whereas a stippling makeup brush has two distinct kinds. Also, a foundation brush is used to blend and apply foundation, but a stippling makeup brush can apply highlighter, foundation, etc.
7. Can I use my stippling makeup brush as a concealer brush?
A stippling makeup brush serves various ends and can be used as a concealer brush. You just have to be conscious about the brush size you choose.
Closing Words: Is The Stippling Makeup Brush Worth Your Money?
So, we took you for a ride through everything you would ever want to know about a stippling brush, including stippling brush use, stippling brush meaning, the best ones available in the market, and a lot more. It is a buzz-worthy product in the makeup market and the secret to that professional makeup finish that some seem to flaunt proudly. If it looks like a tool that will fit well in your makeup kit, then all you need to do is add it to the cart and click purchase.
We cover such informative and exciting content every day. So, if you have a keen interest in such topics and are looking for a reliable source, follow us here. We will always keep the updates coming.