How To Style An Oversized Shirt In Vogue?
An oversized shirt might be just the thing you need to make a bold statement. They are very versatile and since they are loose, you can style them to look super trendy.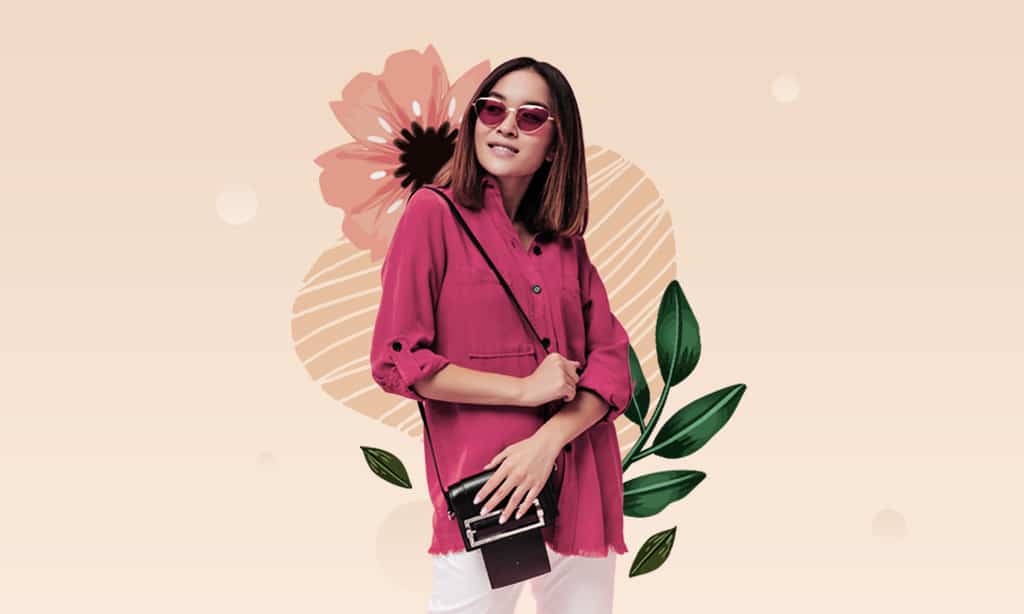 Do you ever feel like your wardrobe is outdated? Then it's time to whip out all your oversized shirts. But, how to wear an oversized shirt? I'm guessing that is one of the questions you thought about while trying to figure out how to wear oversized shirts.
The thing about oversized shirts is that they are so versatile. You can do so many things with them. You might have dresses and tops that hug your body tight. However, an oversized shirt is a staple that you need.
How To Style An Oversized Shirt?
Now, one of the perks of having a boyfriend, brother, dad, or any male companion is that you can always raid their closet, and pick out an oversized shirt that you can pair with so many things.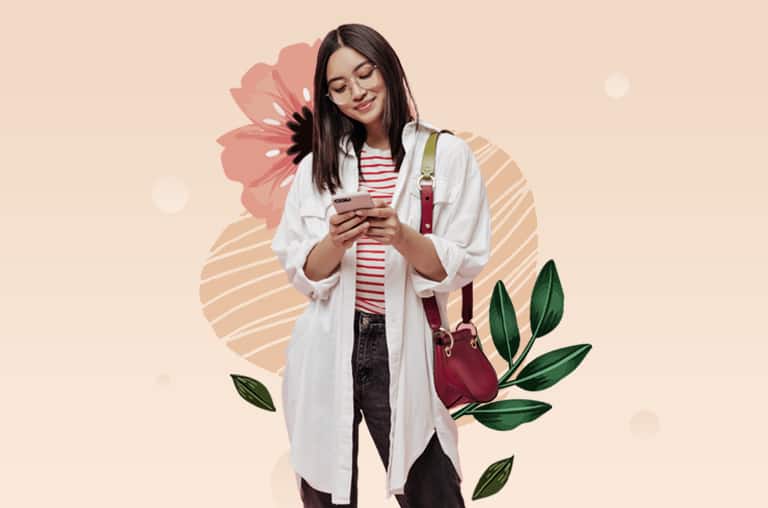 You can wear an oversized shirt with almost anything and still get away with it looking amazing. It is possible to pair an oversized shirt with cute jeans, skirts, corsets (1), thigh-high boots, etc.
I guess it would be safe to say that you can look cool and trendy by styling and wearing an oversized shirt. It doesn't cost thousands of dollars and you can still make a fashion statement.
How To Style An Oversized Shirt Like Your Favorite Celebs?
Who wouldn't want to look like their favorite celeb? I'm guessing all of us. While styling your oversized shirt, you can base them on some of these iconic looks.
Bella Hadid
Bella is turning heads with her look. She has paired her oversized shirt with a black corset and some black bottoms, with chunky gold jewelry. The black shades just bring everything together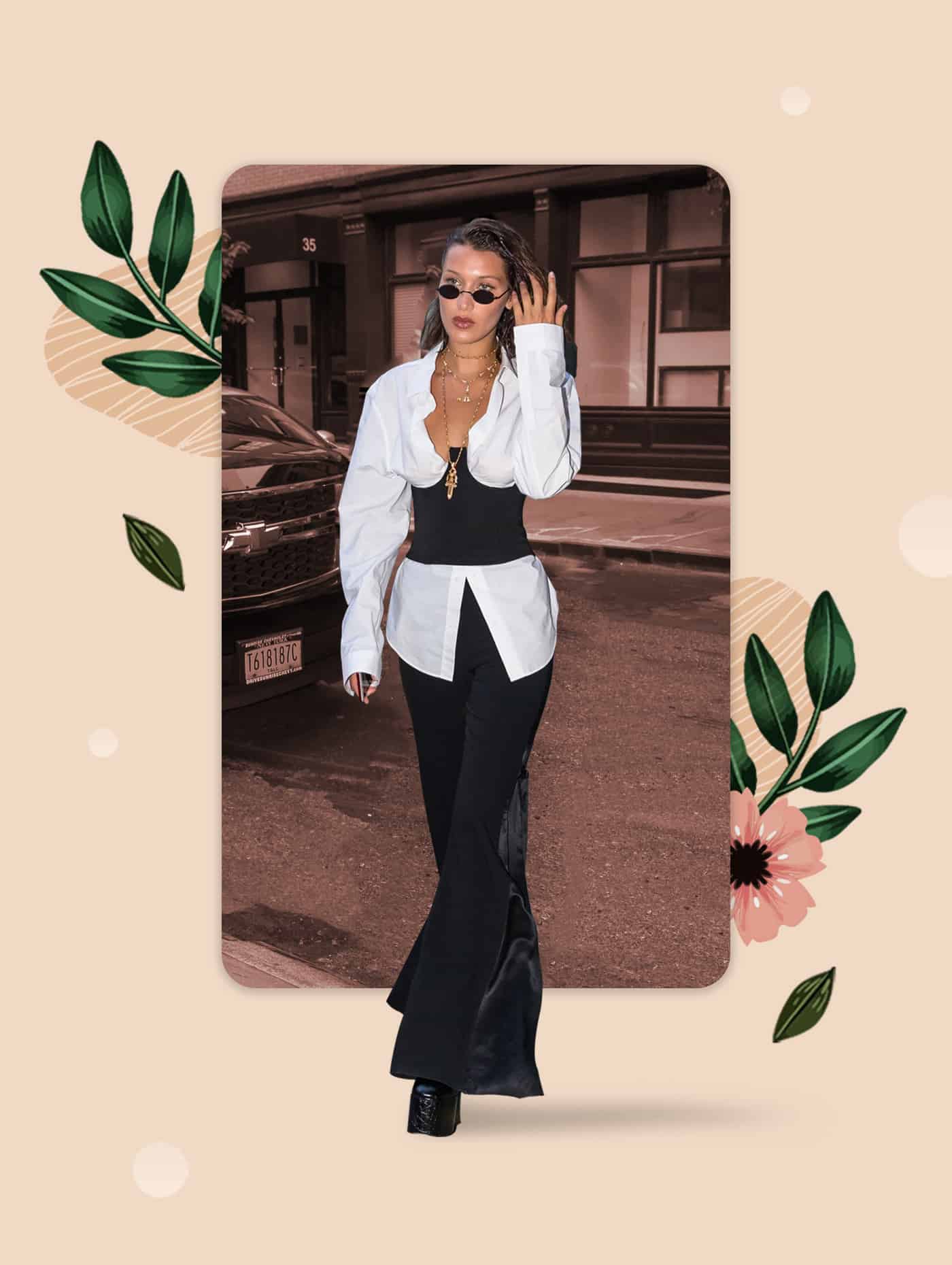 Rihanna
Is there anything that looks bad on Riri? Probably not. If you don't like a corset, you can pair your oversized shirt with a belt and wear it like a dress. Rihanna has made her outfit sassy by adding a wide brown belt and matching fringed Altuzarra lace-up sandals.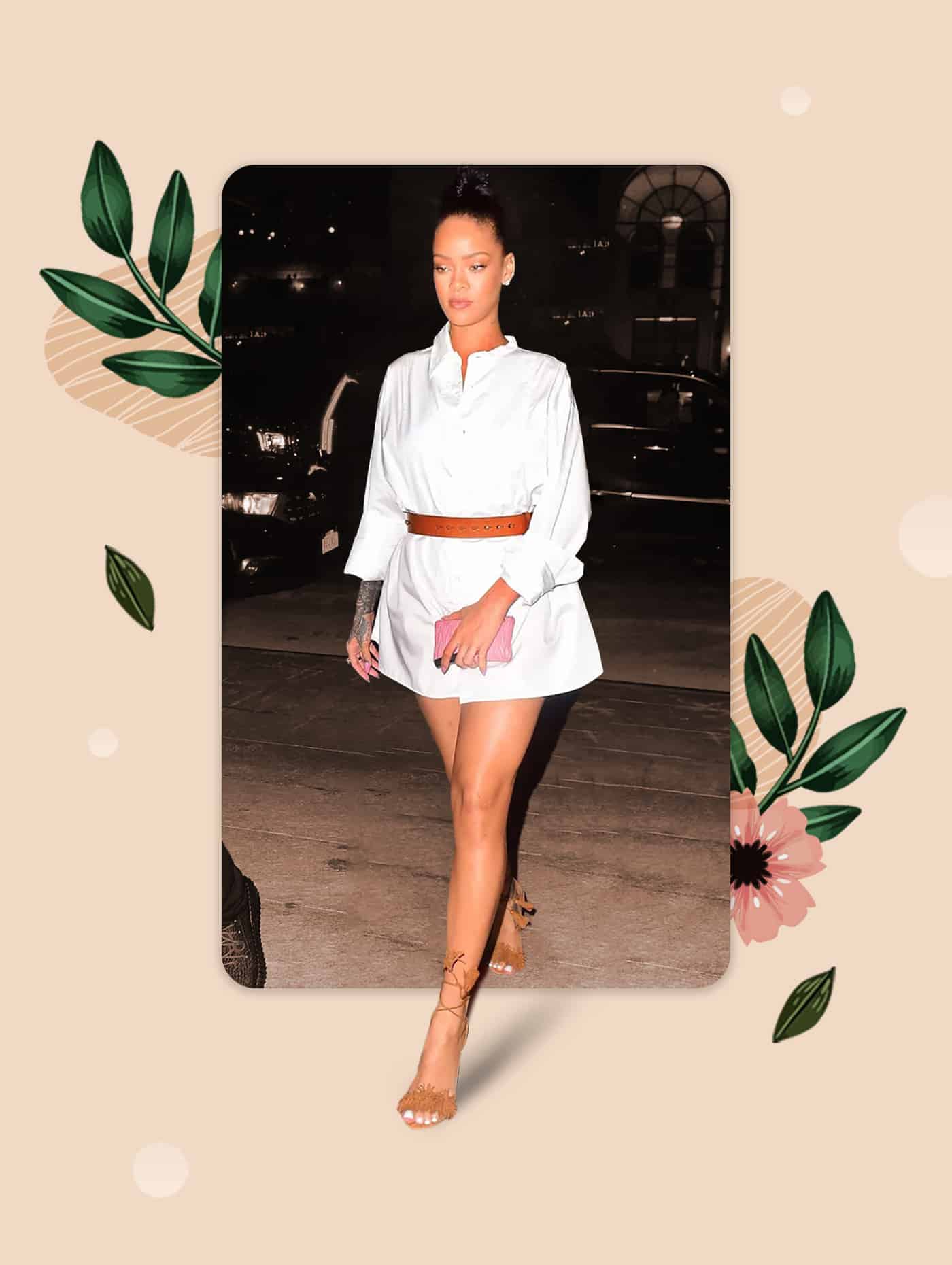 Hailey Bieber
Hailey is a fashion icon (2). Here she has paired her powder blue oversized shirt with fun, bright-colored bottoms and tucked the shirt inside her pants.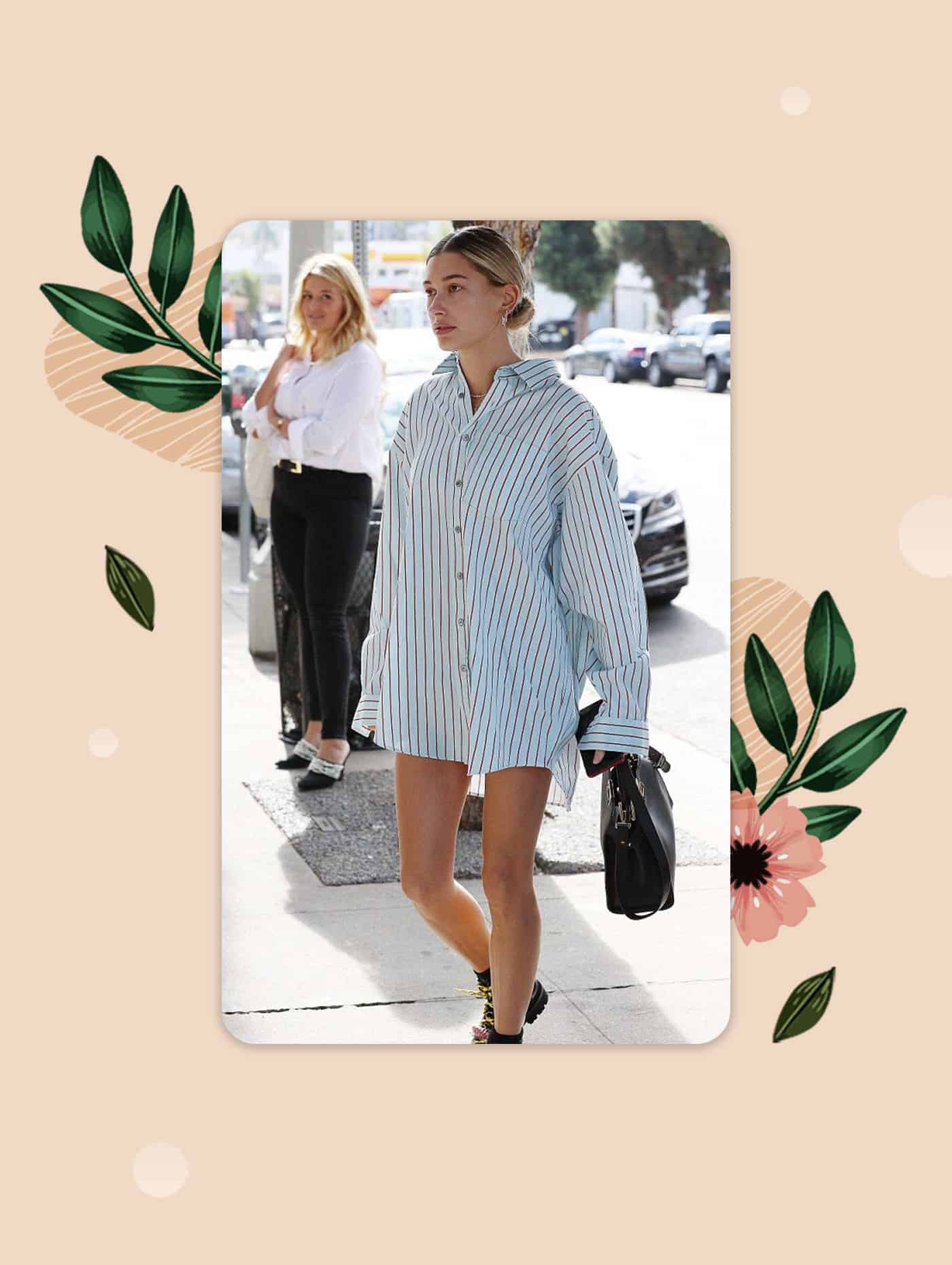 Style Oversized Shirts According To Jeans
Most of you pair your oversized shirts with jeans. However, there are numerous types of jeans. There are different styles that you can try out while styling your oversized shirt with different kinds of bottoms. Some of the most commonly styled shirts according to the bottoms are;
Style Oversized Shirt With Parallel Jeans
Pairing an oversized shirt with parallel jeans has been gaining popularity for a while now. It is super casual, yet gives you a glimpse of street style coupled with grace.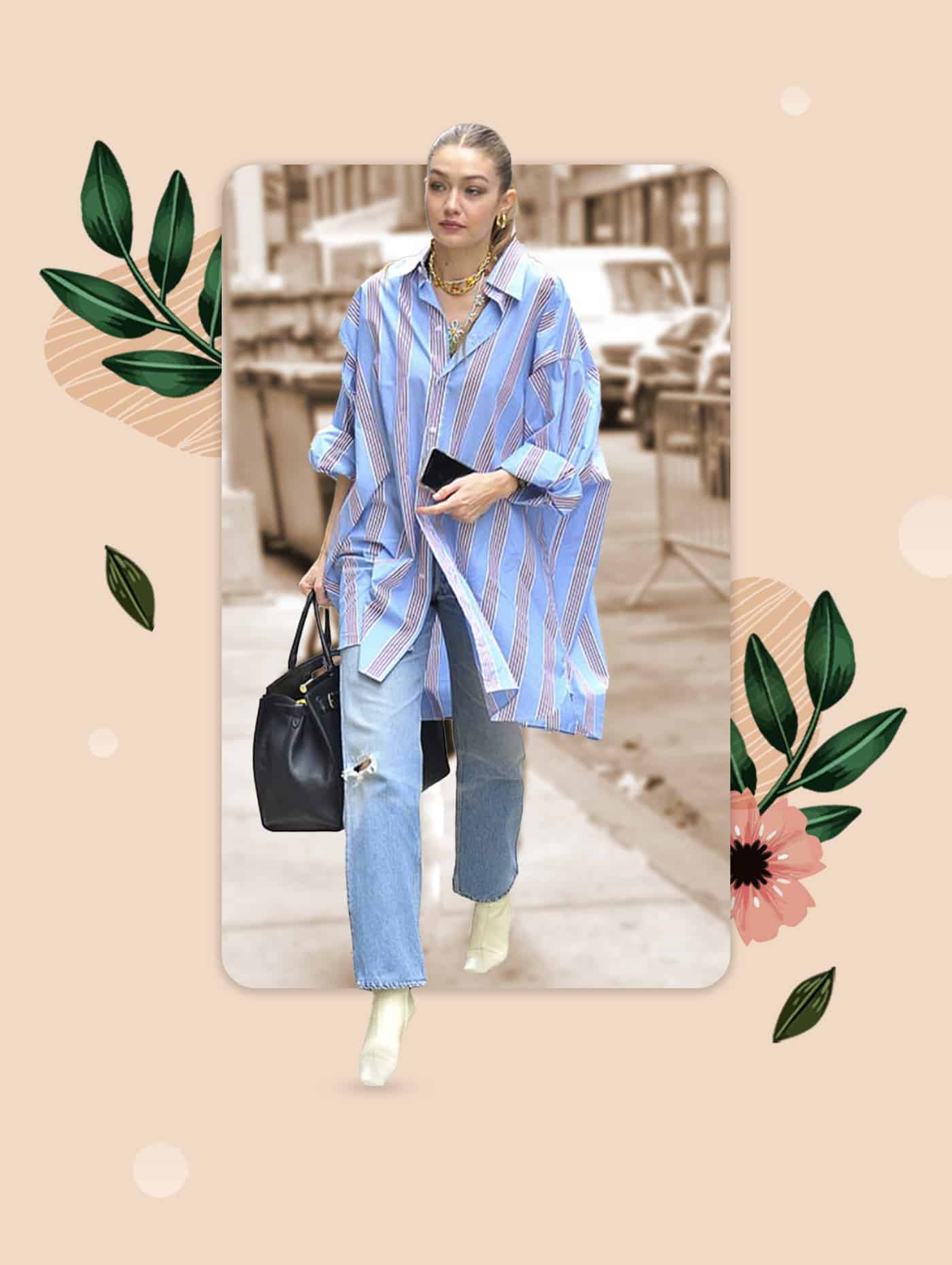 This trend can be found in many fashion magazines. Many celebrities have been spotted wearing this outfit. It is one of the favorite fits of Gigi Hadid as well.
White Oversized Shirt With Skinny Jeans
A white oversized shirt is not just a want, it's a need. Pairing a White Oversized Shirt With Skinny Jeans is such a classic combo. It is super versatile and will look good on anybody. You can mainly pair a white shirt with deep/light blue, or black skinny jeans.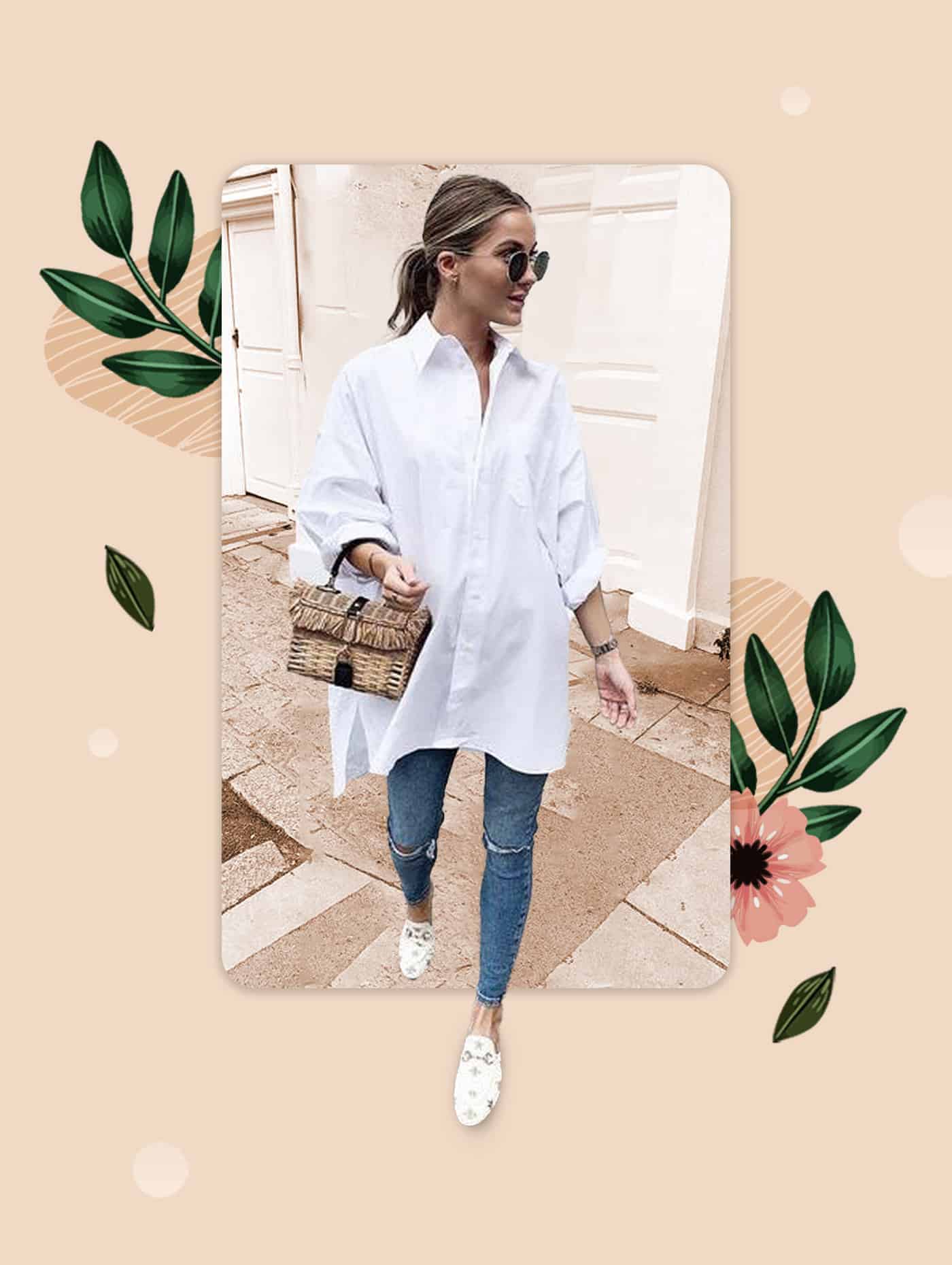 This outfit is perfect for a casual day at the office, or if you just want to hang with your friends. You can wear any footwear you want with this fit. Sneakers, sandals, and heels would give you a complete look.
Oversized Shirt With Mid Length Jean Shorts
Did anybody say summer? Then it is time to bring out your Oversized shirt and your mid-length jean shorts. It is a must-have for the summers. They are really easy to style and they will make you seem super trendy. Your outfit will stand out from the rest of the crowd.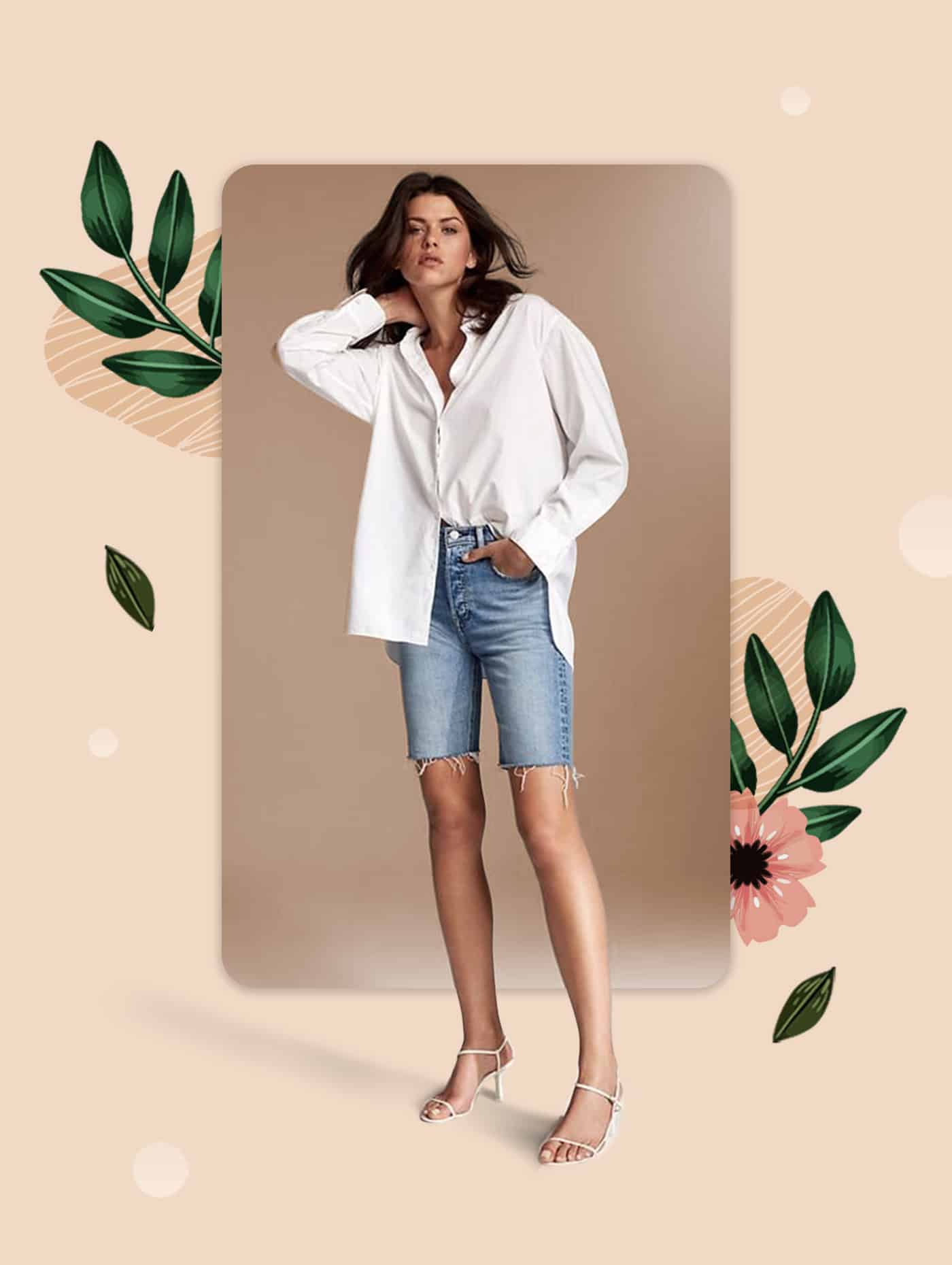 An oversized shirt and jean shorts are really comfortable to wear. You can wear heels or sneakers with this fit. The summer might be hot, but you will look hotter. However, these are not restrictive to summer. You can pull this outfit whenever you want.
Oversized White Shirt With White Jeans
This fit has been in style for a while too. A crisp white oversized shirt and some white jeans to go with it are a great combination for summer as well. They are light and will keep you cool.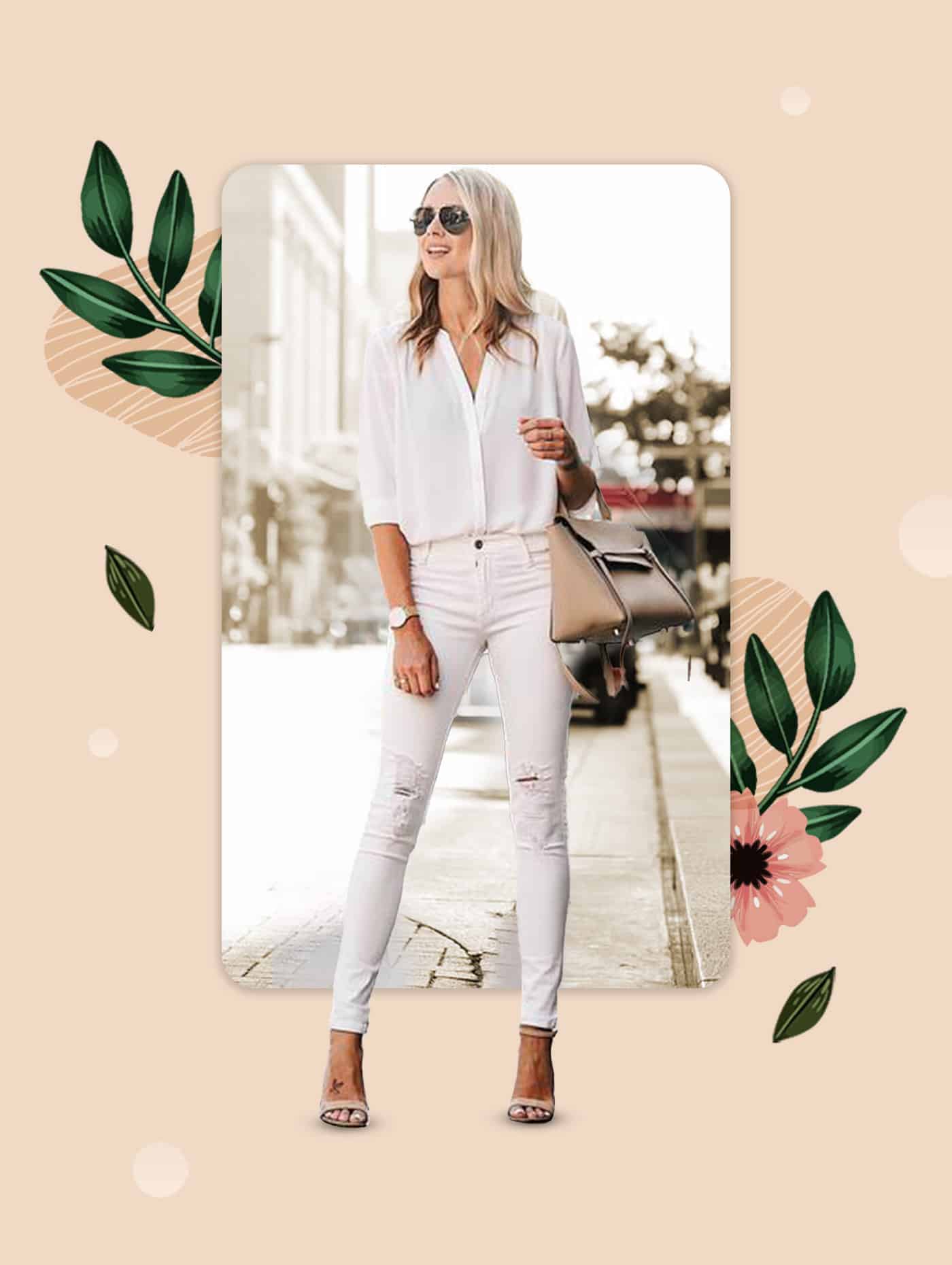 However, you have to pair them with accessories and appropriate footwear. Since the outfit is plain, you can try pairing it with sparkly belts or shiny gold belts. Chunky jewelry and heels, sneakers, or boots will elevate your outfit.
Oversized Shirt With Wide Leg Jeans
Wide-leg jeans are the new star of the show. An oversized Shirt With Wide Leg Jeans is a strong combo. They are seen in many street-style fashions and on runways. I guess it's safe to say that this outfit has got some range.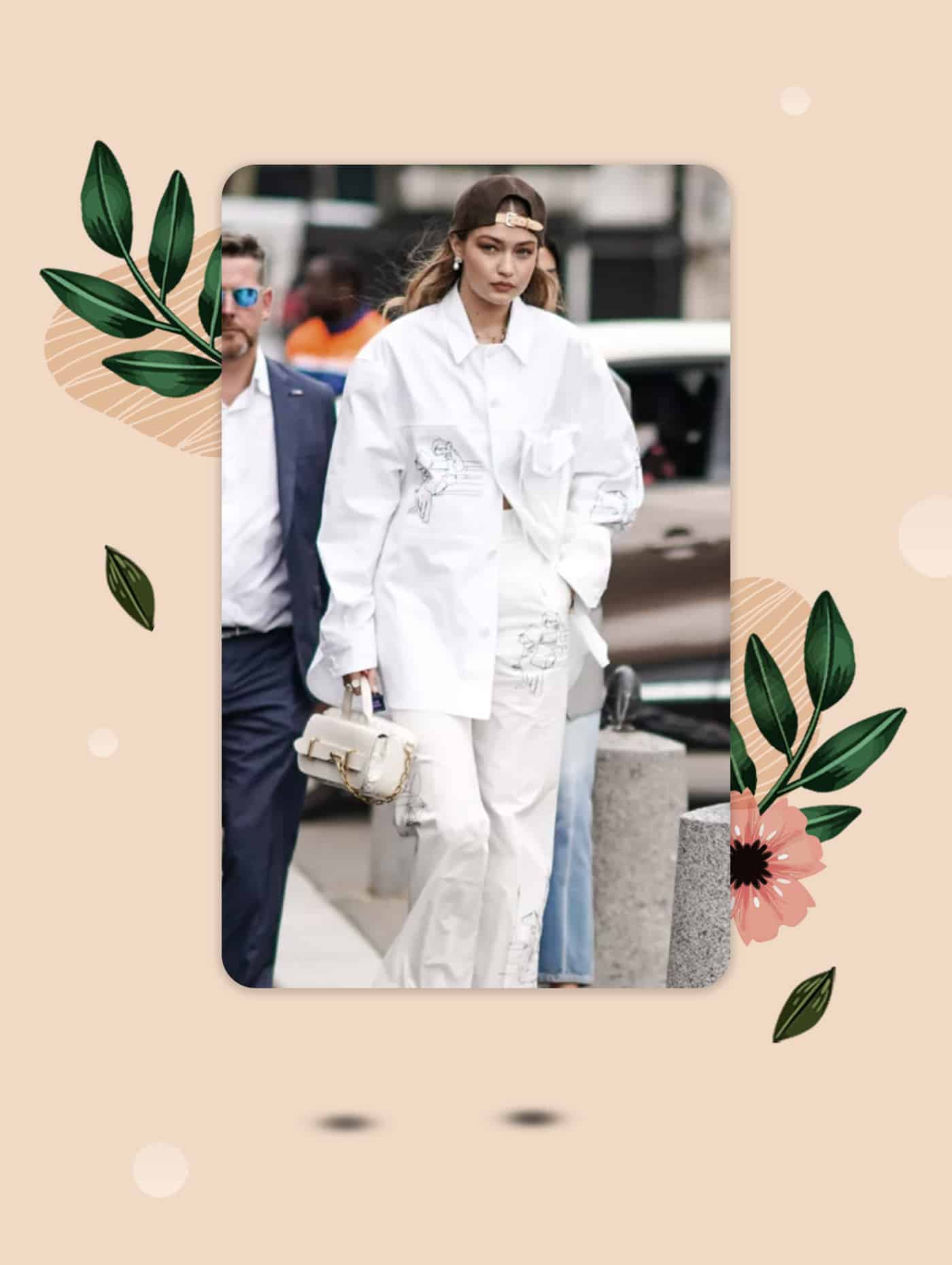 You can tuck your shirt inside the jeans for a much edgier look. Pair it with some chunky or statement jewelry and a pair of cute boots.
Oversized Shirt Outfits Ideas
There are many ways you can style your oversized shirt. Even though oversized shirts are super comfortable and trendy, you have to know how to properly style them. There are various options that you can pair it with. Or, you can just wear the shirt like a dress.
Oversized Shirt And Leggings
Oversized shirts and leggings are such a classic combination. Not only are they super comfortable, but also they are very trendy. There are a couple of ways in which you can style this fit. You can go for the simple look, where you just let the shirt hang low and wear the leggings as bottoms.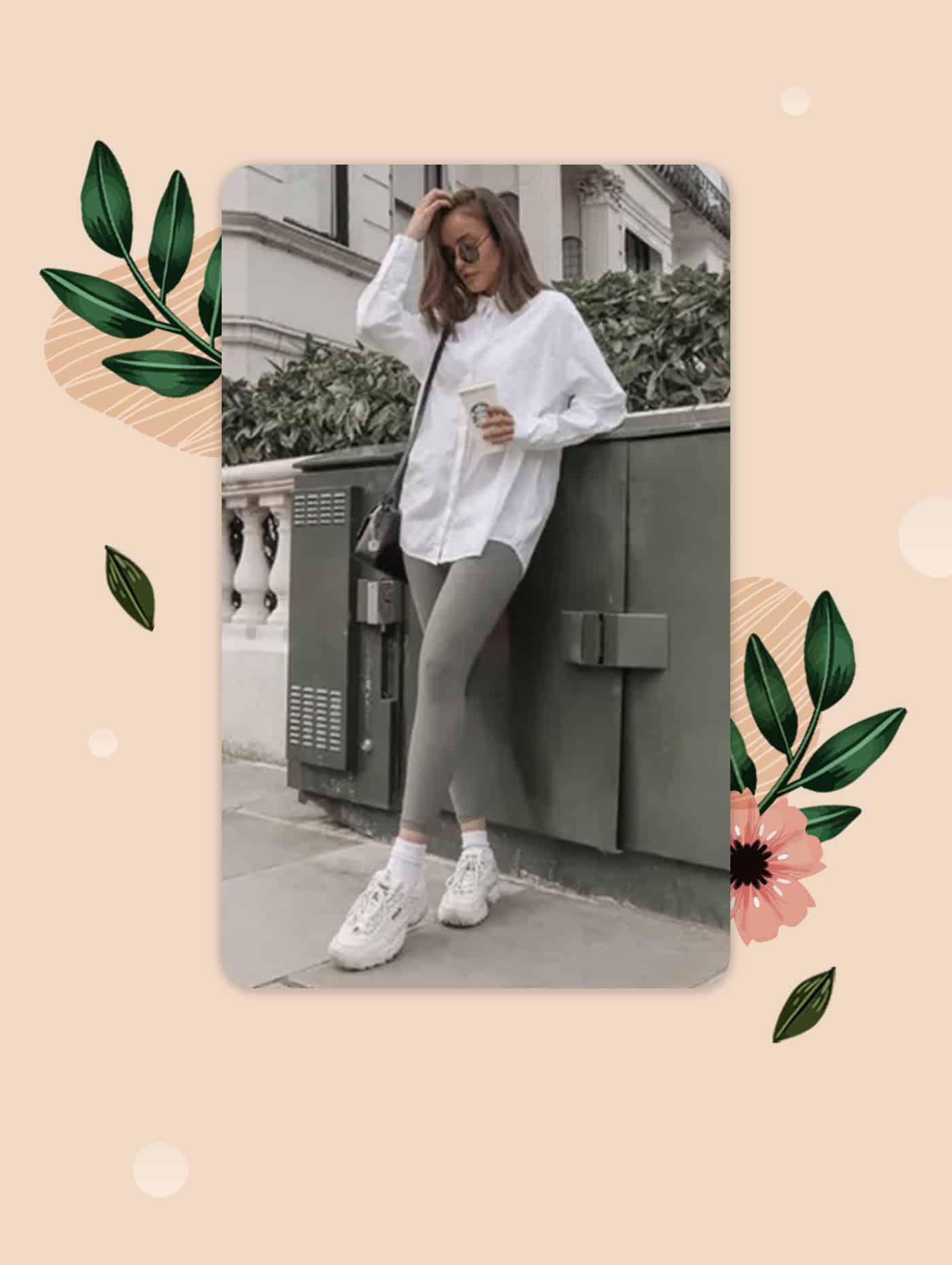 You can also use the shirt for layering, wear a cute tank top (3), preferably a tank top with some sparkles or prints and then, just leave the shirt unbuttoned. Tuck the tank top inside the legging for a complete look.
Oversized Shirt And A Skirt
A skirt is a staple in any girl's closet. If you have no idea how to style your oversized shirt, then here comes the skirt to the rescue. One of the most common styles is just tucking your oversized shirt into a pencil skirt, pair it with some dainty jewelry, and a pair of cute sneakers or heels and you have a look. If you want a cool new outfit for a day at the office, then give this a try.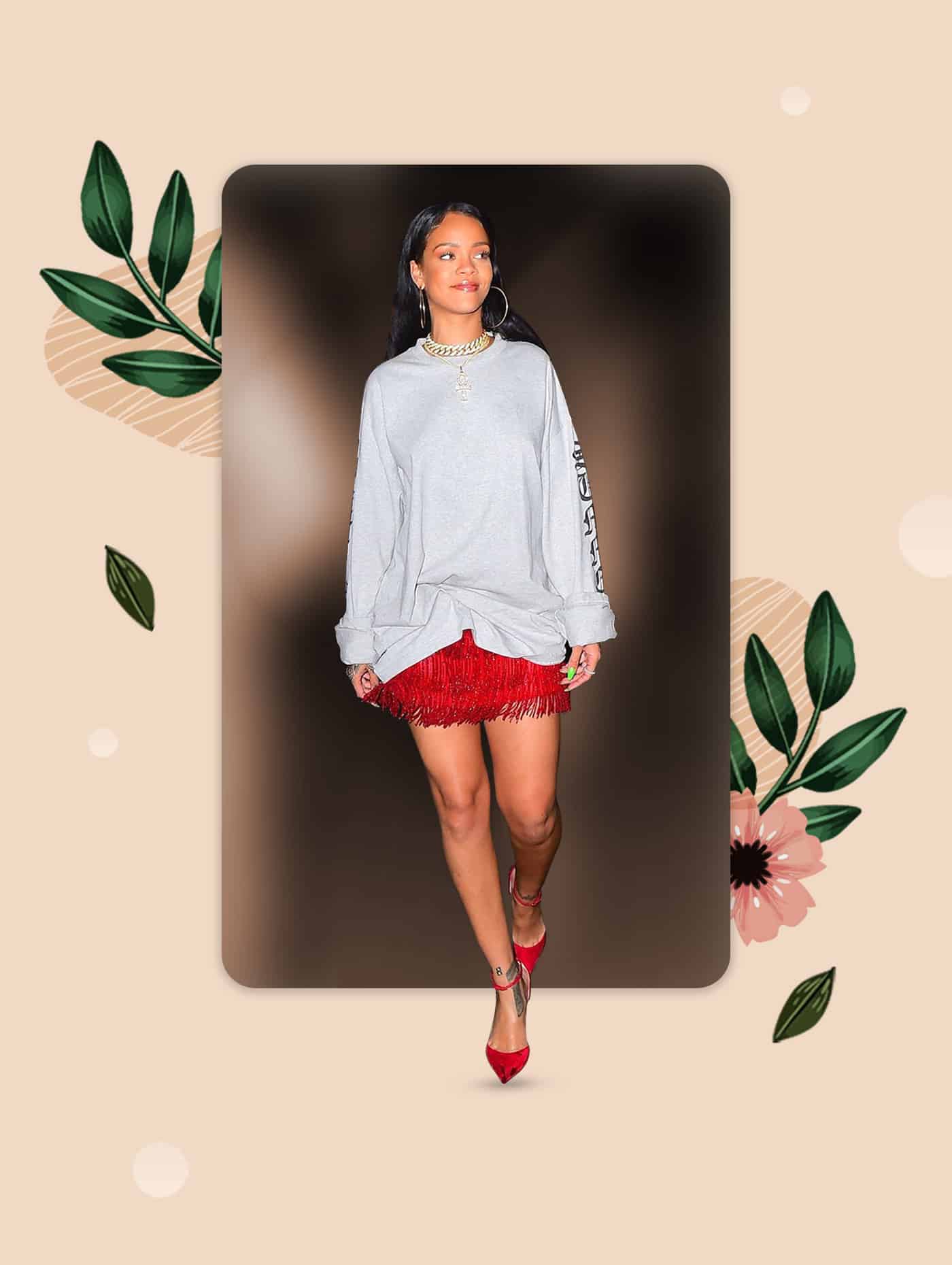 If what you want is a trendy look for a girl's day out, then switch that pencil shirt for a mini skirt and then half-tuck your shirt inside the skirt. Pair this with cute boots and chunky jewelry and you will have a trendy and edgy look for the day.
Oversized Shirt Outfit Ideas To Create Casual Daytime Looks
When it comes to styling an oversized shirt, the possibilities are endless. There are so many things that you can pair it with. They are really comfortable and give an effortless look. Some of the really cool and trendy ways to style your oversized shirts are:
Oversized Shirt With A Slip Dress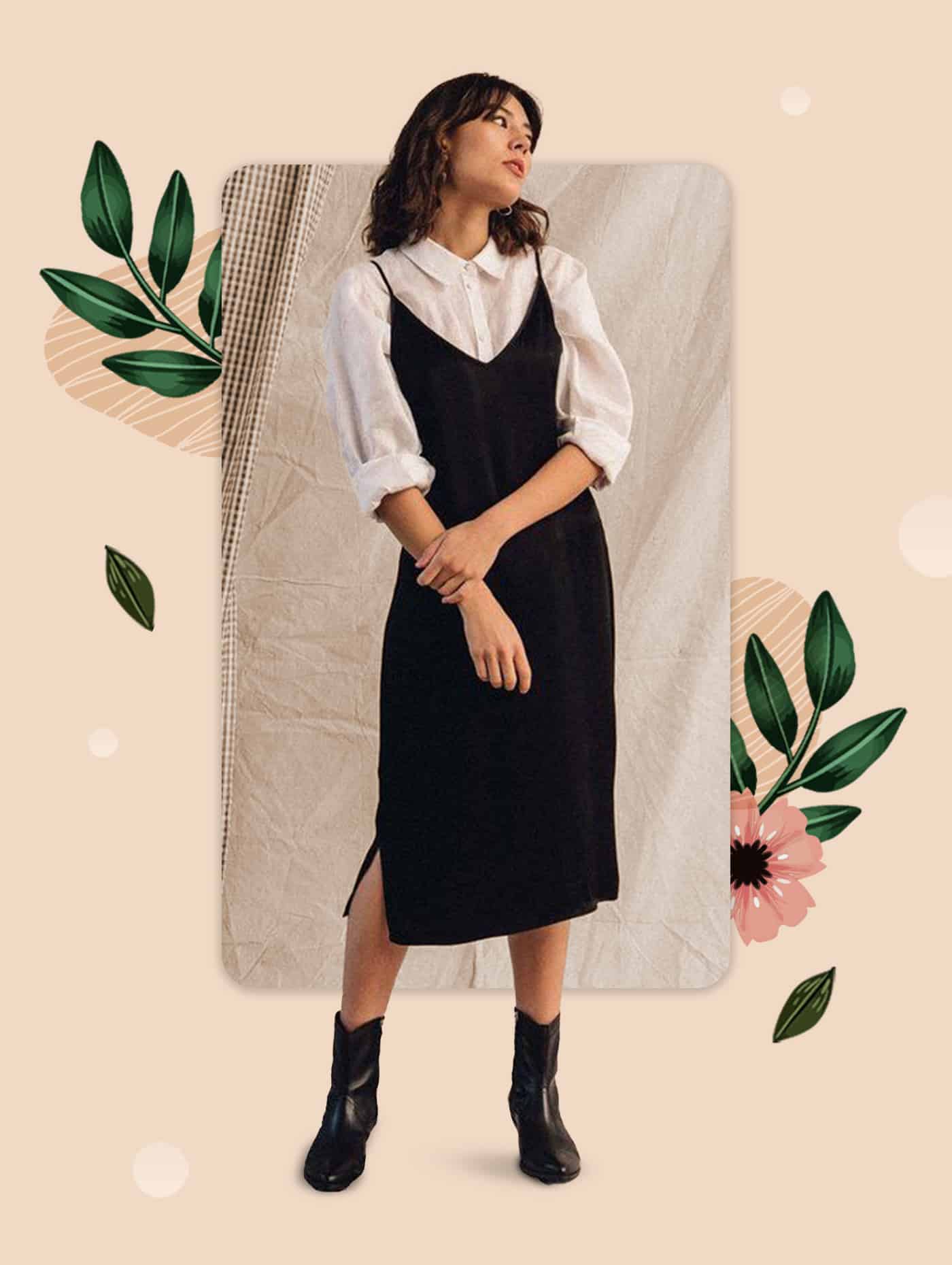 With Jean Shorts And Sneakers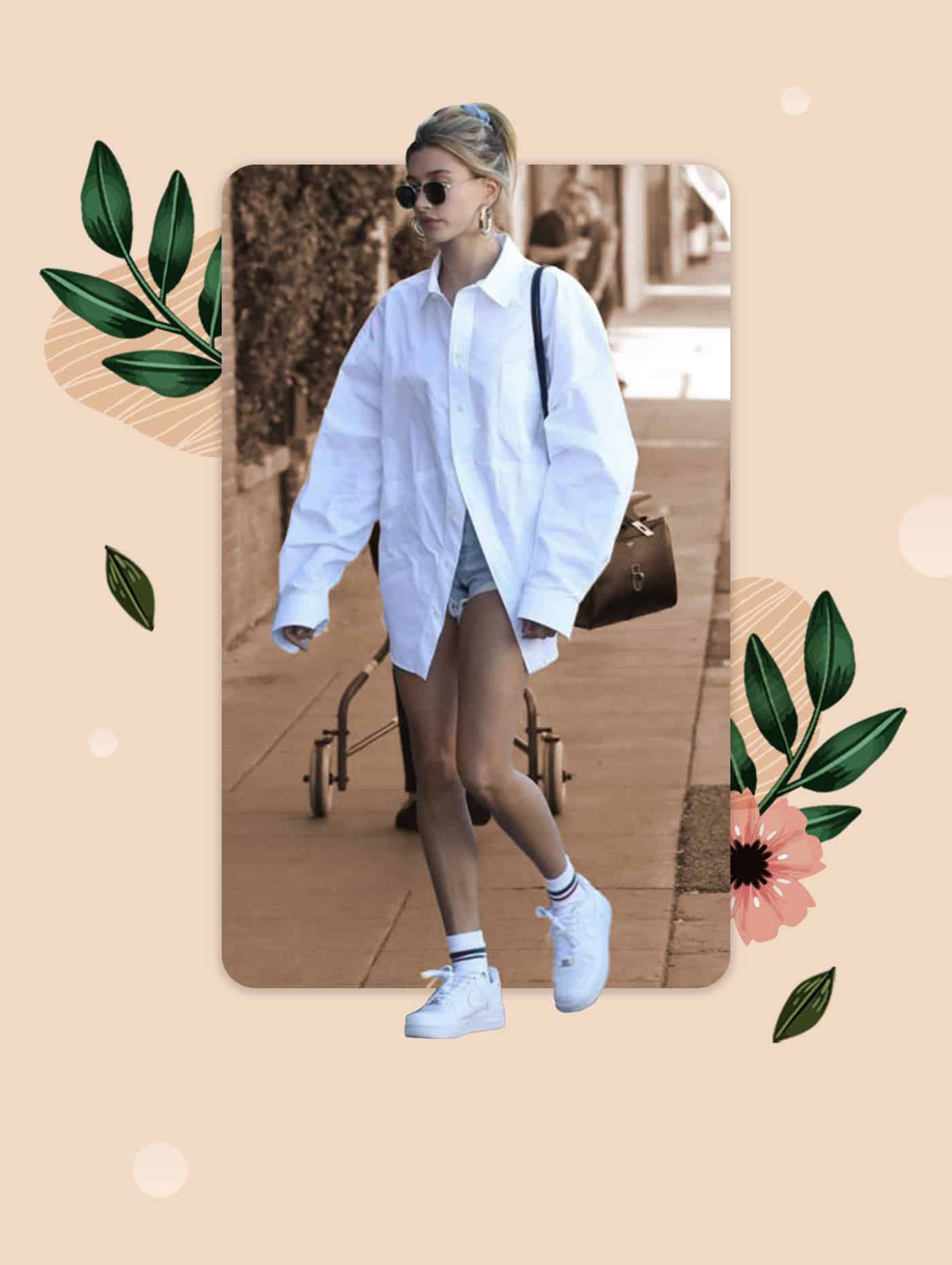 With Baggy Pants And T-shirts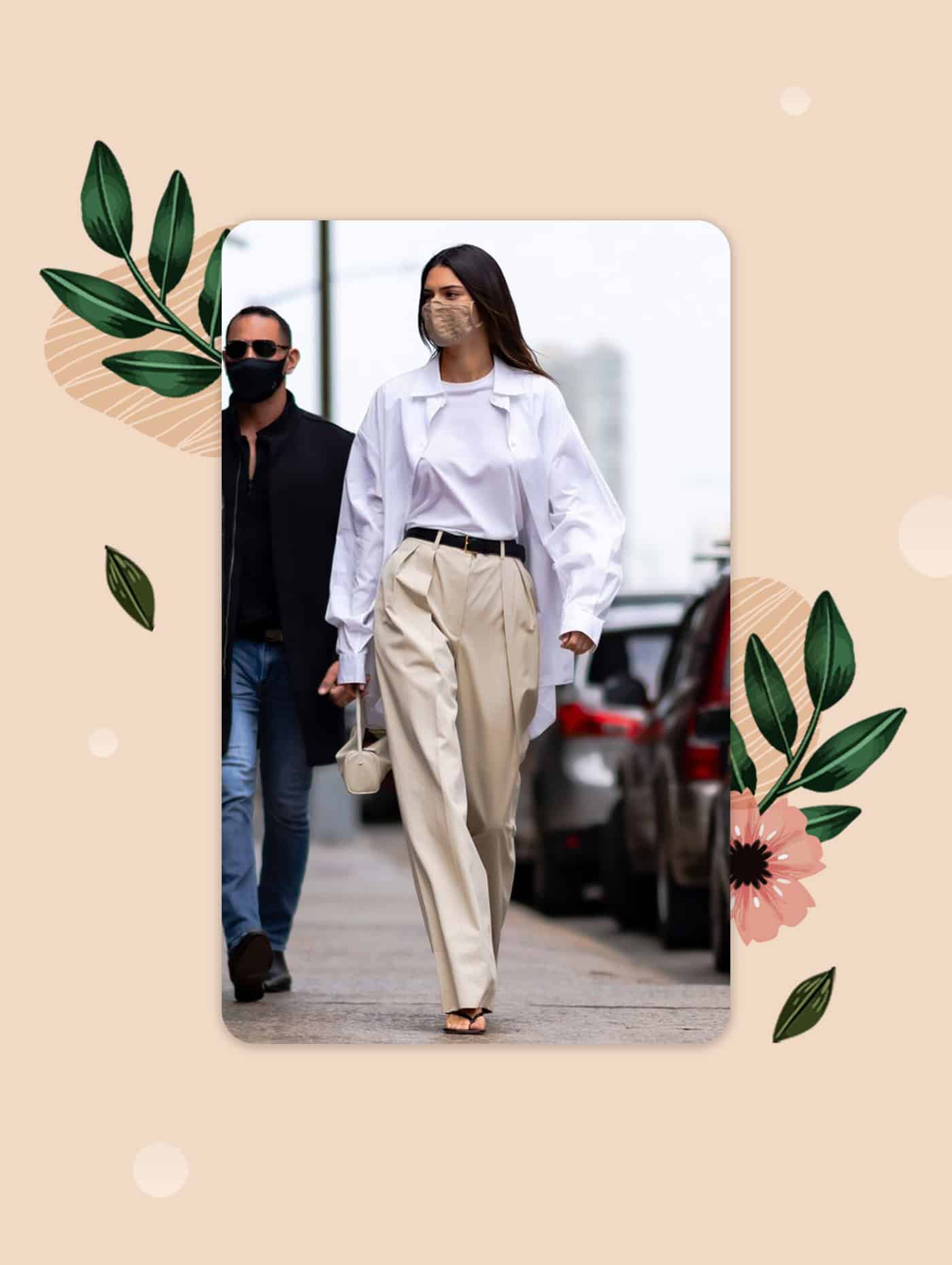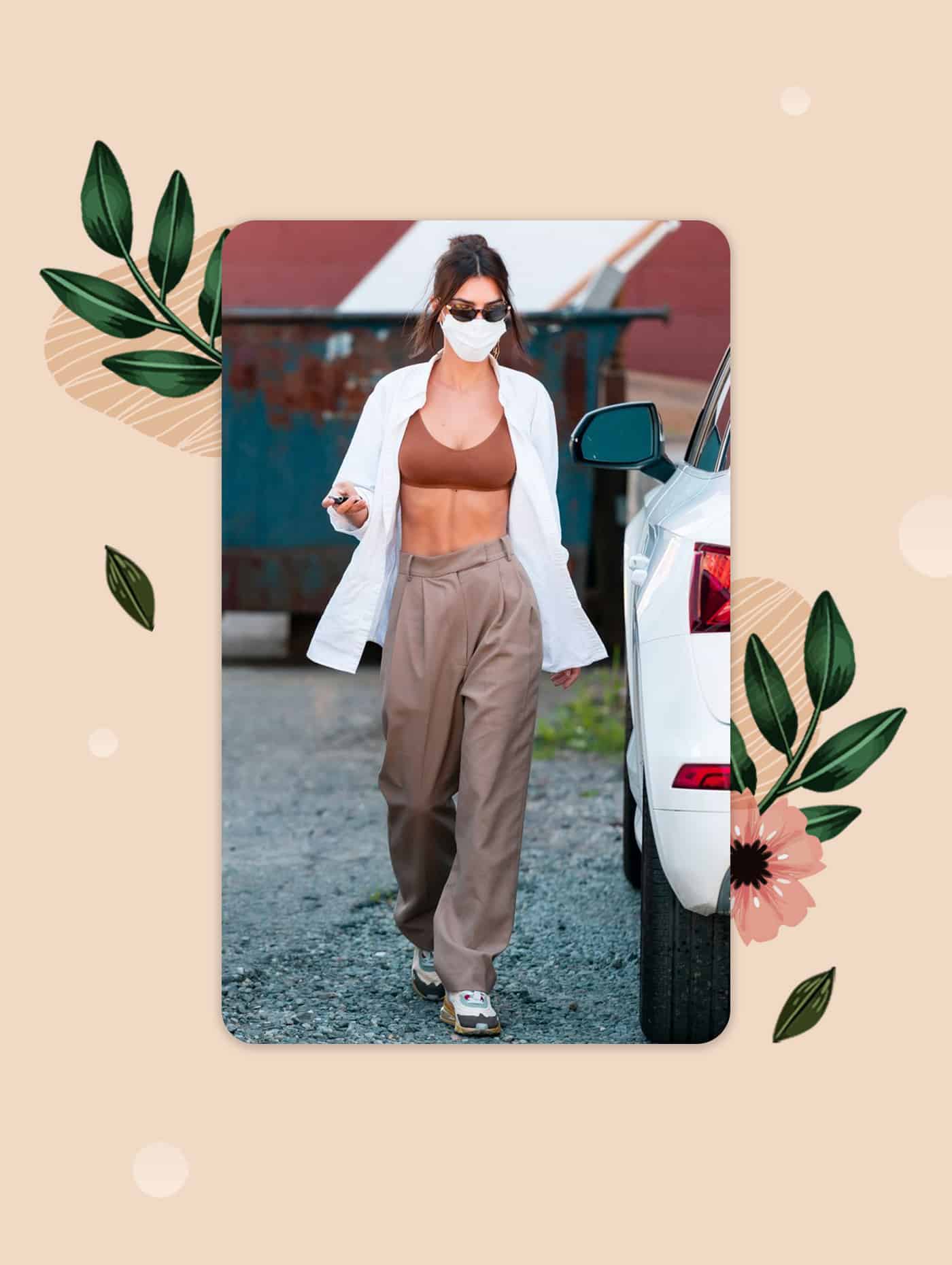 Tips For Styling Oversized Shirts
Always pair it with something cute.

Jewelry will always elevate the look.

Choose the appropriate footwear.

Corsets over your oversized shirt will give you a chic look.

Daisy dukes with the oversized shirt will make you look hot.

Pair it with a pencil skirt if you want it to look more professional.

Dark lipsticks and nudes will make your look more elegant.
FAQ
[sc_fs_multi_faq headline-0="h3″ question-0="How Do You Style A Shirt That Is Too Big?" answer-0="You can tuck in the shirt, tie it in a knot in the front, pair it with a corset, etc to make it look trendy. " image-0="" headline-1="h3″ question-1="How Can I wear An Oversized Shirt Without Getting Fat?" answer-1="You can wear a belt with your oversized shirt. The belt will make the shirt look like it's more fitted to your body. " image-1="" headline-2="h3″ question-2="How Do You Shop For Oversized Shirts?" answer-2="You can get them online and from stores, but the best thing would be to just raid your boyfriend's, dad's, or male friends' closet. " image-2="" headline-3="h3″ question-3="How To Style An Oversized White Shirt?" answer-3="You can pair it best with blue denim, heels, and gold jewelry" image-3="" count="4″ html="true" css_class=""]
Final Verdict
Every girl needs an oversized shirt in her closet. It is such a staple that will make you look effortlessly cool. There are so many various styles you can try out with an oversized shirt. You can pair it with so many things.
Oversized shirts have been trending for a while now. Many celebrities have blessed us with iconic looks in an oversized shirt. Not only are they really cool, but also they are so easily available and easy to style.
One of the major combinations that go amazingly well with an oversized shirt is jeans. Pretty much any bottoms will go well with an oversized shirt.
However, all types of jeans look good with it; skinny jeans, baggy jeans, wide-legged jeans, etc go best with an oversized shirt. Skirts and shorts are in play too.
You can just raid your boyfriend's or dad's or a friend's closet to get yourself a cute shirt. Jewelry and footwear will only elevate your look. You can wear chunky jewelry with your oversized shirt.
Sneakers, boots, and heels work marvelously with the oversized shirt. An oversized shirt will look good on anybody. So, what are you waiting for? It's time to take your oversized shirts out of your closets. Pair it with something cute and slay!