Are you ready to feel Taylor's voice's bliss piercing through your veins striking your heart, making you scream – "Trouble trouble trouble"? Well, I couldn't be more excited. Taylor is on her 6th Eras Tour and this time it is across 5 continents! It's Taylor's journey through the musical eras of her career. Taylor Swift's Eras Tour started on 17th March in Arizona and will end on August 17, 2024. And If she lands with her concert crew in your country and you're not outfit-ready with the best Taylor Swift Outfit Ideas for the wild party, well, you're going to be in trouble! But relax girlie, I gotcha…
Dressing up for Taylor's concert is not such a brainer because we all know just the vibe of Swift's concert. First off, we need a lot of sparkles and glitters, because duh, it's Taylor. Based on the practicality of the outfit, it can be shorts and tops, dresses, jumpsuits, etc. And oh! For hair, on top of my head – colorful glitter highlights and sparkly accessories. For make-up, glittery eyeshadows, and the iconic red lipstick. Well, of course, this is not all. We do have more Taylor Swift Concert Outfit ideas, so let's get it all covered in the blog below.
Taylor Swift Concert Outfit Ideas: Understanding Taylor Swift's Concert Style
Taylor's concert is not just about music, it is a full-blown gala with swifties presenting themselves in dazzling outfits. And of course, Taylor has a knack for creating stunning outfits, which are like the biggest source of outfit-inspiration for the concert attendees. From country-side inspired dresses with furs, to glittery bodysuits, it is impossible to go out of fashion inspo for the pop-queen's aka concert.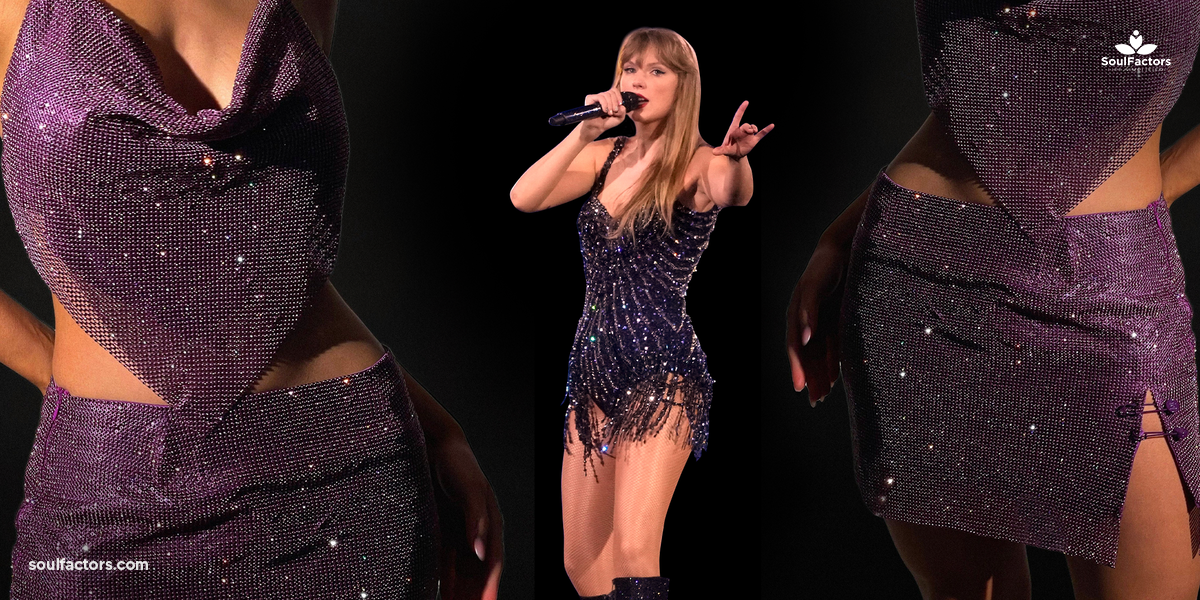 Now, let's decode Taylor swift eras tour outfit ideas based on her concert/album outfits. This will help you settle down with the genre of outfit you wanna wear to the Era concert.
What To Wear To A Taylor Swift Concert In 2023?
Midnights
I still cannot get over this bedazzling outfit of Taylor Swift. Purple sparkly t-shirt dress with a lavender fur jacket and knee-high rhinestone boots. She was servviinngg. And oh, the purple sparkly leotard, what a hit! You can carry the whole 70s disco vibe of Taylor's smashing hit – Midnights, with this outfit.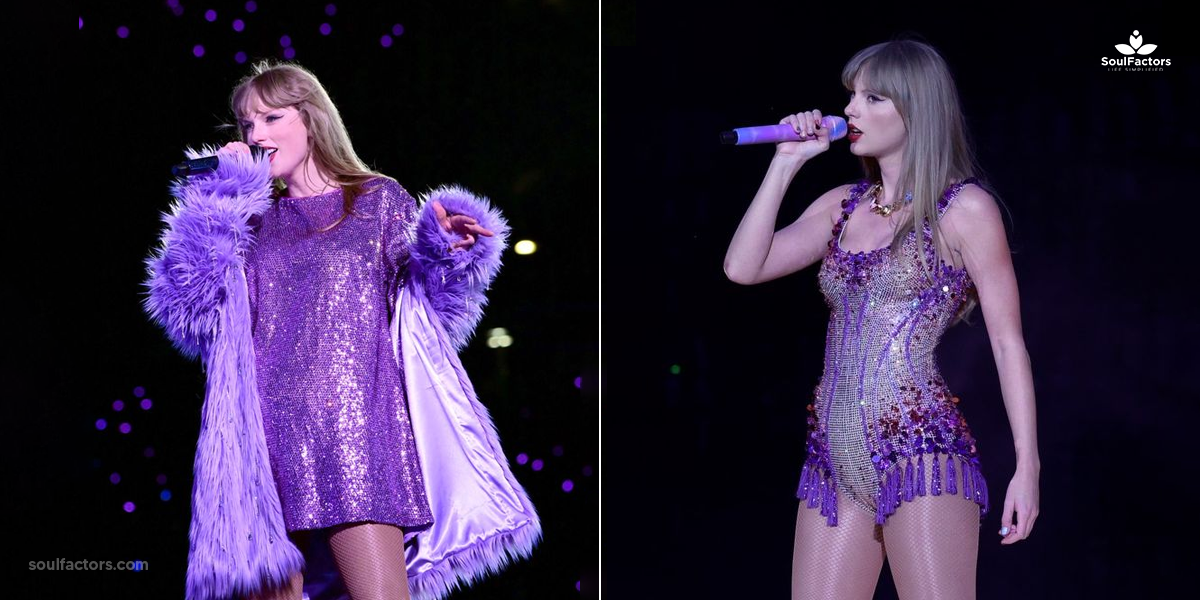 Reputation
We all remember Taylor's iconic black sequin bodysuit with dazzling red snake print. This edgy outfit reflected her "snakes reference" from the songs. If not exactly snakes crawling on your bodysuit, you can flaunt a half pants – half shorts bodysuit to the concert. It would be edgy and bold.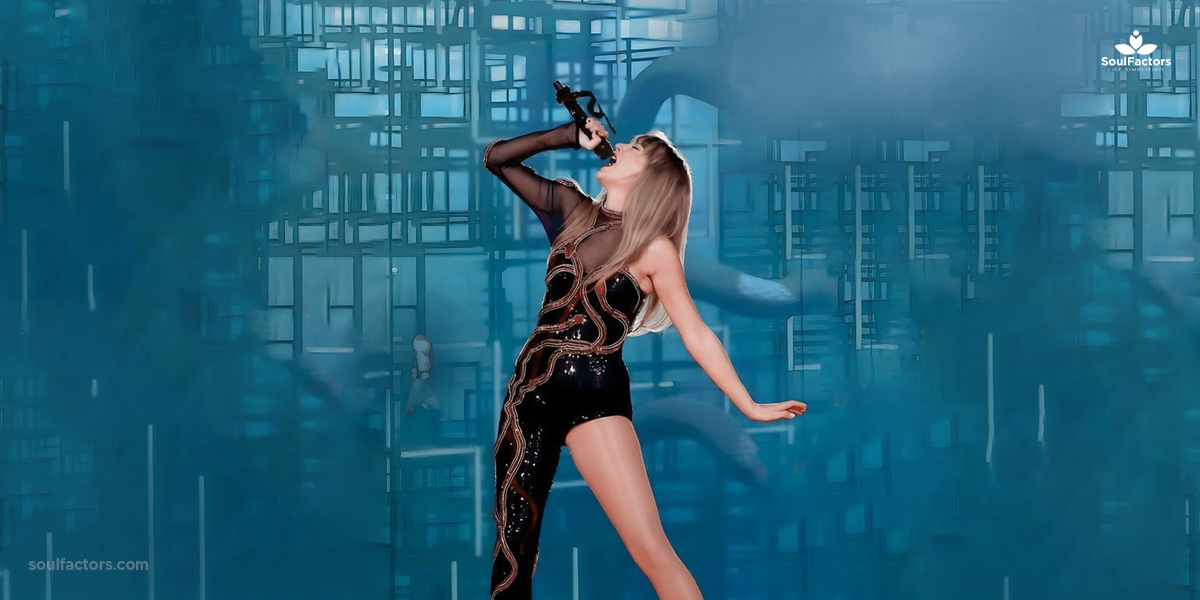 Taylor Swift Concert Outfit Ideas: Lover
Not asking you to buy a Versace, but Swift's gem-studded pink and blue Versace body-suit was everything. Paired with sparkly knee-high boots, the whole outfit was cute yet bold. You'll slay the crowd by wearing such a dress. I mean, if you could, wouldn't you?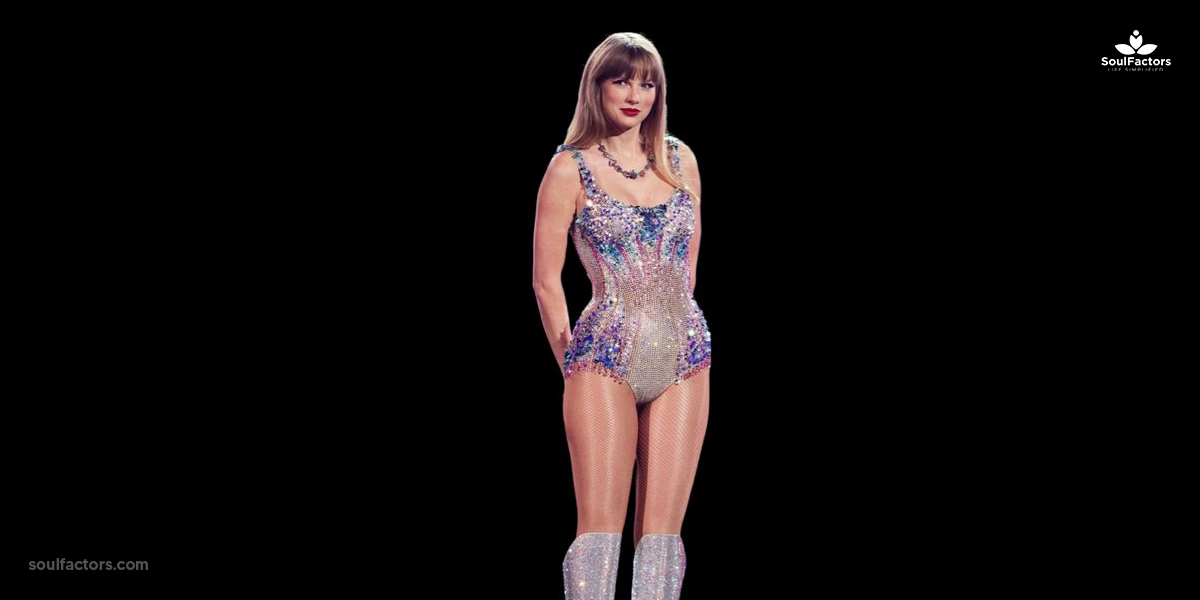 Red
This has got to be the most casual, yet most swiftie outfit. Recreate Taylor's "22" outfit with red heart-shaped sunglasses, a black fedora, and a shirt with your favorite Taylor's lyric on it. Mine is "I'm doing good, I'm on some new sh*t"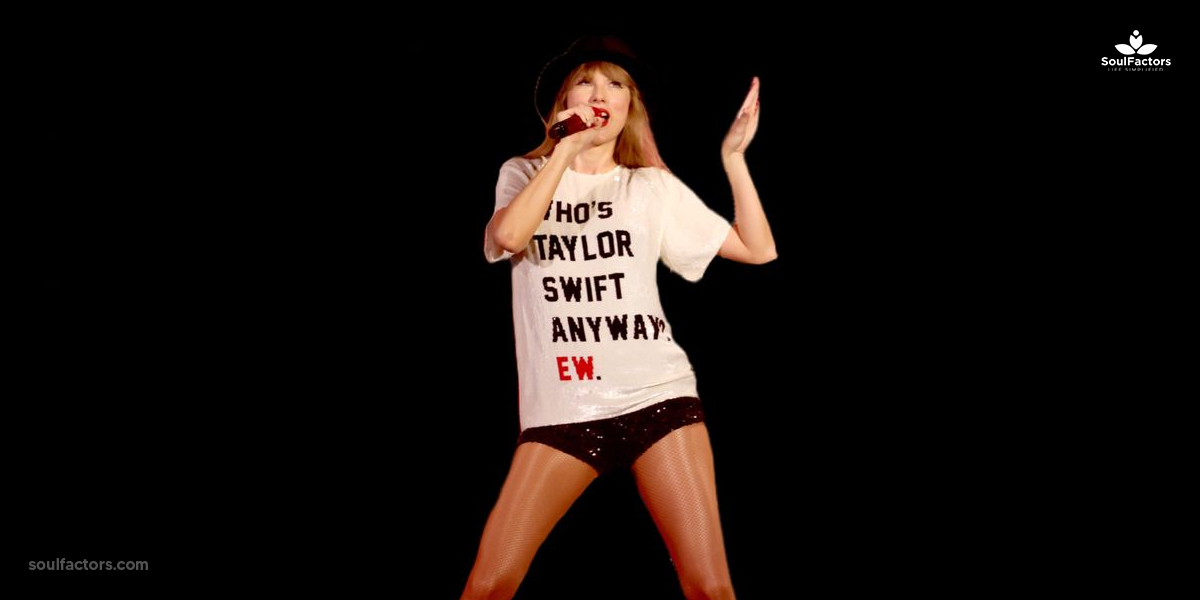 Fearless
From "love story" to "You belong with me", Taylor's Fearless album was legendary. Based on this was her 2008 eras tour's fringe dresses and sparkly heeled boots. So put on a fringe dress of your favorite color, paired with heeled boots, and fearlessly dance your a** off in the concert.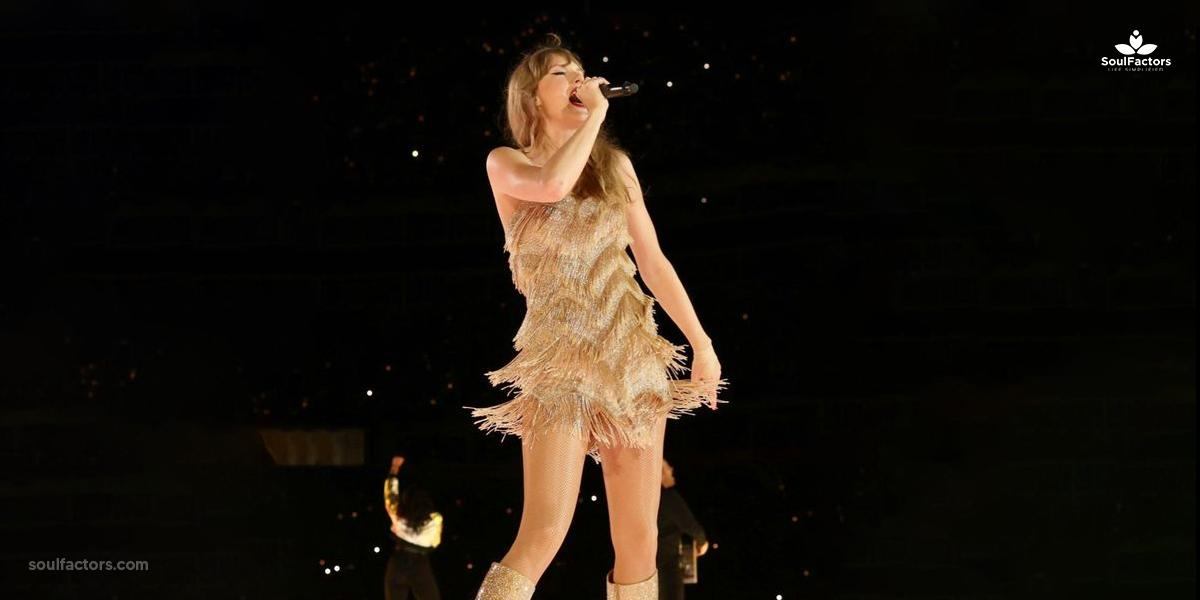 Taylor Swift Concert Outfit Ideas: Folklore
In a world full of sparkly leotards, you can be an old cardigan, and still make a statement. Do you know why? Because Taylor assumes so. So, if you wanna feel cozy during the concert, slay the cardigan. Orrr…you can wear the ethereal flowy dress with foliage detailing and live your fairytale fantasy at the concert.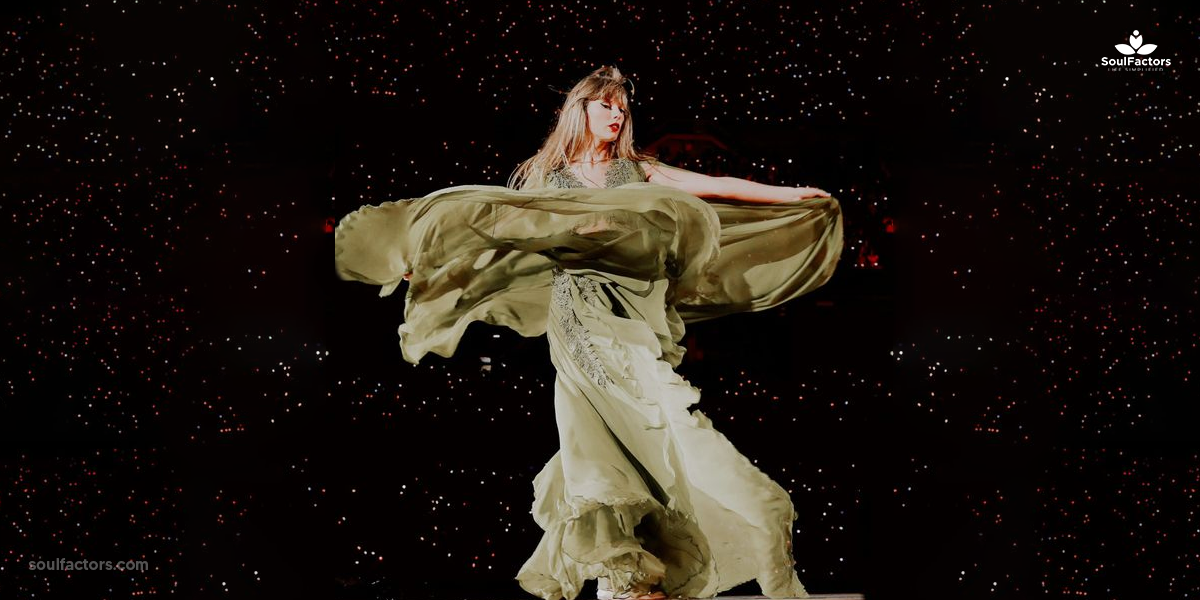 Taylor Swift's Concert Outfit Ideas: What Style Suits You The Best?
You might not be very fond of sparkles and glitters or maybe you don't like to dress up too casual. Whatever suits your personality and style, it can be coordinated with Taylor's theme. That's the magic of Taylor's versatile fashion sense. Choose what seems more practical to you or what goes with your vibe at the concert. Because in the end, it's all about making the best of the concert while being in your best attire:
Outfit Ideas For A Casual-Chic Look
Who said you cannot rock a concert in casuals? Of course, you can because you know who else does? – Taylor! I mean she slayed with a white tee that said "Who's Taylor Swift, anyways? Ew!" So go on and pick a white tee with your favorite excerpt of Taylor's songs. Pair it with black shorts and a fedora (1). And remember, when you are at a Taylor's concert, cherry red lipstick goes a long way.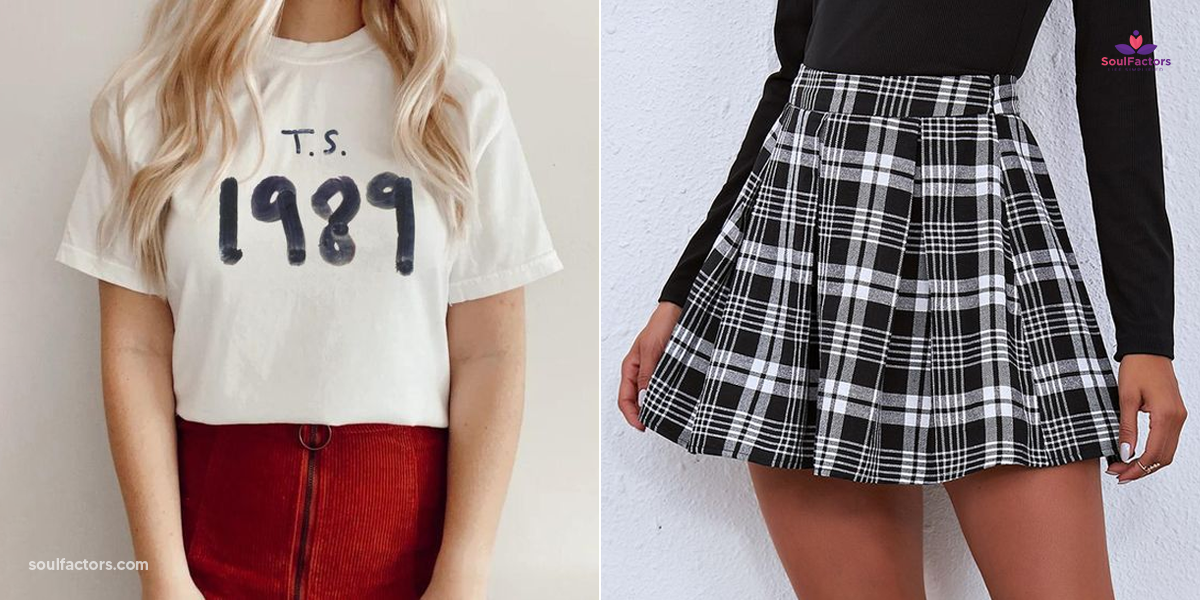 Orr you can take your time machine back to 1989 and style a Taylor's 1989 Version T-shirt with rugged 80s jeans and boots. Or pair the T-shirt with a check mini skirt. Both ways the outfit would look bomb.
Taylor Swift Concert Outfit Ideas: Channeling Taylor Swift's Retro Glam
Okay, babe get your fur jacket handy because we're bringing retro glam to Taylor's concert. What could be more classy and glamorous than a satin dress layered with a furry coat? Pair with heels, boots, or heeled-boots (If you can handle the pain) and there! You've got yourself the perfect Taylor retro outfit.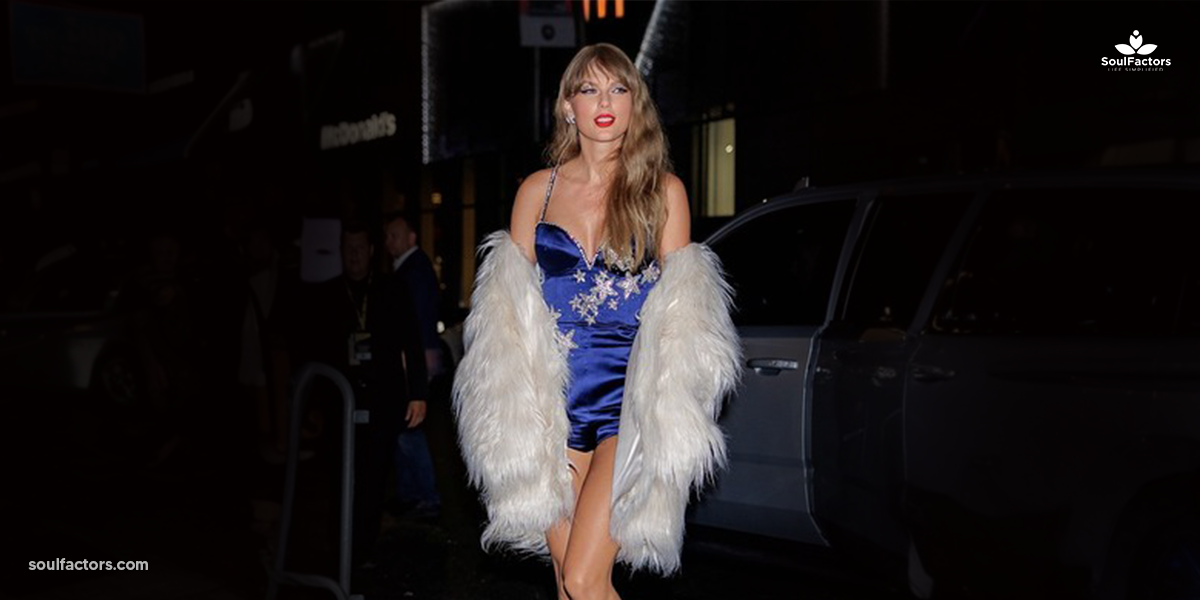 Edgy And Bold Outfit
When I say Edgy and Bold Outfit for Taylor's concert, I mean Reputation vibes. So, we all remember the iconic snakes outfit of Taylor on her Reputation Tour. You can create a rockstar kinda outfit by wearing edgy crop tops, denim shorts, and fish-net stockings with snake print. There's an idea, isn't it?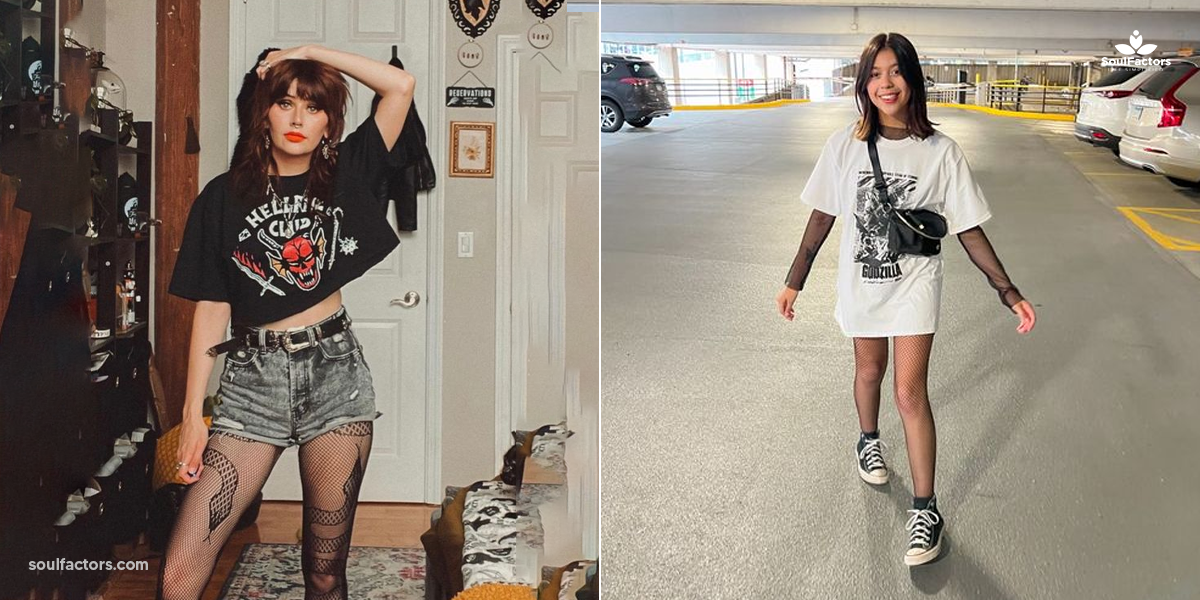 Alternatively, you can wear a streetwear T-shirt top with fish-net hand gloves and fishnet stockings. Pair the outfit with bold silver jewelry such as layers of chain and locks necklaces. Finish up the look with boots or sneakers, and you're good to rock!
Taylor Swift Concert Outfit Ideas: Sparkling And Shimmering Outfits
Taylor Swift eras tour outfit ideas are incomplete with dazzling, sparkling, shimmering outfits. With her legendary 1989's Shiny bling and neon metallics to her Fearless tour's dangle sequin outfits, Taylor leaves a lot of sparkles wherever she goes. So, here is an idea for you – flaunt your shine with a dangle sequin dress with knee-high boots.
Even better, flaunt your midriff by wearing a dangle sequin two-piece and "shake it off" at the concert like a pro.
Bohemian And Festival Vibes
A bohemian outfit at concerts never goes out of style. Bohemian and Festive outfits have an effortless and chic vibe that makes you wanna wander like a hippie around at the concert.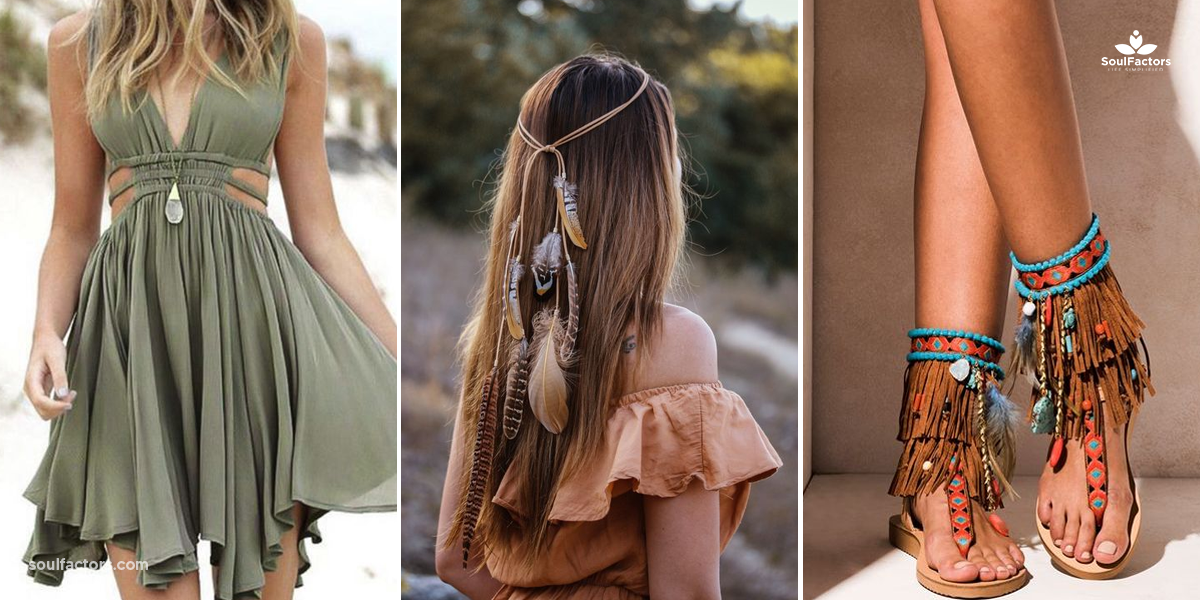 To create Taylor's vibe with a bohemian outfit, you can choose the fabric same as what Taylor wore at the "Folklore" tour. You know, that flowy, ethereal dress. It would look stunning on a short bohemian caftan. And the accessories are the best part of a bohemian outfit. Adorn feathery hair accessories or beads strings and boho earrings and necklaces to create the perfect boho vibe.
Effortless Glamour With Jumpsuits And Rompers
Who remembers Taylor's Lover Concert's romper? Of course, we all do. That bedazzling outfit with the shades pink, blue, and lavender shot up the serotonin level to the next level. And of course, the gem-studded knee-high boots were giving "Mother, sorry, mother, sorry…Mother".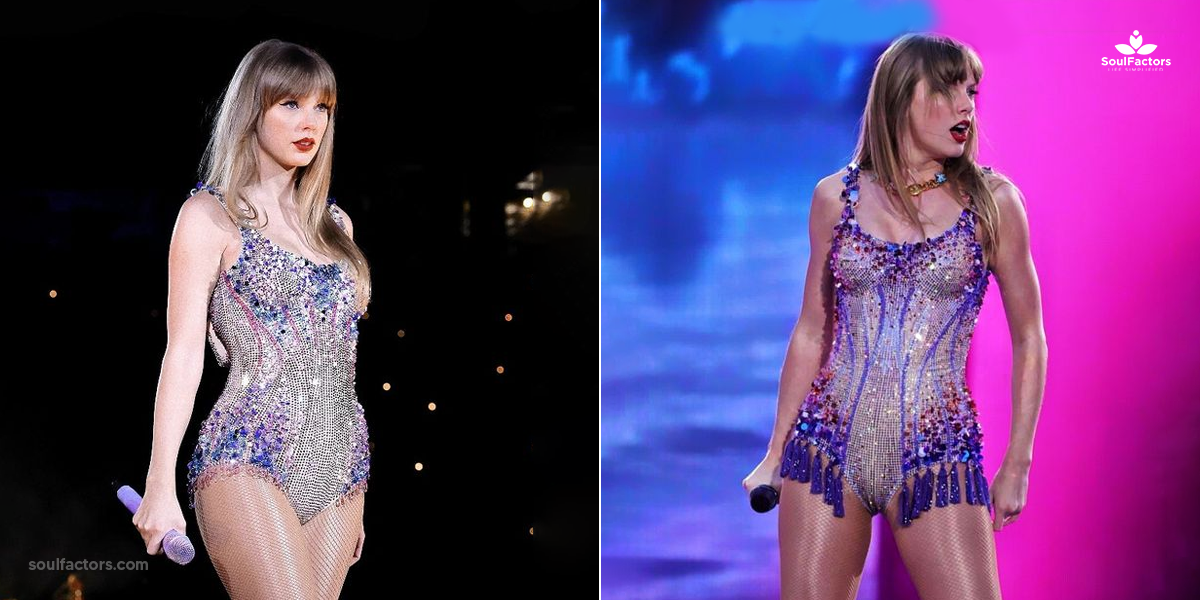 And of course, there are other rompers as well that Taylor has pulled off like a queen. You can opt for such sparkly rompers or jumpsuits. They create a perfect statement and fit immaculately with Taylor Swift's concerts. But hey! Do not forget the sparkly knee-high boots, okay?
Styling With Taylor Swift Merchandise
Last but not the least and the most obvious choice – wear Swift's merchandise bruh! From her classic "Speak Now" hoodie to her Eras tour photo print t-shirts, you cannot express your love better for Taylor by wearing her merch. Taylor's merch is available at Taylorswift.com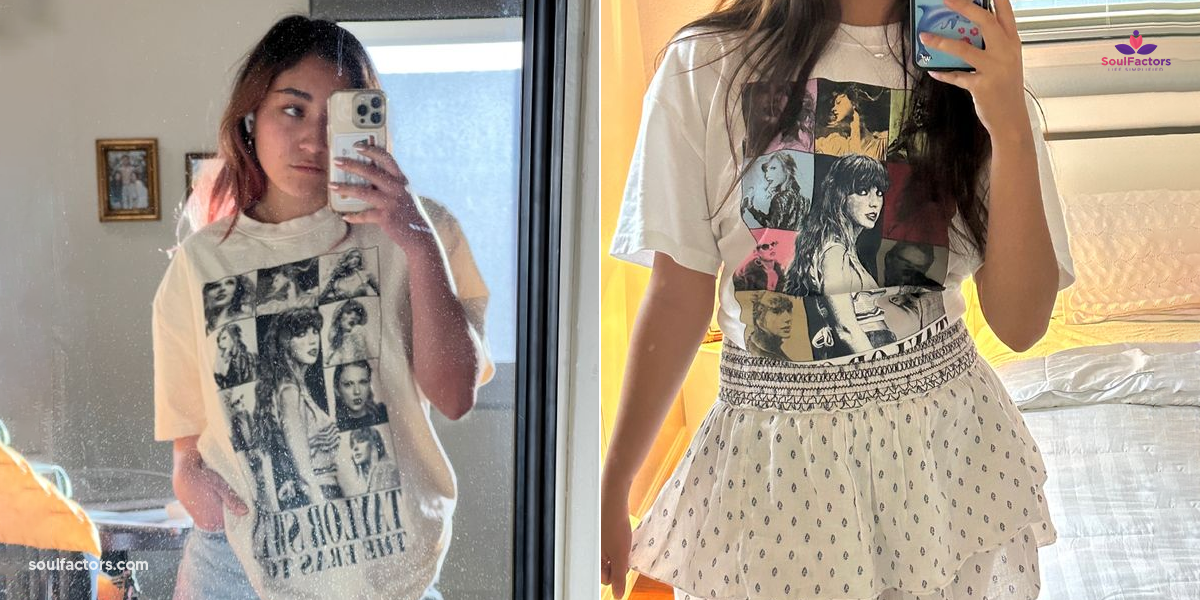 Pair the t-shirt or hoodie with a pair of denim jeans, leather pants, or checks skirt. Complete the whole look with leather boots, sneakers, or heels.
Taylor Swift's Concert Outfit Inspo: What Else To Consider?
Now that we are settled on what to wear to Taylor swift eras tour concert, there are other things that you should know. Well, of course hair, make-up, and accessories but also comfort & practicality, and where to buy Taylor swift concert outfits. So, let's dive straight in:
Hair, Make-up, And Accessories
Your hair, make-up, and accessories for the era's concert depend on the outfit that you choose. If you're going all glittery, try purple eyeshadow, tousled hair, and rhinestone boots. If lover or folklore is your vibe, then you can go for a more whimsical look with natural make-up, braids, and hats. Alternatively, you can try pearl studded hoops, clips, or ponytails for a cuter swiftie look. If you're going with an edgy and bold look, go with smokey eyes, red lips, and a side bob.
Dressing For Comfort And Practicality
Once you're done with all the pre-concert photoshoot; dancing, screaming, and enjoying is that all left. So, if you come to think of it, your outfit needs to be comfortable and practical. So for example, if you decide to wear a sparkly gem-studded bodysuit, make sure that the gems are not making you itch. Similarly, if you settle with a flowy folklore dress, make sure that it's not too long for people to step on it every now and then. The best way to test out your outfit is by wearing it, putting Taylor's song on the speaker, and dancing vigorously. Not kidding.
Taylor Swift Concert Outfit Ideas: Where To Get Taylor Swift Concert Outfits
If you're good with the keywords you would end up finding some really good Tailor-specific outfits on common shopping sites like Amazon and Etsy. Keywords like "fringe mini dress", "retro cocktail dress", and "Sequin dress" will help you find the right outfit for the era tour.
Secondly, you can utilize Pinterest to hunt for taylor swift eras tour outfit ideas. Usually, the outfit inspo on Pinterest is captioned with a link to the product. So, just search "taylor swift concert outfit ideas" on Pinterest, and you'll find a sea of inspo.
FAQs
How To Dress Like Taylor Swift Eras?
To dress like Taylor Swift Eras, you can take inspiration from different themes and colors that represent her music and albums. You can also pick an outfit inspired by Taylor's previous concert outfits.
What Do You Wear To Concerts?
You can choose a stylish but comfortable concert. Mostly the outfit is inspired from the performing artist, their theme, or their previous outfits.
What Do I Need To Know Before Going To A Taylor Swift Concert?
You need to plan for parking, bags, supplies, outfit, signs, and lyrics before going to Taylor Swift's concert
What Is Taylor Swift Known For Wearing?
Taylor is known for wearing sparkling red-carpet outfits and stage looks.
The Bottom Line
Taylor Swift is on her 6th Eras tour "Midnights" and it is going to last until August 2024. If you are one of the lucky ones who have already managed to score the tickets to the concert, first, I'm jealous of you. Second, I have got outfit ideas for you, because I am kind that way. Anyway, to figure out Taylor Swift outfit ideas, all you need to do is go through her last tour outfits. They all are basically stunning. Second, you need to go on online websites and search for similar dresses and outfits, buy them, and slay them at the Era.
Whatever you decide to wear, just make sure that they are practical and do not cause any discomfort. Secondly, make sure that you've figured out everything about your packing, essentials, supplies, parking, and most importantly, do not forget about the lyrics. You've got to learn the lyrics to enjoy the tour.
Lastly, the outfit comes second, first comes joy – the pure joy of being at Taylor's concert. So, have a blast! And if you like the blog, leave a comment below. See you in the next one!