Scrolling through Millie's Instagram profile, it is safe to establish she is the ultimate vacation diva. Millie inspires us all to spend our vacations with our Jakes on the lovely beachside. And can we just admire Millie for her bikini picks? From bringing a banging y2k vibe to slaying with sexy bikini fits Millie's vacation picks are enough for planning our vacation outfits. Let's dive in to explore a few of Millie Bobby brown bikini styles.
11 Best Millie Bobby Brown Bikini
Millie Bobby Brown has some of the coolest and sexiest bikinis inspo on her social media sites. So, let's try and decode her style. Below are the top 11 Millie Bobby Brown Bikini Pics and Inspirations:
Millie Bobby Brown's Red Bikini
This tropical pic of Millie Bobby Brown is serving pretty vibes. The red bikini looks absolutely stunning on Millie. The white bottom, which appears to be a crochet see-through sarong, is creating contrast with the red bikini top. The whole look is amped up to the next level with a simple yet elegant pearl necklace and tops. The hibiscus flower tucked above the year, yeah that does the job of making it all pretty.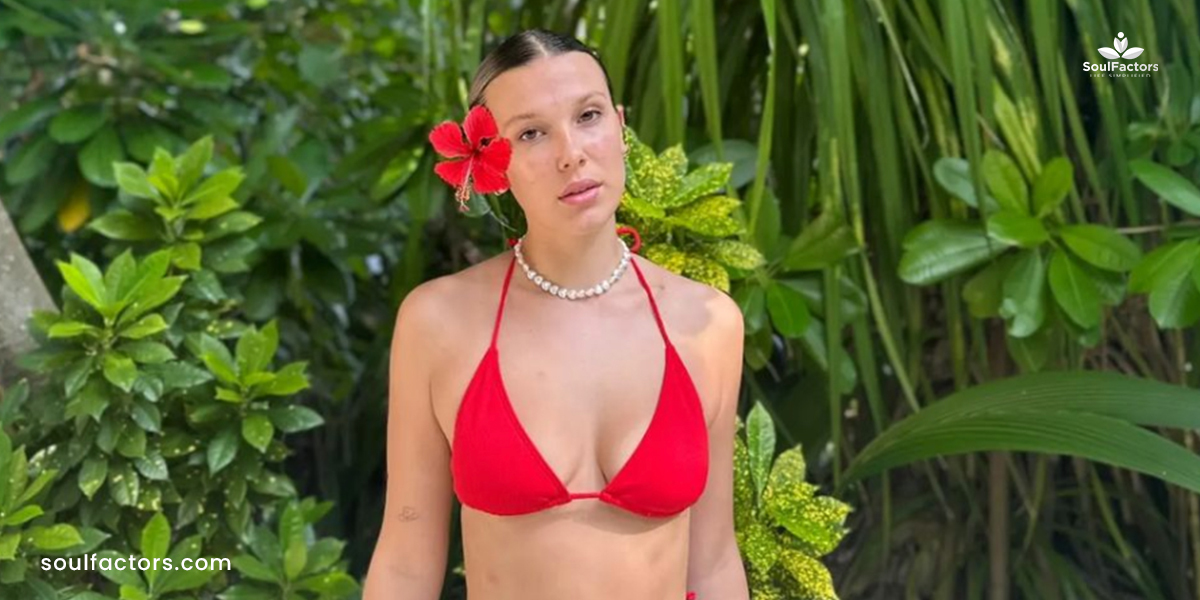 Millie Bobby Brown's Polo Sleeves Top And Denim Shorts
You remember Zara's arm warmers, that knitted sweater that covered only arma and neck? Yeah, I was not as thrilled by that as I am with Millie's polo sleeves top in this look. The striped bikini paired with blue denim shorts and a polo sleeve top makes this whole look unusual but also an "oh-I-wanna-try-that" outfit. And the Louis Vuitton flip-flops are screaming "You're too broke for this outfit".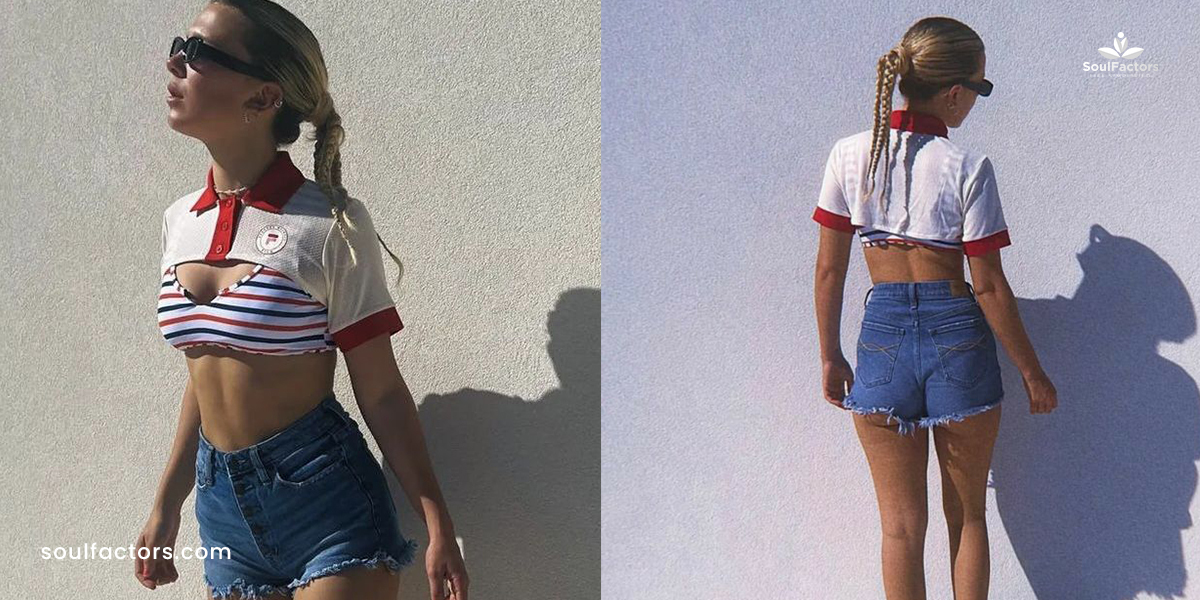 Millie Bobby Brown's Brown Gingham Bikini
Millie could be seen on a Yacht wearing a brown/copper-colored bikini. The deep square neckline with laces looks absolutely stunning. Millie is slaying in this G-string bikini. This is a perfect bikini fit for a yacht party. Pair it with sunglasses and a cap same as Millie and you're good to go.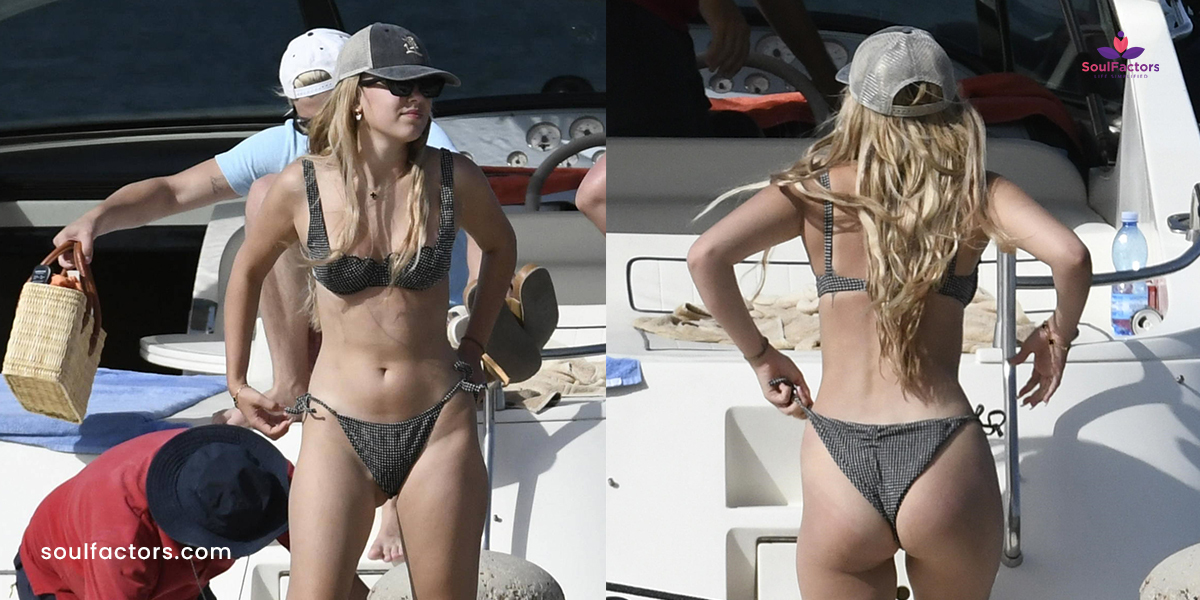 Millie Bobby Brown's Green Floral Bikini
Who thought bright green would be a good color for a bikini? Well, Millie just proved that it is. Look how cute! The green bikini with cute dark green and white floral prints is cute and sexy at the same time. But the main highlight of this look is the waist-beaded chain. The crystal gemstone waist chain looks stunning.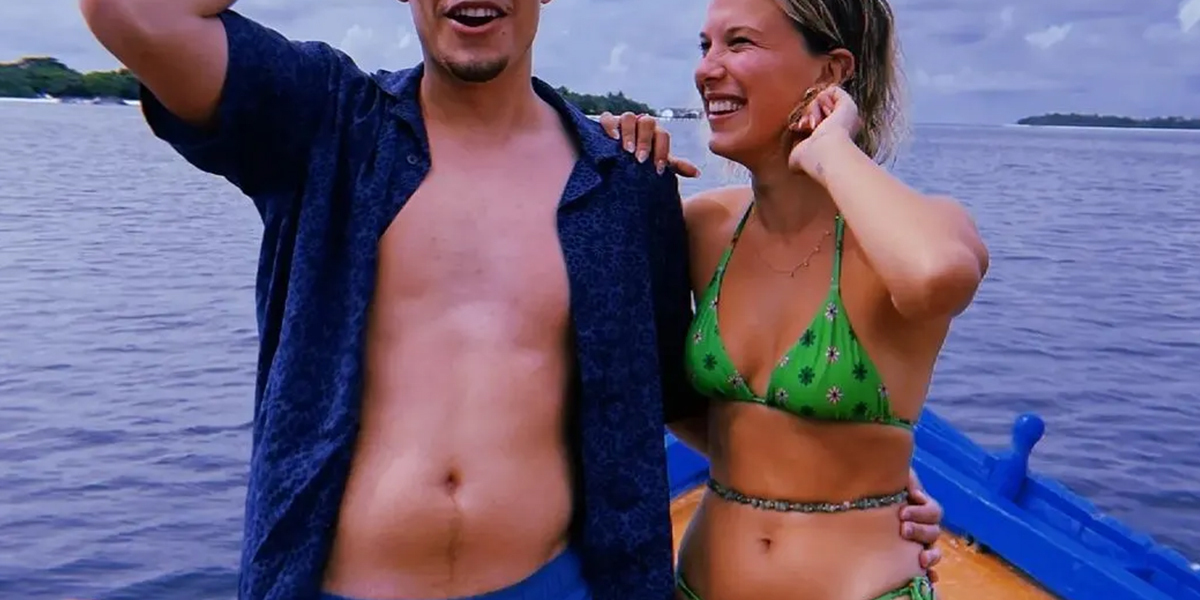 Millie Bobby Brown's Blue Starry Bikini
This chic bikini look by Millie looks adorable. But what's really making this look gorgeous is the green crochet see-through sarong. Dark blue and bright green colors are creating a contrast which makes this outfit a must-try. The accessories are the real-game changer here. The neck scarf and cowboy hat is giving "summmerrss".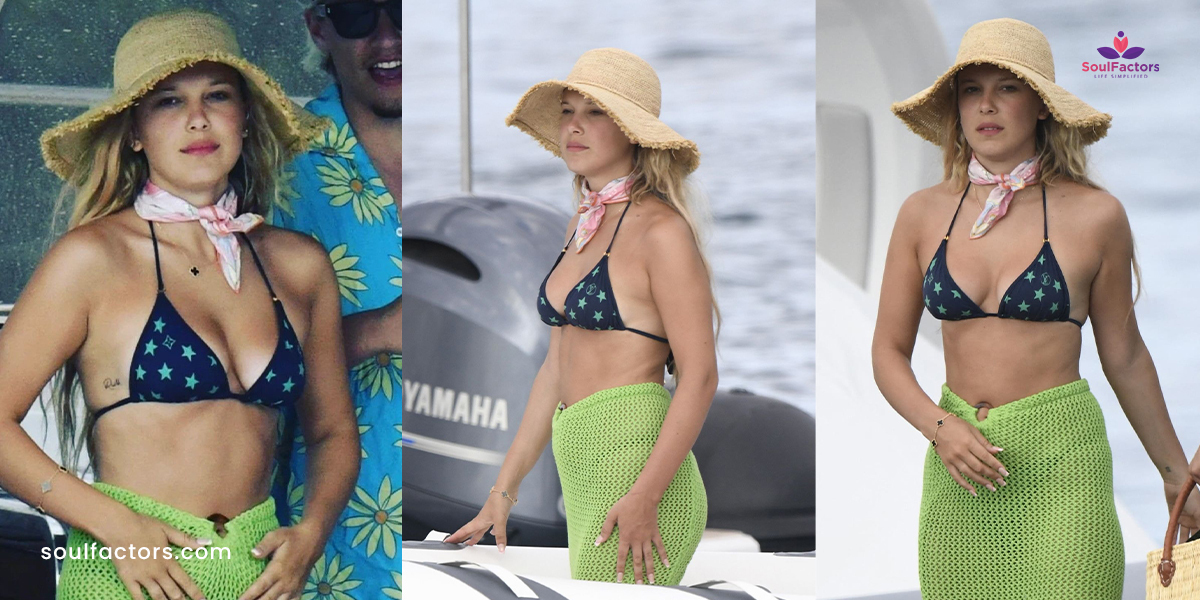 Millie Bobby Brown's White Bikini
The Stranger Things star looks oh-so-sexy here. Millie literally amped up the bikini game here. Even though it is a basic white bikini, it looks bold and classy on Millie. Not only is this look sexy, but Millie also looks a boss bit*h here as she is reading her own book in this picture. And notice how Millie always adds a sleek necklace with all her bikini outfits. This one looks gorgeous too.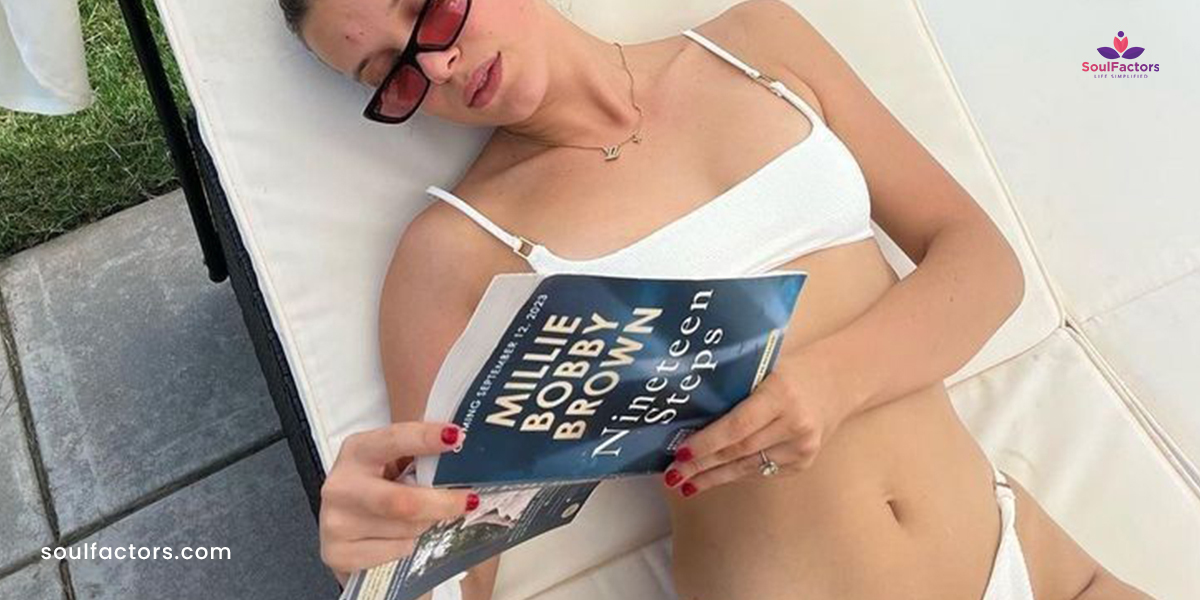 Millie Bobby Brown's Pink Floral Bikini
Millie is a vacation diva and she slays her bikini looks every time. This floral pink bikini with hints of yellow and green looks cute and adorable. And look how cute Millie and Jake look in this photo (Cries in singlehood). Anyway, if you're thinking of adorning a floral bikini fit this vacation. Millie says "Go for it!"
Millie Bobby Brown's Blue off-Shoulder Bikini
Bossy and sexy…this blue off-shoulder bikini fit of Millie on a jet ski says "Move bi**ch, get out of the way". This stunning blue bikini is giving Ariel vibes. The accessories like classic sunglasses and the metallic watch are adding up to a bold and bossy beach look.
Millie Bobby Pink Ethereal Bikini
Okay, so this one is giving Barbiieee. This all-pink bikini outfit is amazing. The dripping pattern on the bikini creates an ethereal vibe that goes perfectly with the y2k aesthetic. The braided hairstyle is what's adding to the charm of this outfit. And off the beach, the pink shirt, pink shoes, and pink bag look gorgeous.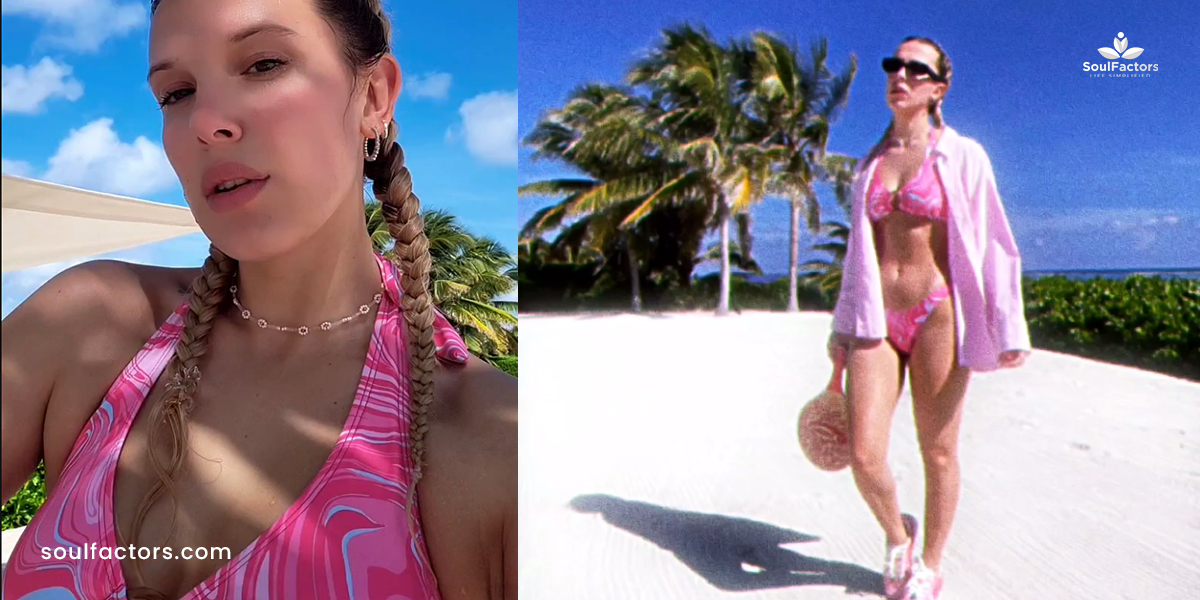 Millie Bobby Brown's Newspaper Print Bodysuit
Now I know this one doesn't exactly count as a bikini, but this has to be on the list because look how prettyyyy! The newspaper print on this bodysuit looks classy and elegant. And guess what? When you're done on the beach with this bodysuit, you can pair it with jeans or leather and it would still look spectacular.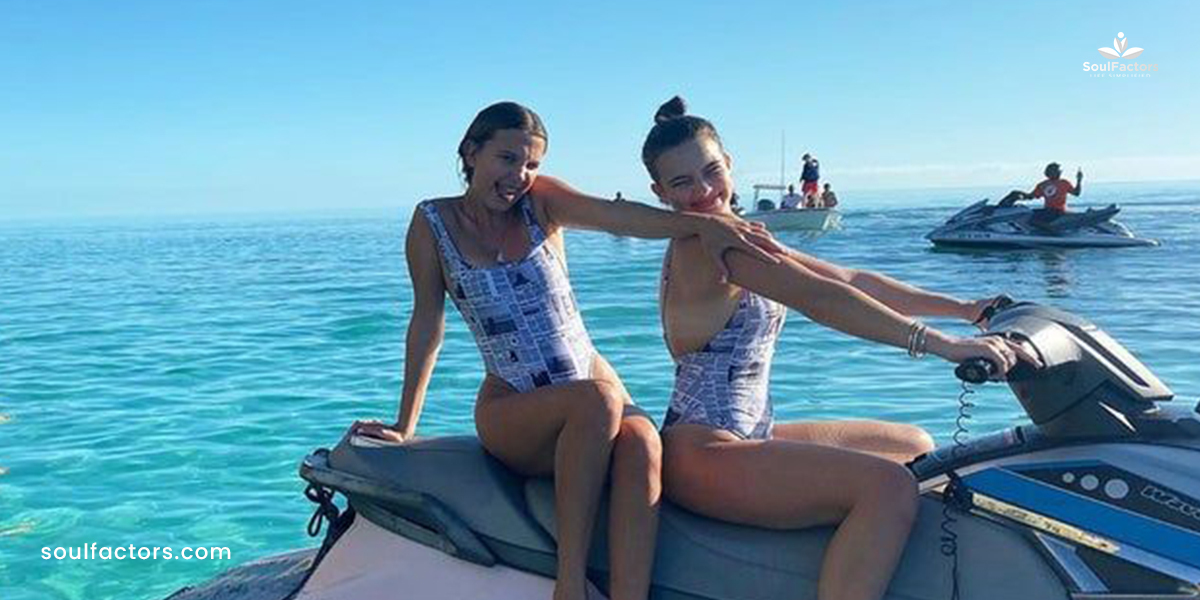 White Bikini With Sheer Pearl Cover-Up
Last but not least, and probably the most gorgeous bikini fit by Millie yet, this white halter string bikini with a see-through pearl cover-up wins the chart. Her hair tied into a low bun secured with a pink ribbon looks endearing. The pearl drop earrings complete the look elegantly.
The Last Verdict
When you're looking forward to finding some beach bikini inspiration, you can literally skip Pinterest, TikTok, and Twitter, and head straight to Millie's Instagram page. Her IG profile is studded generously with vacation pics, wearing cute and sexy bikinis.
Millie Bobby Brown is not only a star on the screen but also a star on the beach. Whether she wears a classic white bikini or a cute pink floral bikini, she always looks chic and stunning. Now, finding bikinis exactly like Millie's is a tough nut to crack. But you can always check out her IG posts and try finding the same fits online.
Did you enjoy reading this blog? Let me know by commenting below. Also, subscribe to soulfactors.com for more such content.