Men will find it difficult to comprehend that a good manicure can always lift your spirits. Girls of any age category will treasure a manicure that they would flaunt to their exhaustion- not just the hand models! Now, why the best base coat nail polishes?
First, let us get into the basics of a manicure- the basic foundation being the nail base coat, upon which all our nail paint and nail art will thrive. It would be prudent to look out for products that will help nourish and strengthen the nails alongside serving its basic purpose of providing a healthy base for the smooth application and durability of the nail color.
Base Coat Nail Polishes: Why Do You Apply A Base Coat?
Some nail polishes do claim that they are three-in-one, which means that it is inclusive of the base coat, color, and topcoat. Truth be told, it does not work that great! Each has its own functions. The base coat is basically too sticky and thick for the nail color to stick. Topcoats are thinner, structured to go unscratched, and let the manicure remain fresh longer. Base coat nail polishes are a must for gel-based nail polishes as well for both protecting the nails and the manicure.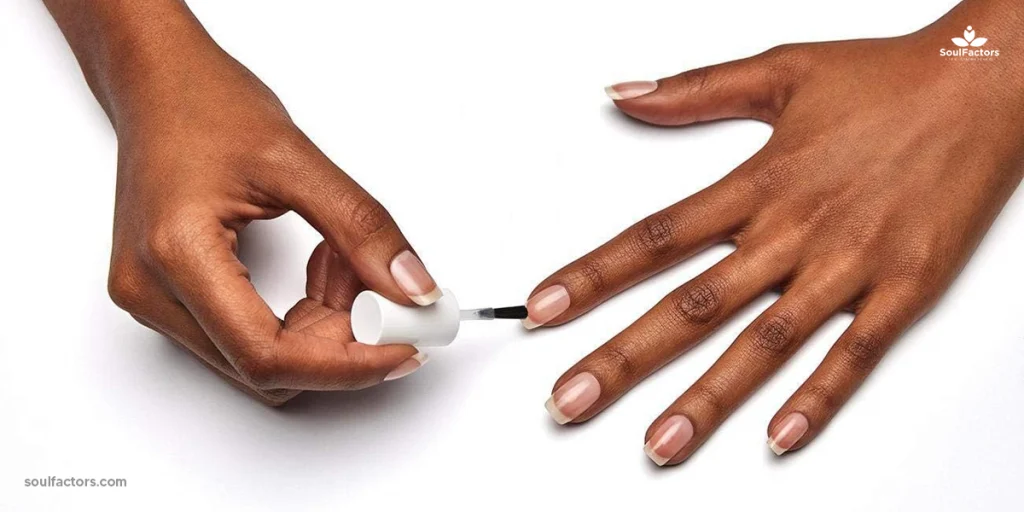 Other reasons for applying a base coat are:
For Healthier Nails: Good base coat nail polishes include natural ingredients like protein, calcium, aloe vera, vitamin E, etc. that can replenish nails that are stiff and dry. Base coat helps in restoring the moisture that your nails need to stay healthy and prevent breakage and any other damage to your claws.
To Prevent staining: Dark colors of nail polish can stain the nail by seeping into the nail bed and causing discoloration to the nails. The base coat is like a shield of protection for your nails which can prevent staining of nails. Darker-colored nail paints can even cause serious chemical reactions due to the coloring agent in the nail polish. As a result, the nails may start looking pale or yellowish.
To smoothen out ridges: Ridges can happen because of vitamin deficiencies, onychorrhexis, and other innocuous reasons. But from a nail color enthusiast's perspective, this is a problem that needs a fix- the fix being a base coat polish.
To ensure full coverage: A good quality base coat can ensure the full coverage of the color on the nails. The base is smooth will make sure that the nail color gets the proper finish and leveling one needs.
To ensure the long life of the manicure: Another plus when it comes to using the base coat is that the polish will stay for a longer period. The finish or the finesse of the nail paint shall also be better. The base coat provides a hint of shine to the nail polish. Base coats form a strong double-sided bond on the nails, adhere perfectly on the nail beds, and serve as a solid foundation for your nail polish.
Lurking Dangers: Why Fuss About 10 Best Base Coat Nail Polishes And The Cautions?
Huh! After all, it's nail polish?
Think again.
There are some harmful ingredients found in many nail polishes- formaldehyde, toluene, and dibutyl phthalate (DBP), to name a few. These chemicals are known as the "Toxic Trio" or "Big 3". However, it affects those who work at salons or nail salons particularly, as they are the ones who constantly handle nail polish. Those who use nail polish on a regular basis are also at risk.
Formaldehyde
Formaldehyde is a chemical that is a component in plywood and particle board. It is often used as a preservative, embalmer, and sterilizer. This chemical is added to nail polishes as they are considered "nail hardeners." Formaldehyde has been considered a carcinogen (promoting the development of cancer cells) causing nasal and lung cancers, by the International Agency for Research on Cancer (1).
Toluene
Toluene will ensure the smooth and even application of nail polish. However, this chemical has been linked to issues affecting the nervous system with symptoms like dizziness, headaches, eye irritation, and nausea. Toluene has also been linked to birth defects and developmental problems in children whose mothers had prenatal exposure to the chemical. The European Union has also banned Toluene.
Dibutyl Phthalate
Another ingredient Dibutyl Phthalate, or DBP, is added to nail polish to make it more flexible and less prone to cracks and chipping. This chemical, however, has been linked to reproductive issues and hence banned in European countries. While it is still approved for use in the United States and many countries, women choose to shun products that contain the same.
Triphenyl phosphate
Triphenyl phosphate is yet another nail polish ingredient that can mess with your hormones and may be toxic to your liver. Parabens also act in the same way as the hormone estrogen in the body. Research has found they have the potential to cause breast tumors.
As there is no foolproof way for us to check the ingredients, it is best to go with good brands which have been ethical so far.
How To Choose The Best Base Coat Nail Polish?
While researching for the list of 10 best base coat nail polishes in India, I was surprised at the competitive edge of many brands which not only sell the base coat as it is but also make sure that it ensures:
Tackling the yellowing of nails with constant use of nail polish.
Providing external nourishment to strengthen the nails and to aid in their growth.
Complementing the nail lacquer by providing more shine and finish.
Perfect leveling.
Free from toxins like formaldehyde.
The vegan and cruelty-free manufacturing process and packing won't weigh on your conscience either, especially with more cosmopolitans joining hands to make sure that animals are not employed in the research facilities for clinical trials.
Longevity of the manicure.
Dries quickly and has no clumping or premature chipping.
Promotion of nail growth with the aid of natural products infused into the formula.
The barrier for any toxin from nail colors to seep in to be absorbed by the skin or damage nails.
What to keep in mind while choosing base coat nail polish?
Having gone through the importance of exercising caution while choosing a base coat that is non-toxic and has healthy ingredients, is a requirement beyond doubt. No yellowing of nails as a hangover to a manicure is a must! Quick drying formula which provides some good nourishment is another pertinent aspect that we will consider while choosing a base coat nail polish.
Here are our picks of the 10 best base coat nail polishes in India that can make your fingers feel like royalty.
Best Base Coat Nail Polishes – Our Choices!
#1- Sugar Pop Strengthening Base Coat
SUGAR POP Strengthening Base Coat is 100 percentage cruelty-free and vegetarian. A sine qua non to prepare, prime, and protect your nails for a perfect mani, it gives your nails the perfect leveling and shines it needs the most. This one doubles as both the top coat and the base coat. This base nail polish will increase the longevity of your manicure.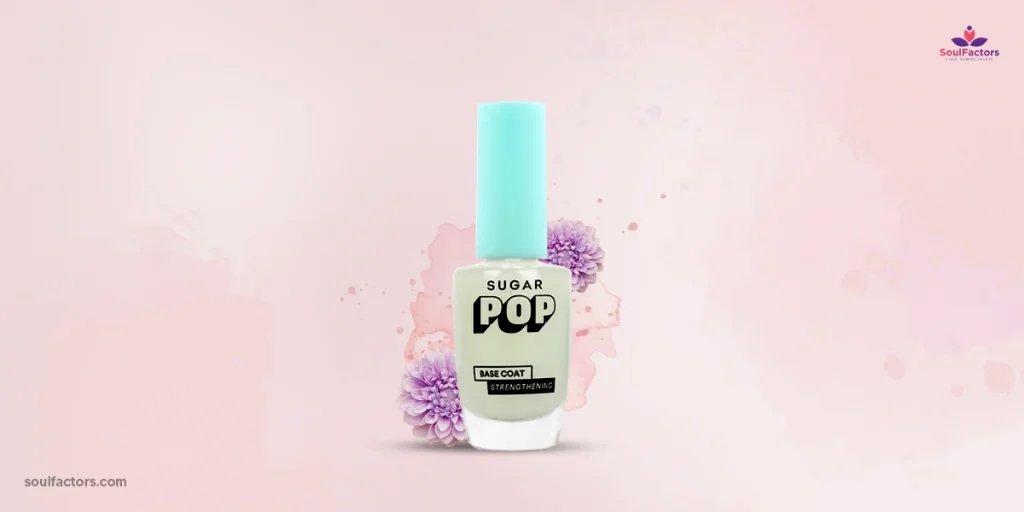 Price: Rs 89 for 10 ml
The manufacturers claim that this one is non-toxic and free from 15 harmful ingredients usually present in many nail lacquers, in addition to being packed with fortifying ingredients to take care of fragile nails. The base nail polish has an ultra-glossy finish that augments the shine, strengthens the nails, and protects them from easy chipping. Reviews suggest that it adds to the gloss and dries quickly.
Best Base Coat Nail Polishes #2: Faces Canada VitaStrength Base Coat
My personal favourite!
The base coat strengthens the nails by creating a protective shield, thus helping us bid adieu to chipped and weak nails. Borage oil in the base coat contains antioxidants and provides additional hydration to your nails. The unique technology used claims to make your nails instantly smoother and stronger. Containing a rich blend of vitamins such as Vitamin A, C, B5, H and F, it serves its unique purpose.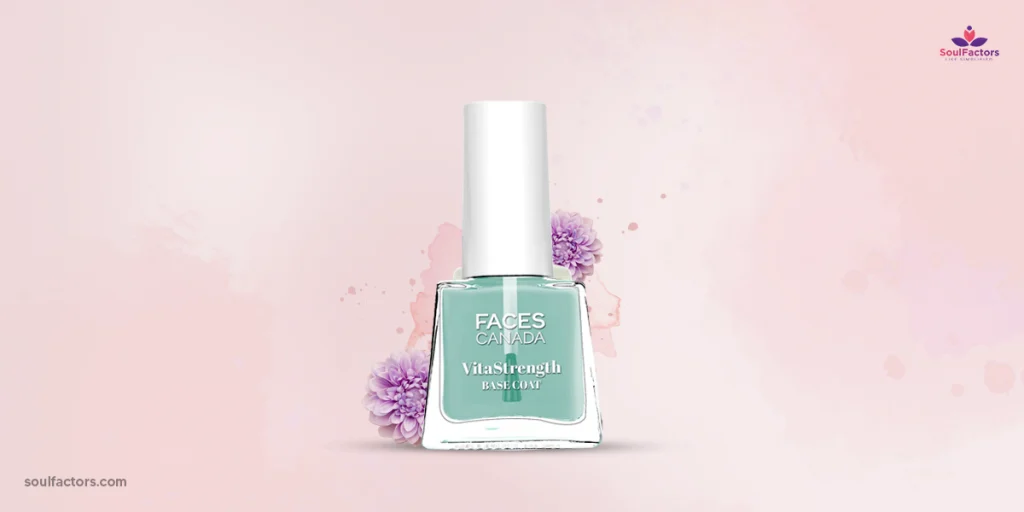 Price: Rs. 149
Vitamin A strengthens nails whilst Vitamin B5 moisturizes them, and the biotin in Vitamin H helps promote healthy growth of nails. Vitamin F, with its high Omega content, helps nourish the nails more intensely. This cruelty-free base coat is the perfect choice for strong, healthy, and shiny nails. The range of nourishment from vitamins and antioxidants infused in nail polish is praiseworthy. However, the con is that it is Rs 149 for 5 ml as there are the other branded ones that cost around the same for double the quantity.
#3- Colorsoul Rise Nail Enamel Base Coat–Transparent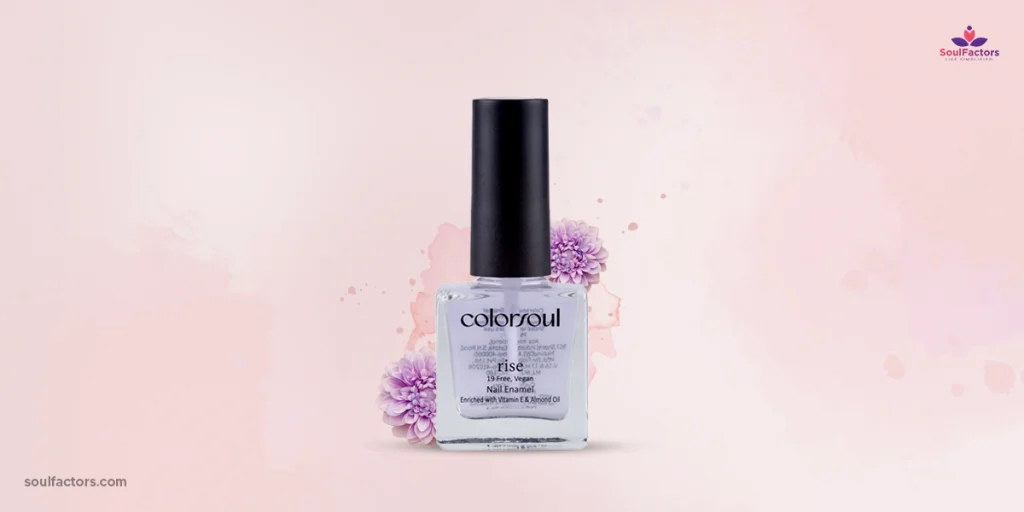 Price: Rs. 99 for 8 ml
Another one is cruelty-Free, vegan, and formaldehyde free. What made me gravitate towards this one is that this is made of almond oil and vitamin E to keep the nails properly hydrated, nourished, and well-protected from chipping or peeling. It also helps with strengthening the nail. Its unique formula helps polish to look flawless and last longer with zero damage or leaving no sticky residue behind. That this Vitamin E and almond oil-infused nail lacquer helps promotes the quick growth of new nails and its nonyellowing formula, ensures opacity, are great brownie points there.
Best Base Coat Nail Polishes #4: Swiss Beauty Stunning Nail Laquer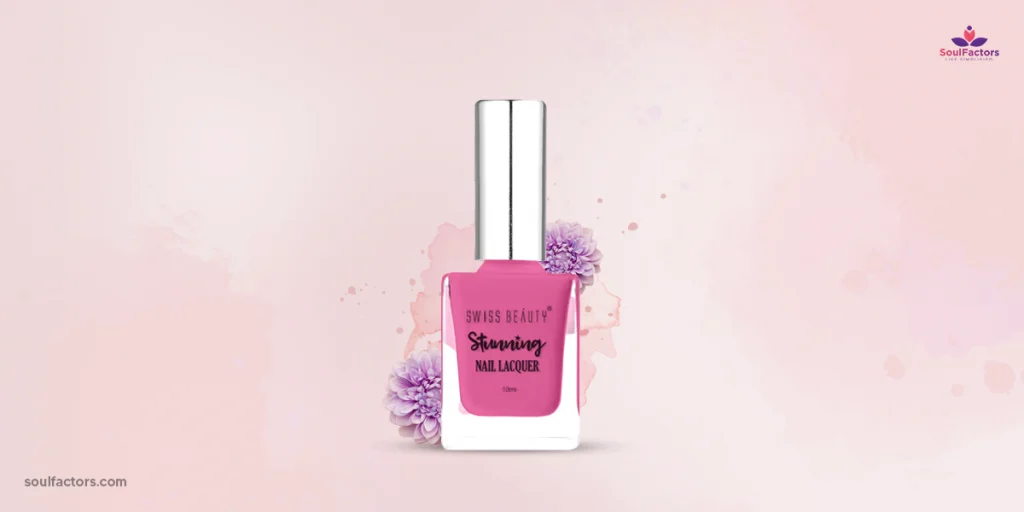 Price: Rs. 89
Clear as day- they say. Reviews suggest that it is a fast drying one with no fragrance. Smooth in finish, affordable, and good quality–all check! Swiss Beauty Stunning Nail Lacquer offers shine, good wear, and ease of application due to its ultimate suspension gel technology. It is long-lasting, radiant, luminous, non-chipping, and quick drying. No great claims there, but you get what you want from a base coat.
#5- Plum Color Affair 3-in-1 Strengthener Base & Top Coat – Clear
Rich with avocado oil extracts to ensure strong, hydrated nails resistant to chipping. This formaldehyde-free formula ensures the strength of the nail and doubles as a top coat. To be clear, this is vegan and cruelty-free.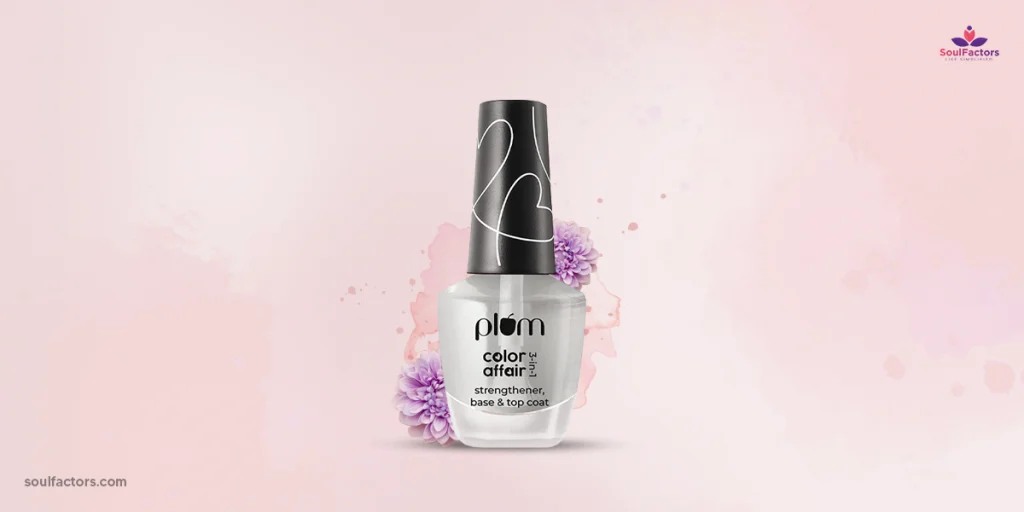 Price: Rs.180 for 11 ml.
Being enriched with AHA and avocado oil to offer intense nourishment to your nails, this nail hardener strengthens your nails. It sure makes your nail paint chip-resistant and long-lasting. With a 7-free formula, this Plum nail strengthener also dries real quick and is perfectly safe for regular application on nails.
#6- DeBelle Top And Base Coat
To start with, it contains argan oil, which enhances the health of the nails. Argan oil is rich in vitamins A and E, which supply the nails and cuticles with all the basic antioxidants and vitamins. It also contains high levels of essential fatty acids, which help prevent the skin from flaking or peeling, leaving the nails and cuticles ultra-healthy.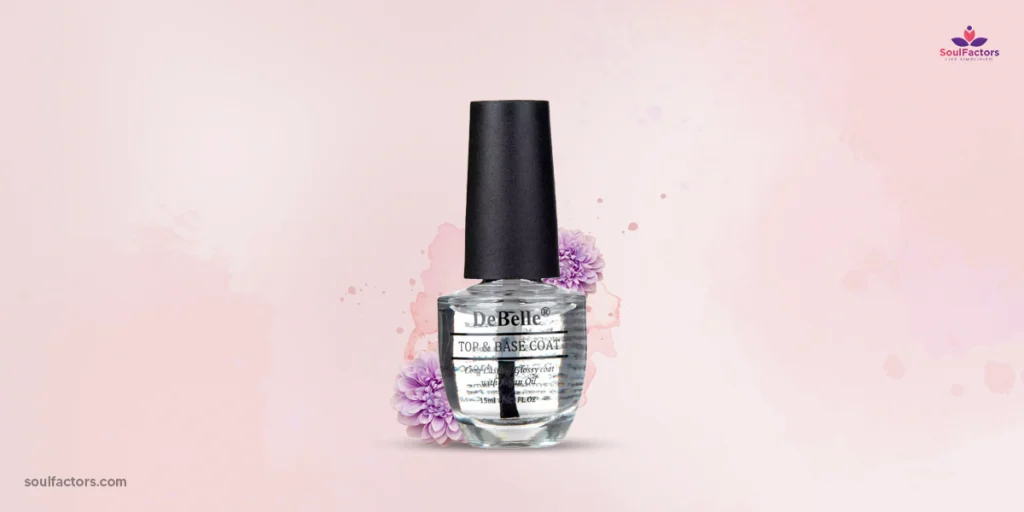 Price: Rs. 425 for 15 ml
Glossy in finish, this one doubles as a topcoat and base coat polish. This eco-friendly, vegan one is quick-drying and provides a high level of protection against chips and scratches. No nasties involved in terms of cruelty! The con is the steep price, but again it is 15 ml, which is much more in quantity than its counterparts.
Best Base Coat Nail Polishes #7: Miss Claire Base Coat Nail polish
This one is a tad different from the others as it is a colored one. The no-staining formula repairs cracked nails with its adhesive properties and bonding agents that repair nail cracks.
Price: Rs. 195
Easy to apply, this can be sported alone as it is tinted. This no-chipping formula is vegan and cruelty-free. It comes in a variety of stains like pink, beige, etc. A bit pricey, but very much worth the buck, especially for those who love minimal nail dos.
#8-Lakme Absolute Nail Hardener
This one is for those with fragile, dry, chipping, and breakage-prone nails. Lakme nail hardener is perfect for helping them stay strong and healthy. The nourishing nail strengthener replenishes brittle nails and serves the dual purposes of top and base coat for additional sheen and protection against any damage.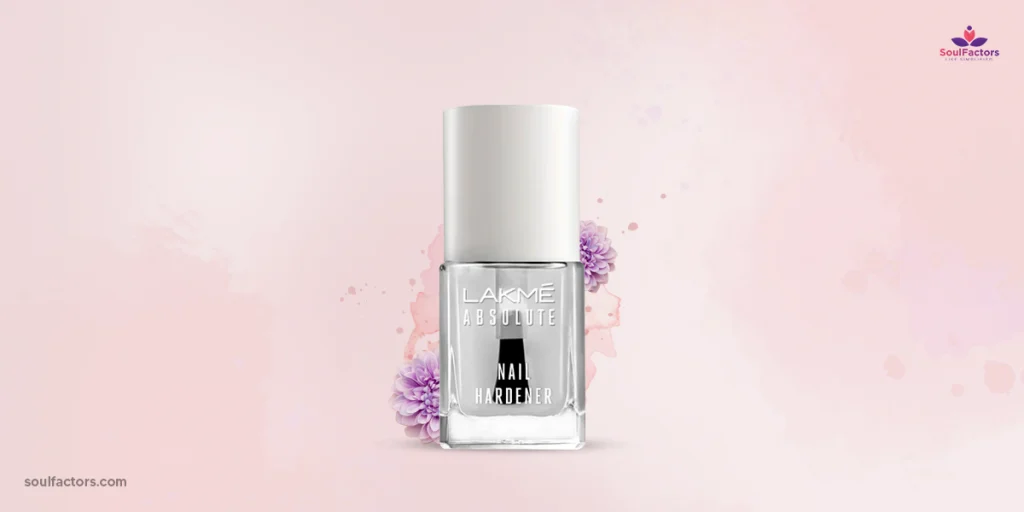 Price: Rs. 246 for 12 ml
Lakme has a long-standing goodwill that no other nail color manufacturer in India can brag about. But I would say this is quite a pricey product in this range, given that does not boast about any natural nourishment and care as it is! This is a nail hardener! Period!
Best Base Coat Nail Polishes #9: O.P.I Natural Nail Base Coat
The reviews are great regarding the finish and quality. It makes the nail polish last longer as well. Its quick drying and no staining formula is a great plus.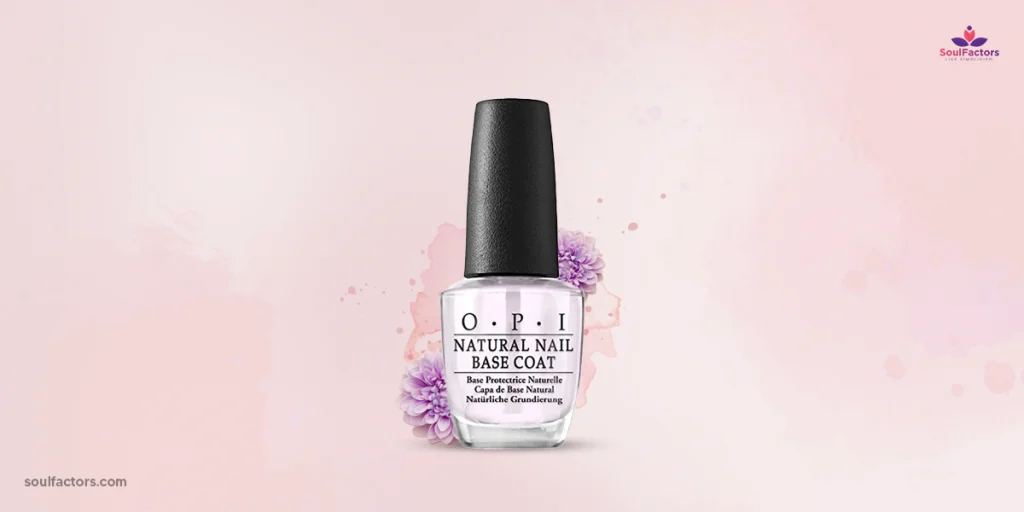 Price: Rs. 808
Ahem! Priciest of the lot!
O.P.I has a range of manicure products, which will help with the nourishment part separately. But the nail base coat serves its purpose sincerely. That's about it!
Best Base Coat Nail Polishes #10: Just Herbs NP-03 Crystal Clear
It's not just herbs but surely is non-toxic and boasts a 21-free formula. This is also a job-staining and long-lasting one enriched with sweet almond oil and jojoba oil to nourish the nails and keep bacteria away.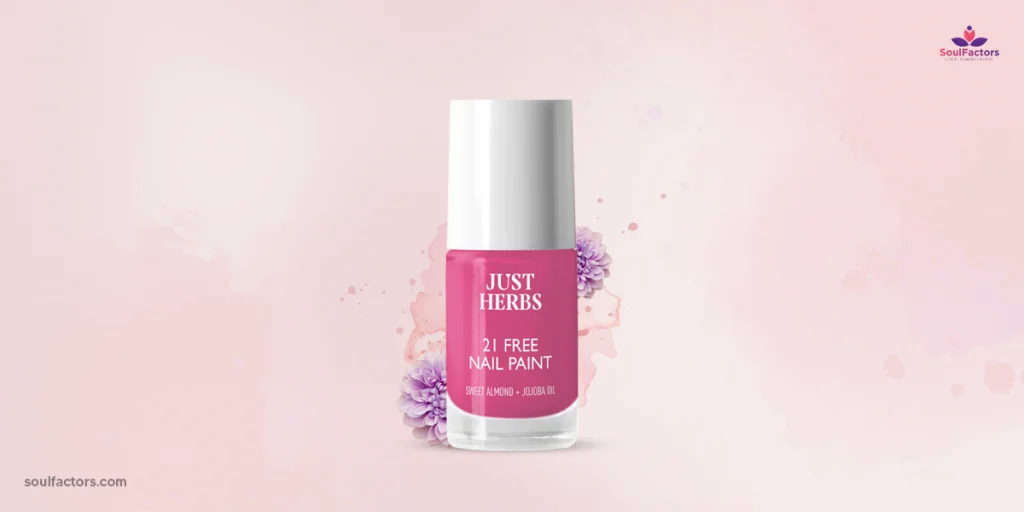 Price: Rs. 225
It boasts full coverage and no chipping strategy. It is restorative as far as nail health is concerned.
How To Apply The Base Coat Nail Polishes?
Remove any nail color from the previous manicure with a good-quality nail polish remover.
Choose a healthier and more durable option from the list of best 10 base coat polishes in India.
Apply a coat of the base coat nail polish and let it dry. You can follow it up with another gracious coat of the same and you are good to go as it is or with a colored nail lacquer.
FAQ
What is the best base nail polish to use as a base coat?
I would say anything non-toxic. There are some healthy choices mentioned here. You have a range of products that prevent the staining of nails, strengthen them and provide a longer and smooth finish. Faces Canada, DeBelle, Sugar Pop, and Plum- will be nominees for the best base coat nail polishes surely, due to their natural ingredients and commitment to no- toxins policy.
Are base coats necessary for nail polish?
Yes. Base coats give the nail polish a smoother surface to adhere to. It does the nail some favor by acting as a barrier between the nails and dark pigments in nail polish.
Parting words…
Look out for toxic ingredients! If you want natural ingredients in the base coat that can help strengthen and improve the quality of your nails, there are ones available. You can also go for targeted base coats based on your requirements- say tinted, nail hardening, long lasting or economical. Your pick! There are gel based base coat polishes as well. You can definitely go colorful without smearing toxins on your digits. Stay safe and healthy, girlies!