Did you grow up watching Rapunzel and now, as a grown-up, dream of having those Rapunzel-like luxurious locks? If yes, you might have tried your hands at all hair treatments out there – some recommended by dermatologists, some glorified by social media influencers. Argan hair oil for hair growth is your dream product.
In this quest for thick, shiny, and beautiful hair that all would love, hair fall might be your most troublesome enemy, closely followed by dryness and breakage. What if we say that with one magical ingredient, you can deal with them all in one go? Yes, you heard it right, and no, we are not exaggerating. Wondering what it is? – Argan Oil! Argan Oil for hair is not really a finding of the present; it is a natural booster that your mother or even your grandmother might have used in the past. And yes, the results are real. Argan oil is also called "liquid gold," and for all the right reasons. Let us uncover the benefits of using argan oil and figure out why it is one only thing you need.
Argan Oil For Hair: What Is Argan Oil?
Moroccan and Southwestern Algerian argan trees produce argan oil for hair. Moroccans call argan oil "liquid gold" since it comes from the "tree of life" argan tree.. Traditionally used as a cooking ingredient and healing concoction because of its nutrient value and anti-inflammatory properties, it has also become a key player in the cosmetic industry.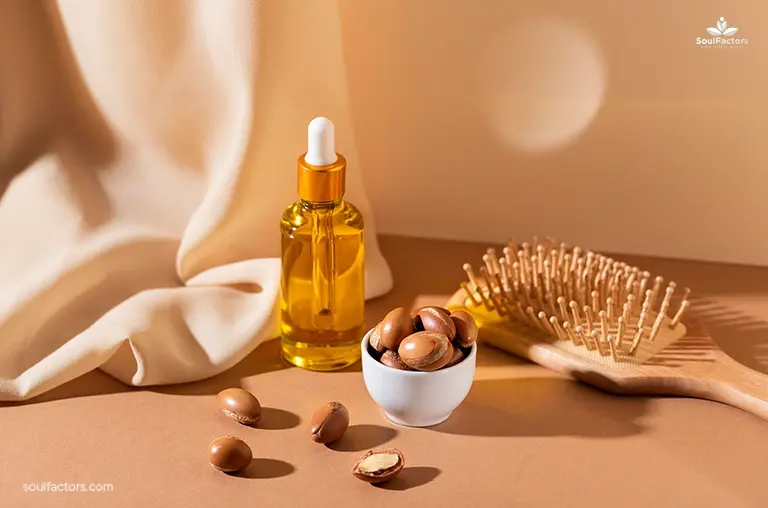 While pure argan oil is readily available in the market, you can also find it as a key ingredient in several products – including shampoos, conditioners, and masks. Rich in fatty acids and antioxidants, it provides all the care and nourishment your scalp and hair need for active growth. That explains why this oil has a separate fan base.
Know The Benefits Of Argan Oil
We already told you that argan oil could go a long way in promoting hair growth but let us make it more concrete for you. Several products in the market claim excellent results, but let us tell you why you should choose argan oil from that crowd. Here we have listed some benefits of argan oil for your hair.
Proven To Promote Scalp Health
Argan oil's antioxidant and anti-inflammatory properties can significantly improve your scalp health. Ar. Also, the antifungal properties of argan oil make it quite effective against dandruff. We all know that healthy hair resides in a healthy scalp, so the healthier your scalp is, the lesser the chances of hair fall. And that's why dermatologists across the world recommend argan oil for hair.
Moisturises, Hydrates, And Conditions
Heavily infused with fatty acids like oleic and linoleic acid, argan oil is known to hydrate, nourish and moisturize your scalp and hair and promote growth. We all know that hair growth is stunted by the lack of proper hydration and nourishment, and that's why argan oil is a critical component of several hair growth products out there.
Also, the vitamin E that we all love for our hair and skin is actively present in argan oil. It helps prevent dryness and gives you shinier and frizz-free hair.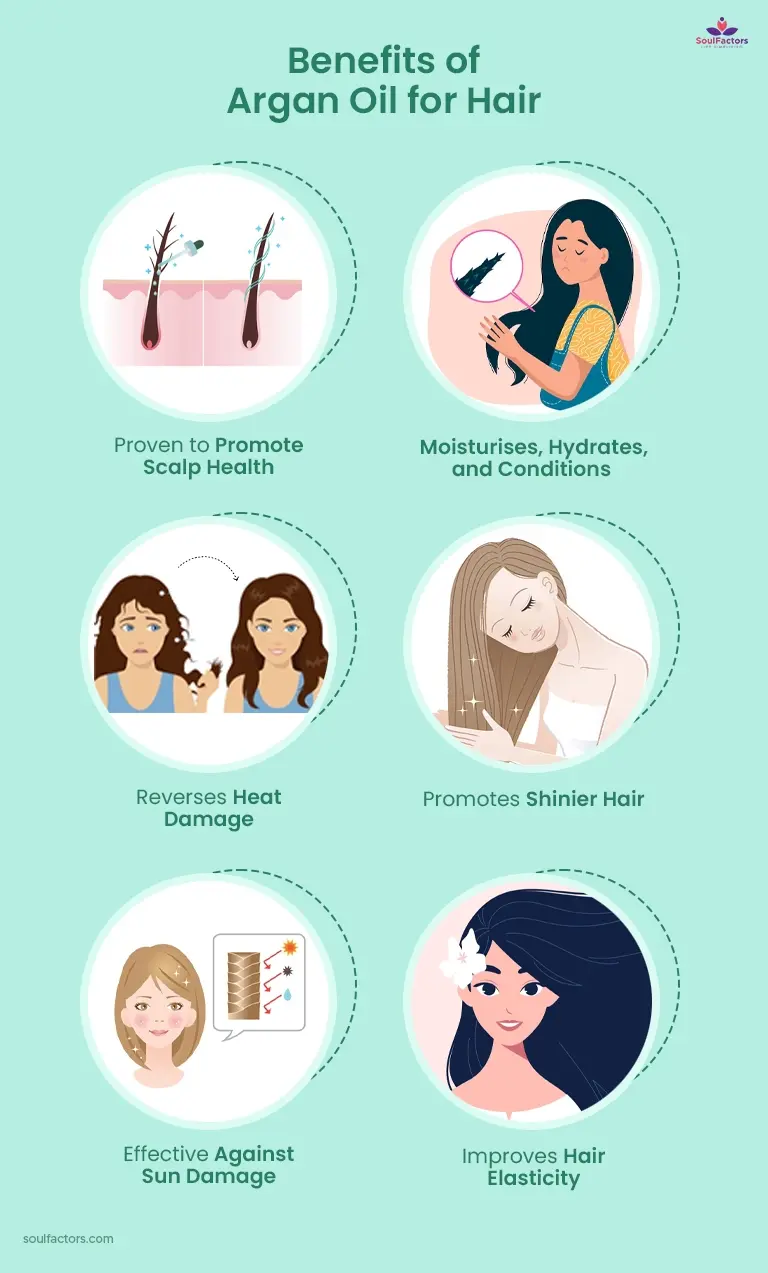 Reverses Heat Damage
Heat damage can also harm hair. Heat styling regularly will fade your hair. Argan oil heals and protects. Medium-chain fatty acid-rich argan oil protects hair.
Argan oil helps reduce the damage caused by regular styling, even if your job or lifestyle requires it. Argan oil also combats hair coloring adverse effects. If you have split ends and other hair problems, apply Moroccan argan oil for hair.
Promotes Shinier Hair
Who doesn't love shiny hair that attracts all eyes? If you have been living with frizzy hair for long, you know how hard it is to achieve that shine. But let us tell you that with Moroccan argan oil for hair, you can naturally add that desired shine to your hair without any damage. We all know healthy hair equals shiny hair. All the nutrients and vitamins in this hair oil nourish your hair from within, reduce the visibility of active signs of damage, and give you the shiny hair of your dreams.
Effective Against Sun Damage
It is not enough to save your hair from styling damage; UV rays are an active culprit when it comes to hair fall and damage. How long can you cover your hair every time you step out into the sun? It's pretty inconvenient and ends up hampering your style. So, rather than resorting to such undesirable measures, naturally add a protective layer to your hair strands with argan oil.
Improves Hair Elasticity
If you have been struggling with hair fall and are concerned about your ever-thinning hairline, then argan oil is one supplement you need. When your hair elasticity falls, it weakens your hair strands, reduces their natural flexibility, and leads to hair breakage and fall. Argan oil improves elasticity and paves the way for healthier, stronger, and thicker hair.
How To Use Argan Oil For Hair Growth: Apply It The Right Way!
One oil, several benefits; similarly, one oil serval application procedures. As we already mentioned, other than virgin argan oil, several haircare products come with a generous amount of argan oil. Depending on your choice of product, the application procedure will vary. read the following to know how to use this oil.
The Old School Hair Mask
Nothing can replace the nourishment that a good oiling regime can provide, and if you replace your regular oil with argan oil, the results are multiplied. You can use virgin argan oil for hair and apply it to your hair and scalp, or mix it with coconut oil or castor oil, depending on your hair type and need.
Application Procedure:
Apply 8-10 drops of argan oil to your scalp and massage gently using your hands.
Massage your scalp for at least 10 minutes for the best results.
Once you have covered your scalp, apply the oil to your hair length and ends.
Use a hair towel to cover your hair and leave it overnight.
Wash using your choice of products and repeat this procedure at least twice a week for visible results.
Clean And Nourish: Shampoo
Several argan oil-based shampoos are available in the market. If oiling seems like too much of a hassle and you don't wish to replace your current oil, you can go for a shampoo instead and simultaneously clean and nourish your hair.
If you wish to DIY, add a few drops of argan oil to your shampoo while washing your hair and replicate the effects of argan oil shampoo.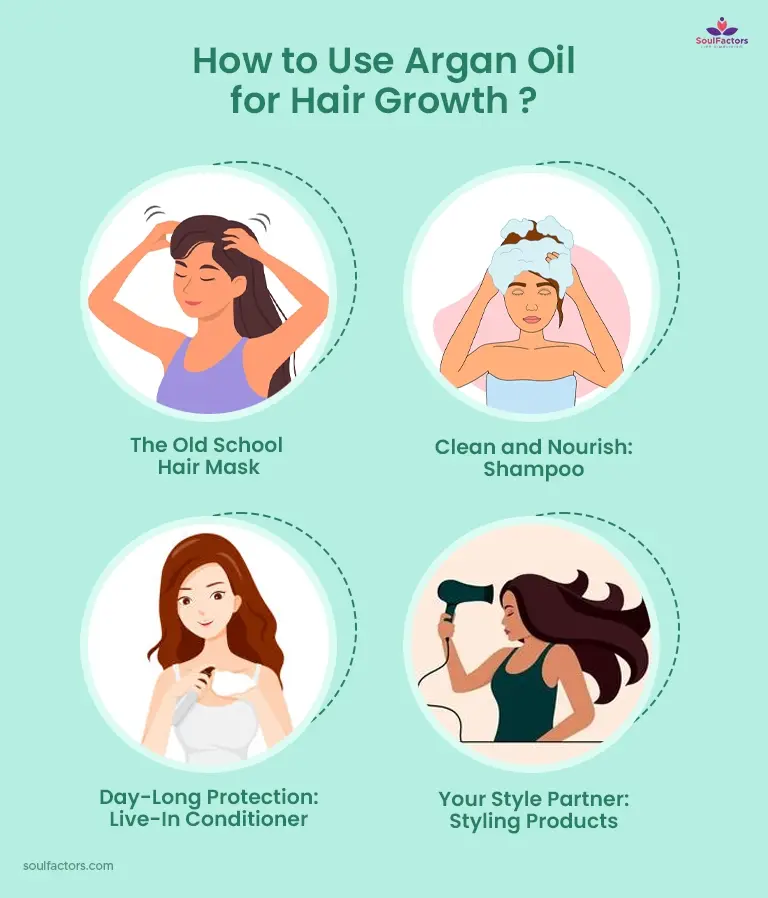 Day-Long Protection: Leave-In Conditioner
Leave-in conditioners are quite in trend and can be highly effective in managing your hair all day. Now merge the benefits of argan oil into the same, and you will achieve healthy and beautiful-looking hair throughout the day.
If you are still dubious about investing in a leave-in conditioner, you can use argan oil for similar results instead. Apply a few drops of argan oil to your towel-dried hair and tame those frizzes, quick and easy.
Your Style Partner: Styling Products
We recommend all ladies follow this one tip. Add a few drops of argan oil to your hair styling routine, and you can prevent heat damage to a great extent. Also, several styling products use argan oil, so you can specifically look for those products.
Best Argan Oil Products In The Market
If you don't wish to use virgin argan oil, you can always switch to any argan-oil-based hair care products available in the market. These products use the benefits of argan oil since it promotes with hair growth and merge it with other ingredients to deliver a full-fledged routine.
Now, there are not one but several products available in the market; we are here to help you pick the best. Here's a list of the 10 best argan oil products for hair growth.
Shu Uemura Art Of Silk Bloom Hair Mask
If you have been searching the market for a hair mask that works, this one by Shy Uemura can be your best pick. With a generous amount of ceramide(1), argan oil, and vitamin E, it's a nourishing mix that will work like magic for your hair.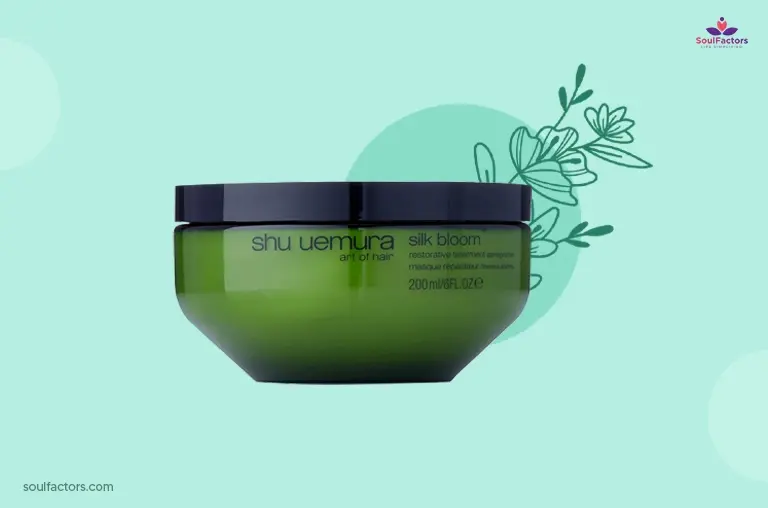 Price: $69
Product Type: Hair Mask
Moroccanoil Treatment Light
If you are looking for a product that brings in the benefits of argan oil for hair growth without weighing down your hair, then look no further than Moroccanoil Treatment Light. A few drops and tangle-free, frizz-free, shiny hair will be at your service.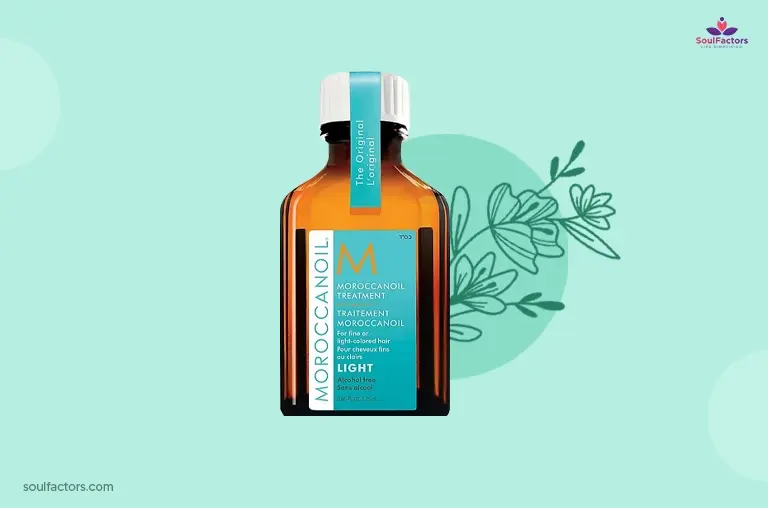 Price: $48
Product Type: Serum
Kérastase Elixir Ultime L'Huile Original Beautifying Hair Oil
Add the benefits of camellia and marula oil to argan oil, and you will arrive at the next product on our list – Elixir Ultime Original. While a bit on the costly end, this serum is sure to give you your money's worth. With multiple applications – overnight conditioner and heat protectant- this product is a game changer.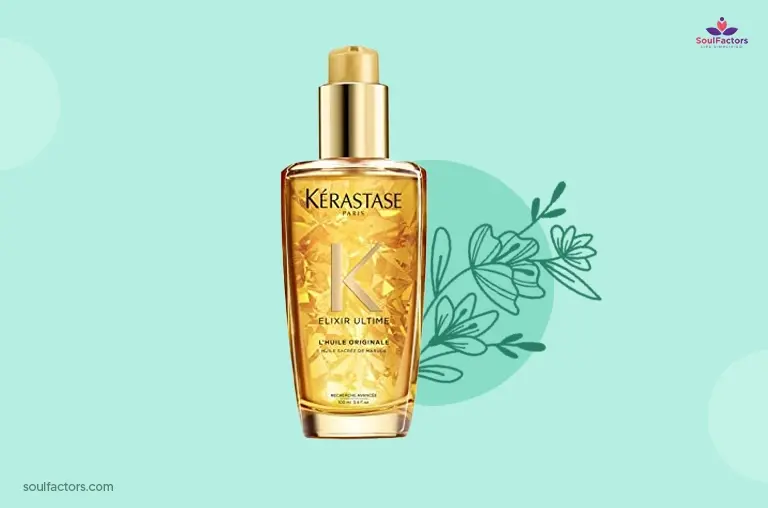 Price: $50
Product Type: Serum
Bumble And Bumble Dry Oil Finishing Spray
If you have curly hair that takes years to settle, this finishing spray from Bumble and Bumble will be your best friend. Style your hair with a subtle application of this product, lock it all, and let your hair stay fresh and well-styled all day.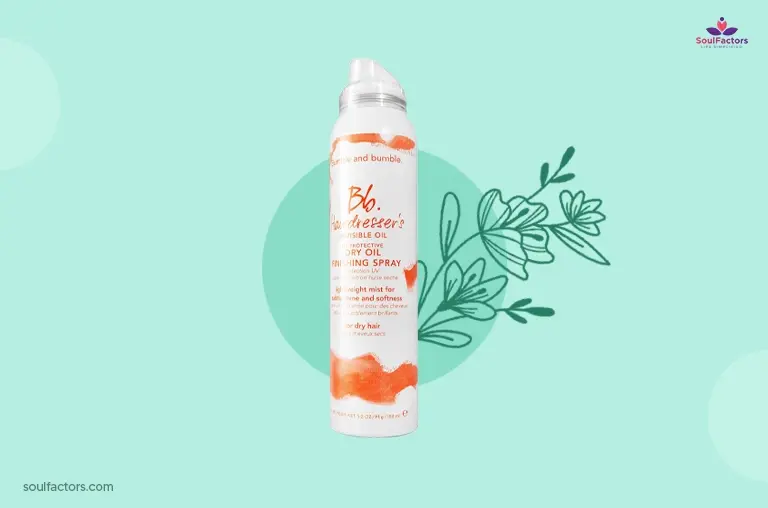 Price: $34
Product Type: Finishing Spray
ORIBE Gold Lust Repair & Restore Shampoo
Give your everyday shampoo routine a royal touch with the one and only ORIBE Gold Lust Repair & Restore shampoo. Trusted and recommended by dermatologists, this shampoo is proven to repair styling and coloring damage and help retrieve the lost shine and softness.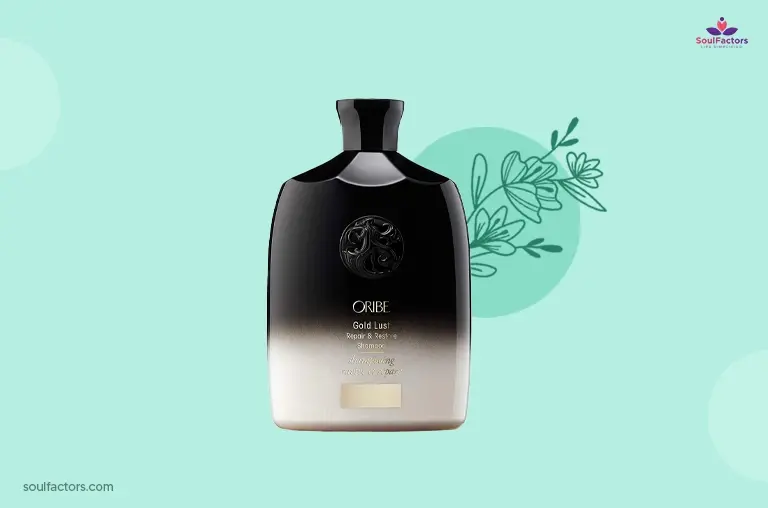 Price: $53
Product Type: Shampoo
OGX Renewing Argan Oil Of Morocco Shampoo
Another argan oil hair shampoo on our list is OGX Renewing Argan Oil of Morocco Shampoo. Infused with argan oil's revitalizing properties, this cheap product is chemical-free and the pocket-friendly therapy your hair needs.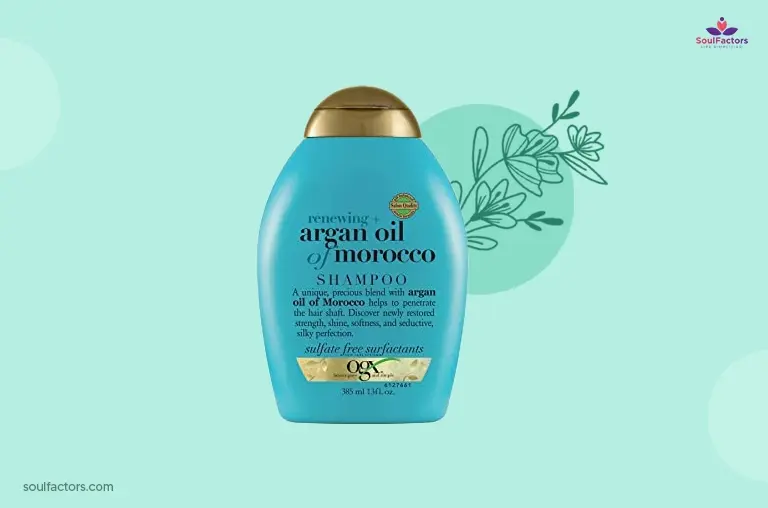 Price: $6
Product Type: Shampoo
R+Co Badlands Dry Shampoo Paste
On days when you wish to go out but are too lazy to wash your hair, this dry shampoo paste can be your lifesaver. Pair it with styling cream, and you will have salon-styled hair within the comforts of your home. And as it is infused with argan oil, it can promote hair growth with regular application.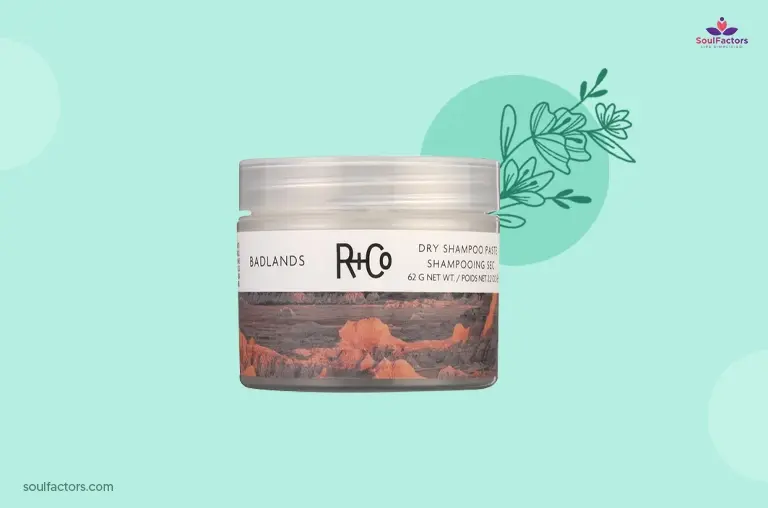 Price: $29
Product Type: Shampoo
Redken All Soft Argan Oil Conditioner
The hydrating power of argan oil extracted and put in a bottle, that's what Redken All Soft Argan Oil Conditioner is. If your hair looks dull and dry after every hair wash routine, add this conditioner to your regimen, and you will have shiny and glossy hair that all would look with envy.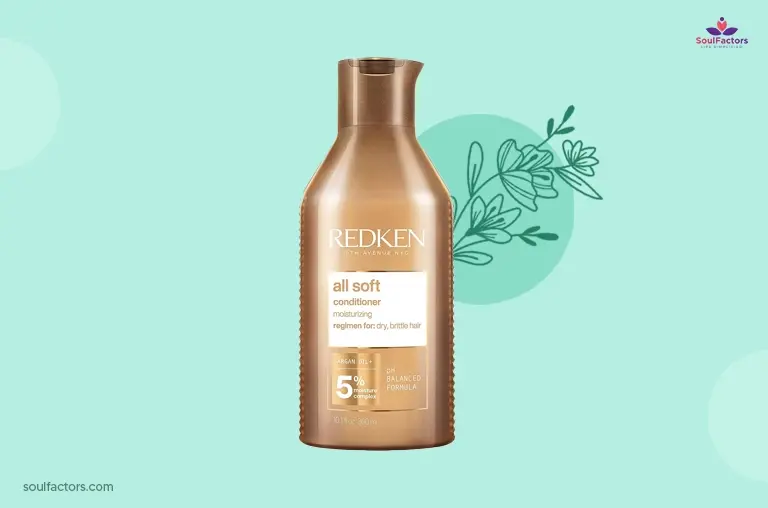 Price: $50
Product Type: Conditioner
Briogeo Farewell Frizz Blow Dry Perfection & Heat Protectant Crème
You style your hair and within hours of stepping out of your home, they are back to being the mess they are. If this statement defines your everyday hair concerns, then it is a sign to invest in this Blow Dry Perfection & Heat Protectant Crème by Briogeo Farewell. It locks the moisture, tames the frizz, and provides all-day-long nourishment.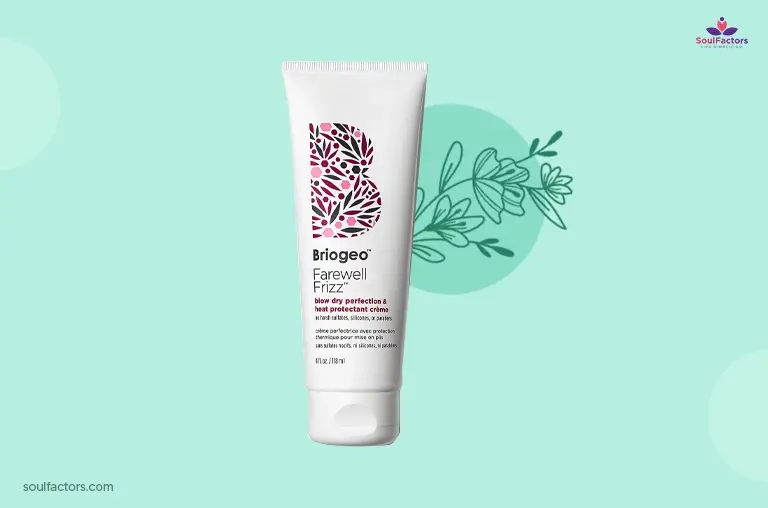 Price: $24
Product Type: Styling Creme
Gisou Honey Infused Hair Oil
Honey and argan oil in one product means extra nourishment, hydration, and care. Gisou Honey Infused Hair Oil is all the nourishment your hair needs. This product blends the benefits of argan oil and honey and gives you easy-to-style and frizz-free hair.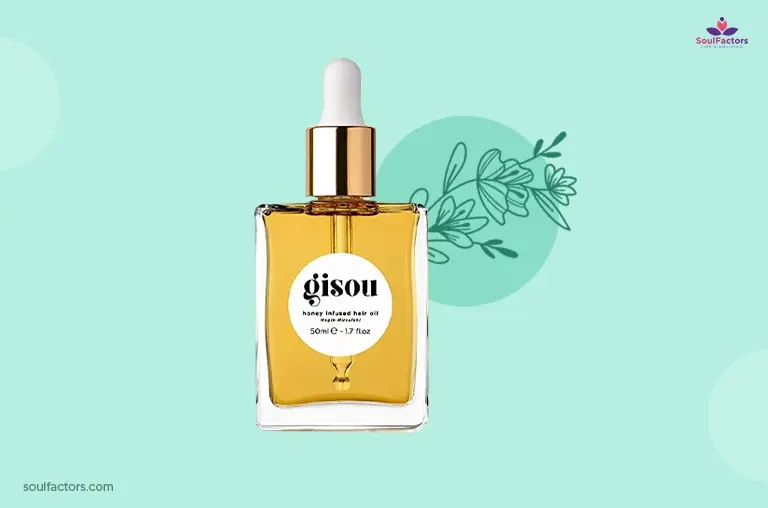 Price: $46
Product Type: Oil
Now, if you are wondering where to buy argan oil, you can shop online on Amazon or go to Target. They are readily available in the market, so you won't have to hunt for them.
Keep It Safe, Make It Work – Safety Precautions For Using Argan Oil For Hair
All good things come with a cost; the same is with argan oil. If used right, it can take you to your dream hair; if not, it can do more harm than benefit. So, follow all the safety procedures and leave no room for errors.
Anything in excess is dangerous, so don't overdo it.
If you have any severe hair-related issues, consult a dermatologist and work with their guidance.
Make sure to use top-quality argan oil; if you use cheap copies, it won't bring any benefits and will damage your hair even further.
Ensure that the argan oil you use is labeled for cosmetic use.
If you face irritation or itchiness with one application, do not use it again without expert consultation.
With these simple considerations, you can reap the maximum benefits of argan oil for hair and implement a top-class hair care routine.
FAQs
What does argan oil do to your hair?
Argan oil nourishes, hydrates, and conditions your hair, preventing hair fall. Argan oil has several benefits, and regular usage will make you stronger, thicker, and shinier hair.
Do I put argan oil on wet or dry hair?
Like every other hair oil, you are supposed to apply it before you wash your hair, i.e., on dry hair. But if you are using it along with your shampoo or conditioner, the application procedure will vary.
How often should I use argan oil on my hair?
When you think about how to use argan oil for more hair growth, the first consideration is frequency. Dermatologists recommend using it at least 2-3 times for a healthy and effective hair care routine.
Does argan oil help hair growth?
Yes, argan oil promotes hair growth. The nutrients, acids, and vitamins reduce hair fall and breakage and further promote hair growth.
To Sum Up
There are plenty of hair oils available in the market; if these are the benefits you were looking for, then argan oil is your best pick. Go to your nearest store or order online and start your hair care journey today. The results might be slow but stay persistent, and you will see the ones you cannot miss.