If you are someone like me who doesn't like to use fake lashes, then a good eyelash curler and great quality mascara to go with it is our best option. Eyelash curlers can do wonders to our lashes, especially if you have short and straight lashes. What if I tell you eyelash curlers just got better and everyone is loving this new version? Here are the best eyelash curlers with comb for long and dramatic-looking lashes.
A good eyelash curler can instantly amp up any eye look you wish to achieve. They curl the lashes by not just instantly lifting them but also giving the illusion of big and open eyes. Our list of best eyelash curlers with a comb is easy to hold and use with comfort. Choosing the wrong eyelash curler can not only be difficult to use but can also damage the lashes.
Best Eyelash Curlers With Comb Vs Normal Eyelash Curler
How is an Eyelash curler with a built-in comb different from a normal eyelash curler?
An eyelash curler with a built-in comb works similarly to a normal eyelash curler but the results are much better. The built-in comb that comes with the lash curler maxis sure that your lashes are smooth and separated. They make sure that the curl is natural and the lashes don't clump together.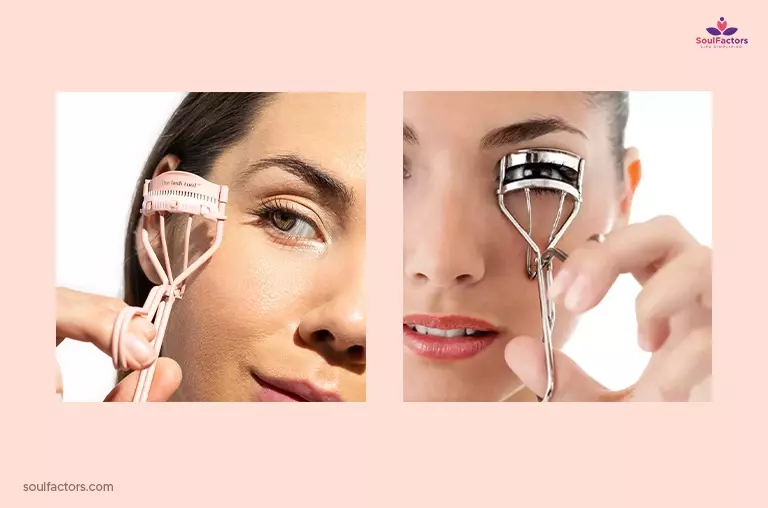 One of the greatest advantages of having a built-in comb is to avoid not just clumping and achieve better lashes but to also protect the lashes. With a normal lash curler, the lashes can twist and clump resulting in breakage and thinning of the lashes in the long run. With eyelash curlers with a comb, this can be avoided.
Eyelash curlers with comb are also useful for those who are scared to use normal lash curlers. The comb attached to the bottom half of the curler ensures you don't accidentally clamp your eyelids. The built-in combs are designed and positioned in such a way that they just touch your lashes and not your eyelids(1)
How To Use An Eyelash Curler With A Comb The Right Way?
When used right an eyelash curler can give you the fake lash effect. Here are the directions on how to use eyelash curlers with comb.
Step 1: Ensure that your lashes are clean and dry. If you feel your lashes are oily then use an eye makeup remover on a cotton swab to remove excess oil from your lashes.
Step 2: Open the lash curler and place your upper lashes through the curler. Just like using a normal comb make sure that the comb on the curler has your lashes swept in. Position the curler near the roots and start pressing the curler.
Step 3: With light hands clamp the curler a few times, two to three will do enough. You will see your lashes spreading out evenly through the built-in comb.
Step 4: When you release the career make sure that you fully release the curler before taking them out to avoid any tugging and pulling.
Step 5: Once you are done curling follow up with a good mascara.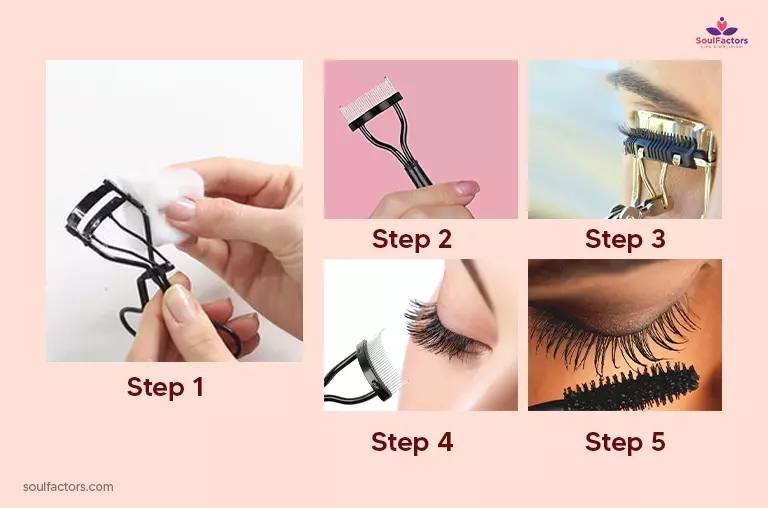 Best Eyelash Curlers With Comb For Dramatic Lashes
The Lash Tool
The Original Pink Eyelash Curler with Built-in Comb: This is one of the best eyelash curlers with comb available on the market.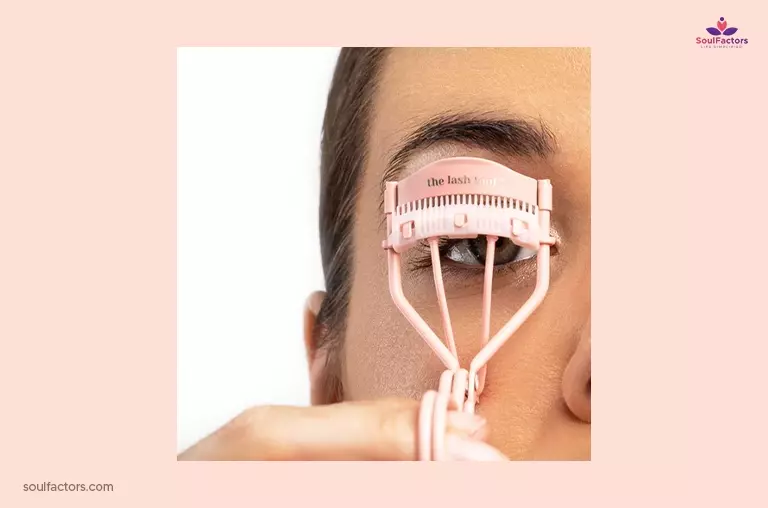 Features
It has a soft and efficient comb attachment which helps in guiding each lash hair. Even if your lashes are shorthand strat the comb will work on you to give a very curvy and full lash effect.
The ergonomically designed handles of the curler are very comfortable and easy to use. They provide a good grip causing less discomfort to the fingers.
Suitable for all eye shapes and sizes.
The wide body design of the lash curler will make sure that all the lash is covered hence giving better coverage and better-looking curls.
Another best feature of this particular lash curler with the comb is that the lash pad is permanent and unlike most lash curlers one need not replace the pad over time.
Lash pads are made of high-quality and durable silicone that is SHS certified
The clipper is made of the highest grade steel which gives a sturdy and better hold of the tool.
You need not worry about The Original Pink Eyelash Curler losing its cute color as it is hand painted with anti-chip painting technology.
Also if you are someone who doesn't like mascara the Pink Eyelash Curler would be a perfect choice for you as they do not necessarily need to yop off with mascara.
Pink Eyelash Curler With Brush Mascara Muffle
If you are on a budget and looking for an affordable lash curler this is perfect and you can easily get it on amazon.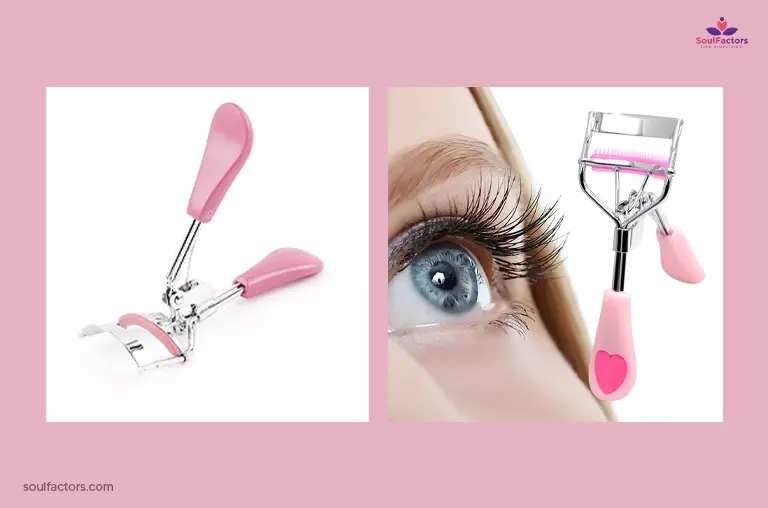 Features :
Softy bristle built-in comb
Silicon pad provides firm hold to avoid tugging and breaking and pulling of the lashes
Suitable for all eye shapes
Will not harm your eyelids as the comb is designed to touch only the lashes.
Some Of The Best Mascara That Works Will Eyelash Curlers With Comb
Essence Lash Princess False Lash Effect Mascara: Washable and instantly lifted long and dramatic-looking lashes
Maybelline Lash Discovery : Affordable, and comes in both waterproof as well as washable variants. Give very natural-looking lashes.
Benefit Cosmetics "They're Real" Lengthening & Volumizing Mascara: water resistant, lengthening, and lifting
Maybelline Volum' Express The Falsies Mascara: very affordable, available in two variants, washable and waterproof.
Benefit Cosmetics Roller Lash Curling & Lifting Mascara
Essence The False Lashes Mascara Extreme Volume & Curl
Physicians Formula Organic Wear 100% Natural Origin Mascara
Too Faced Better Than Sex Mascara
Isehan Heroine Make Long and Curl Waterproof Mascara
Clear Mascara Recommendations
Maybelline great lash clear mascara
Covergirl professional natural lash mascara
Essence lash & brow gel mascara
e.l.f. Cosmetics Clear Brow & Lash Mascara
Wet n Wild Mega clear mascara
Quick Tips For Healthy And Long Lashes
Regularly brush your eyelashes using an eyelash brush or simply a soft-bristled toothbrush.
Make sure to remove your eye makeup before you do to bed
Reduce the use of eyelash-heating tools
Use lash serums like the Ordinary Multi-Peptide Lash And Brow Serum, Lancome advanced genifique yeux light pearl eye and lash concentrate or simply use castor oil (Make sure the castor oil is 100% pure)
Frequently Asked Questions
1. Do eyelash curlers with combs work?
Yes, they work better than conventional lash curlers by separating the lashes to give a much fuller and more natural look.
2. How do you curl your eyelashes with a comb?
While using an eyelash curler with the comb you don't need an extra curling tool, the curler and the comb attachment will give you the desired curl.
3. What is the healthiest way to curl your eyelashes?
The healthiest way to curl your lash is to use an eyelash curler with a comb and avoid using any lash heating tools, healing can be damaging to the lashes in the long run.
4. Is it okay to curl lashes every day?
It's ok to curl lashes without heat every day. We recommend heat-curling the lashes only on special occasions.
A good eyelash curler and a good mascara can give fake lashes a run for their money. Lets us know your experience with eyelash curlers with comb.
Looking for more? Follow us for more fun facts and insights.