You and I are personally aware of the harbingers of the winter season. If dried out fingernails aren't a hint enough, Sahara-parched skin undoubtedly affirms the assumption of what's to come. Unfortunately, our skin suffers the most when the temperature drops down a level. Regardless your skin type is oily or dry, the chances of it suffering in winter are pretty high.
The mysteries of how our skin works during winters may come as a total shock to someone who has never thought of using a moisturizer during the cold season.
Specifically saying, to those who disregard the use of a moisturizer on oily skins. If you think oily skin doesn't need a moisturizing session, you haven't known first handedly the sorrows of winter oily skin sans moisturizer.
Moisturizing For Winter Oily Skin
The largest organ in our body is the skin. Unfortunately, the environmental conditions, such as weather effects and influences this organ the most. Chilly days of winter truly do a number on our skins. All of us also struggle with the changes in skin tone and facial complexions. It is either excessive drying or excessive oily (which is less intuitive), there is no in-between.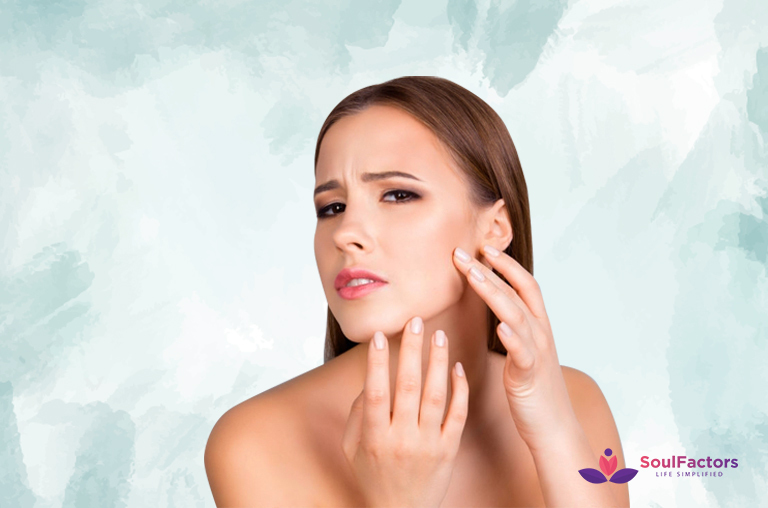 Normally, if the skin is flaky, we slather on a moisturizer to avoid dryness. But if the skin turns oily, some of us blame the slickness on the moisturizer and try to stay clear of it. Well, you couldn't be more wrong. No matter how dry or oily your skin turns out, your skin needs hydration through a moisturizer. And skin hydration in no way refers to skin oil —which is something people often, albeit mistakenly, consider the same.
How Does Oily Skins Work?
The skin oil, called sebum, is a waxy substance that is produced by the sebaceous glands(1). It maintains the barrier function of the skin as keeps your skin soft and buoyant. They exist on every skin surface, excluding the soles of your feet and the palms of your hands. These glands ideally produce just enough sebum to lubricate the skin while making it resistant to pathogenic microbes.
But not everyone is lucky to have their glands ideally producing just enough. While some have under-active glands —resulting in dry skin, others have overactive sebaceous glands —resulting in oily skin. Several reasons can trigger this oil production, such as environmental conditions, UV rays, hot baths, use of harsh products, and even excessive cleansing. And one such significant reason is the cold weather.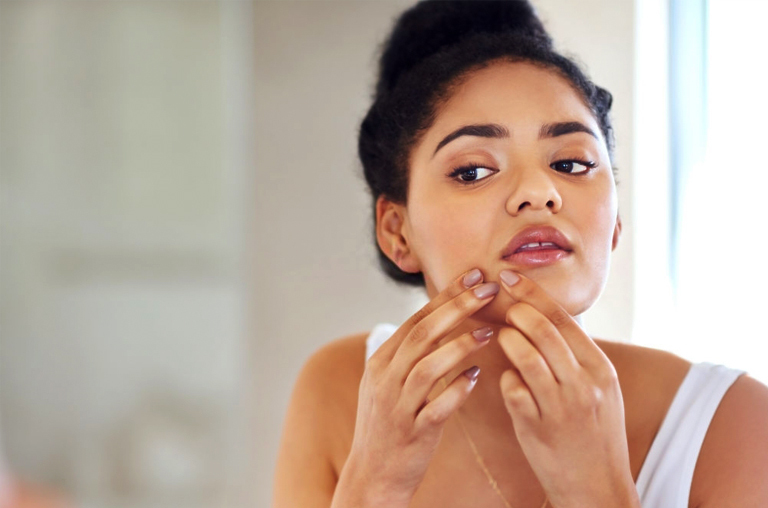 Why Is My Skin Oily In Winter?
When the days get chillier and the temperature starts to drop, the air will strip your skin of its natural oil. To counteract and as a response to the ambient air, your skin starts to produce more sebum in an attempt to keep the skin pliable, resulting in overactive glands. You start to have oily spots across your face while some parts of your skin may remain dry.
Now, it may sound right to not use a moisturizer to prevent worsening the slickness of oil on your skin. But what happens in the process of these oils stripping away from your skin is that it encourages the loss of moisture in your skin.
Although sebum can give you oily skin, it does not mean that your skin is moisturized nor hydrated. Because skin hydration is when water is absorbed into the epidermis (2) and dermis (3) —the layers of your skin, helping your skin maintain its elasticity, suppleness, and resiliency.
Excess oil production is not skin hydration but simply a reaction to a lack of it. So if you are hesitant to moisturize your skin adequately, the protective functions, as well as the appearance of the skin, can be adversely compromised.
How Can Moisturizing Help Oily Skins?
You must be well acquainted with how badly dehydration can affect your skin. You are in for a greater risk of inflammation, infection, clogged pores, wrinkles, and premature aging. Also, ubiquitous acne breakouts and pimples on oily skins won't certainly be far behind when dehydration couples with cold weather. The cold weather can rummage the integrity of your skin. This in turn can lead to rapid moisture loss, and so winter is the perfect time for skincare treatments. Here, a good and right moisturizer can only save your skin from overdoing it and hence a moisturizer becomes non-negotiable.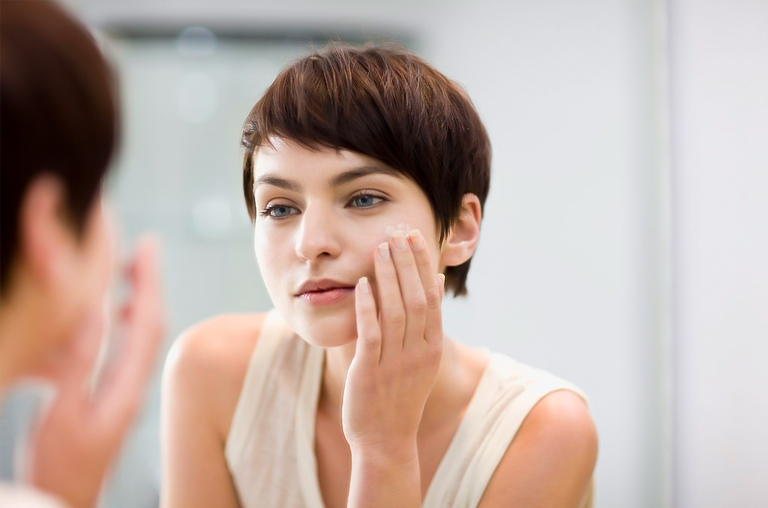 Just because your skin is oily does not necessarily mean that it has a lot of water. So a moisturizer increases the water content in your skin. It also prevents further moisture loss by attracting moisture from the air to keep your skin supple and moist. It can slow down the evaporation of moisture on the face, especially when infused with natural humectants(4). So, the sebum production cells slow down as well. Along with keeping your oily skin smooth, a moisturizer can help with skin cell turnover.
Best Moisturizers For Oily Skin In Winter
Winter is unpleasant to all skin types. When winter's windy air and lack of humidity hits your skin with the aftermath, you cannot survive without a proper winter skincare treatment. For oily skins, a non-greasy moisturizer that is enriched with Vitamin E and can repair your damaged cells as well as keep your skin hydrated and soft is the start. Here's a list of the best moisturizers for oily, acne-prone skin.
Neutrogena Hydro Boost Water Gel
Albeit being one of the highly recommended moisturizers for dry skin, rosacea-prone, and pregnant women, this water gel is a popularly favorite of women with oily-skinned faces. Because it is not only non-comedogenic (no worrying over clogged pores or acne-breakouts) but also packed with glycerin and hyaluronic acid —an all-star moisturizing ingredient for oily skins.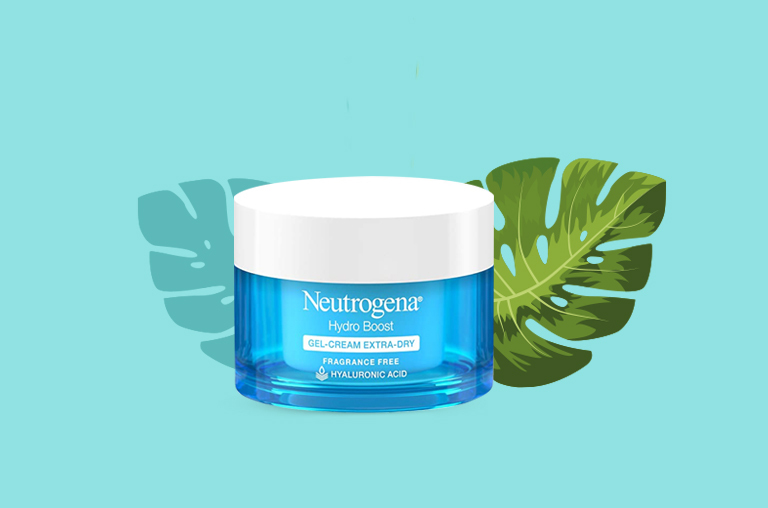 Price: $15.60
Both ingredients are humectants, meaning they can rapidly hydrate the skin without even the need for emollients. This gel-based moisturizer is a lightweight water-based, cream moisturizer. It holds up to 1000 times its weight in water
No wonder why dermatologists recommend this product because it can provide long-lasting moisture and restore your skin's natural barrier against moisture loss. There is no worrying over clogging, not even for already congested pores. A jar of 17-ounce rich face lotion that is oil-free, fragrance-free, and dye-free is a perfect addition to your self-care routine for oily skin.
Dermalogica Active Moist
Dermalogica is a clinically advanced line of skincare solutions for all skin types and all of their products are highly praised for the countless benefits. This lightweight and oil-free moisturizer is also praised for the benefits it provides for oily skins.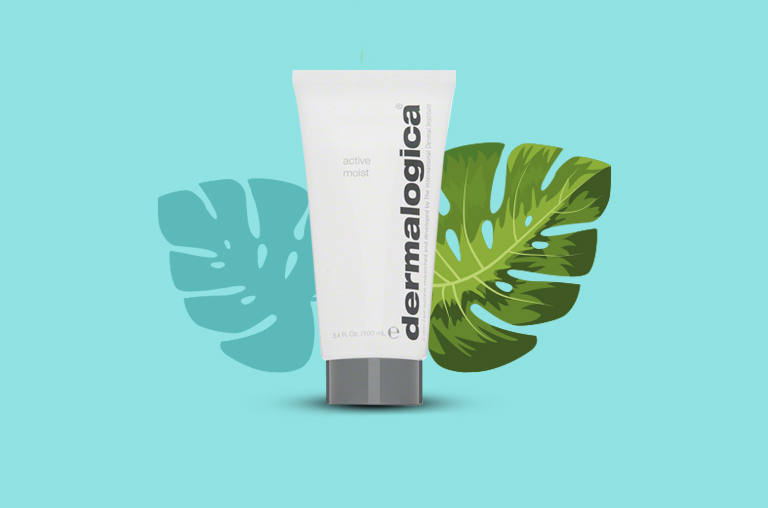 Price: $66
The formula is made with key ingredients of the best moisturizer for winter oily skin, namely hyaluronic acid, dimethicone, amino acids, and panthenol. This product can create an invisible barrier against moisture loss while absorbing without a trace.
Lavender, mallow, and cucumber fruits (plant extracts) are significant ingredients that provide deep hydration.
According to skin experts, the bonus ingredient silk amino acids derived from raw silk can impressively improve the skin's texture. Not to mention, it is vegan, cruelty-free, gluten-free, paraben-free, sulfate-free, and phthalate-free.
Boscia Green Tea Oil-Free Moisturizer
Boscia's Green Tea Moisturizer is one of the best natural moisturizers for oily skin. Due to the powerful ingredients used to make the formula, the moisturizer hydrates and soothes the skin while preventing excess oil production throughout the day. Through the use of Japanese green tea —an effective antioxidant with antibacterial properties that nourishes the skin. This also protects it against free radical damage, they are harnessing the power to hydrate the skin.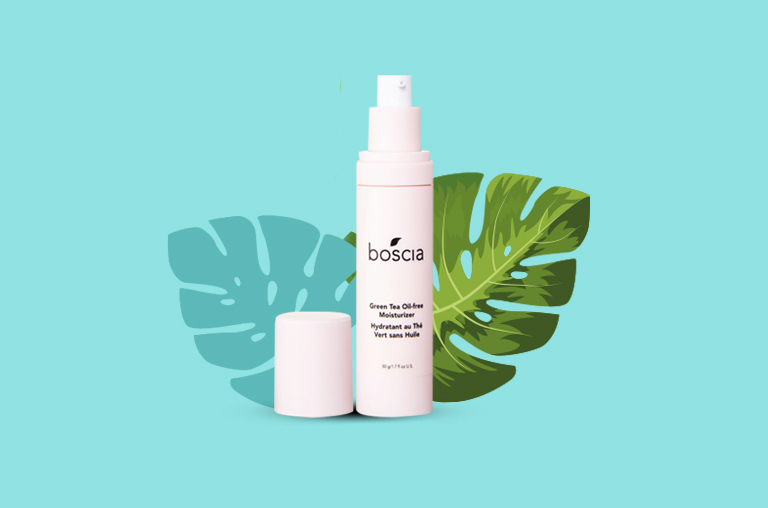 Price: $38
Besides, it uses the burdock root, which helps to absorb excess oil and prevent shine and greasiness. You also get a mattified and smooth finishing for your skin.
All of these make the moisturizer ideal for oily skins. Likewise, it uses a marine complex to protect your skin and repair external damage caused by environmental conditions. Other ingredients include hyaluronic acid, dimethicone, algae extract, and jojoba
CeraVe Facial Moisturizing Lotion PM
Being one of the best lotions for wind-chapped skin, PM moisturizer from CeraVe could be your winter facial moisturizer. This is a non-comedogenic, lightweight, and oil-free lotion that hydrates the skin without heaviness or greasiness.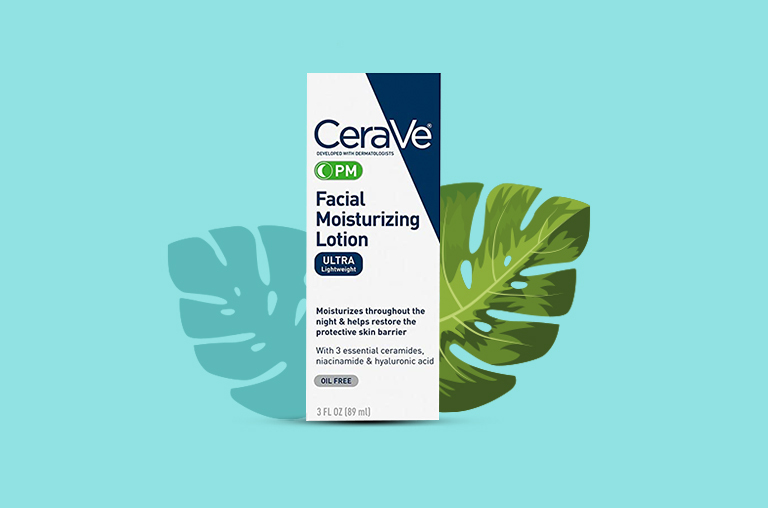 Price: $14.32
The formula with strengthening ceramides (restore and maintain the skin's natural barrier), hydrating hyaluronic acid, and calming niacinamide work together to hydrate and moisturize your skin without clogging the pores. Since it can be considered as the best winter night moisturizer for oily skin, you can use this lotion as your last step in an evening skincare routine.
But remember to wait until the serum (if you are using one) is fully absorbed into the skin. The overnight moisturizer is gentle on the face, especially on oily, acne-prone skin, and the use of MVE technology guarantees hydration throughout the night. It is also one of the best drugstore winter face moisturizers for oily skin.
La Roche Posay Effaclar Mat Anti-Shine Face Moisturizer
Targeting excess shine and oiliness on the skin, La Roche-Psay's Effaclar face moisturizer is well-known for the effects it has on oily skin. Formulated with Vitamin C and E, the mattifying effect it has on greasy skin is worth mentioning.
The brand uses its proprietary new anti-sebum ingredient, sebulyse technology to target excess oil and large pores. It also micro-exfoliates lipo-hydroxy acid to leave a light matte finish on the skin. Other ingredients include perlite (helps in absorbing humidity and sebum), microspheres, silica, zinc oxide, dimethicone, salicylic acid, and La Roche-Posay's thermal spring water.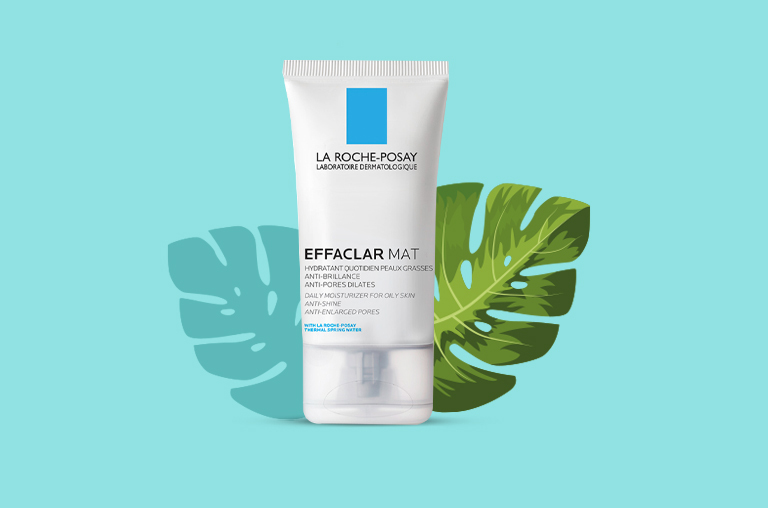 Price: $32
It can visibly tighten and reduce pores. It also protects against free radical damages while smoothening the skin texture. This makes it an excellent base for makeup. This daily oily skin moisturizer is non-comedogenic, oil-free, paraben-free, and dermatologist approved.
Cetaphil PRO Oil Absorbing Moisturizer SPF 30
You may think because it is winter, you don't need protection from UV rays. Unfortunately, you have to use sunscreen during winters, too. Particularly on oily skins.
With Cetaphil's moisturizer, you can have both at once; a moisturizer as well as protection from harmful UVA/UVB rays. This added broad-spectrum protection makes all the difference for oily skin types because UV lights can incite the activity of sebaceous glands that leads to excess oil production.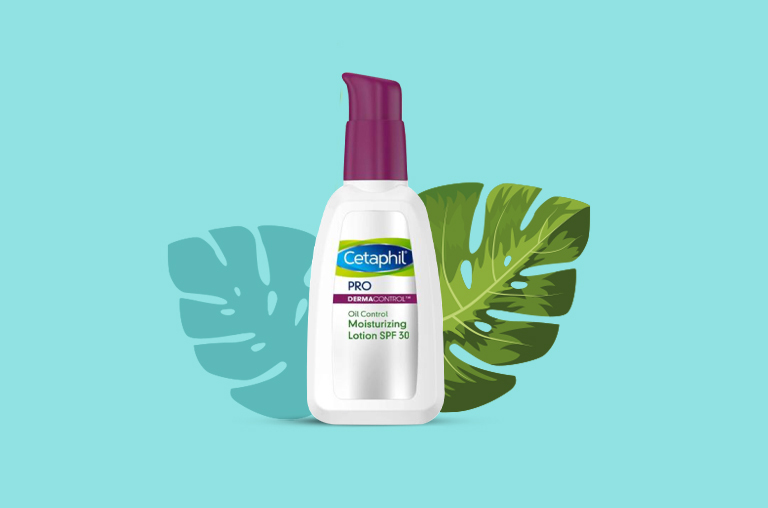 Price: $14
But you don't have to worry about the irritation of sunscreen as it contains Oleosome technology to lower the concentration of filters, also for greater and deeper hydration.
Along with UVA/UVB protection, the 4-in-1 formula helps hydrate the skin, absorb excess oil, and reduce shine to leave a matte finish —all thanks to the use of micro-pearl technology. This winter facial moisturizer is oil-free, lightweight, clinically tested hypoallergenic, non-comedogenic, and fragrance-free.
Properties Of A Moisturizer For Oily Skin
Moisturizers, specifically made for oily skins, are normally light and fast-soaking without leaving the skin greasy or shiny. So, you have to stay clear of moisturizers with mineral oil, petrolatum, or petroleum, cocoa butter, or any skin product with harsh fragrances. What you should look for in a moisturizer is the label of "non-comedogenic" —which guarantees no clogged pores, blackheads, and whiteheads (comedones).
So, choose an oil-free and lightweight formula. The right moisturizer for oily skins includes three important properties; the moisturizer should not only be emollient but also occlusive and humectant.
Occlusive: These ingredients seal in moisture into the skin by forming a hydrophobic, water-fighting layer on the skin. But some occlusive agents like petroleum, lanolin, paraffin, squalene, and mineral oils are usually greasy on the skin. For oily skins, silicone derivatives such as Cyclomethicone or dimethicone are not exactly greasy on the skin. Especially when they are used on their own.
Humectant: These ingredients help the skin to retain moisture, by drawing water from the lowest layer of the dermis at the outermost epidermis. They include ingredients such as glycerin, hyaluronic acid, ammonium lactate, sodium lactate, and any other ingredients good for oily skins.
Emollient: These ingredients smoothen the skin by packing spaces between shreds in the outer layer of the epidermis that is friable with oil or wax. They include ingredients that are both more greasy and less greasy. Emollients such as mineral oil, castor oil, lauric acid, fatty alcohols, are more greasy. Whereas cold-pressed plant oils like coconut, jojoba, avocado, grapeseed, olive, and tea tree oils are less greasy.
Choosing the right winter facial moisturizer comes down to your skin type. Now, with all the information, you can choose the right moisturizer for your oily skin. Instead of aggressively scrubbing and washing your oily face, use any of the moisturizers to keep the oils balanced. Your skin needs a moisturizer to mitigate the loss of moisture and hydration. Therefore, those who thought using a moisturizer on oily skin is redundant, think again!