You might have heard of "facial icing" in skincare, but what exactly is it? As the name implies, facial icing is applying ice to your face. Yes, it is true that this process offers a number of advantages to your skin as cold temperatures cause blood to surge under the skin. Its benefits to the skin have earned recognition in recent years, as it is a safe yet inexpensive method and it approaches directly to taking care of your skin. But how lasting are the benefits of cold therapy? How often is ice for the face too often? What are its advantages and disadvantages, if any? Here's all you need to know about the disadvantages of rubbing ice on the face.
What Is Facial Icing? What Are The Disadvantages Of Rubbing Ice On The Face?
One of the basic forms of skin icing is when you use a cube of ice to reduce your under-eye or facial puffiness, but did you know the disadvantages of rubbing ice on the face? We all have used a cold spoon or cucumber slices on our eyes, right? Basically, it has long been a staple in skincare wisdom. Looking beyond the old wives' tale, there is a certain science behind this ancient advice.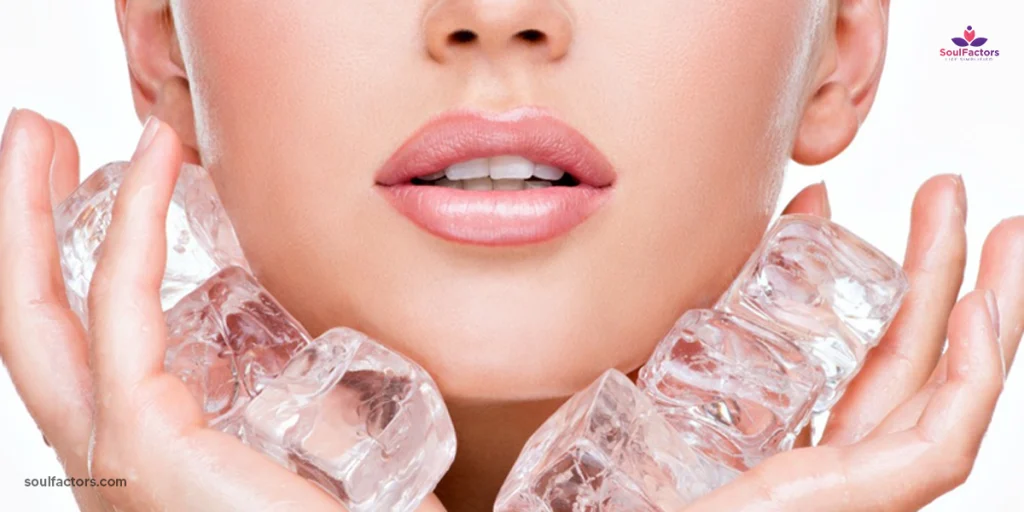 When ice is applied directly to the skin, your blood rises to the surface which helps in tightening the skin, the same as that rosy glow after a long winter walk. Facial icing which is also known as ice facial, or skin icing is a treatment where vaporized nitrogen is used to decrease the temperature of the skin on the face and neck area.
Ice has always been a secret to healthy-looking and clear skin. It also helps the skin in getting that radiant appearance. While expensive face treatments and skincare products have their own place, sometimes the easiest tips and tricks are classic.
Disadvantages Of Rubbing Ice On The Face: What Does Icing Your Face Do?
A good number of people have tried rubbing ice cubes on their faces and some of them have seen the desired results. But there are risks too. For example, you need to be aware of the disadvantages of rubbing ice on the eyes. So, let's find out the skin conditioins caused by ice on the face.
Feeling itchy on the face: Excessive rubbing of ice over the face can cause itchiness, which can feel uncomfortable.
Dryness: Because of the cold temperature, skin loses its natural oils which makes it dry. If you already have sensitive or dry skin, do not apply ice on your face.
Numbness: Many people have experienced numbness on their skin after applying ice over the face. However, this heals automatically after some time.
Peeling of the skin: Also, ice can lead to the peeling of sensitive and dry skin, which can cause itching, burning, and redness on the skin.
Redness: It is always found that human skin turns red when it is exposed to extremely cold temperatures. Similarly rubbing ice too often can cause redness.
Breakouts: Some people report that after applying ice on the face, breakouts started appearing in a few days. This happens mostly in sensitive and acne-prone skin types.
Rubbing Ice On Face Acne
Should you rub ice on the face over acne or not? What are the disadvantages of rubbing ice on the face directly? Let us take a look. For some, facial icing over acne help reduce pain, bump size, redness, and even inflammation. Icing, when done on a regular basis, slowly shrinks the acne until it can be extracted safely and completely. It even helps with post-acne flare-up, by healing the area as well as sealing the open pores.
But at the very same time, facial icing shows no result for a lot of people as well. It even aggravates acne and inflammation in some. People with sensitive skin may feel a tingle and might experience redness after they apply ice over acne. If you are experiencing blackheads and whiteheads, then ice will not help you in any way. Instead, try using a scrub to gently remove them.
In spite of knowing the disadvantages of rubbing ice on the face, if you still want to apply ice on your skin, let us tell you the right way to do it.
Firstly, clean your face, and take a piece of clean cloth to wrap a few ice cubes in it. Then gently press the acne with it and hold for a minute. After doing it, repeat the process again. Taking regular intervals between applications will help in preventing tissue damage. Do this on a regular basis and you will see results but doing it too often can spoil the whole game.
Disadvantages Of Rubbing Ice On The Face
We have already discussed the many advantages and disadvantages of rubbing ice on the face. However, the harsh truth of this process is that this even comes with a range of potential side effects which can damage your skin. Let's discuss some of the major disadvantages of rubbing ice over the face.
Applying ice after being out in the sun can cause severe headaches: A common practice that people generally perform is rubbing ice after being out in the sun as it gives them a refreshing and soothing effect. But, they don't realize that this process can give them severe headaches because of capillary damage.
Rubbing ice can damage sensitive skin: If you have reactive and sensitive kind of skin, rubbing ice is not right for you. Few skin types have delicate skin capillaries, so the chances are high that rubbing ice can break skin capillaries and can cause inflammation as well as redness. Instead of facial icing, you can just put a wet cold towel on your face for a refreshing effect.
Rubbing ice too often can damage the skin: Yes, skin icing has some benefits, and we cannot deny this fact, but if you do not apply it correctly it can damage your skin. Rubbing ice too often can cause itchiness. And it can even vanish all the moisture from your face.
When Should You Ice Your Face In Your Skincare Routine?
Now, knowing the disadvantages of rubbing ice on the face, how do we incorporate facial icing in our skincare routine? If you are one who is suffering from dry skin type, we suggest you rub ice on your face every two or three days or twice a week. When you are rubbing ice on your face too often, it can cause flakiness. According to dermatologists, facial icing on a daily basis can have an impact on the condition of your skin.
The stimulation of your blood vessels constricts them, which helps in soothing the inflammation. By improving blood flow, ice on acne helps in reducing inflammation and redness. Applying ice cubes to your sunburned skin will assist you in restoring its beauty.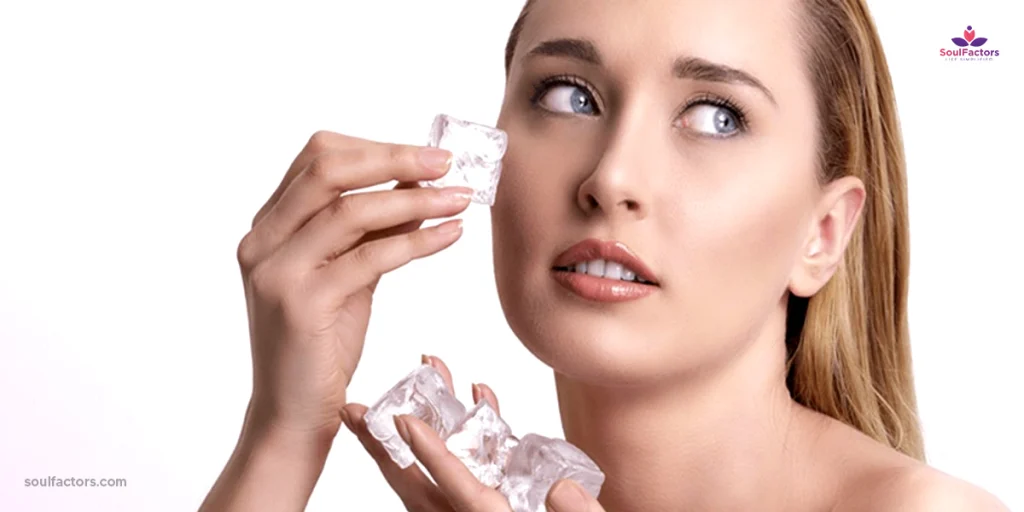 One of the most important questions generally people ask is what should I do to add ice to my skincare routine? Or disadvantages of rubbing ice on the face? Ice is one of the best treatments for getting the best glow to your skin, and it is what experts recommend. It can even help in blood circulation, treat inflammation, minimize pores and all these will result in a radiant appearance. In simple words, we can say that ice improves circulation which results in improving the appearance of your skin.
Another important question people are confused about is whether I should ice my face before going to the gym or doing my makeup. So, if you apply a serum to the skin, the capillaries constrict, and it causes a pulling effect that assists the ingredients penetrate deeper. Now the next question is what is the best skincare routine? The appropriate way to minimize the appearance of pores is to apply your makeup first. Instead of toner, apply ice and then apply a primer.
Disadvantages Of Rubbing Ice On Eyes
Since we talked about the disadvantages of rubbing ice on the face, let's learn what happens if we use it on our eyes. The eyes are a super sensitive part of the body. It is easy to see why there could be disadvantages to rubbing ice on eyes. It is very much important to take extra care while rubbing ice on the eyes. Ice keeps the eyes cool and is quite beneficial for dry eyes, but has several disadvantages too.
Frostbite is a word that comes to our mind when we talk about facial icing. It's a type of injury that can result from the accumulation of blood in the vessels of the skin. It can happen to our eyes too. The skin under our eyes is super thin and applying ice too often and frequently can damage the capillaries. Vision blurring is one of the other rare but potential disadvantages of rubbing ice over the eyes.
The Correct Way To Apply Ice On The Face?
Now we know the disadvantages of rubbing ice on the face. We also discussed the disadvantages of rubbing ice on the eyes. So, here are the things you should take care of to avoid potential side effects:
Do not apply ice cubes directly over your face. Always wrap the ice cubes in a clean cotton cloth before applying it to your face.
Don't rub it harshly, gently massage it in a circular motion.
Rub it for at least 1 minute to reduce swelling.
Once you are done with rubbing, do not forget to apply moisturizer or serum.
Repeat this process twice a week.
If you feel any sort of burning sensation, do not apply ice cubes.
If you just came from outside and you are sweating, don't apply ice cubes immediately just for a refreshing effect, as it can spoil the game.
Different Way To Use Ice Cubes Over The Face
It's time to wrap up your question what are the Disadvantages of rubbing ice on the face? Now you might wonder what are the other ways you can use ice.
Green Tea Ice Cubes
Ice cubes are used to reduce the size of pimples and inflammation (1). To use ice if you are suffering from acne problems, then take an ice cube that has green tea in it, wrap it over a clean, thin cloth and gently place it over your pimples for a few seconds. Repeat the process again. Green tea ice cubes are great for acne but only if you do it correctly.
Cucumber Ice Cubes For Eye Puffiness
Whenever we lack sleep or spend too much time on the computer, mobile, or television, our eyes get puffy as well as red. To soothe this, gently massage the area with cucumber ice cubes wrapped in a thin muslin cloth. By being aware of the disadvantages of rubbing ice cube on the eyes and using the right technique, you can use cucumber ice cubes to reduce undereye puffiness. To make cucumber ice cubes, grind a cucumber in a blender, strain and pour it into an ice tray to refrigerate it.
Mint Ice Cubes For Glowing Skin
Whenever we massage our face with ice, it enhances blood circulation and immediately brightens up the dull & boring skin but since we know the disadvantages of rubbing ice on the face we need another way. Before going to any party or a special event, we have a simple trick that will refresh your whole look. Just massage your whole face with mint ice cubes and there you go.
Milk Ice Cubes To Prevent Wrinkles
Ice cubes can be an effective way to reduce wrinkles. To get rid of wrinkles, take a milk ice cube and gently massage it all over your face in a circular motion. To make milk ice cubes, pour raw milk into an ice tray and freeze it. Twice a week take an ice cube, massage it over your face, and wash it with water.
Aloe Vera Ice Cubes For Sunburn
Aloe vera gel is a great remedy to treat sunburn, this is a common problem that we all get during summer. For making aloe vera ice cubes, collect fresh aloe leaves and remove all the thorns on both sides of the leaf.
Rose Water Ice Cubes
During summertime, massaging our face with rose water will help in refreshing our skin and get rid of heat rashes too. To make rose water ice cubes, take homemade rose water, pour it into an ice tray, and freeze it overnight. Now to use it, take a thin muslin cloth, put ice cubes in it, and gently massage it in a circular motion.
Green Tea & Cucumber Ice Cubes
If you are suffering from dark circles, massaging with cucumber and green tea ice cubes will come to the rescue. These ice cubes will help in lightening dark circles effectively. However, keep in mind the disadvantages of rubbing ice cubes on the eyes we discussed earlier and make sure you don't overdo it.
Lemon Ice Cubes
A good number of people suffer from open pores and one of the simple home remedies for open pores is to use lemon ice cubes as it helps in shrinking large pores effectively. To close open pores, cut a fresh lemon into thin rounds, now place each slice in each hole of the ice tray, pour water, and freeze overnight. Rub it gently in a circular motion.
FAQ
1. Can I use ice on my face every day?
It is suggested to rub ice or do facial icing on the face every alternate day or twice a week, only if you have a dry skin type. Because if you have sensitive or oily skin type, rubbing ice on your face too often can cause irritation and flakiness.
2. How many minutes should I ice my face?
Do not massage with ice in the same area for more than 10 minutes. Make sure you cover your entire face, which will take around 30 minutes of time.
3. Is ice good or bad for acne?
One of the best properties of ice is anti-inflammatory which helps in reducing and healing acne. It helps in reducing the excess sebum production that is the primary reason behind acne.
4. How many times can we rub ice on the face in a day?
Do not apply ice over your face more than once a day. If you have a sensitive skin type, applying ice directly on your face is a big no. A cold compress or a cold wet towel works better. Do not leave an ice pack on a specific area of your face for more than a minute.
5. Should I do facial icing before or after my skincare?
Begin with cleansing your face before adding ice to your skincare routine. It can only be applied when your face is properly cleaned. If you are applying ice during the daytime, follow it with serum or any kind of moisturizer.
6. Does ice get rid of dark circles?
In order to remove dark circles completely, you need to add more intervention to your skincare than ice alone. Or book an appointment with your dermatologist and discuss the same.
Conclusion
We hope we cleared all your doubts in regard to the disadvantages of rubbing ice on the face. Ice on the face plays a major role in making skin glow, but this process has its own disadvantages as well. It's not the only process to make your skin look fresh and glowing, so find alternative or additional methods to complete your skincare routine. You need a proper skincare routine. If there is anything else you wish to know about rubbing ice on the face, feel free to ask us in the comment section below.