I used to wonder how some women pull off such perfect eyebrows. That is, until I learned the secret from my beautician- brow lamination. Apparently, the solution to all our eyebrow troubles. It has taken off at amazing pace from the moment it made its entry into the world of cosmetics.
This art of beautification first emerged in Russia and quickly spread across the world. Brow lamination, effectively, is a semi-permanent process involving the styling of unruly eyebrow hairs into perfect shape, giving your face a completely new look. But let's get into the details, because even though the procedure is simple, there's a lot more to know about it. By the end of this article, you will have the answer to every question you might have in your mind about brow lamination.
What Is Brow Lamination?
Brow lamination is a process of giving shape and definition to your eyebrows by lifting the uneven hair. The end result is a set, brushed look to your brows that is also longlasting.
It is a good alternative to the brow gel for those who wish to do away with daily grooming of their eyebrows. The best part of brow lamination is that it doesn't involve needles or pigments like in microblading. (1)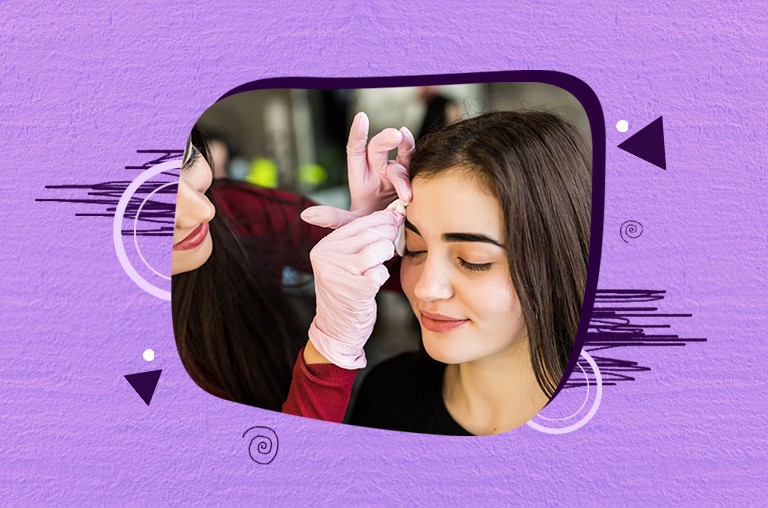 Brow Lamination Step By Step Process
This process is done using a chemical that helps your brows to stay in shape for an extended period of time.
Then the brows are brushed in a vertical manner and a neutralizer is applied to give the shape you desire. It also helps in filling the gaps by clearing the stray areas.
Once your natural hairs are fixed, then the nourishing oil is applied to the brows to keep them straight for around 5-6 weeks.
It's high time you stop worrying about ruining your brows after washing off your makeup. This procedure helps your brows to stay in place after all your hustles.
The one thing that you must keep in mind is to do your research before getting the treatment. Just look out how the end result would look as it differs from person to person.
Brow Lamination Before And After
Brow lamination is going to stun you by providing a whole new look.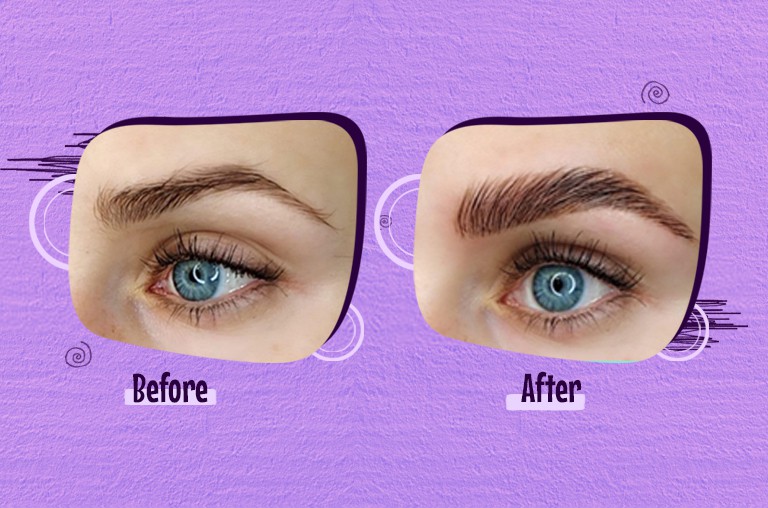 Make sure your eyes are cleared from all the makeup and mascara before the treatment.

You are also advised to stop using any serum products 24 hours prior to the treatment.

You need to keep your contact lens away if you are planning to do a brow lamination.

After the procedure, It gives a straight look that makes you wonder if you had just straightened your brows with a straightener.

Another thing is that you will have to fill the gap after brow lamination as it simply makes your hairs upwards.

You will also have to make sure you brush your brows once you wake up from sleep or it may sit downwards.
Brow Lamination V/S Microblading
Microblading is a process that involves a tattooing technique with a small handheld tool that adds a semi-permanent mark to your skin. Meanwhile, brow lamination is a technique that uses some chemicals to lift your eyebrows into a better shape. Brow lamination is an ideal alternative for a perfect brow structure.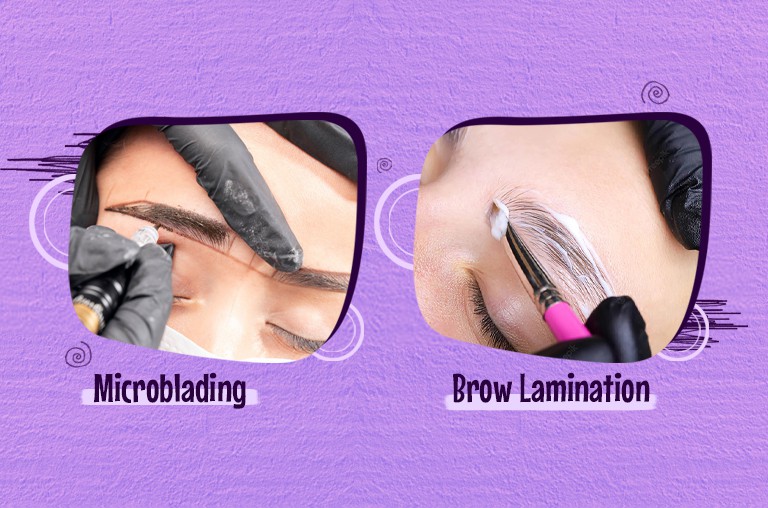 Brow Lamination Benefits
Brow lamination involves a bunch of benefits that help your skin in one or the other way.
Fills in the gap of brows caused due to past overplucking.

Set the hairs without actually brushing them.

Gives your brows perfect shape.

Requires only minimal aftercare.
Who Is The Treatment Best Suited To?
Brow lamination is best suited for those with thin eyebrows. It is said that brow lamination simply works with whatever little you have! Brow lamination is for anyone and everyone unless the chemicals used in the treatment cause any undesirable effects on your skin.
Those pregnant or breastfeeding women are not recommended to go for bro lamination just to be on the safe side.
How Much Does Brow Lamination Cost?
According to average cost research, brow lamination would approximately cost between $50 to $100 per session. Unlike some other brow treatments, this seems to be totally affordable for all as this treatment needs less time and simple materials. Although it differs for each therapist, it is important to acquire a clear understanding of the process on your own.
Can You DIY Brow Lamination?
Your eyebrows have that magical way of turning into something amazing but only with the hands of those trained professionals, which is one reason you should never even think about DIY brow lamination.
Potential Side Effects Of Brow Lamination
Even though brow lamination is not something very challenging. Like anything that has a flip side of a coin, it involves some side effects that you will have to know prior to booking your appointment.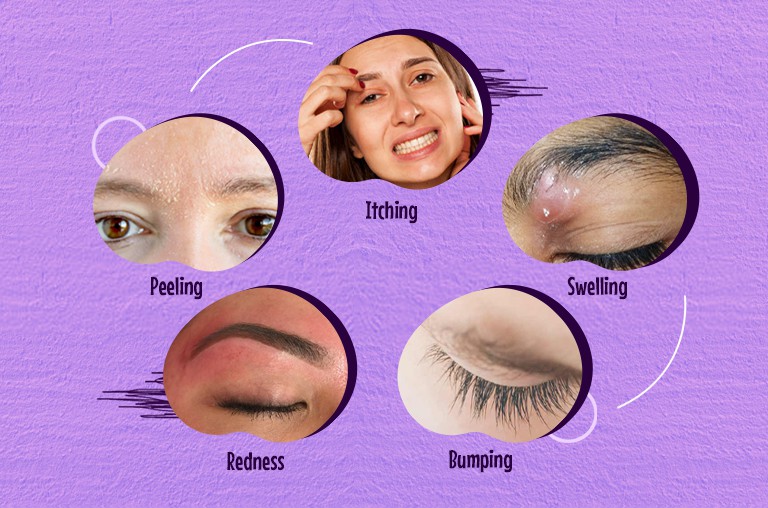 Itching

Swelling

Bumping

Redness

Peeling
These side effects can be seen underneath and above your eyebrows. Also, this is not recommended for people with sensitive skin, eczema, (2), or rosacea. Taking care of your eyes from the chemicals during the procedure is also equally important. Repeating the procedure several times may result in damage to your natural brows.
Final Verdict
If you are interested in shaping your brows, the best treatment available seems to be brow lamination. Brow lamination would help you achieve a completely new look that you desire. For long-lasting results, take proper care of your eyebrows.
It is also important to do brow lamination from specialists for proper treatment and safety. You are also recommended to meet a dermatologist before treatment if you are someone undergoing any skin order or allergies.
FAQ
Is Brow Lamination Permanent?
Usually, brow lamination lasts up to 4-6 weeks. The rest of the consistency is depended on how well you take care of your brows. Although after 6 weeks, you are suggested to do a re-lamination process that could give a better result for a longer period of time.
Does Brow Lamination Ruin Your Brows?
Just like your head could get damaged after perming your hair. Eyebrows too get damaged if you keep repeating the procedure.
Is There Any Aftercare?
Some thing that you must keep in mind after getting your brows laminated is not keeping your brows wet for 24 hours. Avoid direct sunlight for 48 hours. Do not touch or rub the area for 24 hours.