"You are never too small to make a difference."
A sixteen-year-old's fierce, fearless face stirred our conscience and awakened our minds one fine day in 2018. Four years down the line, she continues to move our hearts. In 2019, Time Magazine named Greta Time's youngest-ever Person of the Year. This teenager entered the nominations for Nobel Peace Prize in 2019, 2020, 2021, and 2022. Her timeless, impactful messages are sure to linger in our minds for years to come. They have struck a strong chord in anyone who has heard her. Who hasn't?
12 Greta Thunberg Quotes for Inspiration
Greta needs no introduction. She is the face of the global movement that is demanding international governments to take immediate action to save the future of the coming generations that we, as adults, owe them.
Greta pioneered the #FridaysForFuture(1) movement in 2018 in August. She skipped school to strike in front of the Swedish parliament against the lack of action on the climate crisis. The strike gathered momentum with many youngsters following suit and walking out of their schools. The truth behind Greta's words will not let you sit in complaisance sit any longer.
This vegan environmentalist has made numerous powerful and passionate speeches articulating the need for action against climate change. Whether you are a climate activist or not, these Greta Thunberg quotes will resonate with you. You will find them echoing from the walls of your heart dealing with any cause you stand for or challenges in your personal life.
Time for Change, Time for Action!
"We cannot solve a crisis without treating it as a crisis. And if solutions within the system are so impossible to find, then maybe we should change the system itself."
Spoken like a true prodigy. It's not that we haven't thought about this. Rather, we failed to acknowledge and act on the solutions right under our nose again and again and now we have a teen activist calling us out(2)
"People are suffering, people are dying, entire ecosystems are collapsing. We are at the beginning of mass extinction and all you can talk about is money and fairy tales of eternal economic growth."
In her speeches, she references scientific evidence that leaves no space for further excuses. She demands that world leaders listen to scientific facts instead of chasing after the money they won't live to use (3).
Greta Thunberg Quote: Never too small, never too late!
"Many people say that Sweden is just a small country, and it doesn't matter what we do, but I have learned you are never too small to make a difference."
These Greta Thunberg quotes are from a collection of her speeches coming out in book form, titled "No One Is Too Small to Make a Difference." What better way to teach the world a lesson than proving it and becoming an example of the message yourself?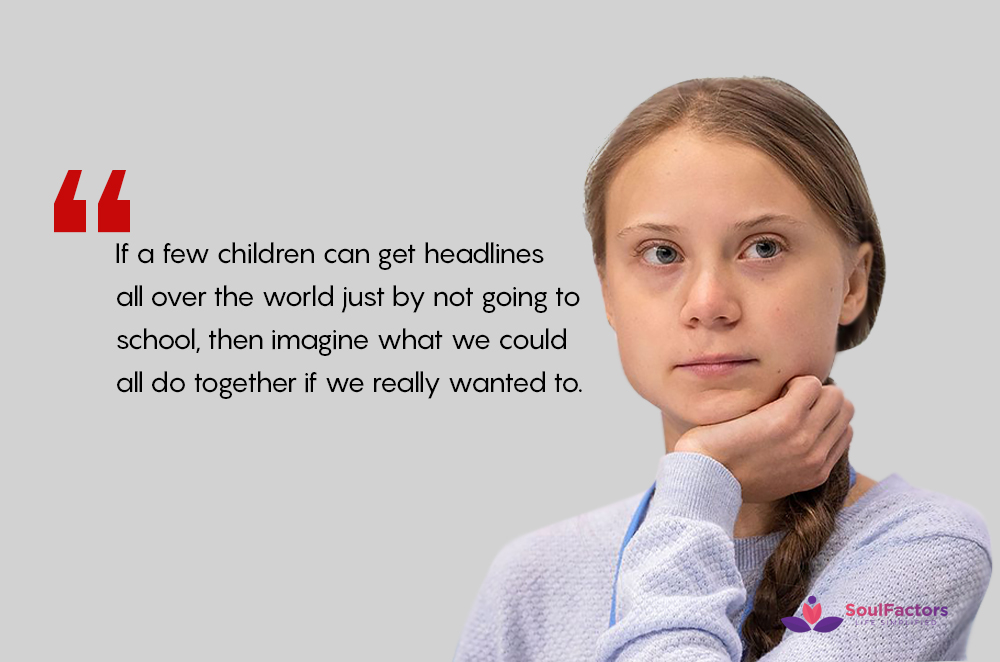 "If a few children can get headlines all over the world just by not going to school, then imagine what we could all do together if we really wanted to."
This simply shows how powerful is just one simple act of speaking out, giving no difference to the age or the gender. Every journey begins with a single step, does it not?
Haters Gonna Hate!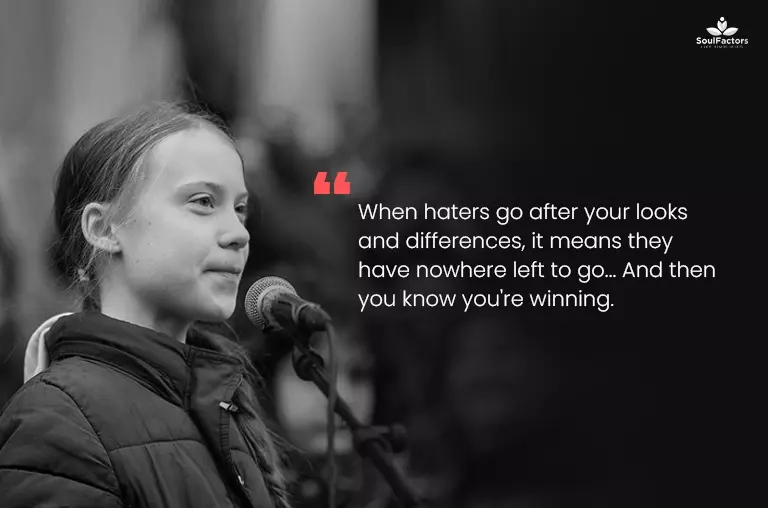 "When haters go after your looks and differences, it means they have nowhere left to go… And then you know you're winning."
You know they have lost the argument when they start attacking you personally. This is a situation many of us can relate to. Personal attacks can be hurtful and sabotaging to one's self esteem. But know that they have lost the battle when they stop addressing your argument and resort to attacking your image looks or identity.
"We are striking because we have done our homework, and they have not."
Many students who witnessed Greta speak said that they felt moved by what she said, calling her "empowering". She has moved the young ones and adults alike with her words that spoke the truth.
Greta Thunberg Quotes: Grow Up, Adults!
"I shouldn't be up here. I should be back in school on the other side of the ocean. Yet, you all come to us young people for hope. How dare you? You have stolen my dreams and my childhood with your empty words."
Greta Thunberg's quotes have reassured young girls that it's never too early to use their voice and their age has no bearing on their ability to lead the change. She calls upon adults to take accountability.
"Since our leaders are behaving like children, we will have to take the responsibility they should have taken long ago."
Greta made this speech at the UN Climate Change Conference on 4th December 2018 in Poland. She bravely accused the assembled world leaders of not doing enough about climate change and of causing problems for future generations.
Save Our Childhood, Save Our Future!
"Why should I be studying for a future that soon may be no more, when no one is doing anything to save that future?"
If a child is more aware of how we focus on the profits of tomorrow and leave the sustainability of the future in jeopardy, there is no point in such growth. And most importantly, be aware, understand, and change.
"The eyes of all future generations are upon you. And if you choose to fail us, I say – we will never forgive you."
This was spoken at the UN Climate Summit, New York on 23rd September 2019. These powerful words are taken from her speech delivered to world leaders. She has talked many times about how important it is for these world leaders to take action against climate change that is severely destroying the planet.
There is No Giving Up!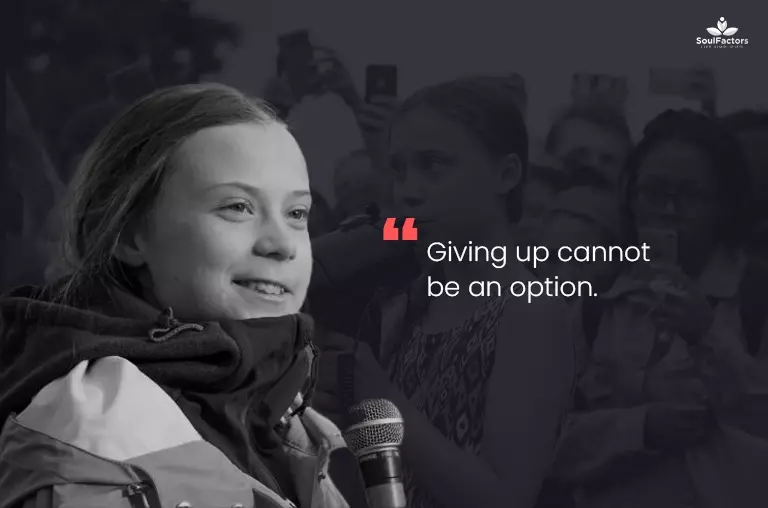 "Giving up cannot be an option."
If you have set out in the pursuit of a goal, giving up should not be an option. No matter what obstacles, no matter what challenges you face, it is important to keep going. Greta has shown us through her struggle that through perseverance, you can make an impact, you can reach your goal.
"We are going to change the fate of humanity, whether you like or not it."
She was not simply begging for action. She promised the adults who led the way for the future generation to ruins that they will bring a change. Sooner than later.
Spreading awareness of the problem we refused to believe in, Greta first became interested in climate change when she was nine years old. After stopping eating meat and not buy anything that is not absolutely necessary, she changed her family too. Now they grow their own vegetables and use only solar power in their house(4). By then Greta was aware of the power her words held. This teen activist does not travel by plane due to their high carbon emissions. She actually sailed across the Atlantic to attend events in New York and traveled for 32 hours by train. These shocking acts of a little girl leave no room for excuses but call for desperate action from us.