The era of hoarding makeup and buying different makeup for different parts of our face is changing with the concept of multi-purpose makeup i.e. multi tasking one makeup product for so many different things so that you can save a lot of money. Bronzer is one such versatile product. We know that bronzer application is an art. How to apply bronzer correctly is one of the most popular questions beginners and sometimes even experienced makeup artists mess up.
The thing with bronzer is that how to apply bronzer and placement of the product changes from face to face.
Everybody's facial bone structure is different. If you ace the bronzer application, you might just join the famous Kardashian clan and rock that chiseled jawline, if not, you might end up looking like Garfield from Garfield and Friends. Either way, bronzer is one such makeup product, where if you end up finding the right one then there is no going back.
What Is A Bronzer And How To Apply Bronzer?
Bronzer is a brown or dark orangish makeup product that is used to add dimension and depth to one's face. The face tends to look flat after concealer and foundation, bronzer is used to bring back the depth and skin-like effect to the makeup. Bronzer instantly makes the skin look sun-kissed and healthy (1). Bronzer can come in different formulations and shades for different skin tones.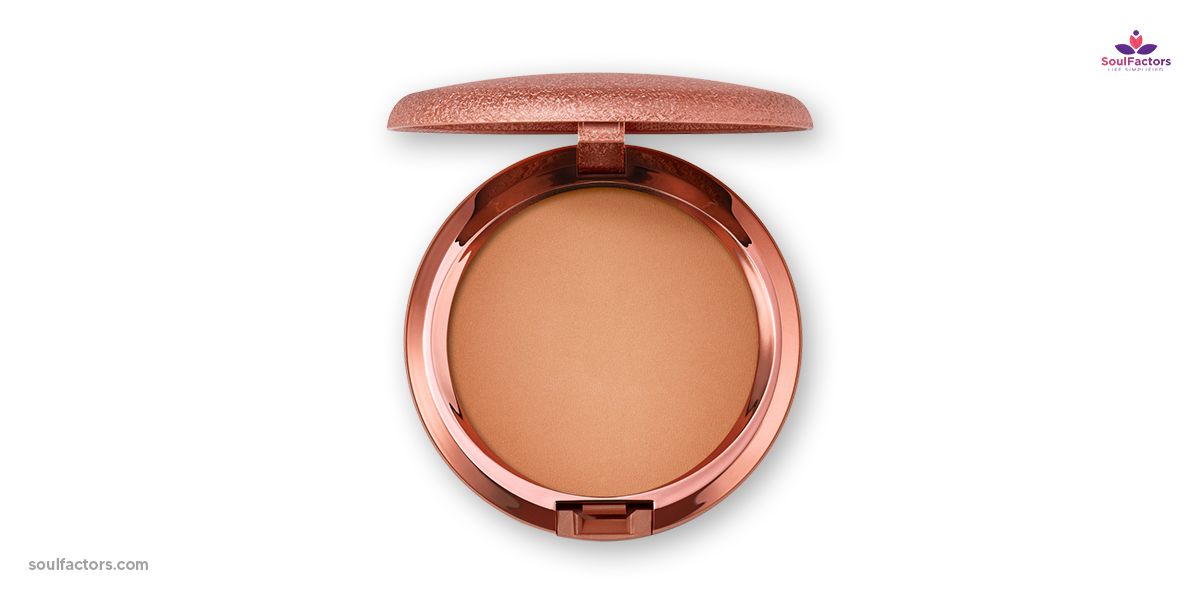 What Is The Difference Between Bronzer And Contour?
Though both the Bronzer and the Contour might look like the same product both have a different purpose. The main difference between the two is that while a contour is used to create structure and dimension to the face a bronzer is used to add warmth and colour to the skin.
Both the Contour and Bronzer are makeup staples, the shade range and finish of bronzing and contouring products are different and this is one of the key differences between the two. While bronzer comes in deep orangish and brown shades, contour products are more cool tones or neutral
How To Apply Bronzer In Multiple Ways: Bronzer as Contour?
Yes, but this might not work on all skin tones. Contouring with a warm tones product like a bronzer and make the skin look ashy and patchy. if you must use a bronzer for contour then make sure your bronzer shade is more cool or neutral tones and not orange or warm.
What Are The Different Types Of Bronzers?
Bronzer comes in four different formulations which are gel, cream, powder, and liquid. Choosing the best bronzer for your skin would completely depend on your skin type and the formulation you are comfortable with. The general rule of thumb is to go for matt or powder-based formulations if you have oily skin and go for liquid or cream-based bronzers if you have dry skin. Gel formulations work best on combination skin types.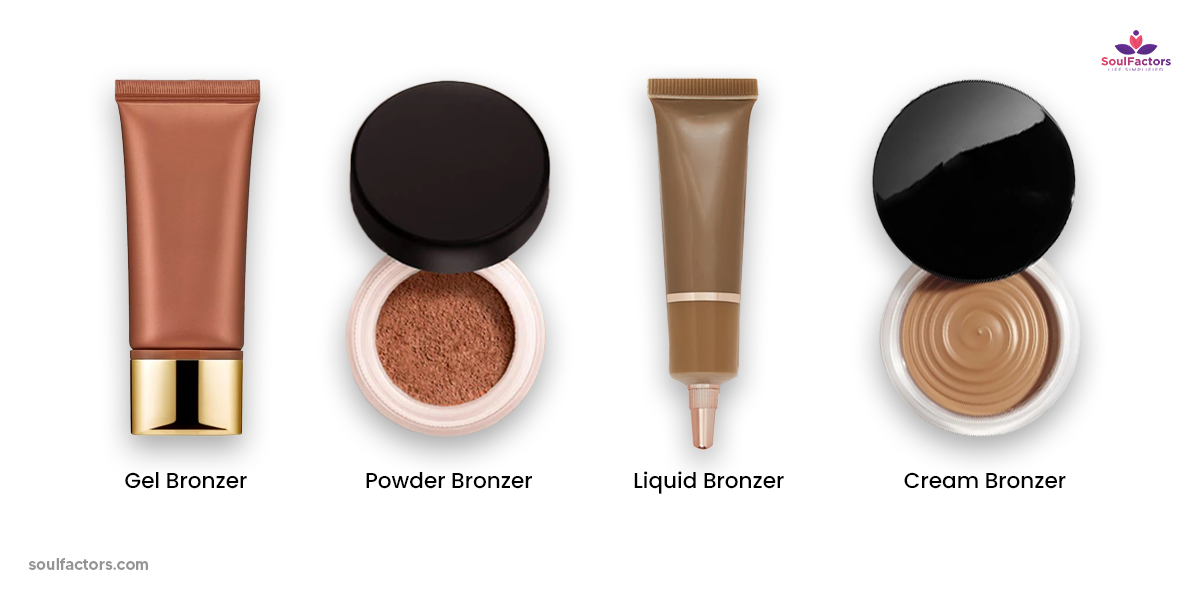 Gel Bronzer
Gel bronzers are lightweight sheer and easy to apply. It works well on combination skin types. Gel bronzer also works well with a no-makeup makeup look giving you a very sheer natural sun-kissed look also with a slight glow. I think The application of gel bronzers works best with fingers rather than with a brush or a sponge, still, you can use anything you feel works best.
Powder Bronzer
Powder Bronzers are the most commonly found bronzers used by makeup artists. It is important to know how to apply bronzer in powder form. While using powder bronzer make sure you go with a light hand and always tap off the excess. The most commonly used method for bronzer application is following the 3 lines on both sides of your face. The 3 pattern starts from your forehead goes inward just under your cheekbone and then goes back and comes inward on the jawline.
While powder bronzer is flawless make sure you always get a good quality bronzer as this can help with the patchiness. Also, choose a color that looks natural and compliments your skin tone.
Liquid Bronzer
Liquid Bronzers are what you need to pick if you want a strong bronzed look but also at the same time make it look natural. Liquid bronzers are very easy to blend and they sit well on top of most makeup which is why most people prefer liquid over gel and powder. If you have problematic acne-prone skin then unlike powder bronzer that can accentuate the bumps, a good quality liquid bronzer can work for you. Once you learn how to apply bronzer, you are all set with a liquid bronzer.
Cream Bronzer
Cream Bronzers are something you can go for when you want to look chiseled and radiant in front of the camera. It would work well in photographs. Cream bronzers are very pigmented so a little goes a long way. Experts recommend using cream bronzer as soon as you apply the foundation to avoid any stark lines. blending is the key to a natural finish while using cream contour. You can either use a brush or a beauty blender depending on what you are comfortable with.
Tips For Picking Out The Right Bronzer Shade
A bronzer shade that's going to suit you the best would depend on your undertone. Yes! You read that right bronzer does not go with your skin tone but your undertone.
Here are some tips:
If you have a warm undertone then bronzers that have a yellow, golden, or even a dark peachy tone to it can suit you the best.
For those who have pale undertone bronzers that are red or pink
For a neutral undertone, the trick is to mix a warm-toned bronzer with a cool-toned bronzer.
How To Apply Bronzer?
The truth is to look flawless there is no rule of thumb to apply a bronzer. You can follow the general 3 pattern rule or you can just apply bronzer on the points of your face where the sun is to create a very natural look this could be your cheeks, the tip of your nose, your forehead, and a bit on your neck. Using a large fluffy brush is the best way to get the most natural bronzed look
Now that you know how to pick the right kind of bronzer and apply it flawlessly here are some cool things you can do with just your bronzer
Multiple Ways To Use Bronzer For A Sun-Kissed Summer Vibe
Everybody can use a bronzer irrespective of their skin tone or the kind of makeup look they are going for. If you thought you will not finish u your bronzer before its expiration date here are some reasons to get a bronzer and also save money, Wondering how? Bronzers are the most versatile makeup products and are great for multi-purpose usage. Here is how a simple bronzer can change your whole makeup game.
Bronzer As An Eye Shadow
If you are not an eye shadow person but still want to make your eye look put-together then using a bit of bronzer powder on the eyelids can help bring depth. The earthy and neutral tone of the bronzer is a perfect eyeshadow shade for an everyday look. If you have a shimmery bronzer with you then it would make a perfect nighttime eyeshadow with an earthy base and shimmer.
Bronzer As An Eyebrow Filler
If you don't have jet-black eyebrows and you have a dark brown bronzer shade, then it's going to work perfectly as an eyebrow filler. Just take some products on the angled brush and apply them on the sparse areas of the eyebrows.
Bronzer For Hairline
If a large forehead with a receding hairline is bothering you try applying a little bit of bronzer with a fluffy brush very subtly near your baby hairs, this will give the illusion of a thicker and dense hairline.
Note: This hack would only work with matt dark brown bronzers and also the bronzer should be a close match to your hair color. Burnettes might find this hack useful.
Bronzor As Face Contour
If you a looking for a very subtle natural contour then a bronzer might help you do the job if you know how to apply the bronzer. Make sure you apply it with a contour brush so that the lines are defined and the edges are well blended out.
Bronzor As Body Contour
Bronzers are great to be used as body contouring makeup especially if you are wearing a low neckline dress and you want a very natural contour of your collarbones. Dusting a little bronzer powder will make a huge difference.
Bronzer As A Blush
The coffee makeup look has been trending for a while now, the makeup is perfect for summers with brown and earthy-toned colors, and a well-blended bronzer on your cheekbones works beautifully as a blush. Though it would add that pop of color you are looking for it will still look stunning and add so much definition to the face. To not mess up follow the "less is more rule" of "how to apply bronzer".
Bronzer As Lipstick Or Lip Gloss
If you don't have nude lipstick or lip gloss mixing a little bit of bronzer powder with a clear lip gloss or lip balm can give you the perfect brown nude. Make sure you mix the product well especially if you are using a powder bronzer, and shade the product well to avoid clumpiness.
Best Bronzors of 2023
Westman Atelier Beauty Butter Powder Bronzer
Guerlain Terracotta Light Healthy Glow Bronzer
Physicians Formula Murumuru Butter Bronzer
L'Oréal Paris Infallible 24H Fresh Wear Soft Matte Bronzer
Nars Bronzer Powder
Fenty Beauty Sun Stalk'r Instant Warmth Bronzer
Benefit Cosmetics Hoola Bronzer
Bobbi Brown Bronzer
Pixi On-the-Glow Bronzer
SUGAR Cosmetics – Contour De Force
Wet n Wild Color Icon Bronzer
Nyx Professional Makeup Matte Body Bronzer
Now you don't have to chuck away your bronzer post-summer you can use it for many other things. Despite the notion that bronzers are for summer now you know that bronzers can be used in any season, weather, and occasion. Trial and error is the best way to learn how to apply bronzer the perfect way. Apply bronzer where the sunlight hits your face and take a photo, change the placement to your liking. Add a touch of highlighter with your bronzer to glow like a goddess. If you are a beginner start with a bronzer shade and formula that's less forgiving and easily blendable. Follow Soulfactors for more interesting updates and hacks or makeup beauty and health.
Also, don't forget to let us know how much you are loving the bronzed goddess effect!