Kate Middleton, the Princess of Wales, attended The Royal British Legion Festival of Remembrance at Royal Albert Hall on November 12th. This annual ceremony commemorates the end of the First World War. The Royal members with many other officials including veterans, politicians, and citizens pay tribute to the soldiers who lost their lives during World War I.
Princess Kate stood on a balcony above The Cenotaph war memorial alongside Queen consort Camilla. They overlooked King Williams and King Charles as the two laid wreaths down during the memorial service. Prince William wore his red-collared officer's cloak of The Blues and Royals.
Kate Middleton's Pearl Earrings To Honor Queen Elizabeth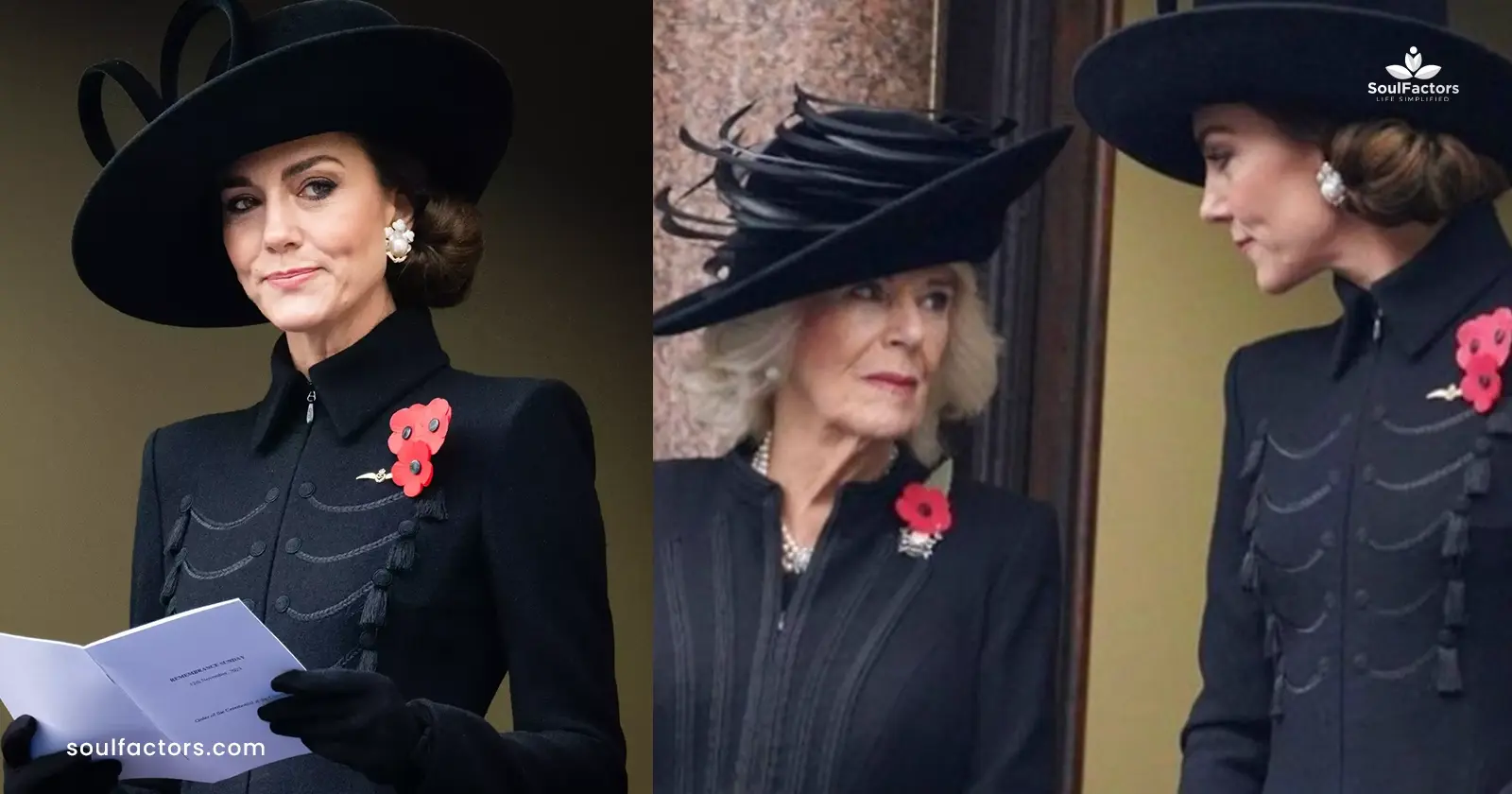 For the somber event, Princess Kate adorned the all-black dress code. She was seen wearing a black military-style coat that featured high collar piping by Catherine Walker and black gloves. Her royal ensemble was accessorized with red poppies, a symbol that commemorates military members who died in the war(1).
Also, her accessory included a Royal Air Force pin. She topped the outfit with Philip Treacy's wide-brimmed hat. The highlight of her ensemble was that she wore earrings that appeared to be repurposed from the late Queen Elizabeth's eloquent diamond and pearl leaf brooch. It is known that the royal princess does her own makeup. Many people all over the world admire Kate Middleton's natural and stylish look.
This wouldn't be the first time Princess Kate adorned jewelry to honor Royal members' memory. The Princess of Wales wore Princess Diana's jewelry including a sapphire and diamond ring and the Lover's Knot tiara. Also, on September 8, 2022, Kate Middleton wore Queen Elizabeth's go-to three-layered pearls that she wore almost all the time. She wore that to the late matriarch at a luncheon at Buckingham Palace.