Last night, the streets of New York City glittered a little brighter as Kim Kardashian graced the grand opening of Swarovski's flagship store. Kardashian, known for her business acumen and reality TV fame, turned heads in a shimmering crystal top paired with an equally striking skirt.
Her ensemble, a shining testament to her partnership with the iconic crystal brand, was not just a style statement but a symbol of her brand SKIMS' latest venture into the world of high-fashion collaborations.
The Event: Swarovski Store's Grand Opening
At 43, the head honcho of SKIMS turned Fifth Ave into her personal runway, stepping out for the Swarovski store's grand opening. It wasn't just any night; it was also a toast to her fresh collab with the bling kings.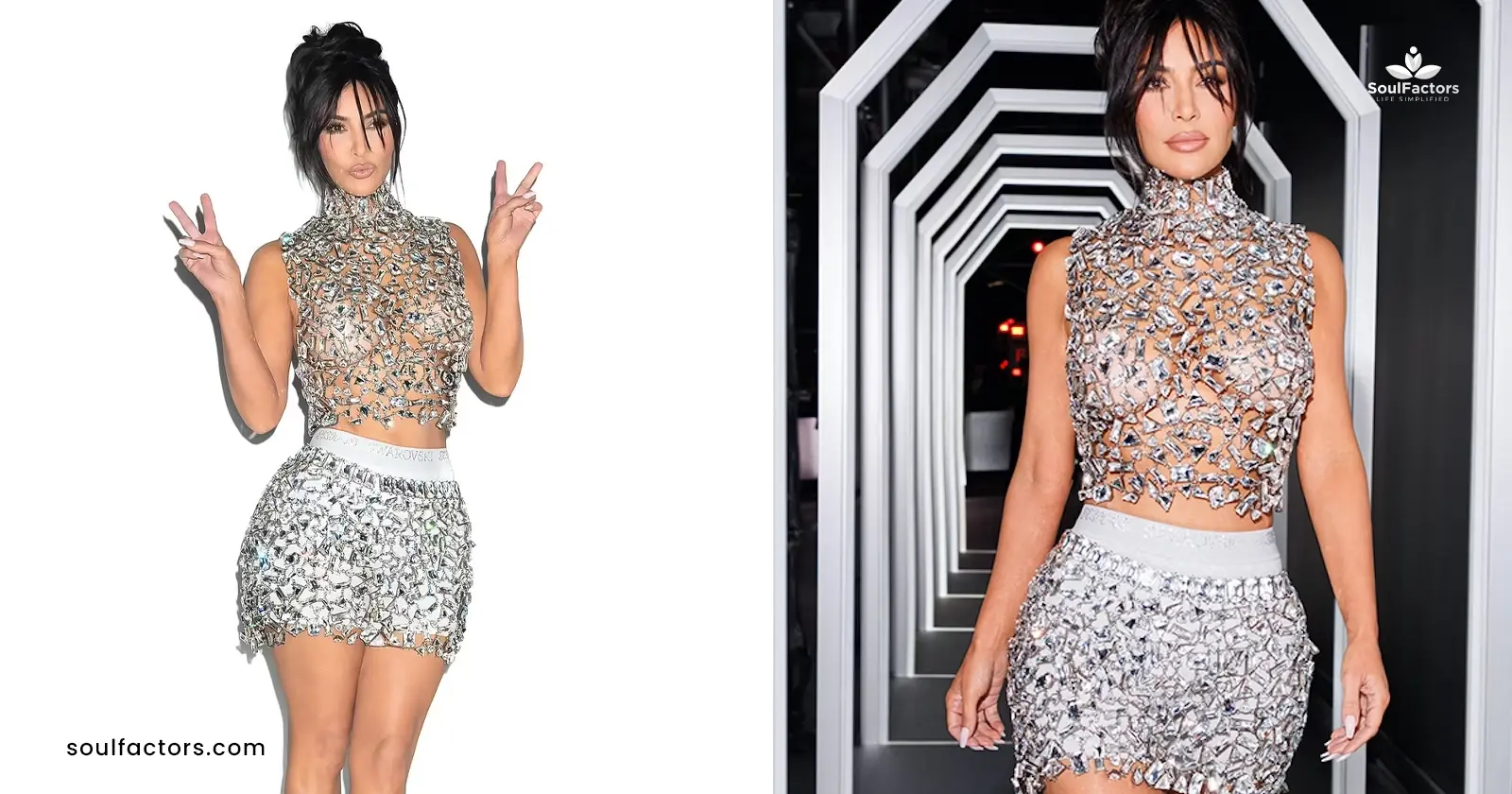 There she was, Kim K, all glammed up in a halter top that was practically a disco ball and a skirt to match, both singing with crystals. She rocked the look with heels that had just a whisper of silver and clear straps. Beneath the shimmer, she sported Swarovski x SKIMS boxers, flaunting that crystal-kissed band.
With her hair thrown up in a bun that said 'chic made effortless', she'd already dropped hints on her Insta about the Swarovski x SKIMS drop. Think glitzy bodysuits and dresses that spell party with a capital P, all dripping with Swarovski's iconic ice.
Come Tuesday, as the collab hit the spotlight, Kim shared a sneak peek on her Instagram story, serving looks in a bodysuit that hugged in all the right places, layered with chains for days.
And talk about making an entrance—Kim rolled up in a taxi that out-sparkled the night sky, all decked out in Swarovski glam. "Catch my ride," she quipped, flaunting the ride on her story. "This one's mine, and those sleek numbers? For my squad," she winked, panning over a fleet of silver stunners.
"Guys, can you even?" she gushed, showing off her latest 'Kim K' plates and the SKIMS sparkle up front. "This cab? Absolute goals. Wow!"
Kim Kardashian In Crystal Top And Skirt: The Sparkling Outfit
Kim's choice for the evening was nothing short of breathtaking—a sleeveless, high-necked crop top entirely bedecked in crystals, catching the light with every move she made. The matching miniskirt continued the radiant theme, making Kardashian a walking constellation amid the city lights. Needless to say, we got some serious TayTay vibes from the bejeweled fit!
The outfit was a brilliant nod to her collaboration with Swarovski, combining the luxury and glamour the crystal brand is renowned for with the comfort and sleekness SKIMS has come to symbolize. It will be an amazing option for those who are in search of a first-date dress. Underneath the sparkling surface, she sported Swarovski x Skims cotton rib boxers, blending opulence with everyday ease.
The Swarovski Store Launch
Swarovski's new flagship store, a beacon of luxury on Fifth Avenue, opened its doors with a sparkle that could rival the stars. The event was a crystal-clear celebration of opulence, coinciding with the reveal of the SKIMS x Swarovski collaboration(1).
This strategic launch not only spotlighted the store's grandeur but also shone a light on the dazzling collection, merging Swarovski's renowned craftsmanship with the sleek, modern aesthetic of SKIMS, marking a new chapter in high-end fashion partnerships.
Celebrity Attendance And Reactions
The glittering event was a constellation of stars in its own right, with celebrities like Serena Williams and Emma Roberts adding their shine to the occasion. The air buzzed with excitement, encapsulated by the guests' awe-struck comments and the flurry of social media posts celebrating the night.
The lavish affair was a trending topic, with fans and fashionistas alike expressing their admiration for the star-studded event and Kim's stunning ensemble.
The SKIMS x Swarovski Collaboration
The SKIMS x Swarovski collection is an embodiment of luxury meets comfort. This collaboration introduces a line of apparel that brings the sparkle of Swarovski to the everyday, promising to infuse a sense of glamour into the wearer's routine. Its impact on the fashion industry is twofold: it merges high fashion and casual wear while elevating the concept of loungewear to one of dazzling sophistication. Bling is the new BAU!
Kim's Business Ventures And Personal Asides
Kim Kardashian continues to impress with her business acumen, recently expanding SKIMS with a menswear line and securing an exclusive partnership with the NBA. Amidst her business triumphs, Kim remains candid about her personal life, endearing her to fans who admire her as much for her entrepreneurial spirit as for her relatability. Her openness about seeking a balance between her personal endeavors and professional commitments resonates with her audience, further solidifying her influence.
In Anticipation Of Kim K's Future Collabs:
Kim Kardashian's radiant presence at the Swarovski event underscores her indelible mark on fashion and pop culture. As she continues to redefine style, fans eagerly anticipate her next foray into the fashion world. Stay tuned, because with Kim, the promise of more trailblazing endeavors in style is always just around the corner!